Lauren of "Prefer to be Demure"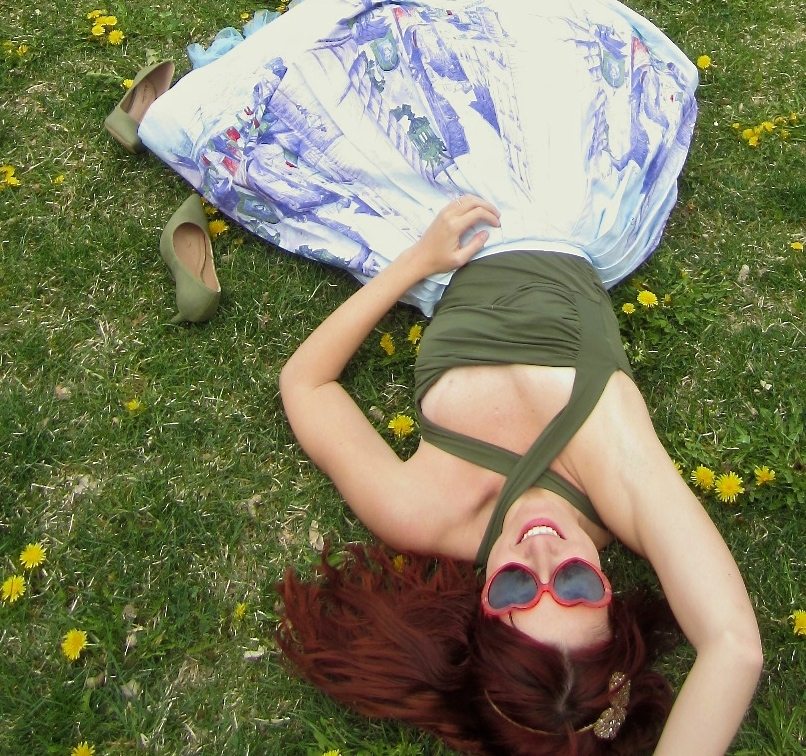 *Update: Lauren's blog has recently changed names to "Grace Rock Kelly Roll!"

Meet Lauren! She's the vintage-clad star who created the blog "Prefer to be Demure," and she's this month's Featured Fashionista!
Lauren is always dressed to the nines in the best vintage skirts and dresses. I also love following Lauren because she gives such honest clothing reviews and takes a very strong stance on being anti-Photoshop. Plus, she has killer taste in music. Check out her Q&A below to learn more about this lovely lady.
Q&A With Lauren
Tell me a little about yourself.
Lauren: First off, thank you for having me on your blog! I always look forward to your content and outfits so it's an honor to be on here.
Let's see! Where to begin? I keep a lot of things about me out of the blogosphere (personal life, day to day life, etc) so I'm going to talk about some of my interests and where I'm from/where I've lived as I'm not sure I've ever explored the latter in detail!
I'm originally from a small but eccentric town called New Hope, PA. It was an interesting place to grow up, to say the least! As a kid, my best friends and I would play "pioneer days" with abandoned farming equipment in the fields across from our houses and would bike a mile to a general store to get candy and would proceed to eat it on the railings on a tiny bridge. Sounds a little "Pennsyl-tucky", right? But New Hope is located an hour north of Philly, less than two hours southwest of NYC and is on the Jersey border, so all the Northeast attitudes and ways of life come into play. Then throw in that my town is also a tourist town, an art town, a town that biker gangs come into, a place to get quality tattoos and piercings, and a town that has supported and hosted gay people (being an art community and all) decades before gay rights became a thing, and you can see that this wasn't a cookie cutter town or way of coming of age!! I know, all of these details probably sound made up but I have references and people to back me up!
I went to college at the University of Miami in Coral Gables, and well, no offense to Floridians or lovers of "the U" but it just wasn't my jam. I preferred going to the beach over going to football games, and I swear people wanted to lynch me for that as that's a bit sacrilegious at UM, haha. They also got rid of the only rock radio station while I was there, so that was a total bummer for my life. I also don't really like clubs so to say I didn't fit in is an understatement. As much as Miami is a great place to visit, it's an incredibly hectic city with a ton of different cultures who seem to hate each other. So in terms of living there, it's quite the life experience that I'm appreciative for, but I am glad is over.
After that I moved to basically the most opposite place in the country, Denver, Colorado! I have found a pretty good home here in that the people, culture, music scene, and sense of humor are all my scene. Even the weather is more mild than people expect! All of my PA friends laughed at me for moving out here, thinking it was some kind of revenge after living in Miami. But as it turns out, yes, it snows here once a week in the winter…and maybe even in October. BUT the snow typically melts by noon and we'll have 70 degree days in February. I can live with this! Sometimes I feel a little land locked and it hits me how far away Denver is from any other big city or point of interest (besides the mountains), but that's hardly the worst and only complaint to have!
Other than where I've lived, what else can I tell you all about me? I own two totally crazy but totally endearing shelter dogs, Tiger Lilly and Lucy June (a beagle mix and a border collie). I love going to concerts, going to the gym, politics, reading (non-fiction only), and of course, shopping and clothes haha! I'm way more into TV shows than movies, but I do go on documentary binges from time to time.
How would you describe your blog, "Prefer to be Demure?" What kind of posts do you publish on a regular basis?
Lauren: Prefer to be Demure is definitely a personal style blog that is starting to inch towards other life style facets, like self esteem and other passions. Most posts are about what I wore and why, or talking about a brand I love or newly discovered. I think most people read fashion blogs to both get style ideas and to figure out the quality of clothing as well as the fit of certain brands, so I try to lean towards that as much as possible. But sometimes I go rogue and showcase other things as well.
The other stuff is that I'm posting about my concert going experiences every week. I keep a lot of aspects of my life private, but going to shows and sharing my take on those experiences and my taste in music is a way of opening that door and showing a bit more to my personality and lifestyle.
Almost every week I have a vintage clothing post called "Sunday Vintage." It used to be somewhat in conjunction with a second Instagram account, @insta_truevintage that I opened to showcase all of the vintage loving ladies wearing their authentic vintage outfits, since there isn't a big store or account to tag to and be showcased. Sadly I've all but let that go because the past few months have gotten busier than expected and keeping up with the blog's comments and social media is less than perfect each week, making that second pot on the stove virtually impossible to keep tabs on. That said, the account is still open for hash tagging and tagging purposes for people to browse, as that is half the fun!
For the summer, I'm posting once a week a post about bathing suits (eek!) and talking about the fit, different brands, and just different thoughts that go through women's heads while wearing suits. I used to have Mondays as a day to talk about positivity and living a better life, but for the time being that is on hiatus….though it will be coming back in August or September. Self esteem and body image is important, and unlike magazines or any other style outlet that has come before blogging, there is a chance to get personal and incorporate trying to be beautiful on the inside in conjunction with personal style. I mean, what's the point of wearing beautiful clothes if you feel awful on the inside? My blog, as well as some others, seems to try to tackle that as often as possible and I think it's a good and authentic thing.
What inspired you to create Prefer to be Demure? And what is the meaning behind its name?
Lauren: Haha, well….let's start with the name as that's currently the bane of my existence. I've actually grown to hate the name! Whoops! The poet in my defends it, and I get why I picked it. My bread and butter is vintage based style of clothing, or perhaps a more "demure" way of dressing. All through my younger ages I had a "less is more" mantra about clothing. It was innocent, but it was all I really knew. Discovering this era of style and dressing made me feel surprisingly comfortable in my own skin. I felt sexier covering up a tad than I ever did in short jean cut off shorts and a midriff showing top. So that's where the title came from.
That said, it's a very limiting name. For one, I have the furthest thing from a "demure" personality. I'm not saying I don't mind my manners and such, and even some of my friends have said—to my surprise— that I'm the classiest lady that they know. It's not like you can't take me places! But I have opinions on things and I'm not afraid to state or stand by them. I also have quite the mouth on me, which makes that whole "classiest lady" thing baffling. I mean, it's all in good fun and 9 times out of 10 it's for the sake of getting a laugh from people, but very few words in the English vocabulary are off limits in my world. Aside from personality, I don't always dress "demurely." I like pants with fun and loud patterns and jeans with rips all over them. One of my favorite pieces of clothing is a concert tee I got from seeing Andrew WK, and his first album cover is on the shirt…which is him with blood dripping down his nose. I've also newly acquired a tee shirt from a Geto Boys show, with the band members mug shots plastered all over it. I do plan on styling an outfit with that shirt sooner than later. Neither examples are very demure, no? So I have a new url picked out that will encompass the lady as well as the rebel in me. The only thing stopping me is trying to make sure I switch urls in the least headache inducing way ever, and given that any coding and/or technology based things are my third or fourth language…yeah, I'm taking my time.
I was inspired to create the blog because I kept seeing other girls on ModCloth's Style Gallery and related hashtags doing their thing and posting outfit photos that linked to their blogs. I thought that I could do that, even though the idea of putting myself out there like that intimidated me a bit. I thought I could contribute to the vintage inspired community, but add my own take on it as I often pair 50 silhouettes with modern shoes and hand bags, or full circle skirts with concert tees. Between that and preferring to be tied together pretty much on a daily basis, I thought it was something I could add to and fill in a gap I saw in the market.
How long have you been blogging?
Lauren: Technically speaking, it's been four years. But most of those years account for political/secular/religion blogging. On New Year's Eve going into 2014 I told my friends I was starting a fashion blog, and to my relief they really loved the idea (I was super self conscious about announcing it!). I started with Instagram and a Tumblr blog almost immediately after and fully intended to have my own url by the spring, but some health issues pushed that back. I registered for a .blogspot address that summer because I had some things coming down the pipe that needed a better format than Tumblr offers, so by August (maybe late July?) I was blogging there. And then that October I registered my own url.
What has been your favorite post you've done so far and why?
Lauren: Ooh, tough question! The ones where I've opened up about my health (here and here) and my dad's death (here) were probably the most rewarding. For me, fashion blogging was never just about the clothes. As I've said, I am a little protective about putting too much of my life out there. But to counter that I have a compulsion to share my life stories if I've learned something through hardship. Having an audience is such a powerful thing that should not be wasted, so when I get a chance to be personal with a purpose it's been really rewarding.
Lately I've liked my posts more because I've been more plugged into sharing anecdotes relating to what I'm wearing. I struggled with what to share versus what not to share for a while, so I'm happy that I'm reaching a happy medium with that. Two vintage posts (here and here) and the post about my awesome Retrolicious dinosaur dress (here) probably embody my new found candidness the best.
What do you hope the future holds for Prefer to be Demure?
Lauren: That's a really good question and one that I've actually been thinking a lot about lately. I have another fashion, as well as a women's based project, that I have cooking up and those will be in cahoots with my blog when they are ready to see the light of day. Whether it becomes a side thing or something more full time has yet to be seen, but it's been fun preparing for them and I'm excited for the future with all of it!
Otherwise, I'm not 100% sure. I'm open to whatever opportunities this project brings. But as open as I am for letting the blog and clothes become more and more of a professional thing for me, while I think it'd be fun for a while, I'm not sure it would be fulfilling for me long term. I love my blog and am passionate about it, but to say that it's the same thing as another blogger who's legitimately in fashion school too would be false. As I mentioned, I also blog about politics and I've always seen myself being an author in that arena or media personality involving that. I'm also currently in the conception stages of putting together an online comedy project with a friend. I bring up both points because as a woman, we're still in this age where if you like smart things and want respect, you're only going to be taken serious in a power suit and matching power cut! And if you're funny, every red carpet I've seen with comediennes walking down it taught me that you better get used to wearing black or navy dresses that likely don't fit quite right! This isn't fair, and it is changing (thank goodness), but we're still a little bit at a stall mate with this notion. And stylistically speaking, none of the above is me despite that I identify as a woman who likes intellectual things, speaking my mind on such matters, and is the happiest when making people laugh. The fashion blog was something I somewhat started to be a long term tool to always bounce off of, refer to, and build off of for other parts of my life that I would always have no matter where I go in life. I'm open to whatever, but as my traffic has increased and so forth I've found myself re-examining why I'm doing this and what's the smartest way to proceed with it. I hope it does continue to expand and I hope that more rewarding things come out of it, like the friendships I've made from doing this (which were all to my surprise). It's been a refreshing eye opener to see how much women, who are effectively strangers and to some extent competing with one another, support one another. That alone makes me hopeful for whatever the future brings with the blog!
What has been your biggest challenge with Prefer to be Demure?
Lauren: Hmmm. There's been a few things. I've been able to identify with this project that I have a bit of a "who the hell do I think I am?" complex. Meaning, at the end of the day I come across pretty fearless. But at my core I'm an introverted extrovert. Self promotion has never been my thing. And to succeed at this style of blogging, you not only have to self promote but you have to self promote with your face everywhere. I've gotten better about it, but I used to burn out really badly and just not post anything anywhere for a week because I was so sick of myself. I started to identify that there's a little bit of self worth issues going on here, but like I said, I'm working on it!
I also kind of suck with social media. In real life, social media has become less and less of a thrill to me with each passing year. So needing to keep up with it for a blog is sometimes a chore. But I've discovered that catching up on Instagram while on the stationary bike at the gym has become a life savor! And reading my comments on the blog on (most) mornings while commenting back/visiting blogs works well for me too. All other social media…haha, we'll see if I improve. In the meantime, never take it personally when I don't retweet your blog posts…I'm probably not checking! Haha. And lastly, coding, while I can figure it out, is my least favorite thing. As I'm first drafting this there's tons of affiliate links and other blogger programs that I've been approved for just sitting in my inbox but I have yet to move them to my blog. In short, the writing, photography, and styling part of it is fun for me; the other stuff I need to rally for!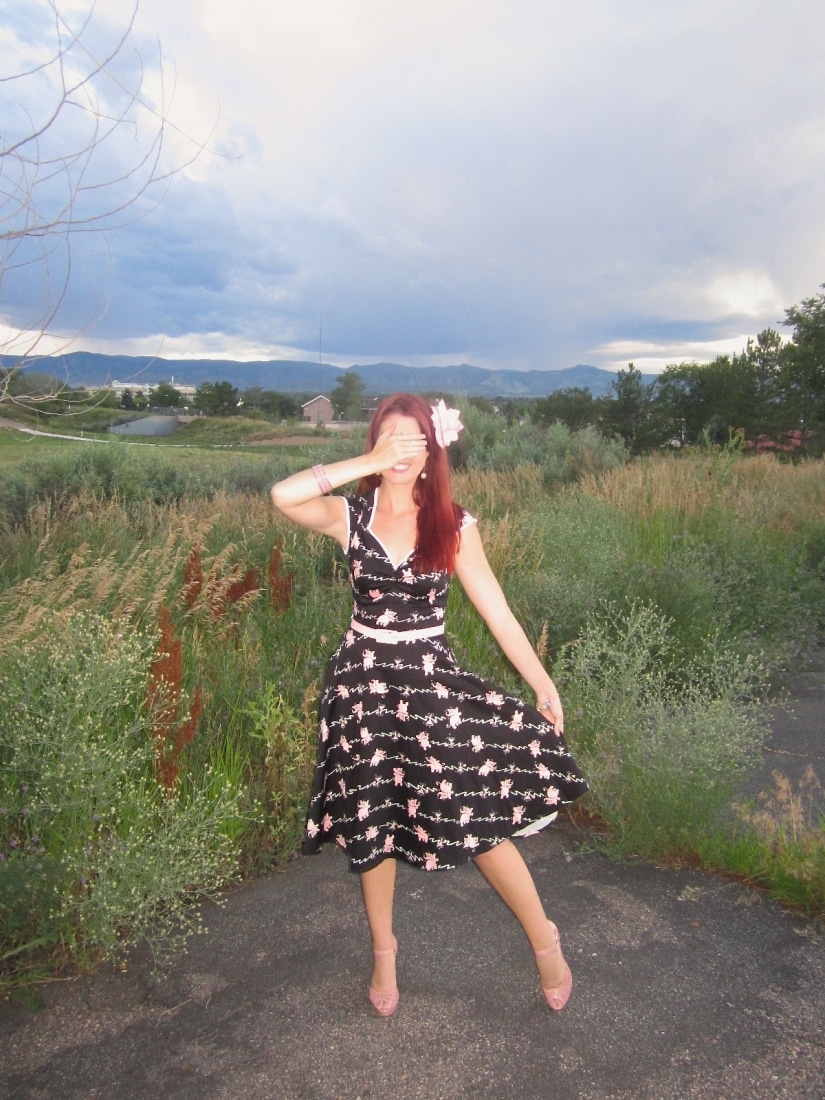 If you had to pick one, what would you say your favorite social media platform is for communicating with your blog followers and why?
Lauren: Instagram. That's the one social media format in real life that I was still liking when I was ditching my personal Facebook page and Twitter account. It's so fun to see everyone else's outfits and what they're up to! I'd say I easily have made the most connections from there as well because it's so easy to network there. At this point, I believe every blogger I've asked to guest blog for me I first met on Instagram. There's even some non-fashion accounts that I follow back because they've commented a lot on my posts and I started to recognize their names and such. Why not? It's amazing how you can grow to care about strangers.
Do you have any advice you would like to share for someone looking to start their own blog?
Lauren: In regards to fashion blogging, you absolutely have to have an organic and innate love of clothing! Making your closet a business becomes kind of strange! You start pondering if you should really wear the outfit that you want to wear even though you just technically had it photographed not that long ago. Or you have to be outside in 20 degree weather in a dress for a post that needs to go out ASAP. That love HAS to be there!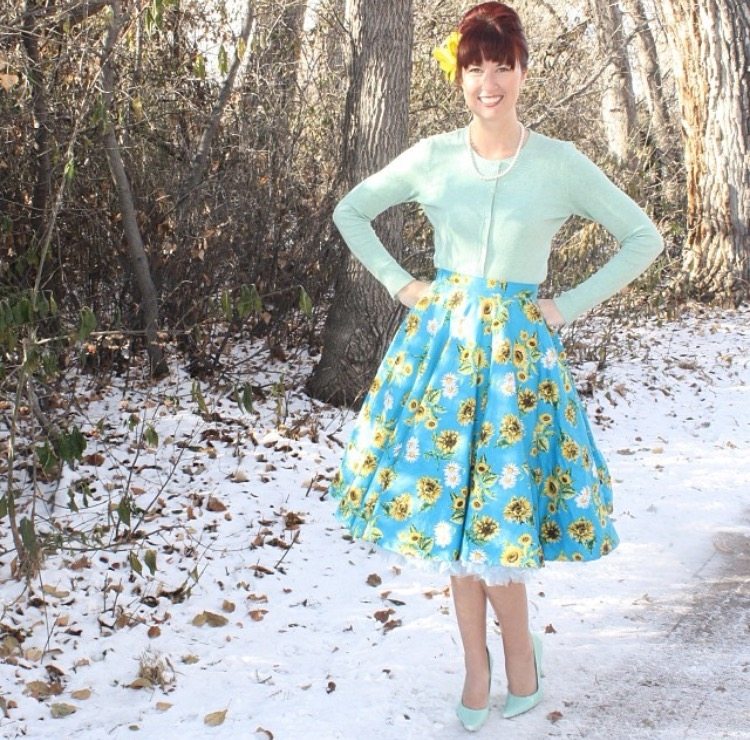 If you're working out the kinks of your insecurities, I think it's actually a really powerful exercise. It seems most of my blogger friends have had theirs eyes opened a bit with developing their self worth and seeing the impact they can make on others, myself included! But I think some women go into fashion blogging as a means to get "insta famous" or to satiate some level of narcism or "me monster complex." If you're doing it "just because" or as a competitive sport, it's a recipe for disaster. You have to love what you're doing and be up for a slow build up and a lot of hard work to reach any level of success.
I have a lot of "in real life" friends who blog in other genres too and the one thing I always tell them is that your blog will always end up a little different then from where it started. You may stay in the same genre or niche, but the way you communicate/write may shift and the ideas you gain later on will come from things you didn't see coming. Be open to the changes your blog will take you through and embrace them. That, and network with an open heart and genuine intentions!
Finally, it's also okay to make mistakes and try things that you'll ultimately scrap. That's how you learn and improve at this medium!
How would you describe your personal style?
Lauren: A little bit Grace Kelly and a little bit rock and roll. Mix that in with a lot of bold colors and novelty prints and that's more or less my style. So classic style with an edge, maybe? Oh, and impractical footwear. 😉
Your style is just lovely. And you are always wearing the best vintage inspired dresses and skirts with the most fun prints! Have you always loved vintage inspired clothing? If not, how did this love come to be?
Lauren: Thank you! Yes, I have but embarrassingly I only started dressing in vintage/vintage inspired a few years ago. Maybe this sounds dumb, but when I was younger I didn't even really know how to seek out good vintage finds and what to look for exactly. And I had no idea whatsoever that there was a vintage reproduction world out there to be discovered! Basically a few winters ago I had some unexpected downtime and I found myself watching a lot of Grace Kelly movies again after years of not seeing them. (She's my idol.) I noticed that while what she was wearing in these films weren't exactly "on trend" they also looked far from dated. First ladies wear high waisted skirts that go to their knees and they're often fashion icons, you know? I was looking for a graceful way to age as I knew my body con dress wearing days were numbered, but I also didn't want to go the preppy route! I thought this would be a good way to go. By then I knew ModCloth was a thing, but it was surprisingly a slow venture into that. It took me a moment to adjust to liking the look on me and learning how to style it to make it my own. But once I figured it out, well, the rest is history! I feel more comfortable in my own skin than ever and feel like this style truly suits me, so I'm very thankful for those lazy afternoons watching Grace Kelly movies a few years ago! I probably never would have even been a style blogger if it weren't for life getting suddenly and unexpectedly quiet! Weird!
What is one clothing store you could absolutely not live without?
Lauren: ….probably ModCloth. I say that with some hesitation because I think in 2015 Pinup Girl Clothing and Unique Vintage have held my attention a little bit more. And they both now/still carry Bernie Dexter, my favorite designer, so that kind of gives them an edge on the competition. But I still say ModCloth. They're so unique to me because their inventory ranges from newer trends to mid-century, from the 20s to the 70s. There's literally something for everyone, and I sometimes run the gamut. I still have yet to discover a store that can beat their sales, customer service, and return policies too so…yeah, ModCloth wins. Plus, ModCloth was my gateway drug into so many vintage repo brands and other stores like it.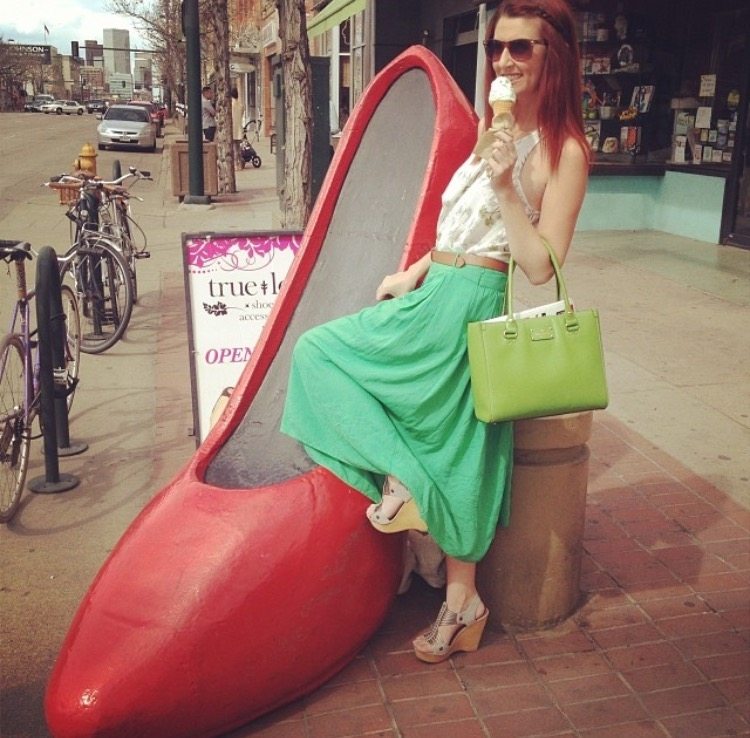 If you had to pick… what is your favorite, go-to outfit?
Lauren: This one is tough! I actually looked through my Instagram to essentially "look through my closet" and see what common repeat offenders I have on there! As much as I am more of a novelty print on skirts kind of gal, I think I wear my Bernie Dexter dog dress and my Retrolicious Brady Bunch house dress are the ones I wear the most. It's easy to style them differently, layer them in all seasons, and they stand alone in that they're even easy to just slip on with flip flops and go to the store in and still be fashionable. I'm deceptively low maintenance so big prints that I need to do little with win in my world.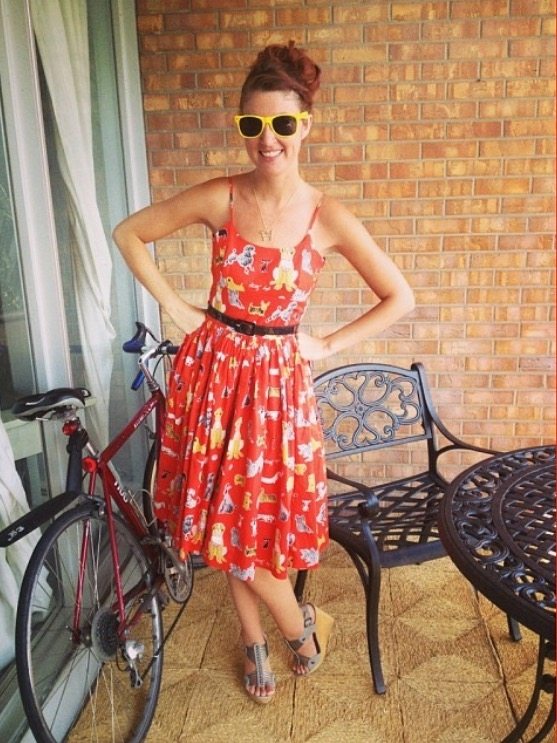 Music is a large part of your life. Can you tell me a little about your favorite bands and how they influence you?
Lauren: Truthfully, I wrote this part a few times before landing on what I'm about to say! There's so many things I can say, like how music saved my life and my earliest memories are grabbing instruments, and they're both cliche as well as true. It's almost hard to fully explain without having a completely second post dedicated to why music means so much to me. Plus, music helps explain things that we humans can't always put into words, so it's very easy to have some writer's block with this topic.
My top 3 favorite bands are Sonic Youth, Jesus and Mary Chain, and Pulp. I can't even describe why I love them so much, aside from their obvious awesomeness, hehe. No really, they're just under my skin and I don't know why. Other favorites are The Replacements, The Temptations, Ice Cube, Sam Cooke, Joan Jett, Pat Benatar, Billy Idol, Andrew WK, The Ramones, The Violent Femmes, Hall and Oates, Judas Priest, TV on the Radio, KISS, Poison, etc etc etc. I could probably keep going!
I got to see The Jesus and Mary Chain this past May and it was one of the few "spiritual" experiences I had. I wrote about it here, but the long and short of it is that I hadn't been going to shows for around a year because my health was being flaky. I also was kind of numb in a lot of things in life during this time, and the second the band took the stage and played the first note I completely fell apart…but in a good way. I realized that I needed to embrace music again to be whole and it was an awakening that profoundly changed me. I've been a way happier person the past few months. And blog wise, as an experiment I blogged about because music and fashion go so well together and people are always debating what to wear to concerts. The post was well received so I've made it a weekly thing since I've filled up my calendar with going to concerts, and so far every concert post has been successful. Phew!
Click here to visit Lauren's blog, "Prefer to be Demure." You can also follow Lauren on Instagram, @demurelaurenblair (however, the name will likely change after the blog changes), and Twitter (Lauren's disclaimer: I don't check Twitter often, but my blog automatically posts to Twitter and occasionally I get an impulse to say something silly.), as well as Bloglovin'!
I am really excited to be a guest blogger on Prefer to be Demure next week! Be sure to stop by Lauren's blog to check it out. 🙂
*Have Clothes, Will Travel is also holding a Blog Anniversary GIVEAWAY, which includes a $50 ModCloth gift card + 2 hours of personal styling services! Click here to enter.
Featured Fashionistas is a section I've added to Have Clothes, Will Travel that will highlight one lovely, fashionable lady each month. The Featured Fashionista can have a business, blog, etc. they would like to share with my readers, or just a love of fashion, or all of the above! If you would like to be my next Featured Fashionista click here, and tell me a little about yourself.