123 Makeup Quotes for the Perfect Instagram Caption
Looking for some fun, inspirational makeup quotes for your Instagram? This post is here to help! From quotes by celebrities, like Gwyneth Paltrow to Elizabeth Taylor to Coco Chanel, and more, you're sure to find the perfect caption to go with your fabulous makeup photos!
As I said in my previous quotes post, I'm not always the greatest at coming up with captions for my Instagram posts. However, having just the right quote to caption my photos and Reels can be all that I need. So, today, I'm sharing more than 100 makeup quotes so you never run out of Instagram caption ideas either!
I'd love to hear which of these quotes is your favorite in the comments at the end. Enjoy!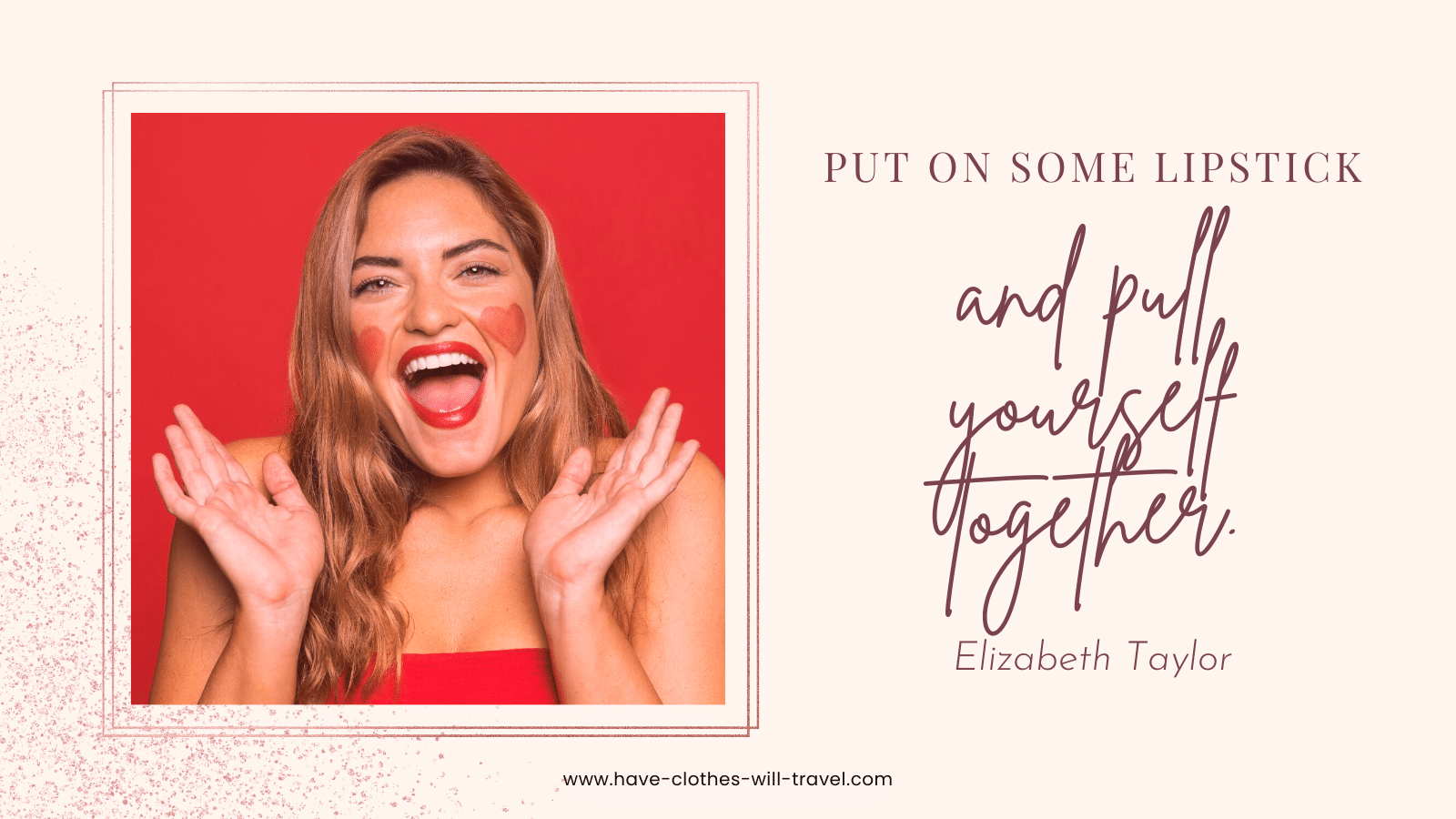 Sharing these makeup quotes and captions
Please feel free to copy and share these makeup quotes wherever you please – Pin these images to Pinterest, use them in Instagram captions, blog posts, you name it! If you want to tag me when you share the quote, I'd really appreciate it and love to give you a shoutout! Just tag my accounts below or link back to this blog post. Thank you!
Instagram: @have_clothes_will_travel
Twitter: @havclothwiltrav
Facebook: @haveclotheswilltravel
Blog URL: https://www.have-clothes-will-travel.com/makeup-quotes-for-instagram/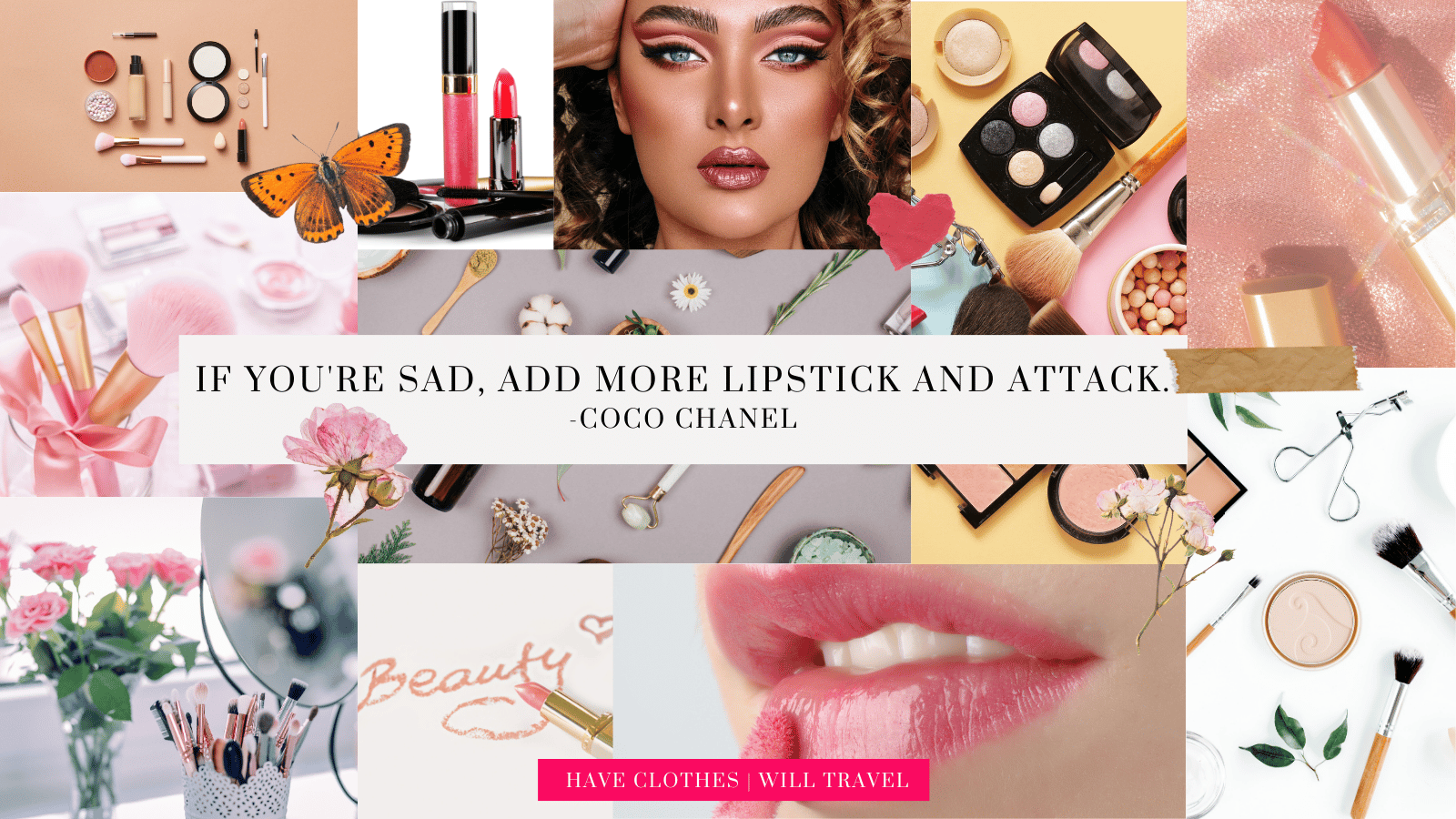 123 Makeup Quotes for the Perfect Instagram Caption
1.) If you're sad, add more lipstick and attack. – Coco Chanel
2.) I believe that all women are pretty without makeup, but the right makeup can be pretty powerful. – Bobbi Brown
3.) To me, the essence of truly modern makeup is the freedom to be yourself, to express who you are. – François Nars
4.) Caring about beauty, it is necessary to start with the heart and soul. Otherwise, no makeup will not help. – Coco Chanel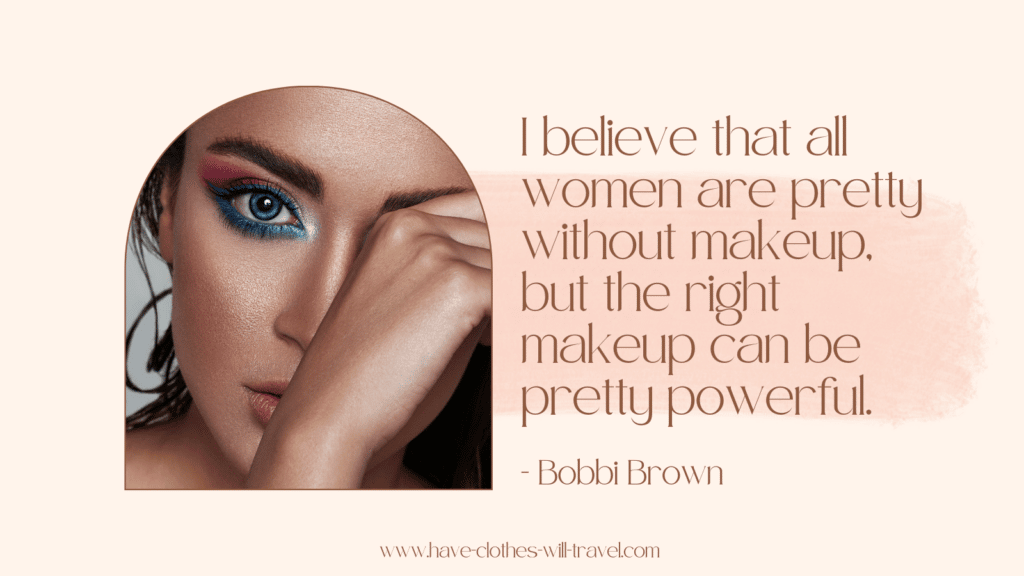 5.) My dad used to say makeup was a shallow girl's sport, but it's not. It's armor. – Courtney Summers
6.) I'm very proud of my skin and face, and I have no problem not wearing makeup. I don't wear makeup because I feel like I need to cover myself up or because I don't feel confident. I wear makeup because it's fun; it's like painting on my face. – Zendaya
7.) To me, being beautiful is just accepting myself. I feel beautiful when I'm wearing makeup; I feel beautiful when I'm not wearing makeup. – Manny MUA
8.) When I put on makeup, I'm not doing it to pander to antiquated patriarchal ideals of feminine beauty. I'm doing it because it makes me feel good. – Sophia Amoruso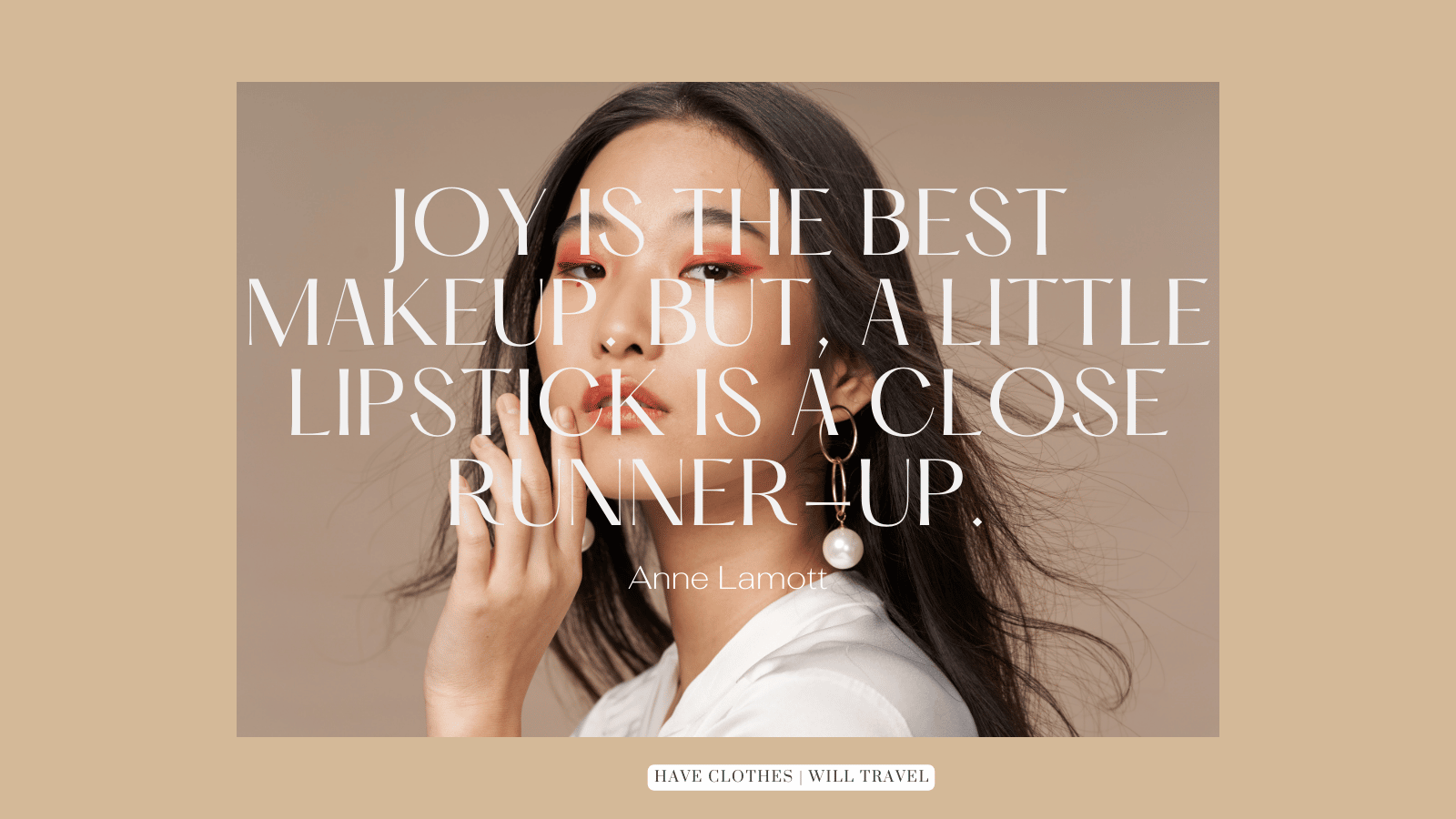 9.) I don't wear makeup for others the same way I don't decorate my house for others. This is my home and everything I do is for me. – Amanda Lovelace
10.) Lipstick is really magical. It holds more than a waxy bit of color – it holds the promise of a brilliant smile, a brilliant day, both literally and figuratively. – Roberta Gately
11.) Makeup is an art form for me. It's a form of expression, and it's such a cool way to get my creative juices flowing. – James Charles
12.) I've always believed that makeup is a form of self-expression and there is no shame in experimenting with it. – NikkieTutorials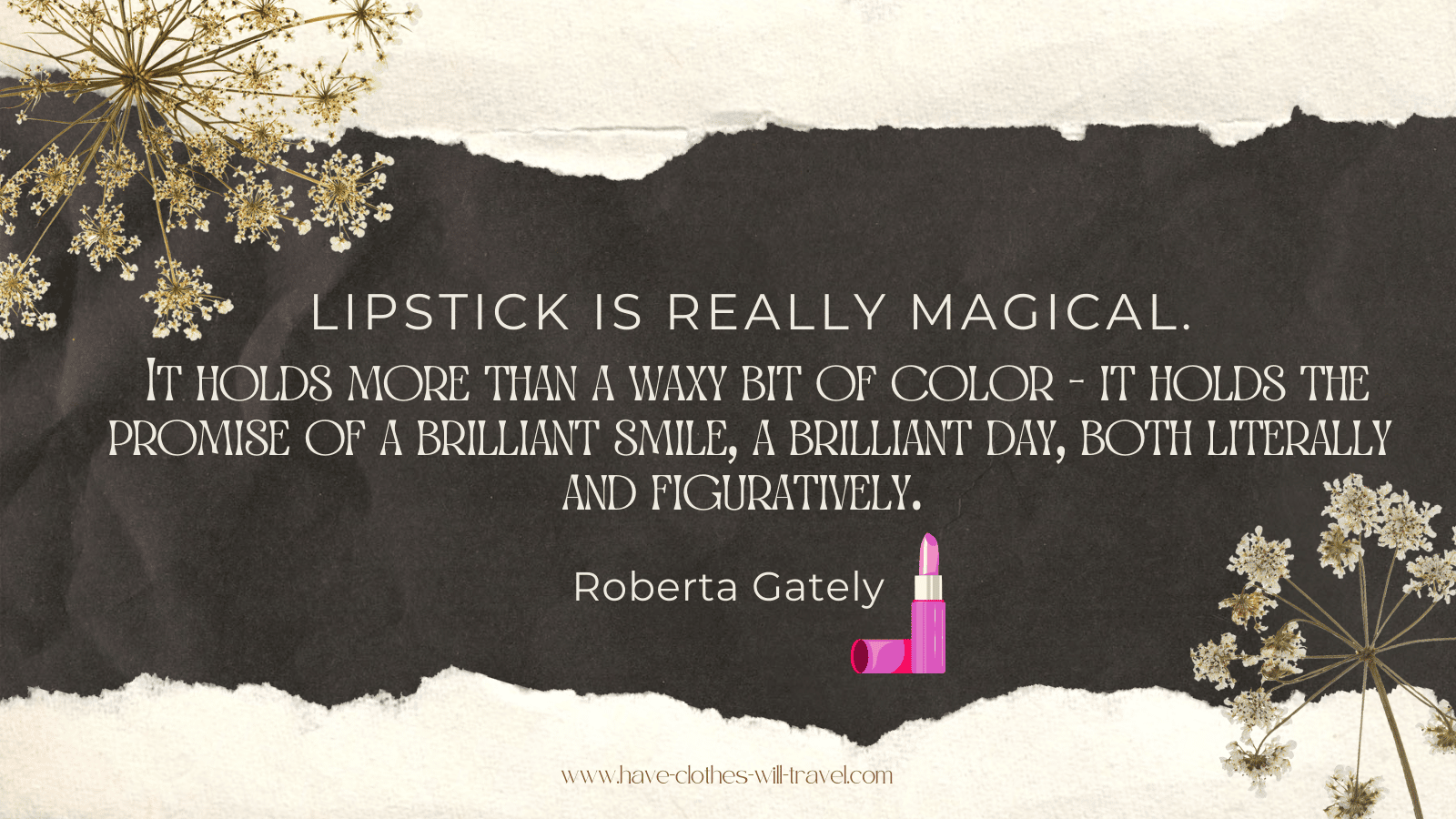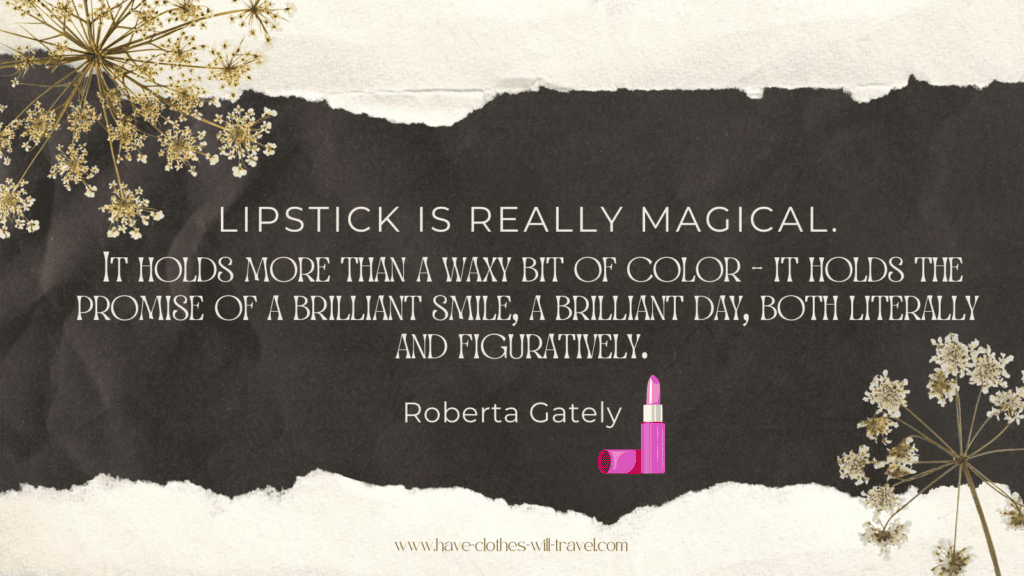 13.) Makeup is not a mask that covers up your beauty; it's a weapon that helps you express who you are from the inside. – Michelle Phan
14.) I love natural beauty, and I think it's your best look, but I think makeup as an artist is so transformative. – Marina and the Diamonds
15.) I'm a big believer in that if you focus on good skincare, you really won't need a lot of makeup. – Demi Moore
16.) I love the confidence that makeup gives me. – Tyra Banks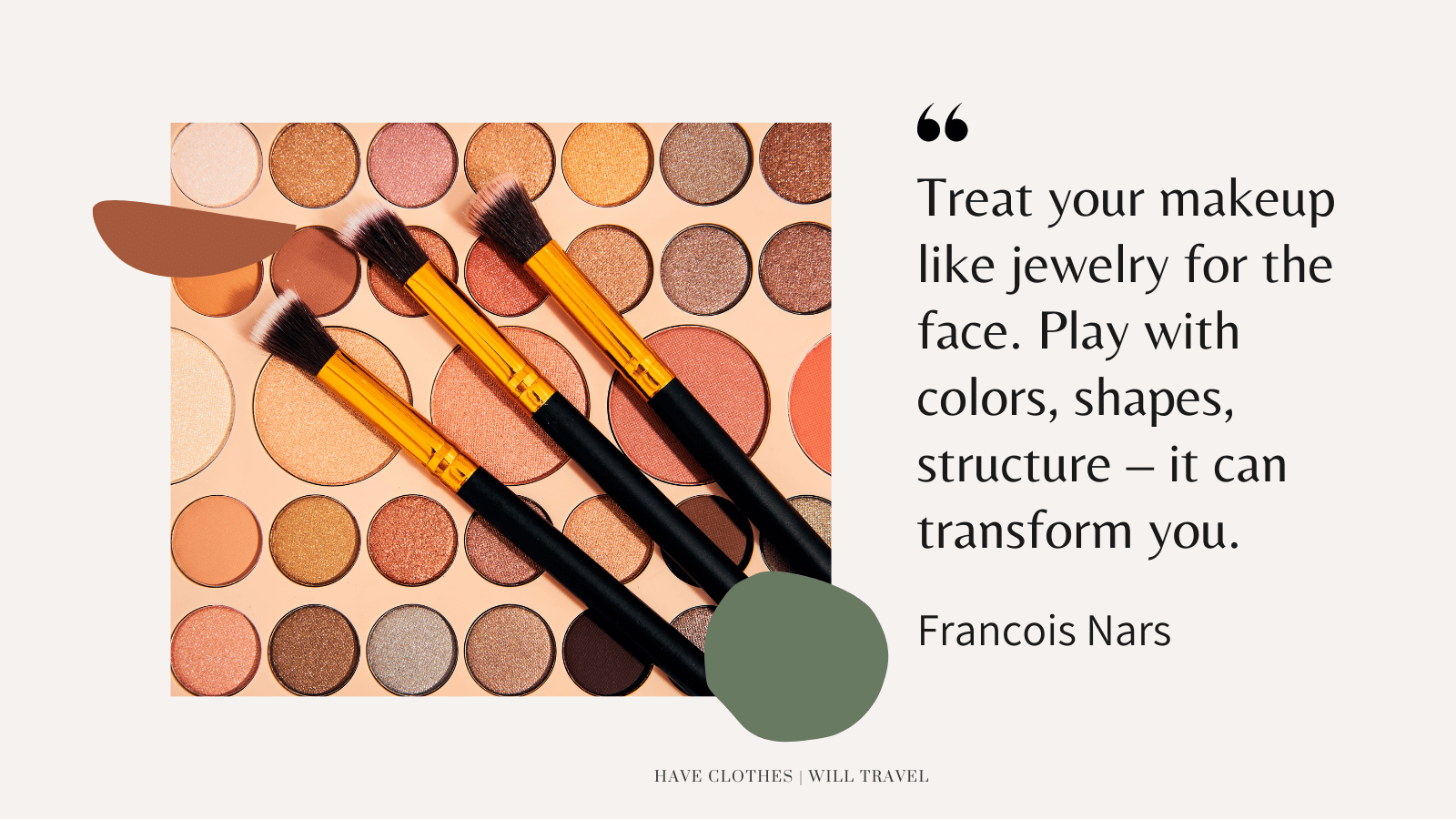 17.) Joy is the best makeup. But a little lipstick is a close runner-up. – Anne Lamott
18.) Makeup is the finishing touch, the final accessory. – Marc Jacobs
19.) Your eye makeup says so much about you and your style. – Laura Mercier
20.) I do put on a little makeup every day because it helps me feel put together. Mascara is essential. – Emma Stone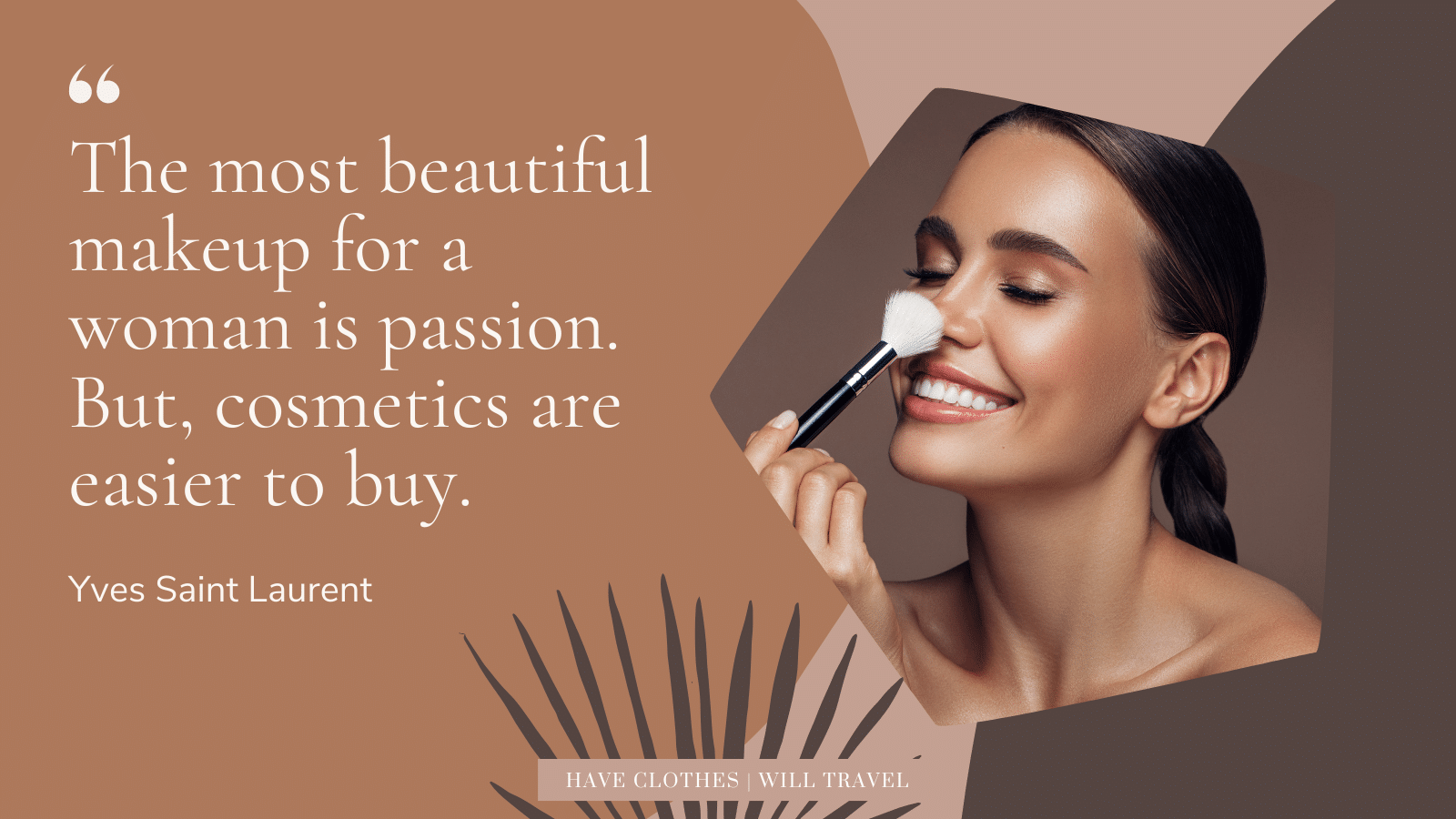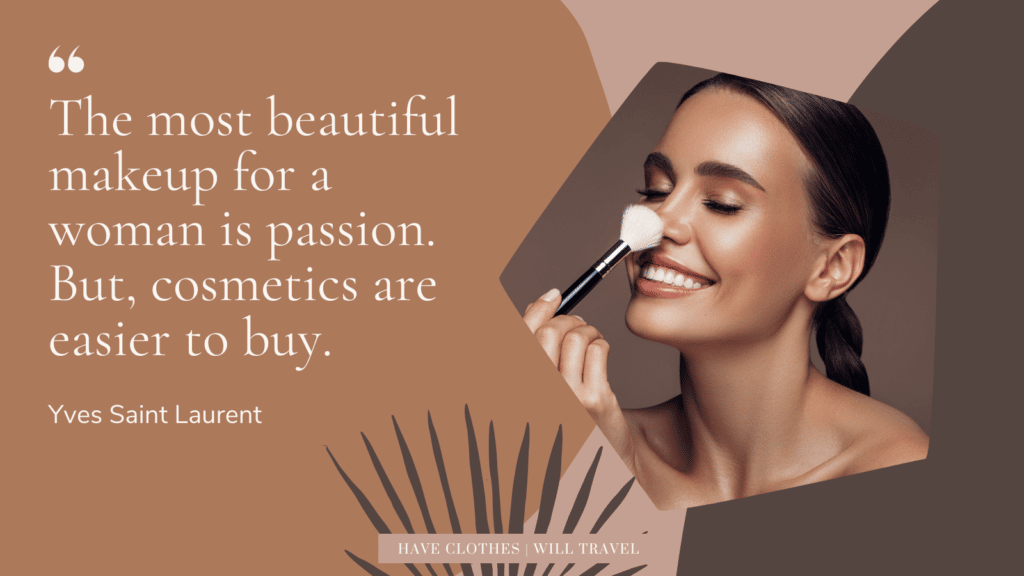 21.) Beautiful makeup starts with beautiful skin. – Shu Uemura
22.) Keep it simple. You don't want to overdo it with too much makeup or crazy, over–the–top hairstyles. Let your natural beauty show through. – Heidi Klum
23.) Treat your makeup like jewelry for the face. Play with colors, shapes, structure – it can transform you. – Francois Nars
24.) The most beautiful makeup for a woman is passion. But cosmetics are easier to buy. – Yves Saint Laurent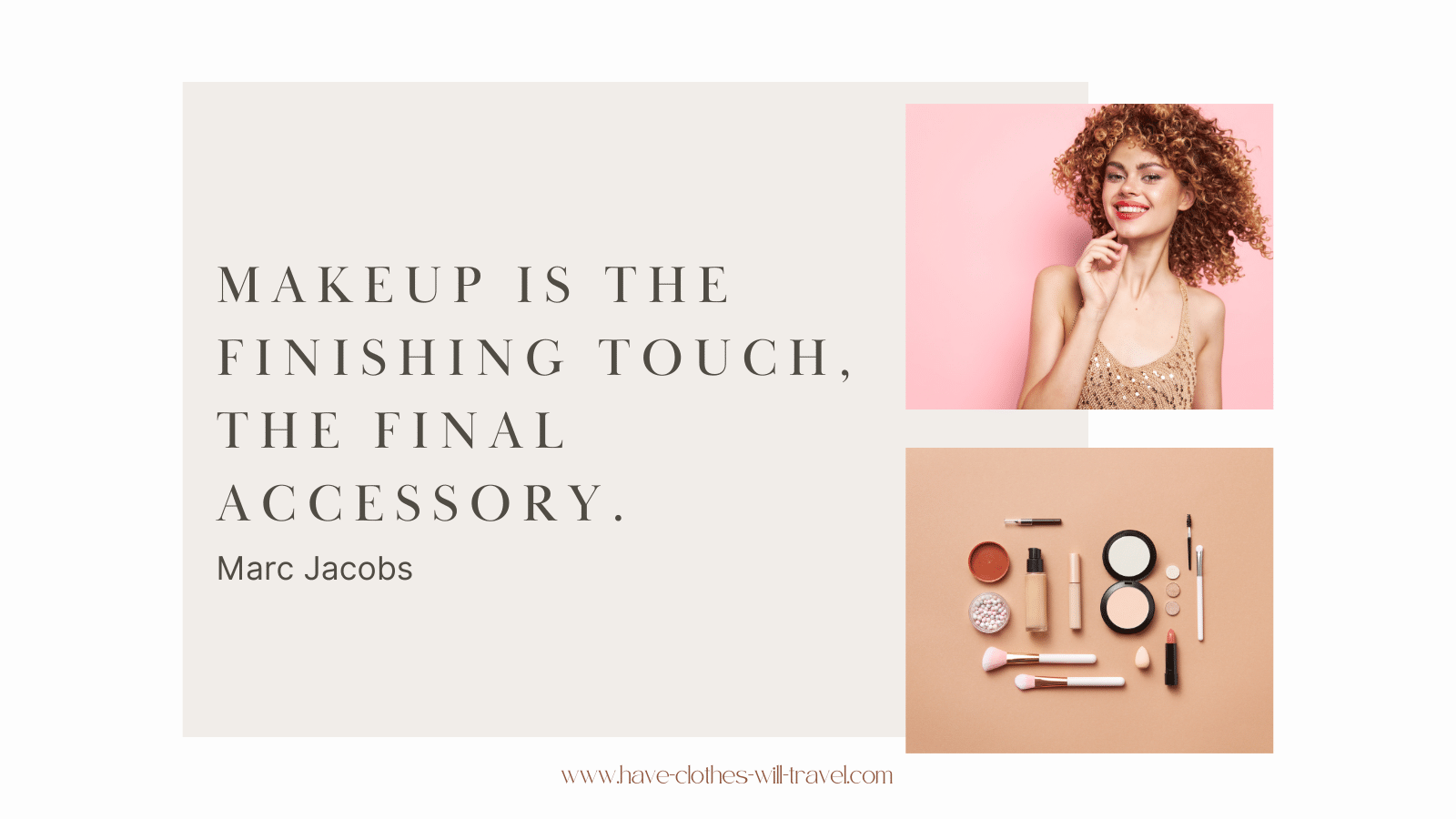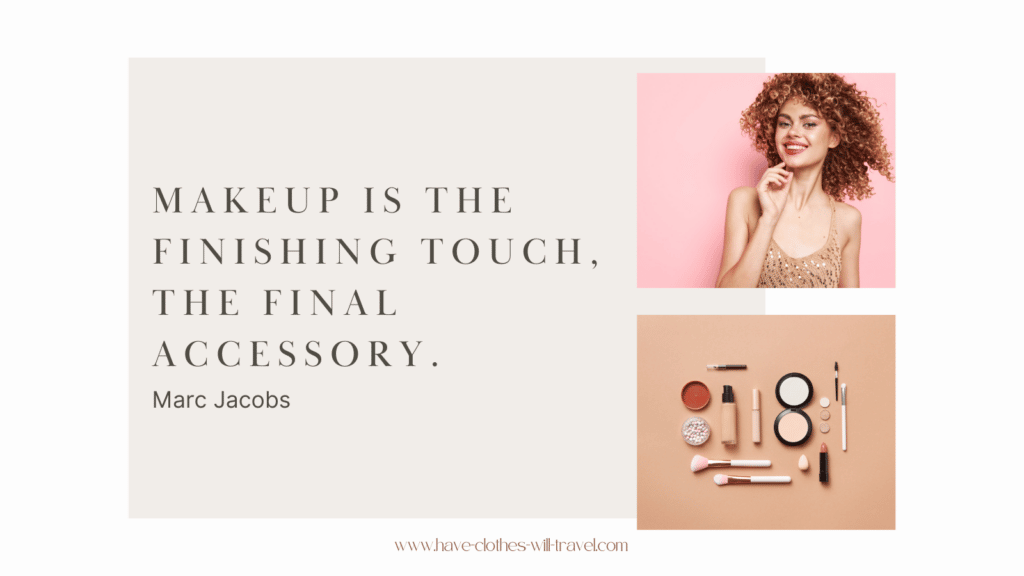 25.) That's one of the things I love about makeup. You can change your whole attitude by just doing your eyeliner or lipstick differently. – Beyonce
26.) I like to make the best of what I have. I'm not a supermodel, clearly. I'm not a makeup artist. I'm a real woman. – Victoria Beckham
27.) Makeup is about balance. When the eye makes a statement, the lips should be quiet. – Francois Nars
28.) Beauty, to me, is about being comfortable in your own skin. That, or a kick-ass red lipstick. – Gwyneth Paltrow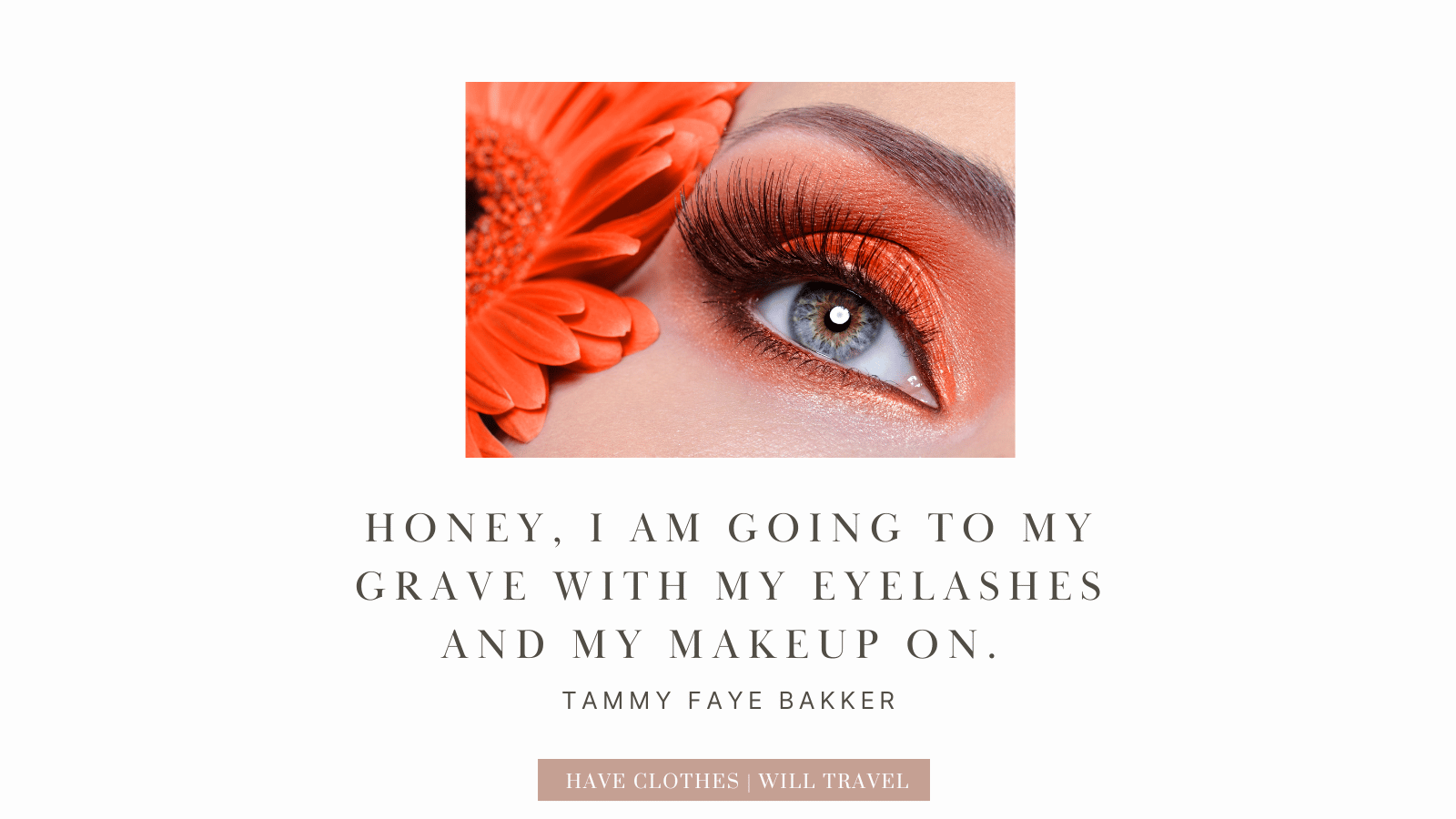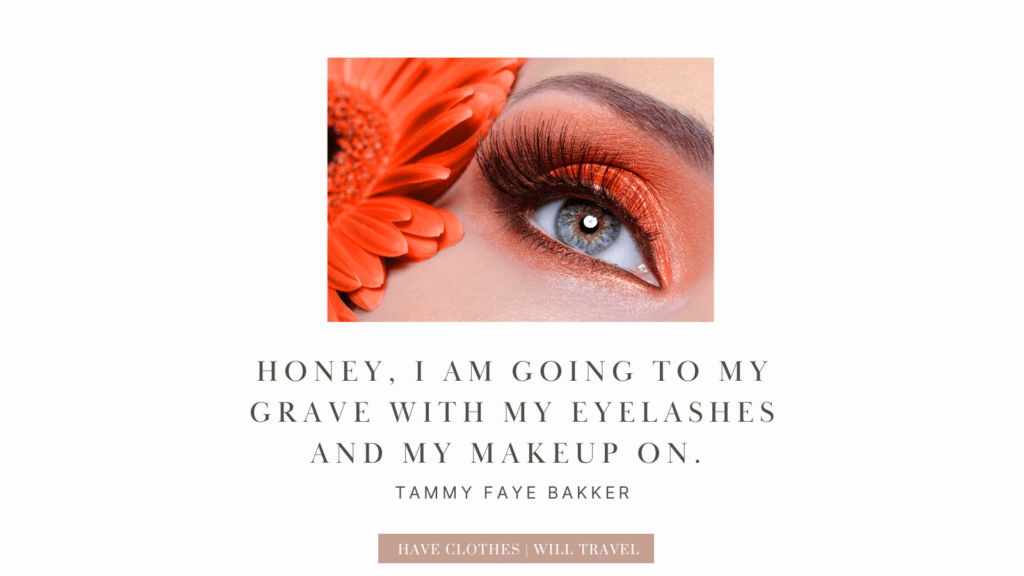 29.) I believe in manicures, I believe in overdressing, I believe in primping at leisure and wearing lipstick. – Audrey Hepburn
30.) We, makeup artists, are a unique bunch of people; we don't have the classic brain, the classic training, but we're creative, so we figure it out. – Bobbi Brown
31.) If you don't want to put on any makeup, try some fake eyelashes. They make your eyes pop and give you a little confidence boost. – Jessie James Decker
32.) I just like playing with makeup and clothes – so I really don't feel like there are rules, and if there are rules, then I think it's up to you to break them. – Kesha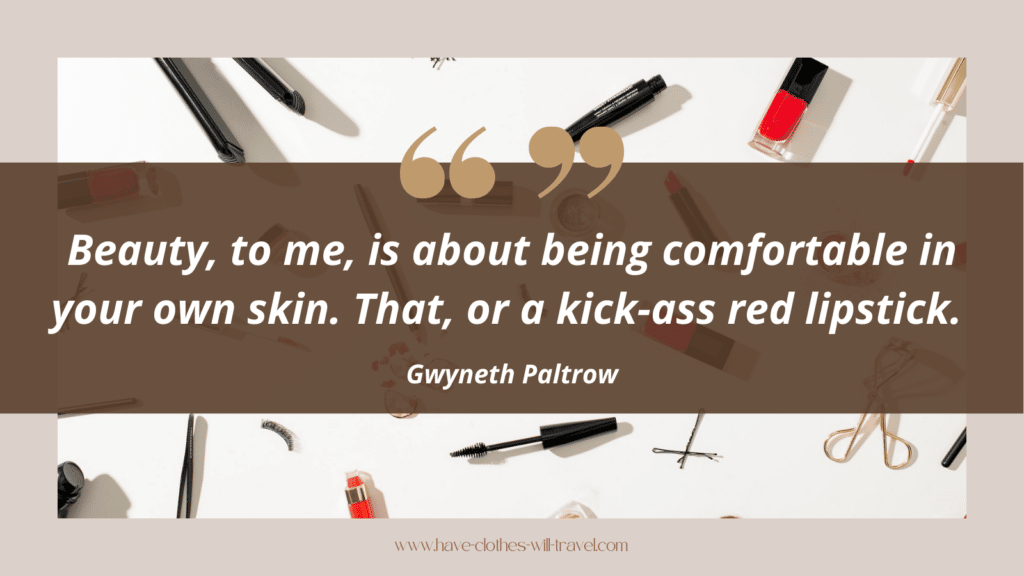 33.) Beauty is power, and makeup is something that really enhances that; it's a woman's secret. – Charlotte Tilbury
34.) Foundation should unify tone, but it shouldn't take away the individuality of the skin. – Francois Nars
35.) Honey, I am going to my grave with my eyelashes and my makeup on. – Tammy Faye Bakker
36.) I can't wear a little makeup. I have to wear a lot of makeup or no makeup. – Betsey Johnson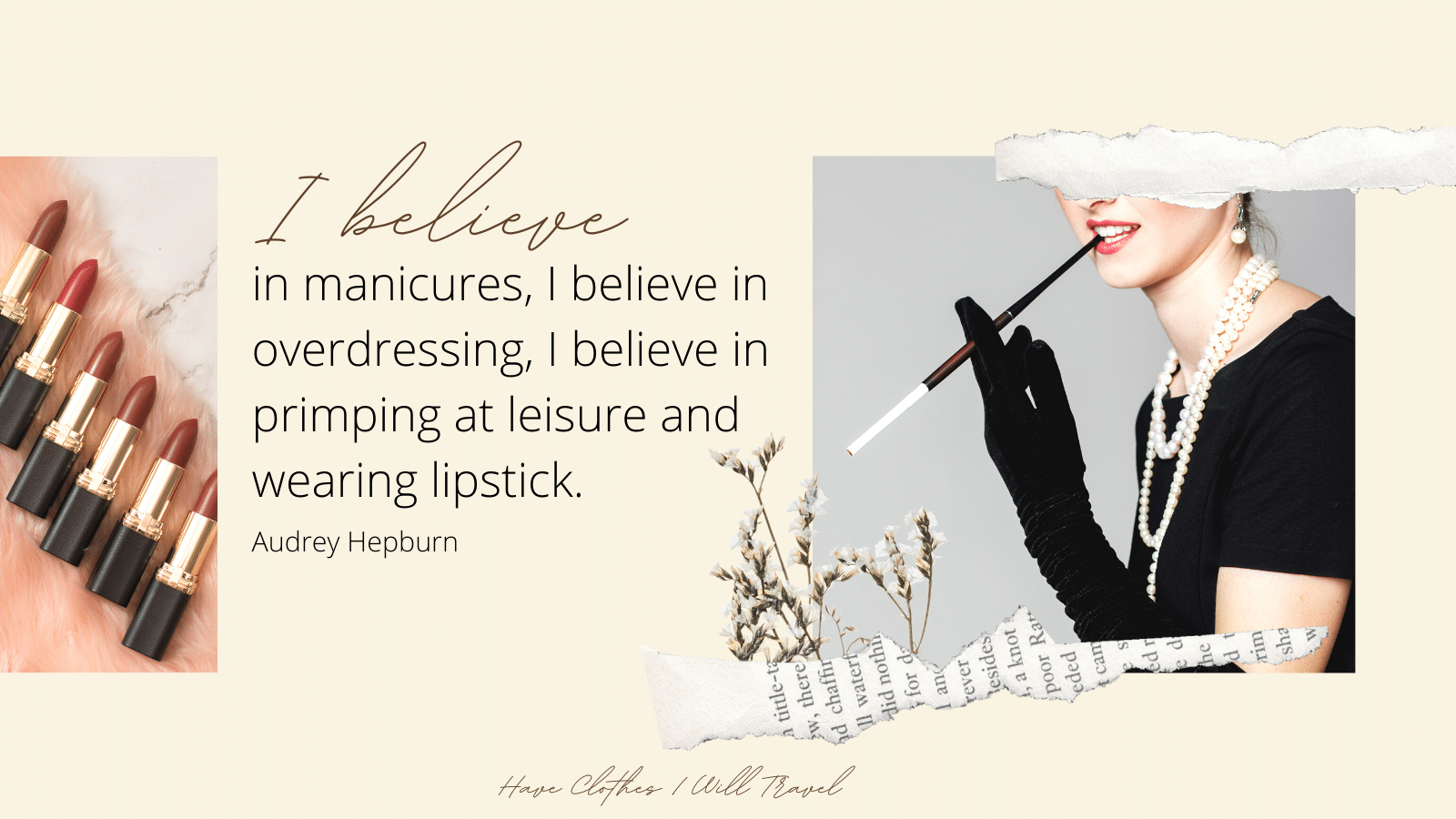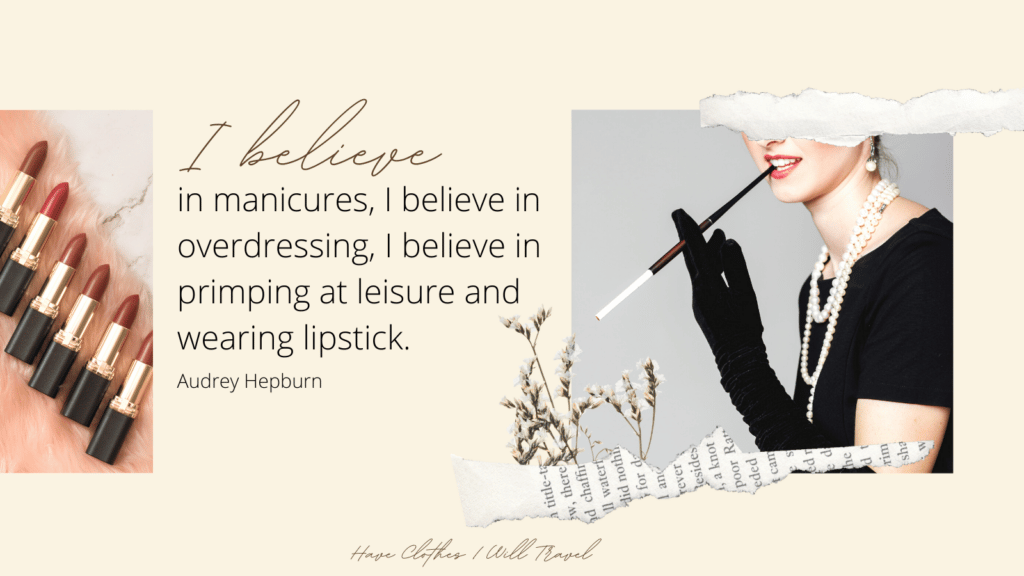 37.) Girls have always wanted to be pretty, even in Egyptian times. Cleopatra wore all the eyeliner, you know. – Rita Ora
38.) If she likes makeup, let her wear it. If she likes fashion, let her dress up. But if she doesn't like either, let her be. – Chimamanda Ngozi Adichie
39.) I love being super–tough, but if I need to put on a dress and do my hair and makeup, I can do that too. – Elizabeth Rodriguez
40.) The only way I'd be caught without makeup is if my radio fell in the bathtub while I was taking a bath and electrocuted me and I was in between makeup at home. I hope my husband would slap a little lipstick on me before he took me to the morgue. – Dolly Parton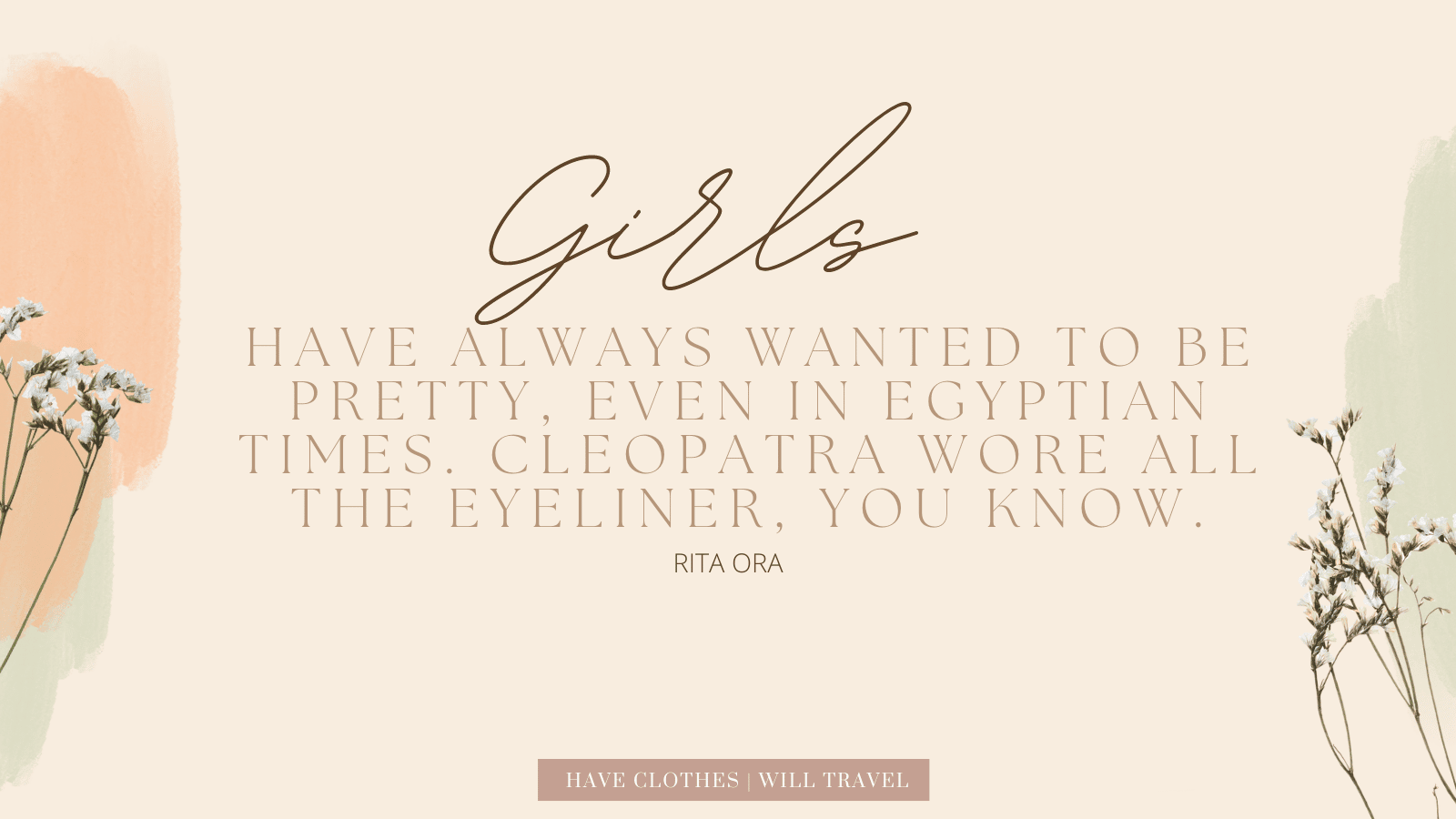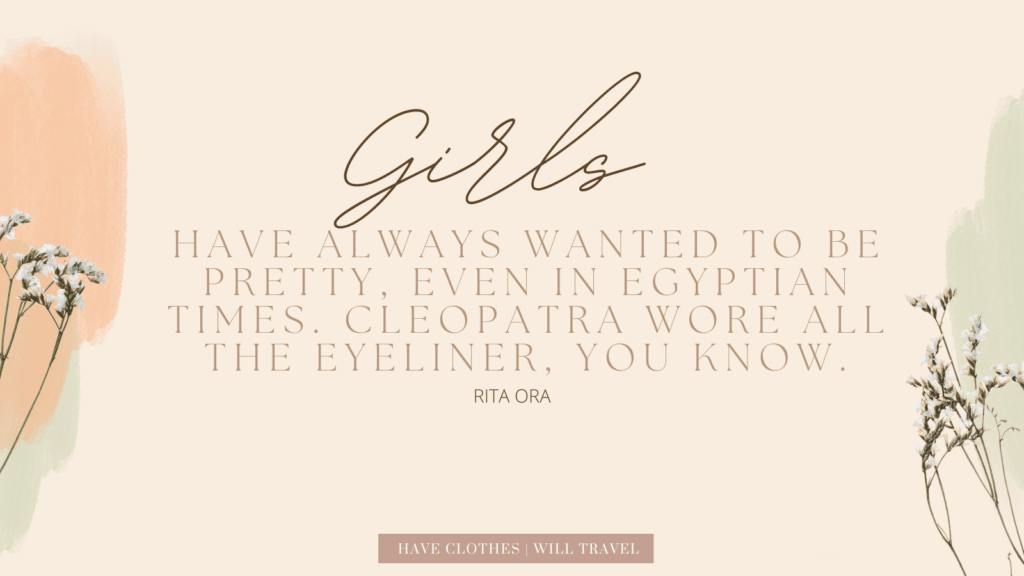 41.) Whether I'm wearing lots of makeup or no makeup, I'm always the same person inside. – Lady Gaga
42.) To me, beauty and makeup and color is like the finishing touch on everything. – Marc Jacobs
43.) Creativity is your best makeup skill, don't be afraid to experiment. – Pat McGrath
44.) Beneath the makeup and behind the smile I am just a girl who wishes for the world. – Marilyn Monroe
45.) Sometimes you just have to put on lip gloss and pretend to be psyched. – Mindy Kaling
46.) Fenty Beauty was created for everyone: for women of all shades, personalities, attitudes, cultures, and races. I wanted everyone to feel included. That's the real reason I made this line. – Rihanna
47.) Have a better relationship with your makeup and take the time to learn what your products will do. – Sam Fine
48.) Black eyeliner. It's standard. It's all you need. It just makes the world a better place. – Marilyn Manson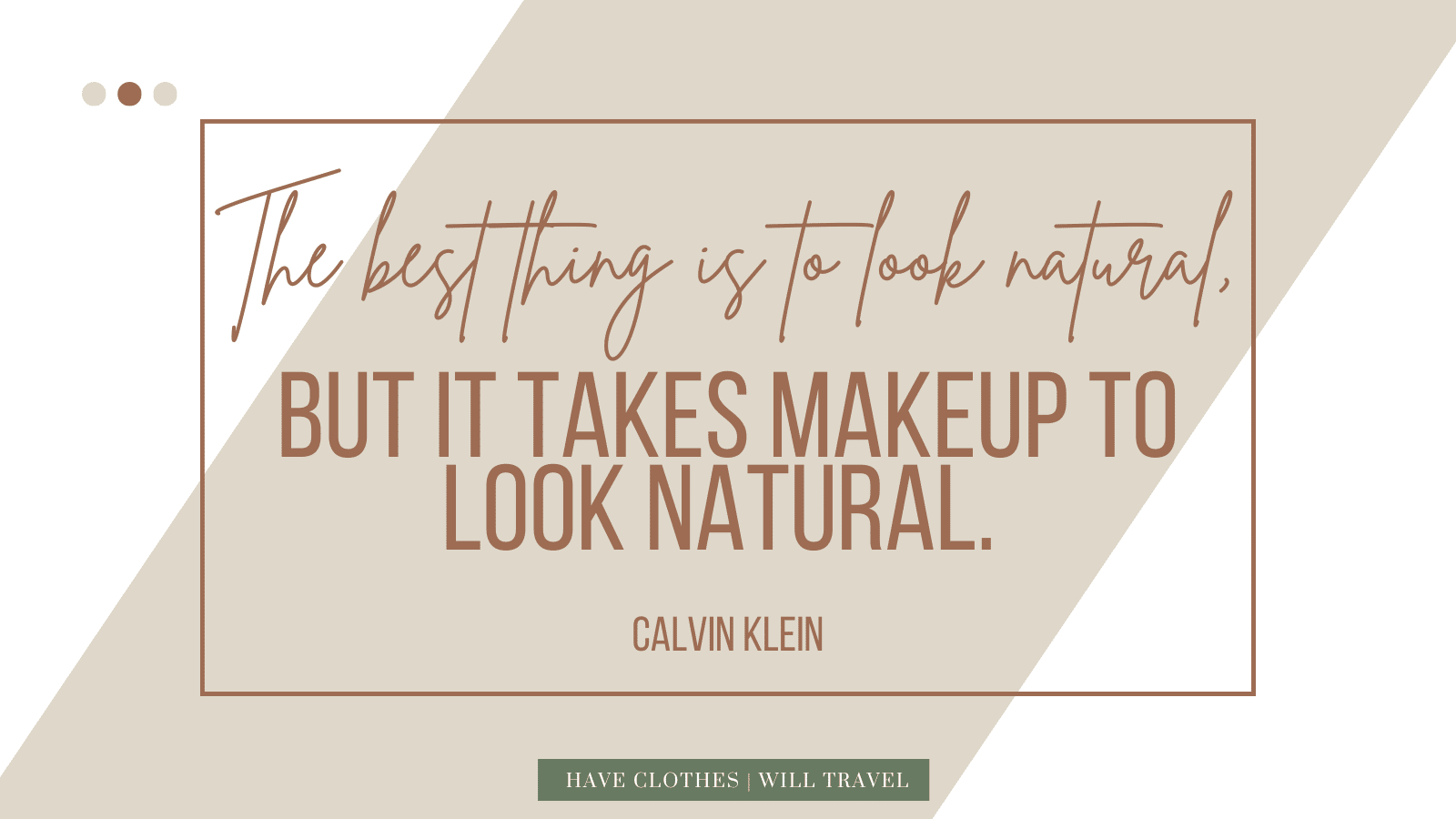 49.) Bronzer is a booster. Choose a shade that's one shade darker than your skin tone. It adds warmth and richness. – Sam Fine
50.) The notion that wearing makeup is anti-feminist is silly. Cleopatra pretty much invented the eyeliner, and she ruled a kingdom. – Natasha Scripture
51.) Makeup can only make you look pretty on the outside, but it doesn't help if you're ugly on the inside. Unless you eat the makeup. – Audrey Hepburn
52.) Just because you want to be glamorous, don't be a sheep about your eye makeup. – Loretta Young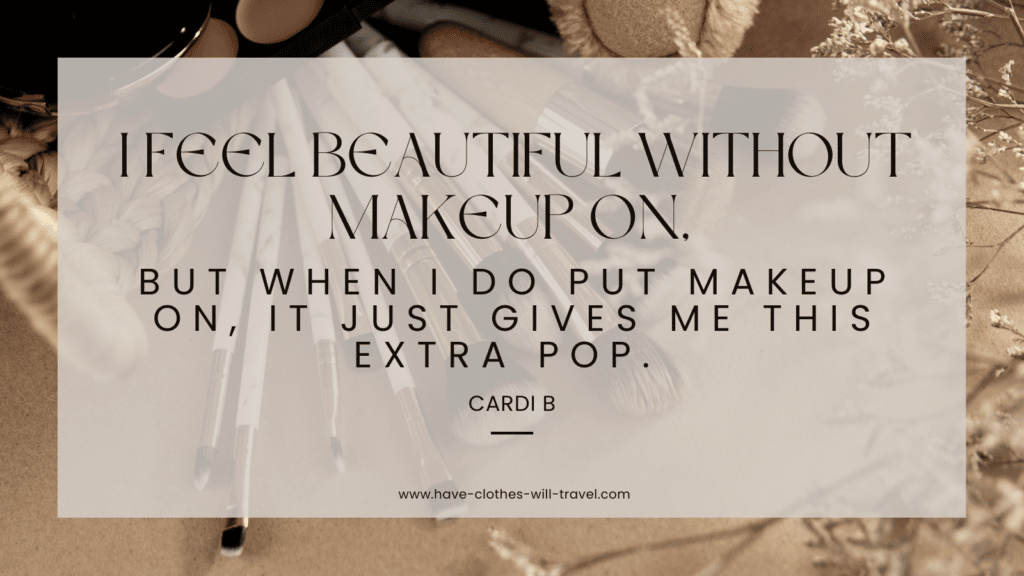 53.) Good skin is the best foundation for your makeup. – Holland Roden
54.) I feel beautiful without makeup on, but when I do put makeup on, it just gives me this extra pop. – Cardi B
55.) I really believe less is more. When you get older, too much makeup can be aging, and when you're young, you should enjoy the fact your skin is free from lines and wrinkles rather than overloading it with products. – Louise Nurding
56.) That's the mistake women make – you shouldn't see your makeup. We don't want to look like we've made an effort. – Lauren Hutton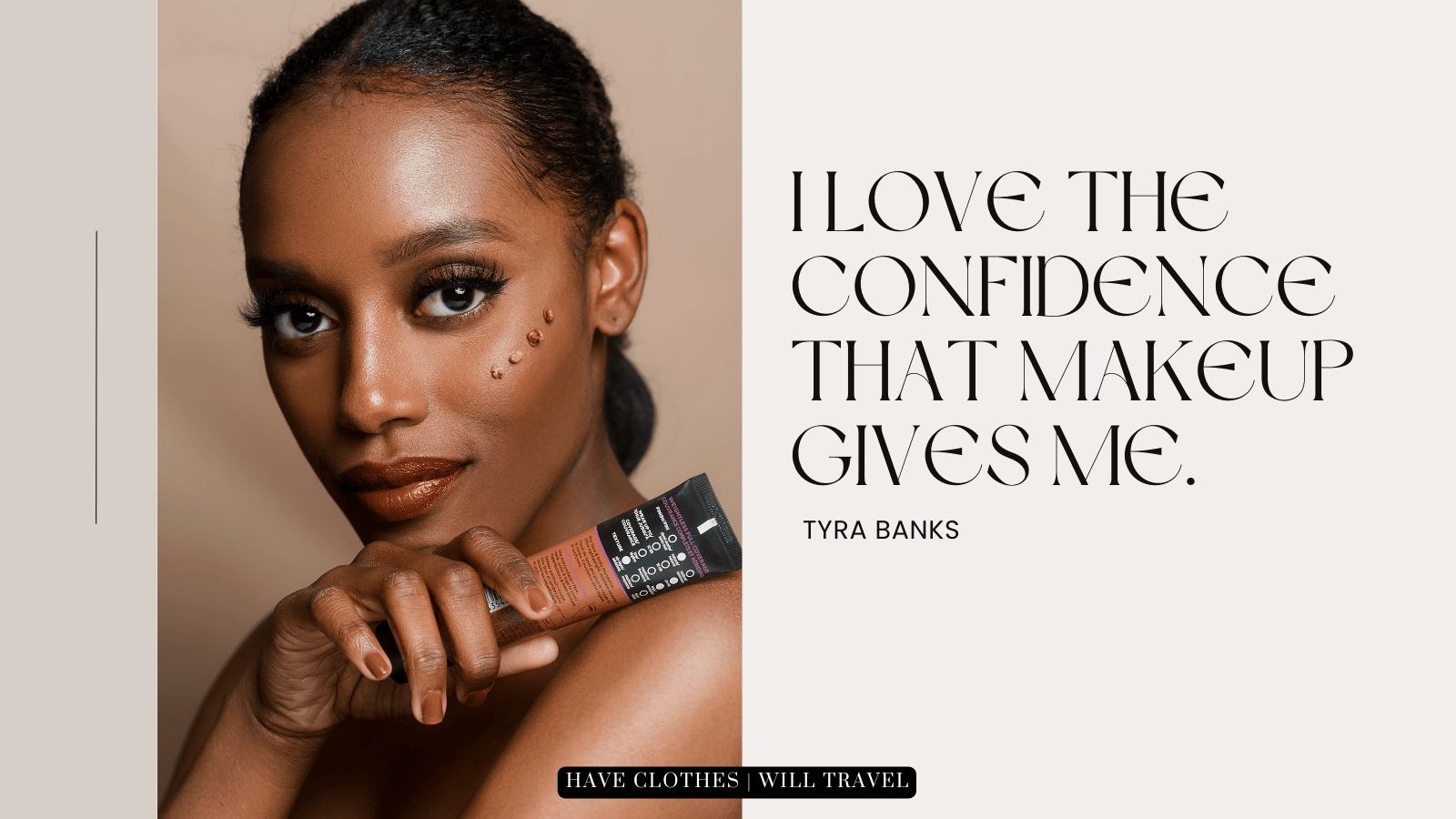 57.) The best thing is to look natural, but it takes makeup to look natural. – Calvin Klein
58.) Makeup is malleable and mercurial: The biggest joy I have every day is the opportunity to create, to play, and to invent with something I've loved forever. – Pat McGrath
59.) But if you want to know who the scariest person in the group is, look for the one who's been fighting zombies without smearing her eyeliner. – Mira Grant
60.) Perfect isn't normal, nor is it interesting. I have no features without makeup. I am pale. I have blond lashes. You could just paint my face—it's like a blank canvas. It can be great for what I do. – Amy Adams
61.) Makeup can be used to express yourself… Those experiences should not be limited to women. Everyone should be free to be as colorful as they want to be. – Ian Thomas Malone
62.) I'm not saying that putting on makeup will change the world or even your life, but it can be a first step in learning things about yourself you may never have discovered otherwise. At worst, you could make a big mess and have a good laugh. – Kevyn Aucoin
63.) What I love most about makeup is that you can't get attached to one thing, one idea, or one approach—and once you've achieved perfection, you have to wipe it all off and start over the next day. – Pat McGrath
64.) Makeup can help you capture a moment. – Carine Roitfeld
65.) I grew up in a makeup chair. And to see the women around me getting ready was so aspirational. It's about mothers and daughters, a girl watching her mom at a vanity table. – Drew Barrymore
66.) We're just so lucky as women to be able to wear [makeup]. If you're having a bad day, you can change that. – Gwen Stefani
67.) Makeup transforms me. I feel like I'm in disguise when I walk my dog without makeup on. – Maye Musk
68.) Makeup ignites a psychological transformation of both the wearer and the observer. – Richard Phillips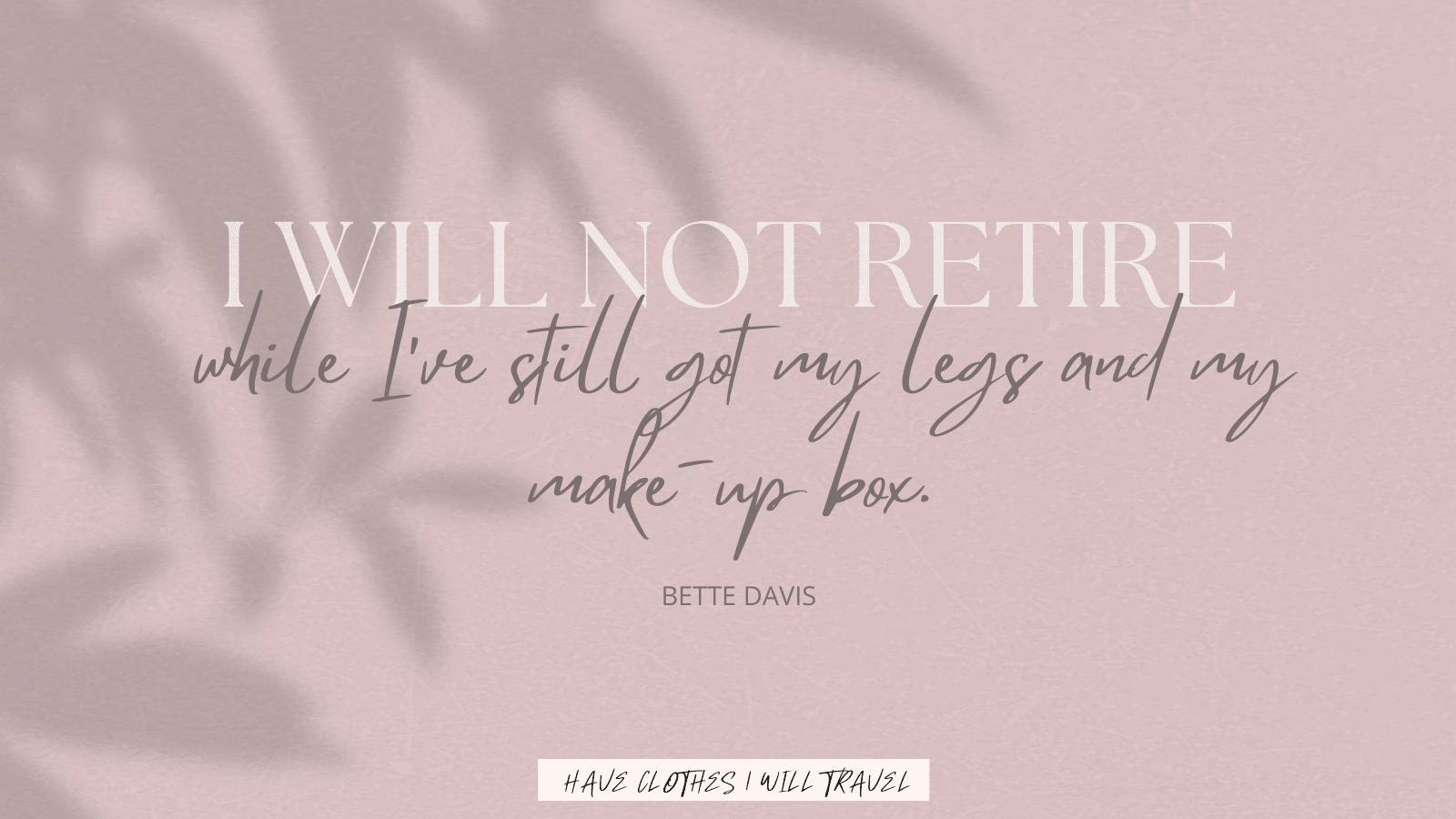 69.) Cosmetics is the science of a woman's cosmos. – Karl Kraus
70.) Put on some lipstick and pull yourself together. – Elizabeth Taylor
71.) Heels and red lipstick will put the fear of God in people. – Dita Von Teese
72.) I fought a killer and didn't even smudge my makeup. – Rose Pressey
73.) Every woman deserves a man to ruin her lipstick, not her mascara. – Charlotte Tilbury
74.) Makeup can make a woman look more beautiful at every age. ― Francois Nars
75.) The right tools are just as important as the makeup itself. ― Bobbi Brown
76.) Makeup can contribute to our success. – Sahara Sanders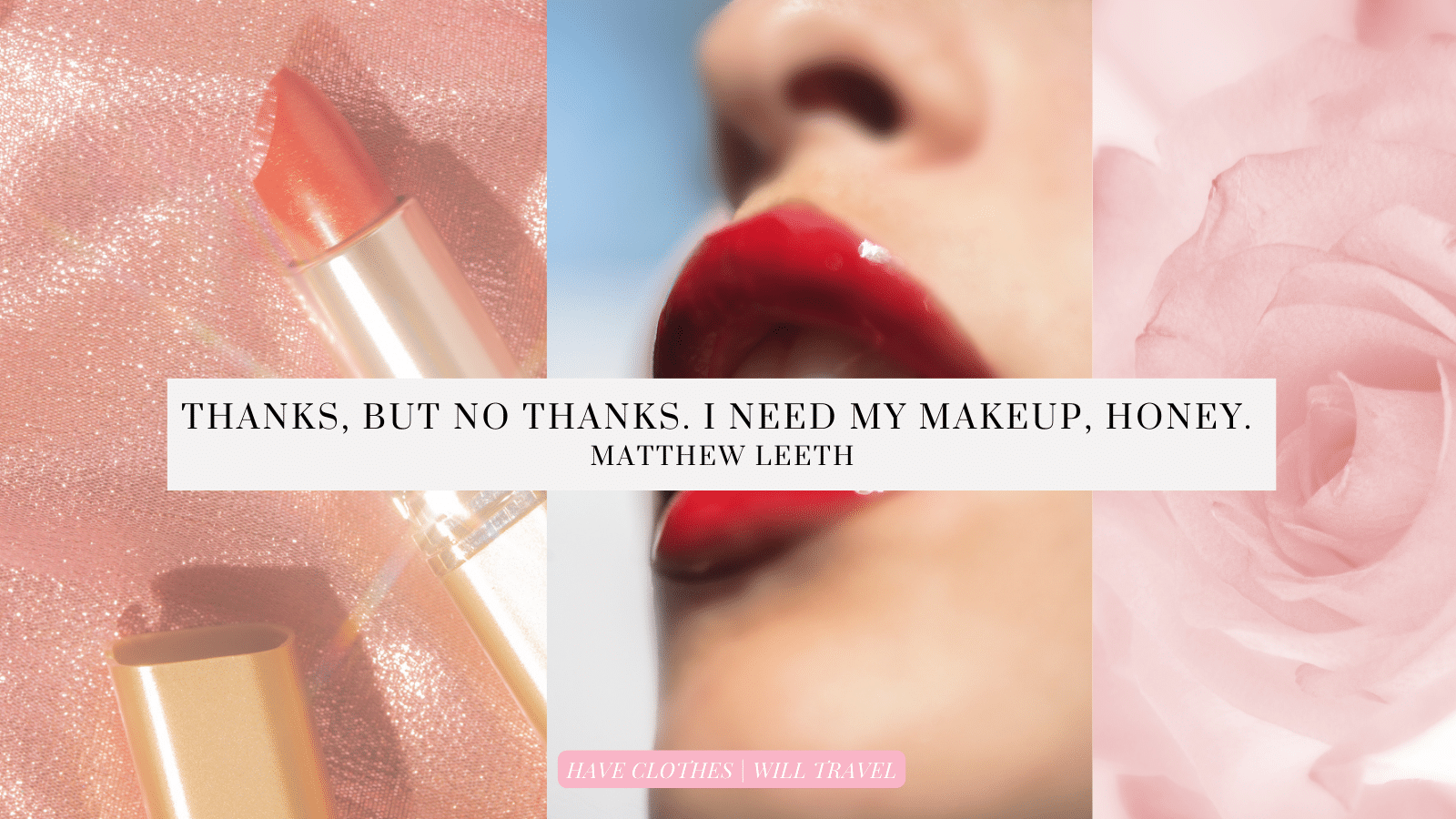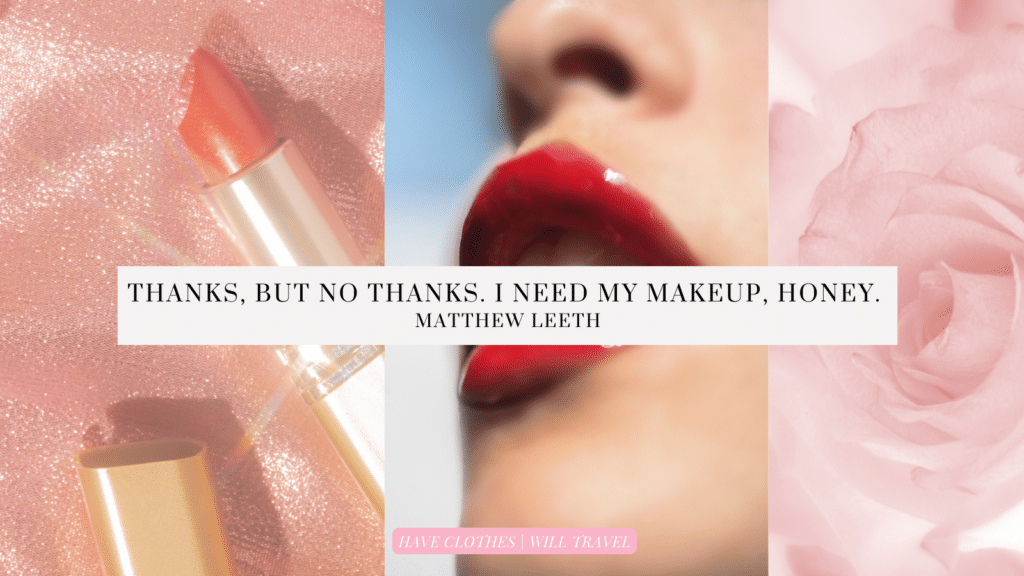 77.) I feel good in makeup, and it helps create a character. – Josephine Langford
78.) I feel more confident if my makeup looks good. – Ellie Goulding
79.) I will not retire while I've still got my legs and my make-up box. – Bette Davis
80.) Makeup is part of my daily routine. It's the time in my mornings when I can concentrate on me, and me alone. Giving yourself the kind of attention is so important – and is something that is definitely glossed over by too many women. – Kat Von D
81.) Makeup is no different than clothes and accessories – it's embellishments for your face. And it also gives you creative freedom. You get to have that moment in front of the mirror every morning and give yourself self-love. You're making yourself up beautiful, which is essentially self-love. – Michelle Phan
82.) Makeup should be just a frame for the eyes. When you lay on all the bright-colored goop and slather white under the brows the eyes themselves are lost in camouflage. Just accent whatever God has given you with a subtle hand. – Joan Crawford
83.) Remember that true beauty comes from within – from within bottles, jars, compacts, and lipstick tubes. – Jeffree Star
84.) That's why I began doing makeup in the first place: I was hoping that through helping people see the beauty in themselves, I could try and find it in me. – Kevyn Aucoin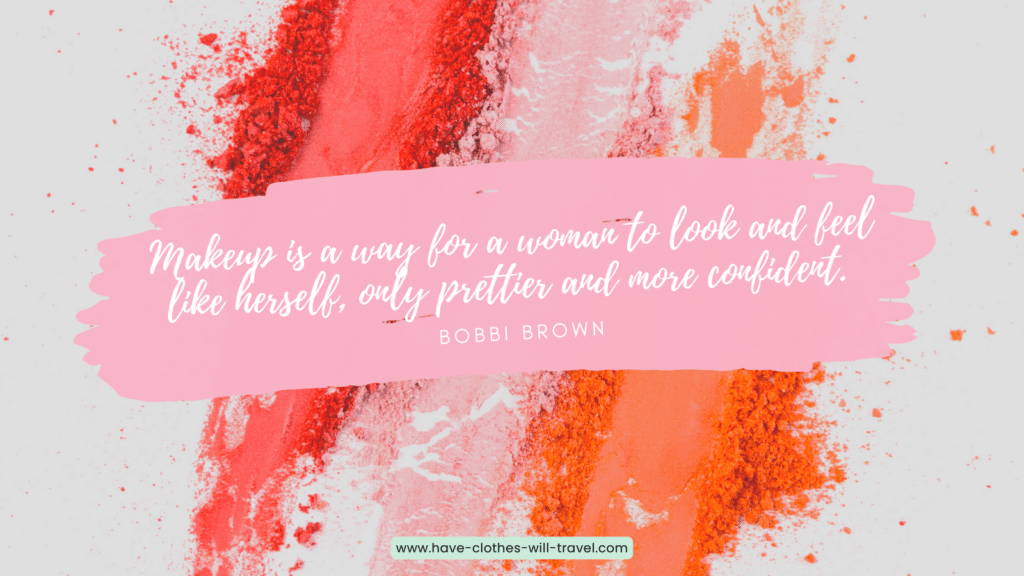 85.) Color is key to making your makeup pop and having your unique look stand out amongst the rest. – Jeffree Star
86.) And who's to say a little mascara doesn't make you feel more confident when you pop it on and look in the mirror? – Christina Aguilera
87.) I don't think I could live without hair, makeup, and styling, let alone be the performer I am. I am a glamour girl through and through. I believe in the glamorous life and I live one. – Lady Gaga
88.) Makeup, lipstick, nail polish, high heels, sexy lingerie are all some of the tools that can help keep the portal of sensual into your relationship opened. – Lebo Grand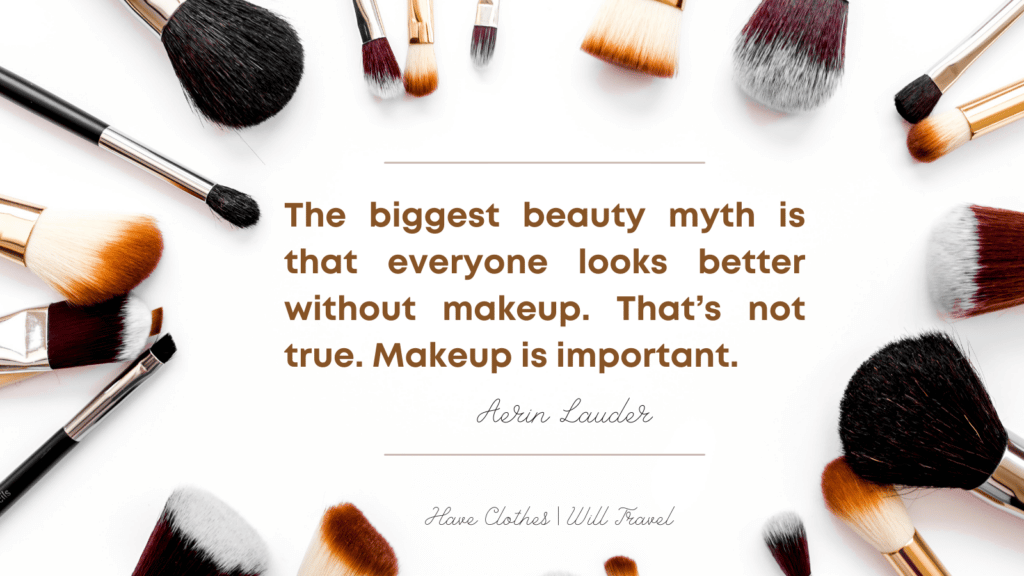 89.) Any woman can look her best if she feels good in her skin. It's not a question of clothes or makeup. It's how she sparkles. ― Sophia Loren
90.) I do mascara, I do lipstick, I do eyeliner and a little powder, and I fill in my eyebrows because mine are a little thin… I love makeup. – Tori Bowie
91.) The biggest beauty myth is that everyone looks better without makeup. That's not true. Makeup is important. – Aerin Lauder
92.) On stage, you can get away with more, so I definitely use that to my advantage and go bolder with fashion, hair, and makeup. I love a smoky eye and long lashes. – Kelsea Ballerini
93.) I don't understand how a woman can leave the house without fixing herself up a little – if only out of politeness. And then, you never know, maybe that's the day she has a date with destiny. And it's best to be as pretty as possible for destiny. – Coco Chanel
94.) How obvious can it be? … The purpose of makeup is to defy the degradations of time, and time is just a synonym for death. ― Dean Koontz
95.) Smile, it's natural makeup. ― Khalid Masood
96.) The makeup is simply an extension of the personality and colors, clothing, makeup all express something. ― Gene Simmons
97.) There are no rules in makeup. If there were, I'd break them anyways. ― Jaclyn Hill
98.) A little makeup, a touch of rouge, a dash of henna – and you are an angel. ― Richard Le Gallienne
99.) Makeup is a way for a woman to look and feel like herself, only prettier and more confident. ― Bobbi Brown
100.) If the magic's in the makeup, then who am I? ― Gwen Stefani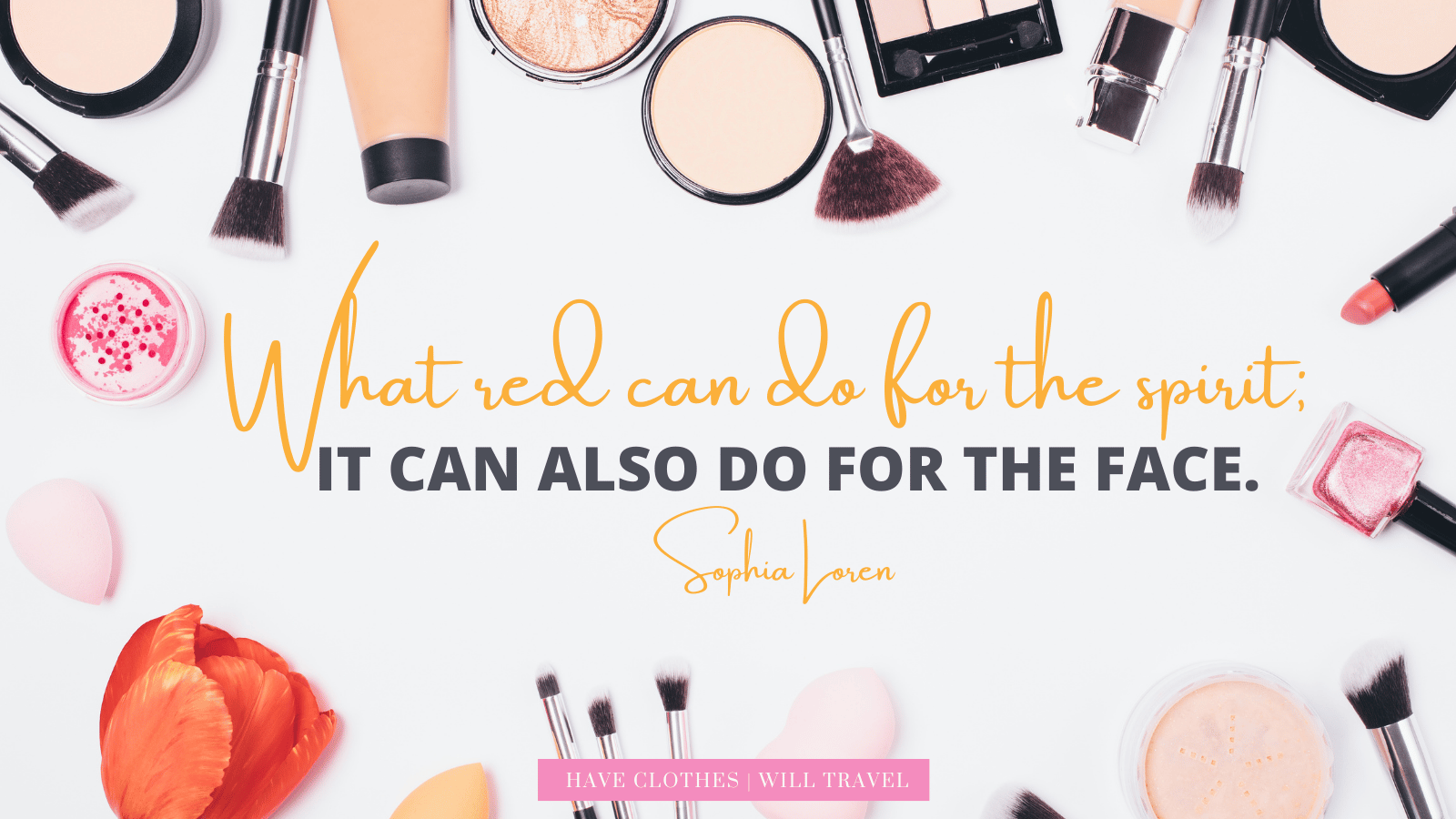 101.) It's not your makeup but how you are made up. ― Tapan Ghosh
102.) I'm enjoying trying all different shades. Makeup isn't something I've worn a lot of in my life. ― Lupita Nyong'o
103.) Lots of women buy just as many wigs and makeup things as I do … They just don't wear them all at the same time. — Dolly Parton
104.) It's all about makeup. — Joe Torre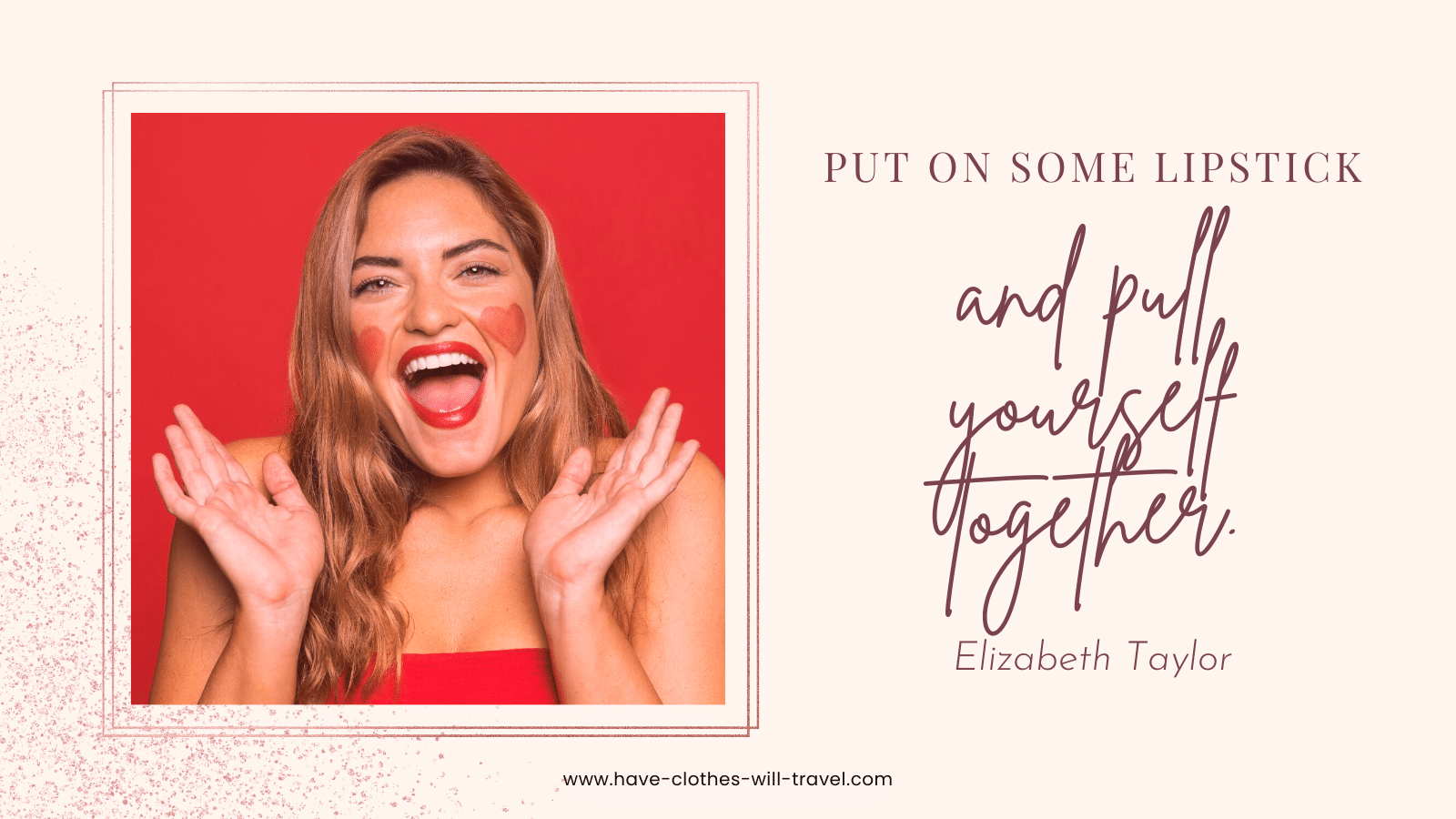 105.) When you put your costume on and you get your hair and your makeup done [for a role] and you stare in the mirror you feel like a different person. — Michael Shannon
106.) I realize as you age the less makeup you wear the younger you look. — Halle Berry
107.) All my makeup tricks are from modeling jobs! It's my favorite part of the job – learning new tricks! — Erin Heatherton
108.) Makeup is such a weird concept. I'll wake up in the morning and look in the mirror. 'Gee, I really don't look so good. Maybe if my eyelids were blue, I'd be more attractive. — Cathy Ladman
109.) It's never boring in makeup. — Dave Bautista
110.) Makeup can give you the confidence to…change your job, move abroad, get a pay raise. — Charlotte Tilbury
111.) There are endless ways to enhance beauty. You never know when you will find your perfect lipstick – unless you keep experimenting. – Pat McGrath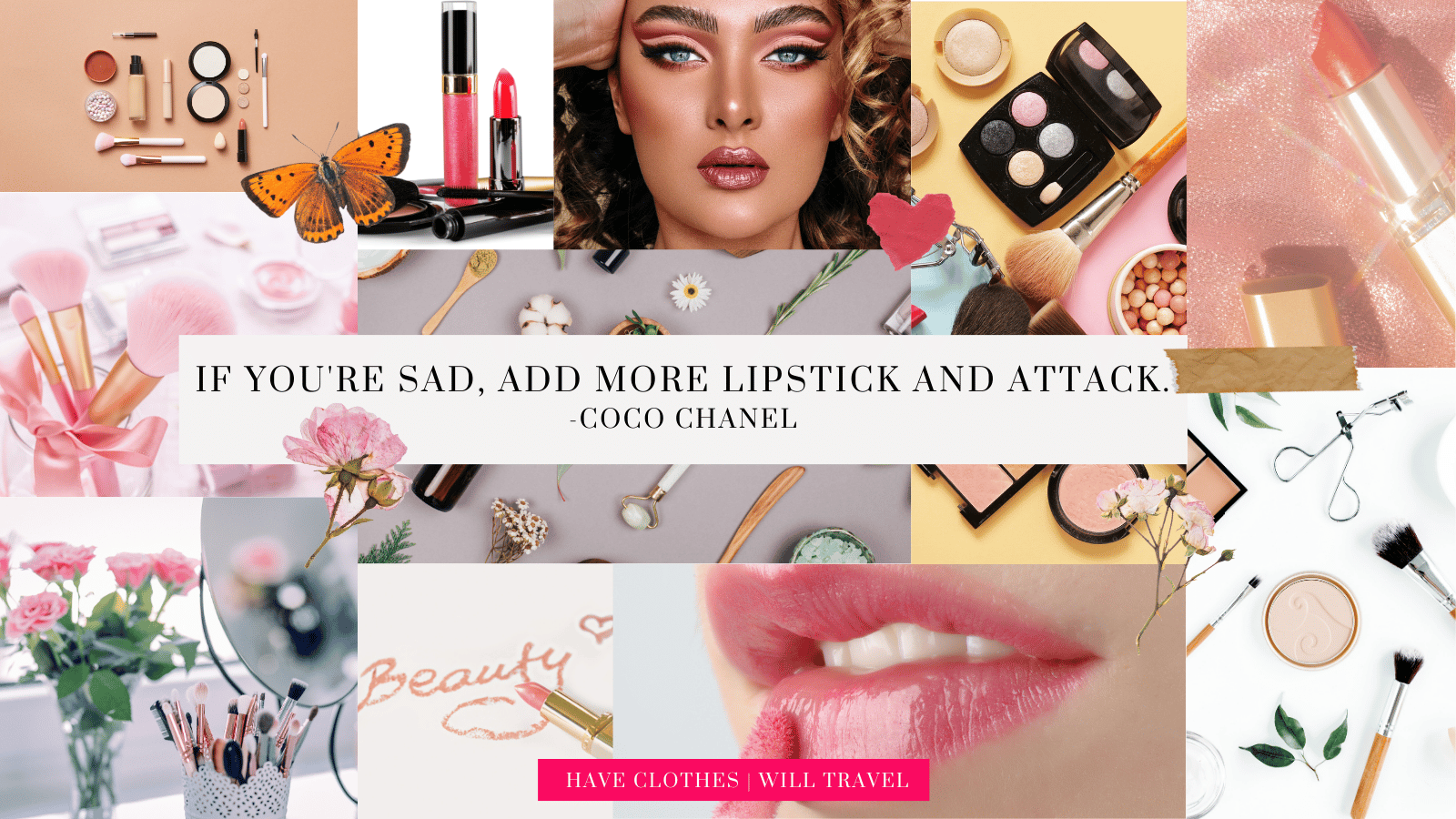 112.) Some people think wearing powder ages them, but try it anyway. For me it mattes my makeup and blends it well. – Marcia Cross
113.) Maybe it's not Maybelline. Maybe you were just born with it. – Mandy Hale, 'The Single Woman: Life, Love, and a Dash of Sass
114.) For makeup, I prefer to keep it simple for the daytime. – Chiara Ferragni
115.) I swear to God; happiness is the best makeup. – Drew Barrymore
116.) We know grooming is important for people. To get their hair done, to get makeup and things like that – that makes a person feel better. – Kenneth Williams
117.) A makeover is the rebranding of a human being. – Mokokoma Mokhonoana
118.) When my makeup is done, I look in the mirror and hope I always wear makeup. I hope I'm 70 and still popping on fluffy lashes and highlighter. – Kris Slade
119.) She kisses the children goodnight, leaving lipstick on their foreheads and a trail of Chanel No.5. – Camilla Gibb, 'Sweetness In The Belly'
120.) Nature gives you the face you have at twenty; it is up to you to merit the face you have at fifty. – Coco Chanel
121.) What red can do for the spirit; it can also do for the face. – Sophia Loren
122.) Thanks, but no thanks. I need my makeup honey. ― Matthew Leeth
123.) Good skin is the best foundation for your makeup. – Holland Rodeng
Which of these makeup quotes is your favorite? Let me know in the comments!