Karina Megan Dress Review – Worn in Summer & Winter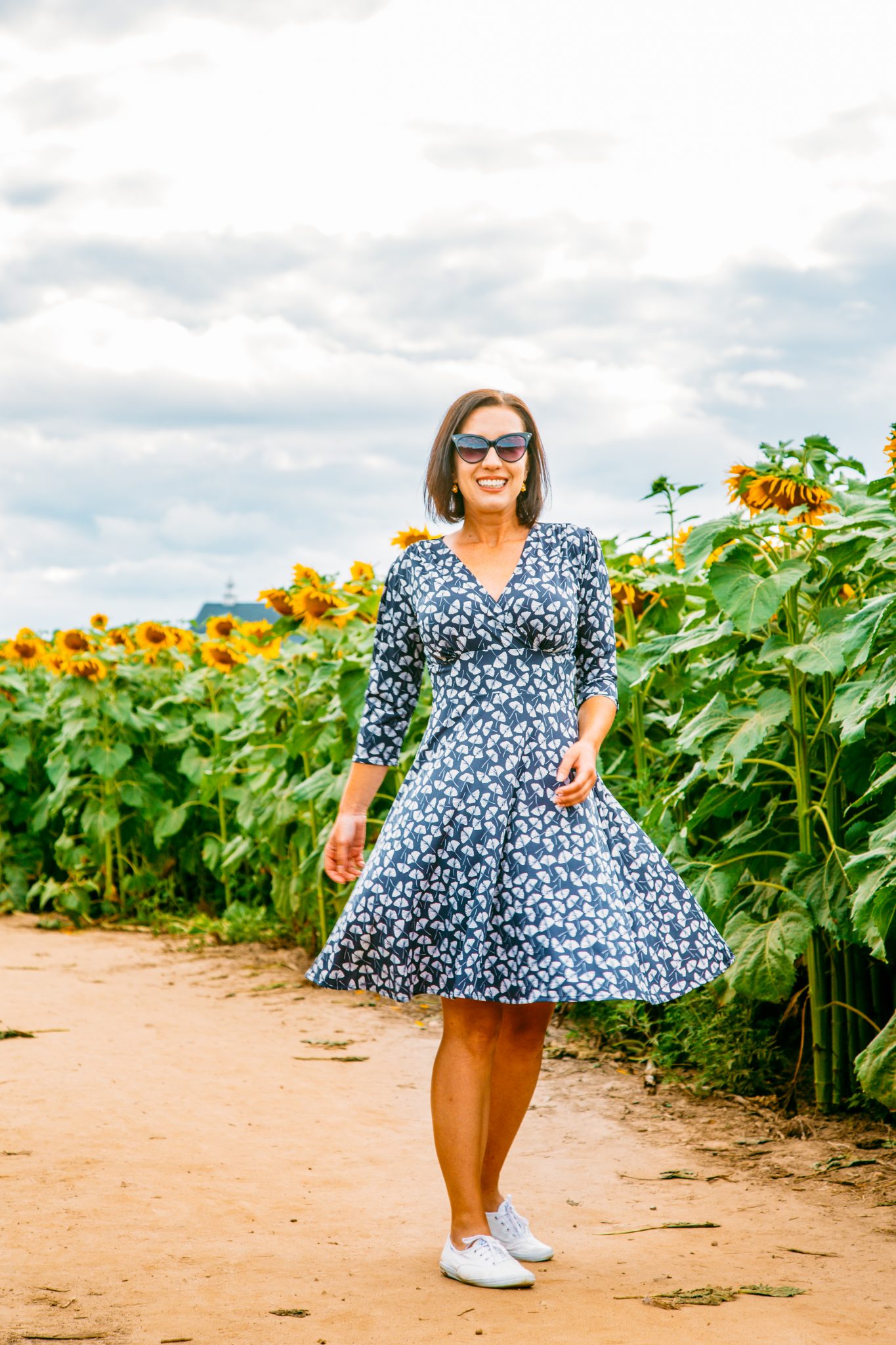 Now that I've had a chance to wear my Megan dress by Karina Dresses in both winter and summer, I'm going to do a thorough review of it in today's post. I'll be reviewing the fit, the quality and my overall opinion of this particular style of dress.
If you're new to my blog, I want to start this post out with a little background on Karina Dresses. They're a small US-based dress company that specializes in making dresses that are comfortable and can easily go from day to night. (I can attest that my dress is all of these things!) They are also very size-inclusive and their dresses range in size from XS-4X. I also love that their dresses are all made in the US. The best part, though, is that their dresses do NOT wrinkle!
If you would like to read my full review of Karina Dresses in general, click here.
The Megan Dress (in Serendipity)
The Megan Dress comes in a variety of prints and also comes in both short and 3/4 length sleeves. The print I own is Serendipity – which has a charcoal background with ivory ginkgo leaves. It features a cross-over V neck bodice, a waistband that lies just below the bustline, a knee-length full skirt and the sleeves are slightly ruched at the shoulders. (This one does NOT have pockets.)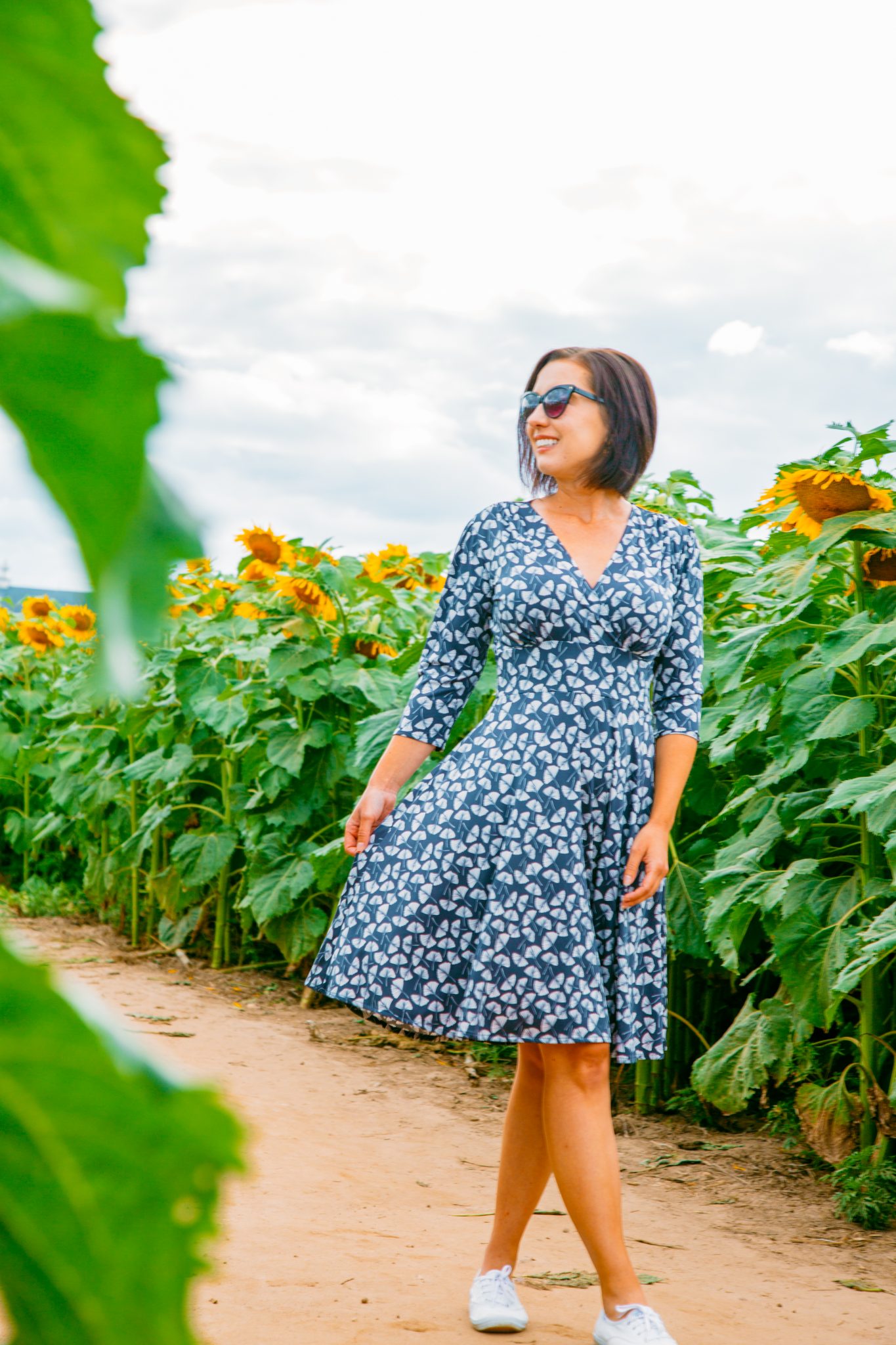 The Fit
I had initially been a little concerned about how this dress fits through the bust area, as it's lower cut than I normally wear. However, it stays right where it should and never is too terribly revealing. I have also paired it with a cami for when I want to be extra modest.
That being said, if you're hoping to not draw attention to your chest area, this may not be the dress for you. In my opinion, and my husband's, this dress calls attention to the gals!
The print, though, does help soften the silhouette, so this dress doesn't end up looking "too busty," though. (I mention this because I've had readers reach out to me about this concern in the past with this dress.)
I am wearing the Megan dress in a size S/M. I had sized up one size so it wouldn't be as tight through the bust area. Looking at the measurements for this dress, I could have also gone with an XS, but it would have been a tight fit across the chest – which I wanted to avoid.
In my opinion, the fit is very comfortable and flattering for a variety of sizes and body shapes. (Check out all of Karina Dresses models wearing it, here.)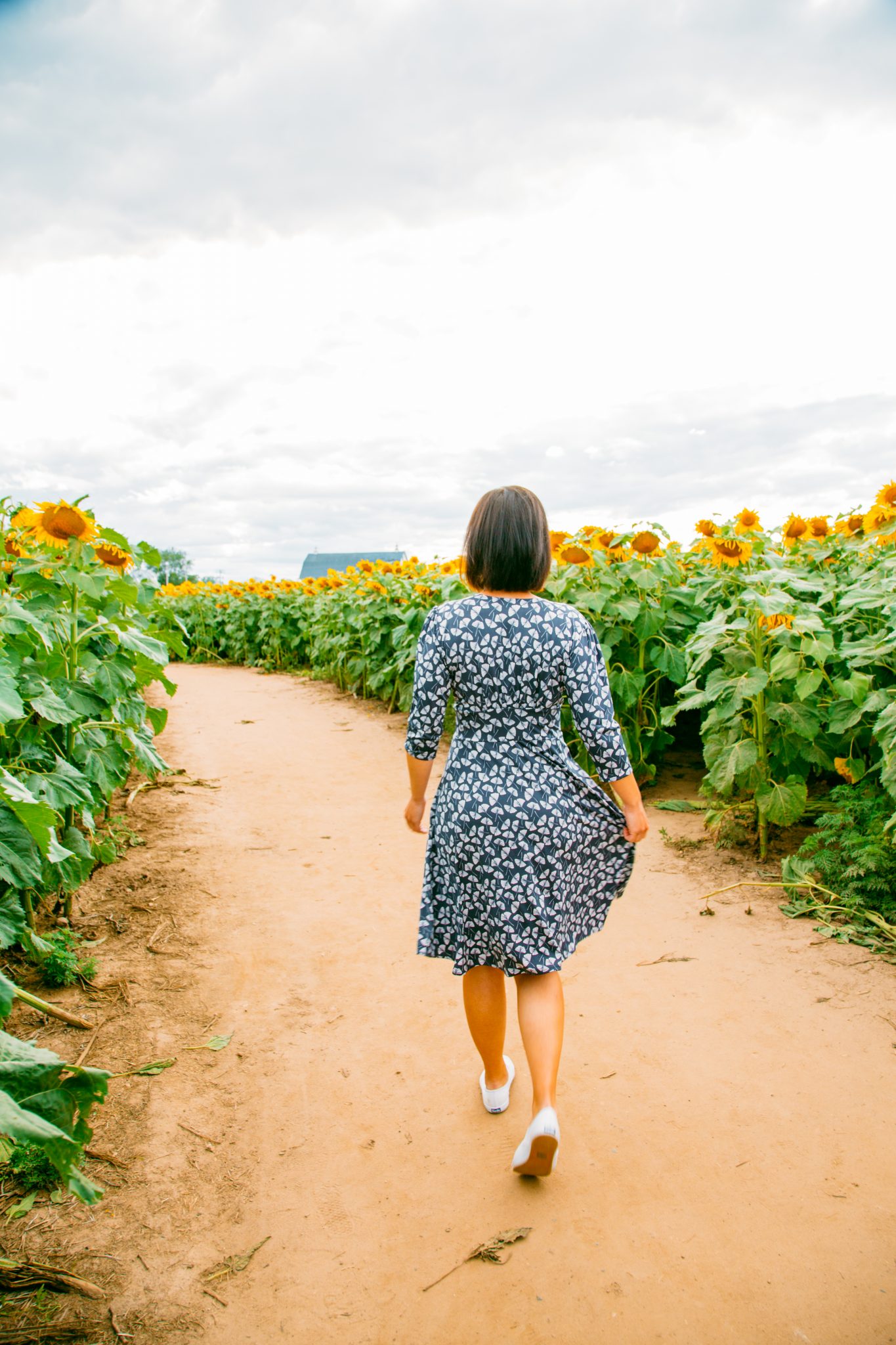 The Quality
I have had this dress since December 2019 and started wearing it immediately after it arrived in the mail. I've worn and washed it about 12 times now. It still looks brand new. (The sunflower photos with it were taken just a couple days ago.)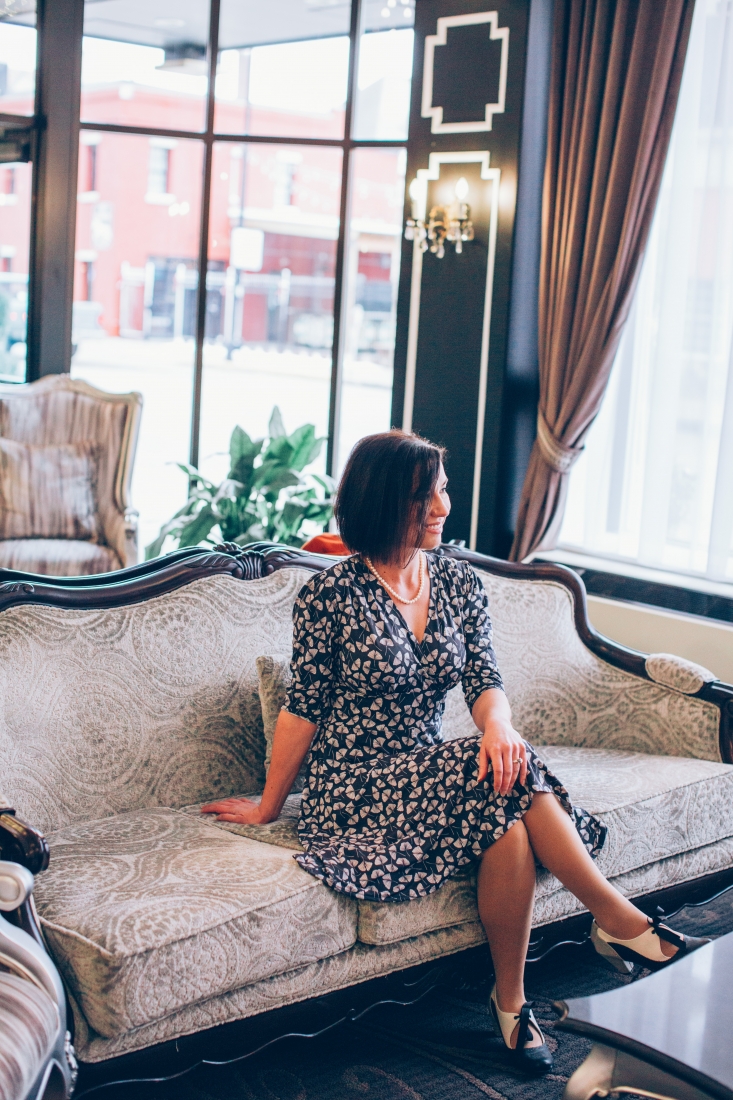 As is the case with all the dresses from Karina Dresses, the Megan dress is made with a wrinkle-free micro-fiber that is incredibly breathable and comfortable. It also is absolutely wrinkle-free. This dress is worth every penny, in my opinion!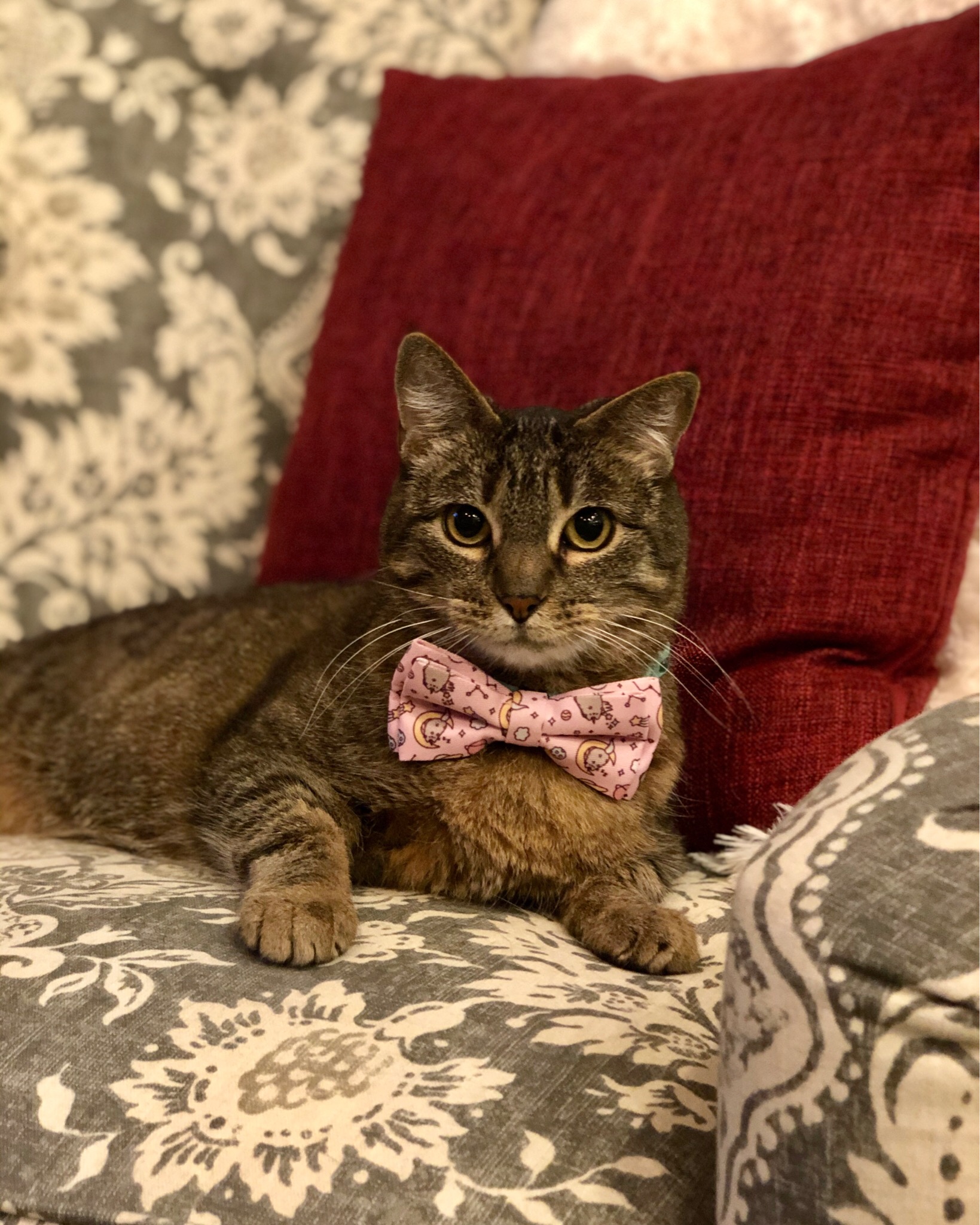 Now that we have Miss Kitty, I also take into consideration whether or not cat hair gets stuck to my clothing. All of my Karina Dresses are also cat-hair resistant! It's fantastic. I can snuggle Miss Kitty all day long and not have to worry about lint rolling myself.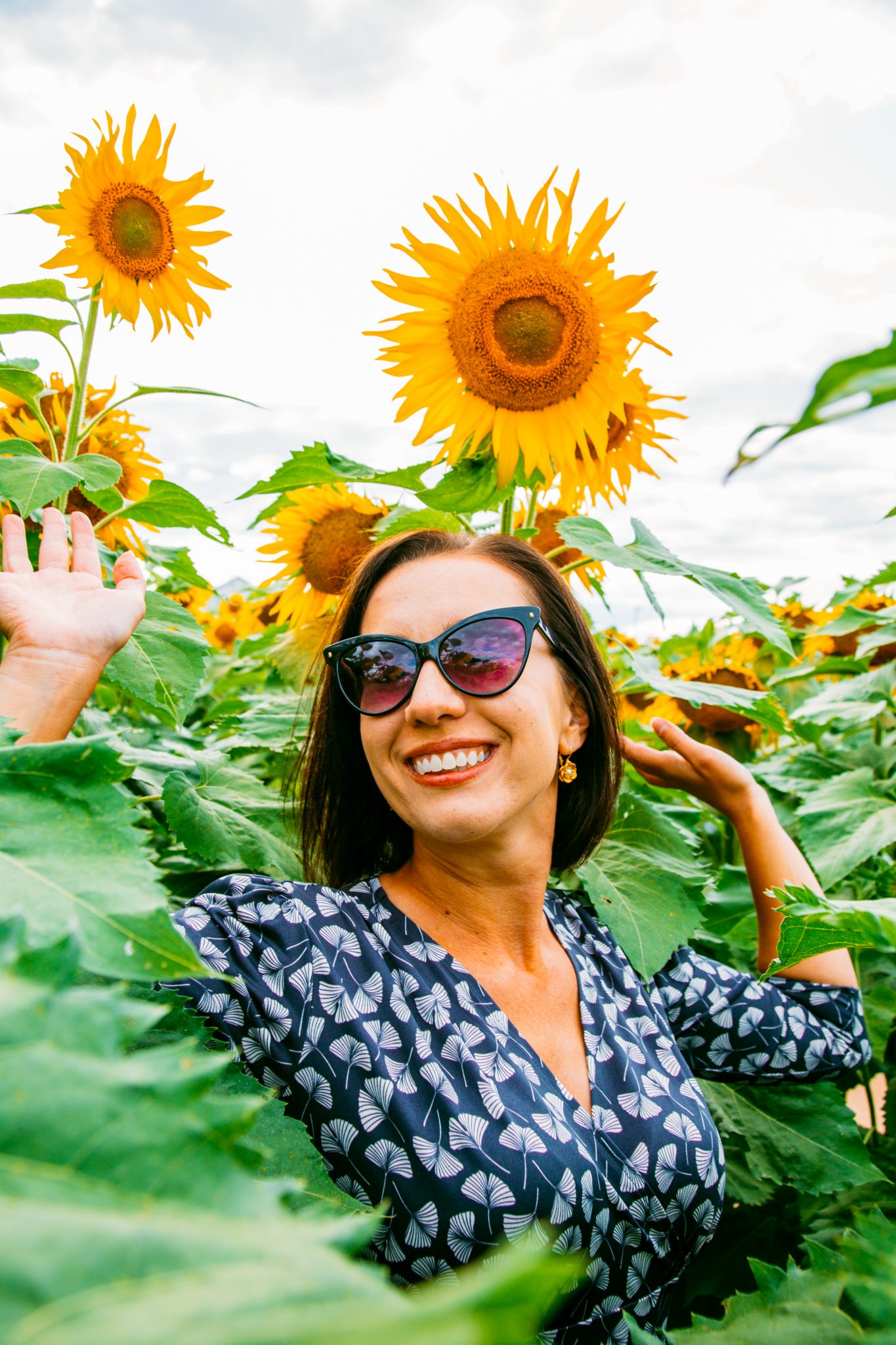 Any Negatives About The Megan Dress?
The only thing that would make this dress even more perfect, in my opinion, is if it had pockets. I've gotten rather used to having my dresses have pockets, but the Megan dress does not. I do also understand, though, that not everyone wants pockets with their dresses, as it can add unnecessary bulk to the fit of it.
I do also understand that the cost of this dress is higher than many I feature on my blog. However, I do 100% believe that Karina Dresses are worth their price tags. They last forever and look like brand new even after nonstop wear for years. (I've tested this out in this here post.) Paying extra for a high-quality, wrinkle-free, cat-hair-free, made in the USA dress is absolutely worth, it in my opinion.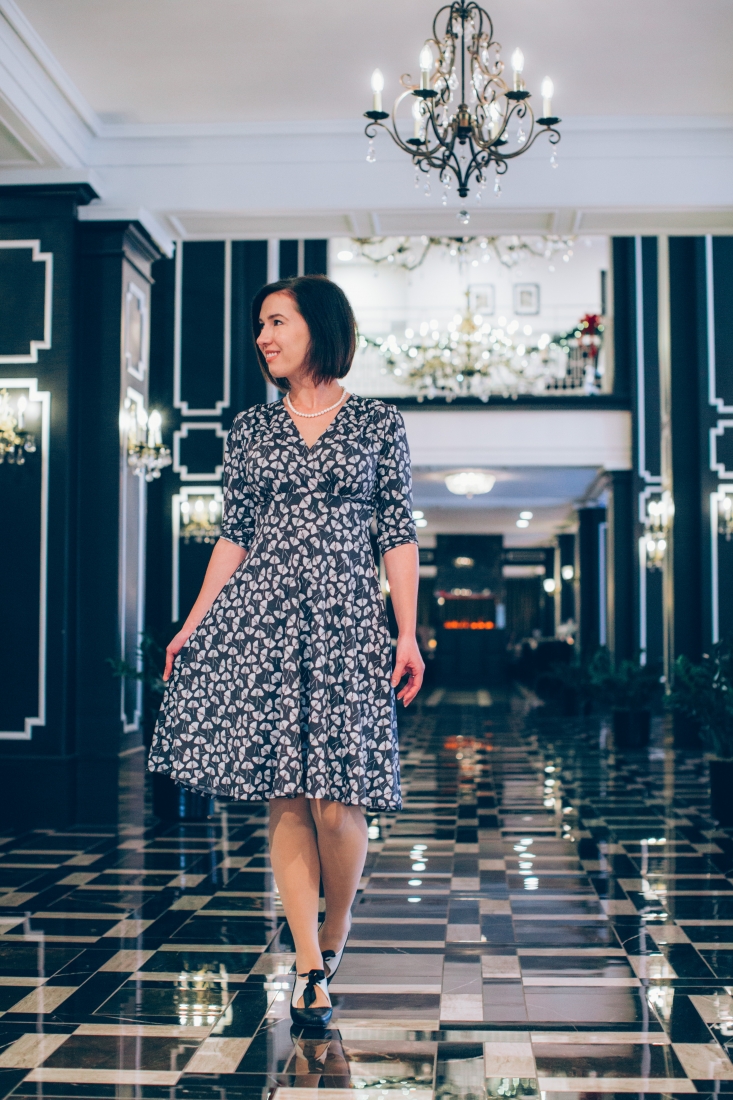 Overall Opinion of The Megan Dress
I love how versatile the Megan dress is. I especially love this color combo and print. I can easily pair it with tights and heels in the winter for a dressy and warm look…or sneakers and sandals in the summer for a casual and comfortable look. I wear this dress for business meetings, date nights and strolls through sunflower fields!
I adore this dress as I do all of my Karina Dresses. They haven't disappointed me yet!
Quick note about my recent photos with my Megan dress in a sunflower field! These photos were taken this week at Bergsbaken Farms in Cecil, Wisconsin. While this particular sunflower field is just about done flowering, Bergsbaken Farms does have one more field that just began blooming a few days ago that now has walking trails for the public. They suggest leaving a $2 donation for walking the trails and using the photo areas. The trails are open daily from dusk to dawn.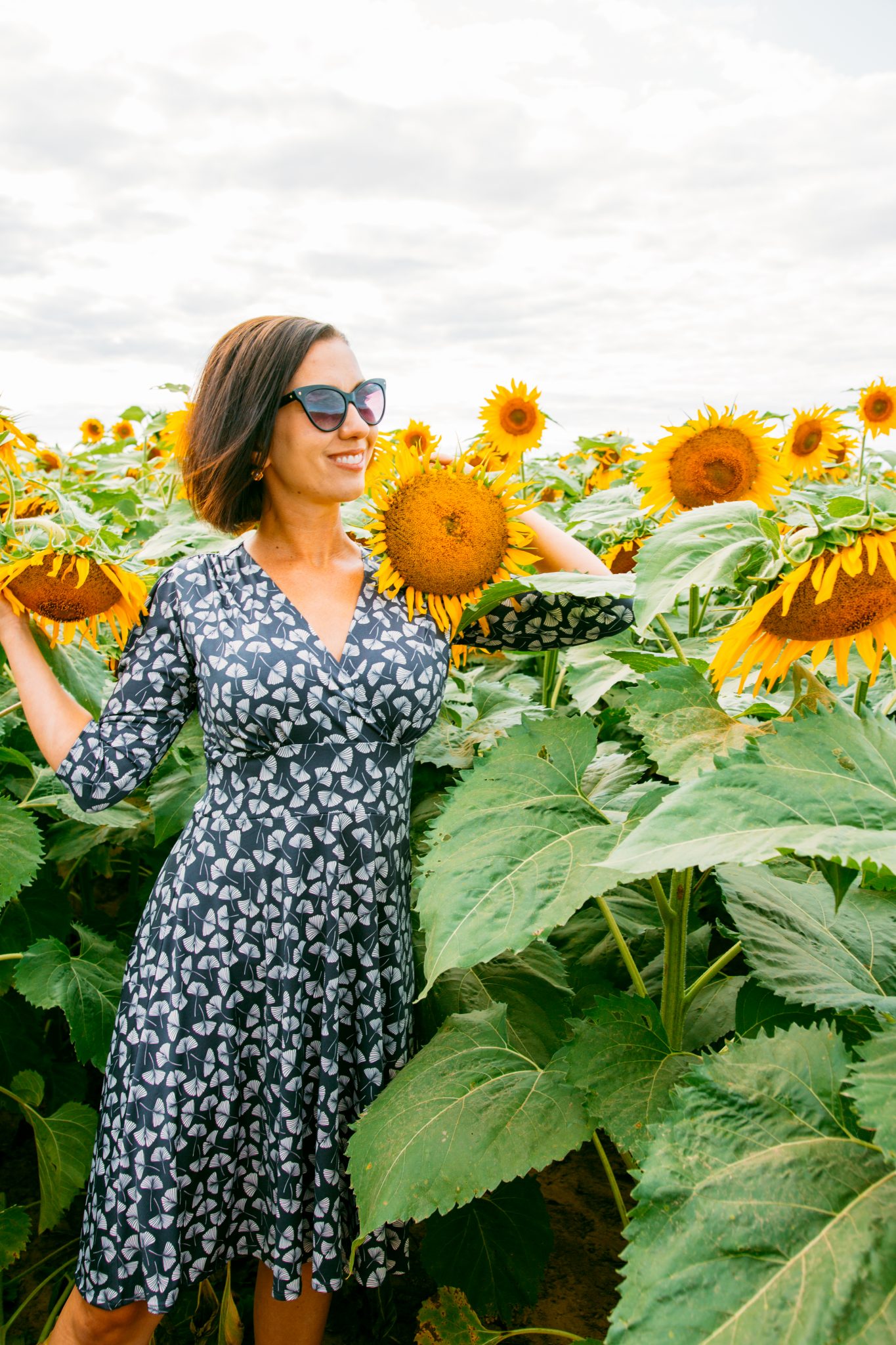 Has anyone else visited a sunflower field this summer? And have you ever tried the Megan dress by Karina Dresses? Let me know in the comments!
Where to find it:
Dress: Karina Dresses
Earrings: Kelley Hollis Jewelry
Sneakers: Keds
Sunglasses: Old (Similar here)
*Disclosure: some of these links are affiliate links. Meaning, if you click a link and make a purchase, Have Clothes, Will Travel gets a very small commission at no extra cost to you. Thank you for supporting the brands that make this blog possible! I am also a participant in the Amazon Services LLC Associates Program, an affiliate advertising program designed to provide a means for us to earn fees by linking to Amazon.com and affiliated sites.