Modern Modeling with Cat Carney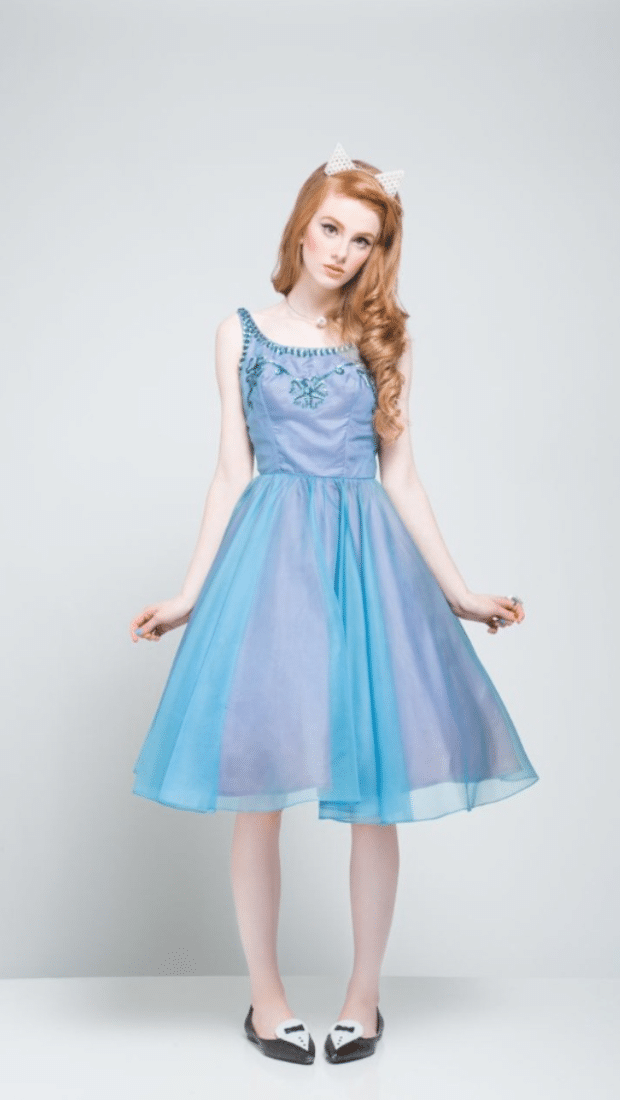 Meet Cat Carney! She's this month's Featured Fashionista and a professional model. Some of you may recognize her as one of the darling models from ModCloth. That's where I first saw Cat's work as a model. I remember it clearly. It was a picture of her modeling an adorable vintage prom dress (click here to see it). She looks so pretty in it, it's unreal.
Through the magic of social media I was able to get in contact with this lovely lady and talk with her about her work with ModCloth and what it's like to be a professional model. Cat said she first discovered her love of modeling when she would catch herself practicing poses instead of sonatas.
See, she had been dedicating much of her adolescence to practicing classical voice. She aspired to one day be a professional vocal performer. She decided on a different career path, at the young age of 14, after her sister helped her take a few pictures of herself in their backyard. Cat then submitted these pictures to The Talent Group Pittsburgh/Cleveland. This is when Cat's modeling career began.
Q&A With Cat
Tell me a little about yourself.
Cat: I'm a (soon-to-be) 18-year-old professional model. A present Pennsylvanian, future New Yorker, and aspirant Parisian. I source my inspiration from the fast-paced fashion world, retro remembrances, and wonders of the world around me. While the modeling industry has captured my heart, I also intend to make my voice known through the Media and Communications industry in the Big Apple and beyond. An advocate of alliteration and adversary of anything perceived as "typical," I find a day spent in a library, bookstore, or bustling farmer's market as a truly enjoyable one.
I had first recognized you from the modeling you did with ModCloth. I must confess, I bought many of the things you modeled there! How did you enjoy your time with ModCloth?
Cat: Confession…I have made a copious amount of Mod purchases since my very first shoot!
My times with ModCloth were made all the more fabulous through the people (and furry friends!) I was able to interact with. The ModTeam, throughout my year with the company, was one comprised of incredibly talented, creative, and unique individuals, and my experiences with the company were enriched through them
What did a typical day at ModCloth consist of for you?

Cat: A typical day at ModCloth could most definitely be summed up in three words: delightful, diligent, and dazzling! Each shoot handed me 8-9 more hours of experience interacting with the camera and creative teams. I cherished the two hour hair and makeup preparations, six hour merchandise/vintage shooting, and ever-present stories and laughs with the ModPeeps.
P.S. – We always made time for a quick and quirky Mod Selfie!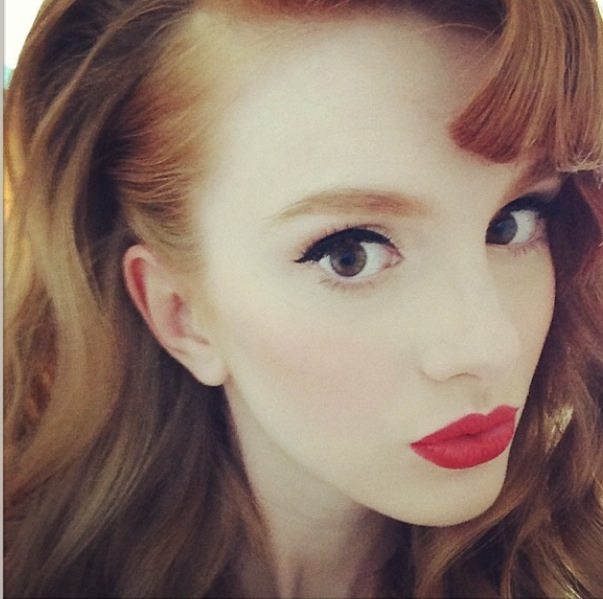 I believe I read that you are no longer able to model for ModCloth because you signed with APM Models, is that correct? And if so, would you able to explain that a little?
Cat: That's correct. ModCloth does not work with agency-signed models. Talent Group was amazing in giving me a rider to work with Mod, but once I was scouted and subsequently signed to APM, I knew I would no longer be able to be a ModModel.
How has modeling changed for you now that you are with APM Models New York?
Cat: As an NYC-signed model with APM, I have been given the greatest opportunity to make a splash in the exhilarating high fashion market. Taking the knowledge I garnered from my work here locally, I am now entering into a fast-paced and fierce international arena. Because of APM, modeling has become one very important aspect of a dual career (fashion and communications).
What has been your favorite experience in the modeling industry, thus far?
Cat: Wow, tough question! Looking back on all that has occurred thus far in my time in the industry, it's difficult to pinpoint one certain experience as my favorite. I think, generally speaking, my two weeks in NYC this past summer cemented my readiness to blossom in the greatest city/market in the world.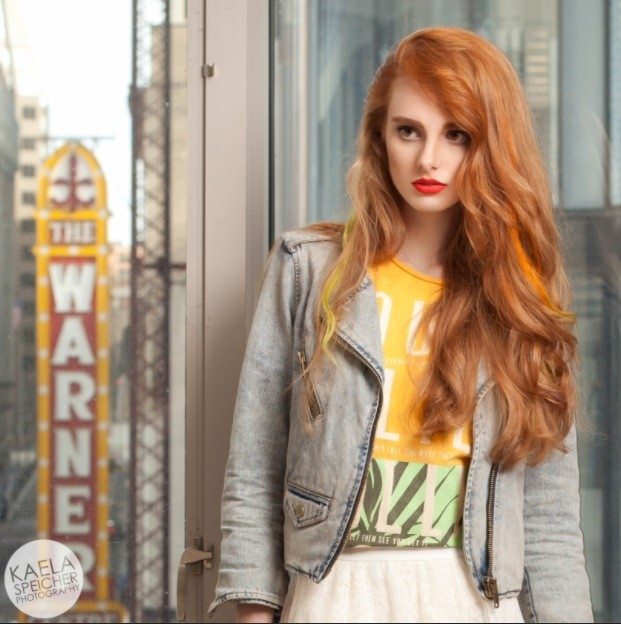 What would be your dream modeling job?
Cat: I find much of the late Richard Avedon's work to be classically elegant, eye-catching, and embedded with a vintage flair. I remember first coming upon his shots of Jean Shrimpton and being truly "wow'ed" by their beauty and simplicity. My Ultimate Dream Job would point to an Avedon-inspired spread in a high fashion mag (think Elle, Lula, Vogue).
Are there any words of advice you would like to share for aspiring models?
Cat: An incredibly valuable lesson I cherish is to always express thankfulness to those who helped you become the person you are today. I garner inspiration from individuals who are not only hard-working and talented, but also genuine in their actions and words. Aspiring models, know that kindness and professionalism go a great way in this industry.
What do you hope the future holds for you?
Cat: When I close my eyes and dream of the future, I envision Opportunity, Adventure and Exploration. This summer, I'll be residing full-time in my favorite place in the world (NYC), fully prepared to not only see what New York modeling has in store for me, but also master the subway system and discover a cozy bookstore or two. That being said, I am breathless to begin school as a Communications major, with my eyes set on fashion magazine writing or editing.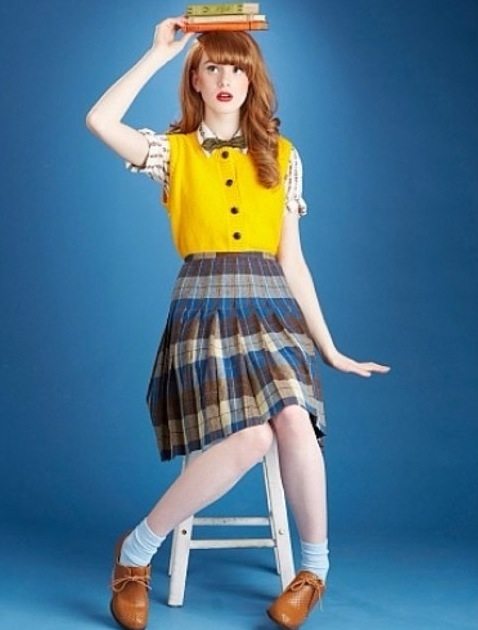 What has been the most important thing you have learned about fashion since you started modeling?
Cat: The world of fashion can appear to be quite fickle. Perhaps it seems as if one certain designer or model is "The Next Big Thing" for one or two seasons, and the industry takes a different direction the next. Despite this volatility, the window of opportunity handed to each creative is memorable enough to last a lifetime. As I progress as a model, I will always remind myself of the blessing I have been given to be a part of such an exciting business.
Cat's Outfit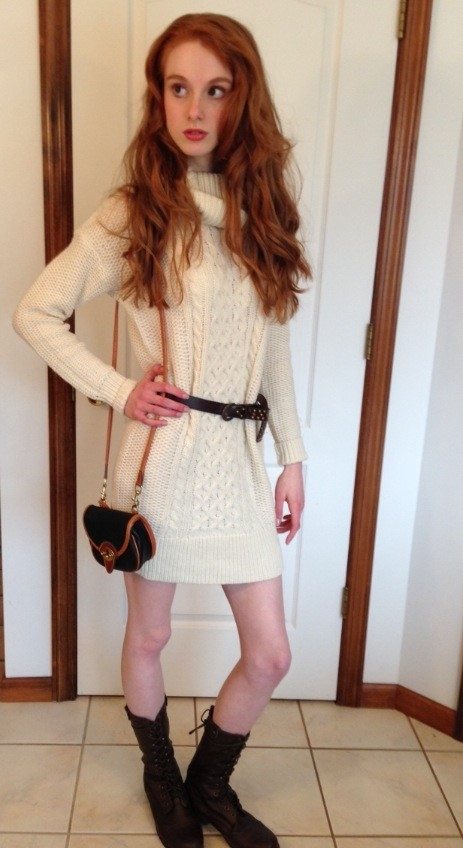 Tell me about your outfit.
Cat: I think this American Eagle Outfitters cream sweater dress would be the perfect piece to sport for a shopping outing in the big city. Paired with my studded Mudd belt and Dooney & Bourke leather purse, this cozy knit exudes comfort and chic! I mustn't forget to lace up my Madden Girl boots as the final touch.
Any fashion advice you would like to share with my readers?
Cat: Work the current trends to complement your own style. Utilize a fashion element that's "In the Moment,'" and build upon it with your own distinctive pizazz. Case in point: for my outfit, I don the hip knit sweater dress, yet adorn it with a funky belt and bag to spotlight some fashion flair.
Finally, the simplest accessories can speak the loudest message. Whether it be a single gold bangle or colorful clutch, an entire style can be refined by one minor fashion piece!
Thank you so much for doing this interview, Cat! It has been wonderful working with you on this, and I cannot wait to see what the future has in store for you. I'm sure it will be nothing short of amazing, with everything you have already accomplished!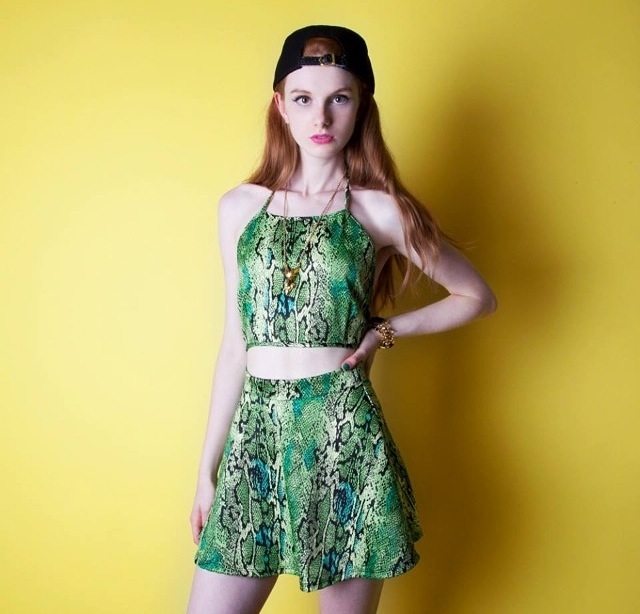 Photo Courtesy of Nylon Magazine
To see more of Cat's modeling career, follow her on Instagram by clicking here. Also, be sure to check out APM Models New York.
Featured Fashionistas is a new section I've added to Have Clothes, Will Travel that will highlight one lovely, fashionable lady each month. The Featured Fashionista can have a business, blog, etc. they would like to share with my readers, or just a love of fashion, or all of the above! I will spend some time putting together a highlight of the Fashionista, and if they happen to live close to me, I will also do a photo shoot with their favorite outfit. If the Fashionista does not live nearby, they can send me pictures they took of their fab outfit. If you would like to be my next Featured Fashionista click here, and tell me a little about yourself.