Monica of "the Rite of Aging…Early"
Meet Monica! She's this month's Featured Fashionista and a one-of-a-kind beauty blogger. Monica is especially talented at creating nail designs (you'll see what I mean in a moment), but what really sets her apart is that many of her posts feature nail designs that are Rheumatoid Arthritis friendly! That's pretty awesome in my opinion.
Are you not sure what RA is or what an RA-friendly design would be? Monica is answering all of those questions in her Q&A below. Plus, she's spilling the beans on her favorite beauty secret too! Be sure to give her Q&A a read and click here to read her blog "the Rite of Aging..early."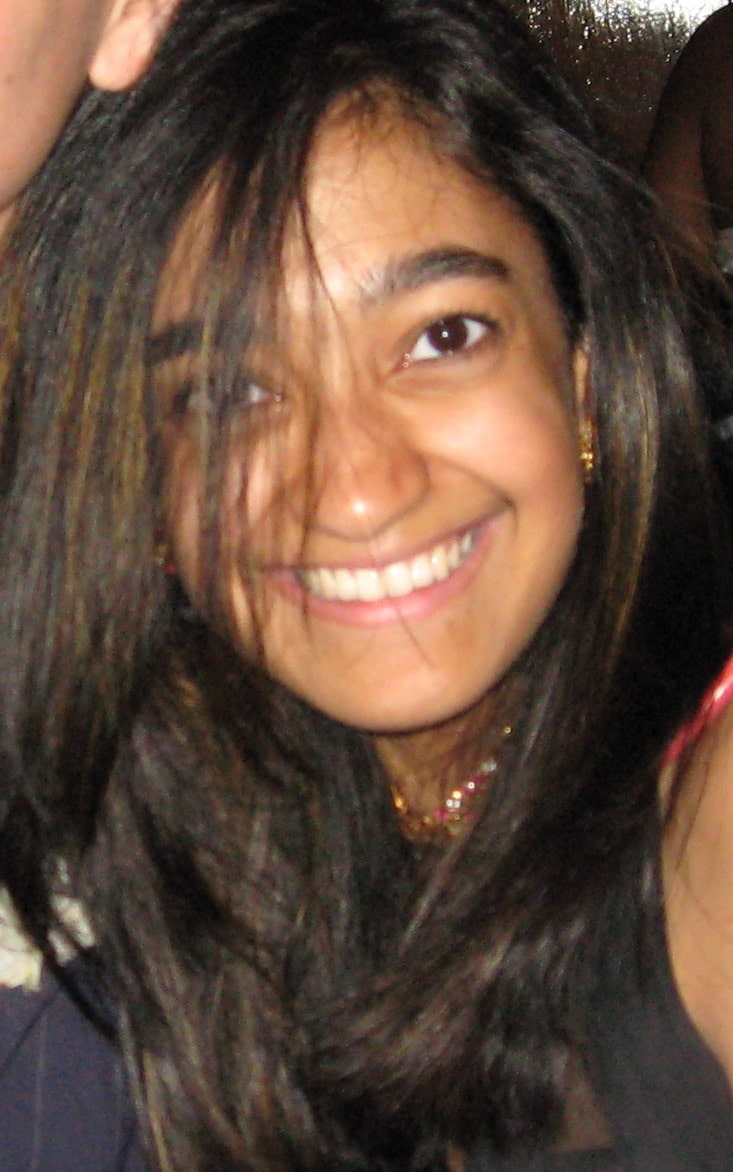 Q&A With Monica
Tell me a little about yourself.
Monica: Hey everyone! My name is Monica, and I have RA. I end every blog post with this tag no matter the content. I am 28 years old and live in Washington DC, raised and…stayed? I have four lovely pets (two cats and two dogs) because I love animals and my ultimate dream is to go to vet school. However, about seven years ago, I was completely sidelined from life, as I knew it. I was diagnosed with an autoimmune condition called Rheumatoid Arthritis, RA for short (I will go into more detail about this later). I still work with animals but now I blog about skincare, beauty and nail art when I am confined to my bed. When I feel well enough I enjoy rock-climbing and the outdoors. One thing that few people know about me is how much I love Lord of the Rings and Harry Potter. I love the books so much I re-read both series every year (Alan Rickman from the HP movies and Christopher Lee from the LotR ones – may they both rest in peace – did the same!) So, actually, I'm really cool for doing the same!
How would you describe your blog "the Right of Aging…early?" And what inspired you to create it?
Monica: For the first two years I didn't talk about my new diagnosis to anyone. Nobody except for my work and family knew about it. I started my blog to help me go public with it and I ended each post (something I still do to this day) with "Hi, my name is Monica and I have RA". It helped me come to terms with my illness and disclose it to other people. During a particularly difficult winter, my rheumatologist put me on medical leave from work. I couldn't do much except lay in bed and surf the internet. It was at the time I decided to start nail art blogging. I had very little mobility in my fingers and wrists so I started with "arthritis-friendly" techniques that were easy and simple to do.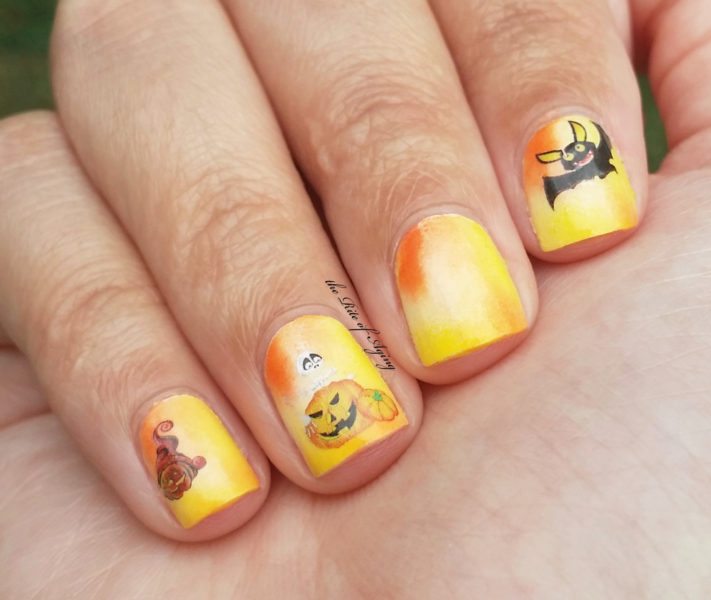 What do you hope the future holds for the Right of Aging…early?
Monica: I would love more people to read and comment on my blog, regardless if they are able-bodied or not since I know my "niche" is a very small one. I want to give people with chronic pain the option to pursue nail art, but I also want healthy nail artists or creatives to relate to my content! I just recently started exploring full-time blogging/vlogging so let's see where this takes me!
(See one of Monica's videos, below!)
For someone not familiar with Rheumatoid Arthritis, could you explain a bit about what it is?
Monica: Rheumatoid Arthritis is an autoimmune condition. I like to explain it as though my immune system has an over-active imagination. It mistakes healthy tissue for bad bacteria and attacks it. There are all sorts of autoimmune conditions but mine especially attacks and destroys the cartilage around the joints. Autoimmune conditions are incurable and are frequently called "chronic illnesses" as symptoms persist over a lifetime. However, I am on many medications that suppress my immune system and depress inflammation so hopefully, I should never see any physical deformities!
How do you determine which nail designs are RA-friendly?
Monica: An "arthritis-friendly" nail art technique for me is one that does not cause pain to my wrists and fingers and does not require a great amount of dexterity or mobility. This has been a trial and error sort of thing because sometimes I think "oh! This technique is easy and it's arthritis-friendly"…then the next day my fingers and wrist are stiff, painful and swollen. How I wish I could paint full landscapes on my nails but alas, that is not even in the realm of possibility for my arthritis. Abstract looks like dots, sponging different colors on my nails, and dry-brushing are extremely friendly techniques.

What is your favorite nail design you've created thus far?
Monica: So, funny enough, my favorite nail art technique is not an arthritis-friendly one. Sugar-spin is fiddly, time-consuming and requires manipulating a toothpick. Everything I try not to do – but, it is super calming and therapeutic for me. My favorite was a raspberry cheesecake one! (Click here to see this post.)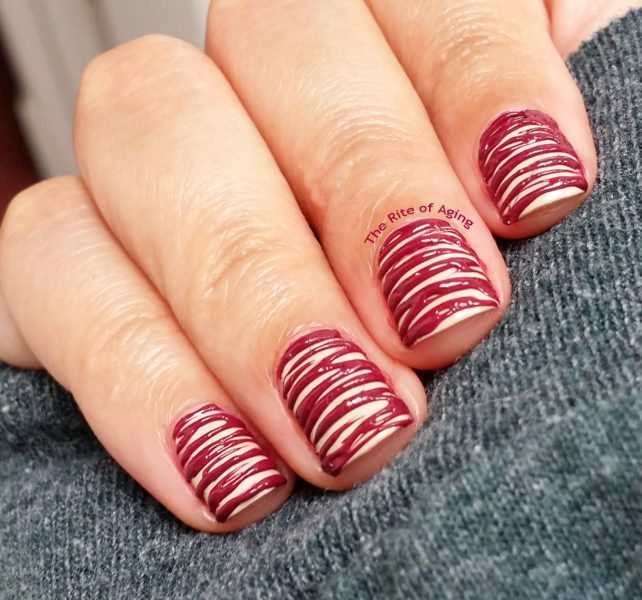 If you had to choose, what would you say your favorite store is for buying cosmetics and why?
Monica: I should say Sephora because it has almost all of my favorite brands but I am going to say Nordstrom because they carry Chanel, YSL, La Mer, Jo Malone and Tom Ford,…I try to steer clear just because it is easy to rack up coins but I have to admit, there is something quite lovely about how the area is organized!
What are 3 beauty products you can't live without?
Monica: I just spoke about the three products I can't live without in a video I'm filming! The first is the Clinique All About Eyes serum rollerball. This product is magic. The caffeine and metal rollerball work together to decrease puffiness around my eyes. The second is Hourglass Ambient Lighting Palette. It took me years to finally try it but have used this every day since. Each powder adds a soft illuminating effect to the skin so it looks healthier and more even toned. The third is the TATCHA Indigo Soothing Rice Enzyme Powder. I wish I didn't love this (because of the price) but I do. It was the only product that zapped and balanced my super oily skin last year. It is gentle enough for twice-daily use and maintains my skin without stripping it of moisture.

What is your favorite piece of beauty advice?
Monica: This one beauty tip changed my skincare routine for life: splash your face with cold water after you wash so it constricts blood vessels, depuffs and closes pores before toner or moisturizer.
(Check out more of Monica's tips in her video, below!)
And what would you say is your favorite post on the Right of Aging…early?
Monica: There is one nail art look I made that was inspired by my dog, Affie. It was well before I knew how to take photos or pose (and the post itself is pretty cringe-worthy) but there is something about this nail art that just screams "Affie!". Also, I'm pretty proud of that watermarble on the ring and thumb! Click here to see this post.
And last but not least, where can my readers find you?
Monica: Are we friends on social media? No? We should be!
I check Twitter: @mysengupta the most but I also post to Instagram: @monicawithra. I just realized I love filming videos so please check out my YouTube channel and subscribe if you think I have potential! And, of course, my blog where I try to respond to every comment within the week!
Thanks so much for reading!!
Hi, I'm Monica and I have RA.