It's My Birthday, and I'll Wear a Star Wars Outfit If I Want To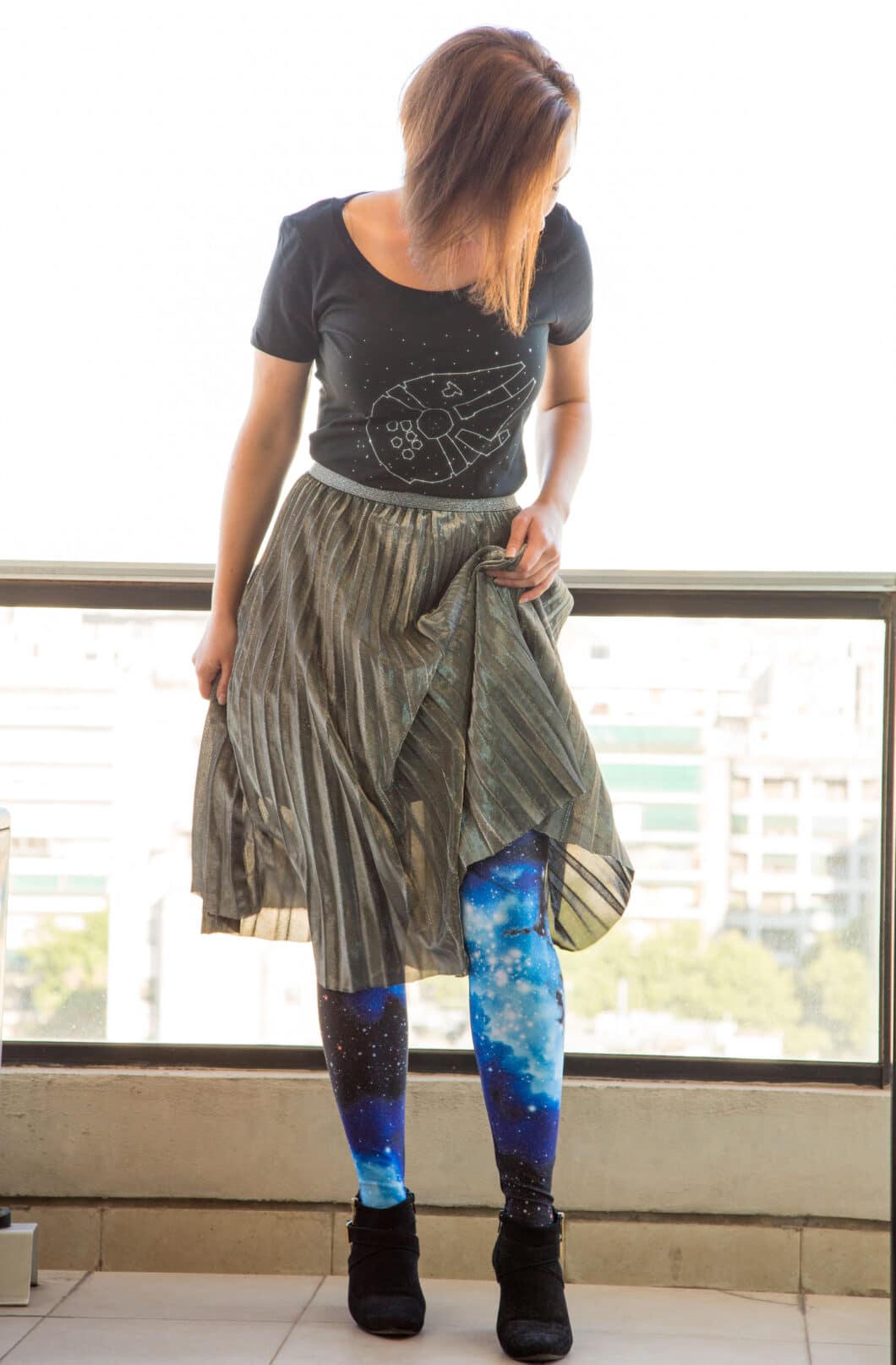 Click to shop:
Star Wars Shirt c/o* | Leggings | Skirt (similar here & here) | Booties (similar) | Sunnies | Stormtrooper Bag
It's my birthday! Wahoo! This is the first time in a long time I won't be spending my birthday in an airport, moving or something else not so fun. I'm in Rosario today with my husband and friends! And that's not to say I haven't celebrated my birthday wonderfully these past however many years, it just meant I usually ended up celebrating it the weekend before it happened. But, today, I actually get to have a little fun on the real date!
As you might know, the most recent Star Wars is in theaters! "Star Wars: The Last Jedi" hit theaters just in time for my big day. So, I'm going all out in the outfit department to watch the movie this weekend. Haha. Perfect timing for it to be released, if you ask me.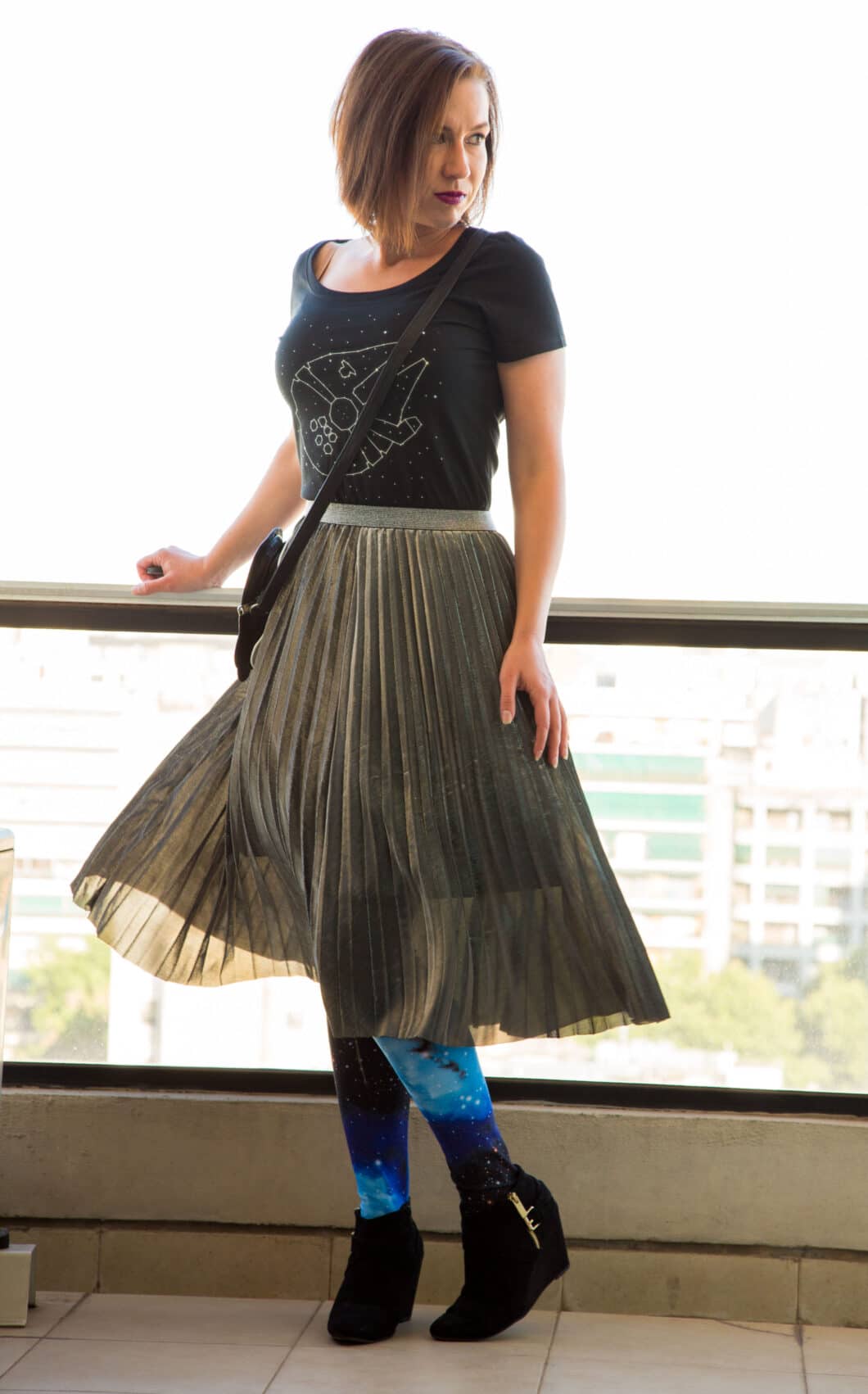 I'm particularly excited about this Millennium Falcon shirt! It's from Radish Apparel. They are such a cool company! They are all about diversity and expressing yourself through an incredibly wide-range of shirts! But they don't just offer cool clothing, they also donate 5% of every order to charity! You get to pick the charity your money goes to when you check out. It's pretty awesome. (Click here for more information on Radish Apparel's charity program.)
I do apologize for featuring this metallic skirt two posts in a row, too! Hopefully, you can forgive me, since it's my birthday and all. Haha. I had Wednesday's post planned roughly a month in advance…but today's birthday post is one I put together on a whim this morning. And I liked the way the shimmery skirt looked with all my Star Wars gear. (I do wish it was slightly shorter, though!) Ah, well! Can't always be a perfect style blogger! Haha.
I'm pretty darn excited to see the new Star Wars! I'm curious, have you seen it yet? (No spoilers, though, please!) And how do you like to spend your birthday? Let me know in the comments!
Where to find it:
Shirt: c/o* Radish Apparel
Skirt: Old (Similar here & here)
Booties: Old (Similar here)
Leggings: ModCloth
Bag: LoungeFly
*Disclosure: some of these links are affiliate links. Meaning, if you click a link and make a purchase, Have Clothes, Will Travel gets a very small commission at no extra cost to you. Thank you for supporting the brands that make this blog possible! I am also a participant in the Amazon Services LLC Associates Program, an affiliate advertising program designed to provide a means for us to earn fees by linking to Amazon.com and affiliated sites.
*c/o = courtesy of, meaning the company gave me the product to be used on my blog, and I did not pay for it. All opinions are my own, and I am not being compensated for a positive review.