My Journey to Hobbiton – A New Zealand Must-Do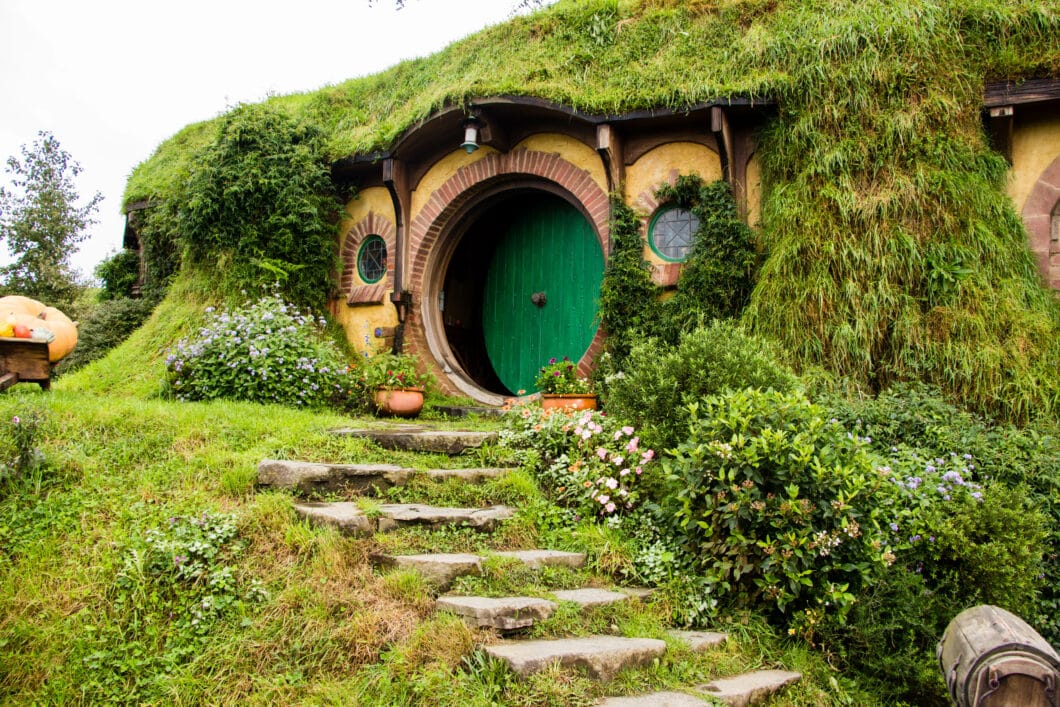 "It's a dangerous business, Frodo, going out your door. You step onto the road, and if you don't keep your feet, there's no knowing where you might be swept off to."
― J.R.R. Tolkien, The Lord of the Rings
And today, we are getting swept off to none other than Hobbiton in New Zealand! Whether you're a big fan of "The Hobbit" & "Lord of the Rings," or not, Hobbiton is still a must-do when you're in New Zealand.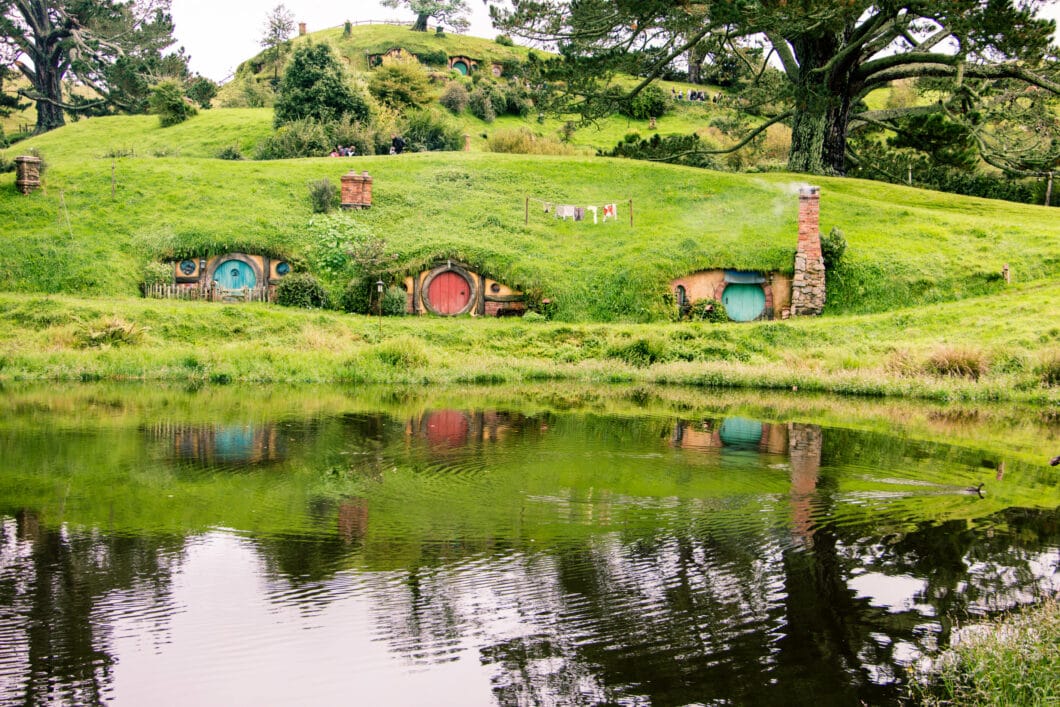 I do promise you don't have to be the world's biggest fan to get swept up in the magic of Hobbiton. It's nestled in Matamata, New Zealand, right in the middle of a farmer's field (seriously, you'll have to dodge roaming sheep and cows as you drive up to Hobbiton). It's a quiet little area that is everything I would expect The Shire to be and more.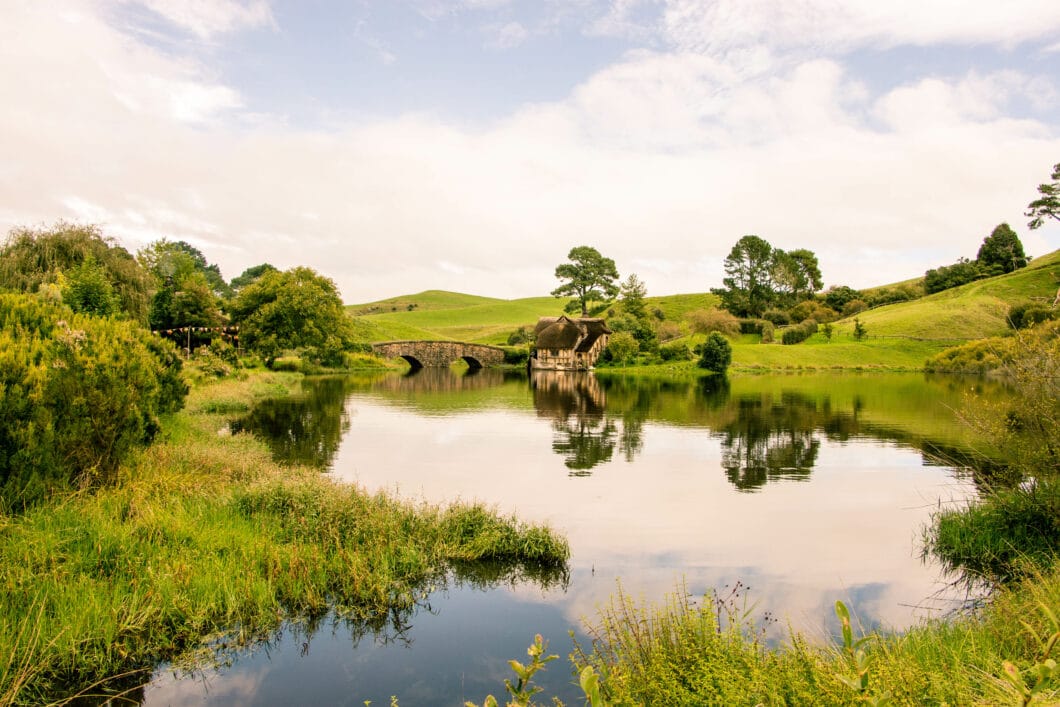 The Hobbit homes you see in Hobbiton are actually permanent structures built for filming "The Hobbit" trilogy. The Lord of the Rings Hobbit homes were demolished after filming, leaving just bare plywood facades. The remnants of those homes became such a popular tourist stop, though, that Sir Peter Jackson (director of these epic movies), decided to make the set a permanent little town when they started filming The Hobbit.
I do recommend taking a tour while you wander through Hobbiton, as many of the people who work here were part of the filming of Lord of the Rings and The Hobbit. And they have all kinds of fun little facts to share while you make your way through The Shire.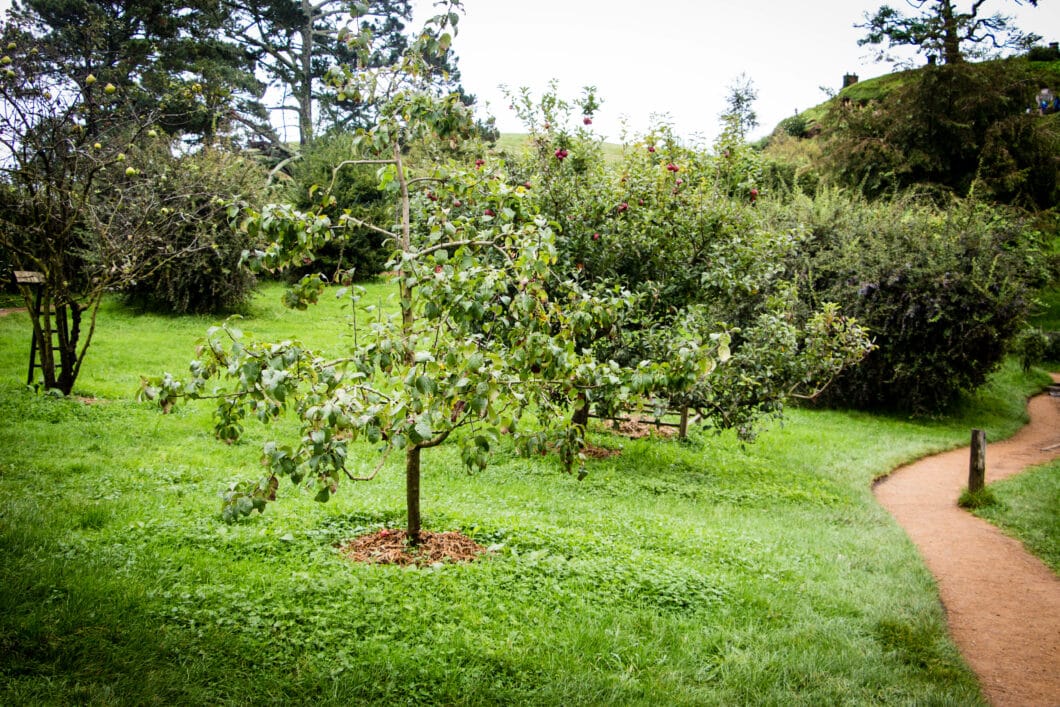 For example, the apple tree pictured above was transformed into a plum tree for the movie. Because in the book there is a line about children sitting under the plum trees. But Sir Peter Jackson felt plum trees would be too large for Hobbits. Before shooting, the apples were all stripped from the tree and replaced with fake plums. The attention to detail was amazing!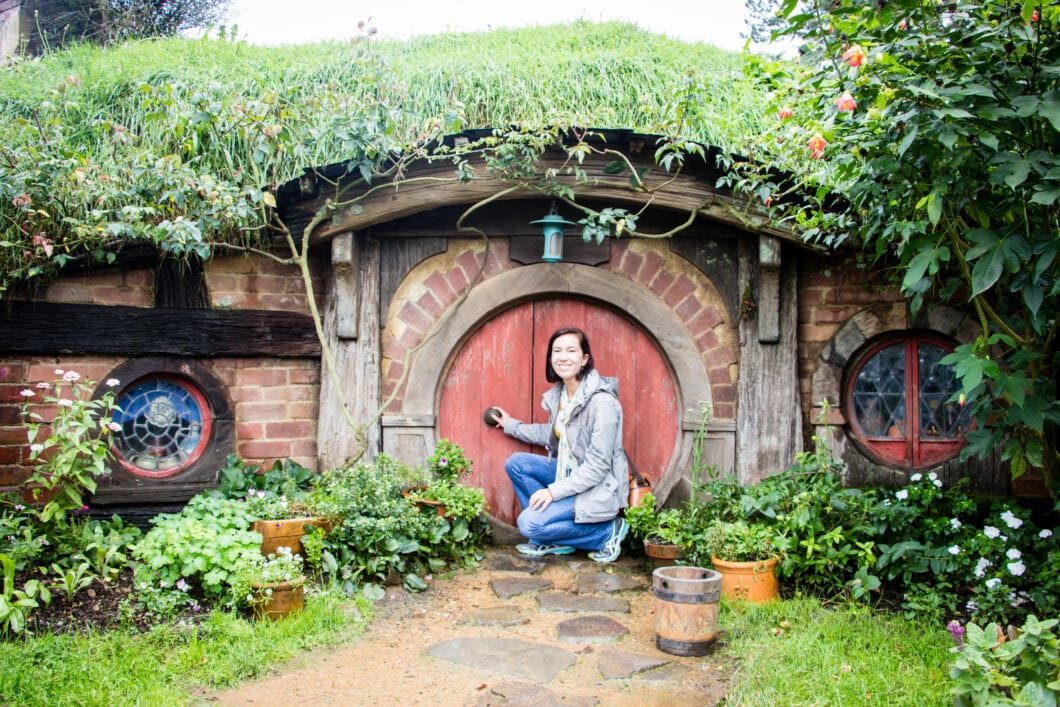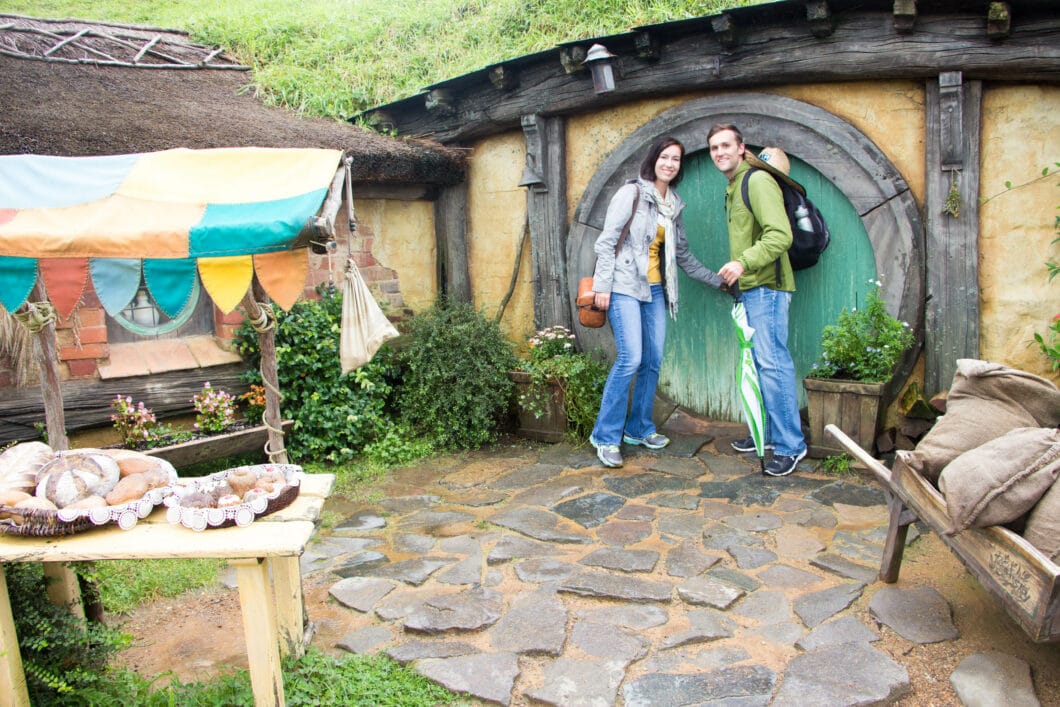 You'll notice too, that some Hobbit homes are larger than others. The small ones were used for filming without Hobbits in the scene. Whereas the larger Hobbit homes were used for filming with Hobbits next to them, to make the actors/actresses appear small.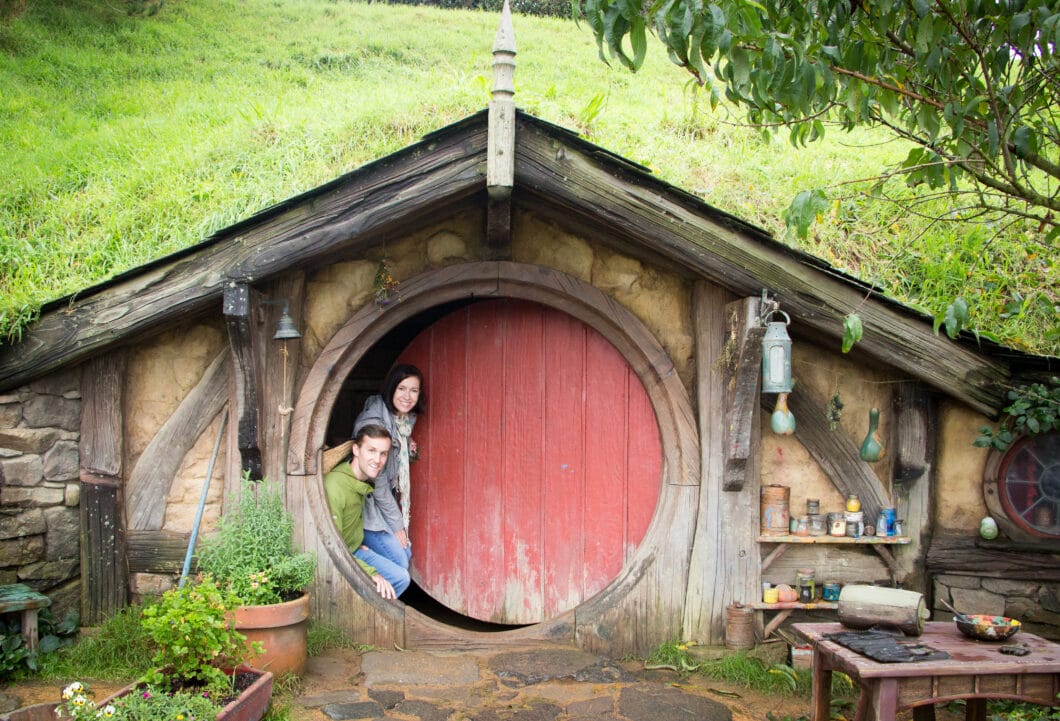 Also, don't be disappointed, but the insides of the Hobbit homes are nothing more than an empty closet, basically. All the interior shots for the movies were done in a studio in Wellington. But you are able to pose for a photo inside the one pictured above!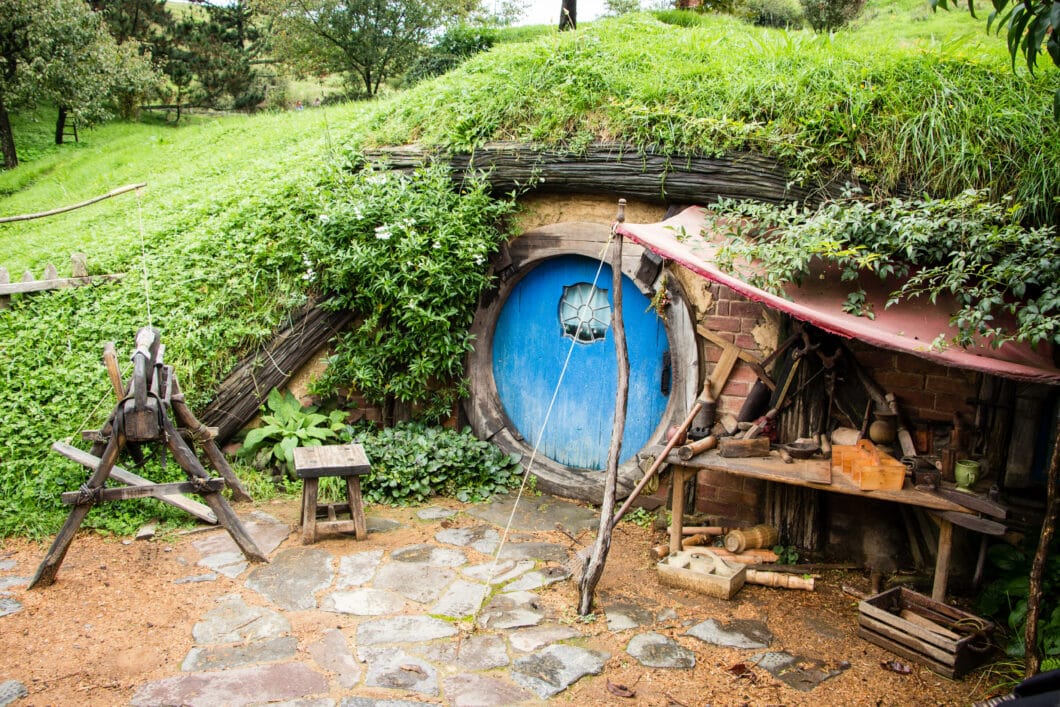 There are 44 permanently reconstructed Hobbit Holes for you to admire as you wander through Hobbiton town. I didn't take a photo of each one, but I certainly tried! Haha.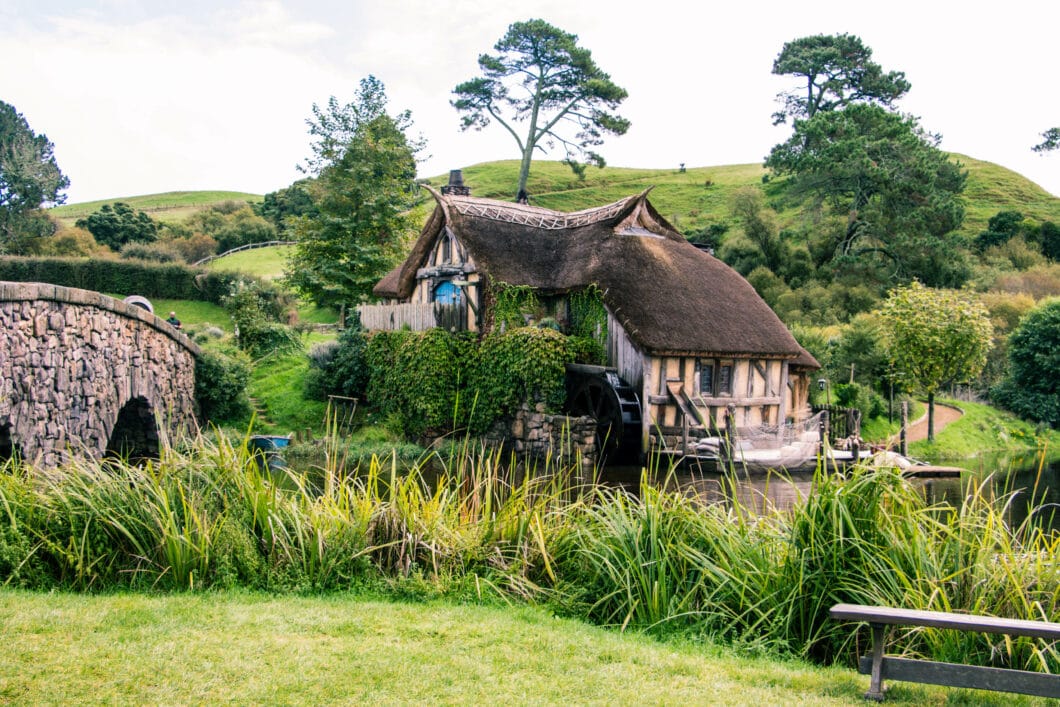 Your journey will end at The Green Dragon Inn, where you have your choice of Hobbiton brews! The actors/actresses were given a special beer that had only 1% alcohol in it, so they wouldn't actually be drunk while they were acting. This beer was then sold on tours after filming was over. Needless to say, it sold out very quickly! And now Hobbiton has its own brewery! (With the normal amount of alcohol, though! Haha.)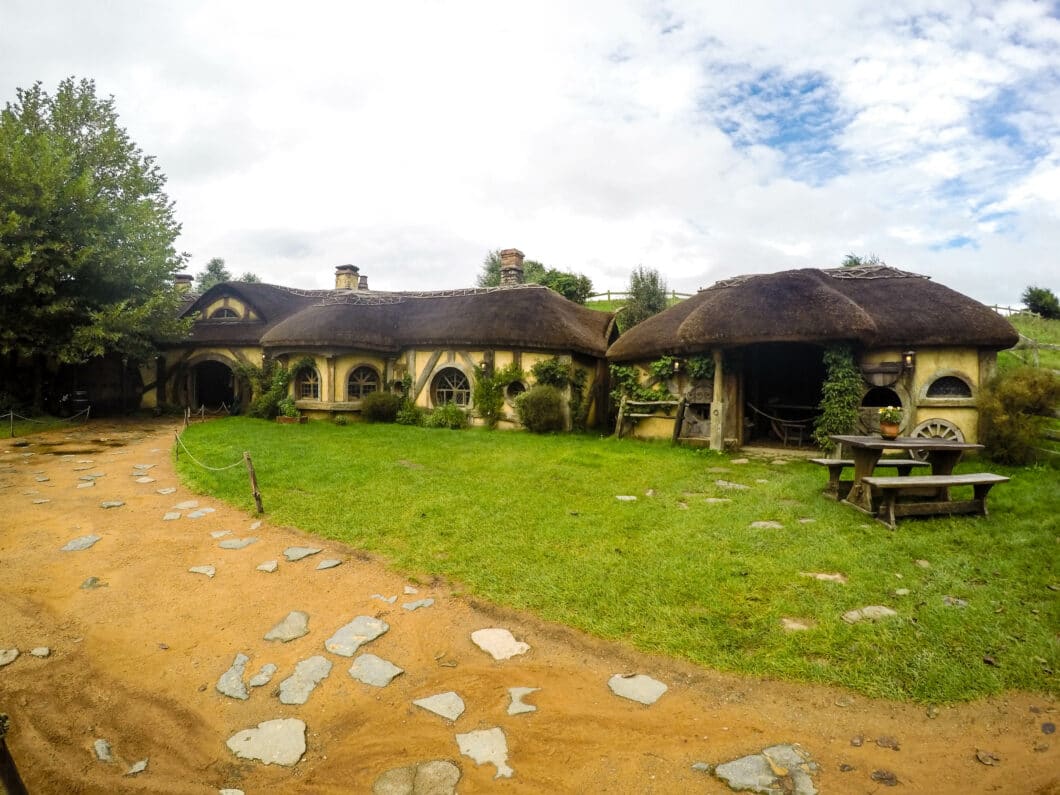 The photo gallery below has captions with fun little tidbits about each photo. If you're interested in reading them, just left click to see the caption and it will make it full-sized. 🙂
I really have a hard time deciding what my favorite part of our trip to New Zealand was, but this one part just might be it. And moment of truth, I honestly wouldn't consider myself a diehard Lord of the Rings/Hobbit fan. My husband is the diehard fan. (I had only watched the movies maybe 5 years ago, but I did see The Hobbit trilogy in theaters. And I really need to read the books!) I did really enjoy them, but not to the level of obsession I have with say, Star Wars. However, I still LOVED my time in Hobbiton. And if you're in the North Island – or heck, in New Zealand at all – be sure to check out Hobbiton!
We were staying in Rotorua, New Zealand at this time and took a bus shuttle from there + a tour once we arrived at Hobbiton. Click here for more info on that, and click here for The Hobbiton website.
What do you think of Hobbiton? Did any of the info in this post surprise you? Let me know in the comments!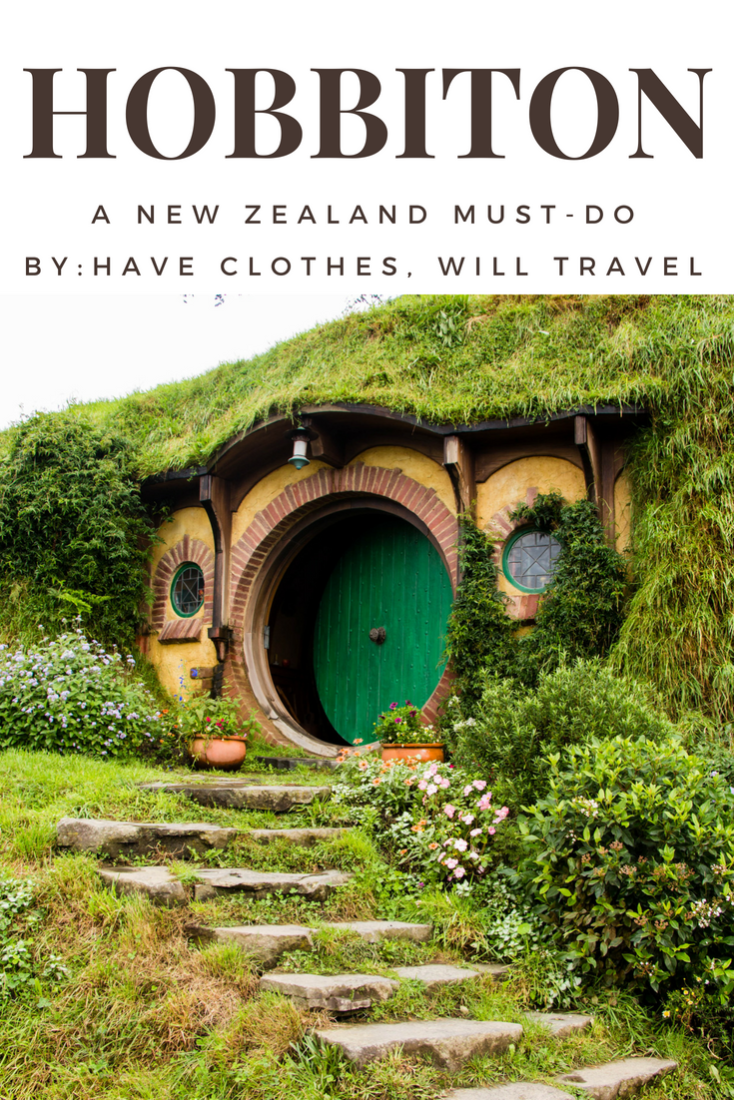 Disclosure: some of the links in this post are affiliate links. Meaning, if you click a link and make a purchase, Have Clothes, Will Travel gets a very small commission. Thank you for supporting the brands that make this blog possible!