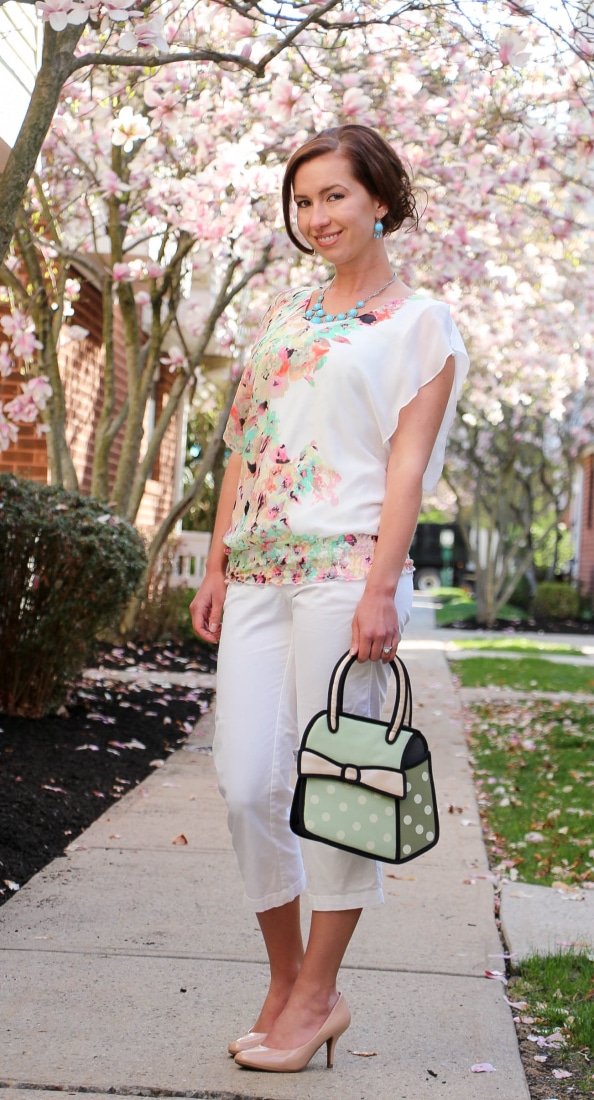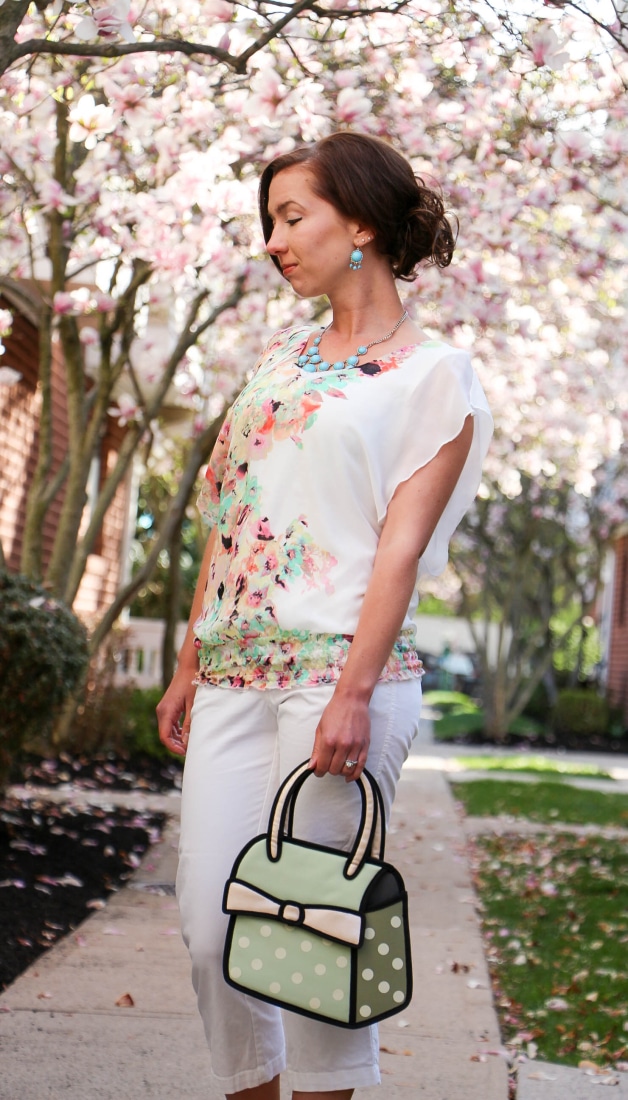 Shop the look:

Can you see me? I'm over here! This may not be the kind of "camouflage" clothing most folks are used to seeing, but I do blend into my surroundings quite well! (Well, except for my Jump From Paper purse. Haha.) I just can't get enough of all the blooming trees…or flowered clothing items, for that matter.
This top is pretty old..I've had it for quite a few years, but I still love breaking it out in the spring. Every time I wear it my husband tells me, "It's a great Spring/Easter/Mother's Day top" (depending on which holiday I'm wearing it for), and he loves all the colors. I also love how well it goes with my blue jewelry.
I may be a little early on the whole wearing white pants thing, but oh well! I don't pay much attention to fashion rules anyways. And I do have a love for white pants, capris and shorts…even if I manage to get them dirty every time I wear them. (I promptly spilled a lovely pesto sauce on these pants later that night!) OxiClean saves me every time, though!
Hopefully, you all aren't too sick of seeing these pumps. They are so comfy and go with so many of my outfits. And thanks to the closed toes, they are also helping me prolong inevitably getting my first pedicure of the year. I have some not so pretty feet thanks to genetics and my love for running, and I always feel horrible for the person who has to touch my feet. (Don't worry, I'll get around to getting a pedicure eventually, though!)
*How is your spring going? And am I the only person on the planet who doesn't enjoy pedicures? Let me know in the comments!
Where to find it:
Top: Maurice's (Old. Similar here.)
Capris: Maurice's (Similar)
Pumps: Target (similar)
Necklace: Target (Similar)
Purse: Jump From Paper