Noelle of "The Classy Junk"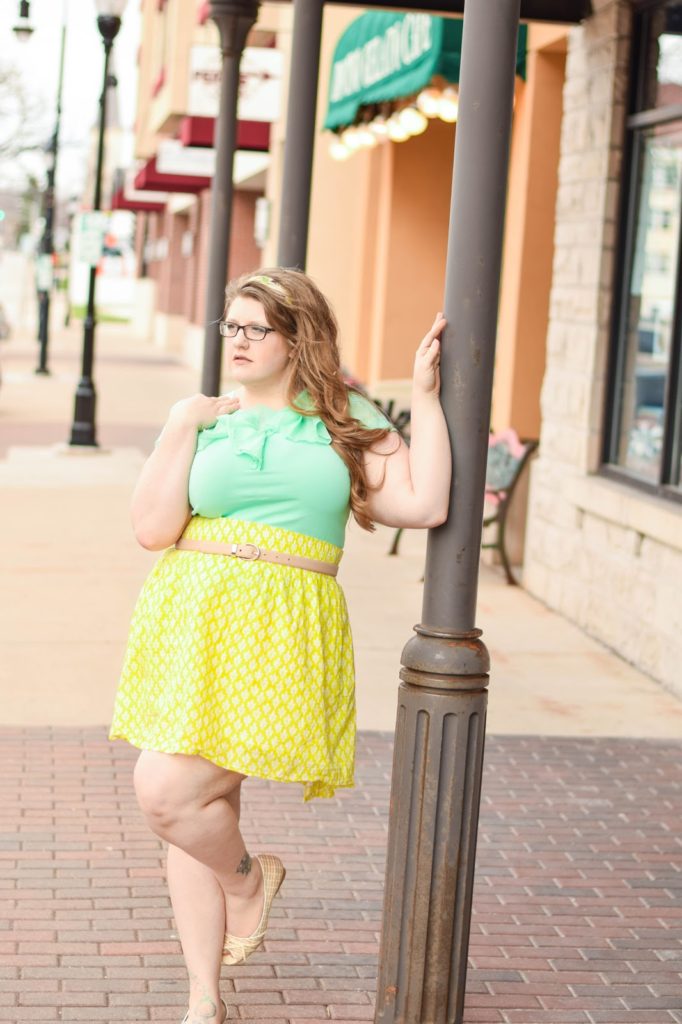 Noelle of "The Classy Junk" is June's Featured Fashionista! The Classy Junk is a blog brimming with beauty, from Noelle's enchanting writing to her stunning photos and gorgeous personal style…I am continually blown away by every post she creates.
And what initially had drawn me to The Classy Junk was that Noelle's a fellow blogger from Wisconsin! (Wisconsin will always be my home.) I really enjoy getting to see different parts of my home state through Noelle's outstanding blog posts.
See for yourself how amazing Noelle's writing & photos are in her Q&A below! (And prepare to be inspired!)
Q&A With Noelle
Tell me a little about yourself.
Noelle: I'm a stay-home-mom with a passion for experiencing as much life as possible and living unapologetically. When I'm not wrangling my tornado of children, I'm reading fiction, creating with yarn and textiles, and watching way too much television.
How would you describe your blog, "The Classy Junk?"
Noelle: The Classy Junk is a space for women who are experiencing roadblocks when trying to achieve a heightened personal style. Ideally, we would all have our own stylists and costume department that could expertly craft a persona for us that exemplifies our personalities like characters on a TV show, but that's just not real life. Most of us are stuck muddling through finding ourselves and trying to use limited resources to become that person. Whether it's lifestyle, budget, clothing size, or self-confidence, my blog is a place to inspire women to become an outward expression of the beauty that is inside all of us. Even though I'm only an expert on my own roadblocks, making myself the subject of personal style and photography is my way of showing the world that beauty is for everyone and that we shouldn't allow trivial matters to stop us from squeezing as much out of life as possible.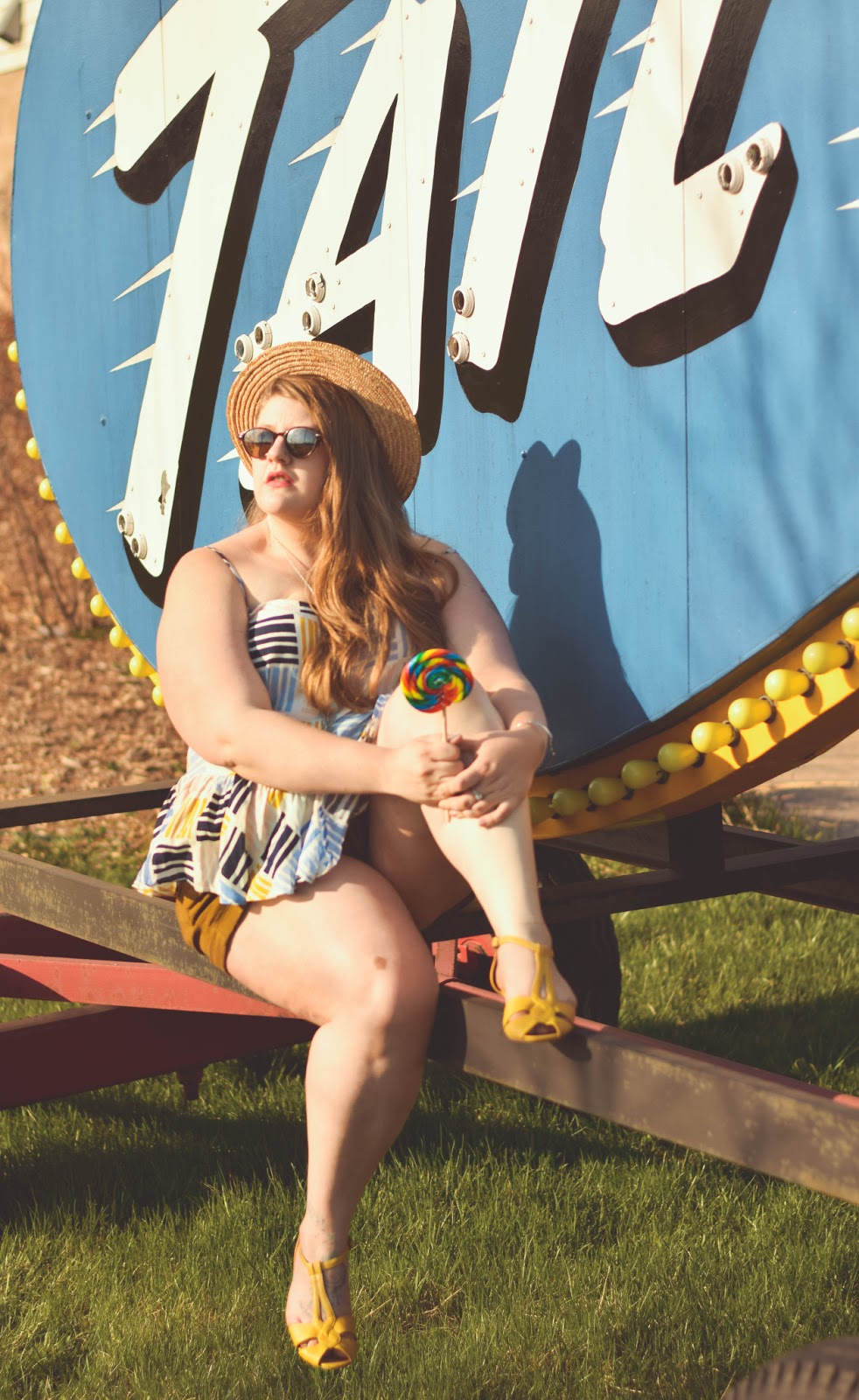 How did you start blogging? And what inspired the name, "The Classy Junk?"
Noelle: From my earliest memories, I loved clothing and style as a medium for empowerment. I would change my clothes five times a day and prance around playing all the different possible women I could grow up to be. But, it became clear to me as I got older that I wasn't traditionally pretty. I was teased, I was put down, and I accepted my place as something lesser. I stepped away from the things I loved that were only for "beautiful women" because I didn't want anyone thinking I thought more of myself than I deserved. I remember the exact moment that I realized that I didn't have to live my life that way. That I could be the woman of my choosing regardless of the symmetry of my face or the measurement of my waistline.
I was googling wide calf boots and I came across a body positivity blog. I fell down a rabbit hole and I read for hours. The concept of loving yourself entirely and these women that didn't hold back in fear of making others uncomfortable took root in me. It grew and shattered all those dismal, negative ideas that I had built up around me and I knew from those very first moments that I wanted to be a part of this movement and create a blog of my own.
"The Classy Junk" is the mash-up of the two halves of my personality. It was born from a conversation between me and my sister where we discovered that the woman we most mutually admired and wanted to emulate were "classy with just the right amount of trashy."
I, myself, come from a very blue collar background. I latched on to the glamour and the elegance of classic Hollywood starlets like Grace Kelly, Audrey Hepburn, and Doris Day. They were so enchanting and in stark contrast to the life I knew. In my own family, I'm still accused of being a snob and in my mom's words, I have "champagne tastes on a beer budget," But, I say I'm just trying to get more out of life. I can see the spirit of these women in my mom and my grandma and I know the essence of class is more than just ball gowns and updos.
But, I am not the elegant Grace Kelly or the wholesome Doris Day. I can aim for it and I inevitably add bits and pieces of myself that are tacky, kitschy, or tongue-in-cheek. Part of finding my personal style has been embracing the rougher bits of myself. The bits that are clumsy and in bad taste. "The Classy Junk" is in celebration of finding that I can be the woman in the beautiful clothes, who has never sworn in front of her mother, and values politeness while still being the clumsy girl with tattoos who binge watches Quentin Tarantino movies and has the sense humor of a twelve-year-old. Reaching a little higher doesn't mean I have to give up where I came from.

Your posts are always so beautifully written! I'm curious, do you have a background in creative writing?
Noelle: Thank you so much! That means a lot to me. I actually do not have a formal background in creative writing as my degree is in early childhood education. But, I would argue that always having a book in hand is an education in itself! Truthfully, creative writing has always been my first and greatest passion. Both of my parents are avid readers with intelligent, creative minds and I'm sure that my love for writing runs deep into my DNA. It is my lifelong goal to write and publish a novel and I working towards making that happen.
Not only are your posts written beautifully, but your blog photos are incredible too! Do you take the photos yourself? And if so, do you have any photography tips you would like to share?
Noelle: Again, thank you! My photos are a combination of solo efforts and teamwork between my husband and myself. If I'm working with my husband it usually goes a lot like this: I pick a spot, set up the frame, tell him how I want it to look, and he goes rogue anyway. After a lot of push and pull we usually come out with images that we're both happy with and then I do all the finishing touches. My best advice to anyone looking to up their photography game is to work with the light. After sunrise and before sunset is when the light is the most diffused and with the sun low in the sky, backlighting the subject of the photo, it creates a lovely faint glow. Overcast days are great too because the lighting is uniform and there's an infusion of moodiness. Knowing what you want your photos to feel like will help you decide what lighting fits the best. Besides that, play with textures and colors and keep foreground, middleground, and background in mind for the most visually impactful images.
Your children also make appearances on your blog from time to time. They are adorable! Could you tell us a little more about them?
Noelle: Ah, yes. My brood of minions. They're the biggest, most exhausting joy of my life. Each of them is so distinctive. Sawyer, my six year old, is a ball of emotions who experiences every feeling so completely, Hudson, who is four, is a sweet and gentle introvert who has a whole world spinning around in his brain, and Amelie…well…she's a two year old firecracker. She's going to take over the world, I'm pretty sure.
I remember when I first started reading The Classy Junk how excited I was to find a fellow Wisconsin blogger! There doesn't seem to be too many of us. Have you always been a Wisconsinite? And how do you deal with taking outfit photos in the frigid winters?
Noelle: Technically, I was born in Wyoming but only lived there until I was two. My whole family is from Wisconsin and they were only living there temporarily. So yes and no, I suppose. I claim duel-stateship.
Winter blog photos are not my favorite thing and that's being generous. I have a pretty tough skin for the cold, but I can't take the kids out in that kind of weather. We do the best we can with indoor shoots and spots near our house for a few months. It's a real opportunity to show how resourceful Wisconsinites can be in winter!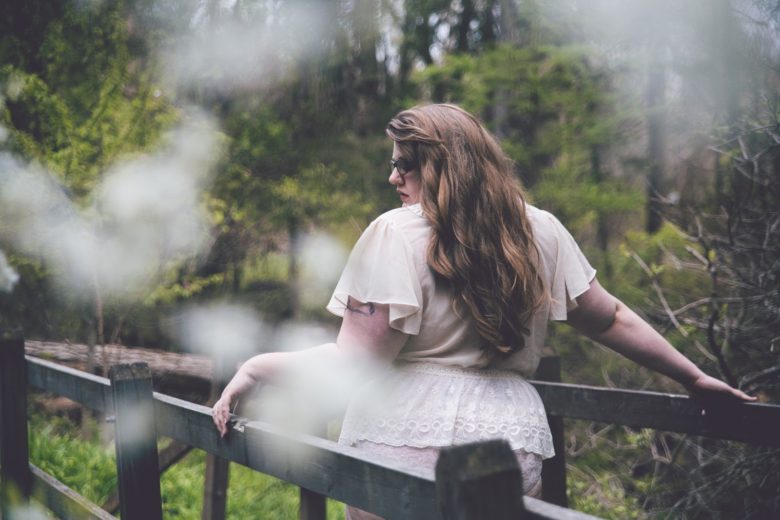 I really loved your recent post on body positivity that featured boudoir photos! They are beautiful – as was the message. What advice would you give to someone who is struggling with loving their body?
Noelle: Thank you! That was an empowering post to create! I would tell this person that self-acceptance takes time, but it's so important to work towards releasing yourself from the responsibility of being physically attractive to others. We don't need permission, based on our worth as beautiful objects, to respect and care for ourselves. Self-confidence isn't a prize awarded for beauty. It's the comfort that comes with letting go of that obligation and choosing to honor yourself for the person you are. (Click here to see that post.)
How would you describe your personal style? And what is your go-to look?
Noelle: My personal style is a lot of vintage/retro femininity mixed with touches of spunky, modern quirks. I love all forms of color from brights to neutrals and I have a lot of fun playing with the color combos that prints have to offer. I'm also a bit of a textile nerd so my focus is often on the texture or the drape of clothing. I'm drawn towards the construction of garments so details like embroidery and lace or pleats and ruching are all the accessories I need.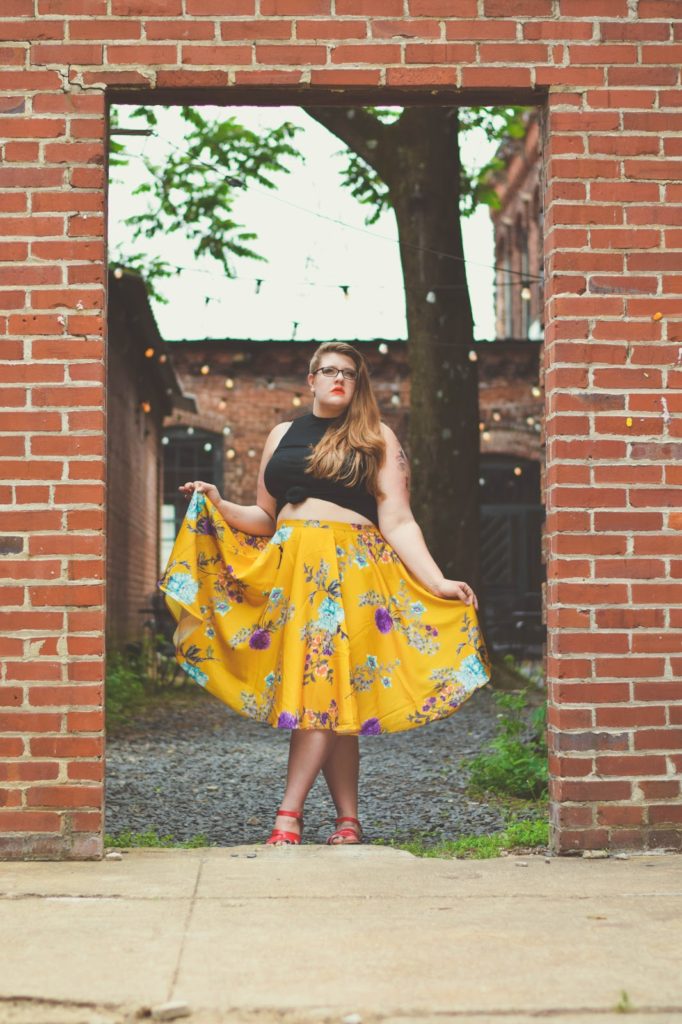 My go-to look, the outfit that I can throw together in the morning without even thinking about it, is a colorful, full skirt and either a chambray button-up or a black and white striped shirt. Then I finish it off with a hat and bright lipstick and it ticks all the items on my style love list. Color, texture, construction, quirk, and femininity. That's basically my version of jeans and a t-shirt.

If you had to pick, what would you say your favorite clothing store is and why?
Modcloth. No. Asos. No. Goodwill. Why is this so hard? All right…if I really can only pick one, I would have to say, Goodwill. It's a bit more of a challenge, but it has the most to offer for the best prices. I've found Modcloth, City Chic, Pin Up Girl Clothing, and high end department stores brands for just a few dollars. Then add in the actual vintage pieces and it has all the makings of a distinctive and personal, high-quality wardrobe.

Do you have any advice you would like to share for someone who is looking to start a blog of their own?
Noelle: Don't over think it and just jump in! You'll learn your style and what subjects are most inspiring to you through experience. I do think it's important to write for a targeted audience, though. Decide who you want to write for and what your blog can help this person with. I would also ask yourself what you want to accomplish with blogging. Some people want to turn it into a business, some want to use it as a gateway to modeling, photography, or design. Knowing where you want your blog to go will help you know what direction to take your site in. For me, I mostly wanted to connect with people who found joy from similar things. Because of that, the direction of my blog is much more personal and organic. Someone who wants to turn it into a business would want to treat it with more professionalism.
Any final thoughts you would like to add?
Noelle: I just want to say thank you so much for giving me a place among all the amazing bloggers you have featured on your lovely site. It's such an honor and I'm grateful for the opportunity to share my perspective.
If anyone would like to see more of what I have to offer this is where I live on the internet:
*Snapchat: nmettille
And don't forget to check out The Classy Junk by clicking here! Thank you so much, Noelle!