100+ Outfit Quotes For The Perfect Instagram Caption
Are you looking for amazing outfit quotes for your Instagram caption? This post has you covered! From outfit quotes by Oscar de la Renta to Victoria Beckham to Rihanna and beyond – you're sure to find the perfect outfit caption for Instagram in here!
As I said in my previous quotes post, I'm not always the greatest at coming up with captions for my Instagram posts. However, having just the right quote to caption my outfit photo can be all that I need. So, today, I'm sharing nearly 100+ fabulous outfit quotes so you never run out of Instagram caption ideas either!
I'd love to hear which of these quotes is your favorite in the comments at the end. Enjoy!
Sharing these outfit quotes and captions
Please feel free to copy and share these outfit quotes wherever you please – Pin these images to Pinterest, use them in Instagram captions, blog posts, you name it! If you want to tag me when you share the quote, I'd really appreciate it and love to give you a shoutout! Just tag my accounts below or link back to this blog post. Thank you!
Instagram: @have_clothes_will_travel
Twitter: @havclothwiltrav
Facebook: @haveclotheswilltravel
Blog URL: https://www.have-clothes-will-travel.com/outfit-quotes-instagram-caption/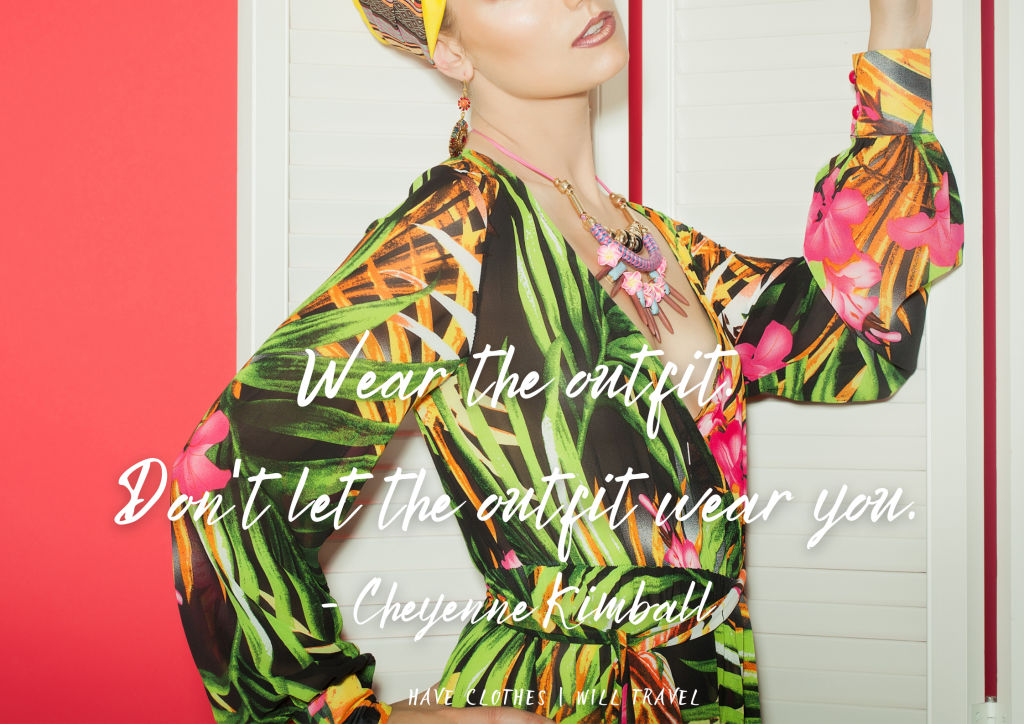 100+ Outfit Quotes For The Perfect Instagram Caption
---
1. Wear the outfit; don't let the outfit wear you. – Cheyenne Kimball
2. A woman makes an outfit her own with accessories. – Oscar de la Renta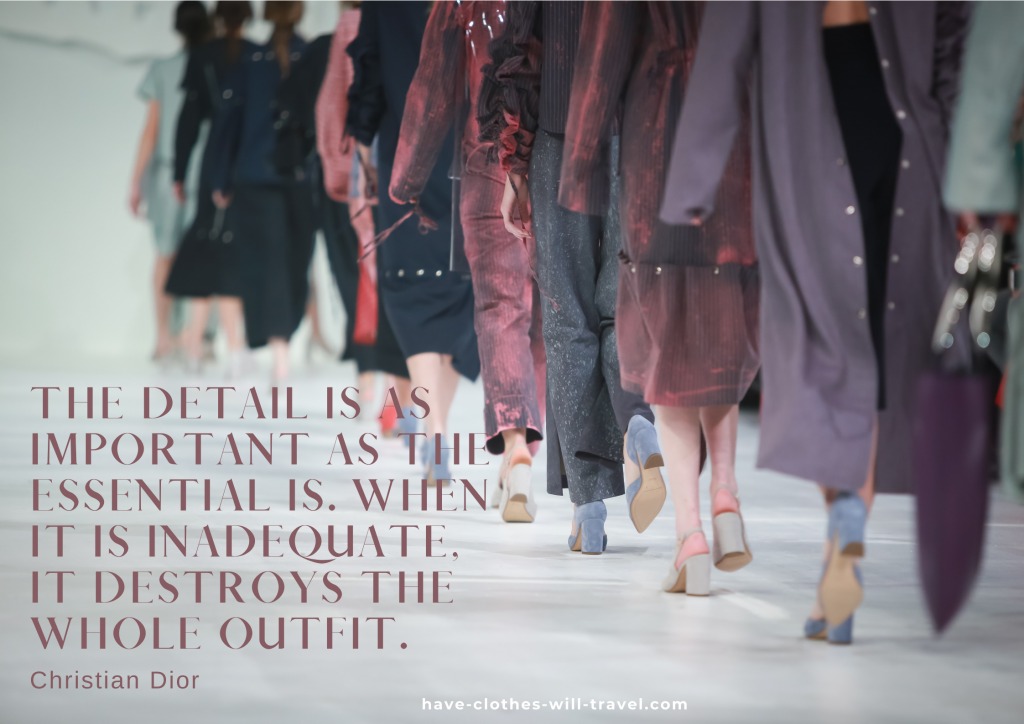 3. The detail is as important as the essential is. When it is inadequate, it destroys the whole outfit. – Christian Dior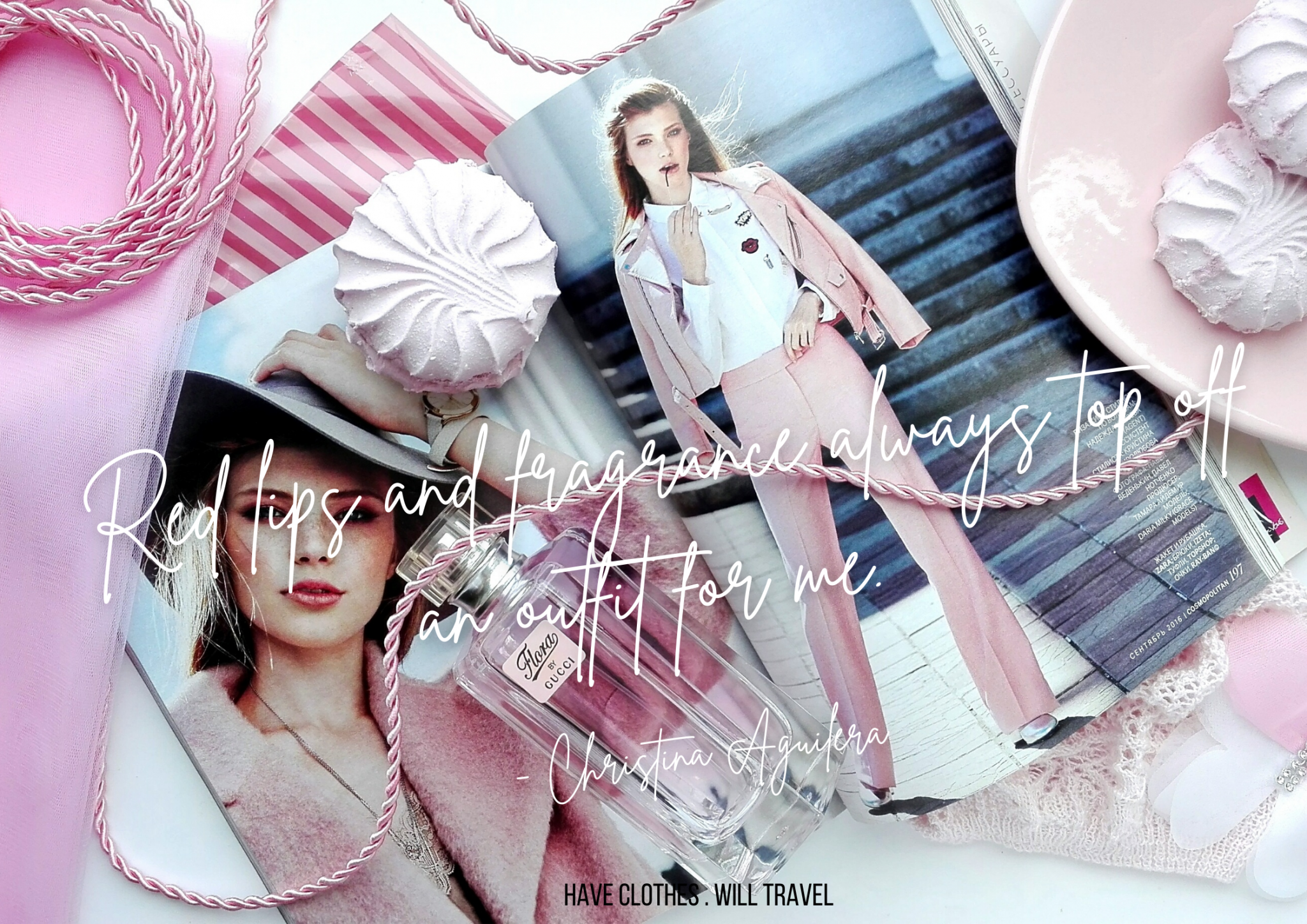 4. Red lips and fragrance always top off an outfit for me. – Christina Aguilera
5. You can change an outfit, you can outfit change, or both. – Kenneth Cole
6. You don't respect my religion. I don't respect your outfit. – Scott Disick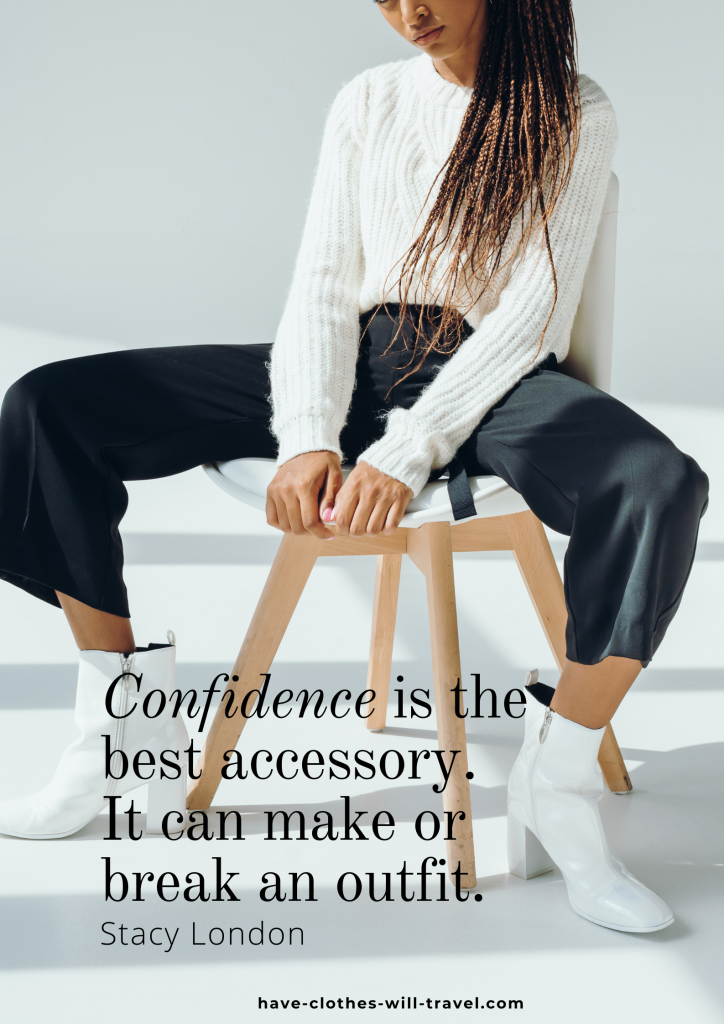 7. Confidence is the best accessory. It can make or break an outfit. – Stacy London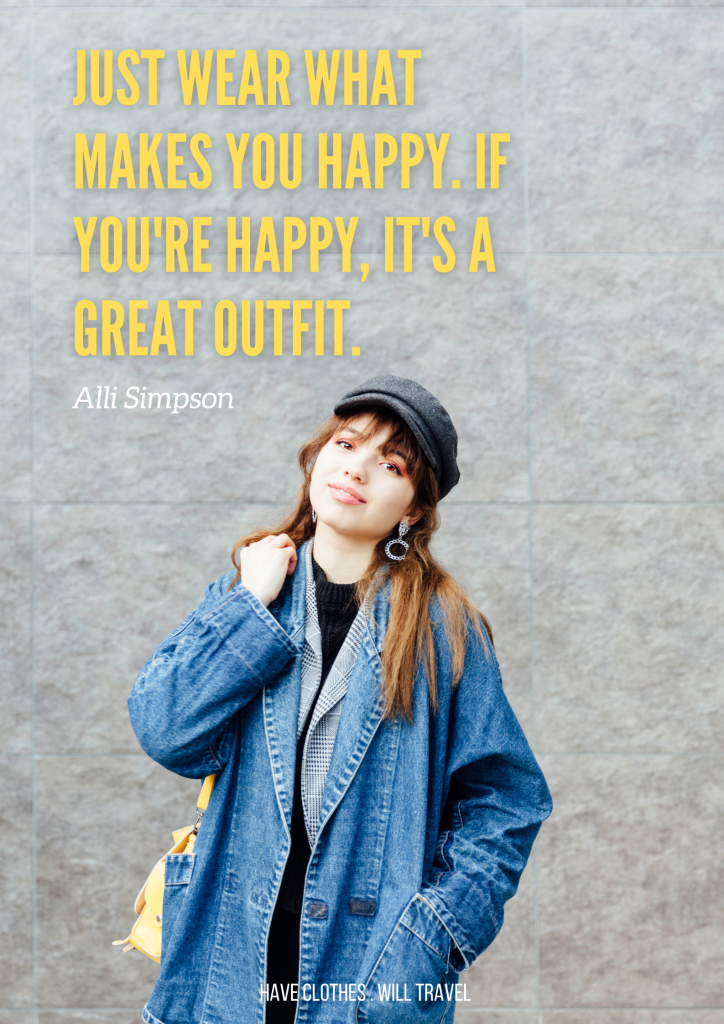 8. Just wear what makes you happy. If you're happy, it's a great outfit. – Alli Simpson
9. I tend to wear monochromatic outfits – all one colour from head to toe. – Suzy Amis
10. Never let a trend get in the way of creating a great outfit for yourself. – Stacy London
11. I love leaving the house in a new outfit; I don't feel the pressure at all. – Alexandra Roach
12. Cute accessories always help bring out your outfit and pull it all together. – Ciara
13. Fashion is a good job for a young girl. I like clothes – I like to play with clothes. I like DIY; I like to make outfit. – Liu Wen
14. My favorite way to style outfits is to really use a lot of pieces in your closet. – Elsa Hosk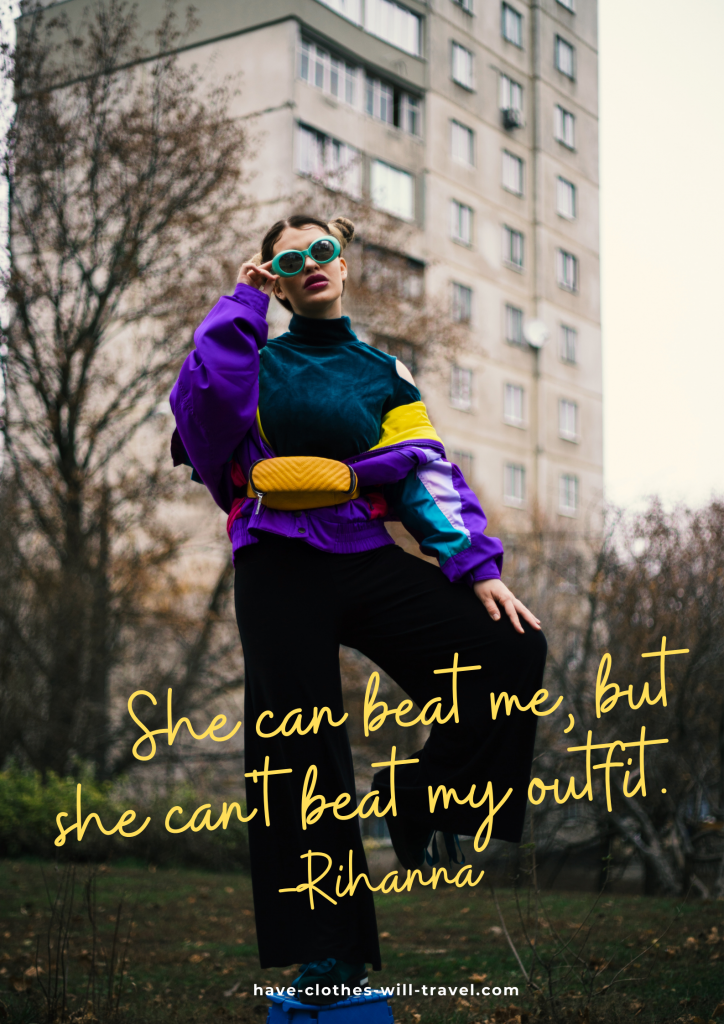 15. Even as a child I remember thinking, she can beat me, but she cannot beat my outfit. – Rihanna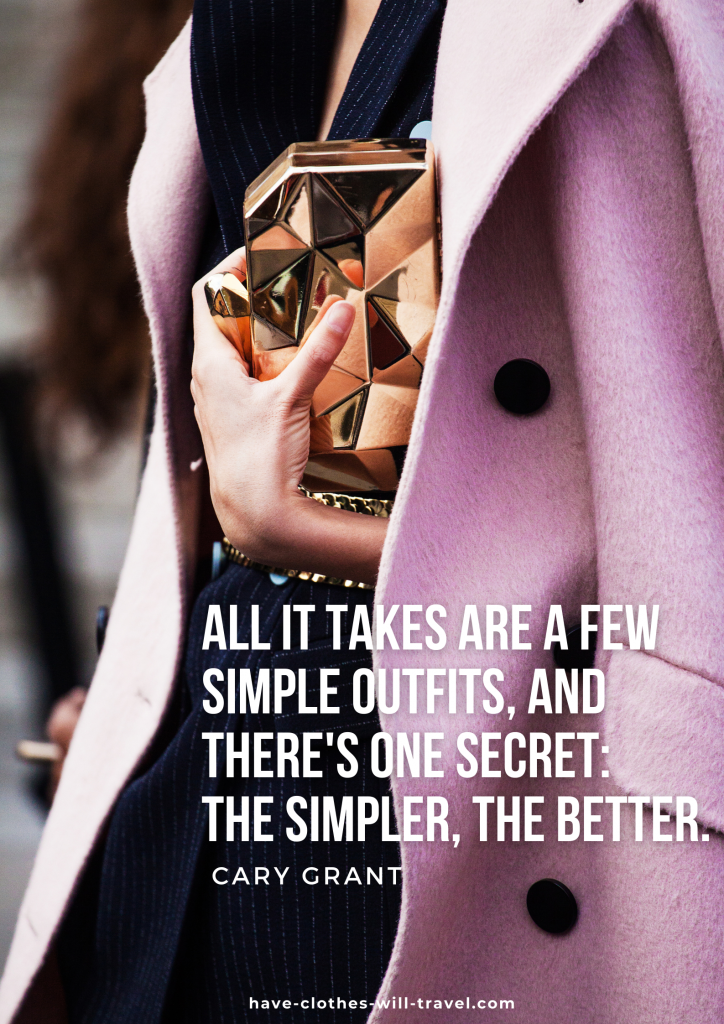 16. All it takes are a few simple outfits. And there's one secret: the simpler, the better – Cary Grant
17. Where's my white collarless shirt from Fred Segal? It's my most capable-looking outfit! – Cher
18. I never go with something in mind. I like having an array of generations in my outfits! – Lily Collins
19. I like to wear a lot of one-tone color outfits – same color trousers, same color shirt. – Theophilus London
20. I just like putting outfits together without much thought and seeing what the outcome is. – Vanessa Paradis
21. Strike the right balance between your outfit and makeup. Make a statement with one, not both. – Madeline Zima
22. Celebration has many different outfits but she always wears the same beautiful dancing shoes. – Mary Anne Radmacher
23. The joy of style lies not in how we look to other people, but in how we look to ourselves – and the most memorable and beautiful outfits are simply those that, in some rare moment of joy, we found the courage to share with the world. – Simon Van Booy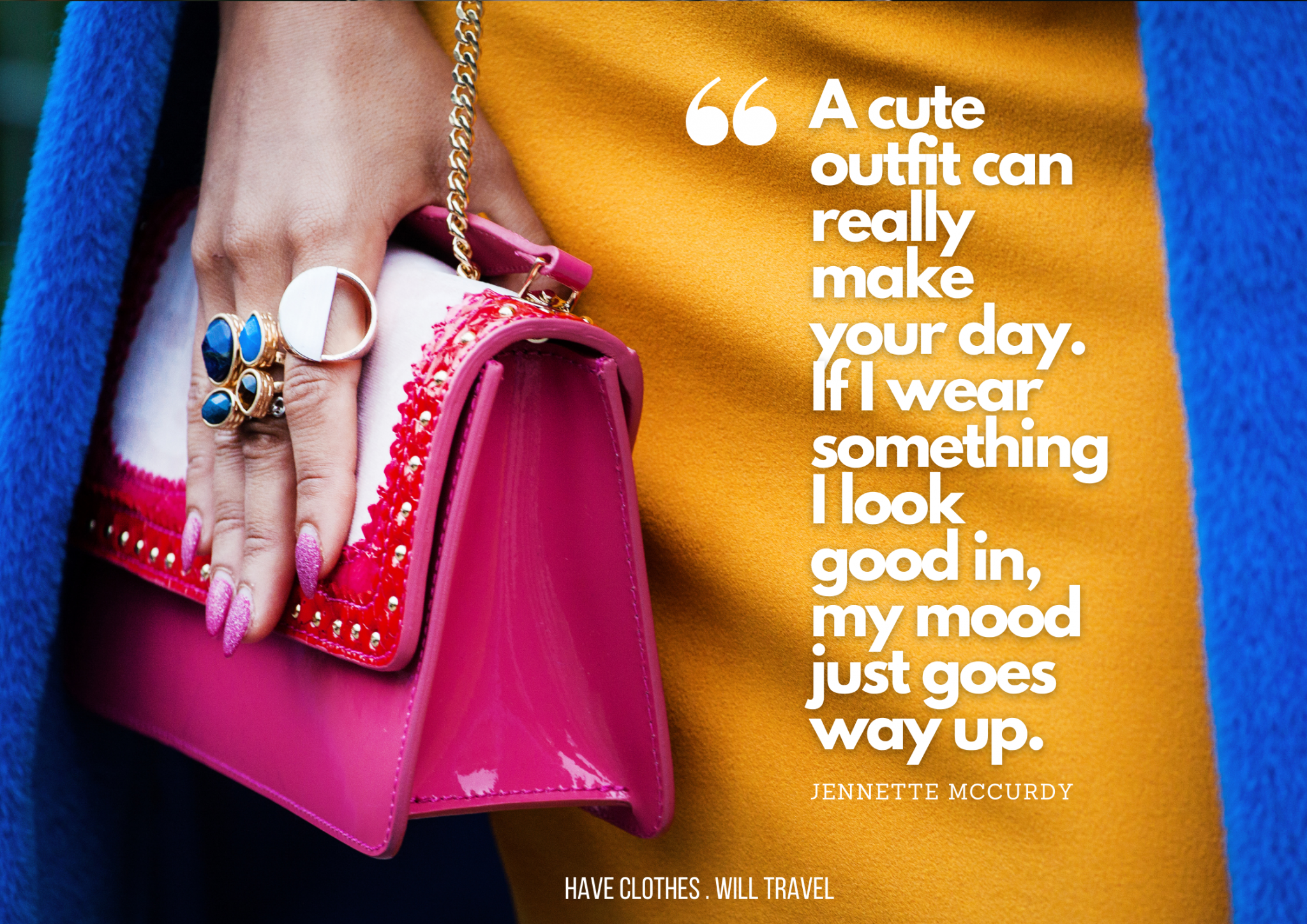 24. A cute outfit can really make your day. If I wear something I look good in, my mood just goes way up. – Jennette McCurdy
25. My favourite outfit was this black lace dress that I found in a vintage shop in Williamsburg, New York. – Abbey Lee Kershaw
26. If a great outfit gets you one step closer to feeling good about yourself, then it's worth every penny. – Rachel Roy
27. Sunglasses always hide a multitude of sins. Sunglasses and a great pair of heels can turn most outfits around. – Victoria Beckham
28. I dress how I feel. I just go off emotion. I can't prepare my outfit a day before. Everything I wear is spontaneous. – ASAP Rocky
29. In terms of fashion, I love adding a fun scarf to whatever I'm wearing – it's a great way to dress up a plain outfit! – Bridgit Mendler
30. My challenge is to find a beautiful balance: to make women beautiful, to make a woman dream to wear a beautiful outfit. – Raf Simons
31. To me, being grown-up meant smoking cigarettes, drinking cocktails, and dressing up in high heels and glamourous outfits. – Lorna Luft
32. I want my outfit to match my mood. – Dakota Johnson
33. I know parts of all the decades come in and out of fashion, but you never get to wear an entire outfit exactly how it was. – Nikki Sanderson
34. I can go all over the world with just three outfits: a blue blazer and gray flannel pants, a gray flannel suit, and black tie. – Pierre Cardin
35. Accessories are important and becoming more and more important every day. They can completely change the look of an outfit, and women like the idea of having a wardrobe that's versatile. For instance, a strong piece of jewelry can make a simple outfit look elegant. – Giorgio Armani
36. I've etched out who I am through myriad haircut attempts, outfit attempts, beauty attempts, diet attempts. It's been an evolution. – Jamie Lee Curtis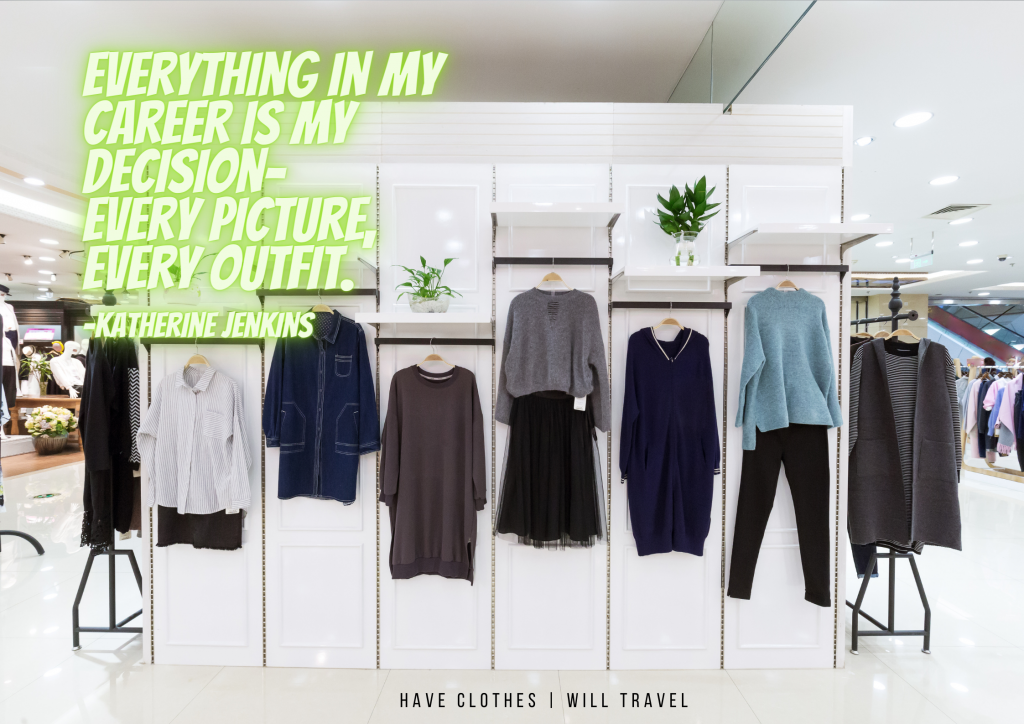 37. Everything in my career is my decision – every picture, every outfit. – Katherine Jenkins
38. Girl power is about loving yourself and having confidence and strength from within, so even if you're not wearing a sexy outfit, you feel sexy. – Nicole Scherzinger
39. To me makeup is a major accessory. It can change an outfit, it can make the outfit, it can be the outfit, and that's why I like to play with it. – Rihanna
40. Fashion for me is another way I get to express myself creatively. It is one of the fun things I get to do: to play dress-up, and create outfits and looks that aren't typical. I am an artist, so I like creating things. Shoes are my favorite thing. – Rihanna
41. Get a good jean, a good tee, a good whatever because you can just switch that stuff up and you have like 8,000 different outfits with a few things. – Zendaya
42. I love funky shoes and hats. I'm into large-brimmed fedoras with big feathers in fun colors like purple and lime-yellow. I just think hats add pizzazz to your outfits. – Kim Kardashian
43. When a woman wants to look festive, she should add some shine, sheen or sparkle to her outfit, like a metallic clutch, an embellished shoe, or a blingy statement necklace. – Clinton Kelly
44. I'm not a girl to wear a lot of bright color, but including a touch of color can pull an outfit together. I'm from New York and wear a lot of black, and color is refreshing. – Jenna Ushkowitz
45. I love street style, seeing how girls wear pieces and how they pair accessories with their outfit. How they pair shoes with a bag and go from day to night and change things up. – Maria Sharapova
46. I love putting on an outfit or a costume and just looking at myself in the mirror. Baggy pants or some real funky shoes and a hat and just feeling the character of it. That's fun to me. – Michael Jackson
47. I love to shop after a bad relationship. I don't know. I buy a new outfit and it makes me feel better. It just does. Sometimes I see a really great outfit, I'll break up with someone on purpose. – Rita Rudner
48. Texture is something we forget – it makes outfits look very expensive. You can do a monochromatic outfit, if you're afraid of things that are more colorful and printed, and still create interest. – Stacy London
49. You need to have one element about your outfit that is imperfect, that says you live in it and you're not letting it control you. I think men and women both need a softness about them with formal wear. – Paul Feig
50. As a woman, and as somebody in the public eye, we always have to be ready for the red carpet and have the nicest outfit, work with the best makeup artist. While all that's nice, we're also human beings. – Sasha Grey
51. I spent nearly two hours deciding on an outfit that would look as if the subject of clothing had never crossed my mind, but would in fact show off my best features and miraculously hide the extra pounds. – Rosanne Cash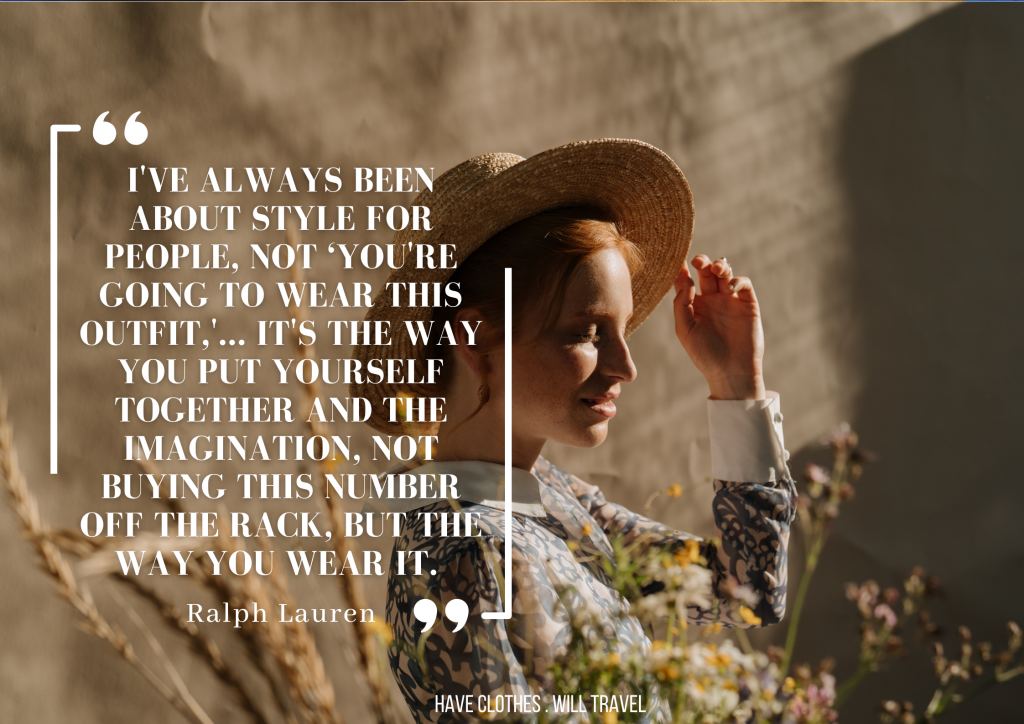 52. I've always been about style for people, not 'You're going to wear this outfit,'… It was the way you put yourself together and the imagination, not buying this number off the rack, but the way you wear it. – Ralph Lauren
53. When I have a good pair of shoes, I wear them over and over. Whether it's nice sneakers or a cool pair of combat boots, splurge on a pair you love that you can wear over and over with totally different outfits. – Bethany Mota
54. I love handbags. And shoes. Investing in like a great handbag or a pair of shoes can really make or break an outfit. It's fun to mix and match high street with luxury brands and throw in a bit of vintage as well. – Miranda Kerr
55. We all get a little rush of excitement at the prospect of buying a brand-new outfit for a first date, but this is not the time. You're much better off wearing clothes, shoes especially, that you've already tested. – Nina Garcia
56. It's unarguable that the right shoes can really add elegance to an outfit and to the person who's wearing them. Take a pair of high heels, for instance. Suddenly, you're looking taller, shoulders back, body curved. – Kareena Kapoor Khan
57. I love working with a stylist but I also love having personal relationships with designers. A stylist is great for pulling together an entire outfit, accessories included, and for shaking me out of my comfort zone. – Elizabeth Banks
58. It's tempting to wish for the perfect boss, the perfect parent, or the perfect outfit. But maybe the best any of us can do is not to quit, play the hand we've been dealt, and accessorize what we've got. – Candace Bushnell
59. I think to be a true style icon, you just have to dress yourself. There are so many actresses floating around who have people picking out their outfits for them; that's hard for me to wrap my head around or celebrate. – Chloe Sevigny
60. The only thing that really goes through my head when I'm picking out an outfit is, do I feel cool and cute. I try as much as I can to push out any worry about what anyone else is gonna think and just kinda focus on, do I think this is cool. – Troye Sivan
61. Thrift shopping is really just an extension of me being that same kid and going into a place that's completely unconventional that has really endless possibilities in terms of outfits that you can put together and really just expressing yourself. – Macklemore
62. When I buy clothes, I like to buy them in outfits so I know they go together. I like a very simple, natural style. I never like to be the attention getter; I like to come under the radar and be cool about my look, very classic and stylish. I'm not into fads. – Rena Sofer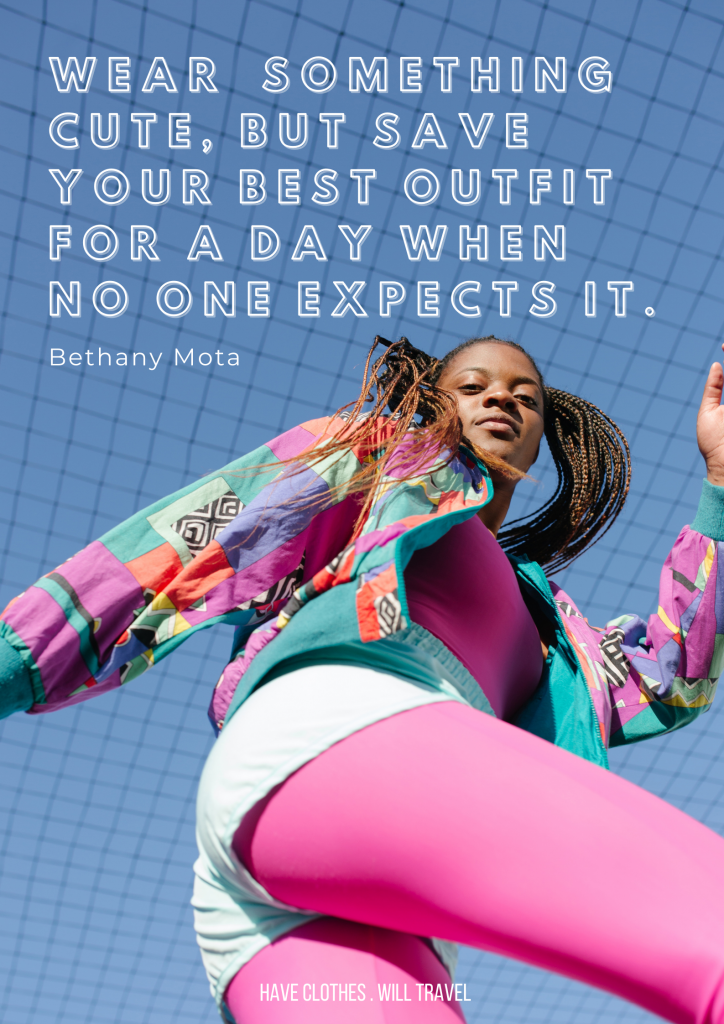 63. Wear something cute, but save your best outfit for a day when no one expects it. – Bethany Mota
64. The right shoes can really make an outfit—and equally, if you have the wrong shoes, you can feel old-fashioned in the smartest of suits. – Nina Campbell
65. I really believe in keeping your canvas very basic and sort of adding the accouterments from there. I look at creating intrigue with outfits through accessories. – Erin Wasson
66. For me, getting older doesn't mean throwing away a favorite-colored lipstick or a fabulous pair of boots; instead, it's about harnessing all the great things I have learned over the years about what does and doesn't suit me, and enjoying the way in which cleverly selected outfits can enhance the nice bits. – Twiggy
67. You can change the look of an outfit so easily by changing the kind of jewelry you wear. If you have a basic outfit on – a black sweater and skirt or a simple black dress – you can go from the office to a cocktail party at night just by changing your jewelry. It helps if you change your shoes as well. – Iris Apfel
68. Colorful garments – ball gowns, kimonos, evening pajamas – made from yards upon yards of iridescent silk or velvet. I own an unjustifiable number of such outfits and jump at the chance to wear them. Against the etiquette about which I am otherwise all too conscious, I frequently, and unrepentantly, overdress for the occasion. – Julia Glass
69. I have always loved fashion because it's a great way to express your mood. And I'm definitely a shoe lover. The right pair of shoes can change the feel of an outfit, and even change how a woman feels about herself. A woman can wear confidence on her feet with a high stiletto, or slip into weekend comfort with a soft ballet flat. – Fergie
70. Even if you're not looking the best you can, or maybe your outfit isn't spot on, if it looks like you got dressed and you like it, you'll probably look cool anyway. – Kristen Stewart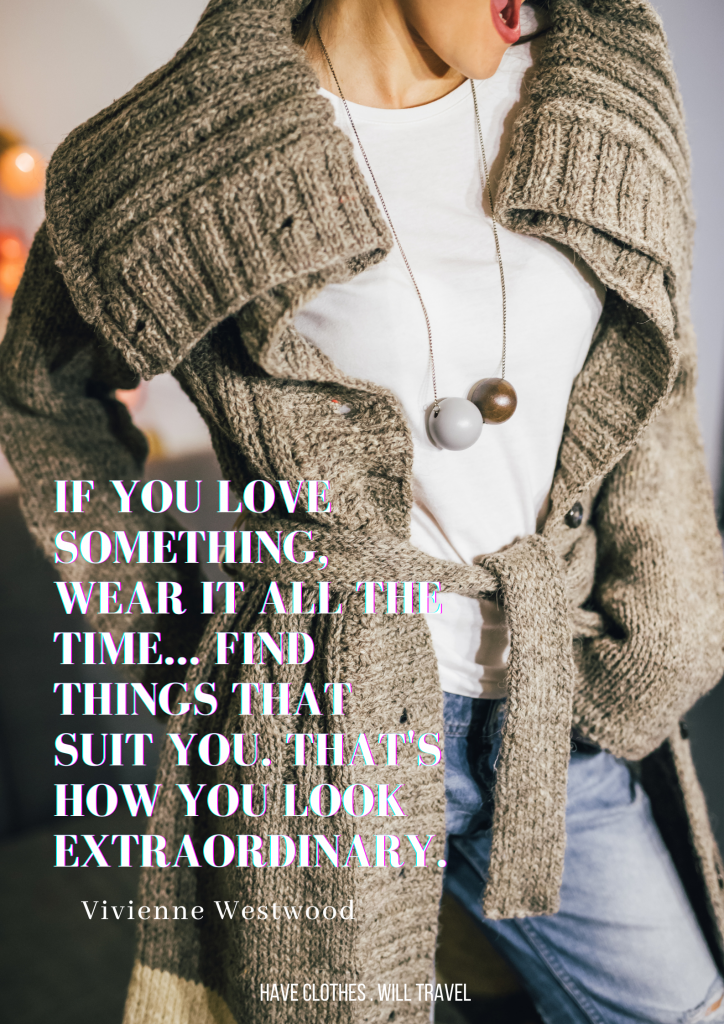 71. If you love something, wear it all the time… Find things that suit you. That's how you look extraordinary. – Vivienne Westwood
72. Buy less. Choose well. Make it last. Quality, not quantity. –Vivienne Westwood, The Telegraph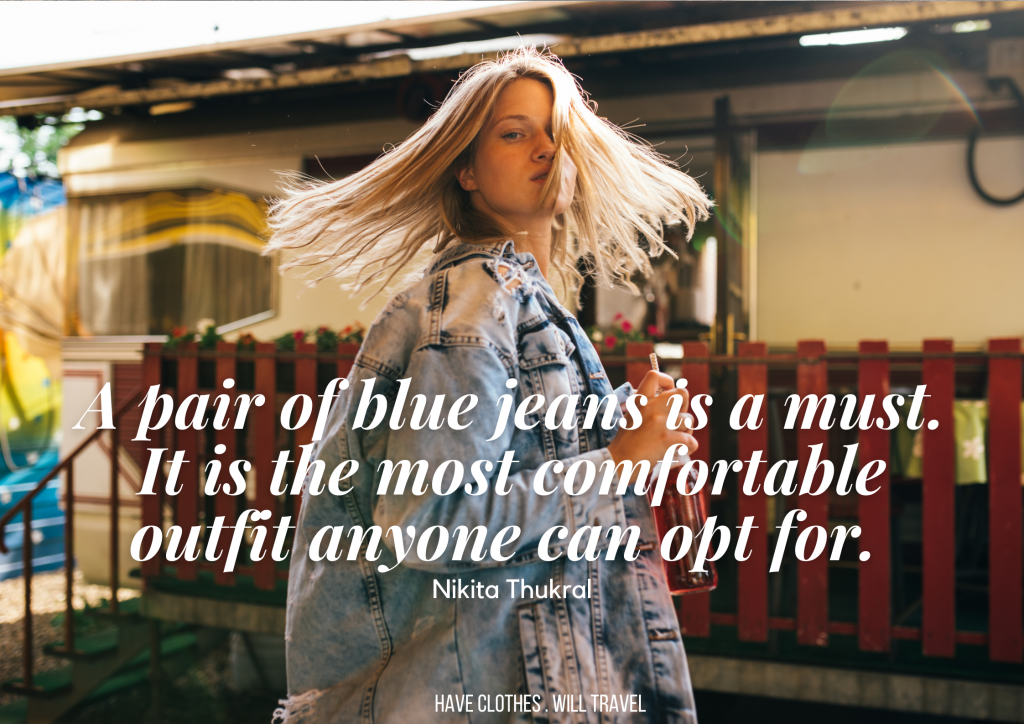 73. A pair of blue jeans is a must. It is the most comfortable outfit anyone can opt for. – Nikita Thukral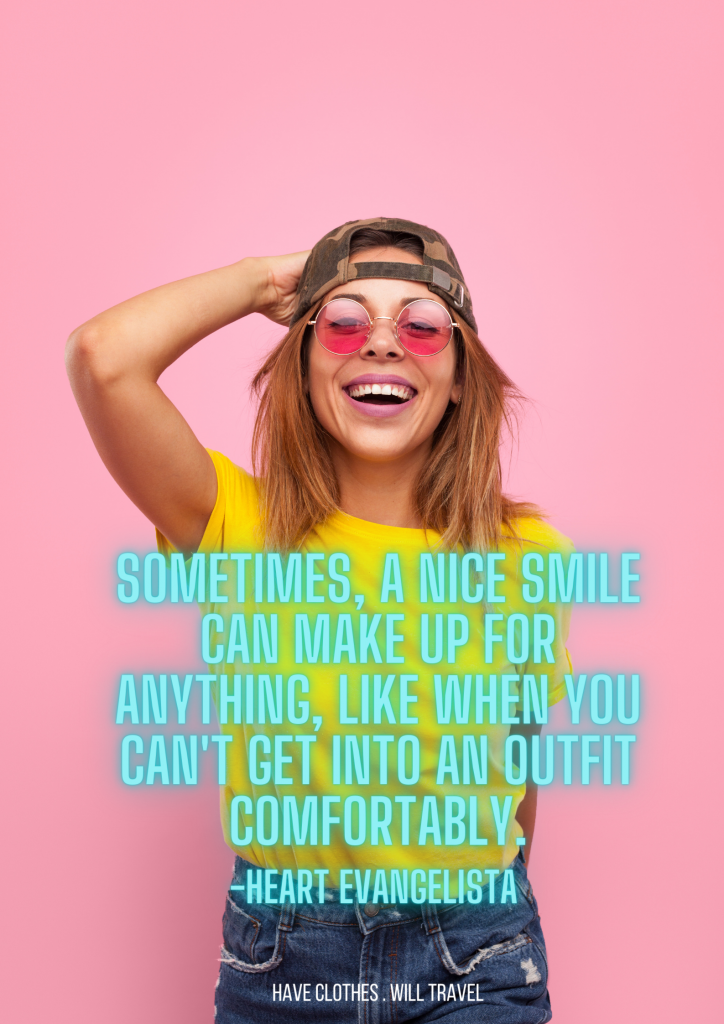 74. Sometimes, a nice smile can make up for anything, like when you can't get into an outfit comfortably. – Heart Evangelista
75. Fashion was always in me! The incentive to just get up and start my day by looking for an outfit to walk outside and look good, it was always in me. – Hennessy Carolina
76. I love unique things that not everyone has. I believe it's all about how you wear an outfit, not how much it costs or where it's from. Elegance is the key. – Sasha Jackson
77. I feel like when you've got a good outfit on it makes your day, right? – Francesca Hayward
78. Whatever hair color I have on my head, that's what decides what type of outfit I'm going to wear, because not everything goes with your hair color. That's why I switch it up. – Cardi B
79. I've always been somebody who would put together an outfit, and my go-to accessory would be a pair of sunglasses. – Madelaine Petsch
80. I am really into color and bright clothing. When I'm wearing heels, I always like to throw some different colors into my outfit, so it doesn't match. That gives my look a retro and funky feel. – Leah LaBelle
81. I never think too hard about a look. When you consider an outfit too much, that's when it goes wrong. – Rita Ora

82. At night, I love dressing up. I love putting on an outfit. – Kate Moss
83. There's no need to go the full hog – a touch of subtle sequins will lift any outfit. – Kate Garraway
84. I'm guilty of going to a fitting, then going out to buy the same outfit. It's been a problem for my bank account! – Blake Lively
85. I like mixing high-end finds with less expensive items. I've been known to pair an outfit from Forever 21 with Chanel shoes. – Peyton List
86. One day, I could be wearing biker boots and a leather outfit, and the next day, I could be wearing a flower dress and sandals. – Madison Beer
87. Who cares if your outfit is black and you're sporting a brown belt? Wear it, rock it, love it – and others will, too. Nothing beats a belt. – Rachel Nichols
88. A woman's outfit says a lot about her. – Amar'e Stoudemire
89. I think the most important element of a power outfit is proper fit. The one item to focus on is a suit. If it's the right fit, you could wear it with a T-shirt and still convey the positive message. – Garrett Neff
90. I fidget and change my outfit a lot. It's really a way of keeping myself comfortable. – Jenny Slate
91. One of my favorite things from my mom is a chocolate brown three-piece Chanel outfit. I had it tailored because she taught me the importance of fit. – Jillian Hervey
92. Call me curl-crazed, but there's just something about a head full of waves that can command any room and make any outfit more interesting. – Elaine Welteroth
93. Think about the style of the occasion before you plan your outfit. – Jenny Packham
94. Something I always look for in an outfit is to have a standout piece. – Coco Rocha
95. I can't live without my leather jacket – it's the best way to dress up a plain outfit. – Amber Stevens
96. So, my advice is to always choose something simpler – an expressive outfit, plus a hat, can be frightening. – Philip Treacy
97. I totally wouldn't mind being able to wave my hand head to toe and have, like, a whole new outfit. – Katherine Heigl
98. You gotta stay 'fresh to death,' I call it. Fresh outfit, fresh haircut, fresh tan. Just stay fresh. – Pauly D
99. You could wear the same outfit every single day and no guy – who isn't gay – will notice. – Maureen Johnson
100. A statement necklace glams up any outfit without feeling like too much. – Tracy Reese
101. I have always admired the way women put outfits together. – Rachel Roy
102. Wear an unusual accessory to complete your outfit. – Chelsea Leyland
103. A tan is the best accessory for any outfit! – Kourtney Kardashian
104. We all need relaxed outfits in our arsenals. – Brad Goreski
105. A slick ponytail is a great way to add a modern, minimal look to your outfit. – Brad Goreski
106. I like to change outfits multiple times a day. – Stacey Bendet
107. It's part of the job to compensate for outfit. – Victoria Pratt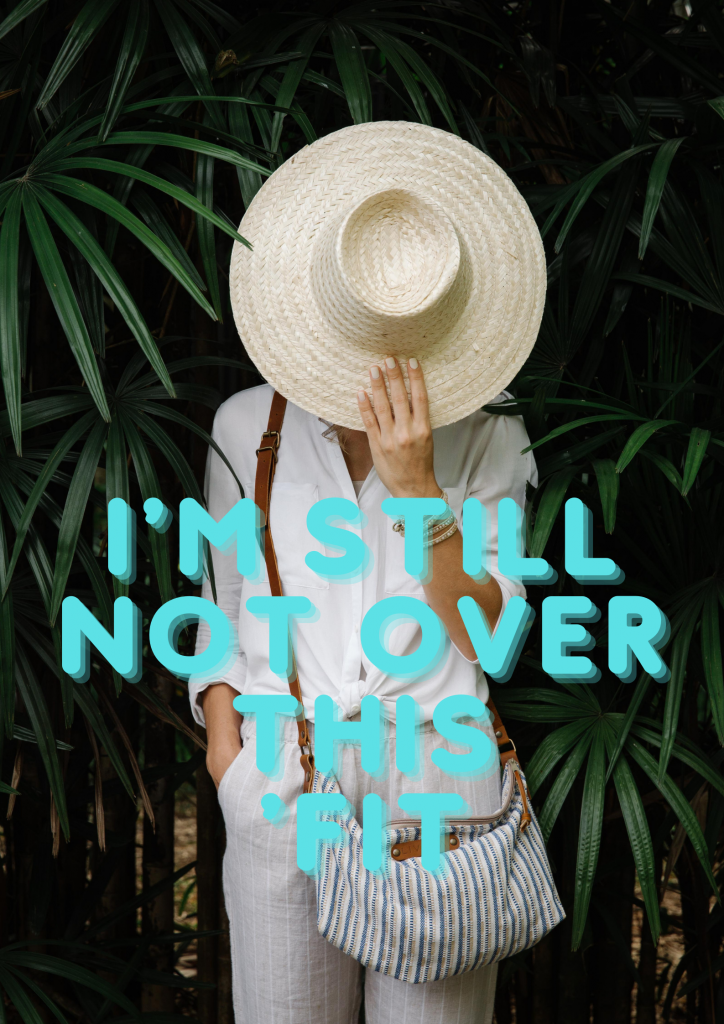 108. I'm still not over this 'fit.
109. Never underestimate the power of a great outfit.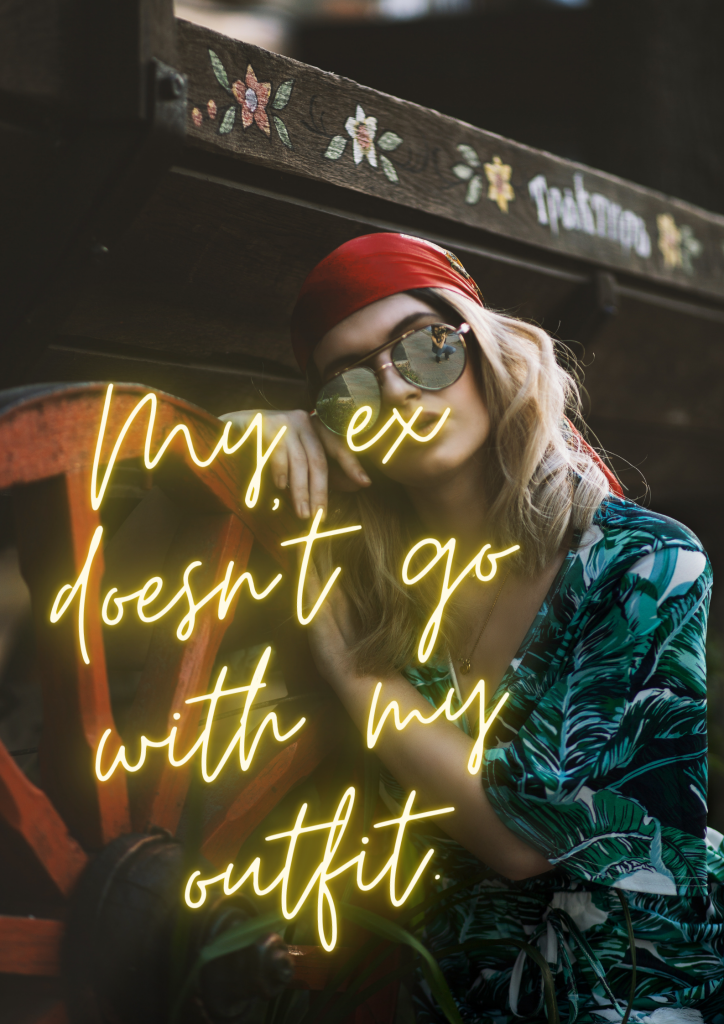 110. My ex doesn't go with my outfit.
111. Can't talk. Busy being fab.
112. Too glam to give a damn.
113. Shoutout to myself 'cos I look great.
Which of these outfit quotes is your favorite? Let me know in the comments!
Please feel free to copy and share these outfit quotes wherever you please – Pin these images to Pinterest, use them in Instagram captions, blog posts, you name it! If you want to tag me when you share the quote, I'd really appreciate it and love to give you a shoutout! Just tag my accounts below or link back to this blog post. Thank you!
Instagram: @have_clothes_will_travel
Twitter: @havclothwiltrav
Facebook: @haveclotheswilltravel
Blog URL: https://www.have-clothes-will-travel.com/outfit-quotes-instagram-caption/