105 Quotes on Dressing Classy for the Perfect Instagram Caption
Are you looking for the perfect quotes on dressing classy for your Instagram caption? This post has you covered! From classy outfit quotes by Coco Chanel to Twiggy to Dolly Parton and beyond – you're sure to find the perfect caption for Instagram in here!
As I said in my previous quotes post, I'm not always the greatest at coming up with captions for my Instagram posts. However, having just the right quote to caption a classy outfit photo can be all that I need. So, today, I'm sharing more than 100 fabulous quotes on dressing classy so you never run out of Instagram caption ideas either!
I'd love to hear which of these quotes is your favorite in the comments at the end. Enjoy!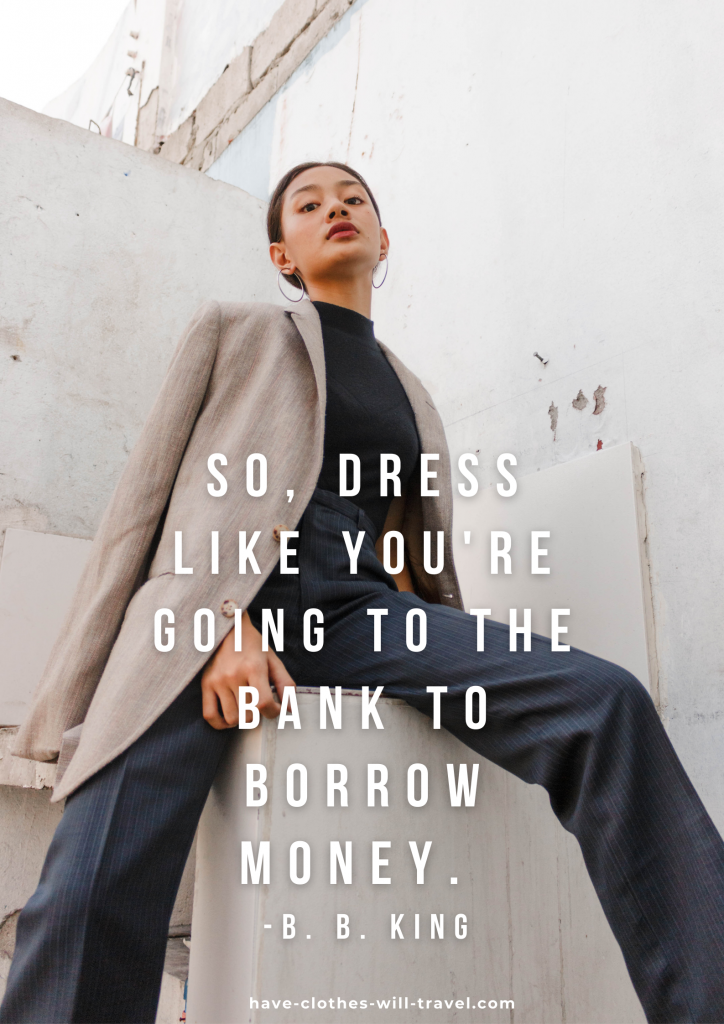 Sharing these dressing classy quotes and captions
---
Please feel free to copy and share these quotes on dressing classy wherever you please – Pin these images to Pinterest, use them in Instagram captions, blog posts, you name it! If you want to tag me when you share the quote, I'd really appreciate it and love to give you a shoutout! Just tag my accounts below or link back to this blog post. Thank you!
Instagram: @have_clothes_will_travel
Twitter: @havclothwiltrav
Facebook: @haveclotheswilltravel
Blog URL: https://www.have-clothes-will-travel.com/quotes-on-dressing-classy/
105 Quotes on Dressing Classy for the Perfect Instagram Caption
---
1.) I dress to kill, but tastefully. – Freddie Mercury
2.) Wearing the correct dress for any occasion is a matter of good manners. – Loretta Young
3.) One pretends to do something, or copy someone or some teacher, until it can be done confidently and easily in what becomes one's own style. – Cary Grant
4.) I like to look cool and dress nice. Just know that. – Lil Uzi Vert
5.) Always dress like you're going somewhere better. – Andrew Wiggins
6.) My whole dream is to be iconic, and the way you dress yourself is so important. – Sam Smith
7.) Being well dressed hasn't much to do with having good clothes. It's a question of good balance and good common sense. – Oscar de la Renta
8.) I dress to be comfortable for me. – Dolly Parton
9.)Tailored jackets with jeans is a great look for all ages. – Twiggy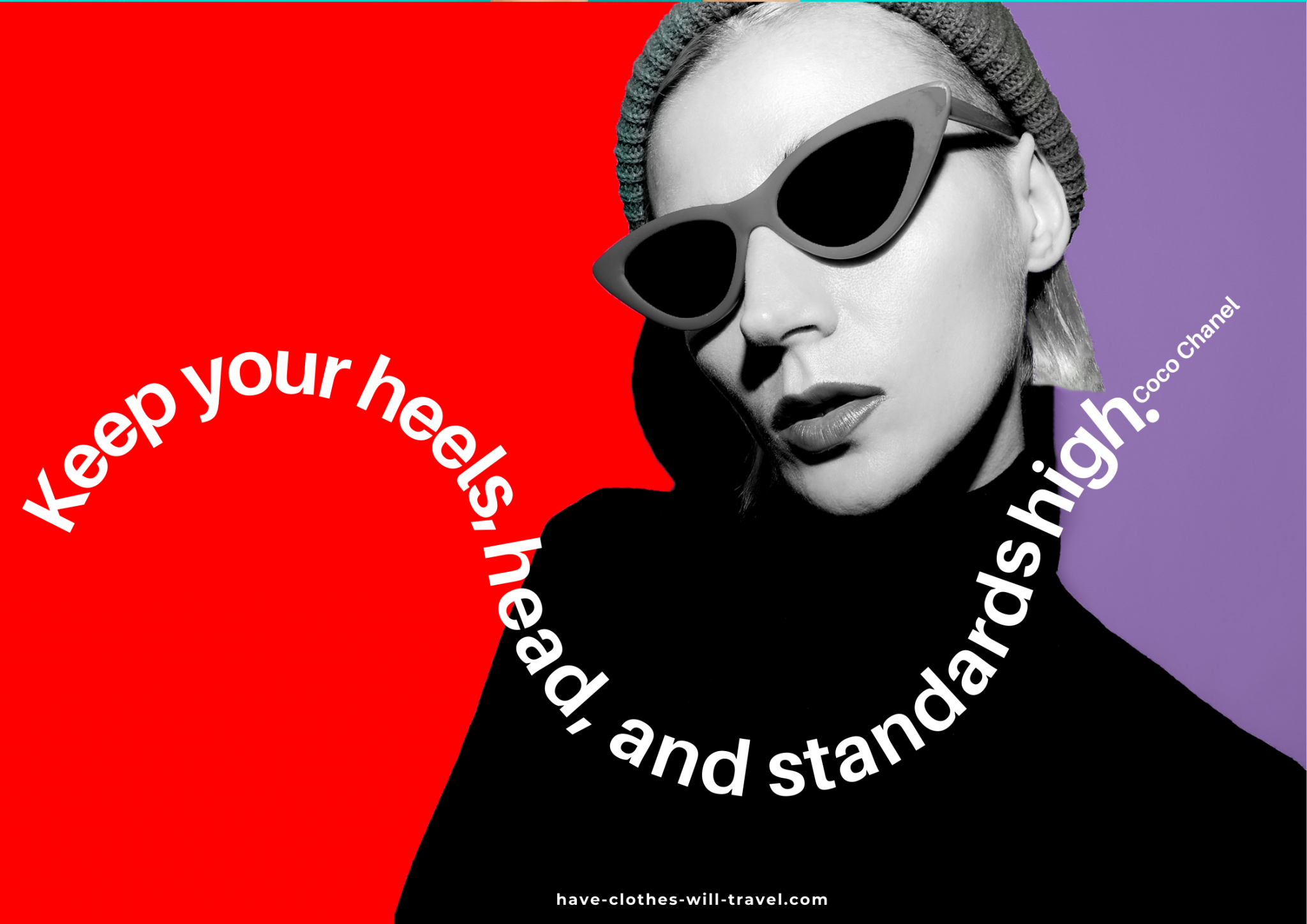 10.) Keep your heels, head, and standards high. — Coco Chanel
11.) It is not easy to dress well. – Jil Sander
12.) I've always loved to dress up a bit and show off. – Daniel Craig
13.) I'm really laid back but I still like to dress up sometimes. – Allyson Felix
14.) I love any excuse to dress up; my wardrobe's a bit like a fancy-dress box. – Kate Nash
15.) My father told me to dress to reflect the respect you have for the people around you. I've never forgotten that. – Sam Raimi
16.) I adore clothes. More importantly, I admire people who dress well. – Freddie Fox
17.) The more you'll dress up the more fun you'll have. – Brian Molko
18.) If I'm going to dress up, I like things that are quite long and classic. I like feeling dressed up and like a lady. – Lorde
19.) Elegance is elimination. — Cristóbal Balenciaga
20.) Having a couple really great basics makes it easy to dress well every day. – Cameron Russell
21.) I think it's always a good idea to dress as someone you like, as long as it's done in good taste. That's the key. – Uzo Aduba
22.) There is one other reason for dressing well, namely that dogs respect it, and will not attack you in good clothes. – Ralph Waldo Emerson
23.) I dress in my 'uniform,' or my own dress code, which reflects my personal method and work ethic. – Girogio Armani
24.) It's better to have fewer things of quality than too much expendable junk. — Rachel Zoe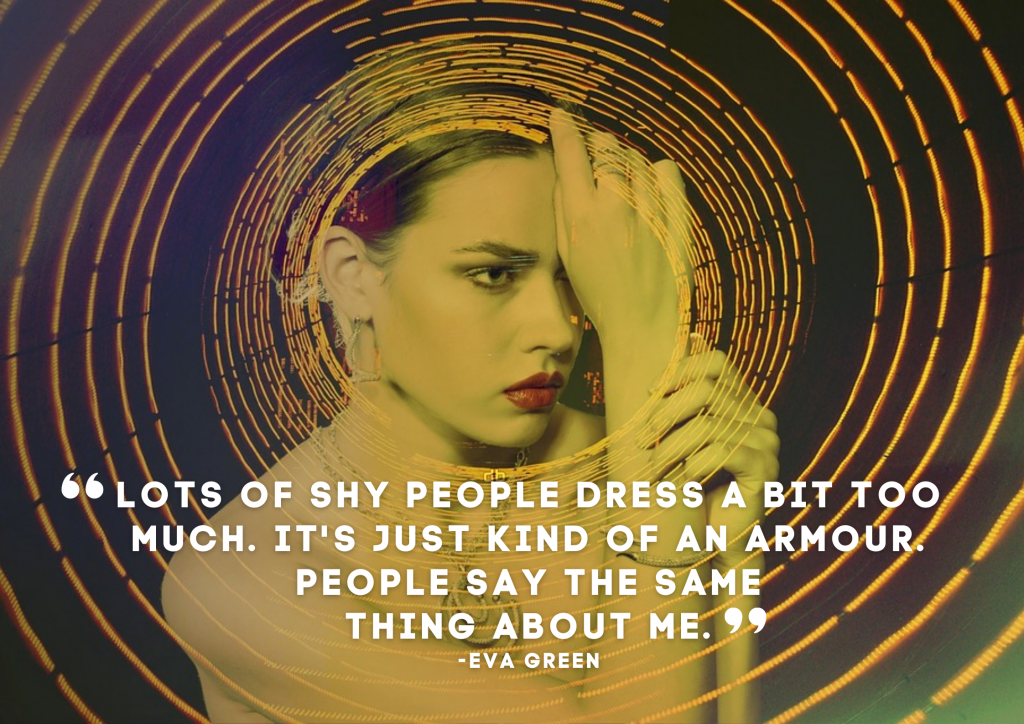 25.) Lots of shy people dress a bit too much. It's just kind of an armour. People say the same thing about me. – Eva Green
26.) I love a pair of sexy heels with jeans, a nice jacket, or a little dress. – Beyonce Knowles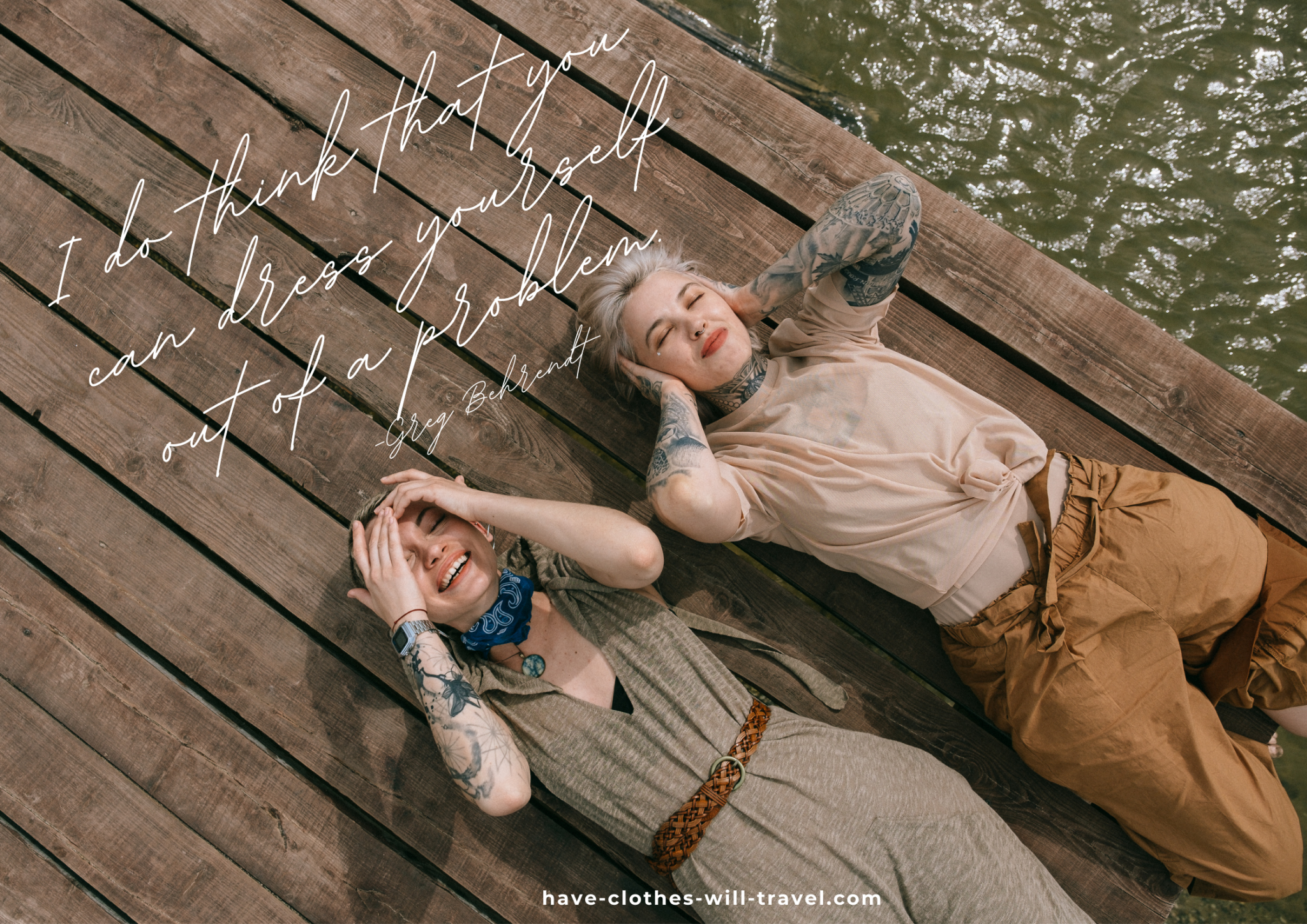 27.) I do think that you can dress yourself out of a problem. – Greg Behrendt
28.) The plainer the dress, the greater luster does beauty appear. – Edward Wood, 1st Earl of Halifax
29.) Elegance is not standing out, but being remembered. – Giorgio Armani
30.) You can never be overdressed or overeducated. – Oscar Wilde
31.) I don't dress up as a woman: I dress up as a caricature of a caricature of a woman. – Trixie Mattel
32.) I like dressing how I like to dress, and I look like a little art statement. – Kirsten Vangsness
33.) I think my style is uncomplicated, classic, and elegant. I don't follow trends, as I like wearing what suits me. Also, I dress according to my mood. – Asin
34.) I always believe that to be the best, you have to smell like the best, dress like the best, act like the best. – Lil Wayne
35.) The Gucci woman can be the equestrian woman, the woman in the suit, the woman in the flowy bohemian dress, or the couture woman. – Blake Lively
36.) It's not what you spend but how you wear it that counts. The key is often to dress up inexpensive basics with accessories. Something like a beautiful designer bag or belt can make everything else look richer and more luxurious. – Chloe Sevigny
37.) As you get older, your tastes get simpler. I like a sleek evening dress with a pair of big earrings. That's all. – Ivana Trump
38.) I always dress for my body type, as it's important to highlight your pluses! – Jiah Khan

39.) I love shopping; I'm a jeans and a t-shirt kind of girl, but I go classy when I dress up – with a little bit of sexy. – Adrianne Palicki
40.) So, dress like you're going to the bank to borrow money. – B. B. King
41.) I dress in a sophisticated and classy way – I always dress in a way I know my mother wouldn't be embarrassed to see. – Jessie Ware
42.) Elegance does not consist in putting on a new dress. – Coco Chanel
43.) Age is no issue to me. I think 50 is the new 30 and 70 is the new 50. There are no rules that say you have to dress a certain way or be a certain way. – Tina Turner
44.) Eat to please thyself, but dress to please others. – Benjamin Franklin
45.) I like to stand out every time I dress up and what I'm comfortable in. I need to be extremely confident and comfortable in the attire I wear. – Karishma Tanna
46.) Clothes and manners do not make the man; but when he is made, they greatly improve his appearance. – Arthur Ashe
47.) Clothes, therefore, must be truly a badge of greatness; the insignia of the superiority of man over all other animals, for surely there could be no other reason for wearing the hideous things. – Edgar Rice Burroughs
48.) It is totally impossible to be well-dressed in cheap shoes. – Hardy Amies
49.) Never wear anything that panics the cat. – J. O'Rourke
50.) Looking good isn't self-importance; it's self-respect. – Charles Hix
51.) Dressing well is a form of good manners. – Tom Ford
52.) Darling, if you can't look your best, then you cannot even leave the house. – Zsa Zsa Gabo
53.) I dress myself, not to impress, but for comfort and for style. – Lindsey Wixson
54.) The way you dress is really the way you feel, the way you live, what you read, your choices. – Alessandro Michele
55.) Father told me that if I ever met a lady in a dress like yours, I must look her straight in the eyes. – Prince Charles
56.) Caviar is to dining what a sable coat is to a girl in evening dress. – Ludwig Bemelmans
57.) I know how to dress my figure, so I stay looking good by wearing the right clothes. – Holly Willoughby
58.) I dress myself according to my personal creative expression… I try to keep it comfortable. I try to keep it simple. – Musiq Soulchild
59.) People should dress based on what they find beautiful. My best advice: Keep your clothes clean. – Mos Def
60.) They are best dressed, whose dress no one observes. – Anthony Trollope\
61.) Sometimes I get very dressed up just to go to the corner for some bread; I dress for my own amusement. – Paloma Picasso
62.) I like to dress up in a tailored suit from time to time, and there's a tailor I go to in Naples who's fantastic. But if I told anyone his name, I'd have to kill them. – Hugh Jackman
63.) Sometimes if you're wanting to look just a little bit taller, then you want to dress with just more of a thin cut. – Robert Downey, Jr.
64.) In the evening every man looks the same. Like penguins. Women have a special dress for that event; men, the same tuxedo. – Roberto Cavalli
65.) I like clothes and fashion. It's a hobby for me and I really enjoy being part of it, so it's nice when people say: 'He can dress quite well.' – Richard Madden
66.) Chanel took women out of corsets and put them into the 'simple little black dress,' the perfectly tailored suit, the bell-bottom sailor pants, and jersey tops. – Michael Korda
67.) The image is where you have dinner at night, who you're seeing. It's what car you drive and how you dress. People in the industry sell that, and it creates a dream. There's nothing else. – Elle Macpherson
68.) Big dress, cocktails, party – I love that. It is my work, but my work allows me to have glamour, to wear beautiful and amazing dresses, to go to big ceremonies. – Paz Vega
69.) I like to maintain a certain sense of fantasy in my life. I am kind of like that at home. Do I have the full hair and makeup? No. But I might have the nice dress on. – Jennifer Lopez
70.) I like to be the best version of myself. I really love to dress well, even for a casual family get-together. In fact, before I go to bed, I imagine what I'll wear the next day! – Shreyas Iyer
71.) I really do feel now that the way I dress onstage and for work is a true reflection of my own sense of style as well. – Rachel Stevens
72.) My personal style and public style are very different. When I go out, I play dress up. – Sharon Stone
73.) A woman should be less concerned about Paris and more concerned about whether the dress she's about to buy relates to the way she lives. – Geoffrey Beene
74.) I embody 'Ravishing.' I come out in the most ravishing dress. I have a ravishing entrance. I'm ravishing people's hearts. – Lana
75.) My style really comes down to me trying to be efficient by wearing what's going to get me the most out of the world. Whether that means wearing an Armani suit or an H&M dress, that's what I'm going to wear. – Rain Dove
76.) [Joan's rule for dressing well] When you finish a creation, take something off. Diminish, diminish, diminish. — Joan Crawford (My Way of Life)
77.) You can make anything into a special occasion and dress up for it. – Victoria Beckham
78.) If you dress up, it helps your personality to emerge – if you choose well. – Vivienne Westwood
79.) People dress up for funerals. Why not dress up to celebrate that you're alive? – Gay Talese
80.) I do like to dress up and look nice, and I'm inspired by people who do the same – people who express themselves through how they dress. – Skylar Astin
81.) A man should look as if he has bought his clothes with intelligence, put them on with care and then forgotten all about them. – Sir Hardy Amies
82.) Remind yourself. Nobody built like you, you design yourself. – Jay Z
83.) Dress up your sportswear and dress down your formal wear. – Luciano Barbera
84.) Always have a pink Oxford shirt ready for days when you're feeling run down. – Michael Bastien
85.) My feeling is that it's not about how much something costs. If it looks great, it looks great. – Olivia Palermo
86.) If you wear things you adore, you just look better. – Margherita Missoni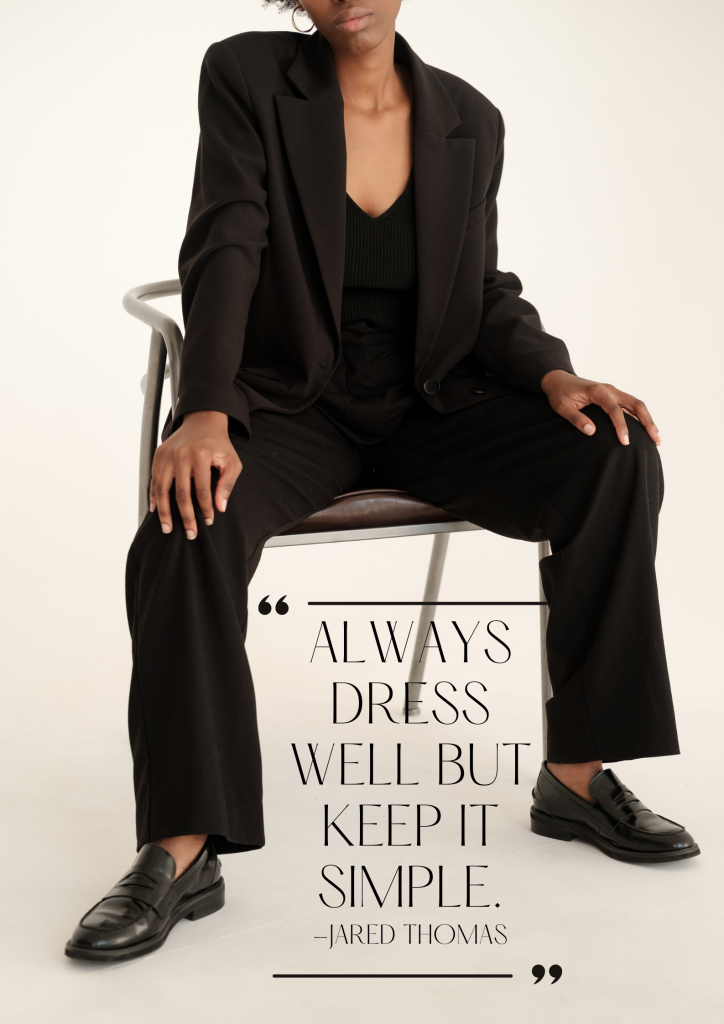 87.) Always dress well but keep it simple. – Jared Thomas
88.) Every time you dress, you're asserting a part of yourself. – Nina Garcia
89.) If you can't be better than your competition, just dress better. – Anna Wintour
90.) Just around the corner in every woman's mind – is a lovely dress, a wonderful suit, or entire costume which will make an enchanting new creature of her. – Wilhela Cushman
91.) Any man may be in good spirits and good temper when he's well dressed. There ain't much credit in that. – Charles Dickens
92.) Almost every man looks more so in a belted trench coat. – Sydney J. Harris
93.) The best-dressed woman is one whose clothes wouldn't look too strange in the country. – Hardy Amies
94.) Carelessness in dressing is moral suicide. – Honoré de Balzac
95.) One can never go wrong with a crisp white shirt to dress up any look. Styled with rolled sleeves and a front tuck creating a chic look for day and night. – George Kotsiopoulos
96.) Tailored jackets with jeans is a great look for all ages. Dress up with a heel and pretty shirt, or just wear a smart T-shirt under the jacket. – Twiggy
97.) Being well-dressed is my kind of happiness.
98.) Elegant, dashing, and daring.
99.) A respectable appearance commands an invisible aura of respect.
100.) Take care of your attire, and your confidence will take care of the rest.
101.) Dress like you've made something of yourself in the world, even if you haven't.
102.) Dress like you're already famous.
103.) Simplicity is the ultimate form of sophistication.
104.) Always remember it's better to arrive late than to arrive ugly.
105.) Pretty is an accident of nature. Elegant is a self-created work of art.
Which of these quotes on dressing classy is your favorite? Let me know in the comments!
Sharing these dressing classy quotes and captions
---
Please feel free to copy and share these quotes on dressing classy wherever you please – Pin these images to Pinterest, use them in Instagram captions, blog posts, you name it! If you want to tag me when you share the quote, I'd really appreciate it and love to give you a shoutout! Just tag my accounts below or link back to this blog post. Thank you!
Instagram: @have_clothes_will_travel
Twitter: @havclothwiltrav
Facebook: @haveclotheswilltravel
Blog URL: https://www.have-clothes-will-travel.com/quotes-on-dressing-classy/