14 Things To Know Before Hiking Perito Moreno Glacier in Argentina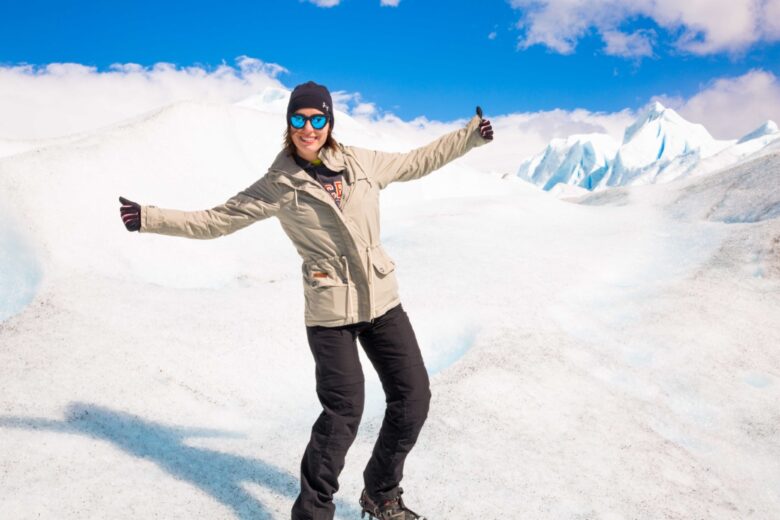 Yep, you read that right! You can actually hike Perito Moreno Glacier in Argentina. And it is an absolute must-do if you're considering a Patagonian adventure. This was hands down my favorite part of Patagonia (at least in Argentina… Chile is to be determined).
There are a few key things you should know about Perito Moreno Glacier before you plan your visit, though. Check out all my tips, tricks and fun facts, below!
14 Things to Know Before You Hike Perito Moreno Glacier
1.) Perito Moreno Glacier is unique because it's actually accessible, and it's actually growing! Check out the video below to see ice falling…which is because it's growing, not because it's diminishing. Experts are still debating as to why Perito Moreno Glacier is growing while many glaciers are regressing.
It's so crazy to hear the thunder of the cracking ice when you're by the glacier!
2.) The closest city to Perito Moreno Glacier is El Calafate (Argentina). There are tons of nice hostels, bed & breakfasts, and a couple hotels. (I loved our stay at Hosteria Miyazato Inn.)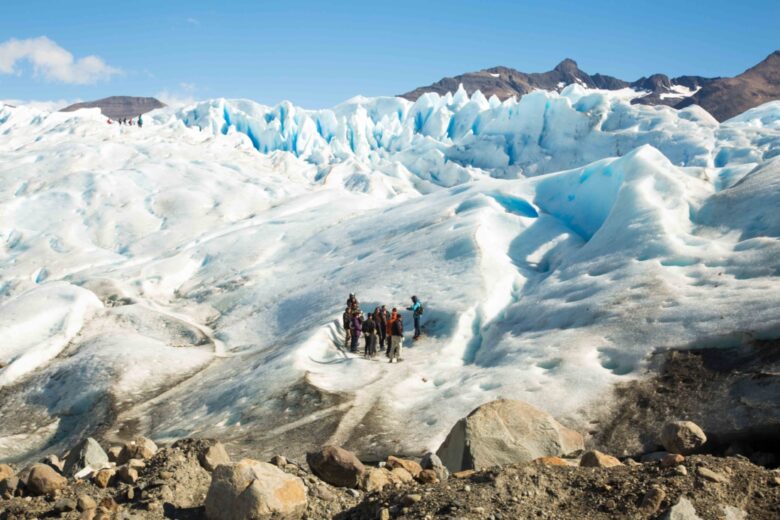 3.) The only way you're going to hike Perito Moreno Glacier is if you book a tour.
There is only one tour company that has access to the glacier and they are Hielo & Aventura. (And they are AMAZING.) Now, I know many people aren't fond of tours. However, the only way you're hiking Perito Moreno glacier is if you hire Hielo & Aventura. Not only are they required for safety reasons, but they are also making sure no damage comes to the glacier.
To book online your best bet is to book directly through Hielo & Aventura. You will be charged in Argentine pesos, which will likely work in your favor. You can also book through Get Your Guide, and you will be charged in your local currency. (At the time we booked, this was slightly more expensive, though.)
4.) National Park Entrance fees are not included in your ticket fee, though! Be sure to bring cash to pay them! (At the time we went, March 2018, it was $500 ARS a person.)
5.) The tour will pick you up from your hotel/B&B/hostel in the morning – but be prepared! The logistics are a little wonky. I emailed twice and called to confirm my pick up time, and it took until 7 the night before to have a rough estimate of our pickup time for the next day. Just be ready early!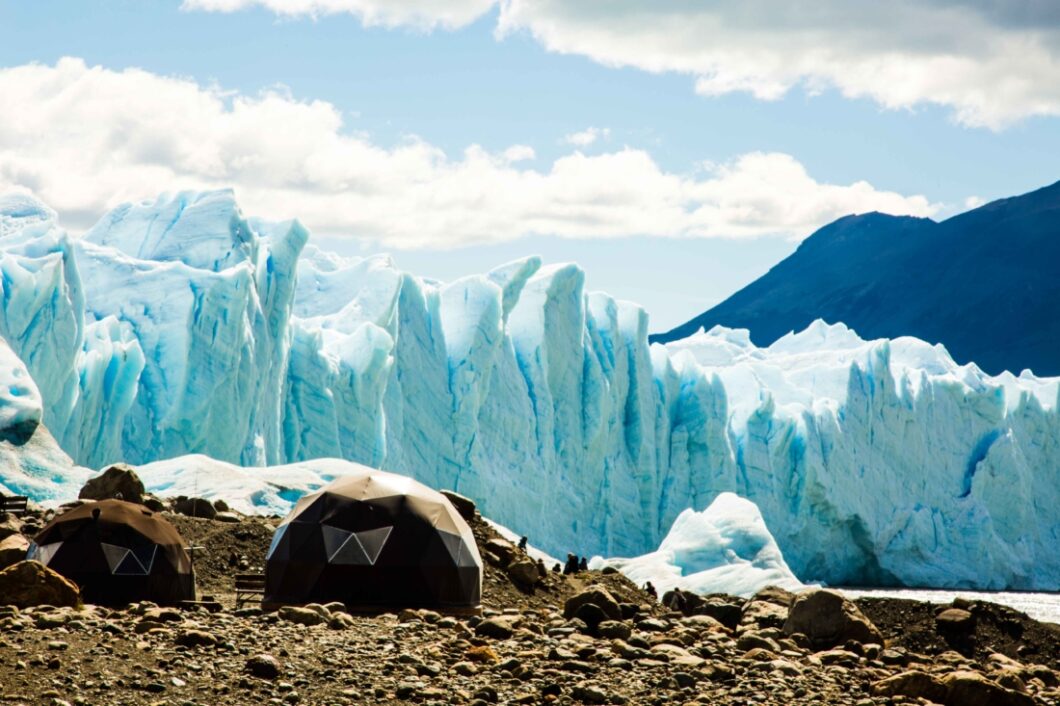 6.) There are two different ways to hike Perito Moreno Glacier one is a "Mini Trek" and one is a "Big Ice Adventure." The Mini Trek was perfect for me. It was about 2 hours hiking the actual glacier + a boat ride to and from the glacier + transport to the viewing platforms of the glacier.
"The Big Ice Adventure" is about 7 hours on the ice and requires more effort + harnesses. So, for people slightly more adventurous and fit than myself! Haha.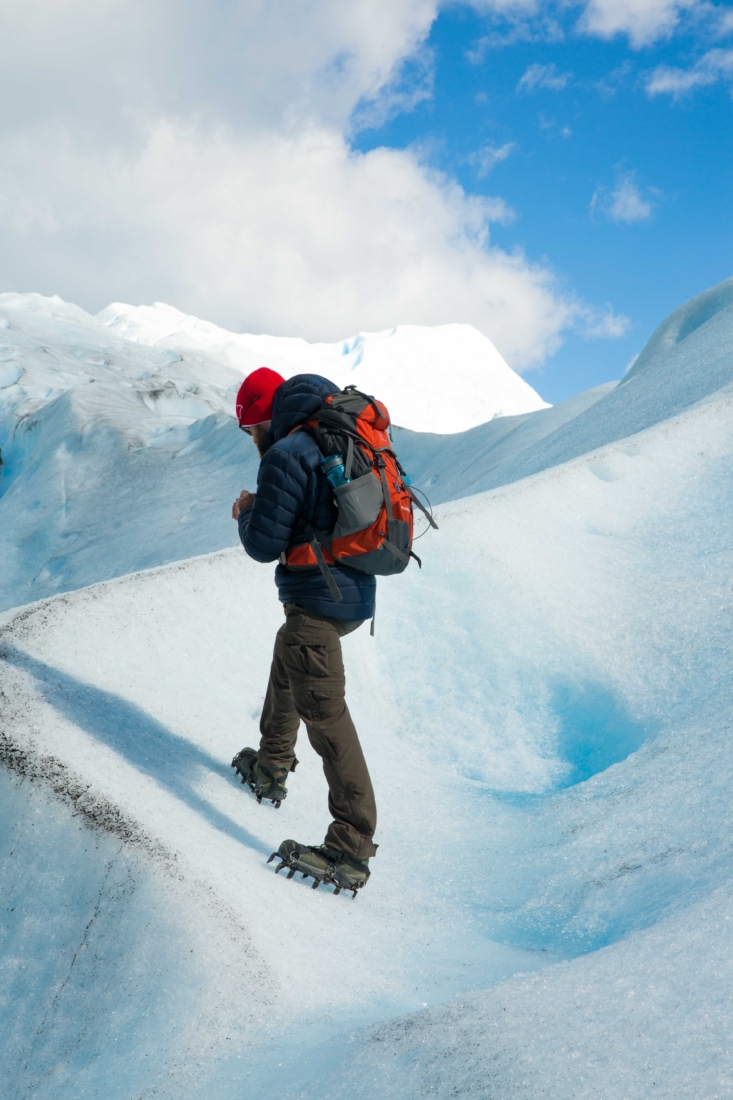 7.) The "dirty" parts you'll see of the glacier are due to the dirt from the mountains being blown onto the glacier – not pollution. (Lots of people asked about this.)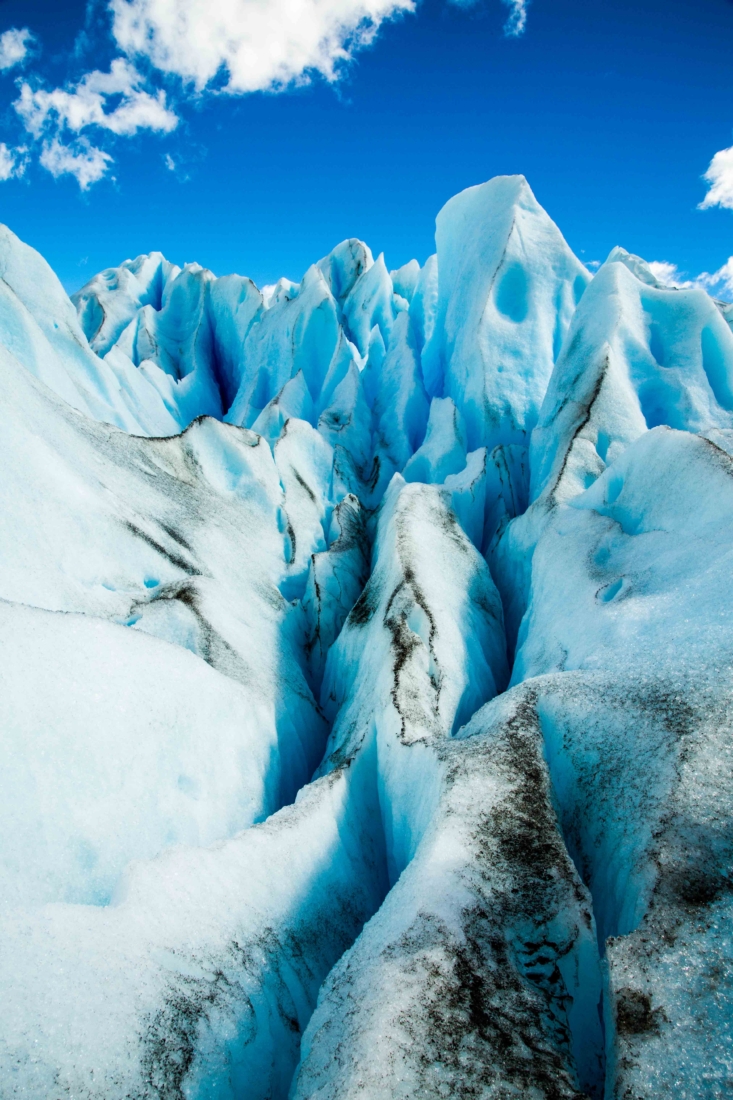 8.) Wear water-resistant boots! This adventure is what made me finally break down and buy my own pair of boots, and it was absolutely worth it. You are provided crampons (the big spikes on our feet) for the hike, but your feet will get wet and cold if you don't have proper footwear.
9.) Be careful not to overdress and check the forecast before you go. All that ice can be misleading! It was nearly 50 degrees Fahrenheit the day we hiked it! (On average it's between 40 – 50 degrees.) I was completely fine wearing waterproof hiking pants, a sweatshirt, hat, sunglasses, mittens, and a windbreaker. Wool socks were a good idea too.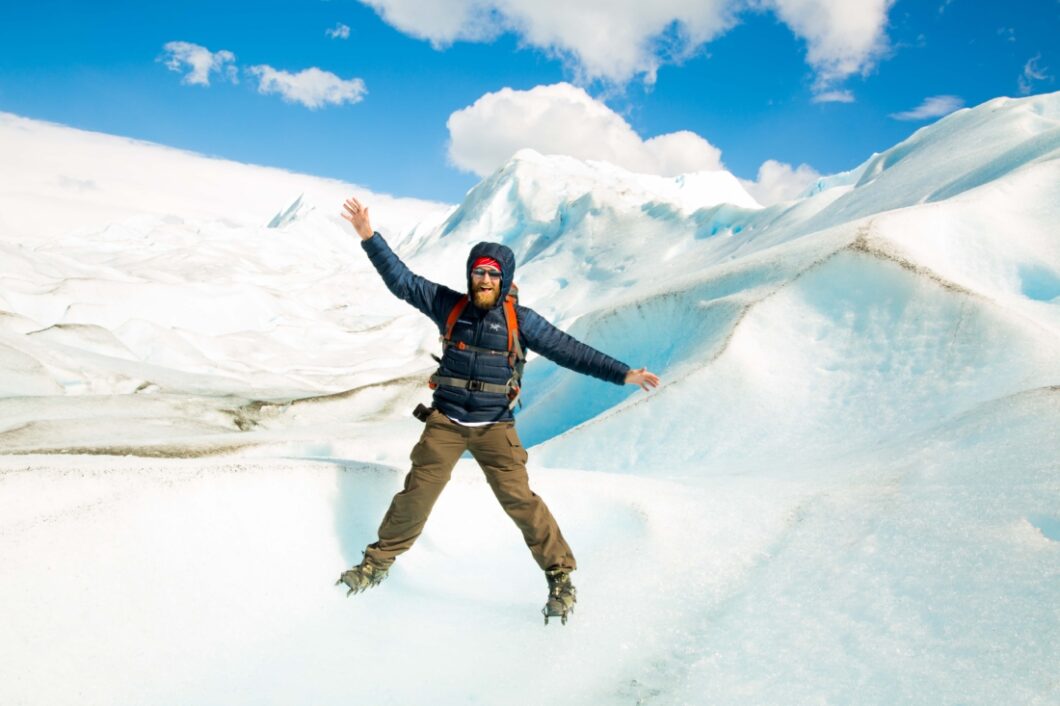 10.) Pack a water bottle! You're going to want water for your day anyways, but you'll also have the opportunity to fill up your water bottle with glacier water – delicious!
11.) Also, pack a lunch. You'll get to eat it and enjoy some magnificent views of the glacier. (See photos, below.)
Lunchtime views
12.) At the end of your hike, you're treated to a glass of whisky on glacier ice! It's pretty darn cool! (And if you're not inclined to have a glass of whisky at 10 am, haha, you can also opt for glacier water and glacier ice.)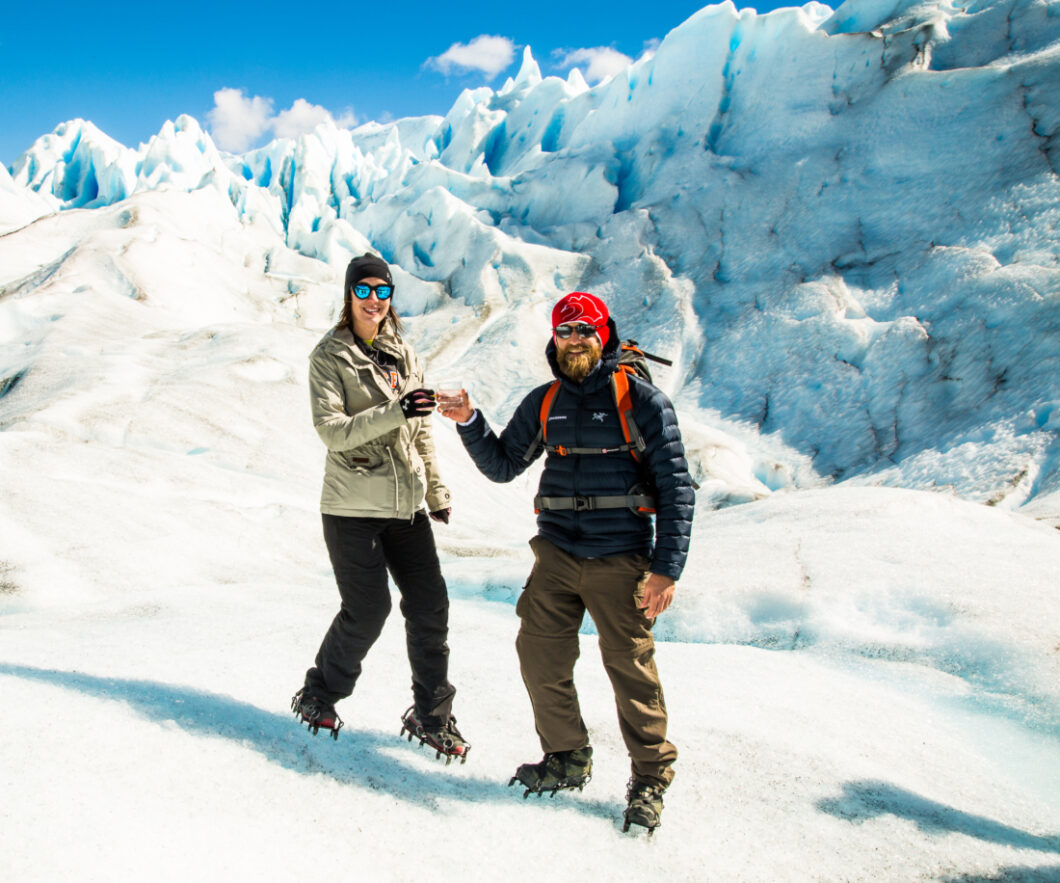 13.) You might get lucky and get to enter an ice cave! This is dependant on whether or not the cave is filled with water, though.
Inside the ice cave!
14.) After you leave the glacier, Hielo & Aventura will bus you to viewing platforms that give you a completely different view of the glacier and plenty of time to watch the ice chunks fall into the water!
View of the glacier from the viewing platforms
What are your thoughts on Perito Moreno Glacier? Would you want to hike it? Let me know in the comments!
*Click here to see all my travel posts on Argentina!
*Click here to read my post, "How to Spend 10 Days in Argentina."
Travel Insurance
It's a good idea, no matter where your adventure takes you, to have travel insurance. You never know what might happen! Whether you get sick before your trip and can't go, or you become sick or injured while on your adventure – being covered with travel insurance is a must. Some credit card companies do provide this service (check with yours), or you can get a quote from companies such as RoamRight. To get a free quote, click here.
Visa Requirements
To check if your country requires a Visa for traveling to Argentina, click here.
Want to Learn Spanish Before Your Trip?
Knowing some basics in Spanish can be helpful for your time in Argentina. Try a free 3 day trial of Rosetta Stone (the best way to learn a foreign language) by clicking here.
And check out more photos of the adventure, below!
*Disclosure: some of these links are affiliate links. Meaning, if you click a link and make a purchase, Have Clothes, Will Travel gets a very small commission at no extra cost to you. Thank you for supporting the brands that make this blog possible! I am also a participant in the Amazon Services LLC Associates Program, an affiliate advertising program designed to provide a means for us to earn fees by linking to Amazon.com and affiliated sites.
*c/o = courtesy of, meaning the company gave me the product to be used on my blog, and I did not pay for it. All opinions are my own, and I am not being compensated for a positive review.