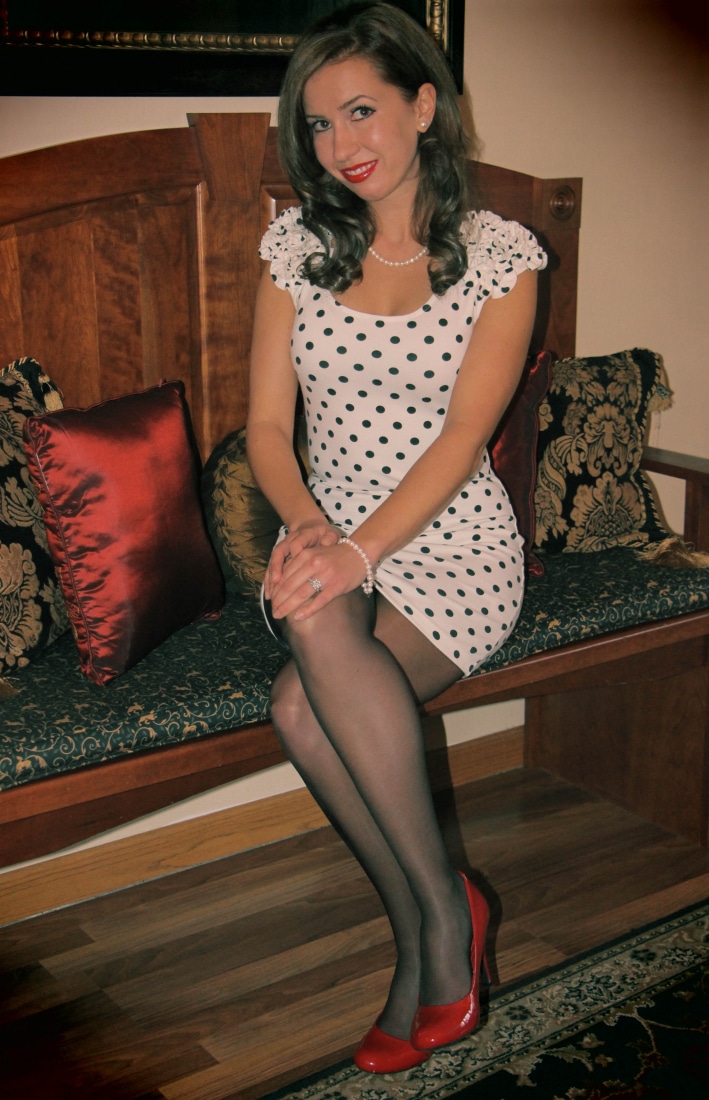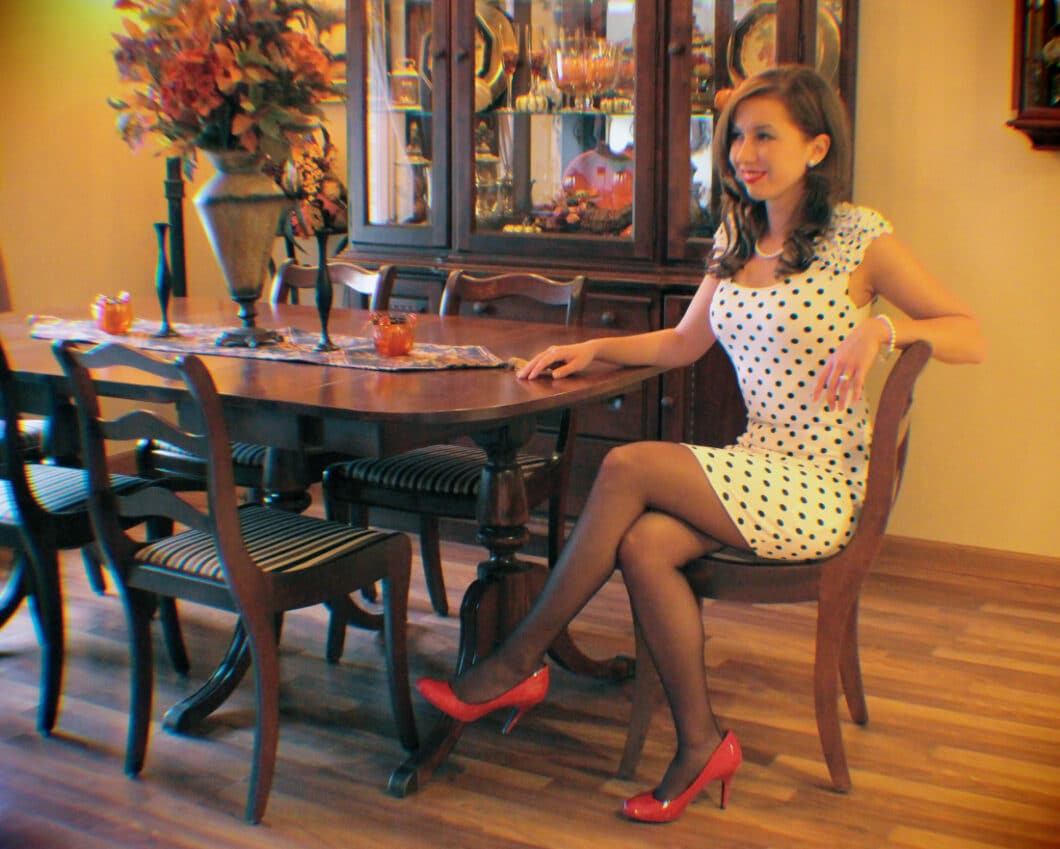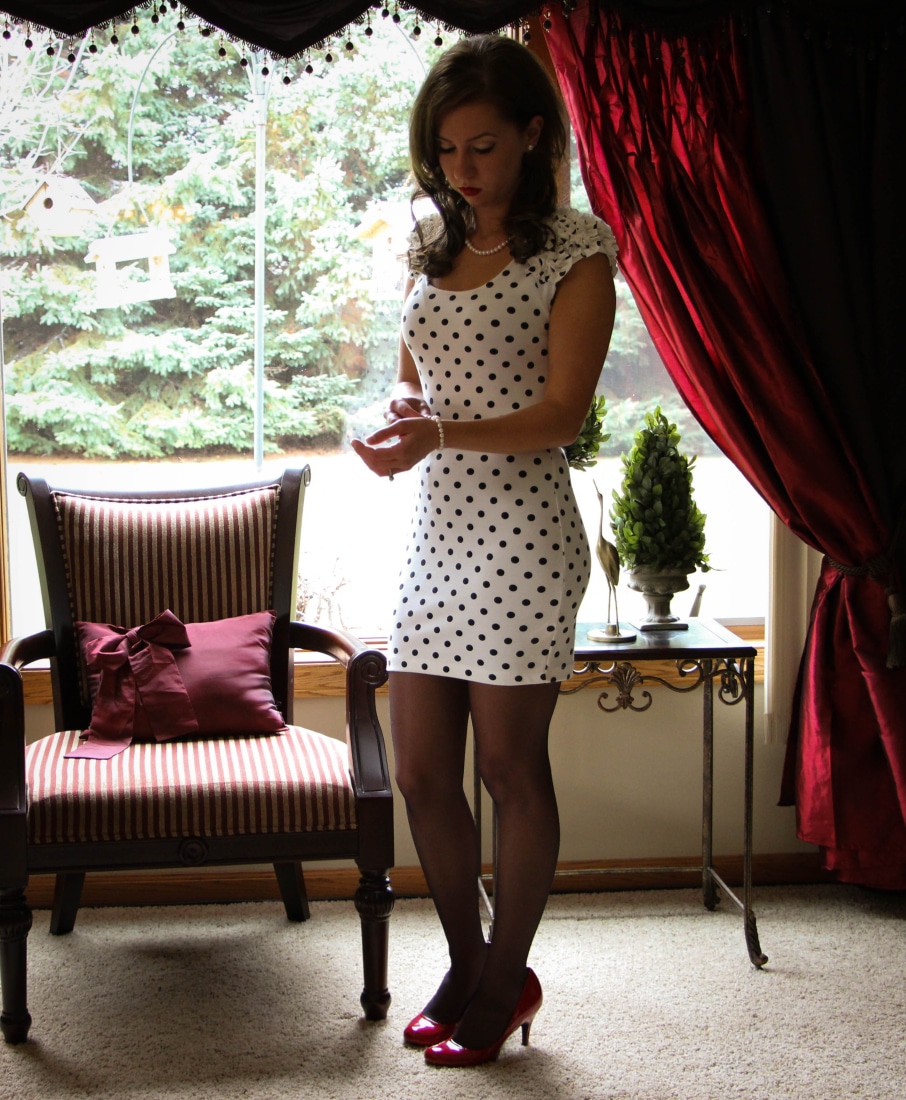 Shop the look:

I don't know if anything goes together quite as well as polka dots and pearls. It's cute, retro, classy and reminds me of Minnie Mouse (and who doesn't love Minnie Mouse?). This outfit also gives me a wonderful excuse to wear a pair of red pumps.
However, I have a love-hate relationship with bodycon dresses. They can be very flattering (when standing correctly and wearing appropriate underwear) and generally they come in cute prints. Every once in a while, I feel a bit daring and buy one. Then proceed to stare at it for years because the thought of wearing a super-tight dress makes me hyperventilate a bit.

This dress from Forever 21 (my favorite spot to buy bodycon dresses because they are so inexpensive) is very well-made and I bought it for about $20. I've had it for years and this is definitely one of my most-used bodycon dresses. It's sexy, but the polka dots and ruffled shoulders keep it from crossing the line into too sexy.
However, it's still a bodycon, therefore, it's super tight (for me at least). For whatever reason, pairing it with a pair of tights makes me feel a lot more comfortable wearing it. This pair of tights has a seam on the back that gives them a fun pin-up look. As you can see, though, it's kind of hard to keep the seam in the exact middle of my legs (but I still love them!).
My favorite part of the whole outfit, though, is my red pumps. I have been obsessed with red pumps for forever. It took me years to find the perfect pair that I had dreamed up in my head. Target came to my rescue with these beauties. I bought them 3 years ago and for some reason, it seems they are now a half size too big (more than likely I just bought the wrong size). Even after 3 years, though, Target still carries them…I may have to look into getting the correct size sometime!
*On a side note, with it being dark out by about 4 p.m. and rather cold outside, we tried taking pictures indoors for the first time with this post. We also tried some different lenses and struggled a bit with the poor, indoor lighting. Thanks again for your patience, dear readers, as we continue to learn the photography ropes!
Where to find it:
Bodycon Dress: Forever 21 (similar here)
Tights: ModCloth (similar)
Pumps: Target
Pearls: Gift from my husband