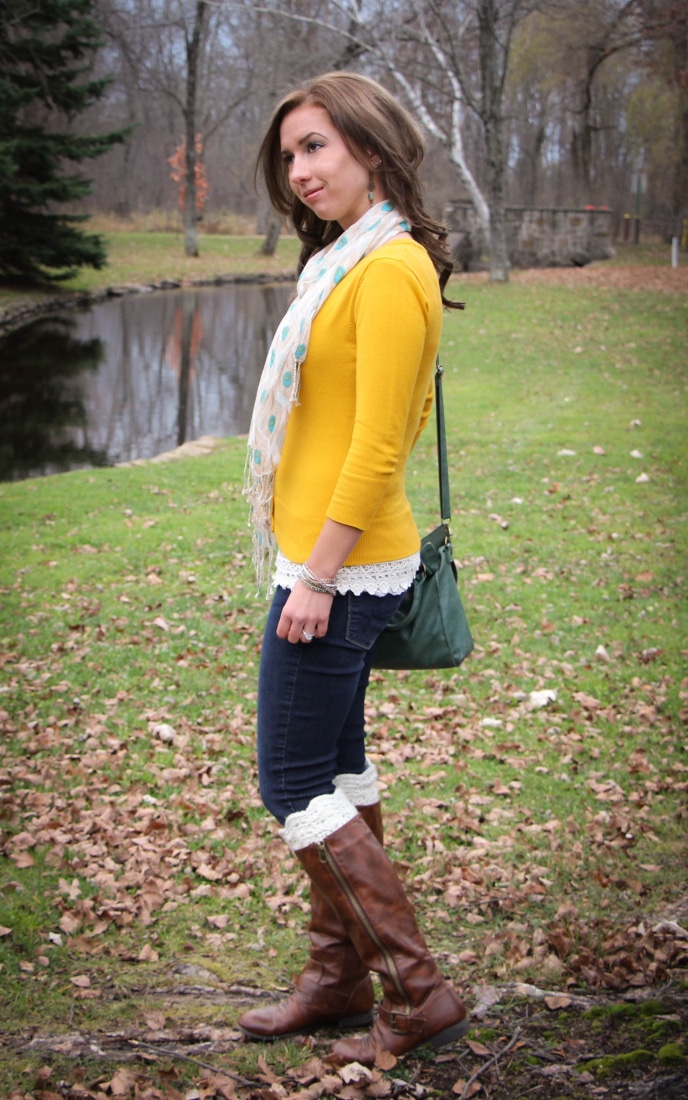 Shop the look:

Cardigans, boots and scarfs are staples once the chilly winds of fall set in. This fun peacock scarf and bright cardigan are a sure way to stand out and still be cozy.
This peacock scarf from ModCloth is my favorite scarf at the moment. It's very unique and can be worn with a plethora of outfits. I've styled it with everything from sweatshirts to dresses, and it works. The material is high quality but not too heavy. This isn't a scarf I will be wearing in the middle of January and expecting it to keep me warm.

My cardigan is also very versatile. I love the color, and it surprisingly goes with a lot of different outfits. This cardigan is also holding up really well. I hate when a cardigan starts to "pill" after a couple rounds in the washing machine. This one looks just as good as the day I bought it, and I've worn it quite a bit.(The shirt underneath it is also super cute. I'll be doing a separate post on it, so you can see just how awesome it is.)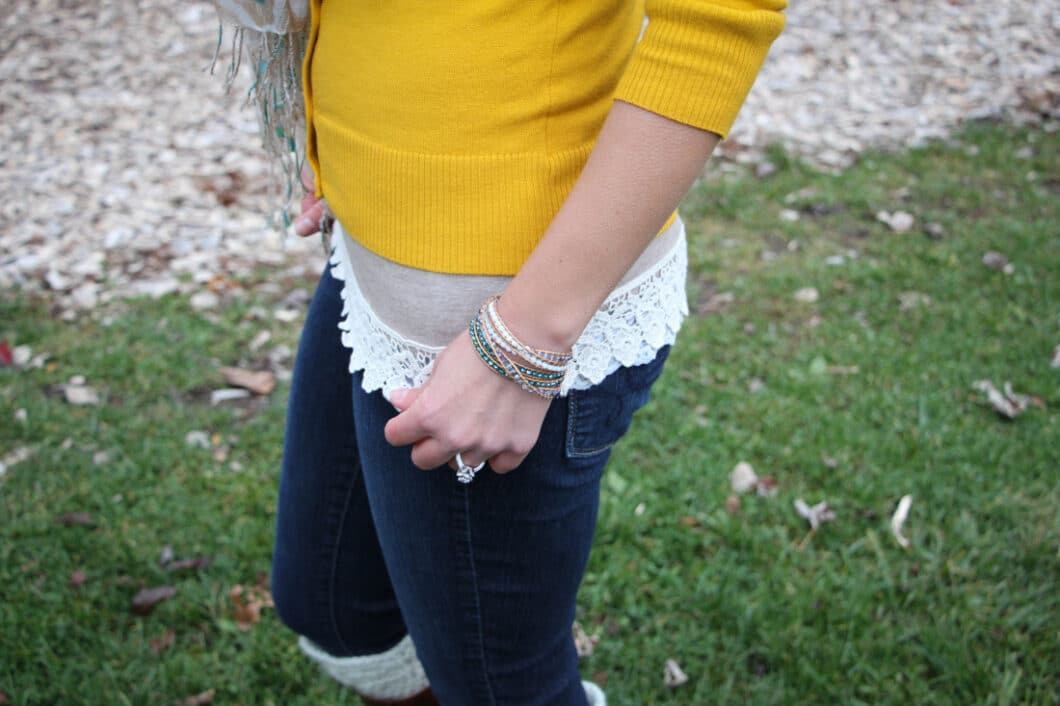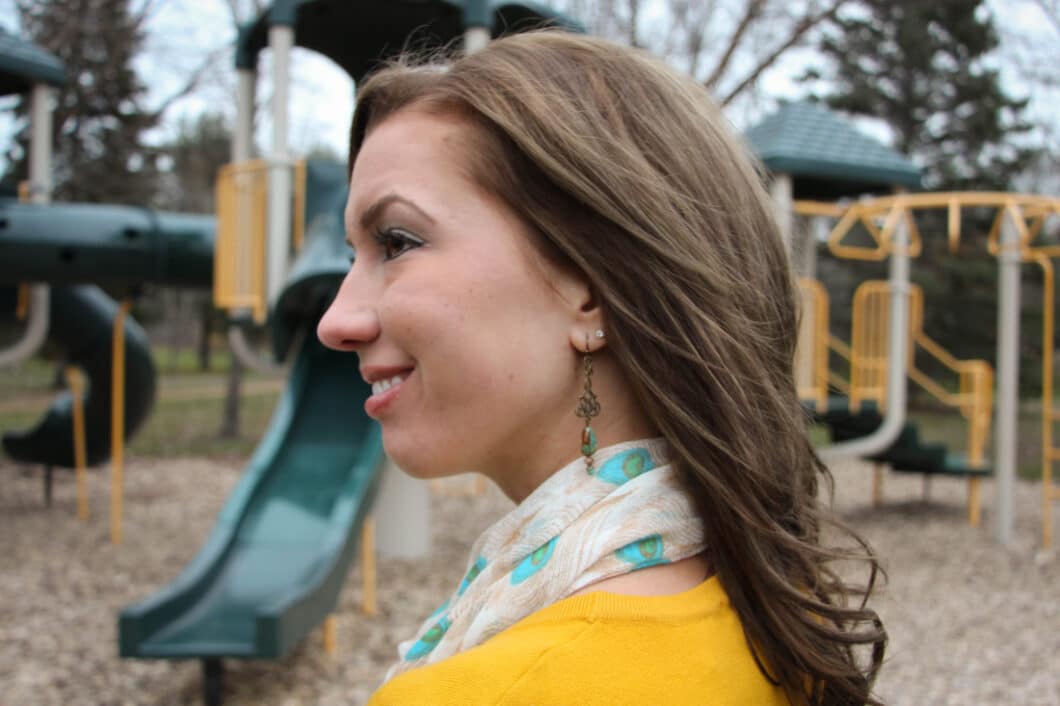 I am really excited about my jewelry in this post. My bracelet and earrings are both made by Caitlin from C&A Leather. I have a deep appreciation for people who are crafty and can make their own clothes and jewelry. I have zero talent in this department, but love wearing one-of-a-kind pieces.. and C&A Leather has a lot of unique pieces to pick from.
I also love that her jewelry can be made-to-order. I very rarely wear bracelets because I have freakishly small wrists, and bracelets tend to fly off my arms before I even walk out the door. For this bracelet, I was able to send her my wrist size and she made it to fit perfectly. They also guarantee to fix or replace any piece you buy from them, if anything should go wrong (Love that!).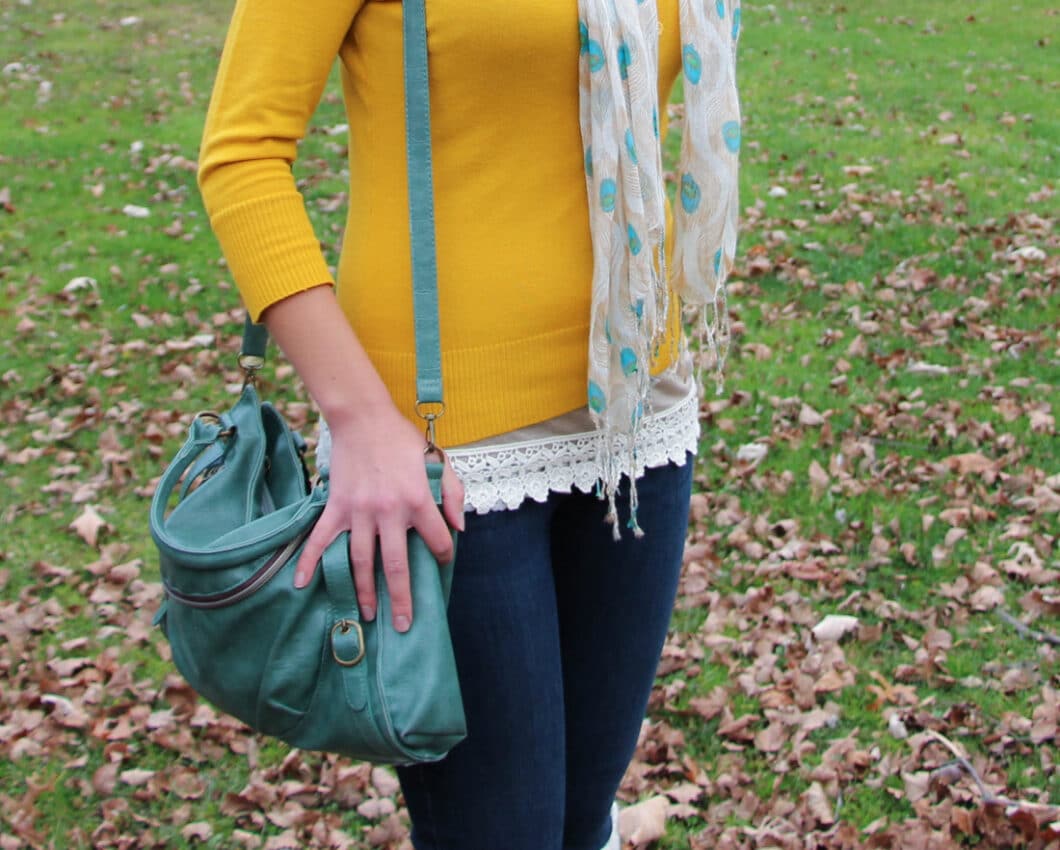 Last but not least is my purse. I am not someone who buys purses to go with every outfit. I pick one that goes with just about everything and use it until it falls apart. This green color doesn't clash with hardly anything I wear, and it is very comfortable to use on a daily basis. I have had this one for nearly a year, and use it almost every single day, and it is still going strong.
Where to find it:
Scarf: ModCloth
Cardigan: ModCloth
Shirt under cardigan: ModCloth
Earrings: C&A Leather (This is their Facebook page. You can comment on pieces you like, or PM them if you need something made-to-order.)
Bracelet: c/o* C&A Leather
Purse: ModCloth
Boot Cuffs: Etsy JFeathersDesigns
Boots: Payless (But they are old. These boots from Target are similar.)
Jeans: Target (in store)
*c/o = courtesy of, meaning the company gave me this item to be used on my blog, and I did not pay for it. All opinions are my own, and I am not being compensated for a positive review of the product.