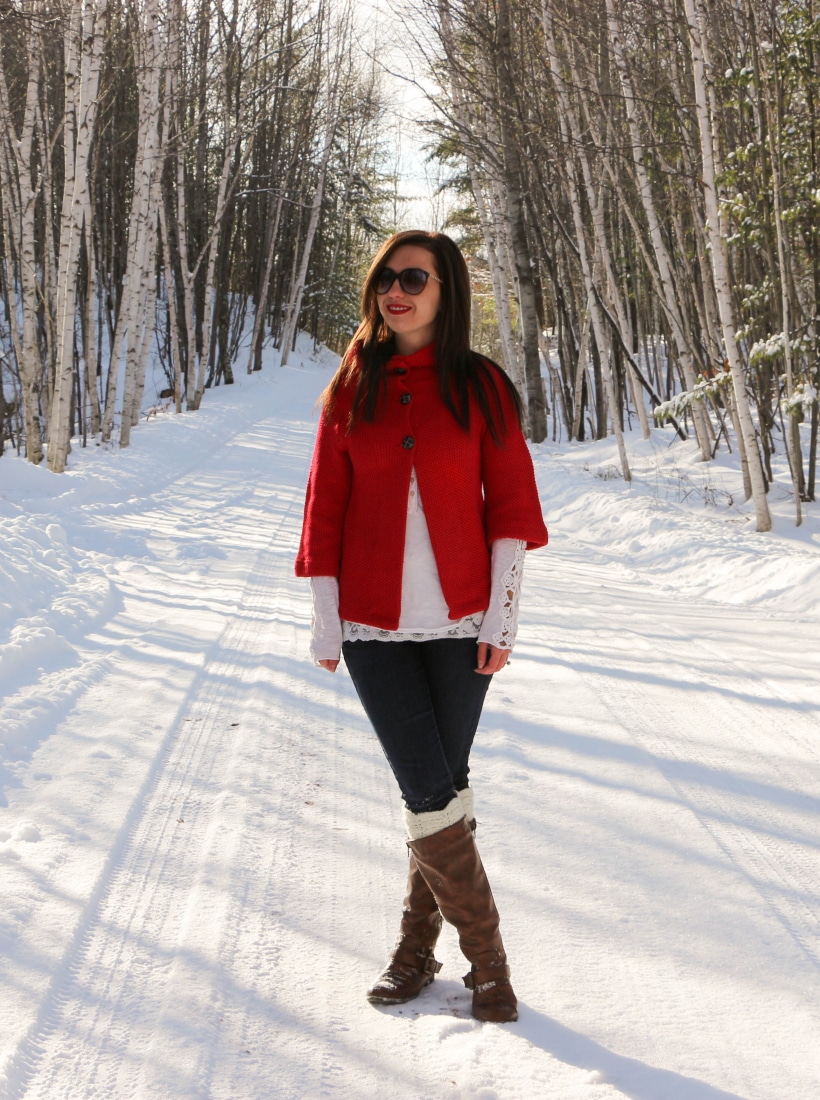 This cape-like cardigan brings to mind images of Little Red Riding Hood, on her way to her grandma's house. While this cardigan does not have the iconic hood, its stand-up collar is sure to keep you warm.
I was actually on my way to meet my grandma (for Thanksgiving) in these photos. Haha. She and my grandpa live in northern Wisconsin near the tourist town of Minocqua. That's why there's so much snow in these pictures!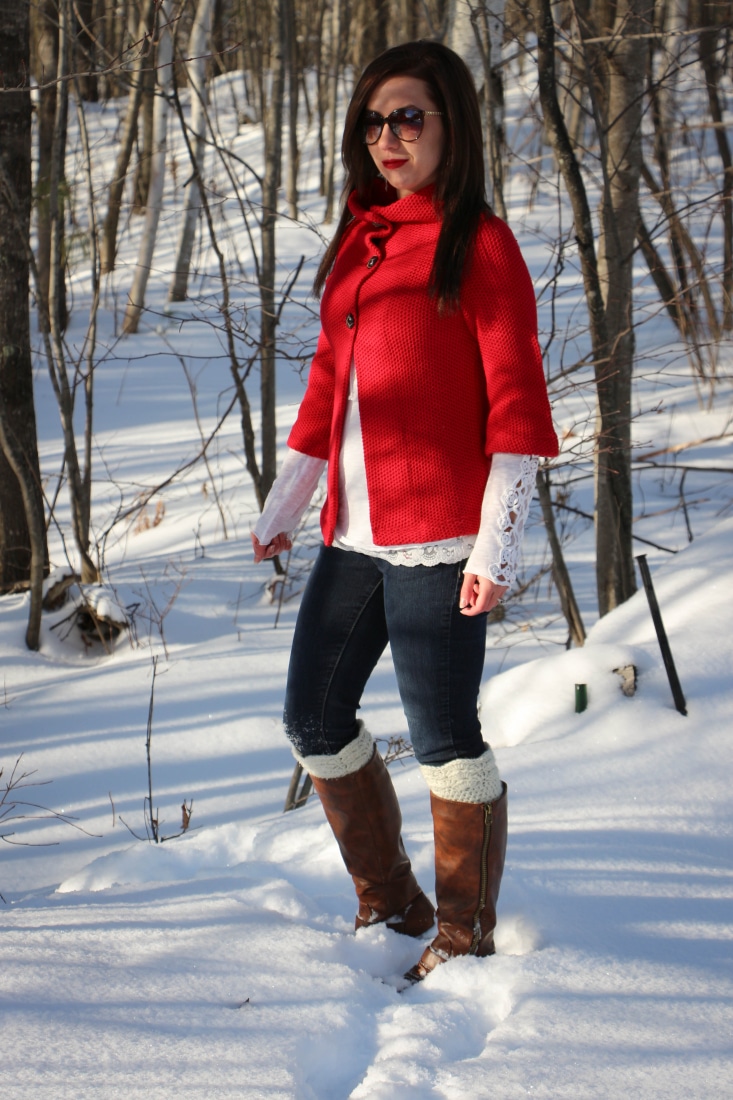 This cardigan did a great job of keeping me warm on my stroll through the woods (too bad I didn't have a picnic basket). I absolutely love the vibrant red color and its unique design. I have never seen anything quite like the cut of this cardigan. It is simply fantastic. It's warm, cozy and soft…everything a cardigan should be.
The collar is a nice touch, although, it can lay a little strange from time-to-time and requires some readjusting. I also avoid wearing necklaces with this sweater, because it's very easy to get caught on the fabric.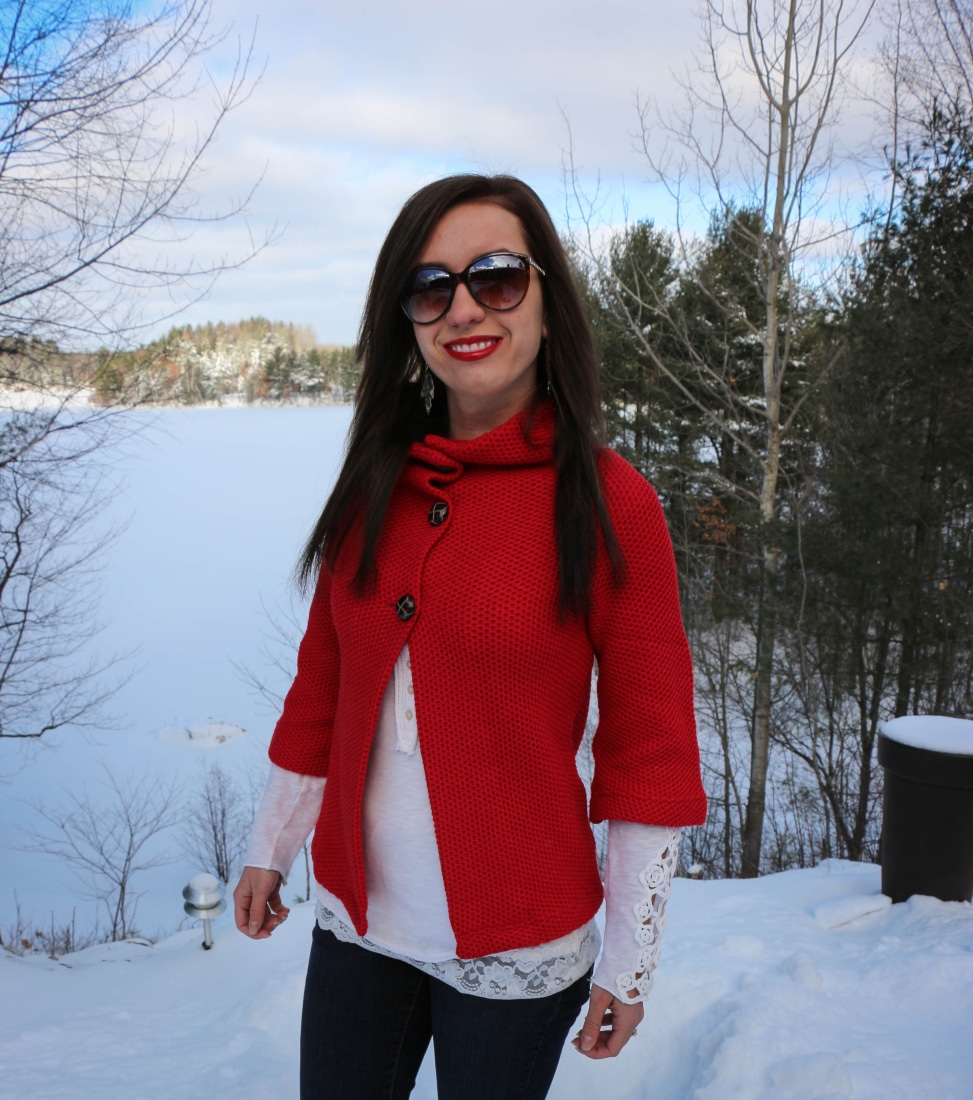 These boot cuffs are also great for winter. They help keep me warm and do a great job of keeping snow out of my boots. I am constantly getting compliments on them and having people ask me where I bought them. A lady on Etsy makes them and does a fabulous job. I have had them for over a year, wear them all the time, and they are holding up really well.
I hope everyone had just as wonderful of a Thanksgiving as I did! (But hopefully, it was warmer, haha.)
Where to find it:
Cardigan: ModCloth (The red color appears to be no longer available. This is the same sweater in grey and navy.)
Boot Cuffs: Etsy JFeathersDesigns Similar here
Boots: Payless (But they are old. Similar here.)
Jeans: Old (Similar here)
Long-sleeved shirt: Kohls (Old. Similar here.)
Lacy Cami: Maurices
Sunglasses: Old (Similar here)
*Disclosure: some of these links are affiliate links. Meaning, if you click a link and make a purchase, Have Clothes, Will Travel gets a very small commission at no extra cost to you. Thank you for supporting the brands that make this blog possible! I am also a participant in the Amazon Services LLC Associates Program, an affiliate advertising program designed to provide a means for us to earn fees by linking to Amazon.com and affiliated sites.