Review: Ordering a Coat from an Inexpensive Online Retailer (PopJulia)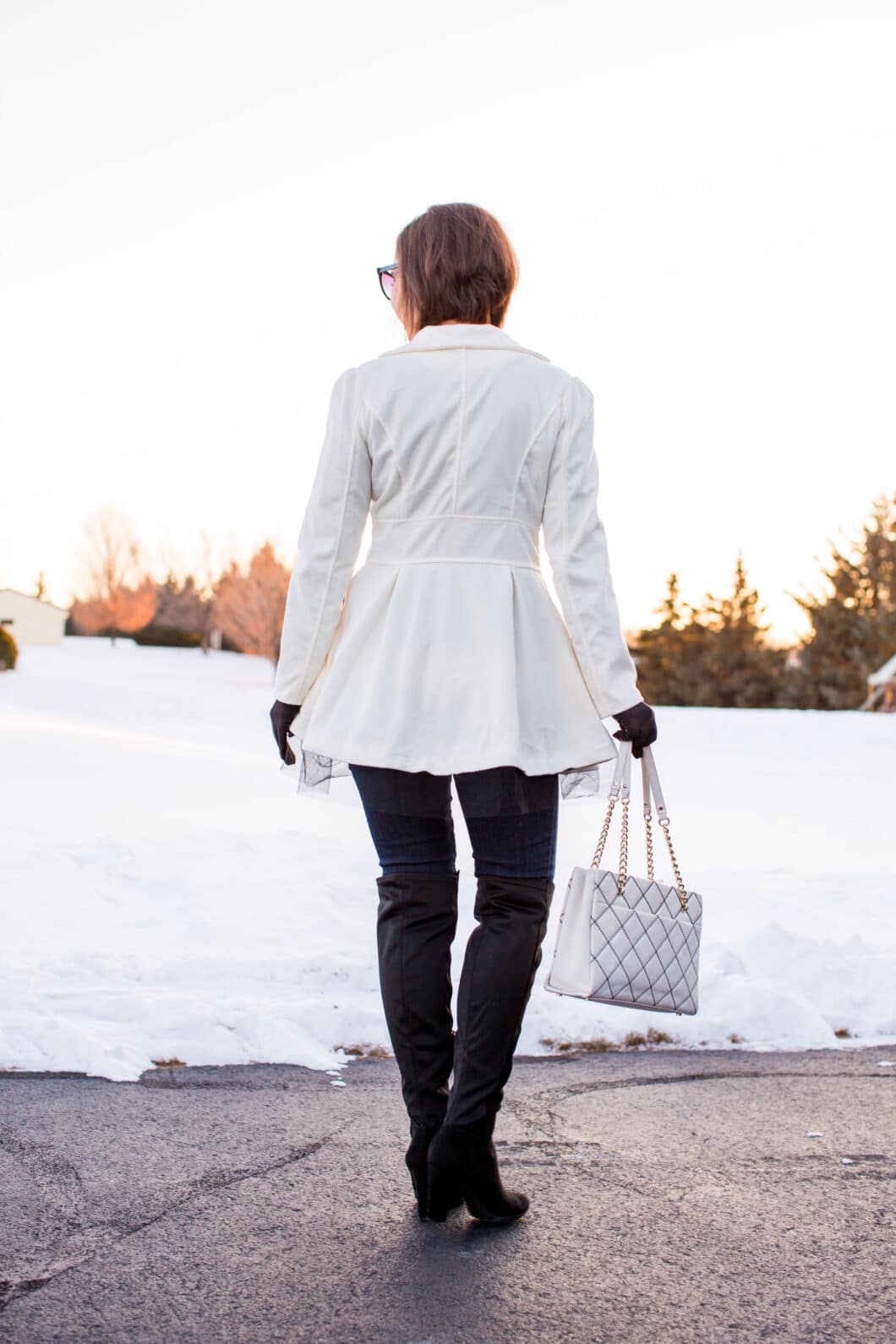 Coat c/o* | Boots c/o* (Similar here) | Bag (Similar) | Gloves c/o* | Jeans | Sunglasses c/o* | Top (Similar here)
Don't mind me, I'm just over here flipping back and forth between seasons! Haha. Sorry, I had one more outfit post that I had taken while I was home in Wisconsin for the holidays. Those couple of weeks I had been back were insanely cold, so all my outfits involved coats! So, I decided to put some Rosario-based outfits in here to break the coat parade up.
The Story of the Coat
Out of curiosity, has anyone ever seen photos of this coat before? This seems to be one of those coats that has been floating around my Facebook newsfeed (along with this pink one) since I first started ordering clothing online 575 years ago (roughly, haha). When I first saw these coats it was far before my years of being an online shopping pro. So, the thought of ordering a relatively inexpensive coat from a website I had never heard of in Asia seemed like a bad idea. So, I never order them.
Then, the folks at PopJulia reached out to me and offered to send me the coat I had been eyeing up since the start of my online shopping habit. I couldn't pass it up. But did the coat live up to its glorious Facebook newsfeed photos? Yes and no…
Review of the Coat from PopJulia
Pros:
*The coat is super cute! And the black netting on the bottom is removable, which I thought was a really nice touch.
*It has nice long sleeves. (The last coat I ordered from this company had shorter sleeves).
*The shape of this coat is really fun. It has a nice flare on the end of it that I don't see too often.
*This coat is very soft! It's really lovely to the touch.
Cons:
*The coat doesn't look exactly like the photo. This isn't the end of the world, but if this coat wouldn't have been a gift I think that would've irritated me more. (Click here to see the photo of the coat.) You can see the neckline is a different shape and the netting is longer.
*The buttons. They look really cheap in my opinion, and they seem to be in a weird spot on the coat. (Or maybe it's just my body shape?)
*This isn't really a con, just something to be aware of…this coat is a lightweight coat that would be better worn in spring and fall, not the middle of winter.
Worth the Price? Would I Recommend It?
Ugh, such a hard one. This coat is $39, which really isn't a bad price tag for a coat at all! And international shipping only costs $5 (but it does take about 3 weeks to get to you.) But, I've had some really good luck ordering coats that were even less expensive for equal quality. Even my last order from Popjulia was a coat for just $22…(Definetly worth the price!)
However, I can't say I've ever seen a coat like this in my years of online shopping. It's unique, and it is cute. So, yes, $39 is a fair price. But be aware, my photos are what you're getting when you order… not the website's photos.
Have you ever seen any of these coats before? And how do you feel about ordering clothing from websites based overseas? Let me know in the comments!
Where to find it:
Coat: c/o* Popjulia
Gloves: c/o* Unique Vintage
Jeans: Old (Similar here)
Top: Gift from my mom (Similar here & here)
Boots: c/o* DSW (Sold out, but nearly identical here)
Sunglasses: c/o* Polette
Bag: Kate Spade (Similar)
*Disclosure: some of these links are affiliate links. Meaning, if you click a link and make a purchase, Have Clothes, Will Travel gets a very small commission at no extra cost to you. Thank you for supporting the brands that make this blog possible! I am also a participant in the Amazon Services LLC Associates Program, an affiliate advertising program designed to provide a means for us to earn fees by linking to Amazon.com and affiliated sites.
*c/o = courtesy of, meaning the company gave me the product to be used on my blog, and I did not pay for it. All opinions are my own, and I am not being compensated for a positive review.