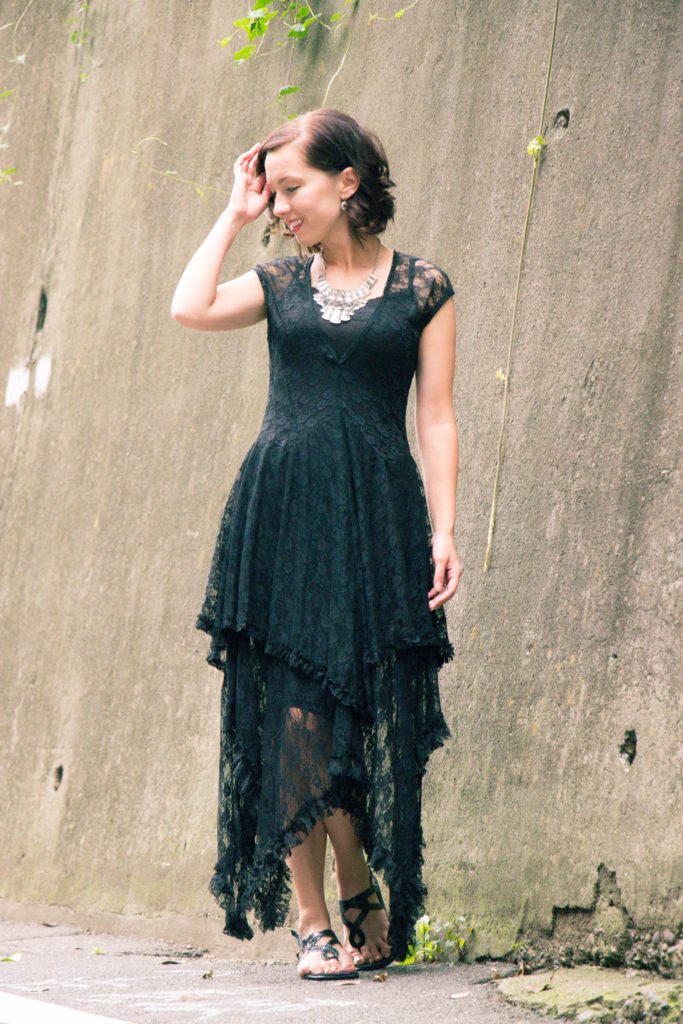 Look at that! Two outfit posts in a row where I am wearing a lace dress outside the norm for me! This lacy, boho dress from ChicLover is unlike anything I've worn before. I feel as though I am not doing it justice in this urban setting, though. It deserves a pretty field or woods to be worn and photographed in. (Wisconsin would've been the perfect backdrop!)
I also wish I would've had this dress for my trip to New Orleans this past April! It would have been the perfect dress to wear to visit the "American Horror Story: Coven" mansion. (Click here to see that post.) It reminds me of something the character Misty Day would've worn. My husband has agreed with me on this…and said it definitely looks like I should be casting spells! Haha. So it's a lovely dress, I just wish we would've found each other sooner in life! (Not that it's necessarily wrong to wear it now, as the title might suggest.)
But instead, it was worn for an afternoon/night of meandering through Shinjuku, which is Tokyo's biggest and most bustling commercial district (pictured below). So, I really didn't get the field I had in mind for this dress, haha. This just means I'll get to try and style it again when I visit Wisconsin at the end of the summer!
And also, I have a confession…I'm pretty sure I'm wearing this dress backward. But I thought wearing the slit in the front just looked more flattering, so, I went for it. I also want to point out and emphasize this too, this dress is completely sheer. I had not read the description of this dress carefully enough before I ordered it…and I was in for quite the shock when it arrived. I didn't realize it was sheer and there was no lining whatsoever. I'm wearing a cami and pair of my athletic capris under it because I couldn't find a decent slip to wear. (And I didn't really want to buy one anyways, so I improvised, haha.)
Have you ever found the perfect dress for an occasion that had already happened? Let me know in the comments!
Where to find it:
Dress: c/o* Chiclover
Sandals: Old (Similar here)
Necklace: Kohls (No longer available. Similar here.)
*Disclosure: some of these links are affiliate links. Meaning, if you click a link and make a purchase, Have Clothes, Will Travel gets a very small commission at no extra cost to you. Thank you for supporting the brands that make this blog possible! I am also a participant in the Amazon Services LLC Associates Program, an affiliate advertising program designed to provide a means for us to earn fees by linking to Amazon.com and affiliated sites.
*c/o = courtesy of, meaning the company gave me the product to be used on my blog, and I did not pay for it. All opinions are my own, and I am not being compensated for a positive review.