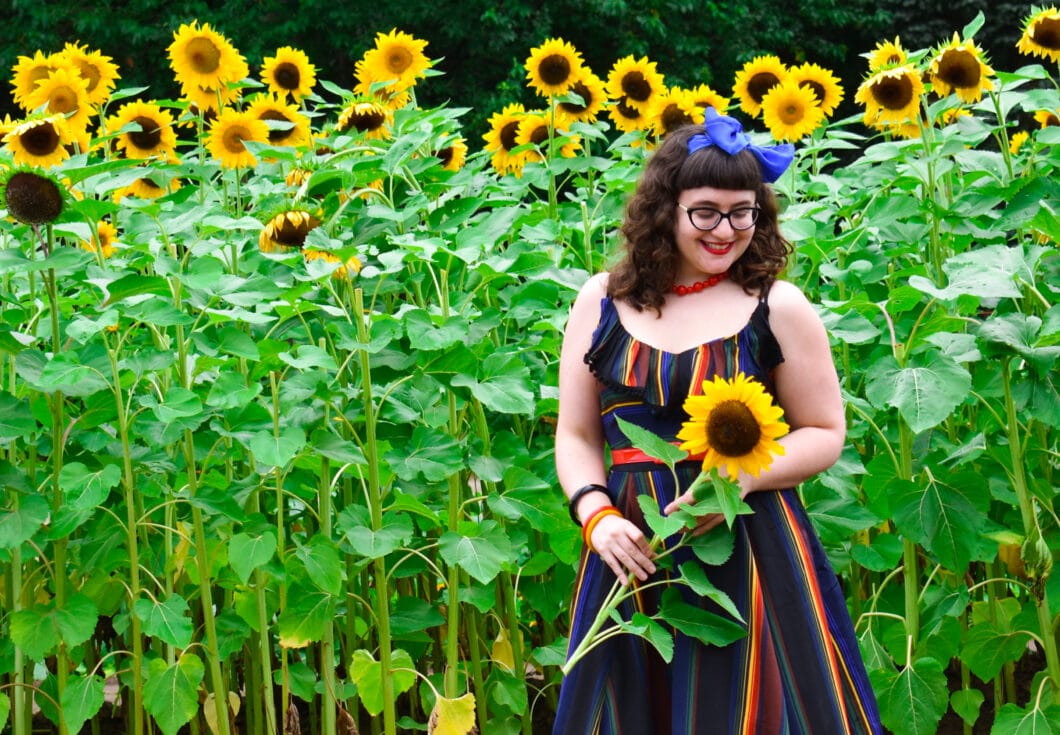 Meet Sara! She's this month's Featured Fashionista and the talented creator of the blog "In a Nutshell." Here, Sara chronicles her impeccable vintage style and her love of baking and reading.
I can't get enough of Sara's witty writing and fabulous outfit posts. Her love of quirky prints immediately captured my heart as well! And even though I'm a terrible cook, I find myself intrigued by many of the recipes Sara shares because 1.) They always sound delicious! 2.) Sara's recipes are usually simple enough that even the likes of me could make them.
In her Q&A below, Sara is sharing some of her favorite recipes, books and clothing stores, as well how she started blogging and insights into her career as an event planner. You'll definitely want to check it out and mosey on over to her blog by clicking here.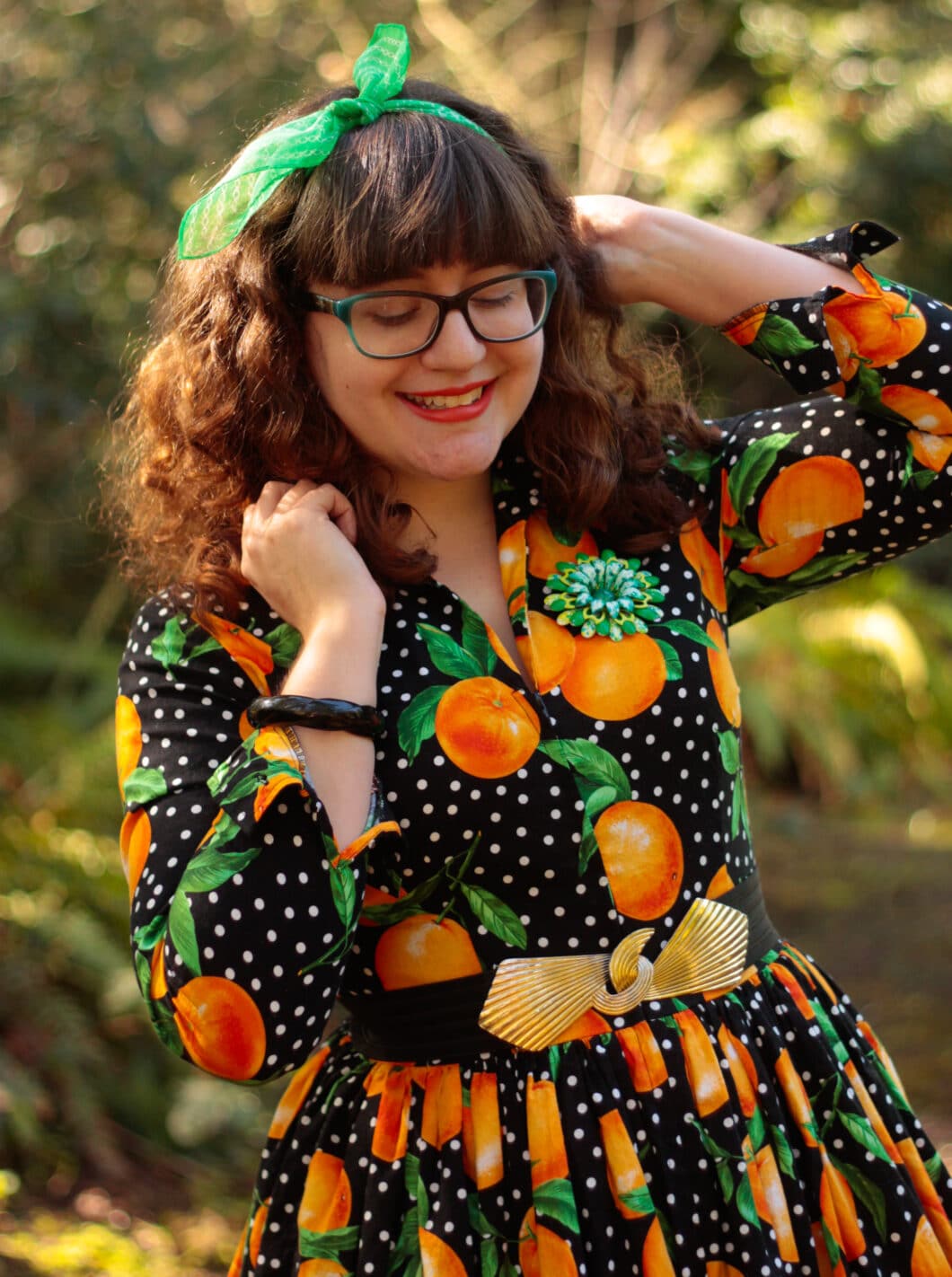 Q&A With Sara
Tell me a little about yourself.
Sara: Well, in a nutshell (get it?), I am a dress obsessed, vintage lovin' bookworm with one heck of a sweet tooth! By day, I am an event planner for Dell and when I am not at a tradeshow managing a booth, I am baking all kinds of sweet treats all while rocking retro/vintage outfits at home with my boyfriend of nearly 6 years, Cody, and our two reptilian pets – a Greek tortoise named Clarence and a bearded dragon named Steve. I also love to read and am constantly reading something. It took me a long time to get a Kindle and move away from physical books (oh I love them so!) but ever since I did a little over a year ago, I've LOVED it. I take it everywhere with me and can get new books downloaded in a snap – which comes in handy with the traveling I do for work!

How would you describe your blog, In a Nutshell?
It's definitely a combination of retro/vintage style, yummy sweet treats, and book reviews with an occasional travel blog thrown in here and there, depending on where I've been for work.
How did you start blogging? And what inspired the fun name, In a Nutshell?
Sara: I've been a writer since middle school. In fact, I used to write full-length novels, print them out (my parents probably hated me for wasting so much paper and ink), and my friends would take turns reading them. I continued this into college but then I definitely slowed down and once I graduated and got a big girl job, my writing completely stopped. Since then, I haven't written much and really started to miss it. I was following a lot of blogs already for fun, was starting to post #ootd posts on Instagram, and thought that starting my own blog seemed like the best way to keep me writing (albeit in a more memoir-style and not fiction) while combining my other hobbies – fashion and photography! As far as my inspiration for my blog name, did you not catch my super slick reference in question numero uno? I know, I'm that good.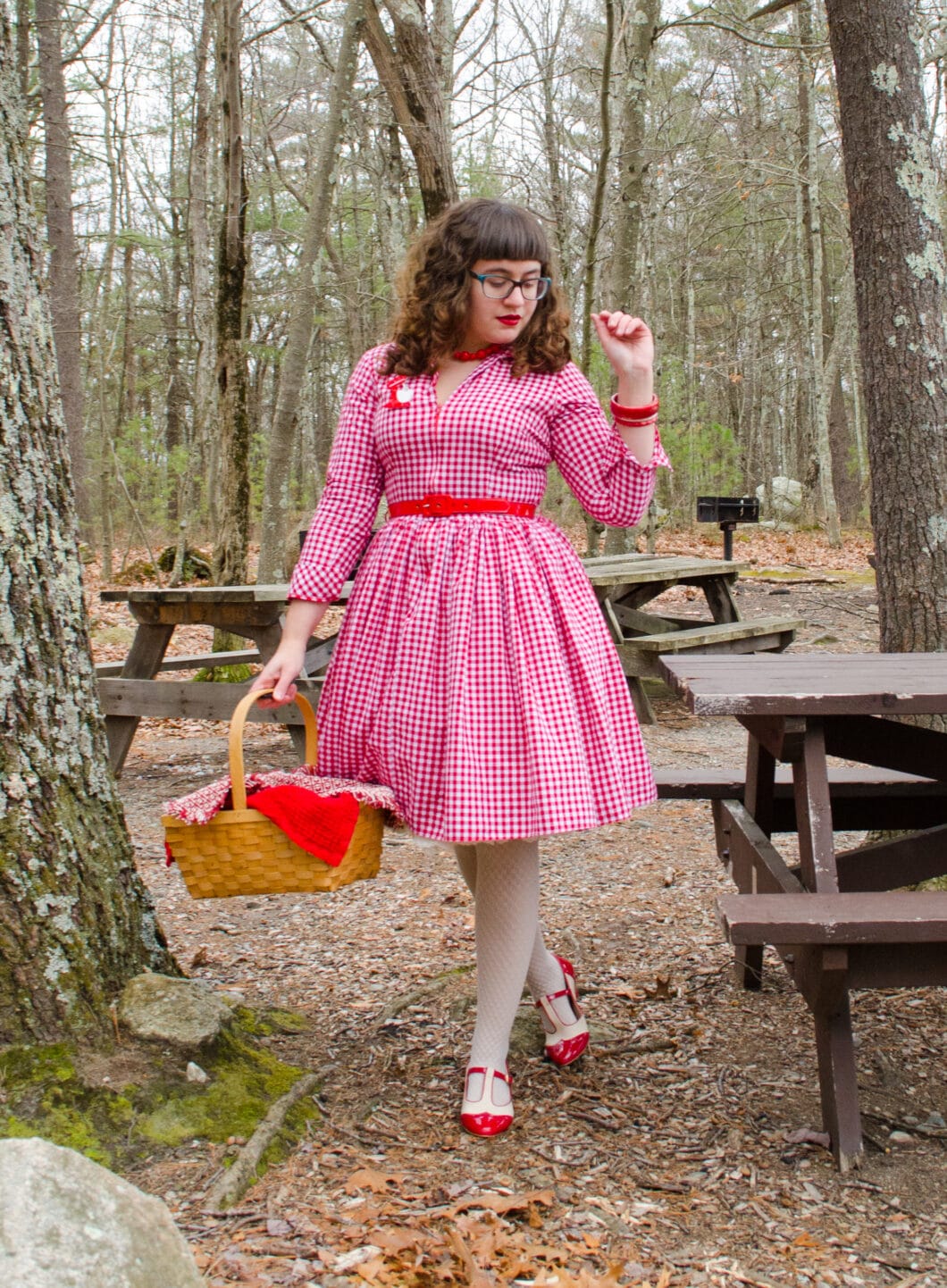 Your blog covers a wide range of topics from style posts to book reviews to recipes and more. What would you say your favorite topic to cover is and why?
Sara: It's funny, really my favorite thing to photograph is food (it puts me behind the camera and food is so easy to work with – let's face it, food is pretty laid back and doesn't argue when you style it a certain way) but I definitely share style posts way more often and definitely love styling and writing about my outfits most.
It's such a catch 22 for me, it would be easier for me to be the photographer (since I love portrait photography and did a lot of it in college) as opposed to being the one getting photographed but at the same time it's MY blog and I love being in the dresses! I usually plop my SLR onto my tripod and I have a wireless transmitter remote system that allows me to snap away as I pose (sometimes you can see the remote in my hand but oh well!) but if I am going somewhere busy or too public, Cody helps me out and snaps photos for me on occasion if I ask really sweetly.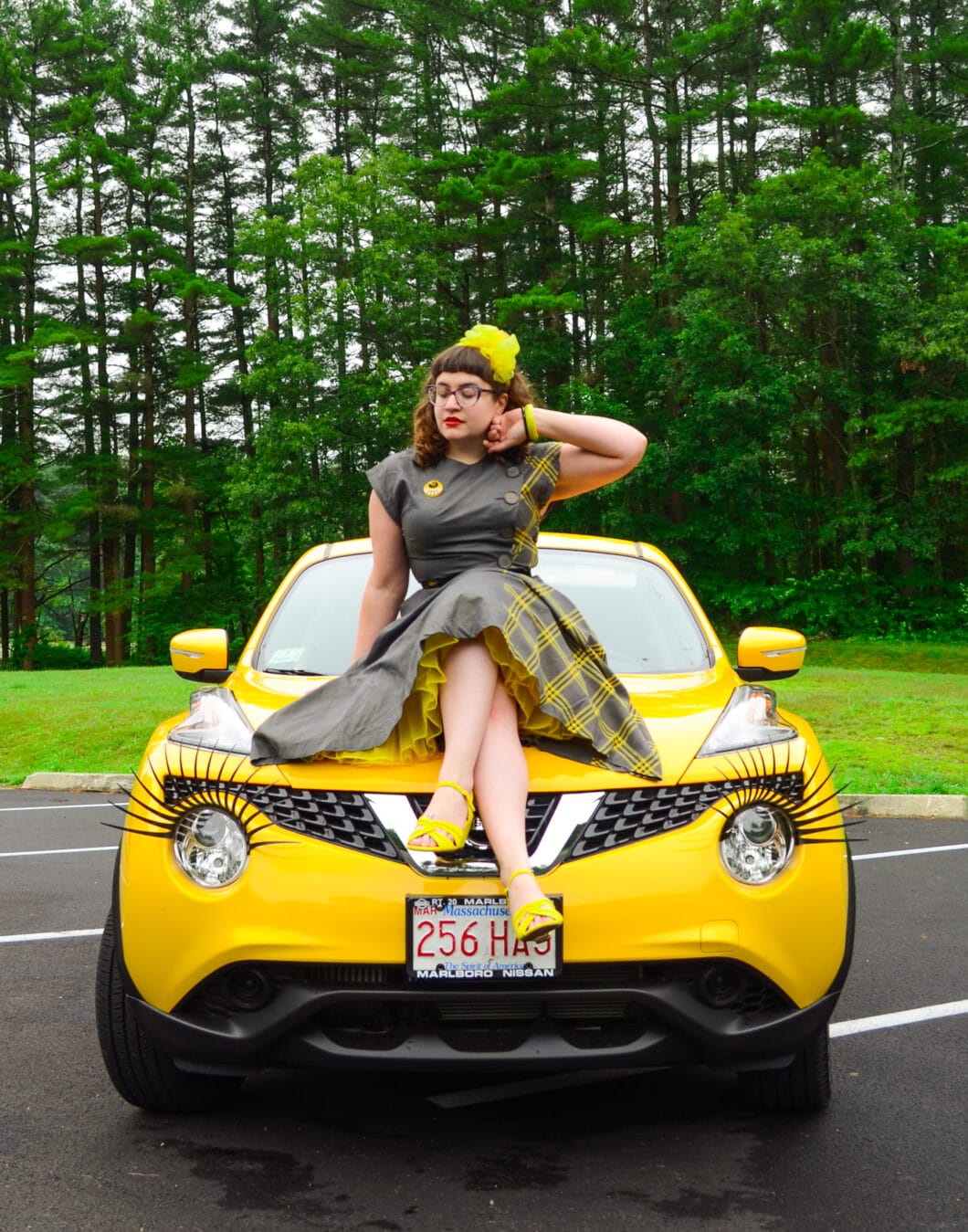 What is the best book/series you have ever read and why?
Sara: Oh gosh, you'd think I had a good answer for this but I never do! I read so much that it's so hard to think back and pick just a few favorites. I read a mix of memoir, young adult fiction, and adult contemporary fiction – here's a quick Top 10 off the top of my head for books that have just STUCK with me:
1.Tell the Wolves I'm Home by Carol Rifka Brunt
2.Eleanor Oliphant is Completely Fine by Gail Honeymoon
3.The Invisible Life of Ivan Isaenko by Scott Stambach
4.It's Kind of a Funny Story by Ned Vizzini
5.Trying to Float by Nicolaia Rips
6.Furiously Happy by Jenny Lawson (really anything she writes!)
7.Modern Romance by Aziz Ansari
8.Landline by Rainbow Rowell
9.All the Bright Places by Jennifer Niven
10.Where?d You Go, Bernadette? By Maria Semple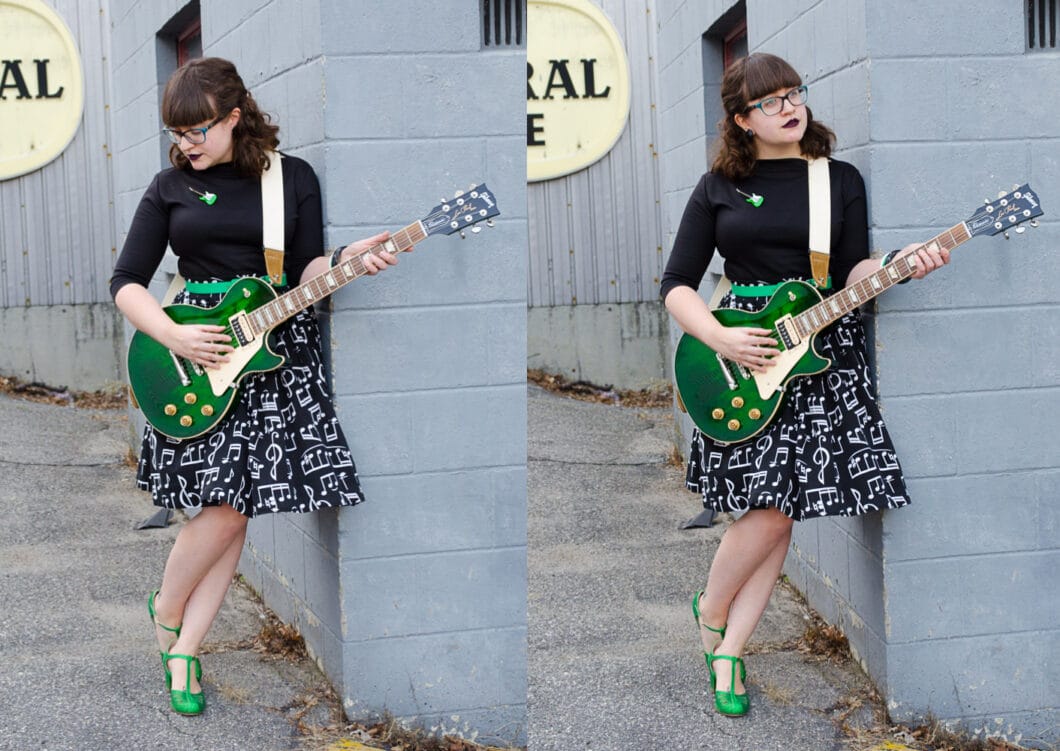 I'm also curious, out of all your amazing recipes, which is your favorite to make?
Sara: Hmm, I made these Pumpkin Pie Blondies last year for a Thanksgiving post and REALLY loved those. It was one of the first recipes I came up with and developed myself. Sure, I had a standby blondie recipe that I used but coming up with the pumpkin pie twist and working out the logistics of how to incorporate a pie into a blondie all came from me. It was fun developing it and making the winning batch that I photographed (because the first attempt did not turn out so great! Haha!).
I also loved making my mother's famous chocolate cake last October for her birthday. She made this for nearly every family member?s birthdays growing up so it was her turn to have it! It was fun making it and having it come out exactly as I remembered it!
And for those of us who are horrible at cooking/baking, what would you say is the best recipe out of the bunch for a bad cook to try and make?
Sara: That's easy to answer! A lot of my recipes are easy recipes and some are even just 2 ingredients! I love easy recipes that take little to no effort. They are lifesavers! I made a Peanut Butter Fudge Oreo Icebox Cake that doesn't even require baking any actual cake!
I also posted about a Chocolate Strawberry Pastry Braid (inspired by something I saw on Buzzfeed, I won't lie) and it's just puff pastry, a Hershey bar, and sliced strawberries! It's all really just good assembling.
There are also quirky things like Ice Cream Bread that I always love to make because it's just so silly but so good – it's just melted ice cream mixed with self-rising flour! Who knew?

You are always wearing the most beautiful outfits for your posts too! How would you describe your personal style? And have you always had such a wonderful sense of style?
Sara: I like to think of my style as: retro housewife with a modern pinup twist. I don't know if I will ever think of myself as a true pinup without laughing at myself and I definitely feel like my look gravitates more toward the Betty Draper in Mad Men Season 1 on a day to day basis so I think that?s a good way to put it.
I describe myself as a modern pinup simply because I don't get into pinup hair/makeup much at all. The gals that do are goddesses on this earth but I've never worn makeup, only lipstick, and I let my curls do what they want these days (I usually rock the same 2-3 styles per week on routine with an occasional hair flower or hair scarf to change it up a bit, depending on when hair washing day is!).
As far as always having wonderful style, I've always had different style, let's leave it at that! I have always stood out and loved bright colors, patterns, and dresses. In Middle School, I essentially wanted to be Lizzie McGuire and her friend Miranda and shopped a lot at Limited Too. In High School, I thought I was punk rock and loved Hot Topic (because Avril Lavigne and Good Charlotte are SO hardcore). I also buzzed my hair! It made getting ready so easy. Then, in college, I let my hair grow out to a sort of pixie and got more into vintage/thrifting. Then, finally, after college, I discovered ModCloth and from there it evolved into retro reproduction.
Then I got my first petticoat and it was all downhill from there…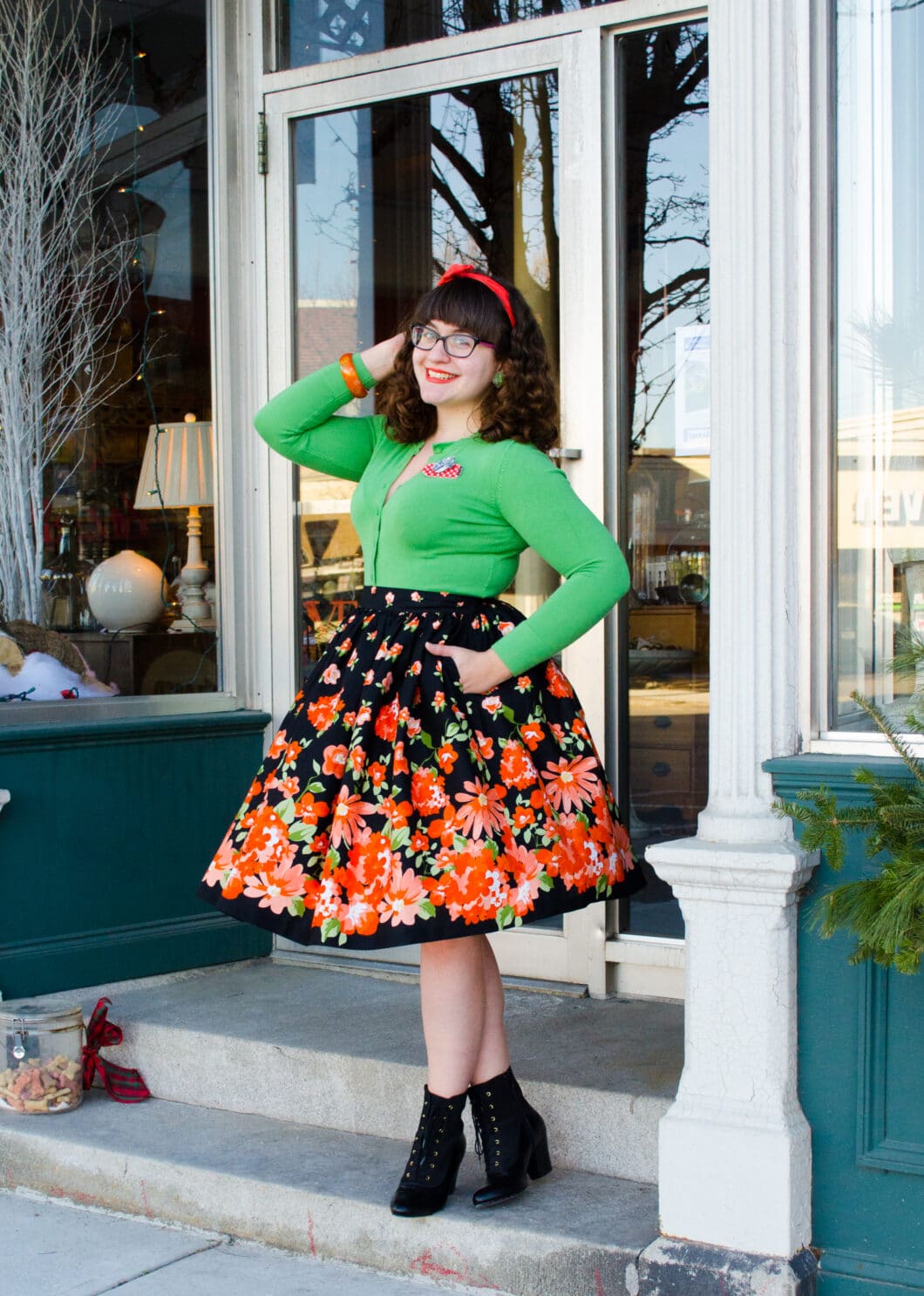 What would you say your go-to look is? And what?s your favorite clothing store?
Sara: My everyday go-to is either a dress or swing skirt/blouse combo with a petticoat, a bangle stack, a brooch, possibly a pair of vintage clip-on earrings, and a pair of BAIT Footwear shoes. It's what I am most comfortable in! I think I own one pair of jeans that I rock on my off days aka the weekends!
I buy almost everything online. While I buy things from all over (I am starting to really love Collectif these days), I definitely should just send Bernie Dexter and LindyBop my paychecks. Their clothes fit me so well and are such good quality – I don't mind the splurge every so often. But it?s even more awesome when you keep track of their sales and can snag things at awesome prices, which I do whenever I can!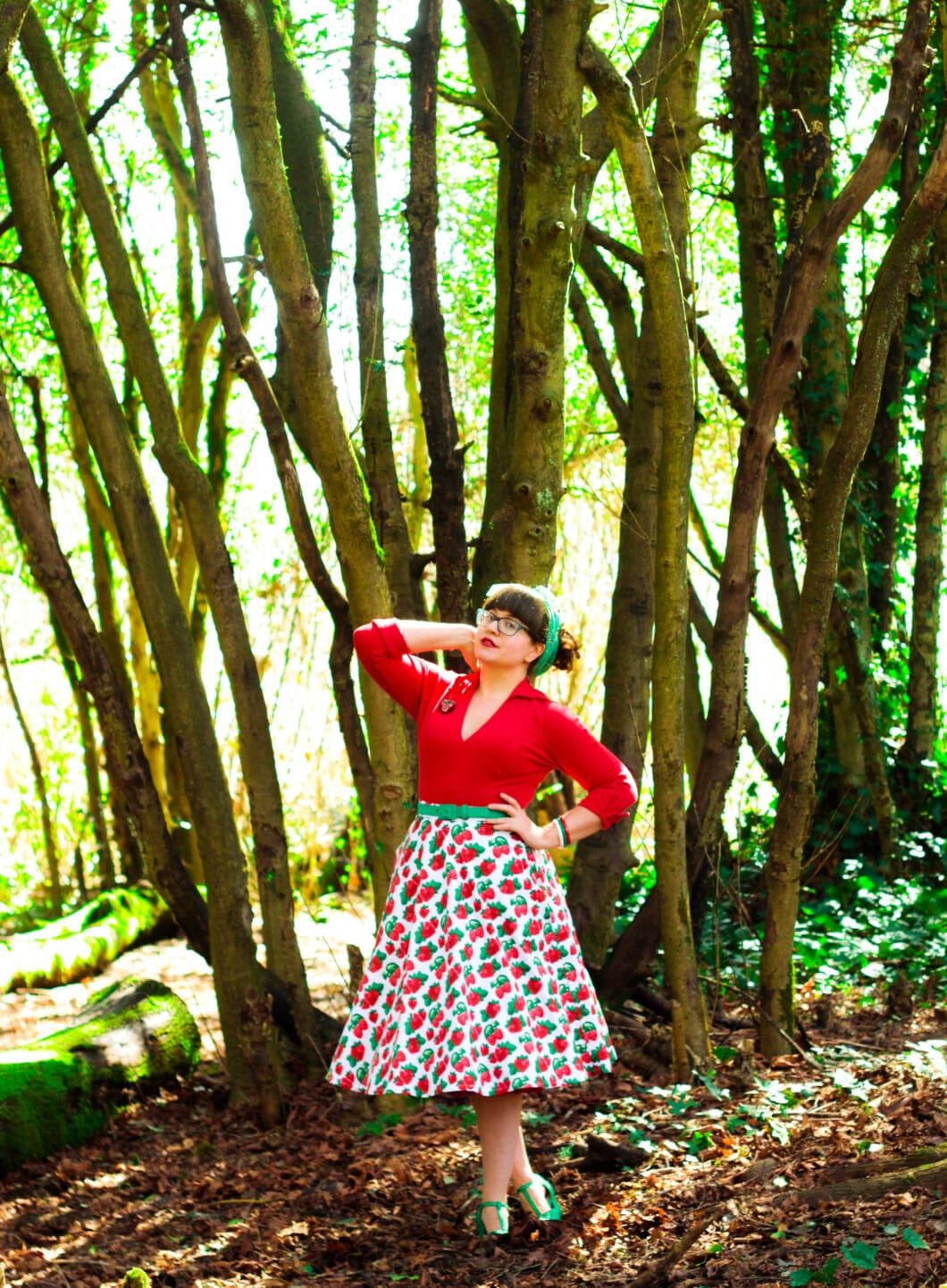 You have such a talent for posing in your outfit photos too! I'm always amazed! Are your poses natural or do you have a plan before shooting an outfit post?
Sara: I'd say it's kind of both. They're natural in the sense that I just move through whatever feels good at the time physically and emotionally (if I feel sassy, my posts tend to have more attitude or if I am feeling happy/goofy, I'll be more bubbly and smiley) and snap away as I tweak the angle of my head or move my arms/hands to a different resting spot.
However, I SO DEFINITELY rotate through the same feet placement/poses for every shoot (gotta have a good solid foundation! Ha!) and do a lot of variations of arms and face and angles from there. It's probably not ideal but hey, it makes it easier! What can I say, I am a creature of habit!
Now, how much you wanna bet you?ll notice it when you see my next post!?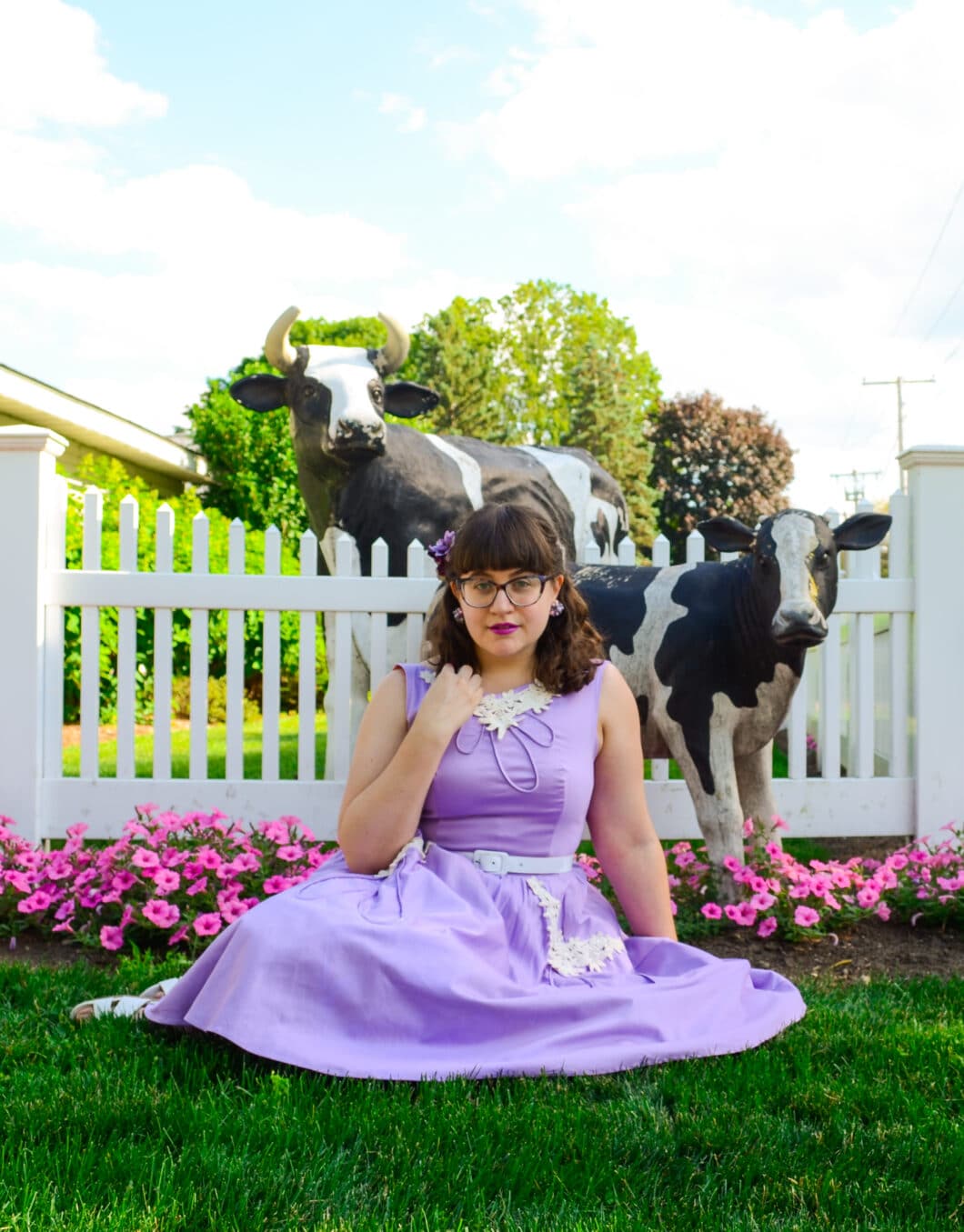 Changing gears a bit here…but your career as an event planner sounds incredibly exciting! What does a typical workday look like for you? And what has been the most exciting event for you've worked on?
Sara: Oh man, not one day is like the next! During busy seasons (which tend to be April – June and then September – November), I juggle planning for 3-5 events at once! Right now, I just finished one small one and am planning for 4 upcoming events in September, October, and November!
My biggest ever is in September and is in Amsterdam (it's a ~100sqm booth where we book 100+ customer meetings in our booth and host over 5 customer events such as a boat cruise, lunch and learns, and happy hours!)! I've worked on this show before and have been there twice but this is the first year I am leading the planning and running everything. So that is pretty exciting as well as daunting!
On any given day, pre-event, I spend a lot of time EMAILING. My boyfriend, Cody, jokes that my job is emailing people and running planning calls. And it?s so true! It takes a lot of communication and collaboration to plan a trade show. I don't know HOW it was done pre-internet days.
I also spend a lot of time on weekly planning calls, where the stakeholders and marketing managers assigned to the events come together and we decide on things like booth graphics, email campaigns that support the event, booth staff schedules, and A LOT more super super fun political stuff that comes with big companies (can you sense the sarcasm??).
When an event is about to start, I travel to the location to set up the booth (depending on size, it can be a quick 10×10 pop-up that takes 1-2 hours or it can be a 40×40 that takes 2-3 days and requires a booth building company) and then manage on-site activities throughout the show (making sure the booth is staffed, assist with customer dinners or meetings, checking in on speakers before their sessions start, and manage all the onsite logistics like outbound shipping, issues that arise, and more). My boss likes to say that if an event planner has done her job right, she should have nothing to do on site…but that never seems to be the case. Ha!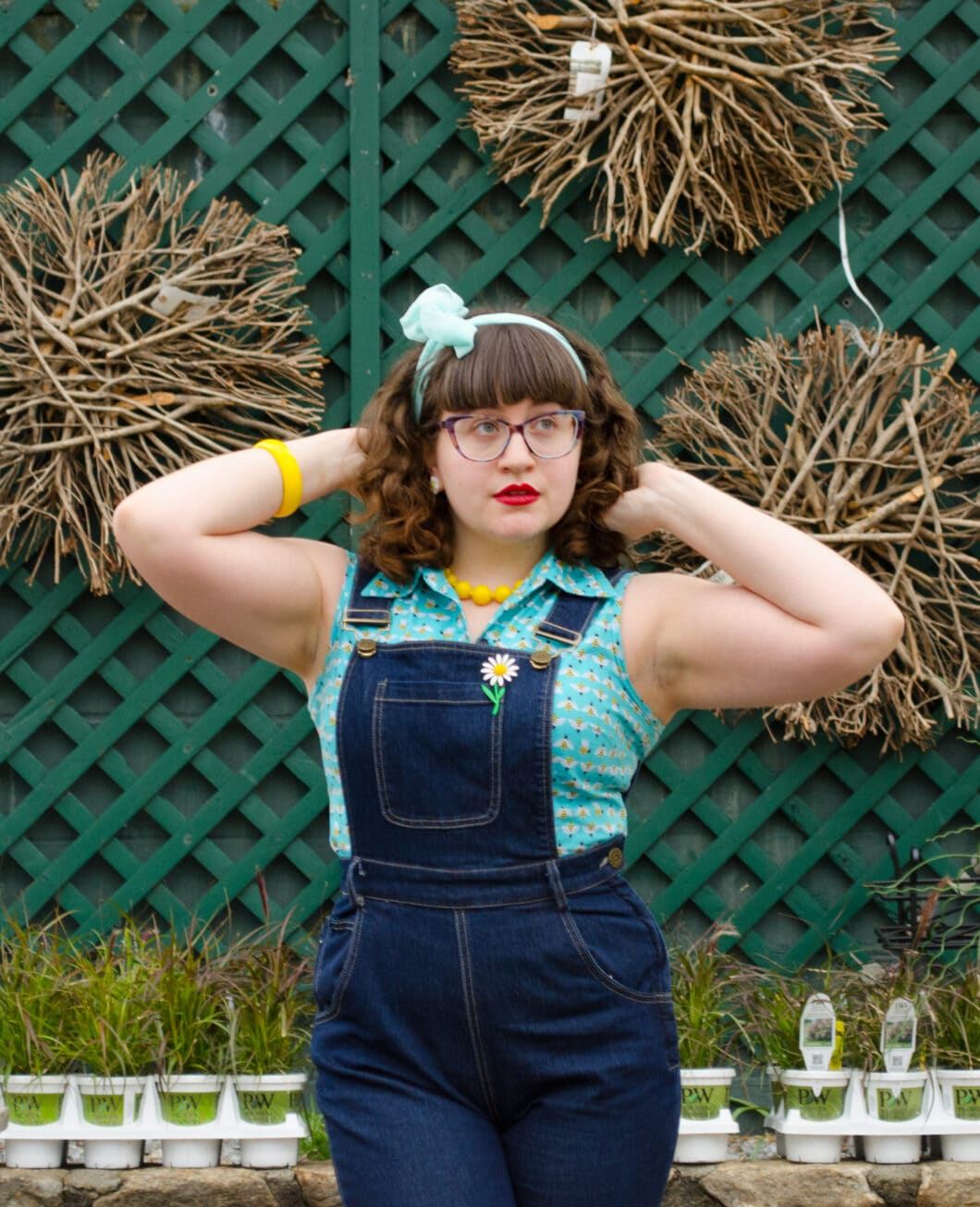 Do you have any advice you would like to share for someone who wants to start a blog of their own?
Sara: My advice is to just START. Don't even worry about being popular or getting all the likes and followers. You have to just START. The followers, likes, and comments will come in time. The more you blog, the better you get, the more your voice and focus will come through, and the more you learn! My blog definitely developed into what it is today over time, naturally, on its own, and still is to this day – nearly 3 years later!
Also, put out what you want to receive. You can't expect comments on your blog, likes on Facebook, retweets on Twitter, followers on Instagram, etc, without effort. You won't become Insta famous or get hundreds of brands wanting to send you things for free overnight or by chance. Becoming Insta famous isn't particularly a goal of mine but it is for some. Successful bloggers put a lot of work into their blog – it is totally a part-time job on top of my full-time job!
You should find other bloggers to follow (I use BlogLovin to pull all my favorite blogs into one place where I can read their latest posts on my morning break at work) and make sure you're leaving comments on new posts you enjoy or find interesting as well as leaving likes/comments/shares on their social media. The more you engage, the more visibility you're gaining and bloggers that engage on other blogs or social media tend to do better.
And where can my readers find you?
Sara:
*Instagram: @inanutshellblog
*Bloglovin'
*Facebook
*Twitter: @SaraLilyFortin
*Snapchat: SaraLily47ra
And don't forget to check out "In a Nutshell" by clicking here! Thank you for the awesome interview, Sara!