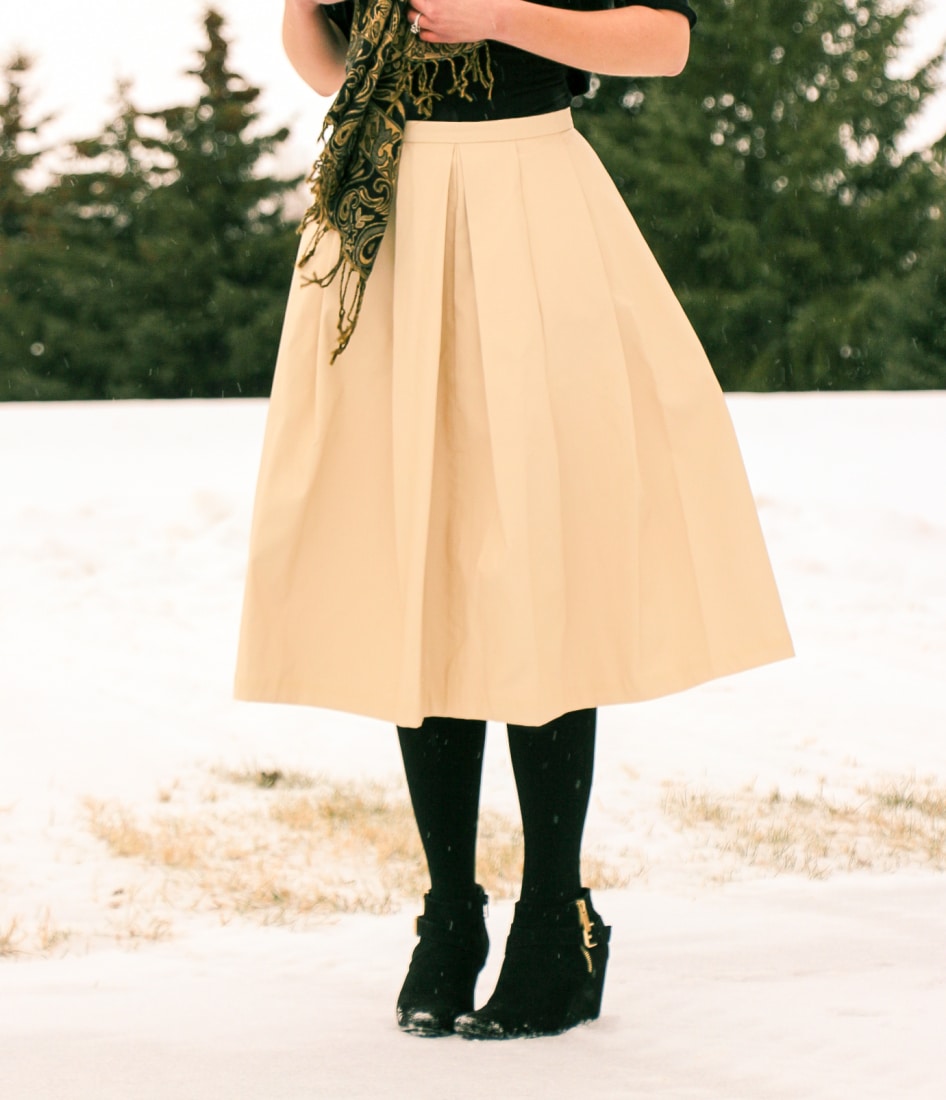 I'm not sure if you can tell in these photos, but it was actually sleeting out while I was taking them. Haha. It didn't start that way, but about 2 minutes into it, Mother Nature took a not very nice turn. But hey, "The show must go on!" And I really liked this outfit.. and only had so much daylight left before photo-taking was no longer an option.
However, freezing my butt off for a little while outside…was also a good test of just how warm this faux leather Blaque Label skirt actually is. I had worn it several months ago in this post, and I had a sneaking suspicion it would hold up well in some chilly temperatures. And I was correct! It was wonderfully warm! This skirt was from my first time trying out the #ifchic24 event…where you can get designer clothing for almost free. It was a good reminder that I need to start collecting my Ifchic coins again! (Click here for more info on that event.)
I was also pleasantly surprised how well these booties worked for walking on ice-covered roads/sidewalks. It's always nice to have one pair of shoes in your arsenal, that can be counted on to not contribute to you falling flat on your face. Haha.
This was also a good chance for me to break out my fleece-lined socks from Kushyfoot. They are wonderfully soft and warm. However, I wish they covered my entire leg…given the crazy cold weather I've been dealing with. Haha. Also, these don't have the massaging soles, like the other legwear from Kushyfoot. But fleece-lined is certainly a nice touch! I'll probably be pairing these with pants, for the most part.
Who else has frozen their butt off in the name of taking photos for their blog? And has anyone else participated in the #ifchic24 event, recently? Let me know in the comments!
Where to find it:
Skirt: *c/o Ifchic
Socks: *c/o Kushyfoot
Booties: Target
Scarf: Walmart (similar)
Sunglasses: Quay
Cardigan: Maurices (Old. Similar here.)
*c/o = courtesy of, meaning the company gave me this product to be used on my blog, and I did not pay for it. All opinions are my own, and I am not being compensated for a positive review.