Styling a Tweed Dress for Spring
Wondering how to style a tweed dress for spring? This post is here to explain!
Dress c/o* | Coat c/o* | Bag | Wedges (Similar) | Sunglasses (Similar) | Tights | Earrings
Tweed is one of those fabrics I always picture wearing in colder months. However, there's no reason you can't wear your tweed in spring! This tweed dress is actually a perfect transition piece from the chilly winter months to beautiful sunshiny days of spring and early summer.
It is great with a pair of tights and heels or pair it with some black OTK boots for a warmer and slightly edgier outfit. And once it's warm enough outside, just ditch the tights! Although, this dress is a little shorter on me than I'm comfortable with…so, I'm not so sure I'll wear it outside of tights season.
Also, if you purchase anything more than this dress…keep in mind you can use code: shsale335 for an extra 15% off orders over $89 (this code expires March 31, 2019).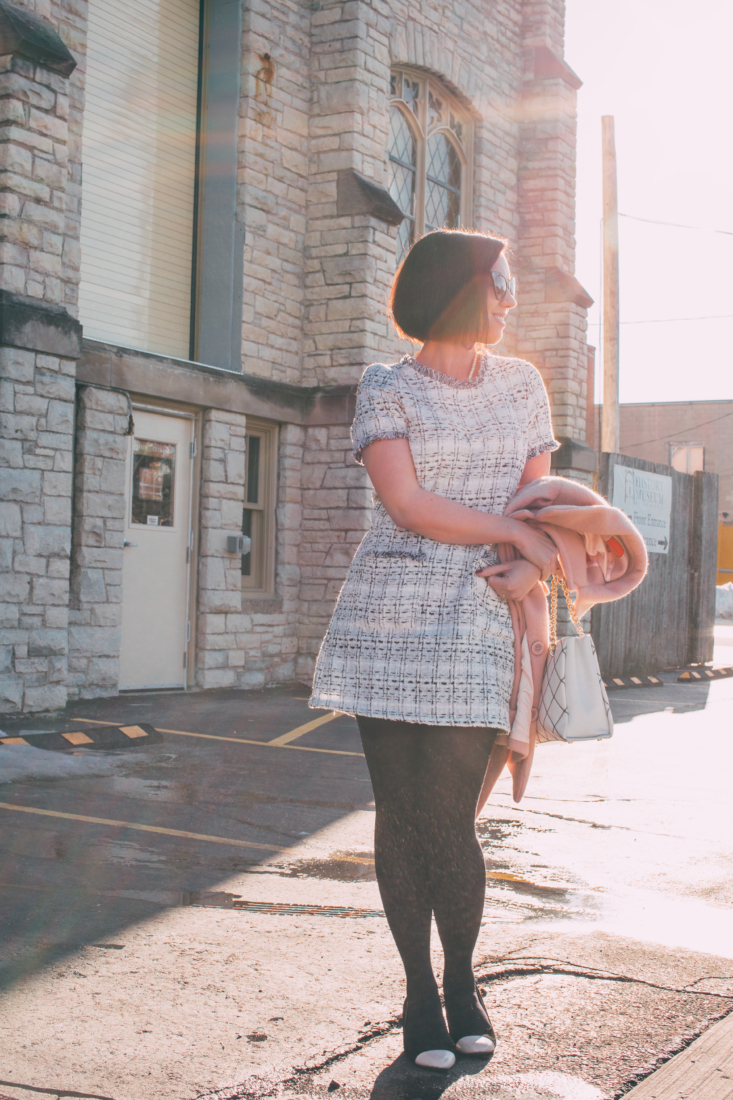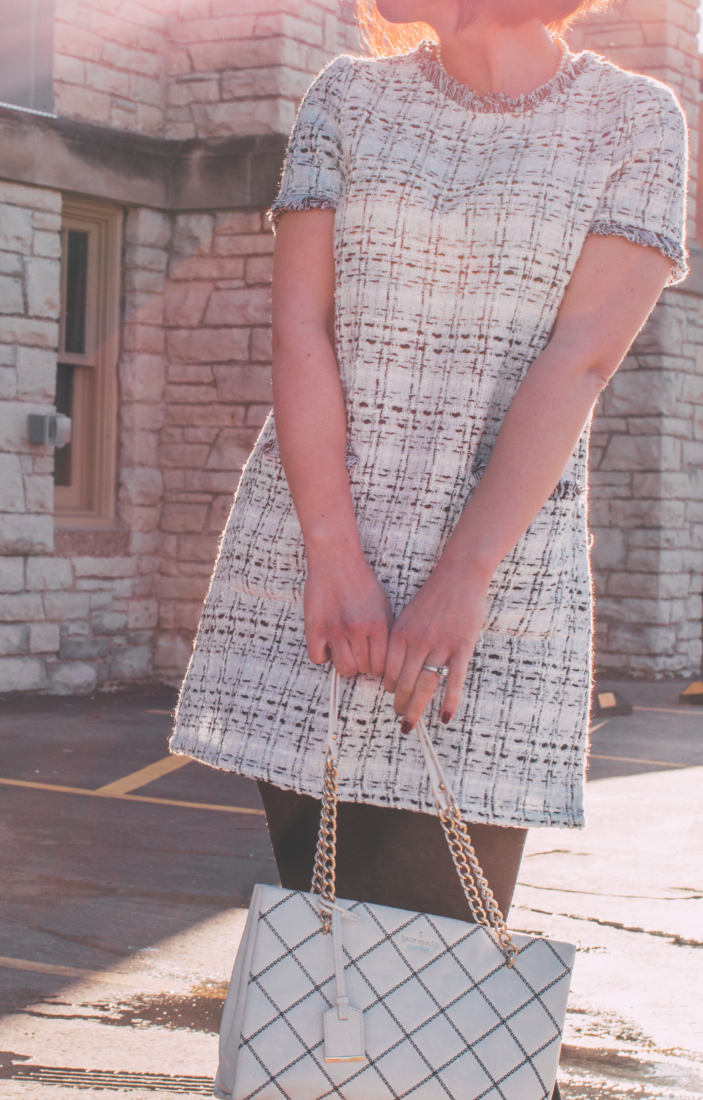 Sizing For This Dress
This dress runs SUPER large, though. I'm typically a size medium, however, I ordered this dress in a size extra small! Definitely take a look at the sizing chart before you order…and also trust it…the sizing isn't wrong. According to the size chart, an XS should fit me perfectly and it does! (If you want more tips for shopping on the website I got this dress from, click here.)
The Quality of This Dress
So, this tweed dress is only $18! For that price, I am beyond impressed with the quality. I wore this dress all day for my best friend's surprise birthday party this weekend. (I'm back in Wisconsin visiting my family and friends until next week.) It was comfy the entire day. However, it does "shed." The strings around the pockets were the biggest culprits and were falling off and getting stuck to my tights. But again, for the price, I'm not really too worried about a few strings falling off this dress. I also love that this dress isn't see-through! It's great to not have to worry about wearing a slip or a tank top underneath it.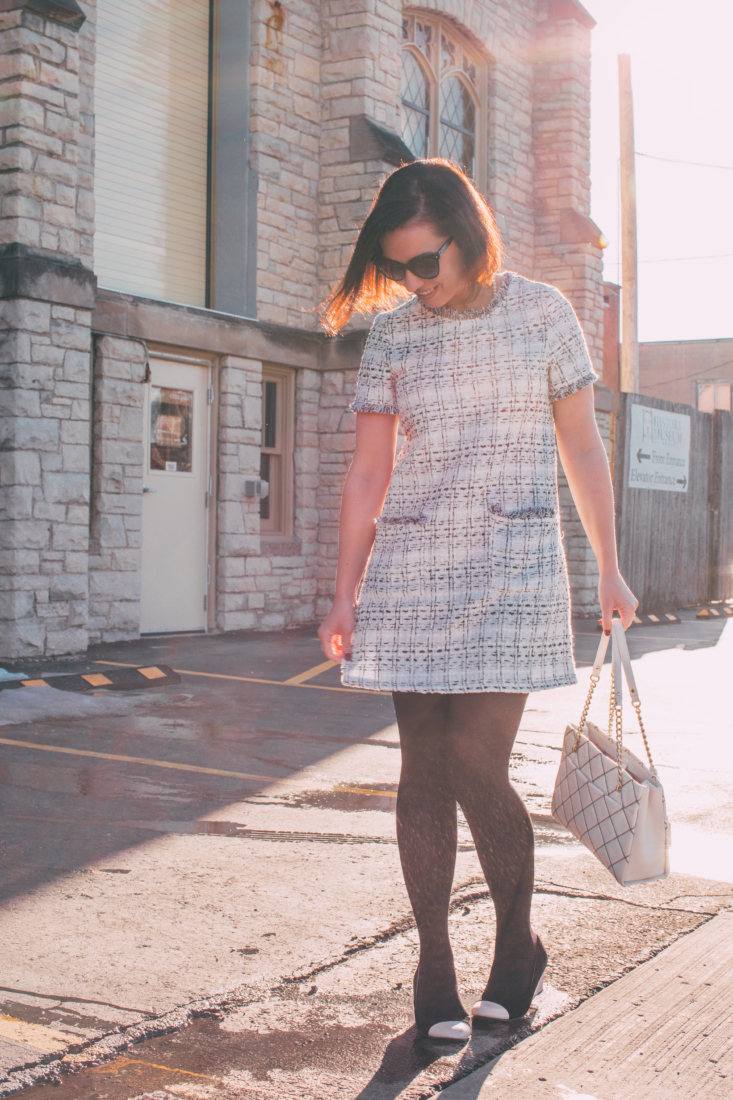 I loved how this dress looked paired with my pink coat too. I've had this coat since last year and wore it throughout the fall and winter. It is a warm coat! I really like wearing it in spring, though. It keeps me warm and pink is just such a quintessential color for this time of year.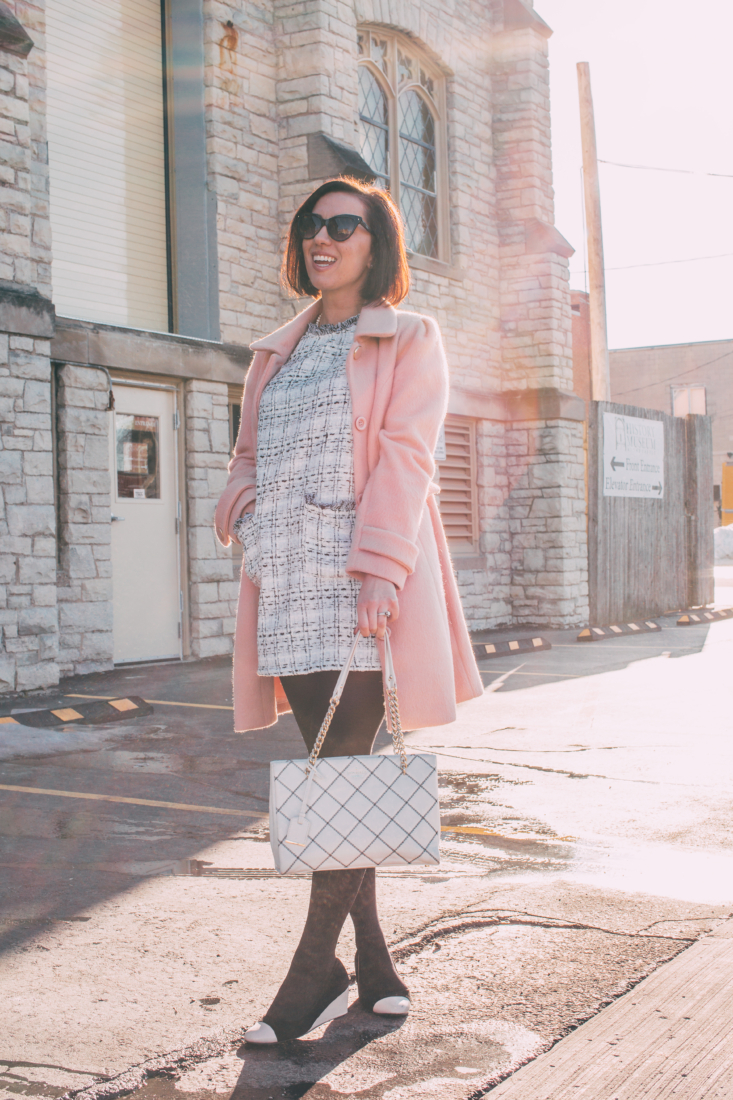 What are your thoughts on tweed? And do you wear it during spring? Let me know in the comments!
Where to find it:
Dress: c/o* Shein (Use code: shsale335 for an extra 15% off orders over $89)
Coat: c/o* ModCloth
Wedges: Old (Similar here)
Tights: Amazon
Earrings: Amazon
Bag: Kate Spade
Sunglasses: Old (Similar here)

*Disclosure: some of these links are affiliate links. Meaning, if you click a link and make a purchase, Have Clothes, Will Travel gets a very small commission at no extra cost to you. Thank you for supporting the brands that make this blog possible! I am also a participant in the Amazon Services LLC Associates Program, an affiliate advertising program designed to provide a means for us to earn fees by linking to Amazon.com and affiliated sites.
*c/o = courtesy of, meaning the company gave me the product to be used on my blog, and I did not pay for it. All opinions are my own, and I am not being compensated for a positive review.