20+ Fun Things to Do in Green Bay, WI by a Local
Looking for fun things to do in Green Bay, Wisconsin? This post has you covered! Whether you're in town for a Packers game or are a local like me. I grew up in a village not far from here, I went to college at UW-Green Bay, and I worked as a producer at FOX 11 News, right next to Lambeau field.. now, after doing some traveling all over the world, I am back in the Green Bay area and want to share with you some of my favorite things to do and see in here Green Bay Wisconsin!
You can also check out my YouTube video featuring fun things to do in Green Bay, below!
Fun Things to Do & Cool Places to Visit in Green Bay, Wisconsin
Take a Lambeau Field Tour
1265 Lombardi Avenue, Green Bay, WI 54304
Of course, we all know that going to a Green Bay Packers game and tailgating is one of the best things you can do in Green Bay, but getting to tour Lambeau Field on a Classic Stadium Tour is pretty darn amazing too! You'll learn all about the history of our beloved Green Bay Packers and the incredible Lambeau Field. Plus, you'll get to go through the players' tunnel and see the field up close and personal. (Note: you CAN'T walk on the grass, though.)
Ticket prices for this are currently $21 for adults and Brown County residents do get a discount!
I also want to mention another cool option with these tours is to do an Alumni Tour. This is where your tour is guided by a former Packers Player like Leroy Butler or Antonio Freeman. You'll have to check the Packers Tours website for current availability, as these sell out quickly.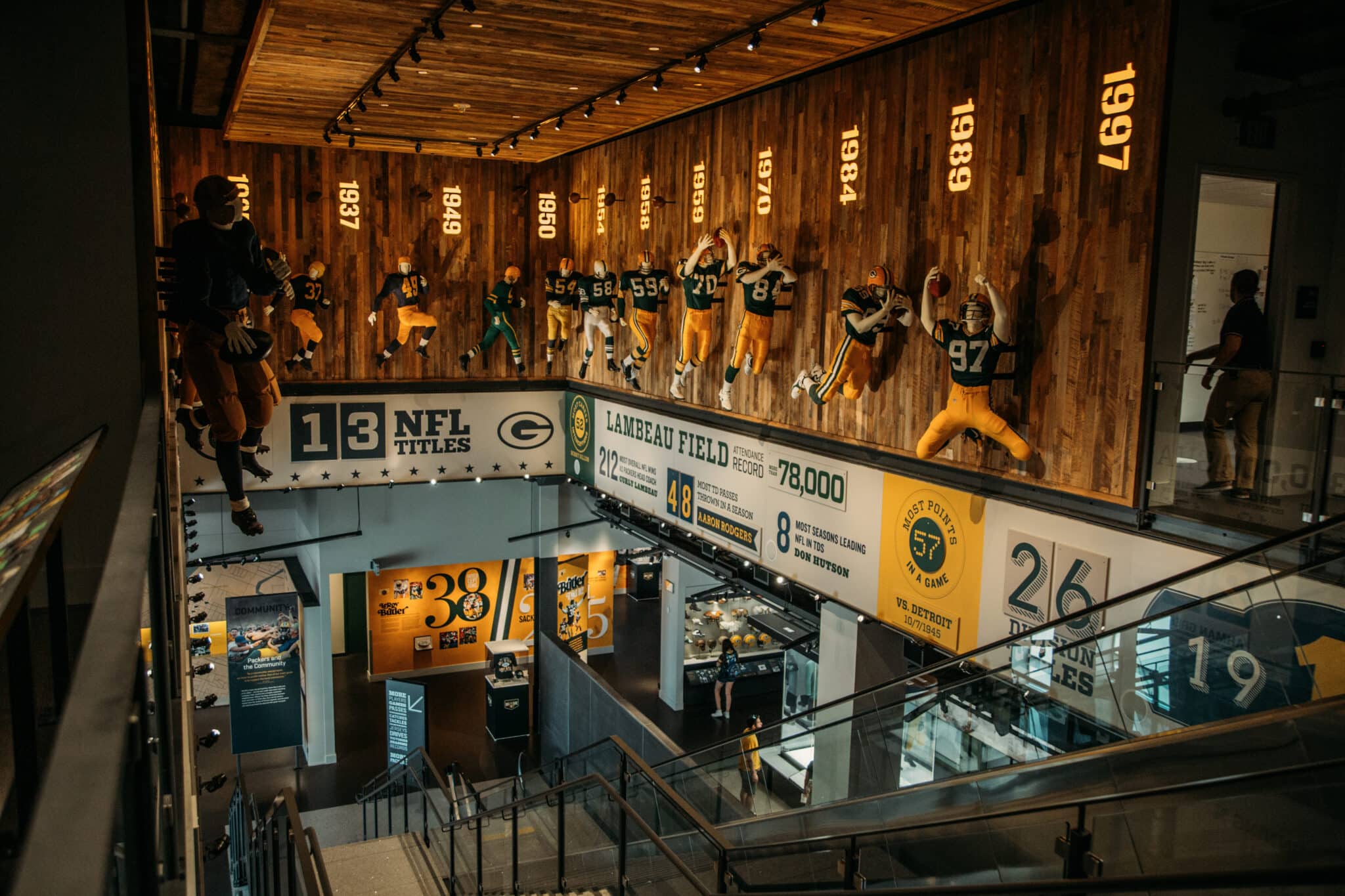 Tour the Green Bay Packers Hall of Fame
Location: 1265 Lombardi Avenue, Green Bay, WI 54304
While you're at Lambeau I also recommend checking out the Green Bay Packers Hall of Fame! It's located in the atrium entrance of Lambeau Field and features 100 years of riveting history of the Green Bay Packers. The two-story space is filled with exciting exhibits including four Super Bowl trophies, and a replica of Vince Lombardi's office! It's really cool.
Current ticket prices for adults are $18 and Brown County residents also get a discount here!
Try the Ultimate Bloody Mary at Anduzzi's Sports Club
1992 Holmgren Way, Green Bay, WI 54304
We take our drinks very seriously in Green Bay, and this includes our Bloody Marys. We have a ton of great spots to get a Bloody Mary here, BUT the Ultimate Bloody Mary at Anduzzi's is in a league all its own.
This Bloody Mary has cheese, sausage, buffalo chicken wings, jalapeño poppers, chicken and waffle sliders, and burger and pulled pork slider. You might need some friends to help you finish this one!
Check out Titletown!
Location: 1065 Lombardi Avenue, Green Bay, WI 54304
Titletown is the 45-acre master development plan just west of Lambeau Field. It features a large public park with outdoor games and a football field that anyone can use, plus an event space, playground, and a winter skating rink and tubing hill. I love visiting Titletown!
Visit The Automobile Gallery & Event Center
Location: 400 S Adams Street, Green Bay, WI 54301
The Automobile Gallery & event center displays around 80 incredible vehicles, and they are constantly rotating the vehicles that are on display. So, no 2 times you visit will be the same! Many of the automobiles themselves have come from a private collection, but most of them have been donated to The Automobile Gallery.
Adult ticket prices for the gallery are currently $10.
The gallery is also an events center. It's a cool place to host anything from a corporate event to a holiday party or even a wedding. This is such a unique place to visit in Green Bay!
Enjoy the Rides at Bay Beach Amusement Park
Location: 1313 Bay Beach Road, Green Bay, WI 54302
Bay Beach is great fun for both adults and kids! It's the 9th oldest continuously operating amusement park in the U.S. and has been a part of Green Bay for more than 100 years. It's also a very affordable thing to do in Green Bay. There are no admission prices or parking fees, and ride tickets only cost 25 cents apiece. and most of the rides here only require 1 or 2 tickets.
The most expensive ride at Bay Beach is the Zippin Pippin, which requires four ride tickets … so that will set you back an entire dollar. It's worth it, though! The Zippin Pippin is a super fun roller coaster and is a replica of Elvis Presley's favorite roller coaster!
The park's hours do vary throughout the summer season, and its opening and closing dates vary from year to year. Be sure to check their website before visiting, so you don't accidentally show up when they are closed!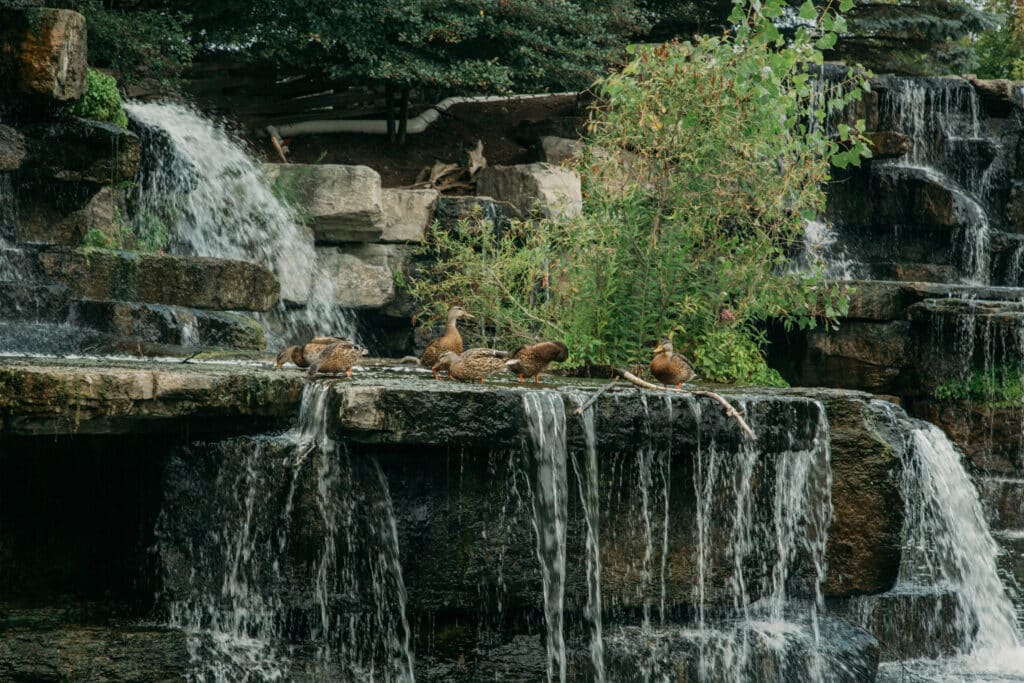 Visit the Bay Beach Wildlife Sanctuary
Location: 1660 E Shore Drive, Green Bay, WI 54302
Right across the road from the amusement park is Bay Beach Wildlife Sanctuary. This is a 600-acre nature preserve that features miles of hiking and skiing trails. They also have live animal exhibits and educational displays – which are a big hit with the kiddos.
Bay Beach Wildlife Sanctuary is the largest park in the Green Bay Park system and is home to the second-largest wildlife rehabilitation program in Wisconsin. They care for more than 6,000 orphaned and injured animals annually. This includes a pack of wolves you can visit among many other animals, birds, and insects who call Bay Beach Wildlife Sanctuary their home.
The sanctuary is open year-round and is free to visit.
Take a Ride on the Foxy Paddler
Location: 128 Dousman Street, Green Bay, WI 54303
Green Bay now has a pedal party boat you can rent for a 2-hour tour! It's a great way to see Green Bay from a different perspective.
The Foxy Paddler is a 22-person, pedal & gas-powered, pontoon bar boat. You can sit on one of its 12 bikes and pedal your heart out or relax in the lounge area at the front of the boat. The tour comes with a captain and first mate, so you can enjoy some beverages and take in the views of the Fox River and Green Bay. Peddling is not required, the boat is gas powered… but you can pedal if you want a little exercise!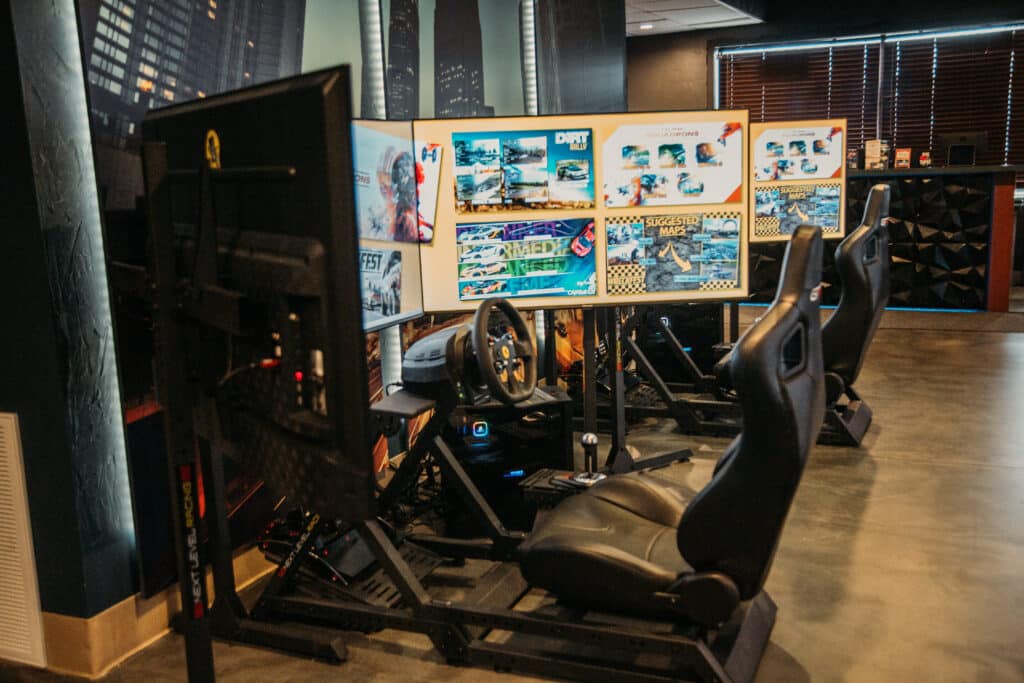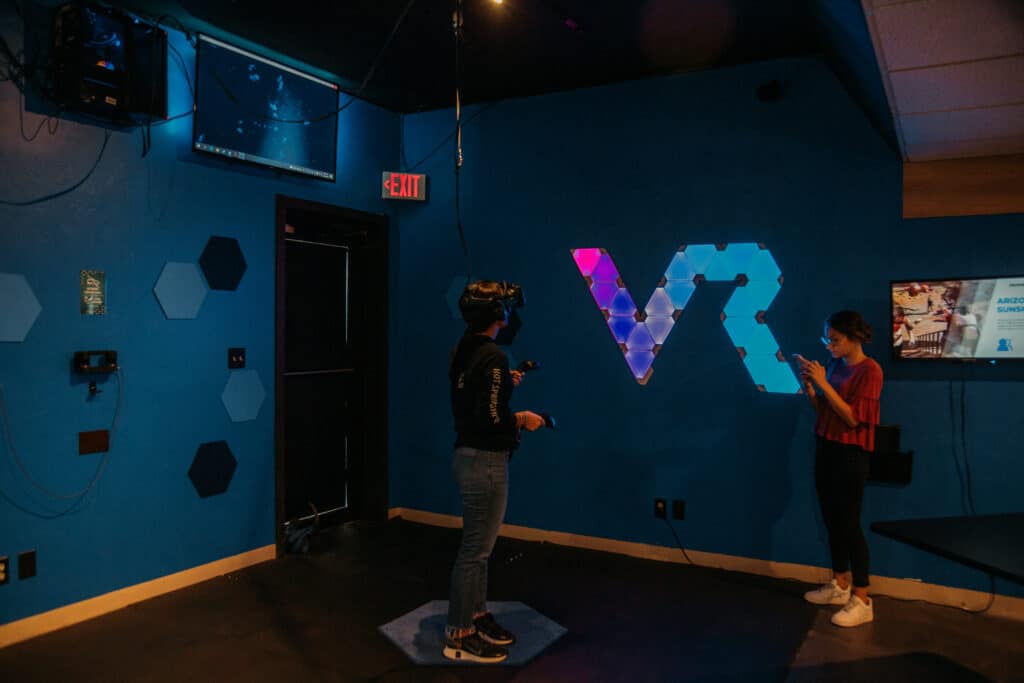 Get Your Game on at Edge VR Arcade
2642 Packerland Drive, Green Bay, WI 54313
Edge VR Arcade is Northeast Wisconsin's only Virtual Reality Arcade. This is honestly one of the coolest places in Green Bay, in my opinion. I love it here. They have over 80 games and they have something for everyone. From people with no experience to gamers who play professionally, everyone will feel at home and have fun here. They also have food like pizza, chicken, and cheese curds as well as soft drinks and beer for sale.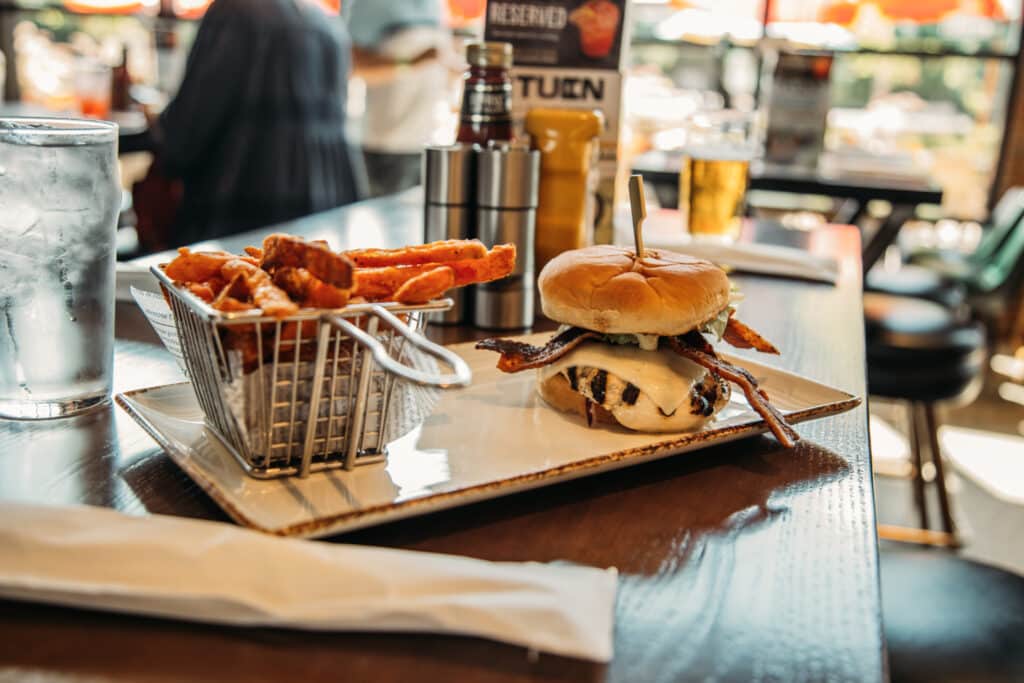 Dine and Play at The Turn
1025 Lombardi Avenue Suite 120, Ashwaubenon, WI 54304
Another fun option is to rent a Topgolf swing suite for an hour and choose from eight interactive gaming experiences that go beyond golf… like zombie dodgeball! The Turn also features hand-crafted cocktails and local brews and a menu that features fresh twists on American classics.
Explore the Green Bay Botanical Garden
Location: 2600 Larsen Road, Green Bay, WI 54303
Take a stroll through the Green Bay Botanical Garden and discover 47-acres of beautiful gardens and natural areas that really capture the beauty of Northeastern Wisconsin.
While the gardens are of course known for their beautiful summer blooms, they also have fun interactive displays for the kids – like this wetting zoo, where kids are encouraged to water the plants that are shaped like animals.
The botanical garden is open in the winter as well and has a beautiful light display around the holiday season! Adult admission is currently $12.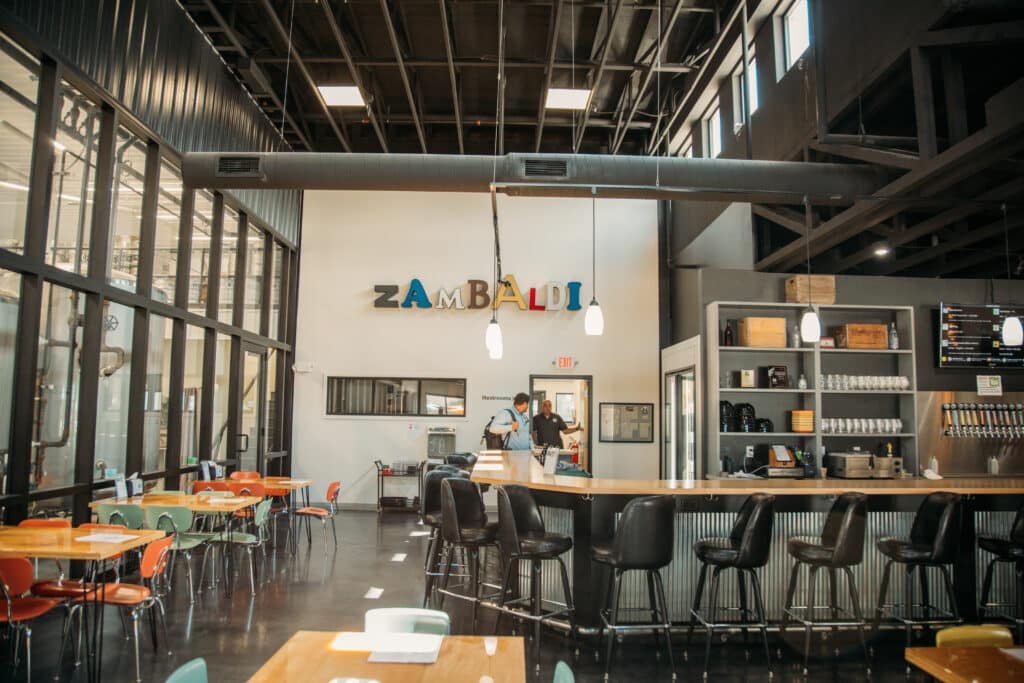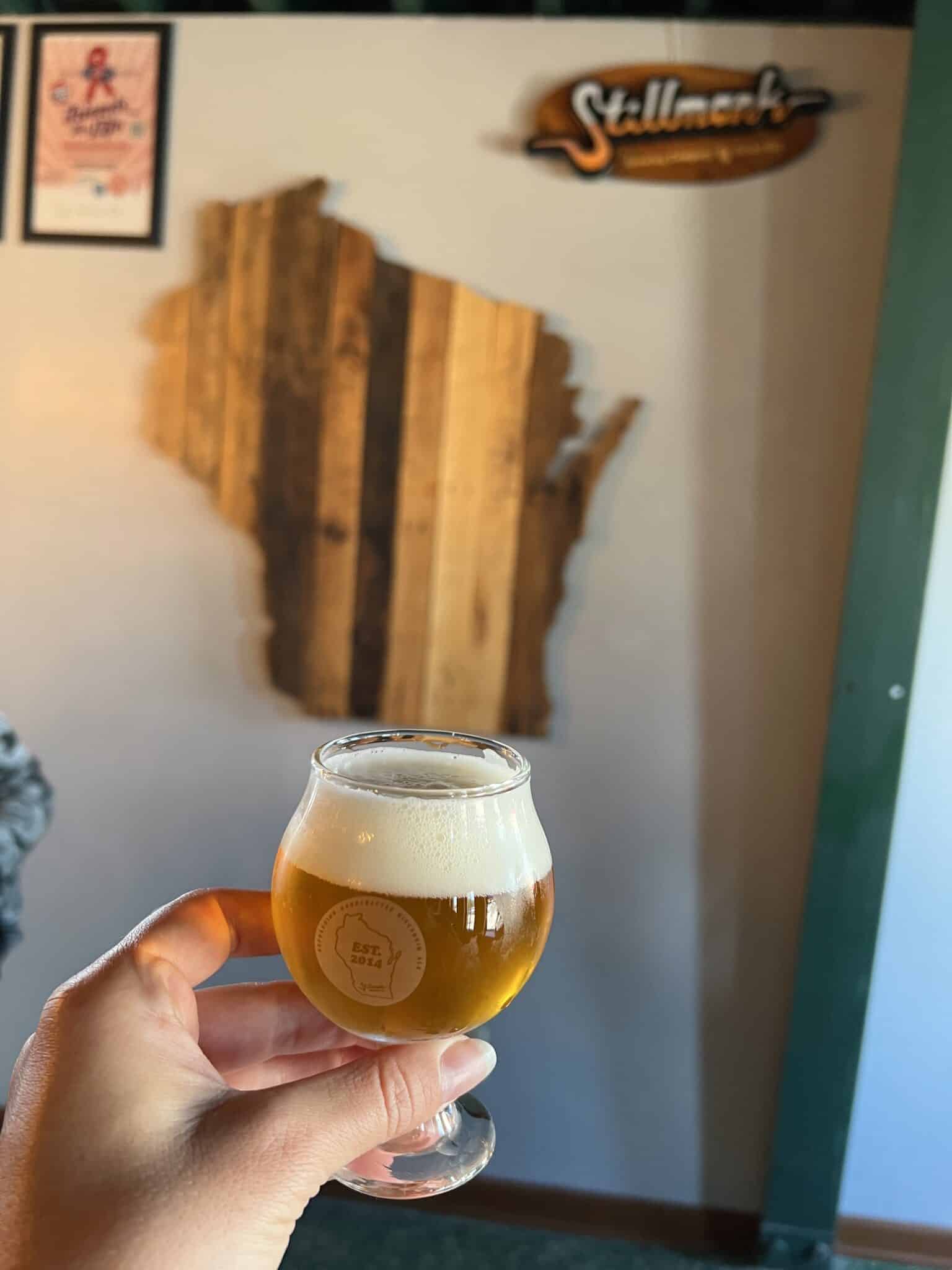 Visit Some Local Breweries!
No trip to Green Bay would be complete without indulging in a few beers. We currently have 13 breweries in Green Bay to choose from. They are all incredible! I, personally, like Zambaldi because it is a laid-back, family-friendly place to grab a beer. And If you aren't the biggest beer fan but still want to try some local brews, Stillmank has some wild fruit beers (like their Mango Philly) and incredible seltzers that are all very tasty!
Stay at the Radisson Hotel & Conference Center – Oneida Casino + Dine at Cedar & Sage
2040 Airport Drive, Green Bay, WI 54313
Right across the road from the Austin Straubel Airport is the newly renovated Radisson Hotel and the Oneida Casino. It's a great place to spend the night or just visit. The hotel was recently given a $23 million facelift and features a completely redesigned lobby, new guest rooms, and an indoor pool, a sauna, and a fitness center.
It's right next door to the Oneida Casino and it also features a fantastic onsite restaurant called Cedar & Sage – highly recommend this restaurant. It is inspired by the Oneida Nation and serves traditional foods, like bison filets from Oneida Nation farms and cheese curds made with traditional Oneida white corn. So good. Highly recommend their old fashioneds too!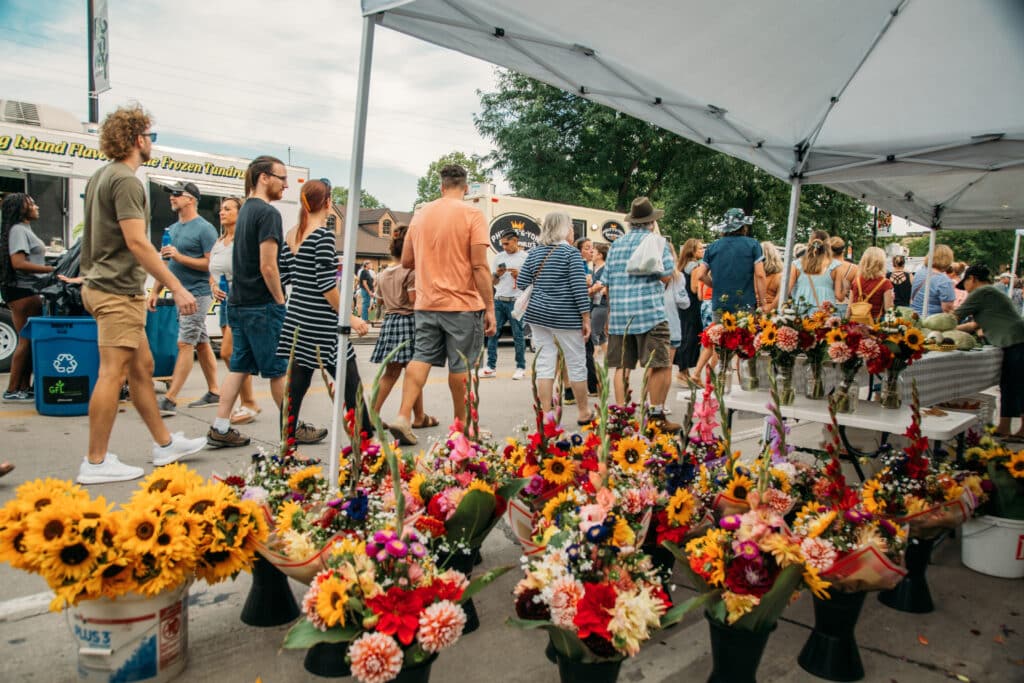 Shop the Downtown Green Bay Wednesday Farmers Market
Location: 211 North Broadway, Green Bay, WI 54303
Broadway street closes on Wednesday nights for pedestrians during the warmer Wisconsin months and features a fantastic farmers market. In addition to your normal produce and such, there are food and beverage trucks, live bands… and it's A-OK to sip a beer and walk the market!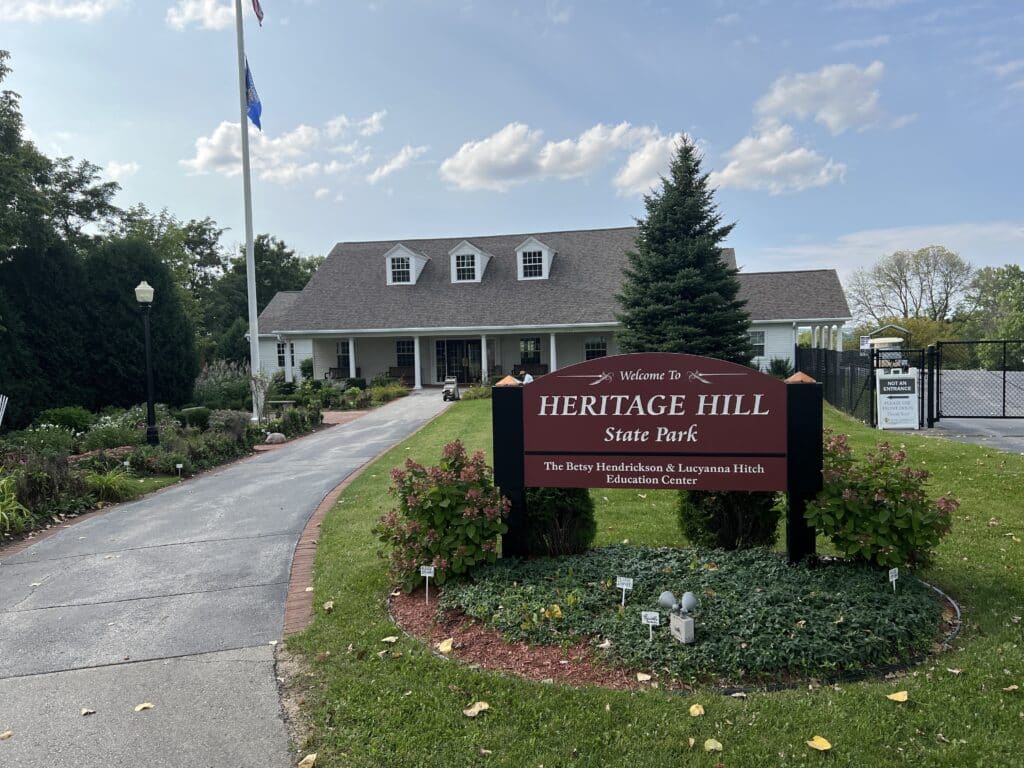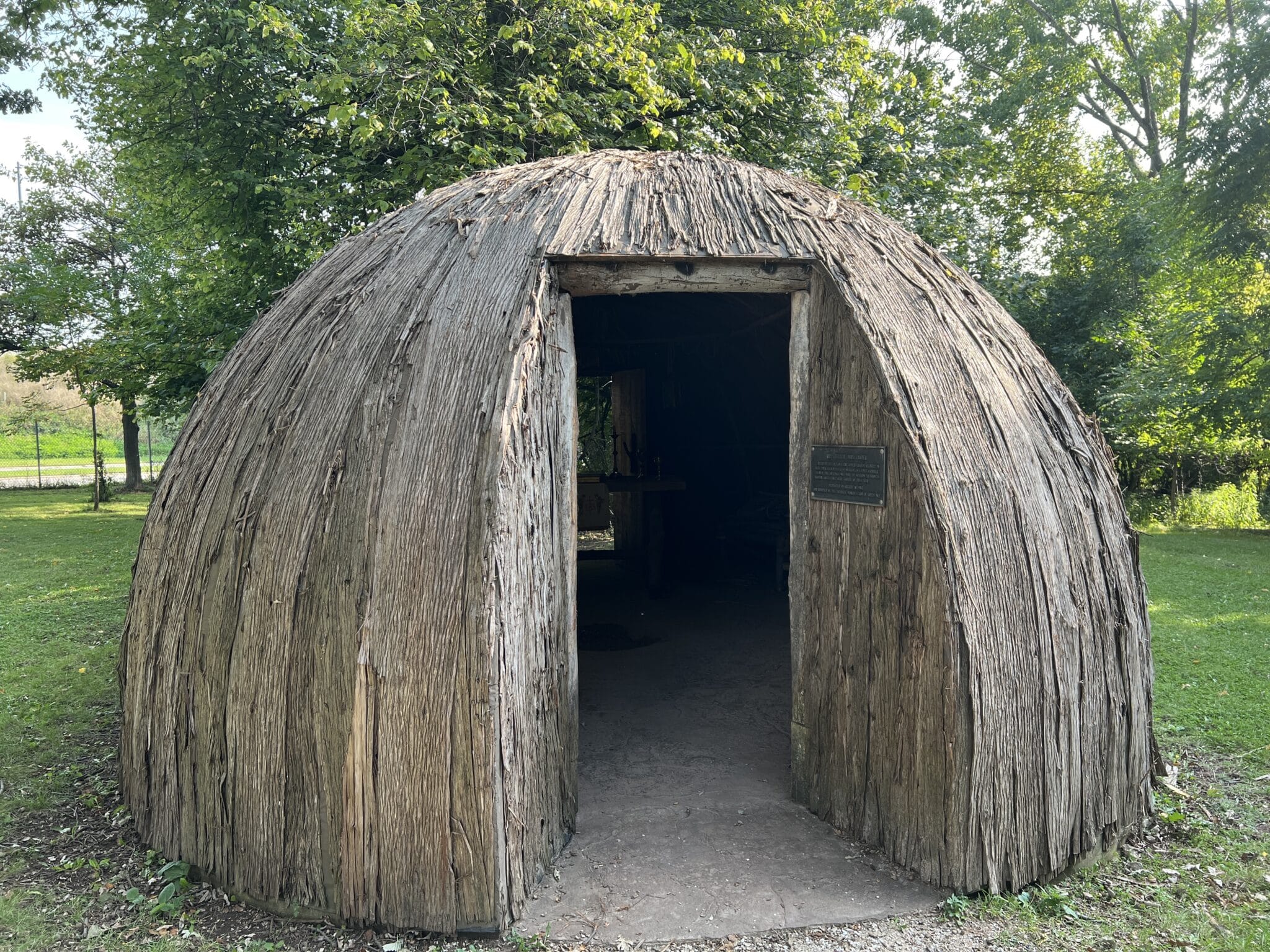 Go Back in Time at Heritage Hill State Historical Park
2640 S. Webster Ave. Green Bay, WI 54301
History lovers will enjoy Heritage Hill – which is a 56-acre open-air museum that features structures and artifacts from Wisconsin's past — such as the fur trade in 1762, Fort Howard in 1836, and more.
The park also features interpreters on certain days that will be dressed in historic clothing and will be able to give an incredible amount of information about the buildings and history of the Green Bay area. They really bring the place to life! I highly recommend going at a time when there are historic interpreters available. You can find out the exact times they are there by calling Heritage Hill's front desk. (920) 448-5150
Admission for adults to Heritage Hill is currently $12.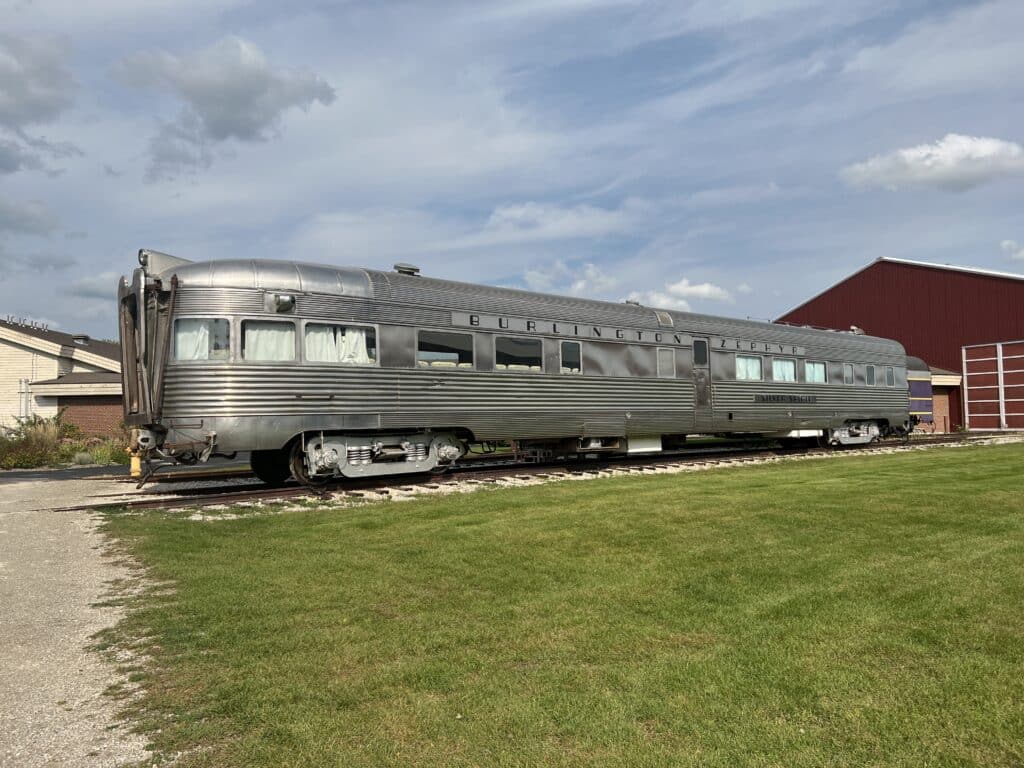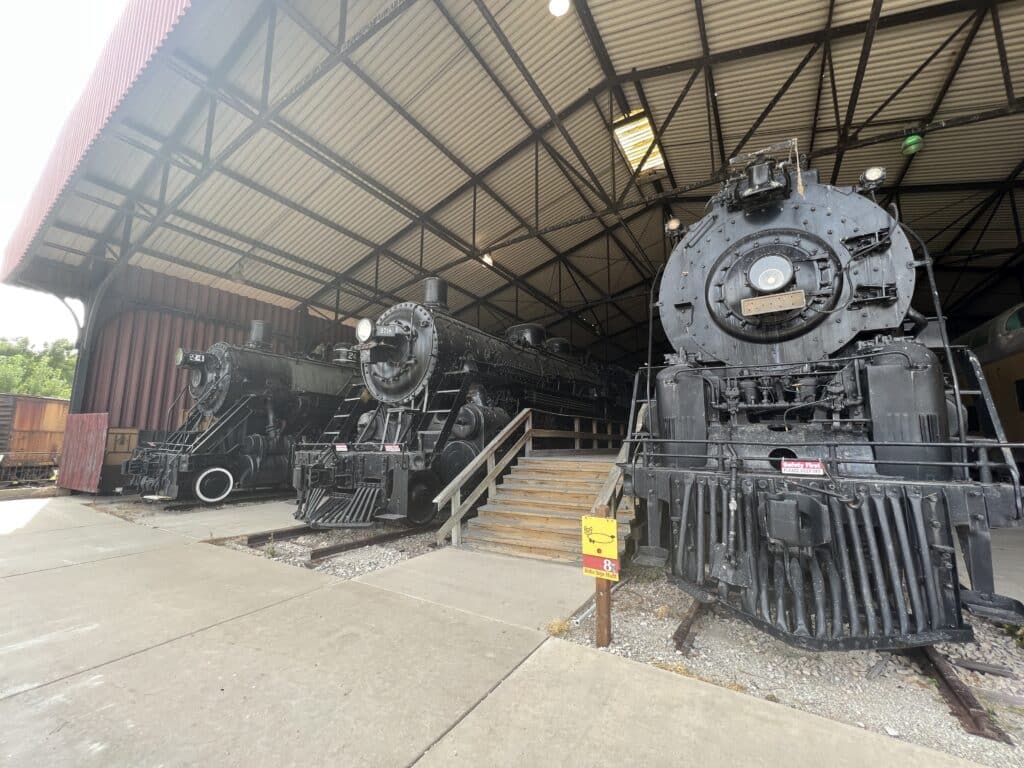 Check out the National Railroad Museum
2285 S Broadway, Ashwaubenon, WI 54304
The National Railroad Museum is one of the oldest institutions in the U.S. dedicated to preserving the nation's railroad history. This museum houses more than 70 locomotives and rail cars. It's another cool place for both adults and children, as you are able to go inside many of the trains and explore! The National Railroad Museum also offers train rides daily from May through September, and on the weekends in October.
Current ticket prices for adults are $12.
Try North America's Best Kringle at Uncle Mike's Bake Shoppe
A kringle is a danish pastry that has a filling and is traditionally in a pretzel shape. It has 36 layers of dough and butter, making it very flaky and delicious. Uncle Mike's Bake Shoppe has won tons of awards for their Kringles, but most notably, they won the best Kringle in North America award for their Sea Salt Caramel kringle (pictured above).
Visit The NEW ZOO!
4378 Reforestation Road, Green Bay, WI 54313
After you've had your Kringle head over to the NEW Zoo! The NEW Zoo features more than 200 animals! They have quite a variety – from lions and bobcats to badgers and prairie dogs. There are also geese and peacocks that roam freely throughout the zoo. My favorite thing to do here, though is feed the giraffes!!
The zoo also features fun annual events like the Halloween Zoo Boo bash complete with candy and games for the kids!
The current NEW Zoo ticket prices are $11 for adults and $8 for children.
Walk the Neil Anderson Canopy Tour
4378 Reforestation Road, Green Bay, WI 54313
And now there is also the Neil Anderson Canopy Tour at the NEW ZOO– This tour takes you on a treetop walk from the Adventure Park to the NEW Zoo. You'll go through trees and even cross over animal habitats.
Ticket prices for adults are $8 and $6 for kids.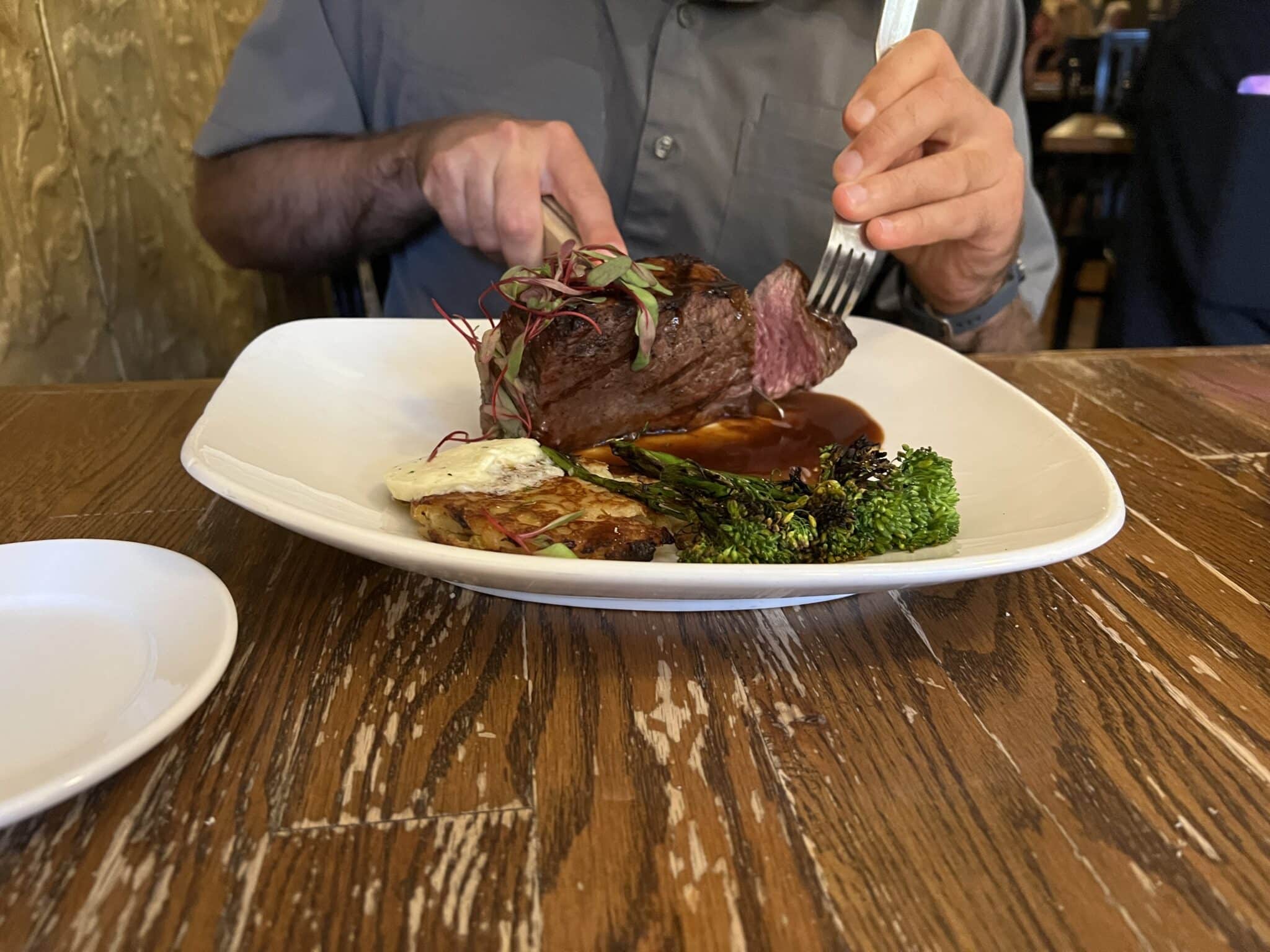 Bonus tip…
Unfortunately, the NEW Zoo's onsite restaurant has not been open since COVID, so if you need a bite to eat after visiting the zoo – I highly recommend heading over to Chives Restaurant, which is just a few minutes drive from the zoo. I LOVE their old-fashioned, crab cakes, and their butternut squash ravioli. Just be sure to make a reservation as they do get very busy.
Have Dinner at The Union Hotel
200 N Broadway, De Pere, WI 54115
Speaking of food, I have to include the Union Hotel. This is one of the coolest spots to dine in Northeast Wisconsin in my opinion. While it is in De Pere and not technically Green Bay, it still deserves a mention on this list.
The Union Hotel is a classic Wisconsin supper club and is listed on the National Register of Historic Places. It also just might be haunted…
It has a beautiful art deco bar area and a vibrant dining area. Of course, you have to get an old fashioned here, it's a supper club requirement. They also have amazing steaks… although, I like their scallops and tuna steaks too.
The Union Hotel does still rent rooms to interested parties too – you have to call to book, though.