A Stylish & Packable Travel Dress (With Pockets!)
I am on a roll with finding some fantastic travel dresses this summer! This dress is not only packable and wrinkle-resistant… it's cute and stylish, to boot.
It's also incredibly comfortable and versatile (I'm styling it with both heels and sandals in this post). However, the best part of this dress is that it HAS POCKETS. I repeat IT HAS POCKETS.
Make sure to check out my complete list of the BEST travel dresses here!
A Stylish & Packable Travel Dress (With Pockets!) by Karina Dresses
This is another fantastic dress made by my friends over at Karina Dresses. (I featured another travel dress by them here.) They are a small US-based dress company that specializes in making dresses that are comfortable and can easily go from day to night. (I can attest that my dress is all of these things!) They are also very size-inclusive, and their dresses range in size from XS-4X. I also love that their dresses are all made in the US!
The Fit of the Karina Dresses Nora Travel Dress
This dress is the new Nora Dress in Prairie Clover, which is a dress with a crossover V-neck bodice and slightly capped sleeves. The waistband falls right under the bust line, and it has a full-circle, knee-length skirt. (And don't forget – it has pockets!!)
I had initially been a little concerned about how this dress fits through the bust area, as it's a lower cut than I normally wear. However, it stays right where it should and never is too terribly revealing.
This dress also runs LARGE. I am generally a size medium (or size 6) in most clothing brands; however, for this dress, I am an extra small! So, read the size chart before ordering.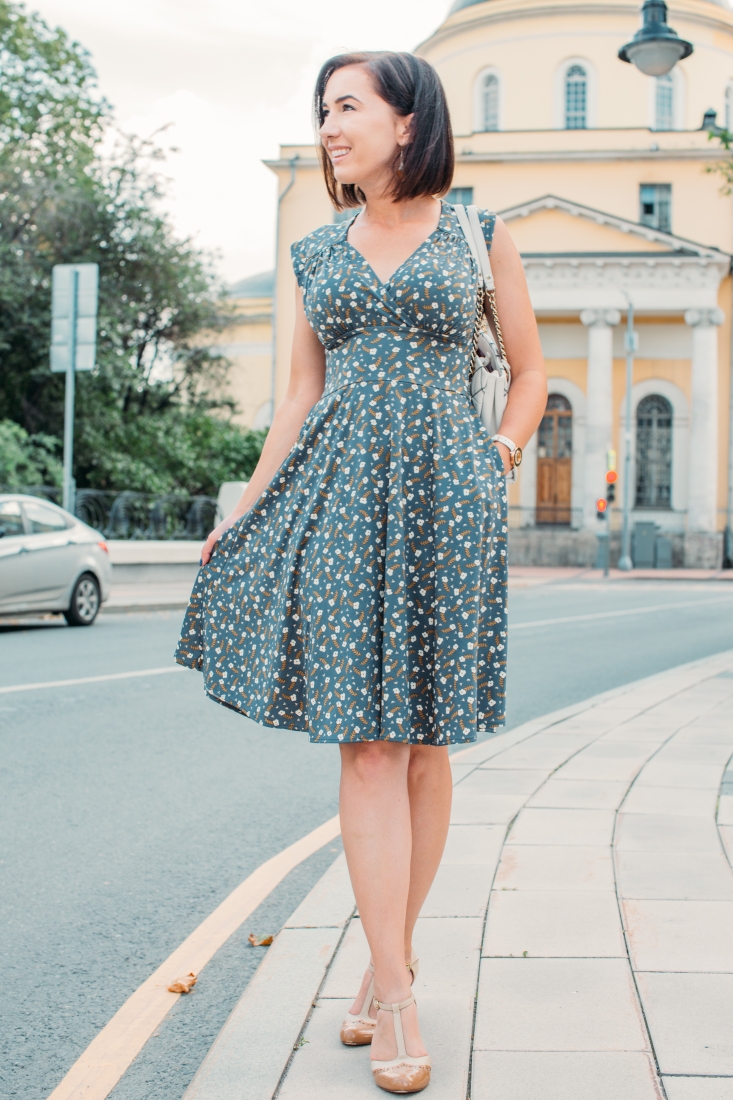 What's the Quality of Karina Dresses?
Again, I am blown away by the quality of this dress! It is worth every penny. I love how well it breathes, and that I can throw it in the washing machine. It's also wrinkle-resistant! So, it's fantastic to roll up and pack into whatever kind of luggage you are using.
Any Negatives of the Nora Dress by Karina Dresses?
The only negative for me about this dress is that the bust is a little lower cut than I'm usually comfortable wearing. However, that's nothing a cami couldn't fix. And honestly, it is low cut, but the fit isn't exactly showing any cleavage. It's low-cut while still being modest, in my opinion.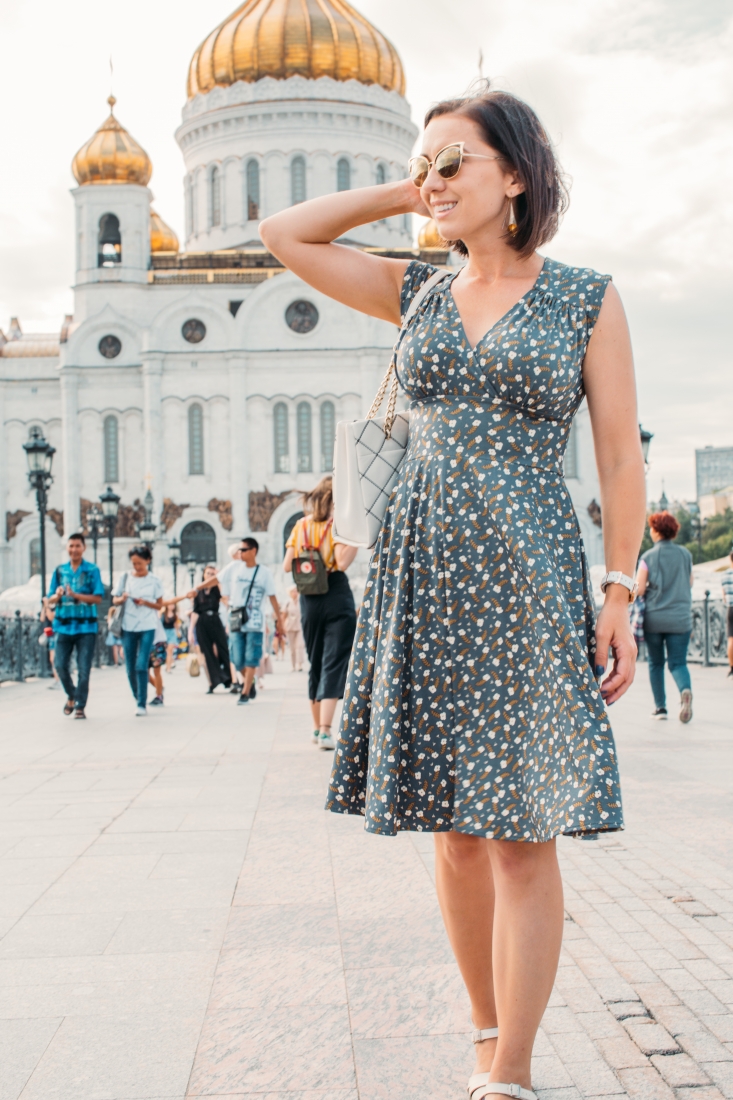 Where Have I Worn This Travel Dress?
The first time I wore this dress was to dinner with my husband. We went to a nice little restaurant near our apartment in Moscow and then went for a short walk around the block. (We didn't venture too far that day as there were some more protests happening in the city, and we didn't want to get mixed up in any of that.)
The next time I wore this dress was for a nice long stroll down to Gorky Park and the Cathedral of Christ the Saviour. There's a little market at the park on Sundays we like to check out and then grab some shwarma and eat it along the river. It's a nice way to spend a Sunday.
This dress was perfect for a dressier occasion with heels, but it worked equally as well for a low key day of walking and exploring with a comfy pair of sandals. I love a dress that can be worn for a variety of occasions and still be comfy! Needless to say, I am still in love with Karina Dresses! Does anyone else have a dress made by Karina Dresses? Let me know in the comments!
*Thank you to Karina Dresses for sponsoring this post. As always all opinions are my own, and I am never compensated for a positive review. I do, honestly, REALLY love this dress!
Click here to see my complete list of the best travel dresses!
Source List: Where to Find My Complete Travel-Friendly Outfit
Dress: c/o* Karina Dresses
Heels: Chelsea Crew
Sandals: Salt Water Sandals
Watch: c/o* Timex
Sunglasses: Old (Similar pair here)
Earrings: Etsy
Bag: Kate Spade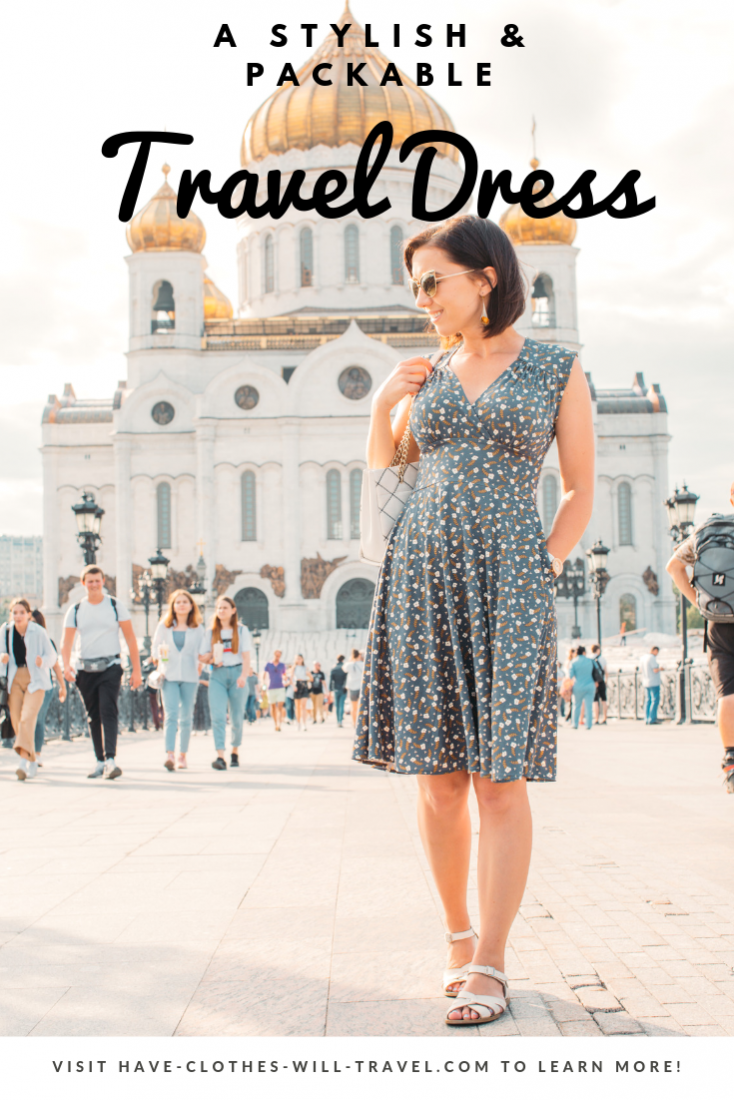 *Disclosure: some of these links are affiliate links. Meaning, if you click a link and make a purchase, Have Clothes, Will Travel gets a very small commission at no extra cost to you. Thank you for supporting the brands that make this blog possible! I am also a participant in the Amazon Services LLC Associates Program, an affiliate advertising program designed to provide a means for us to earn fees by linking to Amazon.com and affiliated sites.
*c/o = courtesy of, meaning the company gave me the product to be used on my blog, and I did not pay for it. All opinions are my own, and I am not being compensated for a positive review.