21 of the Coolest VRBO Rentals in Orlando, Florida
Searching for fun VRBOs in Orlando? This post has you covered! From luxury villas close to Disney to cozy 1-bedroom cottages, there's a vacation rental in here for everyone!
Orlando is more than just the theme park capital of the world. Of course, Walt Disney World and Mickey Mouse are a must-see when in the city, but those looking for more than amusement parks, won't have any trouble finding fun adventures in Orlando.
From helicopter rides to clear kayaking tours, and even airboat rides and snorkeling with manatees, there's a little something for everyone in the Orlando area. Consider staying a while, and when planning your trip, consider these awesome vacation rentals to fully experience Orlando the fun way!
*Disclosure: some of these links are affiliate links. Meaning, if you click a link and make a purchase, Have Clothes, Will Travel gets a very small commission at no extra cost to you. Thank you for supporting the brands that make this blog possible!
The Coolest VRBOs in Orlando
Luxury Homes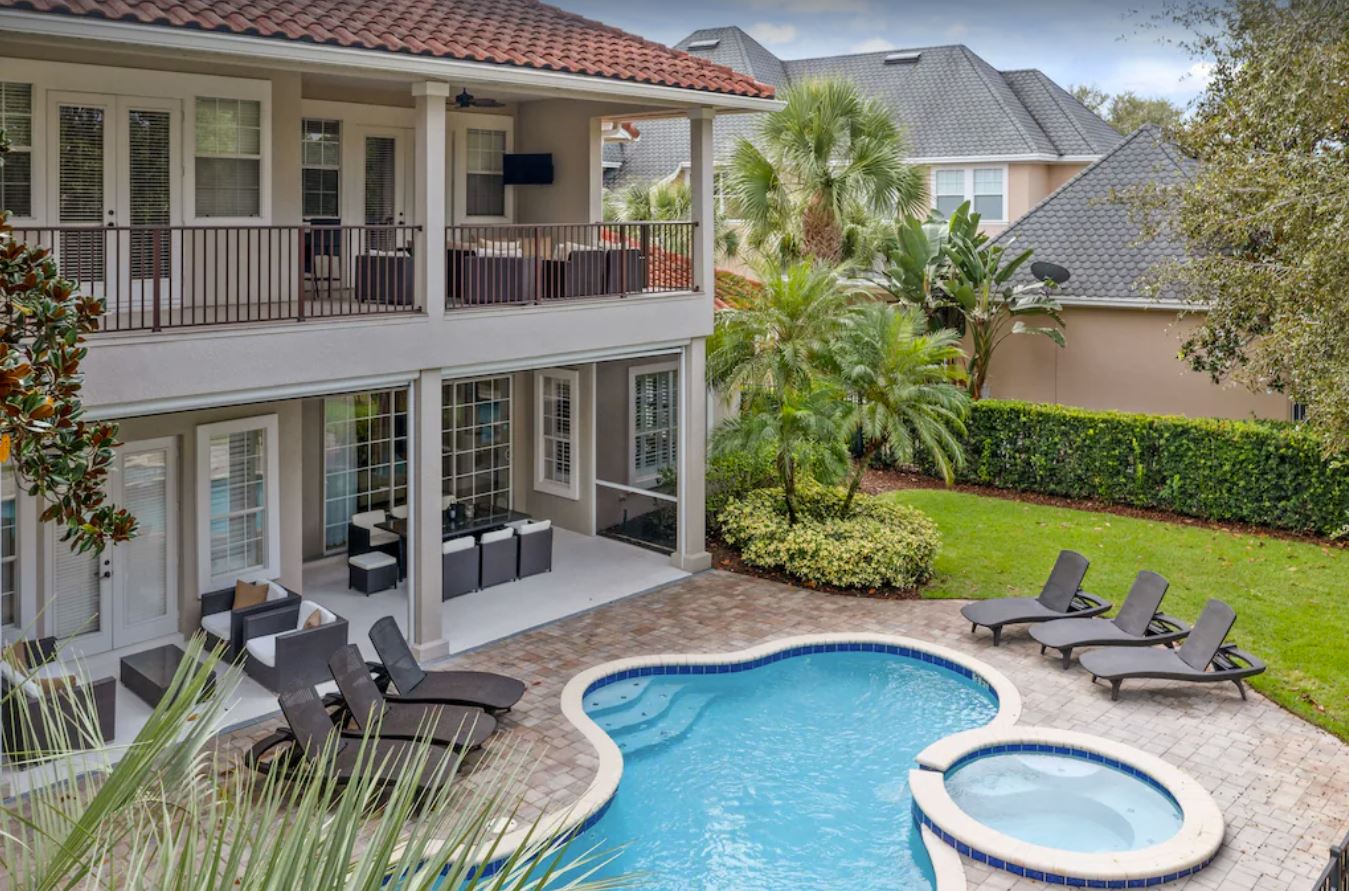 Contemporary 6-bedroom Luxury Home with Pool (Close to Disney!)
Those with a penchant for modern luxury décors will find this newly-renovated 6-bedroom home cozy and welcoming. It features an 11-seater cinema room for indoor entertainment; while outside is a landscaped pool area complete with changing LED lights and a shaded patio with outdoor chairs and loungers. Guests will also enjoy the added amenities including a full-service spa, fitness center, and scenic walking trails since the property is located in Reunion Resort.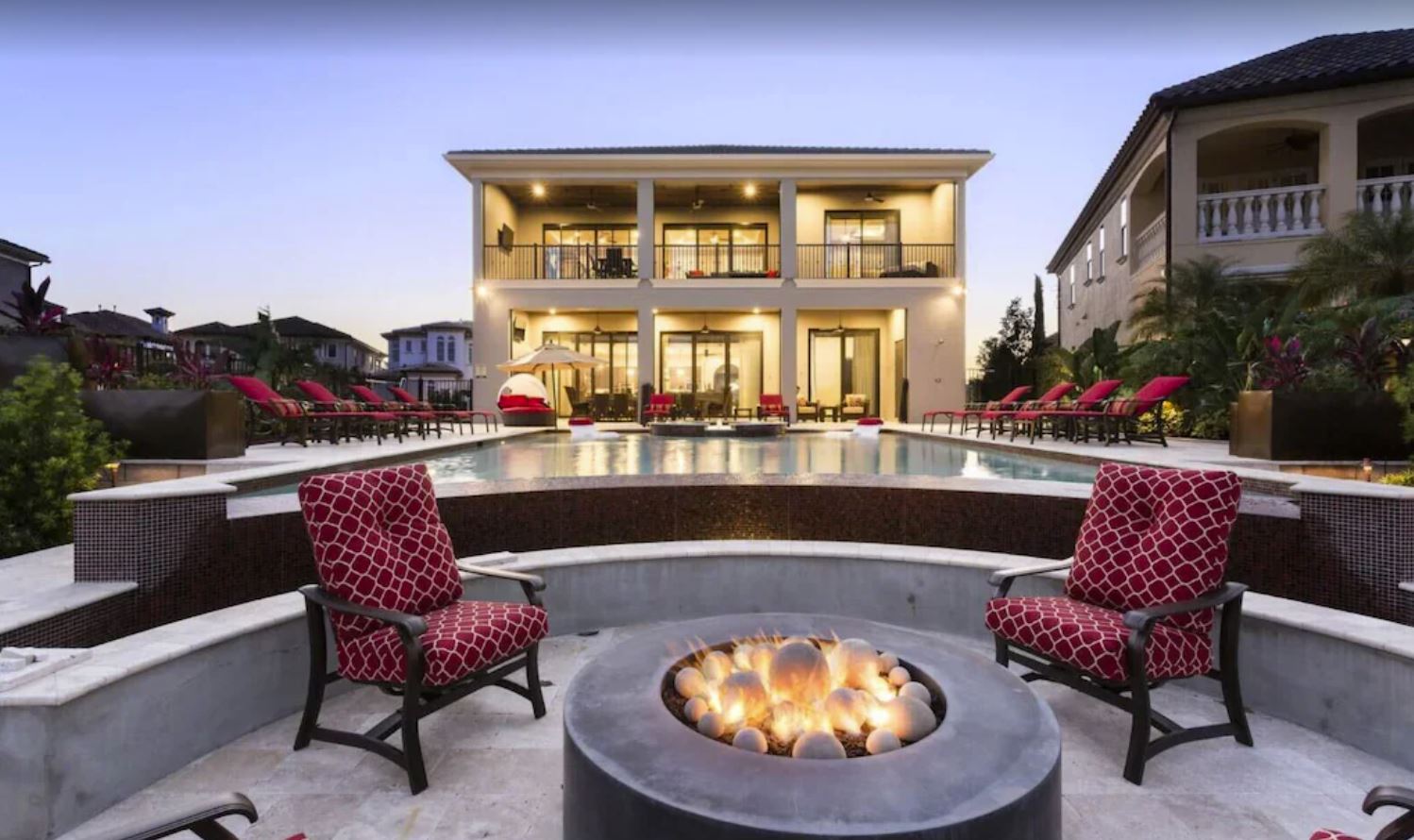 Spacious 8-bedroom Mansion with Pool and Indoor Basketball Court
An ideal rental for large families and groups of friends staying in Orlando for a week, this 8-bedroom mansion features a Disney-themed room for the kids and a spacious living area overlooking the pool deck. There's an indoor basketball court as well as a home theatre for entertainment; while the outdoor features an infinity-edge pool with a spa and a covered lanai.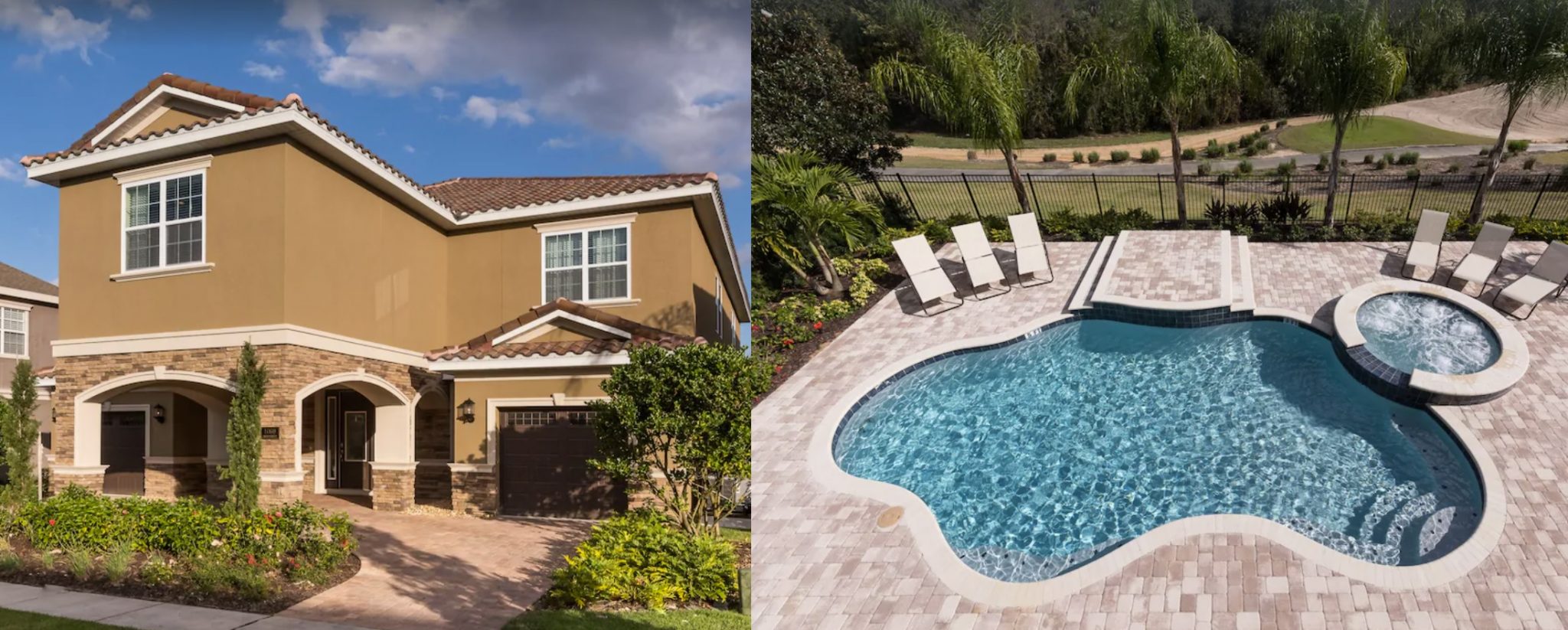 Luxury 13-bedroom Home with Large Pool and Spa
Morning coffee and evening cocktails are more fun in this spacious 13-bedroom, 13-bathroom home with access to Reunion Resort amenities. There's an eight-seater theater room with a popcorn maker and fun themed rooms for kids. Hangout areas are the bar adjacent to the game area and a large private pool and spa with patio seating for 12 persons.

Beautiful 11-bedroom Estate with Large Private Pool
Unwind in this grand 11-bedroom estate featuring a large private pool with a hot tub, a covered lanai with barbecue amenities, and two sets of cozy sectional seating and sun loungers. The balcony also has comfortable accent chairs and love seats for morning coffees. Indoor amenities also include a private gym, home theater, and a themed game room with a foosball table and arcade machines.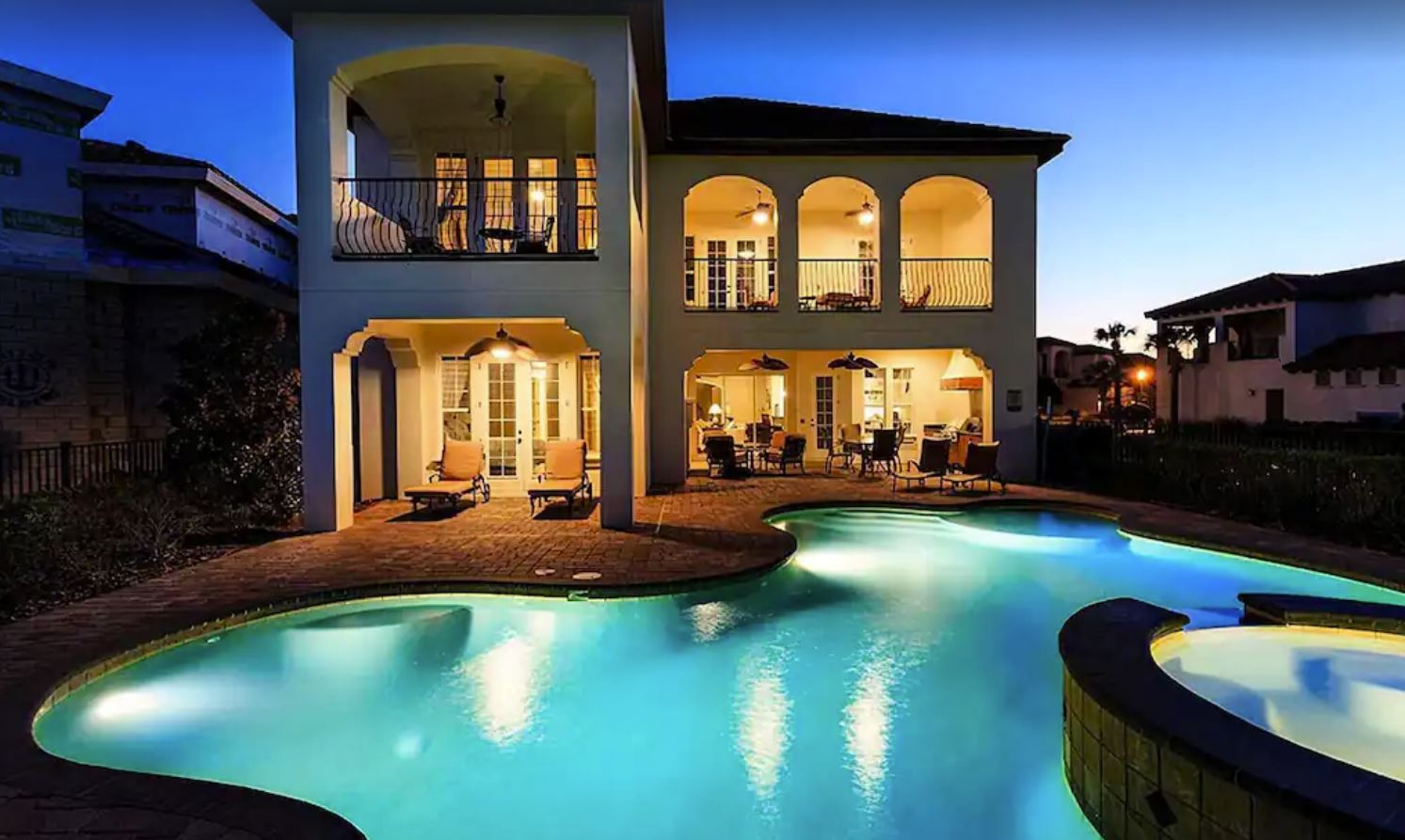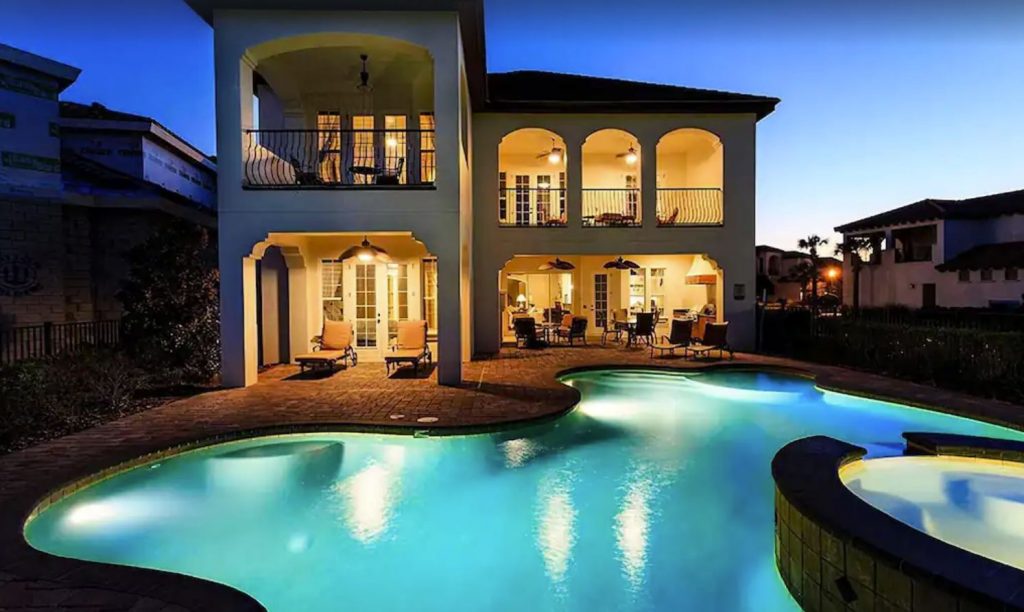 Classic 6-bedroom Home with Private Pool and Spa
An inviting place to relax in after a theme park excursion, this 6-bedroom, 9-bathroom home features a striking architecture with cozy interiors seen in its living room space, 10-seater dining room area, and a fully equipped kitchen. Guests will also have access to a large private pool with spa and a spacious lounging deck.
Incredible Newly-renovated 6-bedroom Modern Home with Private Pool
A clean and spacious newly-renovated 6-bedroom modern home with amazing lake and sunset views. It's built as a smart home with voice controls for electronics and has dedicated workspaces for guests wanting to catch up on remote work assignments. There's a private pool with lanai so guests can relax after a day of touring.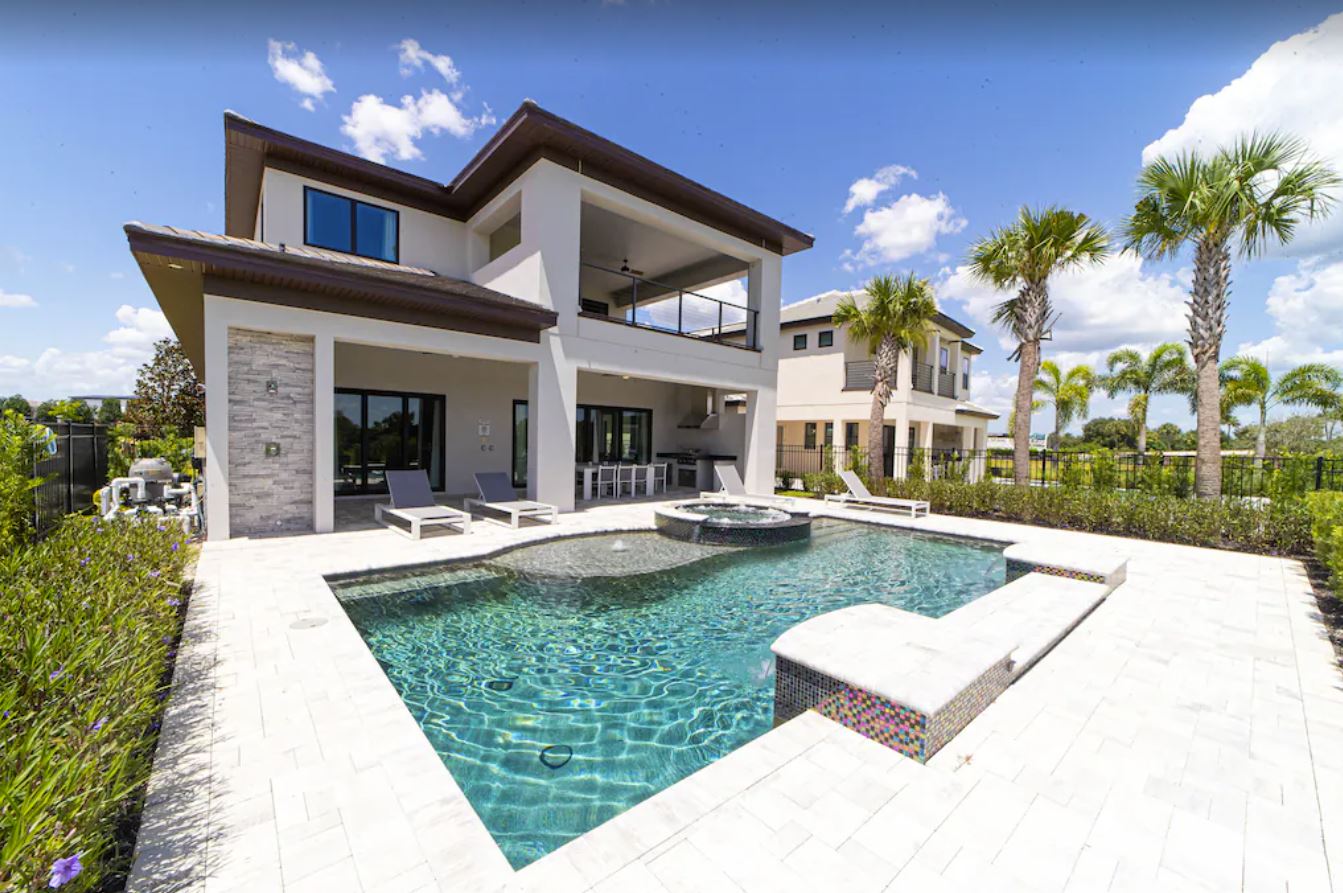 5-bedroom Modern Vacation Rental with Resort Amenities
This curated vacation rental is a mix of home comforts and luxury resort amenities. It features a 5-bedroom, 6-bathroom setup that accommodates up to 10 people and concierge services to cater to guests' needs. Biking trails, a fitness center, and kids' playground are available within the area, as well as large pools with cabanas.
8-bedroom Resort Style Home with Pool and Luxury Amenities
An Orlando vacation outfitted with luxury resort amenities is one to try, and this 8-bedroom, 9-bathroom vacation rental delivers. Suited to any type of guest grouping, the spacious property features a full-size kitchen, dining area, and an outdoor pool with cabanas. Water activities and a full-service spa are also available on site.

Delightful 6-bedroom Home with Private Pool and Theatre
Feel right at home in this 6-bedroom, 7-bathroom vacation rental featuring a spacious living area with a fireplace and a full kitchen. Each room is furnished with a flat-screen television. The top-level has a fully-furnished loft with balcony access. Guests' favorite feature is the private swimming pool with spillover spa and sun loungers.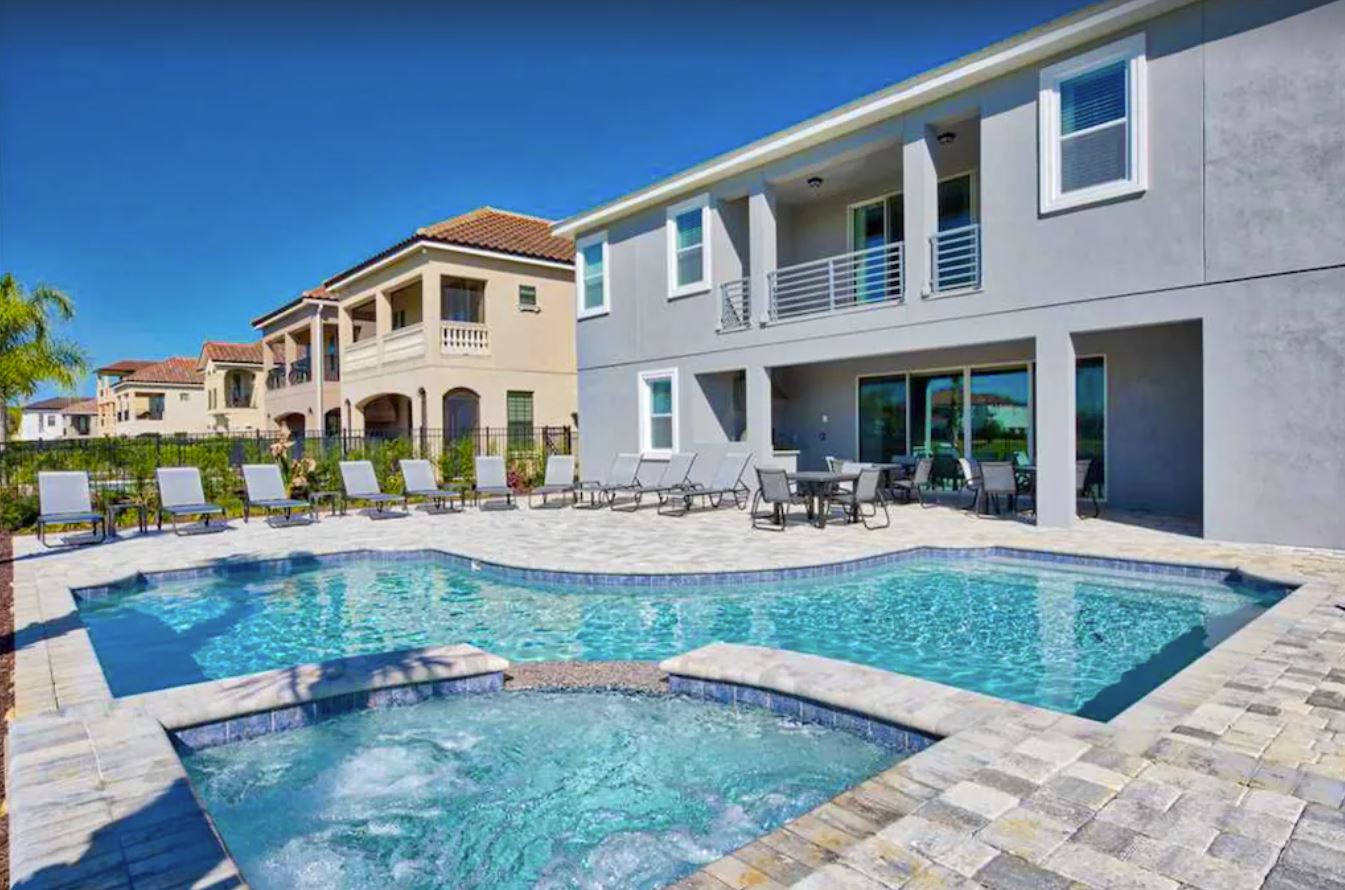 Expansive 13-bedroom Home with Private Pool and Golf Course View
Have a wonderful stay in this expansive 13-bedroom home boasting modern decors and a welcoming ambiance for up to 30 guests. It has a fully-equipped kitchen for cooking large meals, or if outdoor cooking is more preferred, there's a gas grill available by the outside patio. There's also a big private pool overlooking the golf course where guests can lounge in.
Cottages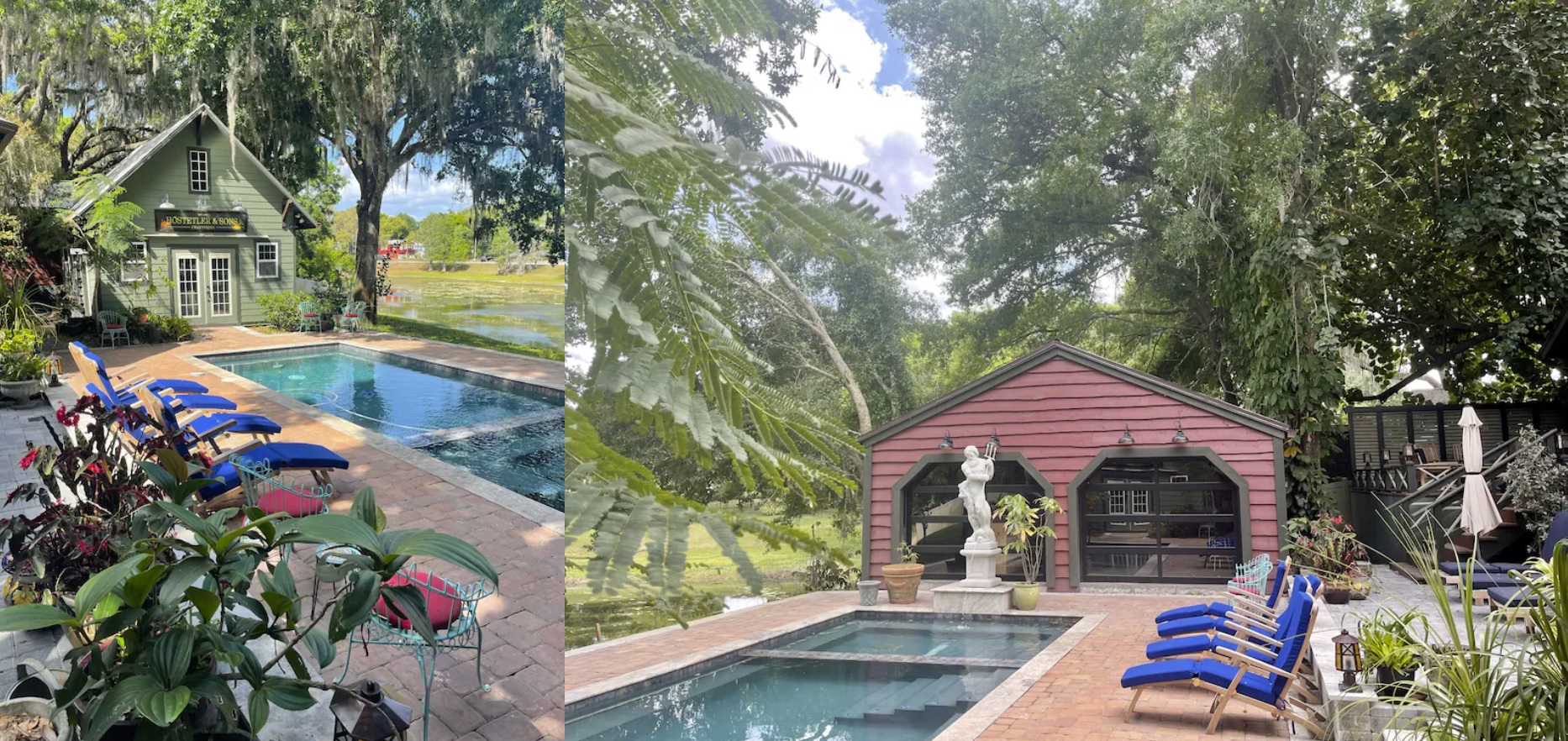 Cozy 2-bedroom Cottage with Pool by the Lake
An idyllic, 2-bedroom, 1-bathroom cottage for solo travelers and romantic getaways. There's a small deck overlooking a lake and a dedicated workstation with supplies, as well as a full kitchen with amenities for daily cooking. The pool, gym, and spa access are available for a fee. The property is also close to nature and dog parks—an ideal place for those bringing their pets on vacation.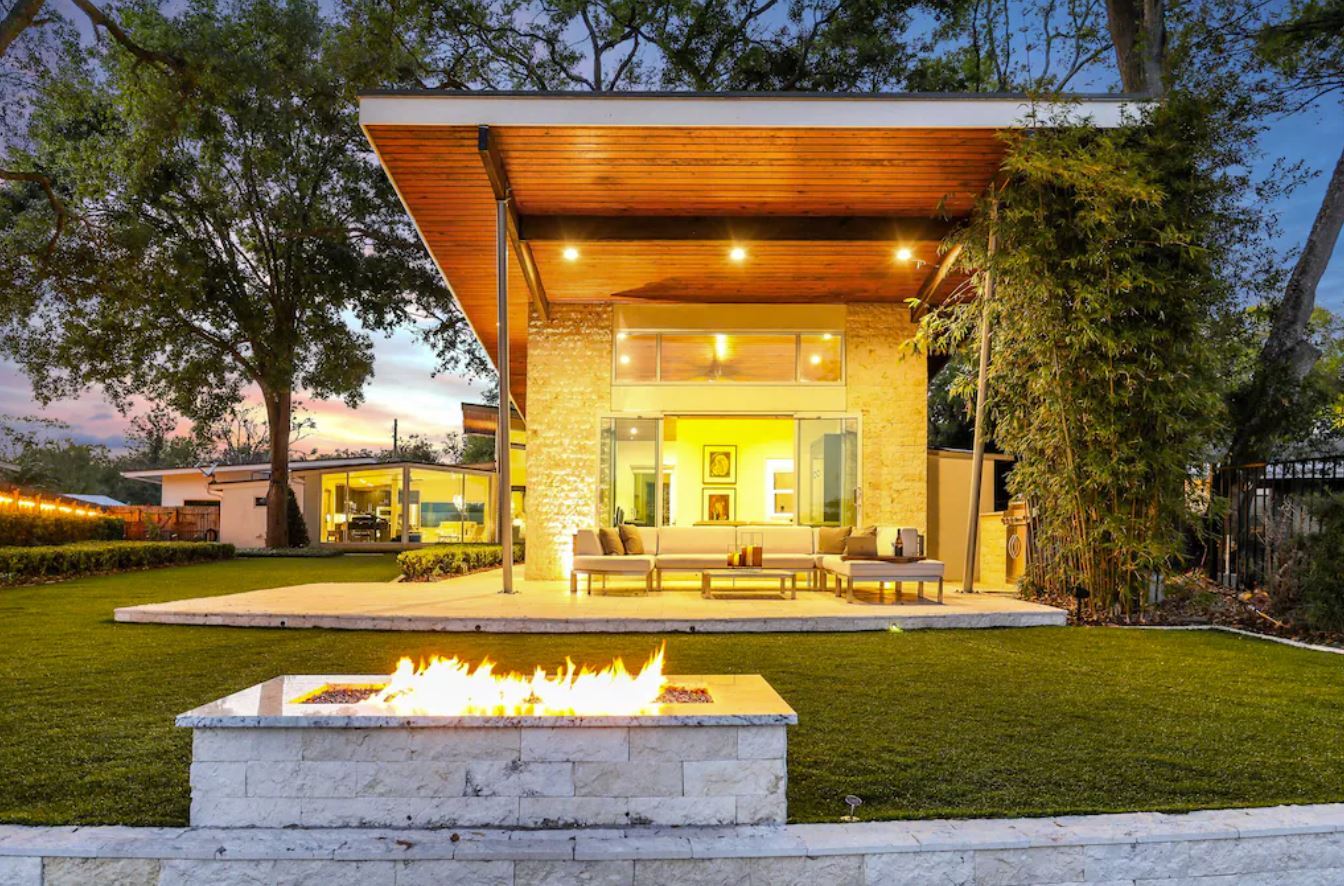 Euro-style 1-bedroom Lakefront Cabana with Modern Amenities
This 1-bedroom cabana is all about comfort, ambiance, and style for solo guests and couples. The cozy property is situated right on the shore of Lake Shannon, so guests can expect spectacular sunset views on the dock while sipping their favorite glass of wine. It's also a 5-minute walk to restaurants and shops for guests wanting to check out the local scene.
[convertkit form=2769064]
Townhomes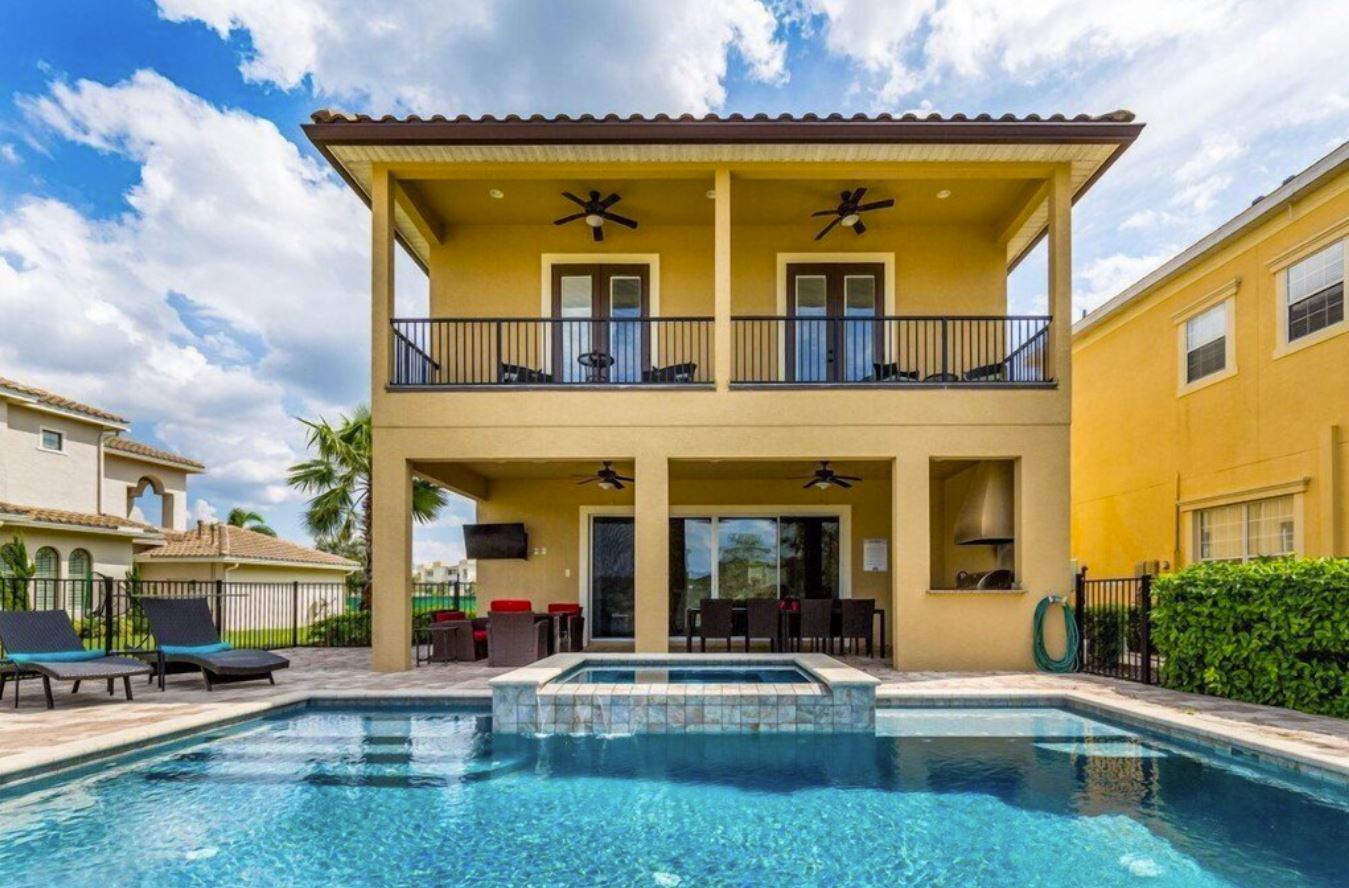 7-bedroom Vacation Townhome with Private Pool and Spa
This beautiful vacation townhome features a 7-bedroom, 7-bathroom setup that can accommodate up to 14 persons. It has a fully-equipped kitchen and a spacious living room where families can eat and relax together. Guests will also have their own private pool with spa after a long day of touring some of Orlando's best attractions.
Luxury Villas
Newly-upgraded 7-bedroom Luxury Villa with Private Pool
A newly upgraded 7-bedroom, 6-bathroom luxury villa located in Formosa Garden Estates. It has every amenity a large family would need, including an enclosed large heated pool with a Mickey Mouse-shaped one for the kids. There's also a large outdoor summer kitchen and lanai for hosting fun barbecue parties.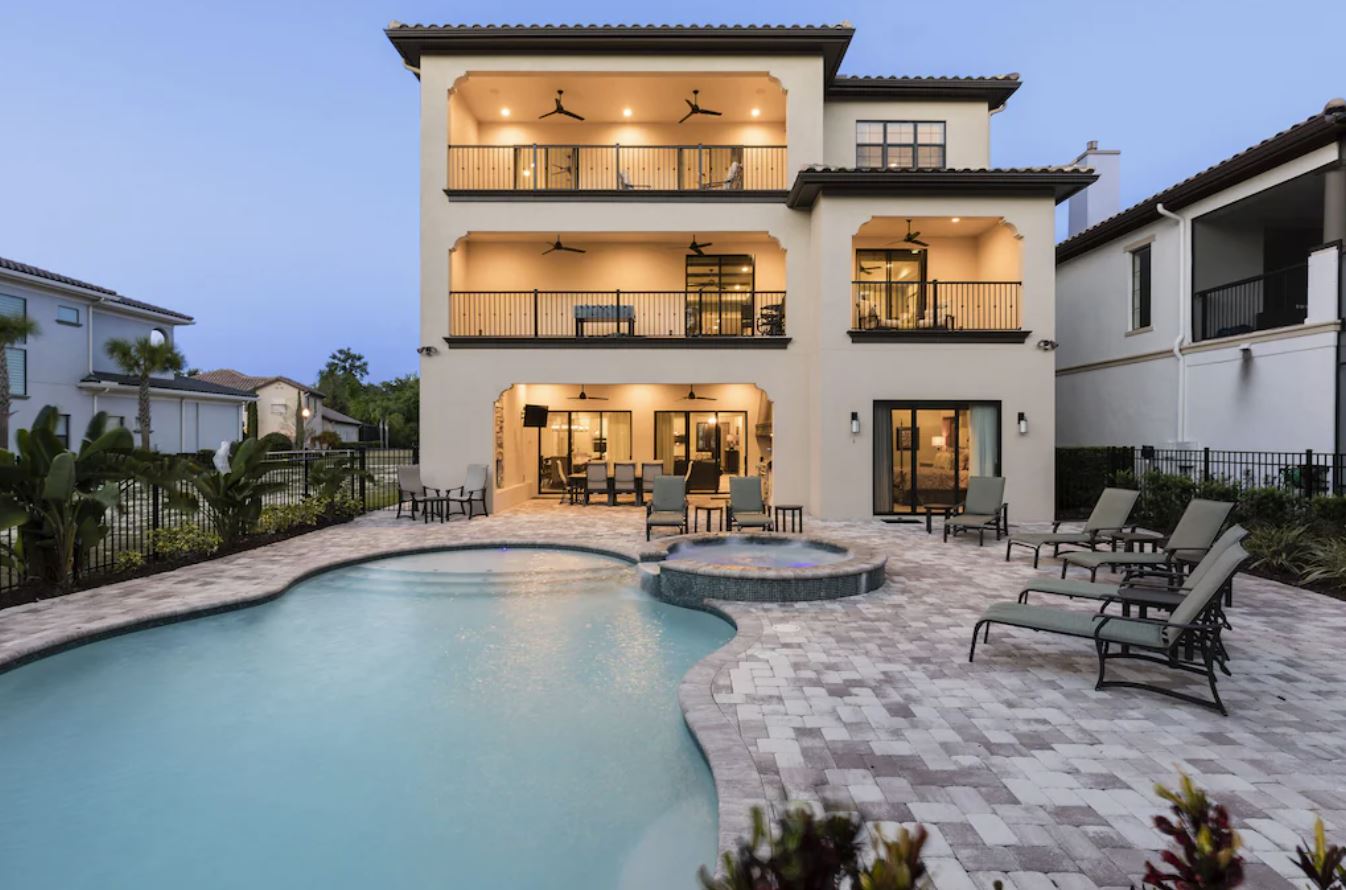 New Luxury Vacation 3-story Villa with Pool and Resort Amenities
This 3-story 12-bedroom luxury villa features three themed rooms: Beauty and the Beast, Avatar, and Star Wars. It also has a Harry Potter-themed game room with arcade machines and an air hockey table. Outside is a large private pool with a spillover spa, waterfall, and grotto features, as well as a summer kitchen with a fireplace and lanai.
Luxury 4-bedroom Mediterranean Villa on Golf Course with Pool
A dream Orlando vacation featuring an old-world Mediterranean design with multiple balconies. Modern amenities include a theatre, game room, gourmet kitchen, and a large tranquil swimming pool. There's also a lanai with a summer kitchen equipped with barbecue amenities and a dining area with granite countertops that accommodate a group of six.

7-bedroom Lakefront Villa with Lagoon-style Pool and Jacuzzi
This 7-bedroom lakefront villa has a lagoon-style pool with unobstructed views of Star Lake. It also has a covered lanai and an enormous pool deck with a summer kitchen, gas grill, fridge, and a seating area. There's enough room to accommodate up to 16 persons and the property is close to banks, restaurants, shops, and a golf course.
Luxury 9-bedroom Villa with Pool and Resort Amenities
This 9-bedroom, 11-bathroom luxury villa sets the ideal Orlando vacation for family trips, romantic retreats, and golf excursions. It has over 6,000 sq. ft. of space for outdoor activities including a large pool with a grotto and spillover spa. Its interior is furnished with upscale decors and world-class amenities for a comfortable stay, plus two themed rooms—Frozen and Harry Potter—for the kids.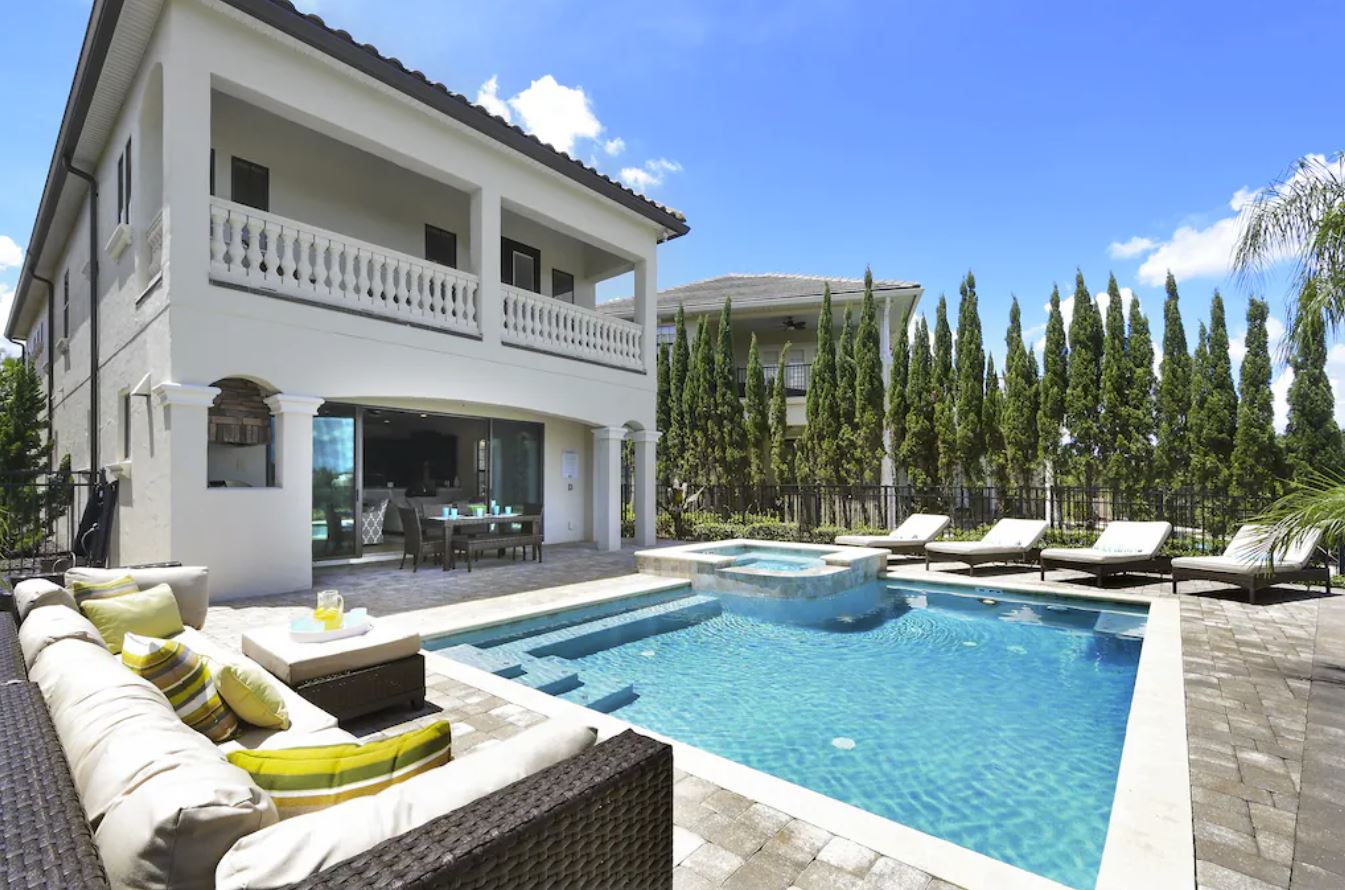 Cozy 5-bedroom Villa with Pool and Golf Course View
Guests looking for a cozy home base close to golf course amenities may find this 5-bedroom villa right on the money. It's close to Orlando's best attractions including Sea World Orlando, Walt Disney World, and Universal Studios. It can accommodate up to 12 persons and has a pool with a spillover spa and an outdoor deck with furnishings.
Gorgeous 9-bedroom Lakefront Villa with Infinity Edge Pool
A great place for any special event, this 9-bedroom, 10-bathroom custom luxury villa has a lakefront view seen in its 120-feet of balconies. It has an infinity-edge pool with spa and waterfall features and a spacious paved deck. Relax in one of the luxury loungers outside where local wildlife can be seen wandering around the area from time to time.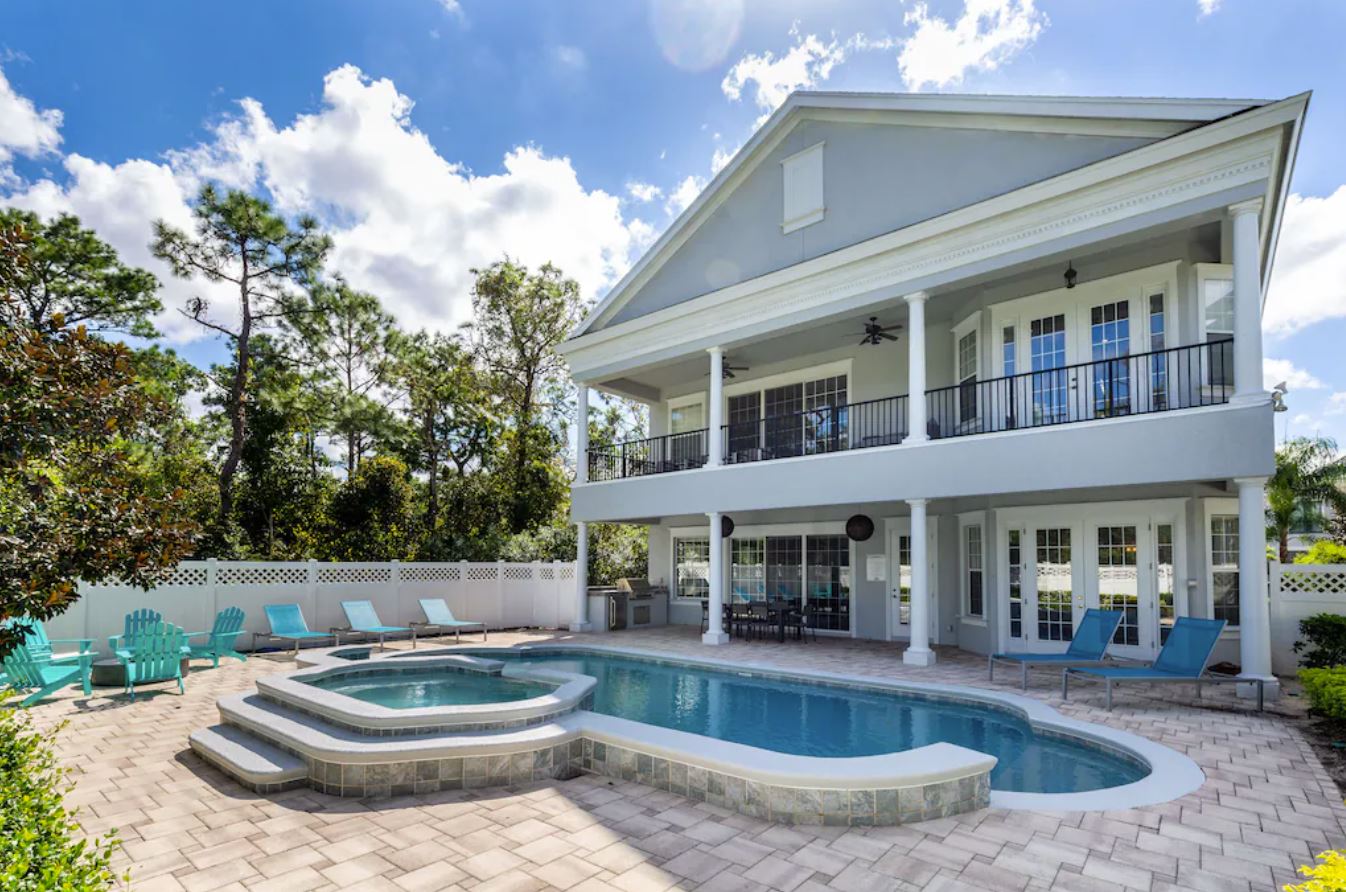 Secluded 5-bedroom Luxury Villa with Pool and Spillover Spa
A secluded villa oasis with an open and spacious floorplan that can accommodate up to 10 guests. It has a fully equipped kitchen, a comfortable living area, and a neon black-light multi-arcade game room. Accessible via the sliding door is the large outdoor pool area with a summer kitchen, dining area, fire pit, and sun loungers to relax in when the Florida sun is out.
Now I'm curious, which of these VRBOs in Orlando is your favorite? Let me know in the comments!
Read next: 20 of the Coolest VRBO Rentals in Panama City Beach, Florida
Read next: 25 Coolest VRBOs in Florida Featuring Beachfront Homes With Pools