20 of the Coolest VRBO Rentals in Panama City Beach, Florida
In the northwest of Florida is the charming beach town of Panama City Beach, known for its long stretch of sugar-white sand and crystalline Gulf waters. It's a whole vibe of a picture-perfect summer escapade, with palm trees swaying in the gentle sea breeze and cozy pastel-colored cottages lining up the coastline, the faint laughter of families frolicking under the sun and its welcoming atmosphere paints a picturesque tropical holiday for vacationers.
The ideal locale of Panama City Beach means there's no shortage of fun. PCB is also the perfect spring break getaway! There's nightlife, shopping, eco excursions, and water sports that vary from scuba diving and wakeboarding to high-speed banana boat riding. Whether you're with family or friends, start planning your trip with these selections of awesome vacation rentals for an unforgettable tropical holiday.
*Disclosure: some of these links are affiliate links. Meaning, if you click a link and make a purchase, Have Clothes, Will Travel gets a very small commission at no extra cost to you. Thank you for supporting the brands that make this blog possible!
Cool VRBOs in Panama City Beach, Florida
Resort-style 4-bedroom Luxury Home with Pool
This luxury 4-bedroom, 4-bathroom oasis home exudes modern beach vibes with luxe finishes. It has high ceilings and tall windows with beech-wood mirrors reflecting the natural light and has a well-appointed chef's kitchen to cook stylish meals for parties. Apart from the boutique-hotel-like comforts, guests can experience resort-style outdoor living in the property's pool area surrounded by palm trees, lounge chairs, and nature views.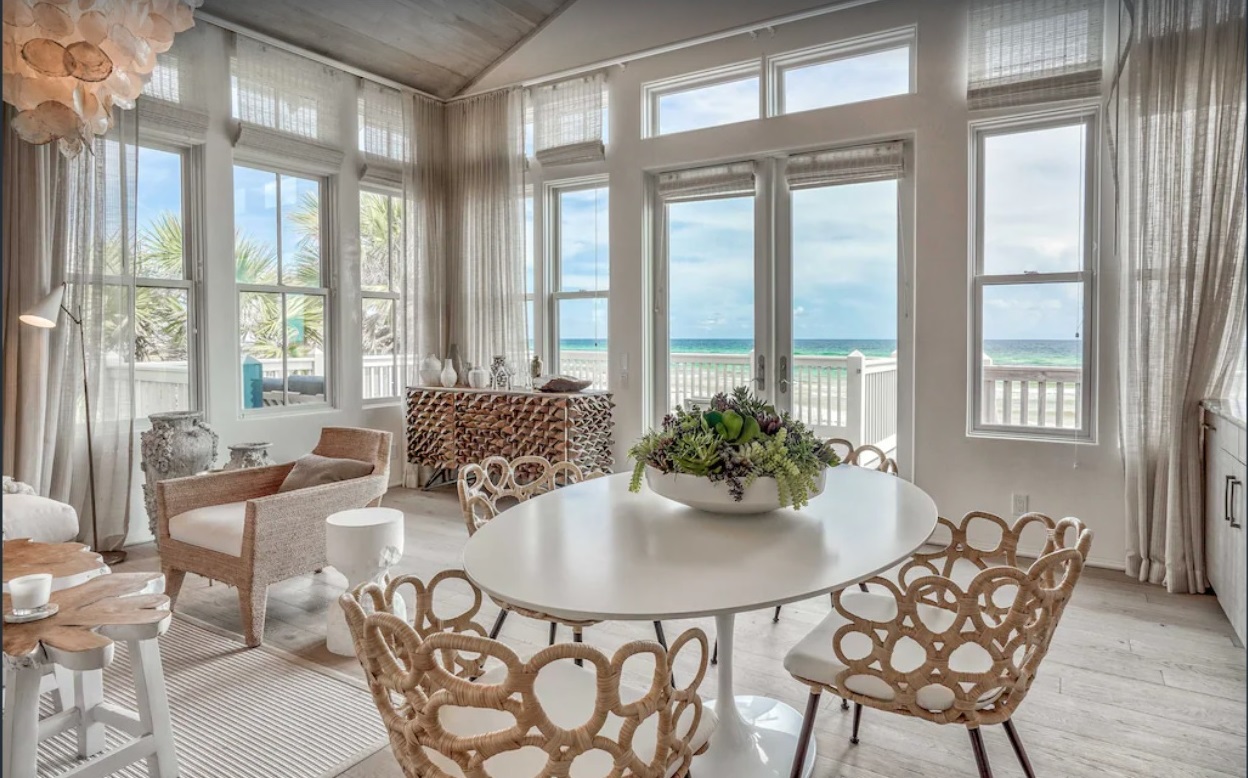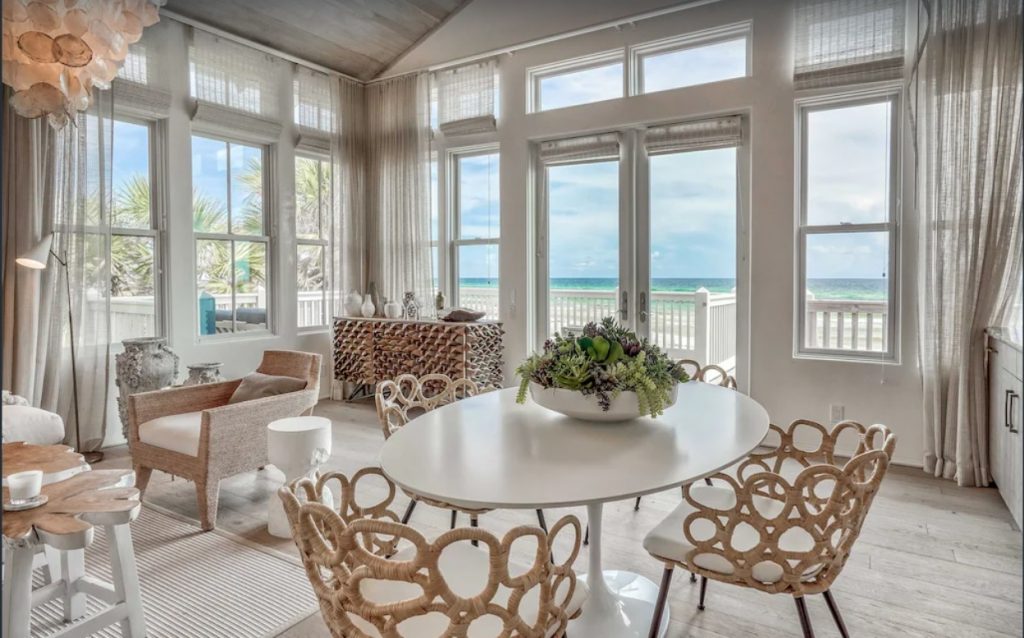 1-bedroom Gulf Front Home with Direct Beach Access – Inlet Beach
Ideal for honeymooners and singles looking for some rest and relaxation, this charming 1-bedroom home has direct beach access with a private beach walkover. Enjoy stunning sunsets right from the balcony paired with your favorite wine. It has sectional seating, a fully-equipped kitchen, and a cozy dining area. Plus, there are two complimentary adult bikes to get around town.
Lovely 5-bedroom Beach House with Color-changing Heated Pool
Only a block away to the famous Emerald Coast is this bright and fresh 5-bedroom, 3.5-bathroom beach home. The color-changing heated pool is the highlight of the guests' stay, and so is the direct access to Panama City Beach. It features a chef's kitchen and outdoor amenities including lounge chairs, barbecue grill, and a covered porch with a 60-inch TV.

5-bedroom Luxury Beach House with Private Gulf Front Pool
Unobstructed beach and gulf views await guests in this 5-bedroom, 7-bathroom oceanfront rental. It's a luxury vacation rental one can relax in but has all the modern conveniences found in a home. Guests will want to look forward to the private pool with incredible gulf views or lounge in one of the large balconies watching the sunset.
Beautiful 5-bedroom Craftsman Beach House with Private Pool
Located in the heart of Panama City Beach is this gorgeous 5-bedroom, 4-bathroom craftsman beach house with a large private pool and outdoor living area. It's also near the beach and County Pier accessible via walking or biking. There's plenty of space for up to 16 persons including a full-service chef's kitchen and an oversized dining area.
7-bedroom Beach Home with Private Pool Ideal for Families
Dubbed as "A Sight to Sea", this cozy and spacious beach home features a 7-bedroom, 6-bathroom setup ideal for large families or up to 21 persons. It has the usual amenities one can find in a luxury beach home including a private pool and is close to the popular attractions, restaurants, and nightlife.
3-Level "Latitude Adjustment" Home with Beach and Private Pool Access
A spacious 4-bedroom, 4-bathroom beach home that's close to local attractions and the beach. It has walkout balconies and a private pool with a lounge deck area; it also has a bright open floor plan with a fully-equipped kitchen and a well-lit dining area. The second level features the additional living area and bedrooms while the third level is a wide-open entertainment area with stunning beach views.
5-bedroom Pier Park Paradise Beachfront Home with Private Pool
A beautiful and luxurious 5-bedroom, 5.5-bathroom front home that's close to the beach and pier. Guests will have access to a private beachside pool and boardwalk with striking ocean views. The first floor highlights a spacious living area and a sliding glass door opening up to a heated pool with deck. The second floor has an open Feng Shui concept with an open-air balcony and full kitchen.
Luxury 6-bedroom Gulf Front Home with Beach Access
A nicely decorated 6-bedroom, 7-bathroom modern home with beach access and incredible sunrise and sunset views. The spacious living area opens up to a deck with unobstructed views of the emerald gulf waters and white sand beach. The patio features a grill and nautical-themed love seat, full size outdoor bed, and chairs.
6-bedroom Coastal Home with Private Pool and Beach Access
Nestled on the beautiful Emerald Coast is this 6-bedroom, 6.5-bathroom luxury beachfront home with coastal calm ambiance. Each level of the property has sublime views of the beach with outdoor lounge chairs and a picnic table should guests want to dine outside while watching the waves roll by. There's also a nice private pool and two beach access points just off the pool deck.

3-story Beachfront Home with Pool and Game Room
Guests will have their very own oasis in this 3-story, 7-bedroom luxury beachfront home with a private outdoor pool and a game room on the third level. Get lost in the unparalleled views of the Emerald Coast as you step through the front entrance and through the sliding glass doors. There's a fully-equipped island bar that seats up to four and an outdoor recreational area with a bar and pool table on the second level.
6-bedroom Coastal Home with Private Pool and Guest House
A newly-built coastal retreat with 6 bedrooms, 4 bathrooms, and a private pool. The property has a main house with a gourmet kitchen and guest house with a full kitchen for the culinary inclined. Outdoor is a gas grill for cookouts and a covered patio for guests wanting to read in the shade. Apart from the beach access, the coastal home is near Pier Park, Gulf World, Russell-Fields Pier, and Hidden Lagoon Super Race Track.
3-story Oceanfront Property with Pool and Dune Walkover
A 7-bedroom, 7.5-bathroom 3-storied beachfront property with pristine beach views of the Gulf of Mexico. Two king ensuites on the lower floor have sliding glass doors leading to a tiki bar area, barbecue grill, and a dune walkover to the beach. A full gourmet kitchen, bar, luxury dining area, and a large pool with jacuzzi jets are on the second level. Sunrise and sunset are best viewed on the balcony of the third floor complete with exceptional master suites and deluxe walk-in shower.
3-story Luxury Gulf Coast Home with Private Beach Access and Pool
Live the luxury Gulf Coast lifestyle with ease in this breathtaking 5-bedroom, 5-bathroom beachfront home with private beach access and a saltwater plunge pool. The property has three levels of covered decks and an in-home elevator; it also features a full kitchen with appliances, a gas grill for afternoon barbecues, and a foosball table for entertainment.
Cool VRBOs Just Outside Panama City Beach
3-story Beachfront Sanctuary with Resort Pool and Spa – Seagrove
A 3-story beachfront sanctuary with an 8-bedroom, 10 bathrooms set up, and an in-home elevator. The main floor has a custom bar, wine cellar, and an outdoor courtyard with a kitchen, resort pool, spa, and a cabana with a gas fireplace. The second level is a chef's kitchen with dual islands and a living room with direct access to the property's wrap-around porches overlooking the Gulf of Mexico. The third floor features four separate master bedroom suites.
Spacious 7-bedroom Home Close to Main Beach Club (Watercolor)
Right in the Gulf District is this tranquil 7-bedroom, 7.5-bathroom home just yards to the main Beach Club. The main level has a 12-foot wood beam ceiling, spacious living area, gourmet kitchen, jacuzzi, and outside shower. The second level has two large master suites and a playroom, while the tower has an office nook with a desk and a nice deck overlooking Cerulean Park.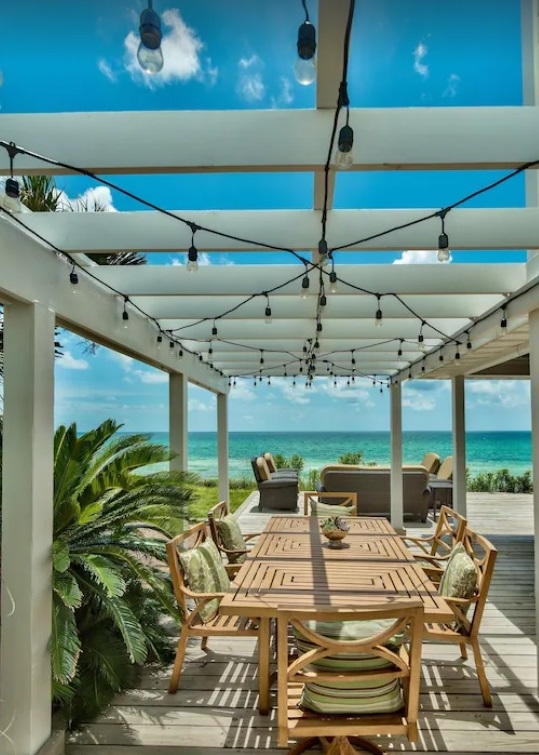 4-bedroom Gulf Front Florida Home with Direct Beach Access (Seacrest)
Guests who want to have their own beach space away from the crowd will appreciate this 4-bedroom, 4-bathroom gulf front Florida home. It has a fully-equipped gourmet kitchen, an enormous deck with gorgeous beach views, a covered porch with a dining area, and a private boardwalk. The property is also near local restaurants, cafes, shops, and craft stores.
Newly-decorated 5-bedroom Seaside Home with Beach Access (Seaside)
Enjoy panoramic gulf views form the second and third level balconies of this 5-bedroom, 6-bathroom luxury gulf front home. It's been newly-decorated to include new furnishings and a luxury patio set overlooking the gulf. It features a main living area, dining area, gourmet kitchen, and a fireplace—all levels are accessible via an in-home elevator.
5-bedroom Seaside Serenity Home with Pool and Private Beach (Seagrove Beach)
This 5,200 sq ft luxury home has all the style, comfort, and amenities for a splendid tropical vacation. Its 5-bedroom, 5.5-bathroom setup can accommodate large groups of families or people. Both levels have spacious living areas and an expansive balcony with panoramic gulf views. There's a gulf front pool and spa with outdoor lounge seating and private beach access.
Newly-renovated 1-bedroom "Salty Glass Cottage" with Outdoor Jacuzzi
An elegant 1-bedroom cottage with natural wood floors, beamed ceilings, whitewashed walls, and chic furnishings. The property captures the "Old Florida" feel but has complete amenities for a convenient stay. The main level features a bedroom with a jacuzzi and a screened porch, an outdoor seating area, and two rocking chairs. The second level has an open living room with a covered porch that lends to panoramic views of the Emerald Coast.
Which of these VRBO rentals in Panama City Beach is your favorite? Let me know in the comments!