Watching Sydney's NYE Fireworks from Mrs Macquaries Point
Watching the Sydney fireworks for NYE from Mrs Macquaries Point is one way to see them for free. This post is explaining what to know before you go + whether or not the wait is worth it!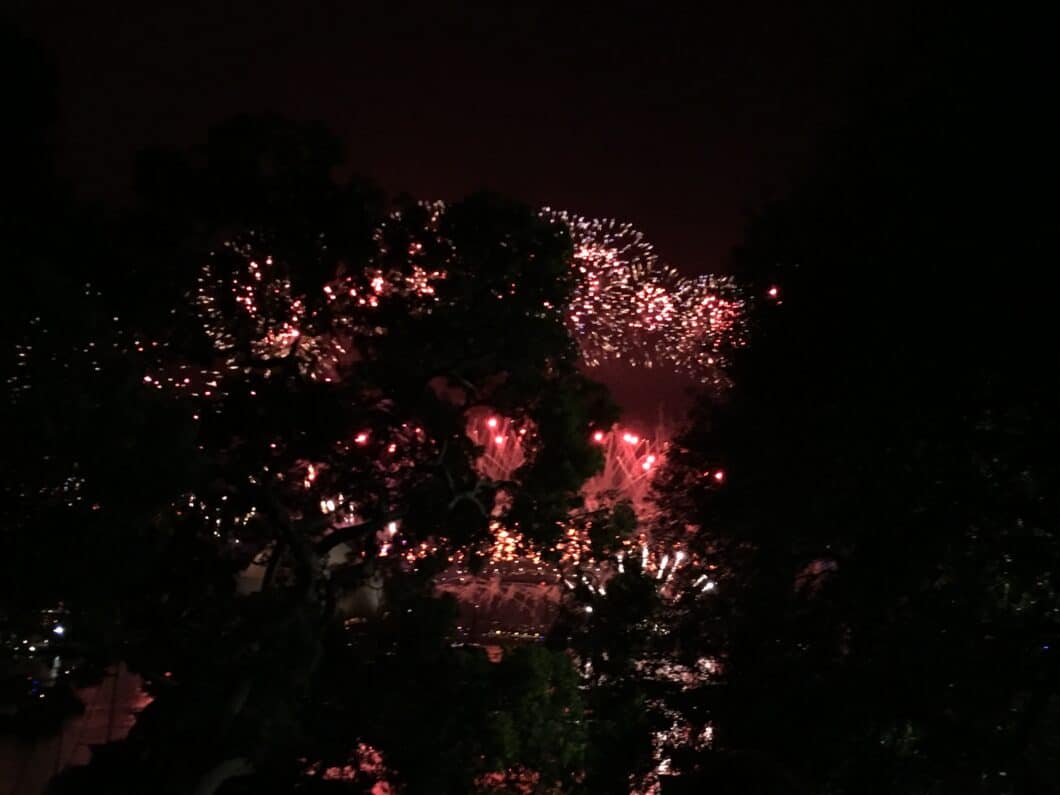 With millions and millions of dollars going into Sydney's spectacular NYE firework show each year, it's an event that can't be missed if you're in the city. I've never seen anything as incredible as this fireworks display! But the biggest dilemma is – where should you watch it from? I'm going to share my thoughts on where I watched the show (Mrs Macquaries Point), and what advice I'd offer someone trying to plan their night of festivities.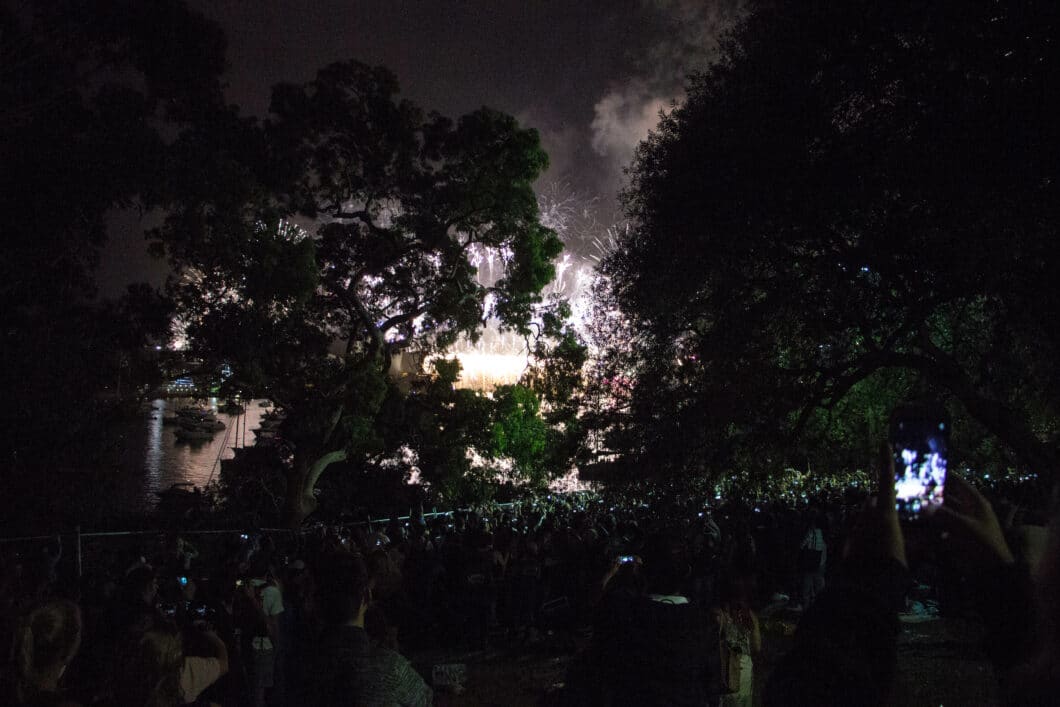 As I mentioned, I watched the fireworks from Mrs Macquaries Point. Technically, this is one of the best viewpoints for the Sydney Harbour bridge. BUT, there are ton of trees that obstruct your full view of the fireworks (hence, the less than stellar photos above).
Cost & Capacity
With that being said, though, Mrs Macquaries Point is completely free to enter! So, I can't complain too much. They do cap the amount of people at 16,000…which, it appeared they hit that mark around 2 p.m. this year. So, I would advise getting in line to enter the point by AT LEAST 12:30 p.m. (Be prepared for a long day!)
However, I don't think it's worth camping out overnight for, because once the show starts, people will push and shove their way into the best spots – regardless of how long you've been waiting. (You just need to make sure you're inside before they reach capacity.)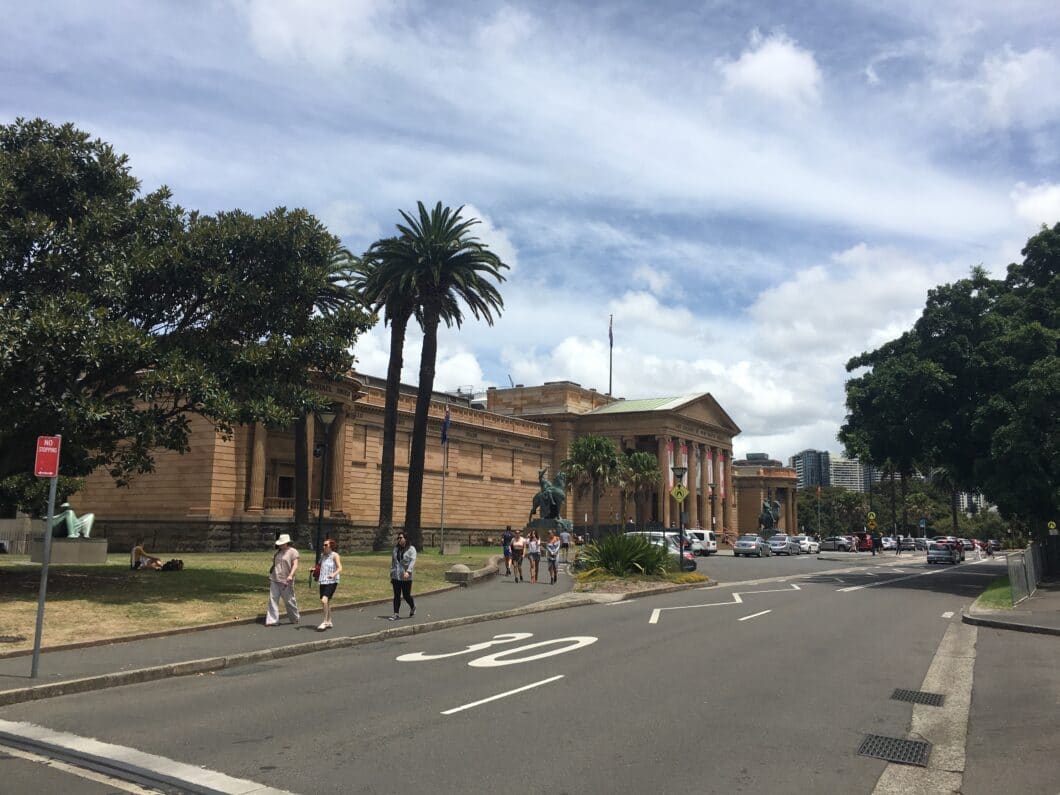 The Wait
The photo above is the art museum, we had been waiting well before here to get into the point…and we had arrived at about 12:30 p.m. At that time, the line looked huge to us. However, it moved quickly. I think we only waited for 20 minutes.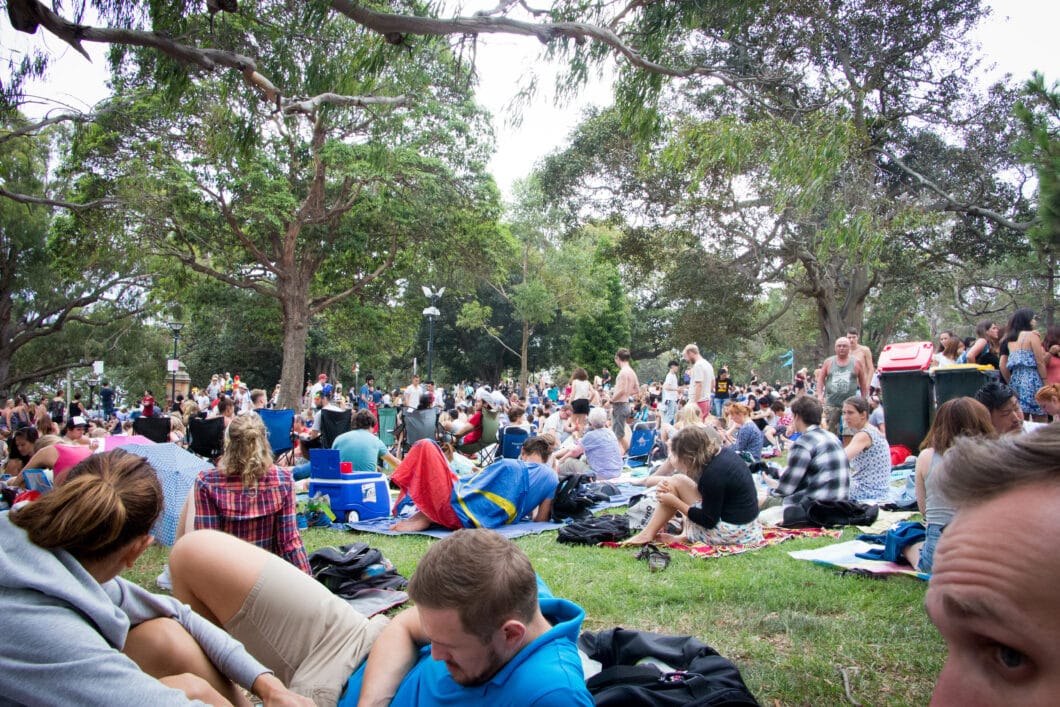 Food & Drinks
Once you're inside, you can lay down blankets or rent lawn chairs from different stands. There is also a good selection of food trucks and beer tents that offer a variety of beverages.
There is no BYO alcohol, so be prepared to buy it from the stands. (If you're curious – beer was $9, wine was $15 & mixed drinks were $10.)
You can bring in non-alcoholic beverages, provided they are in sealed containers and not glass.
You can also bring your own food and snacks if you want.
There are also plenty of places to refill water bottles inside.
Fireworks!
And, if you struggle to stay up until midnight, there is also an impressive fireworks show at 9 p.m. too! I had been waiting in line for the restrooms when that started (it was a 40-minute wait!), so I only saw part of it. And I really regretted it!
The main show itself went for a whopping 12 minutes! To get a glimpse of it, I have a video my husband took, above. Again, the trees really blocked a lot of it, unfortunately. But it was still incredible to see!
My Thoughts?
So, the moral of this story is, if you don't want to pay to see the fireworks Mrs Macquaries Point is a good option. It was a fun atmosphere that never got too rowdy (thanks to the no BYO for alcohol).
However, if you want to get that million-dollar photo of the bridge and Opera House with fireworks exploding everywhere – be prepared to shell out the big bucks! You have the option of paying for reservations at the Botanic Gardens (anywhere from $200-$500 a ticket) or getting a spot on a boat (this can also be incredibly expensive)….but, I personally think saving your pennies and going to a ticketed spot (like the gardens) or getting a spot on a boat would be very much worth it for an unobstructed view. The fireworks are just that amazing!
If anyone has any questions or comments about Sydney's NYE fireworks, please let me know in the comments below! And how did you spend your NYE? Were you much more comfortable than me? Haha.
*If you like this post, it is now available as a self-guided walking tour! Click here to download it.