Click to shop:

Oofta! How do you like my hair in this post? Haha. The wind was not kind this past weekend! Hence, why I'm bundled up and not wearing a dress or skirt. Sometimes, when it's cold and blustery, you just can't beat a comfy sweater and a good pair of jeans. (My husband and I were doing some serious Pokemon hunting in the parks in Rosario while we took these photos. And we both finally caught a Heracross. Wahoo!)
Before we go any further too, I had a lot of questions about these boots the last time I featured them, so I'll quickly review them now. (For some reason I didn't in my last post, sorry!) I've had them for a couple months now and wear them a ton during the week! I have about a half hour walk to my Spanish school in the morning and then another half hour walk to an English school I help out at in the afternoons, so these boots have some serious miles on them now! And they are SO comfortable! I can't recommend them enough. The inside is a soft faux-suede material that keeps my feet and legs cozy and warm. I also have pretty wide feet and sort of large calves and these boots fit me perfectly. Oh, and they have kept my feet dry during some serious rain storms we've had this past month!
Also, these boots are currently on sale for less than $25 and they're selling like hot cakes! There are only a few left in each size. So, if you're interested in them for fall, I'd purchase now. (They're normally over $100 otherwise.)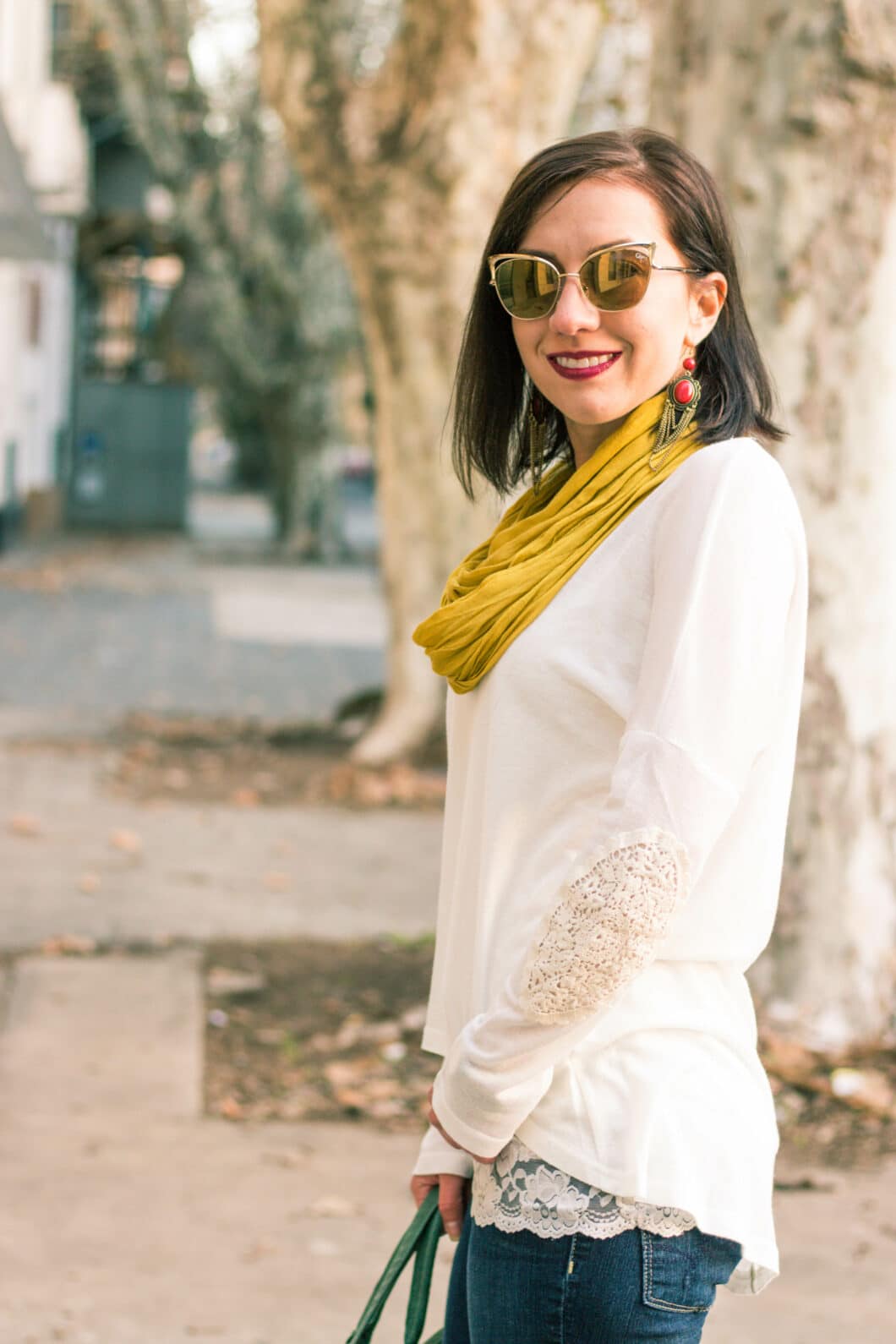 And I love this light weight asymmetrical sweater from Eleanora Grace Fashion Boutique! I thought the little elbow patches were a fun touch. (Sorry, this sweater is currently sold out, but I linked to some similar on sale options, below.)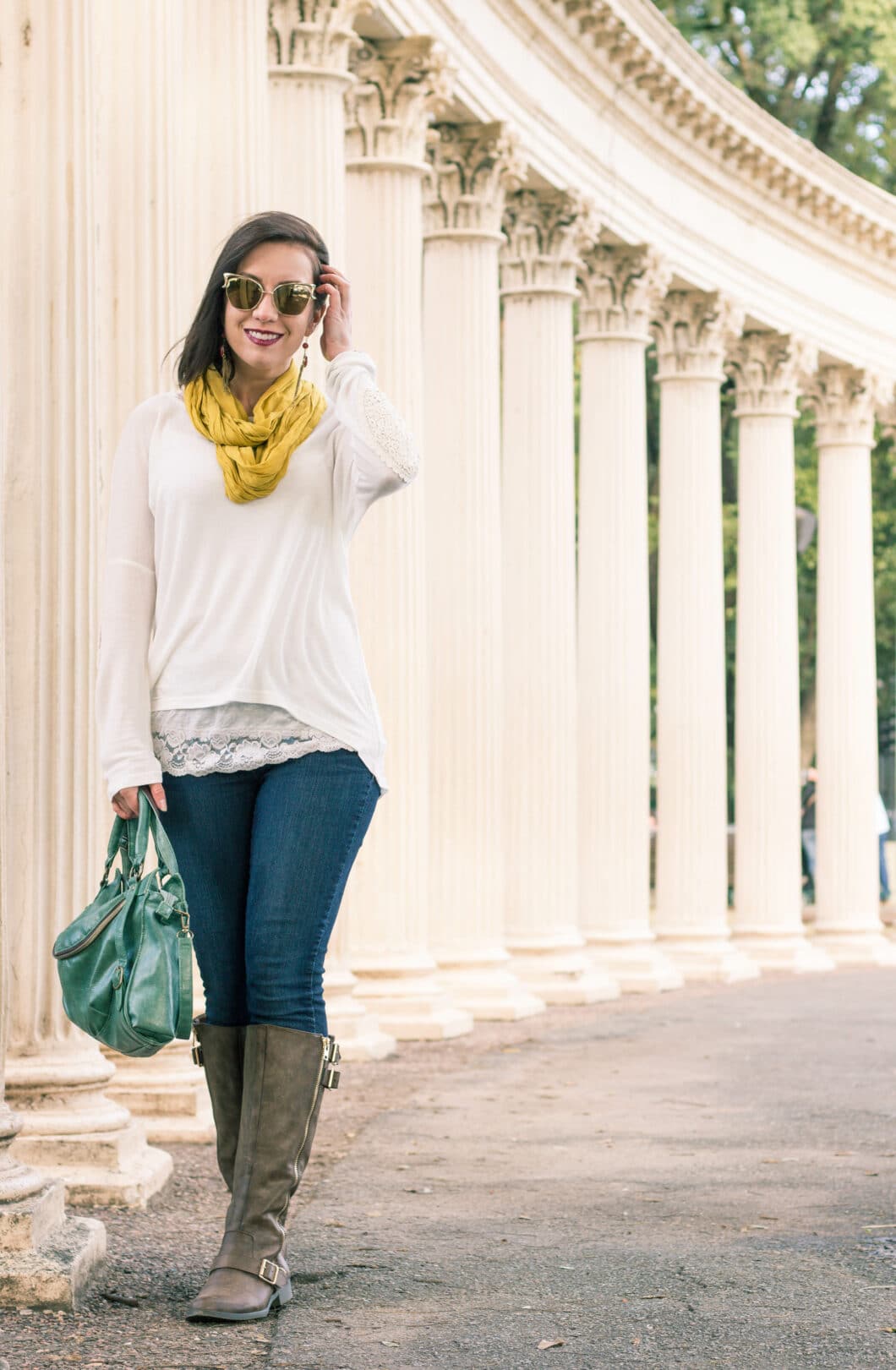 Oh, and speaking of sales! Public access to the Nordstrom Anniversary Sale is happening now! (If you missed my post on My Top 50 Nordstrom Anniversary Sale Picks Under $50, click here. It was also featured in this week's Links à la Mode, on the bottom of this post.) I just made my first order before I published this post. I bought a water proof jacket and a bunch of active wear that will come in handy for our trip to Peru in September! I cannot wait to see Machu Picchu, Cusco, Lima, Rainbow Mountain & Lake Titicaca…to just name some of my itinerary. Eeek! I'm so excited.
Has anyone else participated in the Nordstrom Sale? And what are some of your most comfy shoes/boots to walk in? Let me know in the comments!
Where to find it:
Sweater: c/o* Eleanora Grace Fashion Boutique (Similar here & here)
Boots: Amazon (On sale & selling out fast!)
Scarf: Old (Similar here)
Jeans: H&M (Similar)
Bag: Old (Similar here)
Sunglasses: Quay (Similar here)
Earrings: Gift from my Mom (Similar here)
Cami: Maurices
Watch: c/o* JORD Wood Watches
Links à la Mode, July 20th
Disclosure: some of the links in this post are affiliate links. Meaning, if you click a link and make a purchase, Have Clothes, Will Travel gets a very small commission. Thank you for supporting the brands that make this blog possible!
*c/o = courtesy of, meaning the company gave me the product to be used on my blog, and I did not pay for it. All opinions are my own, and I am not being compensated for a positive review.