You Should Visit Doc's Harley-Davidson in Bonduel, Wis. – Here's Why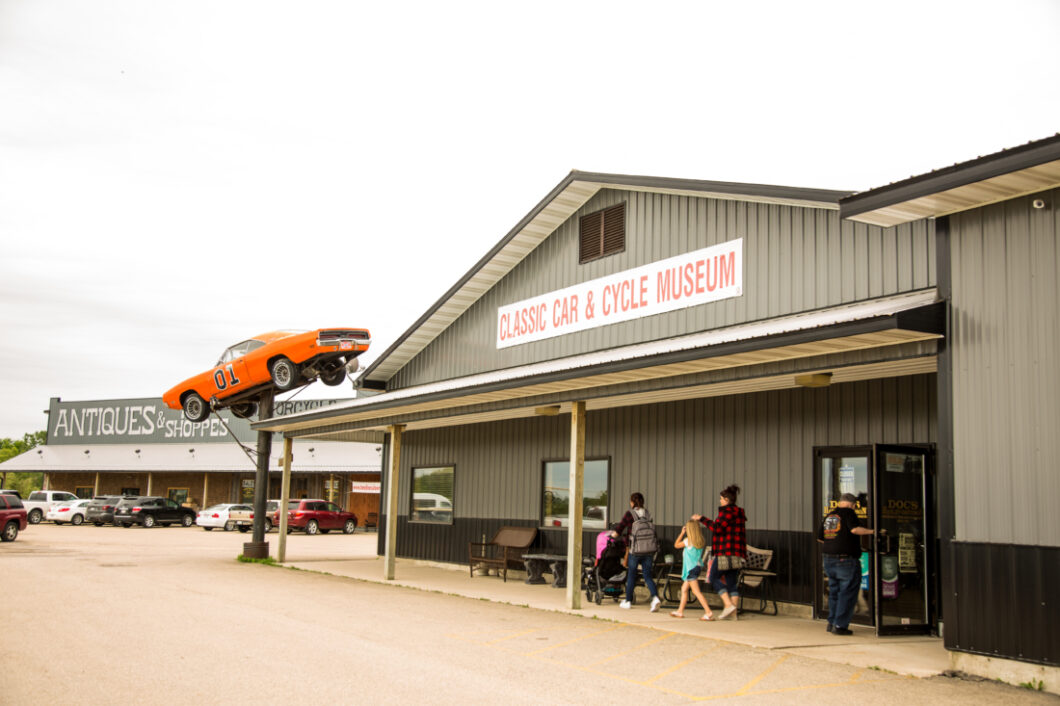 Doc's Harley-Davidson in Bonduel, Wisconsin is far beyond just a motorcycle dealership. Here you'll find a zoo, complete with kangaroos and alligators, a motorcycle museum, restaurant and bar…plus, Doc's creations adorn the property. See one below. (Doc is the owner.)
I live fairly close to Doc's Harley-Davidson but only recently made the drive over to it for a family birthday party. I didn't realize just what an assortment of things there are to see and experience at Doc's! I hadn't set out to do a blog post on this place, but once I arrived it was clear this one-of-a-kind business needed to be documented.
So, if you ever find yourself near Bonduel, Wisconsin (just off Highway 29), here's what you can expect to find at Doc's Harley-Davidson! Enjoy!
Doc's Harley-Davidson Zoo
Getting to see kangaroos up close is reason enough for me to visit here! And kangaroos are just one of the many animals you'll find at Doc's. There are also buffalo, a camel named Zephra, alligators, a porcupine, horses, donkeys, goats, birds, turtles and tortoises.
Check out the photos in the gallery, below. Feel free to click on them to make them full-sized and to read any captions. (I do apologize, the tortoises were very in love the day I was there, and the photos I have of them are R rated.)
Doc's Creations
Doc is also very creative and talented! You'll find his creations throughout the grounds. And some of these are bit interactive – like the huge Viking ship and "Sassy Viking Birdcage" haha. Check out the photos, below.
Classic Car & Cycle Museum
Wow! Doc has quite the collection of cool cars and bikes in this museum! And it's free to check out. There are a lot of 60's muscle cars…and that's about all that I know about cars, sorry folks! But enjoy the photos of the museum, below.
Timeline Saloon & BBQ
After you're done exploring, you can then head to the Timeline Saloon & BBQ for a drink and some food. Once again, I was unable to take a photograph of my food…because I ate it well before I thought to take a photo of it, haha. But trust me when I say my brisket and BBQ chicken were delicious. Almost everyone I was with ordered BBQ too, however, there was one order of Mac and Cheese – and it was AWESOME as well. Our waitress wasn't the most attentive waitress, and I wasn't terribly impressed with the service that day. It was, however, pretty busy…and maybe they were just understaffed? Either way, it was a nice spot to grab lunch and admire some more of Doc's creations. (Click here to see some of the creations in the saloon.)
Gift Store + Bike Shop
Ha, did you think I was done? Not even close! There's also a Harley-Davidson Riding Academy New Rider Course, where you can take lessons to learn to ride a motorcycle. There is also a gift store with a ton of Harley-Davidson merchandise. We, however, were more interested in getting my little nephew on the tiny bike they had in the gift store. It moves and lights up after you put a quarter in it. (See below.) There's also one MORE gift store dedicated to antiques, we honestly had run out of time and didn't even make it to that gift store.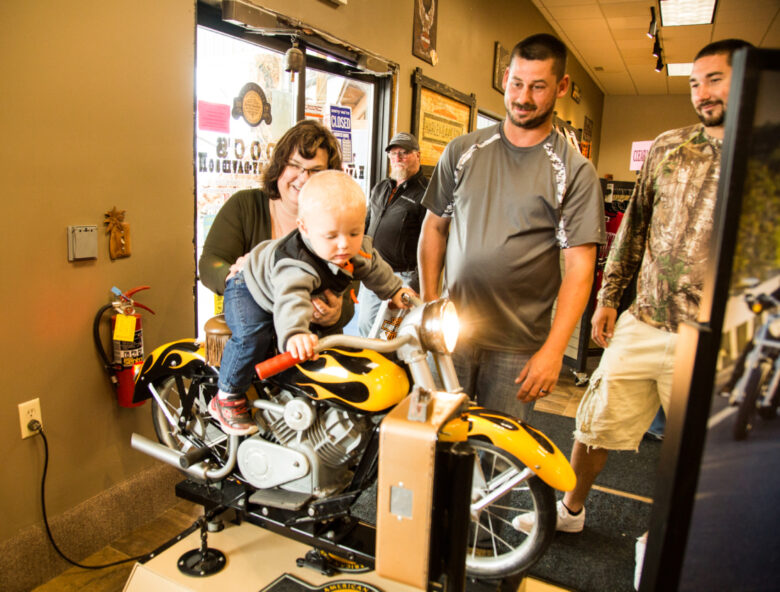 Needless to say, we had a great time visiting Doc's and seeing the wide variety of things offered here! If you find yourself in the Bonduel area, make sure to stop at Doc's – you won't be disappointed. Click here for Doc's Harley-Davidson website.
Have any of my fellow Wisconsinites also visited Doc's? And if so, how did you like it? Let me know in the comments!