A Classy Fourth of July Outfit Idea
Dress c/o* | Heels (Similar) | Bag (Similar) | Belt (Similar) | Pin (Similar) | Earrings (Similar)
I was never much of a gingham fan until this dress made its way into my closet. And I'm so glad it did! It's perfect for summer…and a blue and white gingham dress with red accessories is the perfect Fourth of July outfit, in my opinion.
This dress made an appearance on the blog a few months ago as a beach look (click here to see it). But it seemed too perfect to not feature one more time on the blog! I mean, it has pockets, AND I can twirl in it. Plus, it's so comfortable for the hot summer weather…it breathes incredibly well, and it can be worn for a variety of events. It's also true to size. (Oh, AND it's on SALE this week for 20% off with code SPARK.)
I've worn this dress for the beach, dinner date night, a rehearsal dinner, shopping and most recently a charity golf outing I volunteered at (to raise money for veterans via Operation Homefront) this past weekend. It was nearly 100 degrees Fahrenheit this weekend though and SO humid, but this dress kept me cool. My brother and sister-in-law have been hosting this charity event (Golfing for Veterans) for over 5 years, and my family also participates in it. Below, is me with my brother and dad from this last weekend.
I had changed out of my heels for the event and instead wore my comfy Salt Water Sandals. I, unfortunately, forgot to put sunscreen on my feet, though. And my oh my do I have some impressive tan lines from these sandals, now!
o
This is also the time of year to break out my vintage flag pin! There are quiet a lot of flag clothing and accessory options now days for the Fourth of July…but I prefer to keep my flag attire limited to this pin, and then get creative with red, white and blue attire I can wear again throughout the year.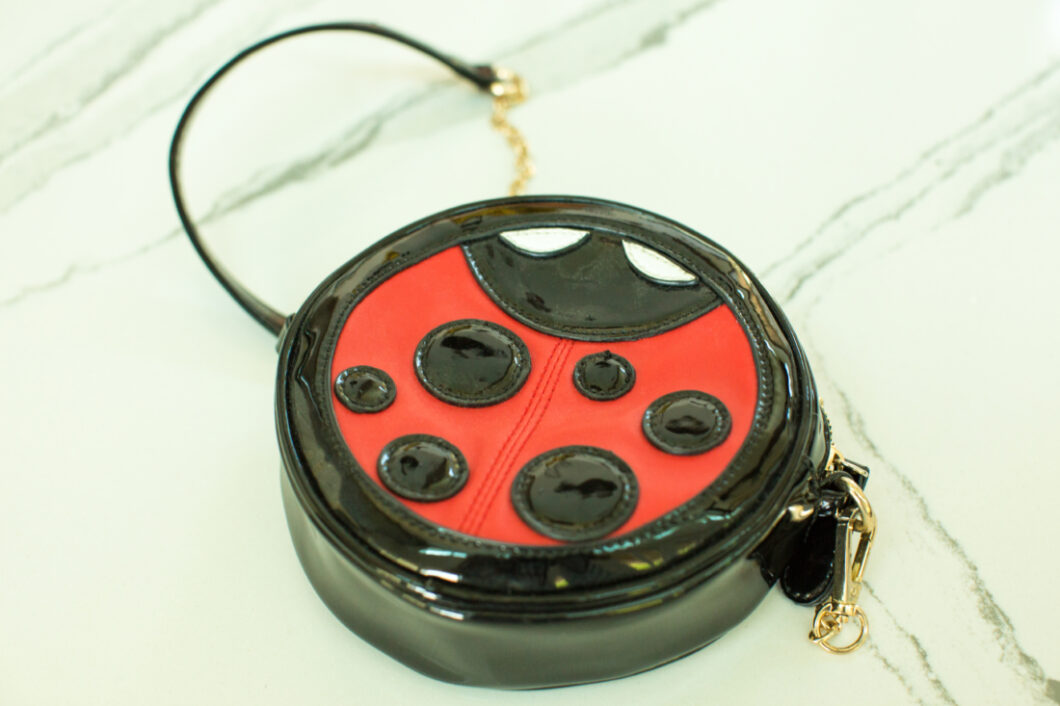 My little lady bug purse always makes an appearance at this time of year too. I've had it for several years and it's no longer being made. However, I did find an almost identical version of it, here.
I should also note that this dress does come with its own belt. I had swapped it out for this red one to match my heels. I had taken this belt off one of my Closet skater dress, and I've probably worn it a hundred times. However, this is the first time I wore it in insanely hot temperatures where I was sweating profusely for 12 hours. Needless to say, this red belt ended up bleeding on my dress!! But fortunately, I have one lifehack up my sleeve, haha. If you ever get dye or ink on your clothing…spray the living daylights out of it with aerosol hairspray (it has to be aerosol), and then wash it. It might take 2-3 tries, but I've saved a lot of clothing this way. And my dress is back to looking as good as new!
Has anyone else tried that hack to get dye or ink out of your clothing? And what will you be wearing for the Fourth of July? Let me know in the comments!
Where to find it:
Dress: c/o* Unique Vintage (It's on SALE this week for 20% off with code SPARK.)
Heels: Old (Similar here)
Bag: Old (Similar here)
Earrings: Old (Similar here)
Pin: Vintage from KittyCatShop (Similar here)
Belt: Taken off a Closet skater dress (Similar here)
Sandals: Salt Water Sandals
Because this outfit post contains twirling photos, you can bet that there are some really amazing blooper photos. Haha. I'll be sharing those throughout the week over on my Instagram account, if you're interested. Click here to follow me on Instagram.
Links à la Mode, July 5th, 2018
*Disclosure: some of these links are affiliate links. Meaning, if you click a link and make a purchase, Have Clothes, Will Travel gets a very small commission at no extra cost to you. Thank you for supporting the brands that make this blog possible! I am also a participant in the Amazon Services LLC Associates Program, an affiliate advertising program designed to provide a means for us to earn fees by linking to Amazon.com and affiliated sites.
*c/o = courtesy of, meaning the company gave me the product to be used on my blog, and I did not pay for it. All opinions are my own, and I am not being compensated for a positive review.