A Sleeved + High-Neckline Dress for Fall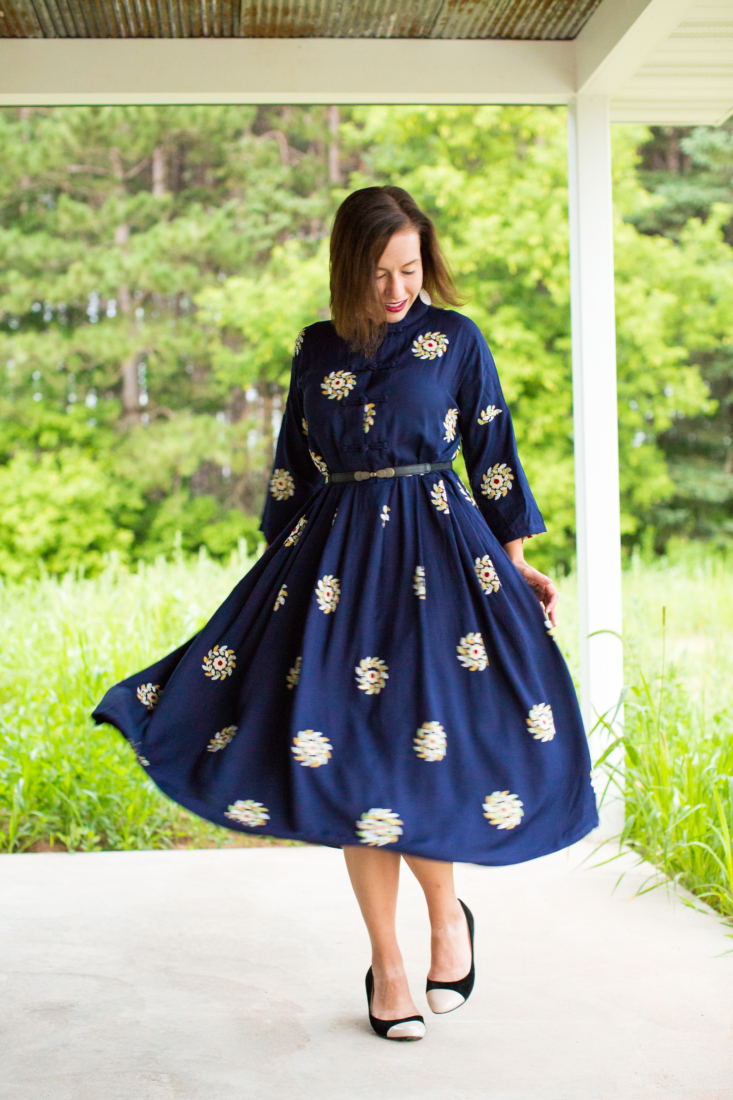 Dress c/o* use code LP15 for 15% off | Wedges (Similar) | Belt | Earrings
I don't know about the rest of you, but I am so ready for fall! I'm looking forward to turning my air conditioner off, wearing some chunky scarves and knee-high boots and some dresses with sleeves! Alas, though, it looks like the hot weather is here to stay…at least for a little while.
This sleeved, floral dress was one I broke out just before we left for Moscow. It was cooling down, thanks to some thunderstorms, but was still rather humid (my hair is a dead giveaway, haha). This dress is a blend of cotton and linen, so it was still breathable on this humid, warmish day.
I get really excited about sleeved dresses for some reason. And add a high-neckline and pockets to a dress, and I'm absolutely sold! (Clearly, I also have a bit of an obsession with floral prints, too! Haha.) As with the rest of my EvaTrends dresses, though, the fit is baggy. I always remedy this with a belt to give the dress more structure. (Don't forget, if you use code LP15, you'll get 15% off your order.)
This outfit post got broken out today because I didn't actually take any new outfit photos over the weekend here in Moscow. We moved into our apartment here over the weekend and spent most of our time getting settled, hooking up the internet, cable…and figuring out how to use our appliances. (Some are written in Russian, but our washing machine is in German! Google Translate is getting a workout!) But, we're all settled in now, and we really love it! I posted some photos and videos to my Snapchat & Instastories, but if anyone is interested, I can post some photos on the blog too. (Just let me know in the comments.)
Is anyone else getting excited for fall? Or are you loving every minute of summer? Let me know in the comments!
Where to find it:
Dress: c/o* EvaTrends (Use code LP15 for 15% off your order)
Wedges: Super old (Similar here)
Belt: Amazon
Earrings: Old (Similar here)
Links à la Mode, Aug 2nd, 2018
*Disclosure: some of these links are affiliate links. Meaning, if you click a link and make a purchase, Have Clothes, Will Travel gets a very small commission at no extra cost to you. Thank you for supporting the brands that make this blog possible! I am also a participant in the Amazon Services LLC Associates Program, an affiliate advertising program designed to provide a means for us to earn fees by linking to Amazon.com and affiliated sites.
*c/o = courtesy of, meaning the company gave me the product to be used on my blog, and I did not pay for it. All opinions are my own, and I am not being compensated for a positive review.