A Subtle Star Wars Day Outfit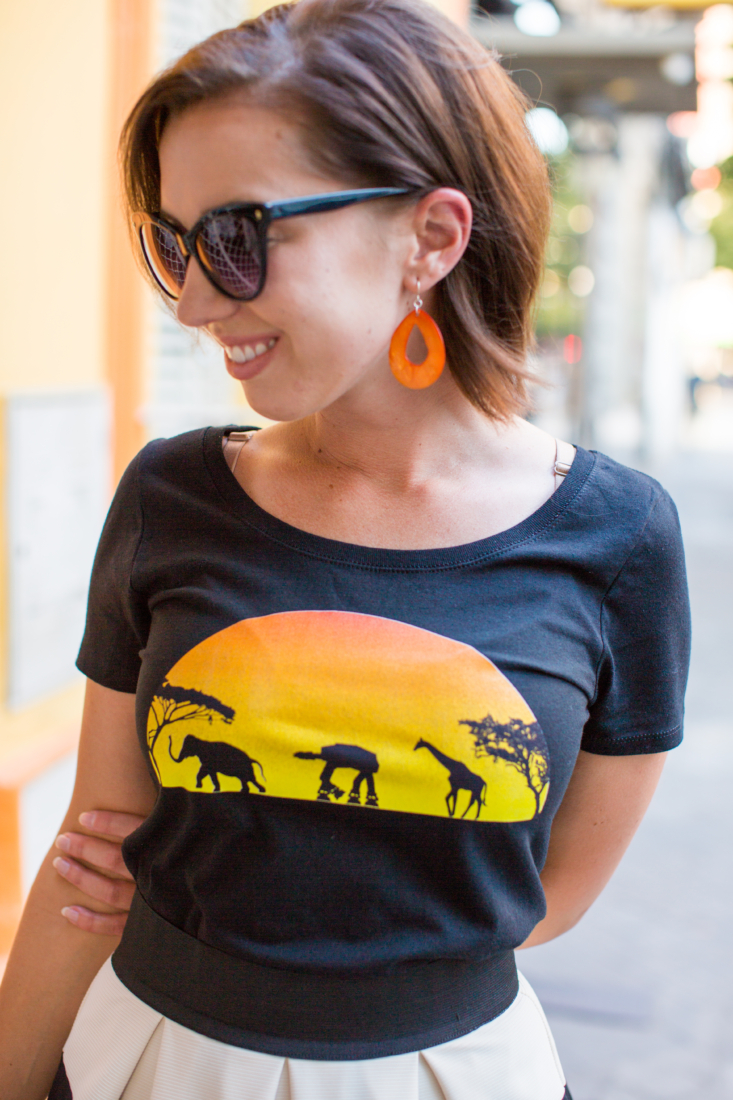 Shirt c/o* | Skirt | Flats | Earrings (similar) | Sunglasses c/o*
Happy May the 4th! For anyone who is new here, I'm a big Star Wars fan, and take full advantage to dress in Star Wars apparel on this day each year. ("May the 4th" kind of sounds like "may the force"…get it? Clever, eh?)
I didn't go too over the top this year with my Star Wars outfit…just a subtle AT-AT walker hanging out in the middle of my shirt. I LOVED this shirt when I saw it on Radish Apparel's site. They are such a cool company! I featured them on my site on my birthday, about six months ago too. They are all about diversity and expressing yourself through an incredibly wide-range of shirts! But they don't just offer cool clothing, they also donate 5% of every order to charity! You get to pick the charity your money goes to when you check out. It's pretty awesome. (Click here for more information on Radish Apparel's charity program.)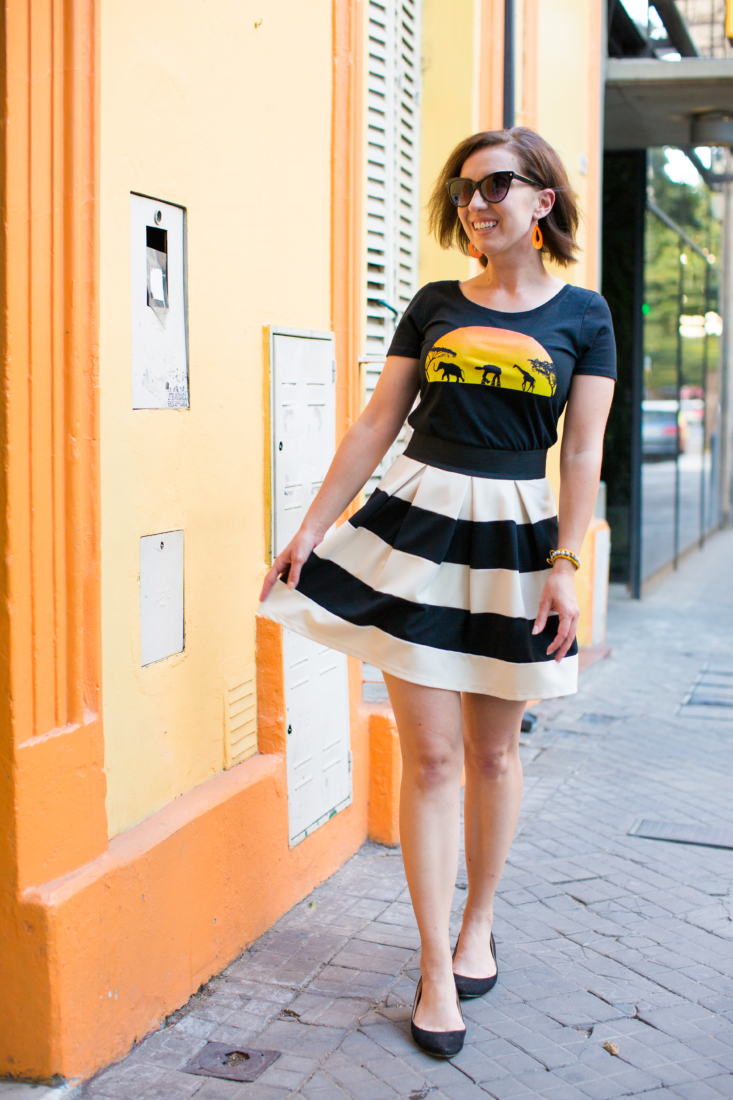 And to be completely honest, I took these photos our last weekend in Rosario, Argentina. I wanted to take photos of this shirt against the orange/yellow wall by our apartment before we left, haha. It's a little panaderia (bakery). I swear I am wearing this shirt today, though! That's because all the rest of my Star Wars gear is in a box with the rest of our stuff until we figure out our living situation (that's all still up in the air yet).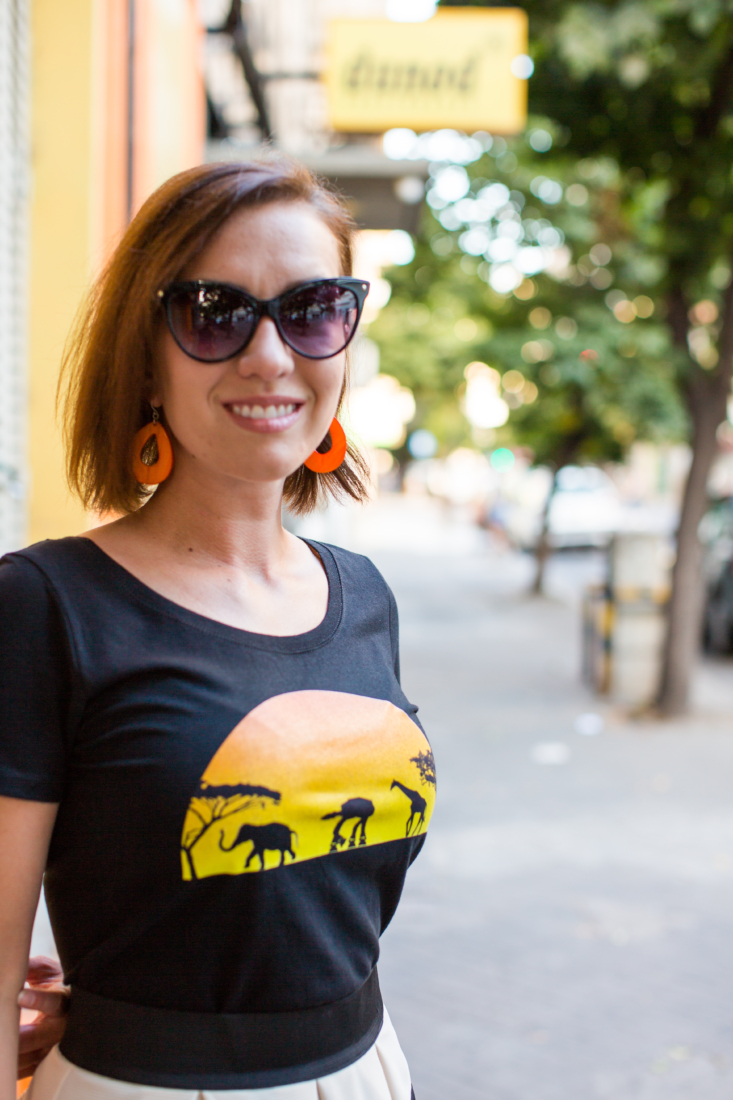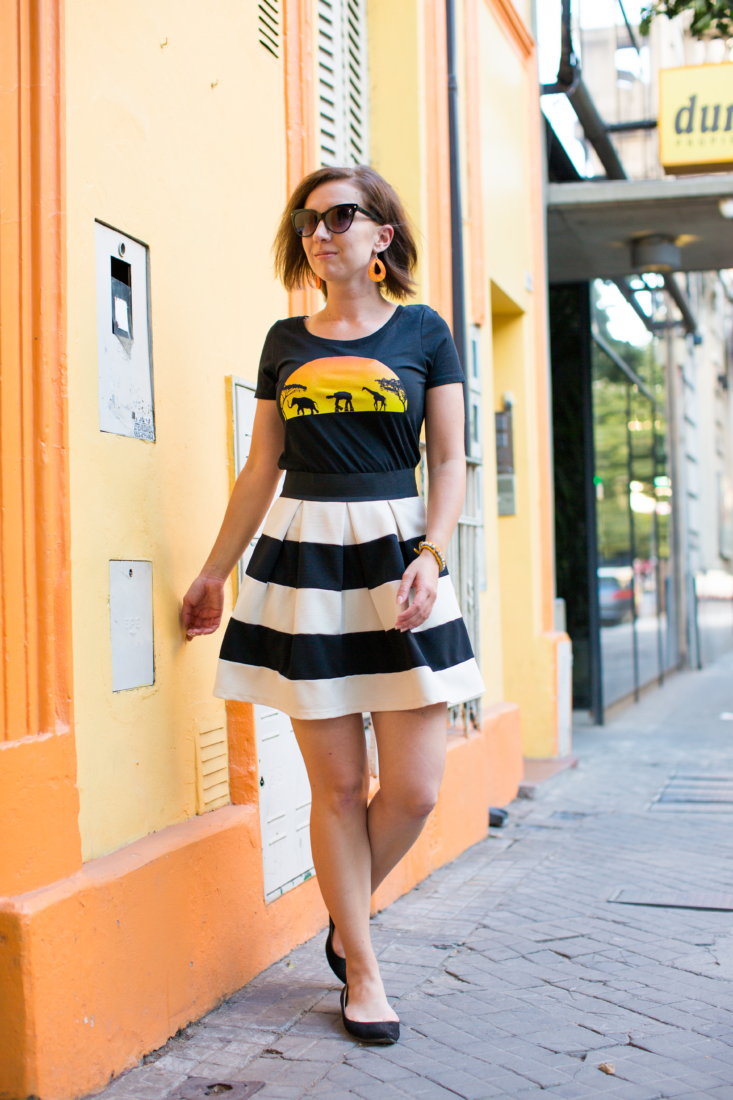 But, what I do know, is I'll be eating pizza and watching as many of the Star Wars as I can tonight before I fall asleep! Haha. And then, tomorrow night, I'm finally going to see "Avengers: Infinity War!" I'm excited!
Is anyone else celebrating this oh so amazing Star War holiday today? And if not, what are your plans for this weekend? Let me know in the comments!
Where to find it:
Shirt: c/o* Raddish Apparel
Skirt: ModCloth
Flats: Chinese Laundry
Earrings: Old (similar here)
Sunglasses: c/o* Polette

*Disclosure: some of these links are affiliate links. Meaning, if you click a link and make a purchase, Have Clothes, Will Travel gets a very small commission at no extra cost to you. Thank you for supporting the brands that make this blog possible! I am also a participant in the Amazon Services LLC Associates Program, an affiliate advertising program designed to provide a means for us to earn fees by linking to Amazon.com and affiliated sites.
*c/o = courtesy of, meaning the company gave me the product to be used on my blog, and I did not pay for it. All opinions are my own, and I am not being compensated for a positive review.