22 UNIQUE & AMAZING Airbnbs in New Orleans From Penthouses to Houseboats!
Are you looking for some of the best and most amazing Airbnbs in New Orleans? This post has you covered!
New Orleans has been one of my favorite cities I've visited in the United States. It's a city that is bubbling with excitement and history at every turn. With some of the most delicious food and drinks in the country, amazing music and very entertaining nightlife – it really is a must-visit in the US, that often gets overlooked!
It also has some incredibly unique and interesting places to stay. While there are plenty of historic hotels to choose from, the Airbnbs in New Orleans can give you a little extra taste of NOLA life and really make for an unforgettable time in the Big Easy!
This list of awesome New Orleans Airbnbs ranges from surprisingly affordable, luxury penthouses to tiny homes and even a couple of houseboats – there is something on here for everyone! Enjoy!
UNIQUE & AMAZING Airbnbs in New Orleans
*Disclosure: some of these links are affiliate links. Meaning, if you click a link and make a purchase, Have Clothes, Will Travel gets a very small commission at no extra cost to you. Thank you for supporting the brands that make this blog possible!
Penthouses
---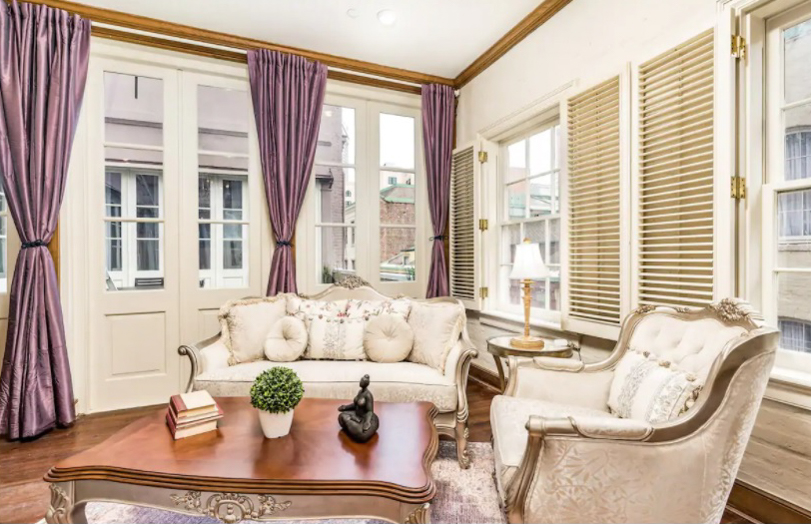 AFFORDABLE City View Penthouse with Rooftop Deck – Central Business District
This affordable penthouse is filled with Victorian-inspired furniture, beautiful hardwood floors and original exposed brick. You'll love the large floor-to-ceiling windows and natural light during the day and the city skyline at night. The awe-inspiring open chef's kitchen off the living area is adorned with floor-to-ceiling custom-built in bookshelf and extends out into the living room for a relaxed social atmosphere.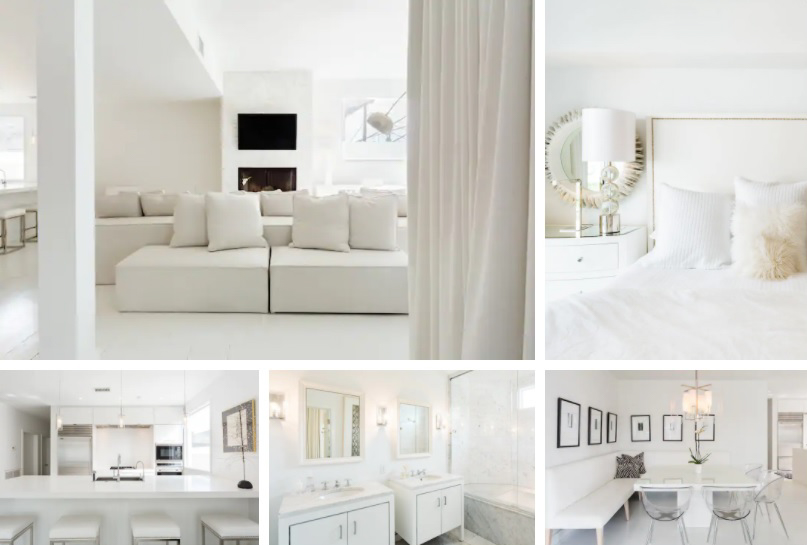 Luxury Penthouse with Private Outdoor Spaces and Balcony – Magazine Street
This white-on-white chic penthouse has a beautiful hidden front balcony, 2 bedrooms that are to die for… and not just one, but TWO soaking tubs. The coolest part, though, in my opinion, is the backyard!


Affordable Penthouse Suite in Downtown New Orleans
This Penthouse Suite features two-century-old hardwoods, exposed ceilings and many other historic features native to New Orleans. You'll also be staying in the heart of Downtown! It's one block off of world-famous Canal Street and a two-block walk to the French Quarter, one block to Harrahs Casino, six Blocks to Bourbon Stree, and 10 blocks to the WWII museum.
Apartments and Condos
---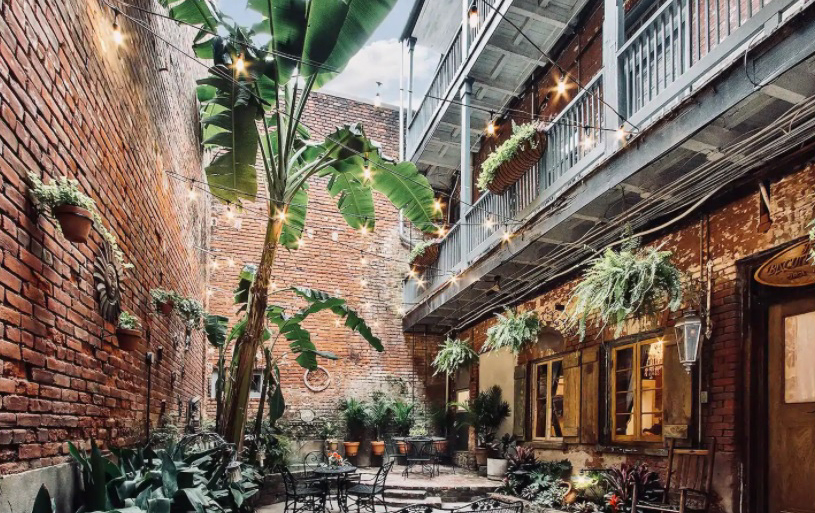 "French Quarter Mansion" 10 Steps to Bourbon Street!
Guests have been returning to the "French Quarter Mansion" for over 20 years! This mansion was built in 1820 as a single-family home and most recently converted to luxury studios and lofts. 18-foot ceilings are adorned by two dramatic chandeliers; wooden ceiling beams, a 7ft gilt Victorian mirror, original exposed brick walls & marble floors, all those details will take you back in time to the glory days of the French Quarter. Enjoy spa bathrobes, organic toiletries and Tempurpedic mattresses.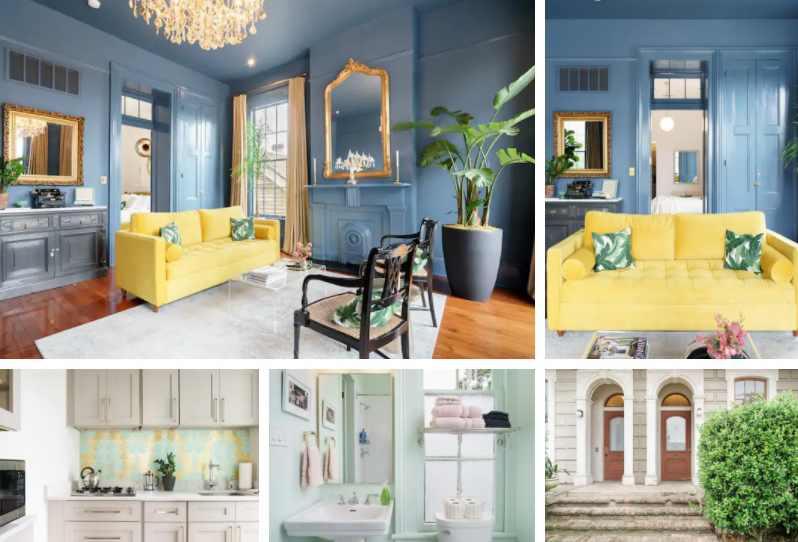 Elegant Flat in the Historic Lower Garden District
Open the floor-to-ceiling windows and sit out on the private balcony (that has views of the city skyline) at this grand Victorian apartment dating back to 1875. It has 12-foot ceilings and period details, original artwork, eclectic decor, antiques, and modern furnishings. I love it!
Bourbon Street Balcony Upscale Condo
This 2-bedroom condo features 14-foot ceilings in the living room, which is adorned by a dramatic 5ft hanging Crystal French chandelier! The large balcony overlooks Bourbon Street – which makes it a great place to relax and people watch. You can also enjoy your morning coffee or afternoon wine in the charming courtyard.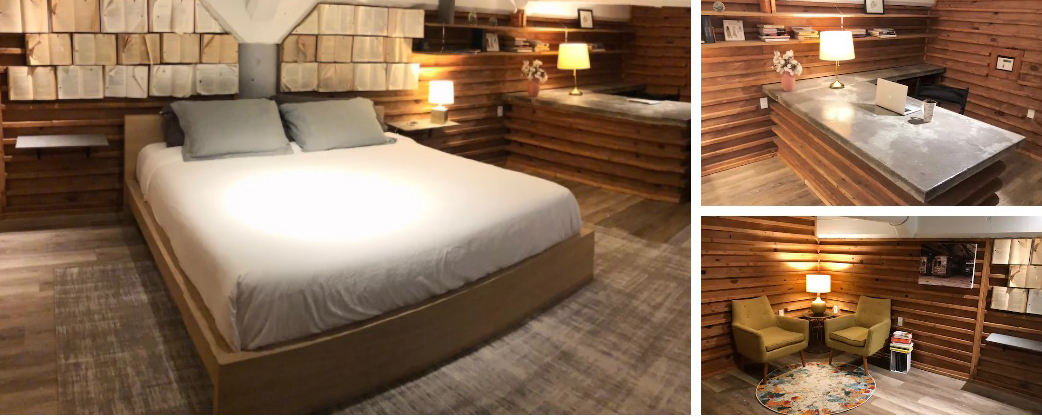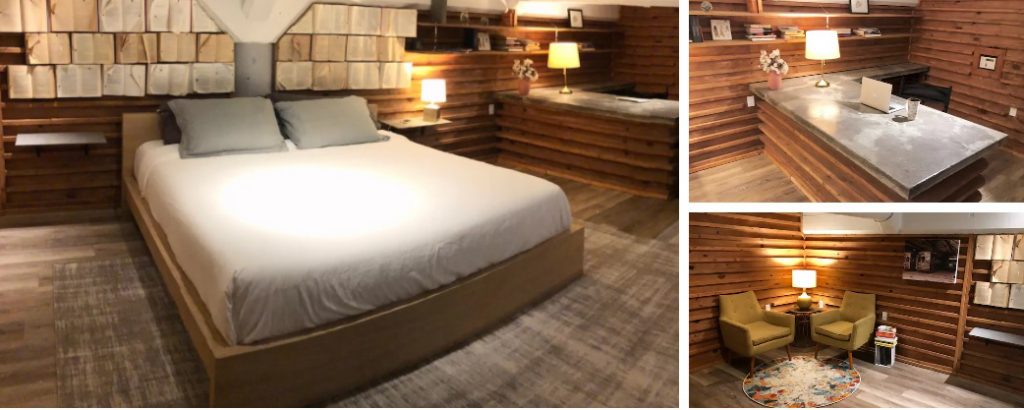 Mid City Warehouse (Entire Place)
You'll be staying in a 100-year-old warehouse when you book this Airbnb! It features a unique book loft bedroom upstairs and a second bedroom downstairs. Lots of brick, concrete beams and character! It's located in a quiet neighborhood just north of The French Quarter right off the Canal Streetcar line.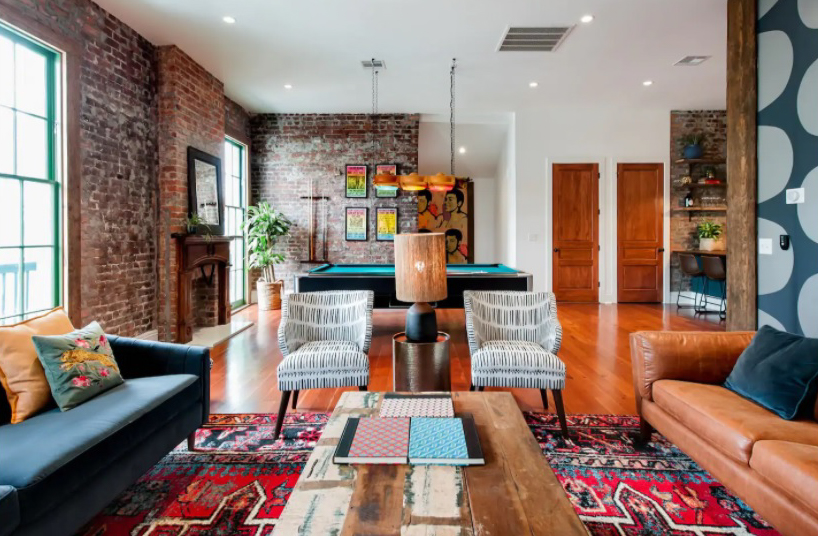 Bohemian Loft Off Magazine Street
High ceilings and exposed brick walls along with a pool table, audio, flat-screen TVs, a few unique surprises for your entertainment, and a kitchen with an ample stock of glassware set the scene for a great weekend! There are plenty of bedrooms for guests to crash, too.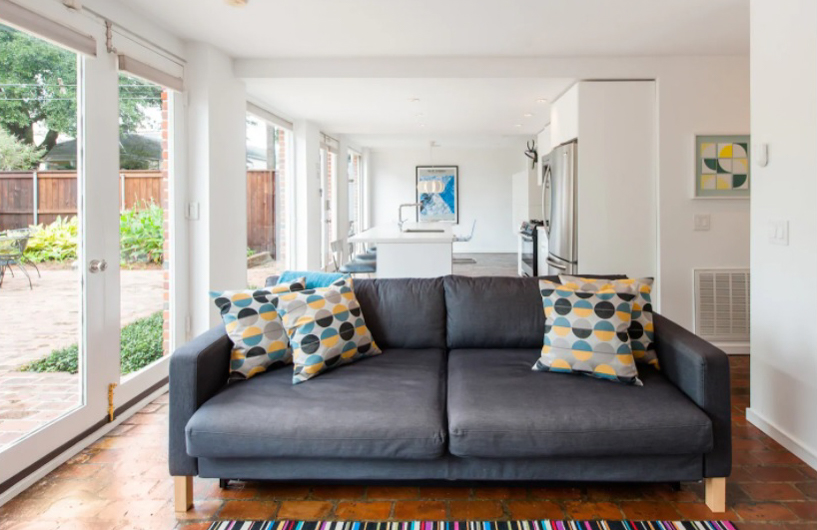 Airy Apartment – Three blocks off St Charles Avenue (Mardi Gras route)
Step through the back door into an expansive yard to discover the modern-day incarnation of this historic New Orleans residence which dates to 1895.
Old New Orleans brick floors and white walls give a fresh feel that's flooded with light by windows that span the width of the property.
Old Firehouse
---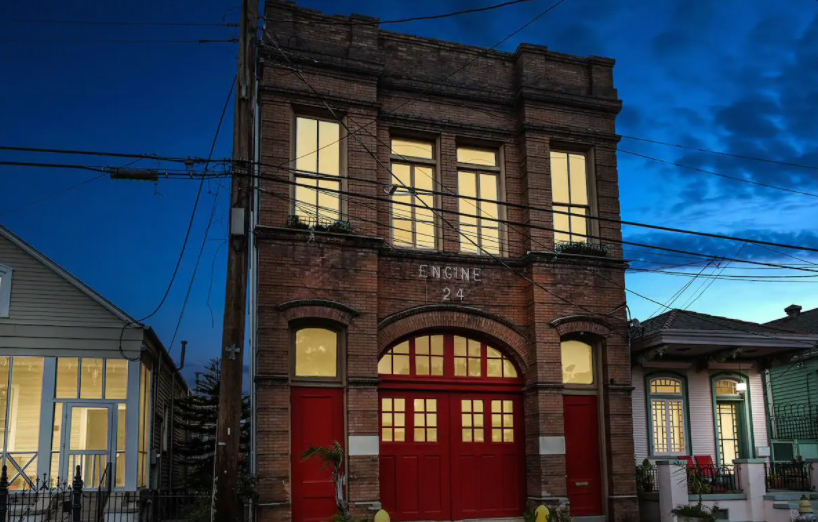 Historic Engine 24 New Orleans Firehouse – Marigny
One of New Orleans' most unique Airbnbs – the Engine 24 French Quarter Firehouse. Here you can stay in an authentic historic firehouse while enjoying the modern amenities of this renovated gem. Much of the furniture was updated recently, too!
Houseboats
---
Waterfront Private Houseboat 2B/1BA – South Shore Marina
If you're looking for a truly unique Airbnb in New Orleans staying on a houseboat is it! Essentially, this is a "tiny house" on water. It is docked in a slip ("parking space" for boats) in the gorgeous, gated, South Shore Marina. Located about 15-20 mins driving from Downtown New Orleans and the Bywater.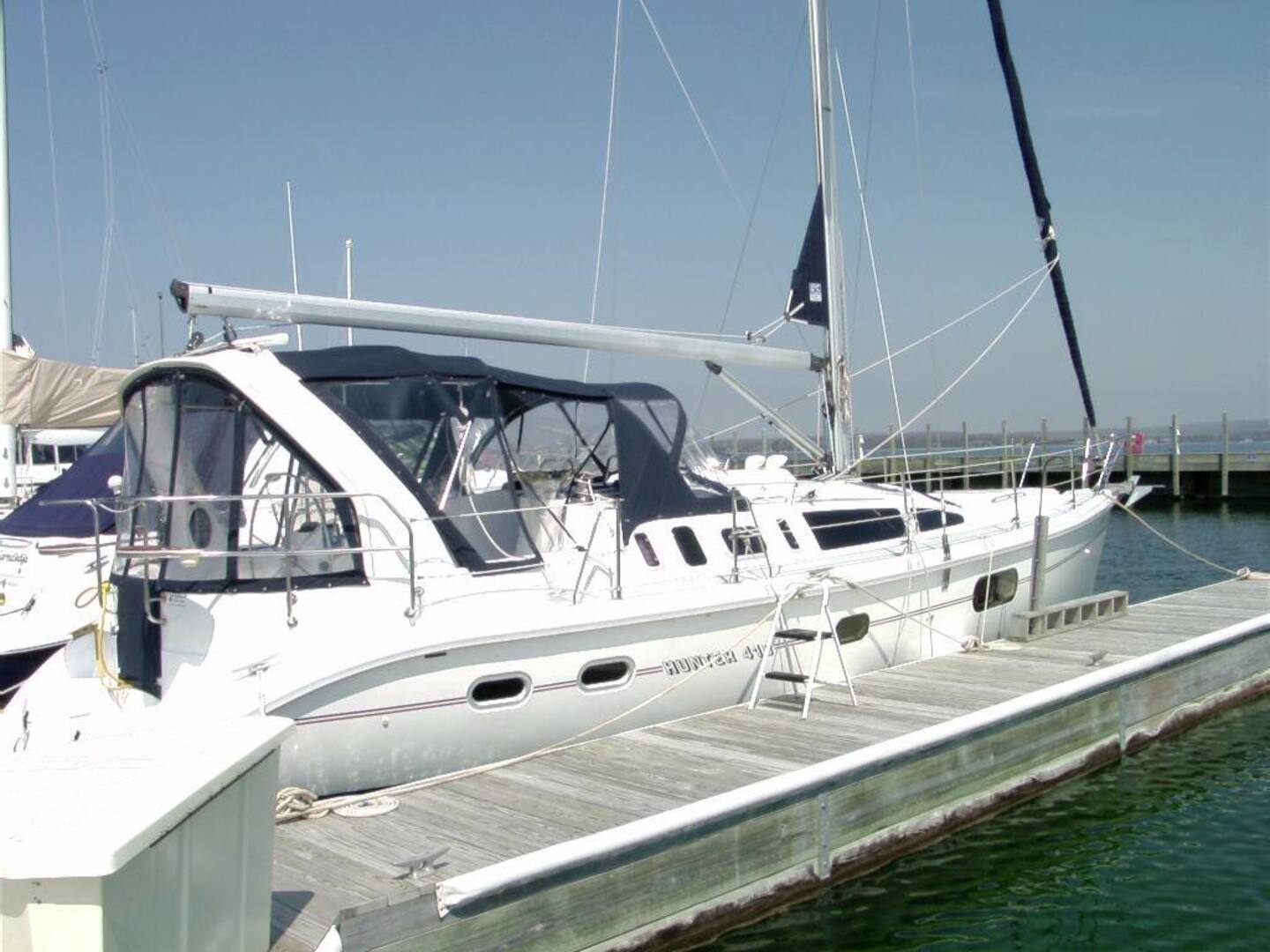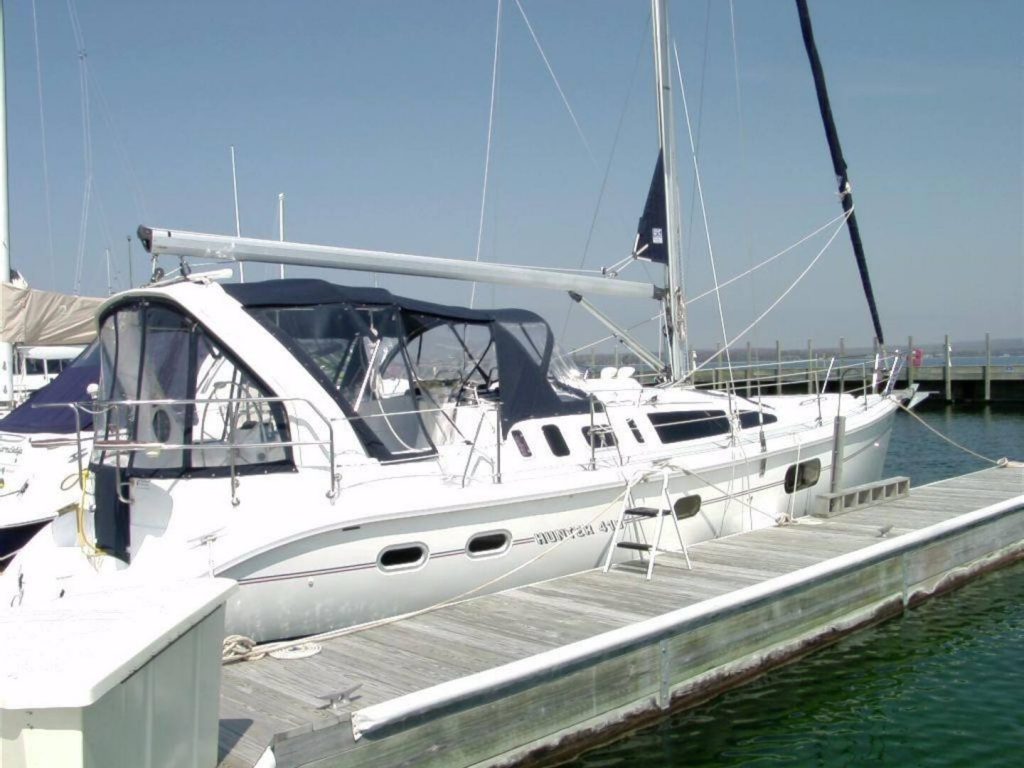 Houseboat hosted by Tom – South Shore Marina
This is actually a Hunter 410 sailboat that has two staterooms with private baths as well as a large saloon with excellent headroom of 6'2″. It's great for entertaining and sunset cocktails!
Cottages
---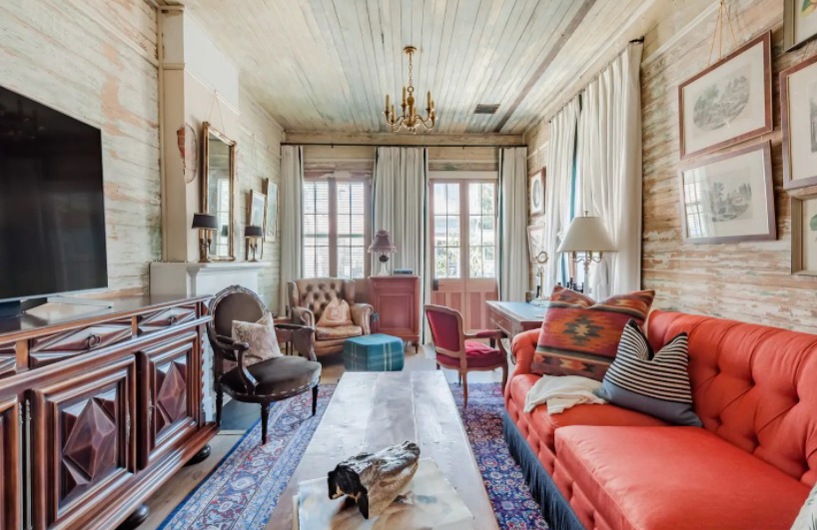 Luxury Historic Creole Cottage,with Pool & Spa – French Quarter
Bask in true New Orleans history in a property that's over 200 years old, and retains much of its original character. All around you are authentic antiques, historic oil paintings and traditional materials, complemented by luxurious upholstery and bedding. One of very few properties with a gorgeous pool and spa, both are saltwater, and walking distance to the French Quarter, Frenchman Street, and the trolley lines. It's located in one of the safest neighborhoods in New Orleans!

Old Algiers Garden House – Algiers Point
This Asian-inspired bungalow sits in a lush private garden. Amenities include a living area, fully-equipped kitchenette, workspace, closet, and bathroom with a shower stall. A comfy full-sized bed is located in the upstairs loft. The house is only a short ride to the French Quarter.
Tiny House
---
New Orleans Tiny House, 1 Guest Only – St. Roch
Classic New Orleans meets modern tiny house! This is a historic converted carriage house on beautiful oak-lined Saint Roch Avenue. Located directly behind Saint Roch Market and within easy walking distance to the Marigny, Bywater, Frenchmen Street and the French Quarter. Free street parking. This space is not for couples.
Entire Homes
---
Explore Magazine Street from a Chic, Tranquil Home
Pull up a transparent seat and enjoy a home-cooked meal at the sleek, white dining table at this high-end Greek Revival home. Vintage hardwood floors, crisp white interiors, and large-scale artwork create an elegant, glamorous city space.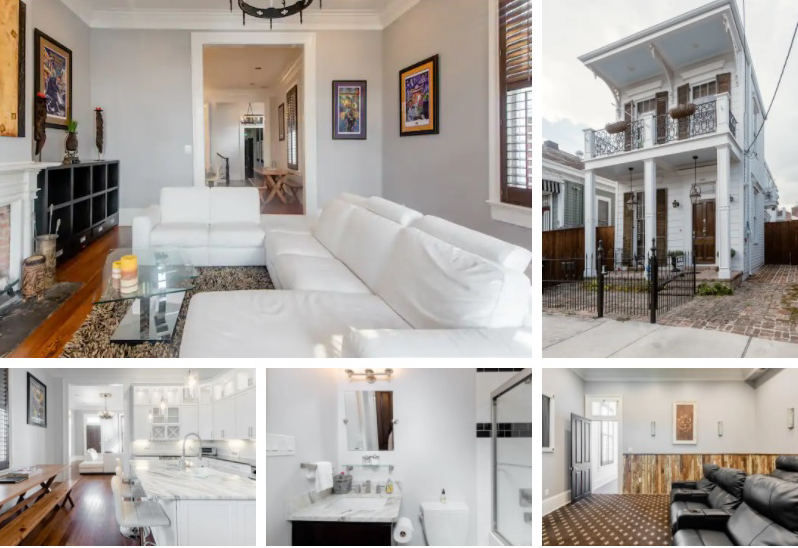 Magnificent Manor with Home Theater & Courtyard – 1 Block Off Magazine Street
Chill on the bedroom balcony in the morning light at this 1860s Greek Revival historic home. 12-foot ceilings and antique hardwood floors sit alongside stunning decorative fireplaces for a grand, updated finish. Cathedral ceilings, winding staircase, transoms, home theater, and a romantic courtyard. Perfect home for the holidays or Mardi Gras celebration.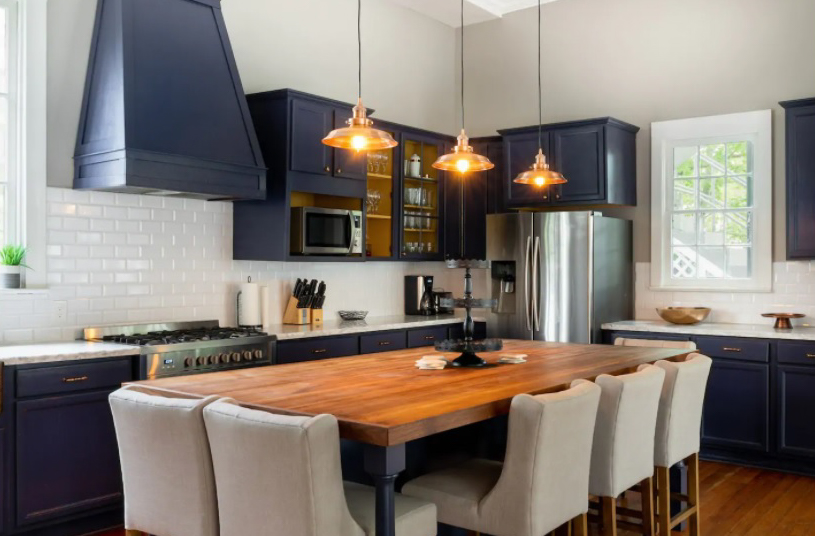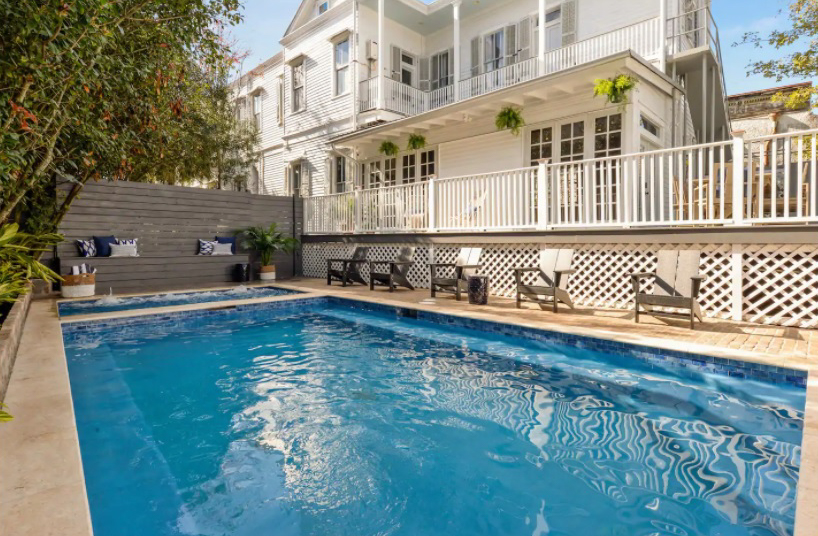 Stayloom's Opulent Esplanade Estate with Pool and Hot Tub in Treme
This is one Airbnb, where it was hard to pick only one photo to do it justice… heck two isn't even enough. There are 8 bedrooms, 2 living rooms, 5 full bathrooms, 2 half baths and a beautiful dining room, kitchen outdoor patio, private pool and hot tub! This would be the perfect place for a wedding party to stay.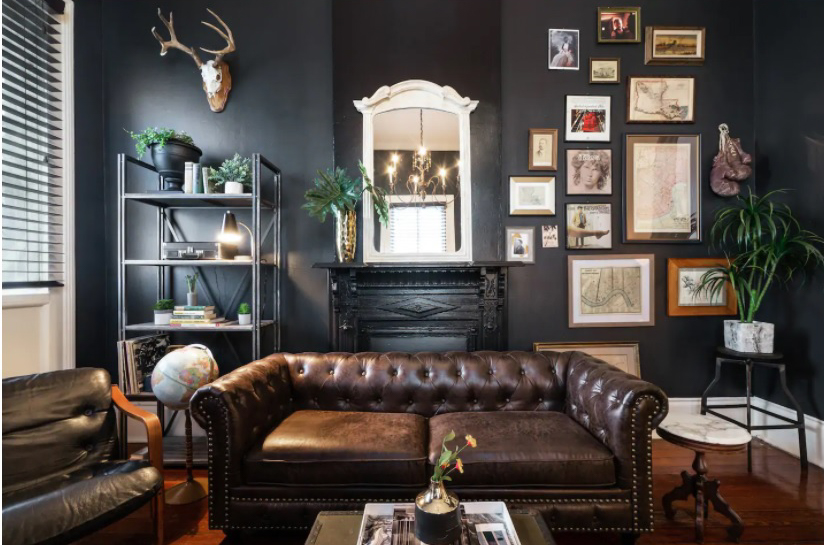 Walk to Clubs Near a Hip Shotgun House in Trendy Marigny
Step through the front door and enter a sophisticated home of historic maps, globes and travel imagery. The house is a traditional shotgun layout, very typical of homes of this era in New Orleans. That means there is no hallway; one room leads directly to the next (with a door between them) and a bathroom at the end of the house. Most visitors enjoy the uniqueness of this Victorian layout, but it may not be suitable for all guests. *House is for sale so small possibility of showings during your stay*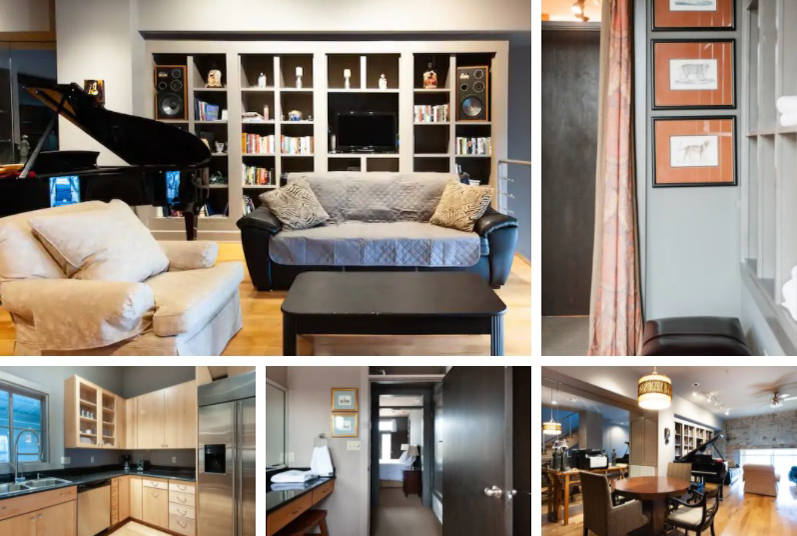 Relax in Style at an Exclusive Townhouse – Warehouse District
Unwind with an indulgent soak under the glittering chandelier, then dress up for dinner in the lively French Quarter. Designed with a modern feel in a historic warehouse, this townhouse features a private balcony and an open floorplan.
Guest Homes
---
Historic Neighborhood, Modern Home & Amazing Pool – Marigny
This is a traditional New Orleans shotgun home – with a thoroughly modern twist. You'll have your own entrance and completely private space with access to an amazing saltwater pool (only shared with the host and occasional friends; not a public space), deck and garden oasis in the backyard. In 2015, this fully renovated home was honored at the AIA New Orleans Design Awards, citing its artful blend of old and new construction.
Turn of the Century Carriage House with Saltwater Pool – Uptown/Carrollton
This historic home is over 100 years old, newly refurbished, and retains period details with antique furniture. Magnolia trees and old oaks line the quiet street, just steps from the Park and St. Charles Ave. Guests are invited to cool off in the saltwater pool before sitting down with a drink on the chimney brick patio.
Which of these Airbnbs in New Orleans is your favorite? Let me know in the comments!