10 Quirky Things To Do in New Orleans
New Orleans is a city all its own, with many quirky experiences to be had. From ghost tours to tarot card readings to sampling the "planet's best" hot sauce…there are many fun experiences you can have in just a few days of visiting New Orleans!
1.) Take a Haunted History Ghost Tour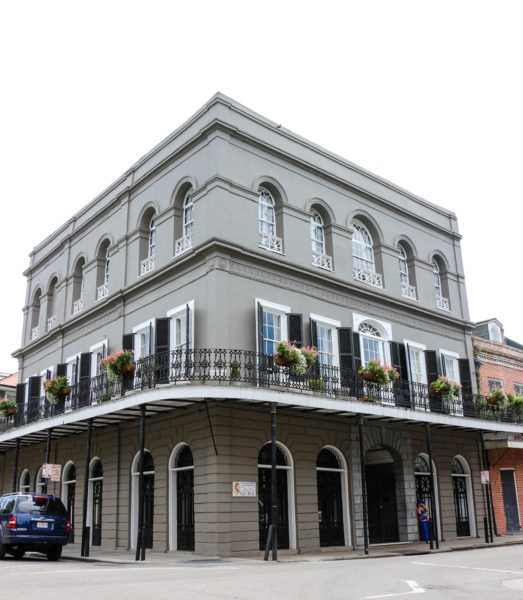 Whether you believe in ghosts or not, taking "haunted" history tours are great fun – especially in a city like New Orleans that is rich in history! (And hey, they let you bring a drink with too!)
However, don't expect any Ouija boards or seances when taking a haunted tour in New Orleans. These tours are a fun way to learn some of the darker more sinister events and deaths in New Orleans. (You're not actually going to be hunting ghosts!)
There are a few different times throughout the day you can book your tour, but obviously, it will be more fun to take a later tour. Not only will it be "spookier" but the streets will be less crowded, and you'll be able to hear your tour guide a bit better. Your tour guide will take you through the French Quarter for about 2 hours – stopping at various spots to talk about the brutal death/historical event that took place there.
You will also see Madame Delphine LaLaurie's house on these tours. She was a New Orleans socialite who allegedly tortured and murdered people in very brutal ways. Her home is supposed to be quite haunted. She was also a prominent character on the show AHS: Coven, which your tour guide will tell you has gotten the history horribly wrong. You will also make a pit stop at a "haunted" bar about halfway through this tour, to replenish your beverages.
Did I mention you can drink while on this tour? Haha. I always felt a bit strange carrying an alcoholic beverage through the streets of New Orleans, but it certainly is a novel experience to listen to ghost stories with the beverage of your choice in hand. (New Orleans has lax laws about alcohol in the streets.)
Click here for more information and to book the Haunted History Tour of New Orleans.
Book Your Haunted History Tour Now
2.) Tour a Cemetery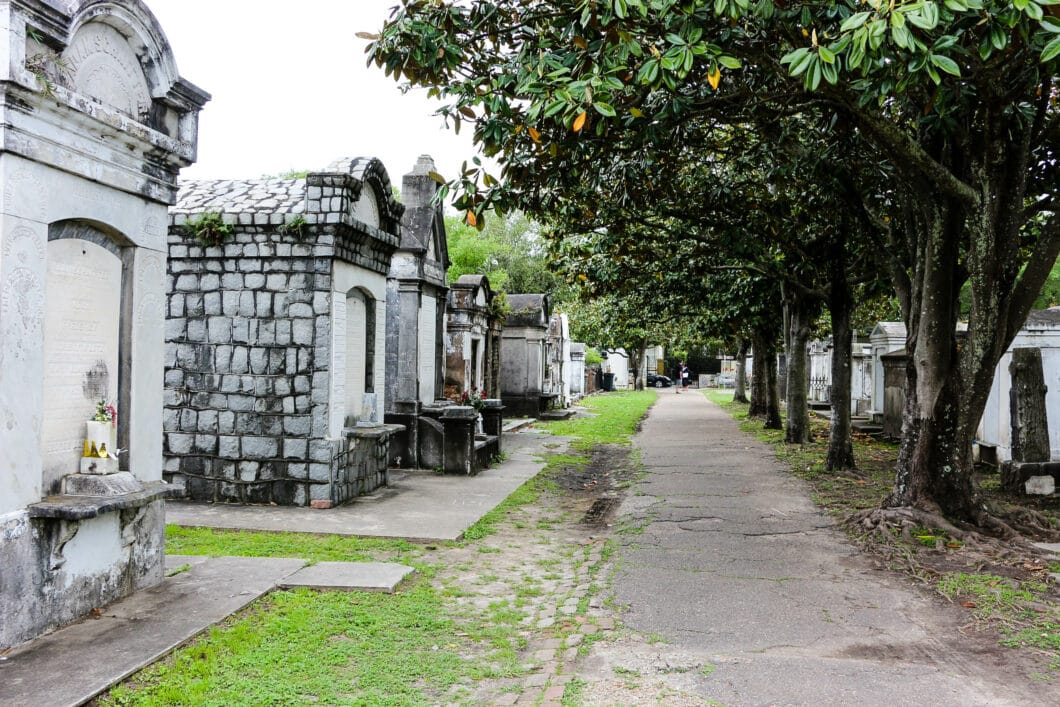 Touring a cemetery may sound a bit morbid, however, the cemeteries in New Orleans are beautiful, unique and contain so much history. We toured Lafayette Cemetery No. 1 while in New Orleans. Another prominent cemetery is Saint Louis No. 1 Cemetery.
You can book a tour guide via GetYourGuide (which is normally what we do), however, there was also a tour guide waiting at Lafayette Cemetery No. 1 to give tours every half hour…so, we decided to give her tour a try.
Our guide was very knowledgeable and informative, but we happened to be the last tour of the day (the cemetery closes at 4 p.m.) and it was a bit distracting to hear her shout every 30 seconds or so that the cemetery would be closing and this is the last tour of the day…and then stopping to collect money from those who wanted to join halfway through. (Which, this tour was only $5. So, we can't complain too much.) So, the moral of the story is, get there earlier than we did and allow yourself some time to wander through without a guide as well.
That being said, having a tour guide for Lafayette Cemetery No. 1 was a good idea because we would not have known that New Orleans can actually bury their dead in the ground, but the reason they don't has more to do with real estate than the fear of coffins rising up when it floods. Also, John Howard Ferguson (of Plessy v. Ferguson) is buried here (see photos below).
Various books are inspired by this cemetery, as well as numerous movies being filmed here. The most shocking bit of info was just how many people can be buried in these tombs. There can be whole families, and in one tomb pictured below, there are over a hundred people buried together in a tomb.
Overall, for a half-hour, $5 tour…it was incredibly interesting! If you would like to learn more cemetery facts, just click on the photos below to read their captions. And if you prefer to book your tours ahead of time, click here.
3.) Do a Tarot Card Reading
Again, whether you believe in tarot card readings or not, this is still a fun thing to do while in New Orleans. We don't believe in tarot card readings – sorry! But we did really enjoy the experience.
You can spend anywhere from $10 to closer to $50 and beyond for a tarot card reading. We did one tarot card reading from someone on the street (about $20) and then we also did one in a voodoo shop ($40). We had wanted to try to get in at Marie Laveau's Voodoo Shop for a reading, but they were constantly booked (get there right at noon or right at 6 p.m. if you want to try to get a reading that day).
We instead went to Rev. Zombie's Voodoo Shop for a reading. Both readings were fun (I did personally prefer the experience in the shop) and it was fun to compare the readings to each other. They did have some incredibly eery similarities and both readers did actually predict a major life event that happened for us when we returned from our trip! (Which we got a kick out of.) Coincidence? Or can the cards tell your future? Give it a try – and you be the judge! 🙂
4.) Listen to Live Jazz
You can't come to New Orleans without hearing a live Jazz band! A couple of our favorite spots we stumbled on to listen to jazz were "Three Muses" and actually the lounge in our hotel called "Irvin Mayfield's Jazz Playhouse" (inside the Royal Sonesta Hotel). Both places can get very busy (especially on weekends) I would suggest getting a reservation if possible. Neither place had a cover charge either, and service and drinks were wonderful! (I did a separate post on Three Muses if you would like to read more about that establishment, click here.)
5.) Grab a Drink… and Go Shopping!
As I mentioned earlier, it is A-OK to drink alcohol on the streets of New Orleans…as long as it's in a plastic cup. So, having a cocktail and shopping at your favorite brick and mortar stores is quite the experience! And I have to say, shopping in the French Quarter is right up my alley! The stores I wandered into all closely aligned with my vintage-inspired, clothing-loving heart. They had countless mom and pop stores as well as stores like "Trashy Diva" and "LUSH." I only bought things from LUSH, and I am now a LUSH addict because of this shopping excursion (the store on Royal Street, pictured above, sent me home with so many incredible samples!).
6.) Take a Food Tour
Did I mention New Orleans has incredibly delicious cuisine? And if you have time to do only one thing while in New Orleans, it should be to eat as much as you can? Haha. Taking a food tour early in your trip is also a great way to get suggestions on which restaurants to hit up for the rest of your trip.
We did our tour through Tastebud Food Tours, and we loved it! The food we sampled was all delicious, and I loved learning about dishes that are native to New Orleans (from Po' Boys to beignets) and learning the history of Creole and Cajun cooking.
The photos in the gallery above were just a few of the things we tried. We were very full by the time we were done! We stopped at a total of 3 restaurants, then we had a picnic by the river and we ended in a candy shop. The tour cost $50 per person, and I would say for the experience and the amount of food we ate, it was definitely worth it! Click here for more info on this food tour.
7.) Try the "Planet's Best Hot Sauce" at Pepper Palace
Ok, I have no idea how this was decided or if it's true or not…but sampling hot sauce is always a good time in my book! (I love spicy!!) This place (Pepper Palace) is a touristy stop, but they do have some really yummy hot sauces (the buffalo parm sauce was my favorite) and sampling their "Planet's Best Hot Sauce," which is given to you as a dab on a toothpick, is fun. (They make you sign a waiver and everything.) It makes for a fun story! 😉
These are the stages of me sampling it. It was very spicy… my tongue was tingly for a while afterward! (But I didn't die or anything.)
8.) See a Parade in the French Quarter
You won't have to look too hard for a parade if you're in the French Quarter (especially on the weekend)! There are tons of parades going on throughout the French Quarter (there seemed to be an especially high amount happening on Royal Street). These will range from funerals to weddings to just bands that are in town. For someone whose area only has parades on significant holidays (maybe 3 times a year), it was so much for to watch parades coming through!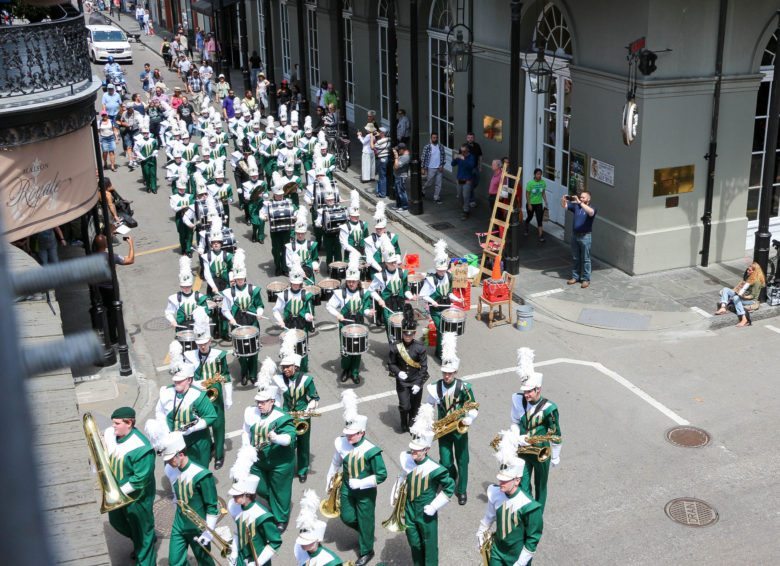 9.) People Watch in Jackson Square
There is a lot going on Jackson Square from tarot card readings (which we did here) to some very talented (and not so talented) street performers to various knick-knack vendors…there's a lot to see!
Technically the video below was taken on Royal Street (I think) not Jackson Square…but this guy took the cake as my favorite street performer on our trip (and sorry it's a Snapchat I saved, not a professional video)!
10.) Walk Down Bourbon Street
Another experience you can't leave New Orleans without having…is walking down Bourbon Street at least once. It's pretty much bar, strip club, bar, strip club, restaurant (so, basically it's a great big, loud party)….but it's an experience that is unique to New Orleans! (But I wouldn't advise bringing your kids…there were enough young ladies wandering around in nothing but their undies over here…which is, again, a unique experience! Haha.)
**BONUS: More Quirky Tours to Take in New Orleans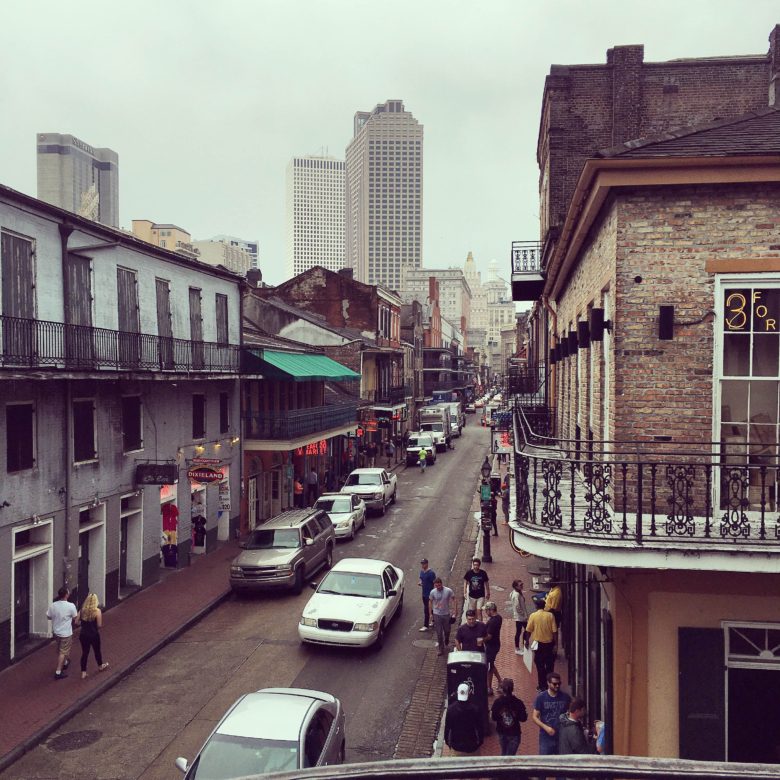 Where We Stayed
We actually used our Sonesta points and stayed right on Bourbon Street at the Royal Sonesta Hotel. It's a nice hotel in a prime location! But, if you pick a room on the Bourbon Street side, you'll have some fun views, but it will be LOUD at night. (They provide earplugs, but just an FYI. Bourbon Street is crazy!)
If you like this post, it's available as a walking tour on GPSmyCity! Each place mentioned will have a complete set of GPS coordinates! Click here to download it via the GPSmyCity app on iTunes.
Using a VPN When Traveling
VPN is short for "virtual private network." A VPN (like IPVanish) sets up a private connection between your device and whatever network you are connected to – so, no one can see your browsing data. It is important to use a VPN anytime you are connected to public Wifi (such as at a restaurant, resort, hotel, cafe, airport, etc.). This is because when you connect to a public network no matter where you are, you run the risk of a hacker grabbing your unencrypted data. Trust me, speaking from experience here…this can put a real damper on your trip if your banking, phone or email get hacked while you're traveling!
VPNs can also help you save on domestic flights, help you watch Netflix shows not available in the US and more! You can read more about using a VPN in my post "Why I Use a VPN When Traveling and at Home (And You Should Too)."
Travel Insurance
It's a good idea, no matter where your adventure takes you, to have travel insurance. You never know what might happen! Whether you get sick before your trip and can't go, or you become sick or injured while on your adventure – being covered with travel insurance is a must. Some credit card companies do provide this service (check with yours), or you can get a quote from companies such as Squaremouth to find the best plan for you and your adventure. (This is the company I, personally, use. They are even recommended by Forbes!) To get a free quote, click here.
Luggage Storage
Need a spot to store your luggage in New Orleans? Luggage Hero is great if you can't check into your hotel yet or need to check out early and still want to do some sightseeing! They'll watch your bags for as little as $1 an hour. Click here to see their rates for New Orleans.
Visa Requirements
To check if your country requires a Visa for traveling to the United States, click here.
Would you try any of these things on your trip to New Orleans? And if you've already visited, what were some fun experiences you had? Let me know in the comments!
If you like this post – Pin it!