5 Unique Restaurants & Bars to Try in New Orleans
Looking for some unique restaurants & bars in New Orleans? This post is sharing 5 of our favorites from our adventure to NOLA.
New Orleans is known for many things, but one of the first things that always comes to mind is how wonderful the food and drinks are. Anytime we asked for a recommendation for a bar or restaurant in New Orleans, the answer was always, "Well, there isn't a bad place to eat or drink here!" With that being said, there were several spots that really stood out above the rest for us, and offered some truly unique experiences!
1.) Carousel Bar & Lounge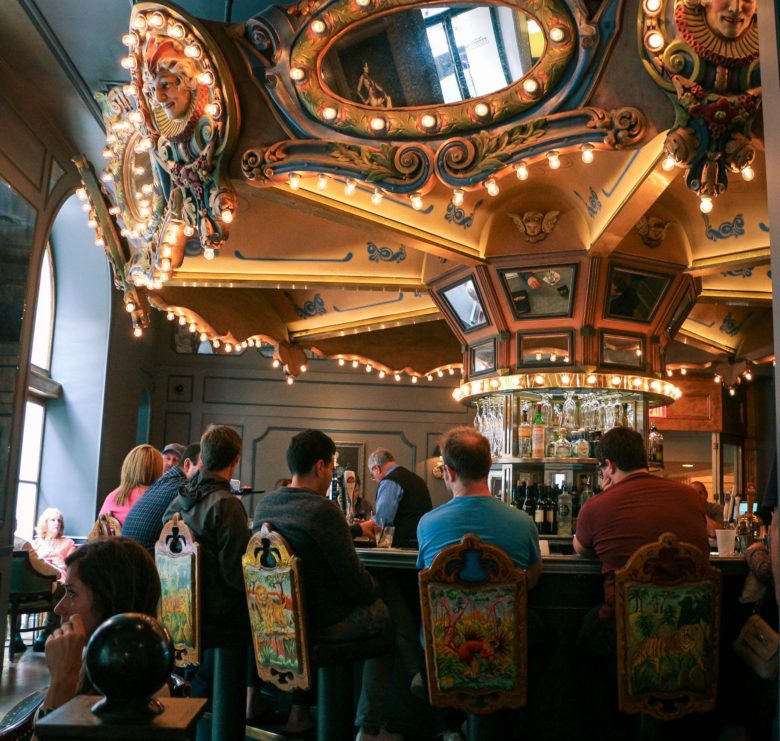 The Carousel Bar & Lounge is inside the Hotel Monteleone – and the bar is actually a revolving carousel! Need I say more? Haha.
While a moving carousel bar may sound like a bad idea (especially when drinking is involved), I can assure you that the bar is not moving too quickly (you won't get dizzy). But in the time it would take for you to get up and go to the restroom, your drink and friends would probably be on the other side of the bar by the time you returned.
The food and drinks were good – I wouldn't say there was anything here that you couldn't get at any other lounge/bar in NOLA, but the experience of being on a carousel whilst drinking is pretty darn awesome! Obviously, this place is pretty busy, no matter the time of day. You'll have to wait patiently for your seat at the bar! Click here for more info on The Carousel Bar & Lounge.
2.) Brennan's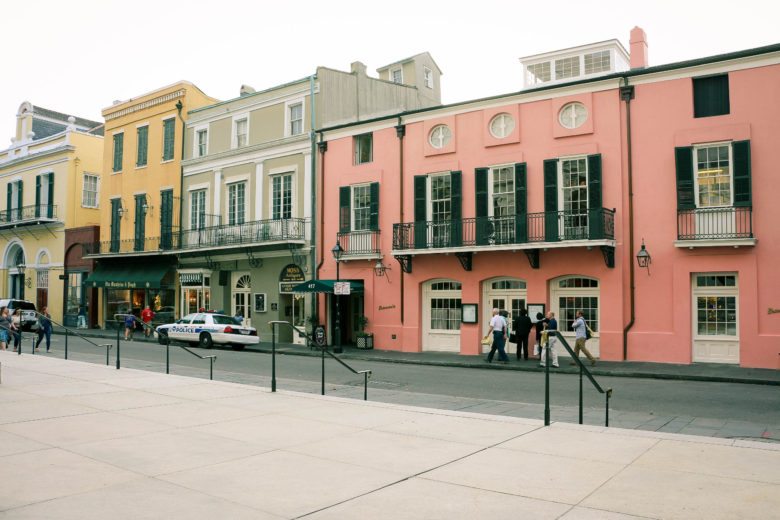 Brennan's is a fine dining experience with some yummy Creole dishes on the menu. (It's the cute pink building pictured above.) They are primarily known for their fancy breakfasts, though.
What makes Brennan's so unique is that this restaurant is where the Bananas Foster dessert was born. And my goodness is it delicious! Bananas Foster is made up of bananas and vanilla ice cream, butter, brown sugar, cinnamon, dark rum, and banana liqueur. Part of the fun of eating at Brennan's is they make the dessert in front of you, explain it and you can watch the banana liqueur be ignited.
Also, they have a lovely little courtyard you can dine in that has the most adorable little turtle pond. The service was absolutely amazing as well! Click here for more info on Brennan's.
3.) Three Muses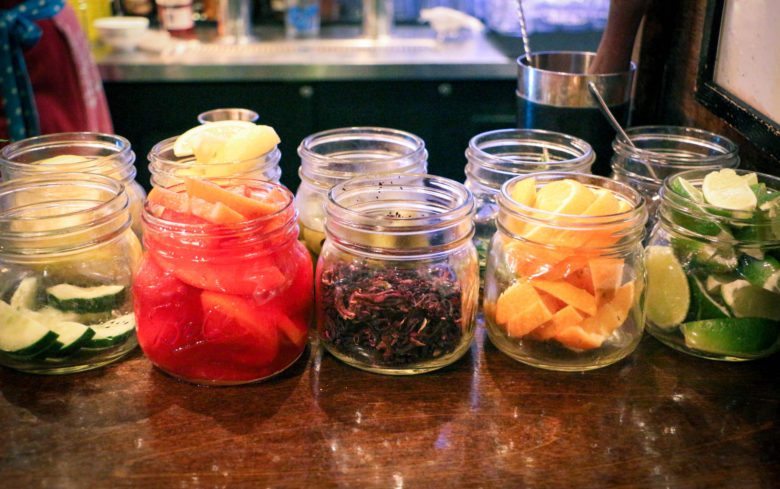 Three Muses has absolutely fantastic & unique cocktails with a farm-to-bar focus. Many of the ingredients used in them are housemade. (How cool is that?)
I didn't sample all the cocktails (I don't have THAT high of an alcohol tolerance), but I would recommend their Spaghetti Western made with Bulleit Bourbon, Campari-soaked orange and rosemary syrup – yum!
Three Muses also has some fantastic live jazz bands. We seriously sat here for 4 hours listening to music, sipping cocktails & eating some of their delicious tapas. Click here for more info on Three Muses.
4.) Café Du Monde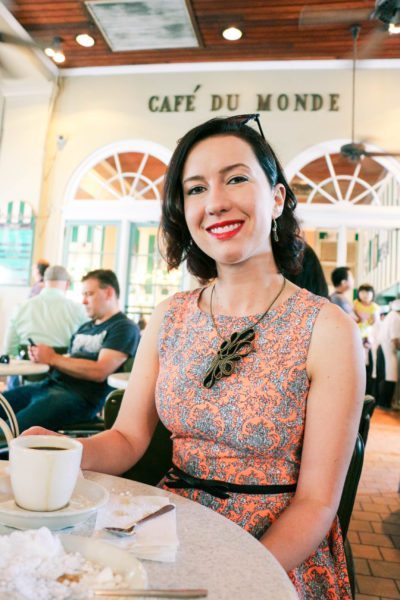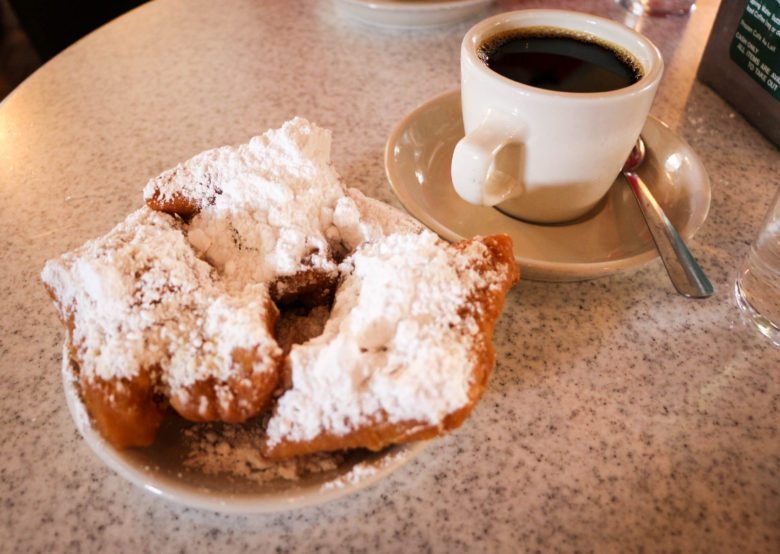 Café Du Monde serves the best beignets! (Don't worry I had no idea what a beignet was either.) A beignet is a square piece of dough, fried and covered with powdered sugar.
I had tried beignets at a few different places, and I can honestly say Café Du Monde has some scrumptious beignets. They are best dipped in Café Du Monde's coffee which has chicory in it. (It's a root of the endive plant and is roasted and ground. It is added to the coffee to soften the bitter edge of the dark roasted coffee.)
Their menu consists of just beignets (they're that good), coffee & a couple other beverages. The place is always packed and the to-go line can be seen wrapped around the building. I'm not the only one who thinks the beignets are awesome! And a big thank you to fellow blogger Lee, for recommending I try this place – I was not disappointed! Click here for more info on Café Du Monde.
5.) Lafitte's Blacksmith Shop Bar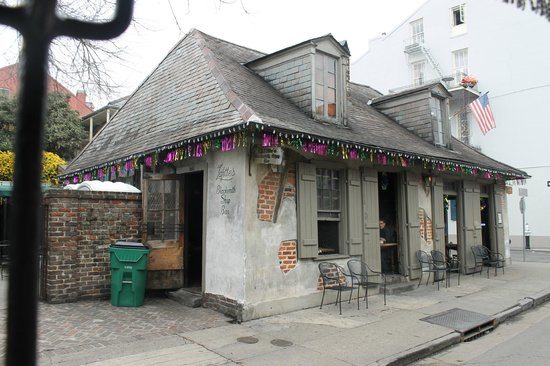 This is said to be the oldest bar in New Orleans (possibly the country). There's a lot of rumor and legend surrounding the bar…for example, Jean Laffite, the notorious pirate, owned it. And because it's so old, it's super haunted…so haunted in fact, that they no longer try to keep electric lights on because the ghosts would just turn them off. The entire place is lit by candlelight! (Yes, real candles!)
Believe what you will, but either way, this bar has an awesome atmosphere. My husband and I had a wonderful time sitting in the back by the piano requesting songs. There are actually chairs around the grand piano (the piano is basically another bar) so you can sit and drink while you listen and request songs! It's pretty awesome. And the piano player is wonderful. I don't sing (ever), but by the end of the night I was belting out tunes with folks from all corners of the world – it was my favorite bar out of the whole trip. Click here for more info on Lafitte's Blacksmith Shop Bar.
Bonus: Royal House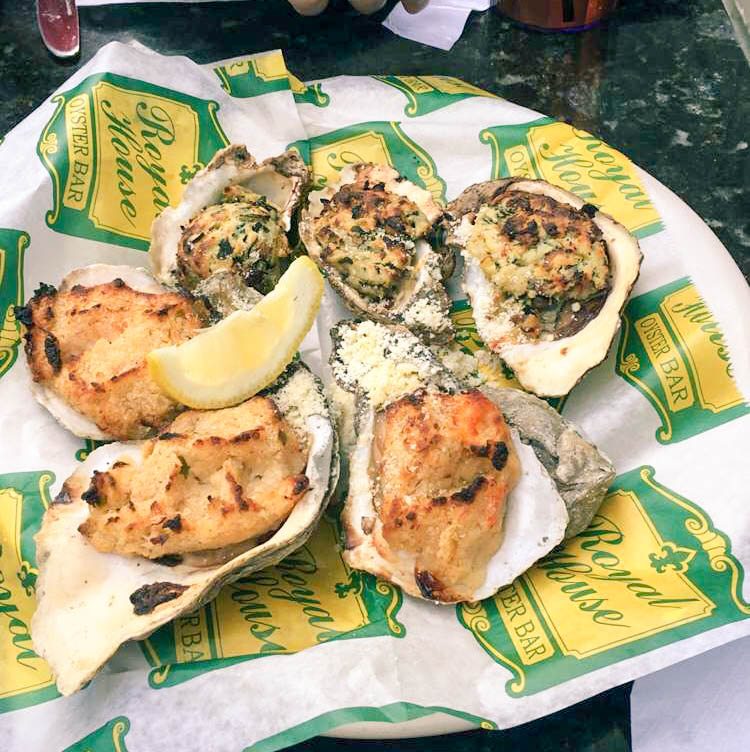 I wanted to share the Royal House with you because 1.) They have awesome oysters 2.) If it's a nice day, they have a prime spot for some very good outdoor street entertainment!
Grab a seat on their balcony, order some Oysters Rockefeller and enjoy some lovely tunes from the street below. There are street performers everywhere, but I feel this particular corner of Royal Street had some really wonderful performers. (The Royal House is actually located right next to Brennan's on Royal Street.) Click here for more info on The Royal House.
Where We Stayed
We actually used our Sonesta points and stayed right on Bourbon Street at the Royal Sonesta Hotel. It's a nice hotel in a prime location! But, if you pick a room on the Bourbon Street side, you'll have some fun views, but it will be LOUD at night. (They provide earplugs, but just an FYI. Bourbon Street is crazy!) *Click here to for a complete list of hotels in New Orleans with reviews.
What are some of the most unique restaurants & bars you've found while on vacation (bonus points if it was in New Orleans, haha)? Let me know in the comments!
Using a VPN When Traveling
---
VPN is short for "virtual private network." A VPN (like IPVanish) sets up a private connection between your device and whatever network you are connected to – so, no one can see your browsing data. It is important to use a VPN anytime you are connected to public Wifi (such as at a restaurant, resort, hotel, cafe, airport, etc.). This is because when you connect to a public network no matter where you are, you run the risk of a hacker grabbing your unencrypted data. Trust me, speaking from experience here…this can put a real damper on your trip if your banking, phone or email get hacked while you're traveling!
VPNs can also help you save on domestic flights, help you watch Netflix shows not available in the US and more! You can read more about using a VPN in my post "Why I Use a VPN When Traveling and at Home (And You Should Too)."
Click here to download IPVanish VPN.
Pro tip: if you are only planning to use a VPN for your vacation (and not daily life), purchase a monthly plan that is less than $4 per month, before you leave for your trip. Use the VPN for the duration of your trip, come home and cancel the plan. This way you'll have only spent a few dollars… but you'll save yourself a HUGE headache.
Travel Insurance
---
As of 2021, many destinations require having travel medical insurance that covers COVID-19. Squaremouth is the only site that currently lets you filter travel insurance policies for COVID-19 coverage. I, personally, use Squaremouth for finding the best insurance policies for my travels, and I have already used them for trips planned in 2021. They're also recommended by Forbes! You can click here to get your free travel insurance quote or enter your information via the widget below.
Visa Requirements
To check if your country requires a Visa for traveling to the United States, click here.
*If you like this post, it is now available on iTunes as a self-guided walking tour! Click here to download it.