Another Hello Kitty Outfit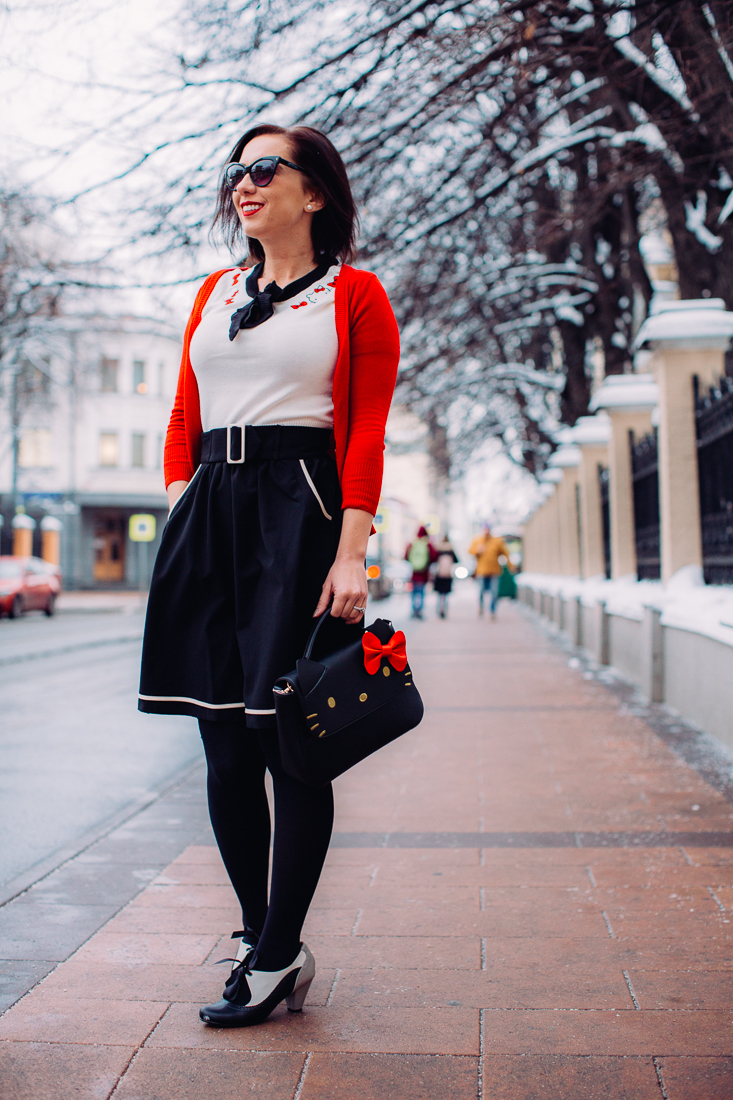 Cardigan | Top c/o* | Skirt c/o* | Bag c/o* | Tights | Sunglasses (Similar) | Heels c/o* | Lipstick
Ah, yes, yet another Hello Kitty outfit! And here's the best part…you haven't even seen all of my newly acquired Hello Kitty attire yet. I still have one more outfit up my sleeve!
In my last Hello Kitty post, I finally professed my love for all things Hello Kitty. Fortunately, my husband does not have any issues with this, and even likes my "soft" Hello Kitty pillow cases. (And here's hoping he doesn't read this blog post, haha. Which he probably won't because when this post publishes my brother-in-law is still going to be in Moscow by us, and we'll be on all kinds of fun adventures!)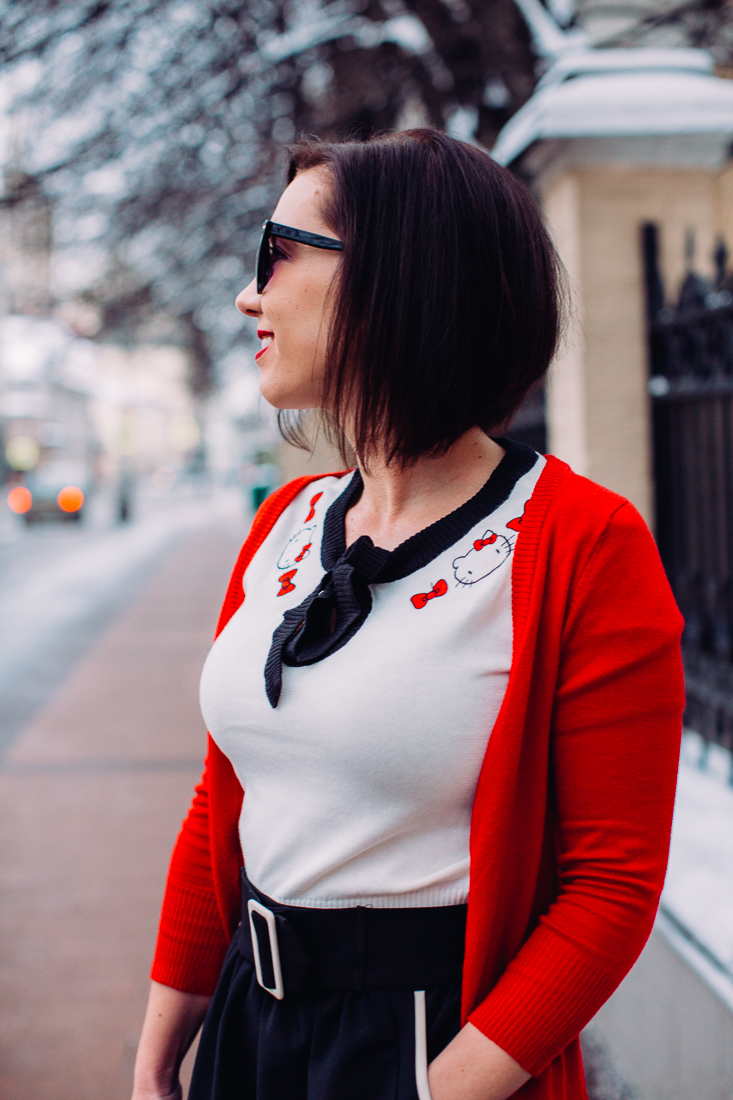 This top is the cutest Hello Kitty top in my collection! I absolutely adore it. However, please note, this top hits right above my belly button…so, it really short. It works great for tucking into my high waisted skirts (like this one), and my high waisted jeans. It is true to size, but it is shorter than I expected!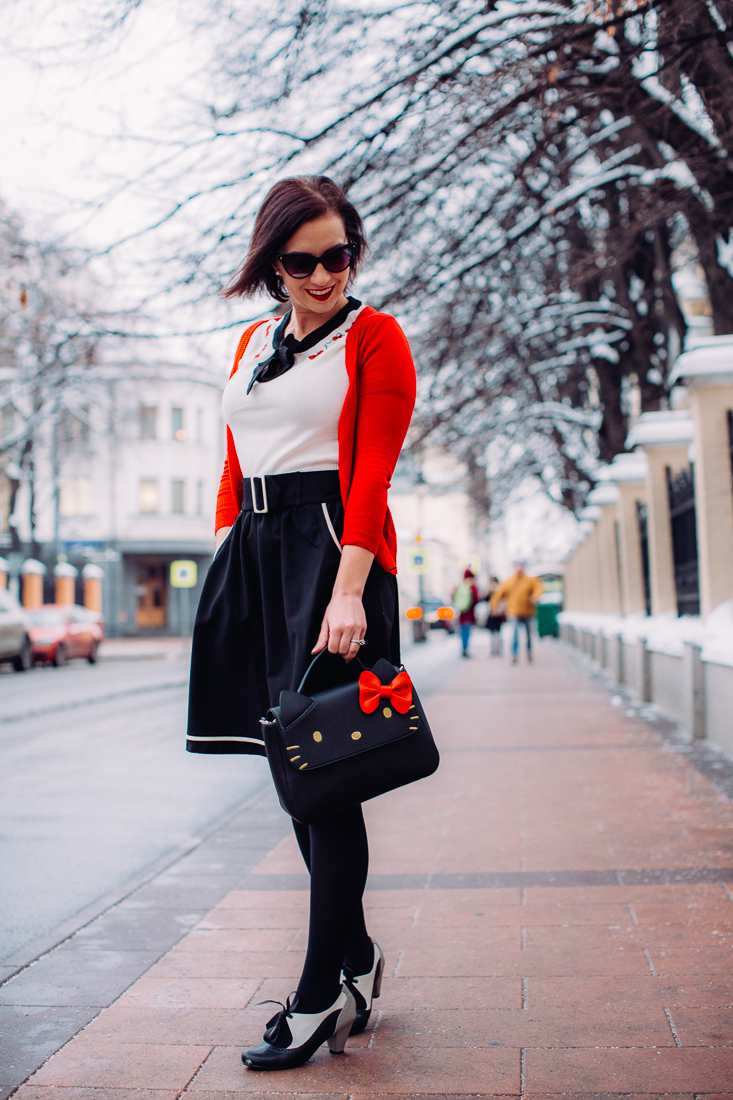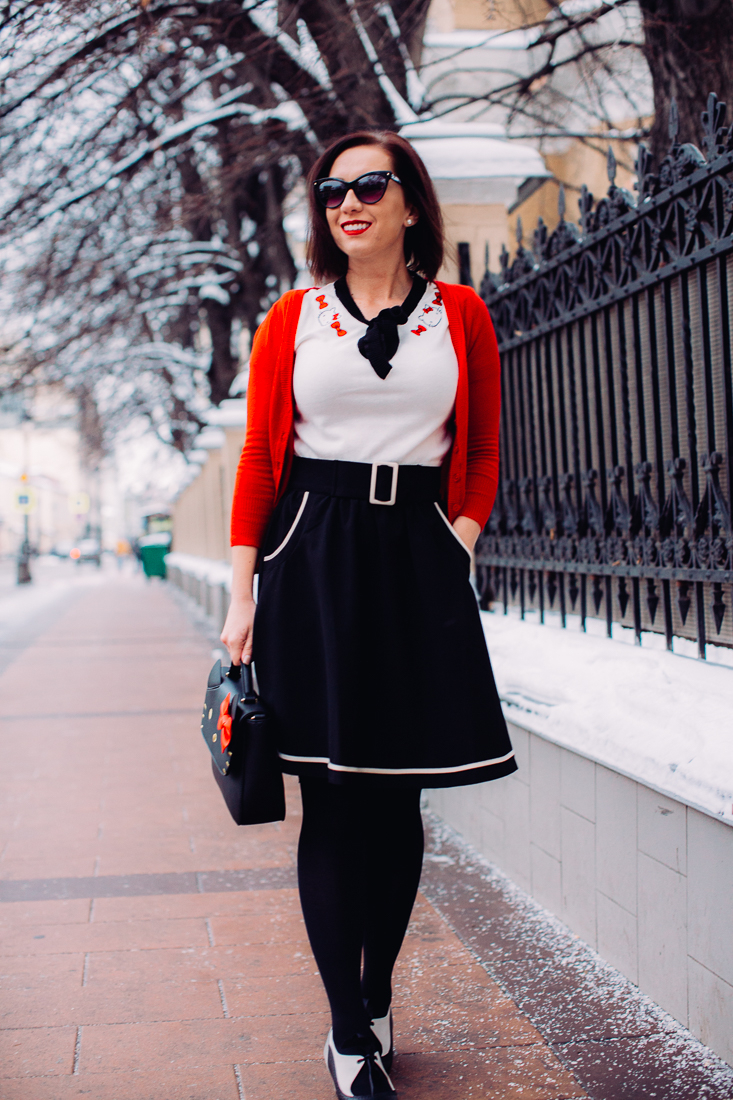 Oooh! And this skirt is on sale right now, and it's recently been restocked in sizes XXS – 4X. It's easily the most versatile piece in my closet. It's also a skirt that pictures don't do justice. The material is fantastic, and it doesn't collect lint, like the majority of my black bottoms.
Are you all sick of the Hello Kitty outfits yet? Or are there still a few Hello Kitty fans hanging around? Let me know in the comments!
Where to find it:
Cardigan: ModCloth
Top: c/o* ModCloth
Bag: c/o* ModCloth
Skirt: c/o* ModCloth
Lipstick: Stila Stay All Day in Beso
Tights: Old (Similar here)
Heels: c/o* ModCloth (Also available here.)
Sunglasses: Old (Similar here)

*Disclosure: some of these links are affiliate links. Meaning, if you click a link and make a purchase, Have Clothes, Will Travel gets a very small commission at no extra cost to you. Thank you for supporting the brands that make this blog possible! I am also a participant in the Amazon Services LLC Associates Program, an affiliate advertising program designed to provide a means for us to earn fees by linking to Amazon.com and affiliated sites.
*c/o = courtesy of, meaning the company gave me the product to be used on my blog, and I did not pay for it. All opinions are my own, and I am not being compensated for a positive review.