Outfit Ideas for Thanksgiving From Formal to Casual
Trying to figure out what to wear to Thanksgiving this year? This post is here to help – with outfit suggestions and ideas that range from formal to casual but, most importantly, they are COMFORTABLE.
This is one holiday that is always a bit interesting to figure out an outfit for. On the one hand, you're likely seeing your entire family for the first in a while, and you want to look nice! On the other hand, Thanksgiving is a holiday where you are encouraged to eat until you practically make yourself sick… so, you'd rather just wear sweatpants and a sweatshirt.
Formal Yet Comfortable Outfit Idea for Thanksgiving
Thanksgiving, at least for my family, usually takes place at Grandma's or my mom's, and it's usually pretty lowkey and relaxed. No one in my family is expecting me to show up in a ball gown and high heels for Thanksgiving! But I am a dress girl, so that's where this first outfit comes in…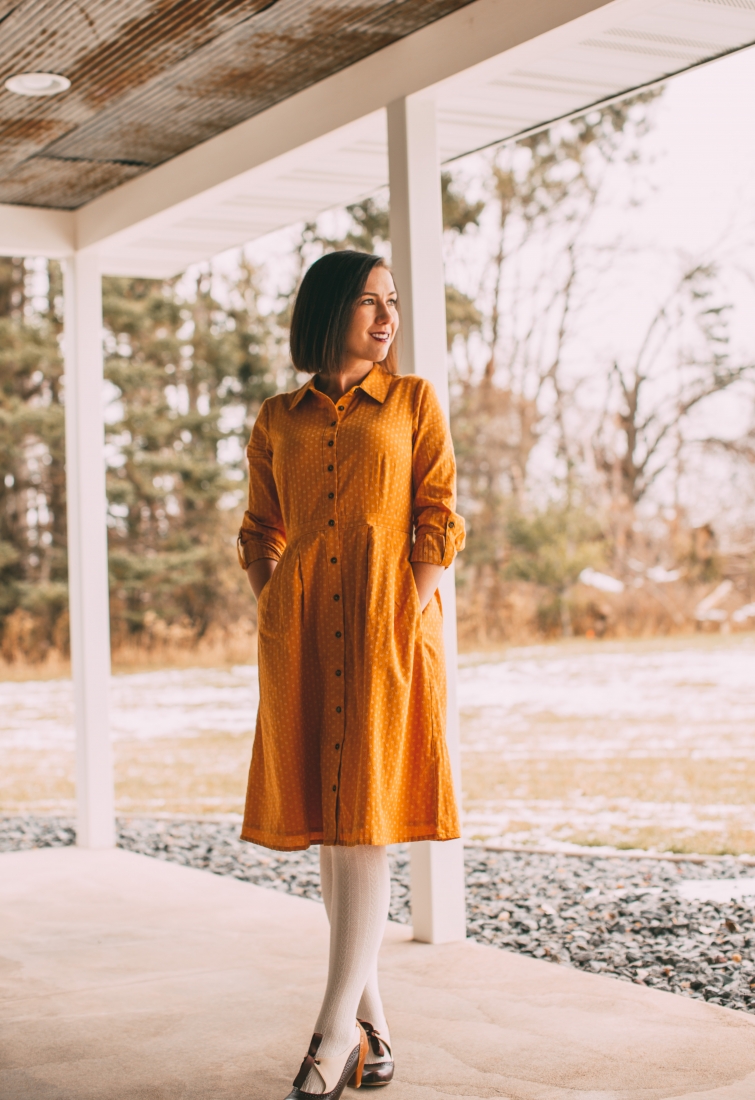 This shirtdress from my friends at ModCloth is rather loose-fitting and is SUPER soft. It's so comfortable but still errs on the side of formal. Plus, this color is so perfect for this time of year. Admittedly, it would look a little better with a belt. However, this is Thanksgiving, and I am in no way going to be restricting my waistline today!
A couple of notes about this dress, though: it fits a little tight through the arms. Not so much that's uncomfortable (for me), but it is something to take into consideration. This dress does wrinkle rather easily too if that's something that drives you bonkers!
I also opted for thigh-high stockings instead of tights because, again, I am not going to be putting any unnecessary pressure on my belly today! These are some pretty warm stockings too – which will come in handy with the weather we've been having here in Wisconsin.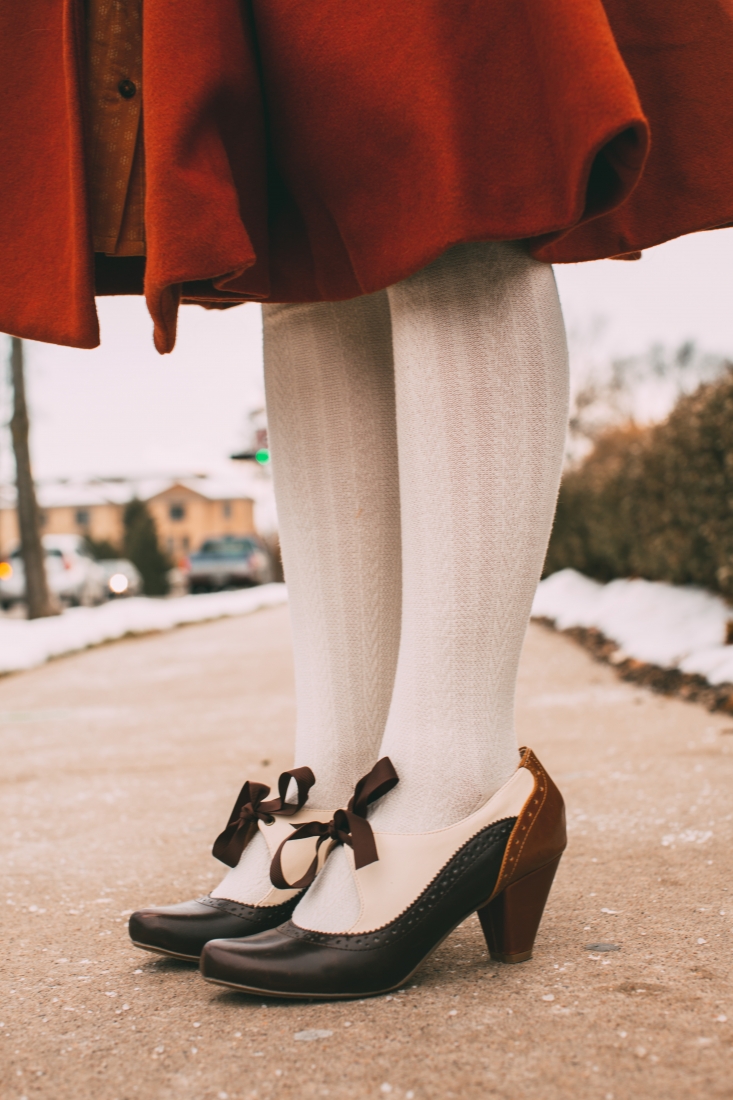 And these heels are AMAZING. If you've been following my blog, you've likely noticed I also own the exact same pair just in black, white and grey. (Click here to see them.) They are so easy to walk in and comfortable to wear for long periods of time, that I ended up ordering another pair in this lovely brown color combo!
Quick shoutout to Vincausa for these cute elephant earrings too! They aren't necessarily Thanksgiving-related, but they sure are fun. They have a ton of quirky earring options!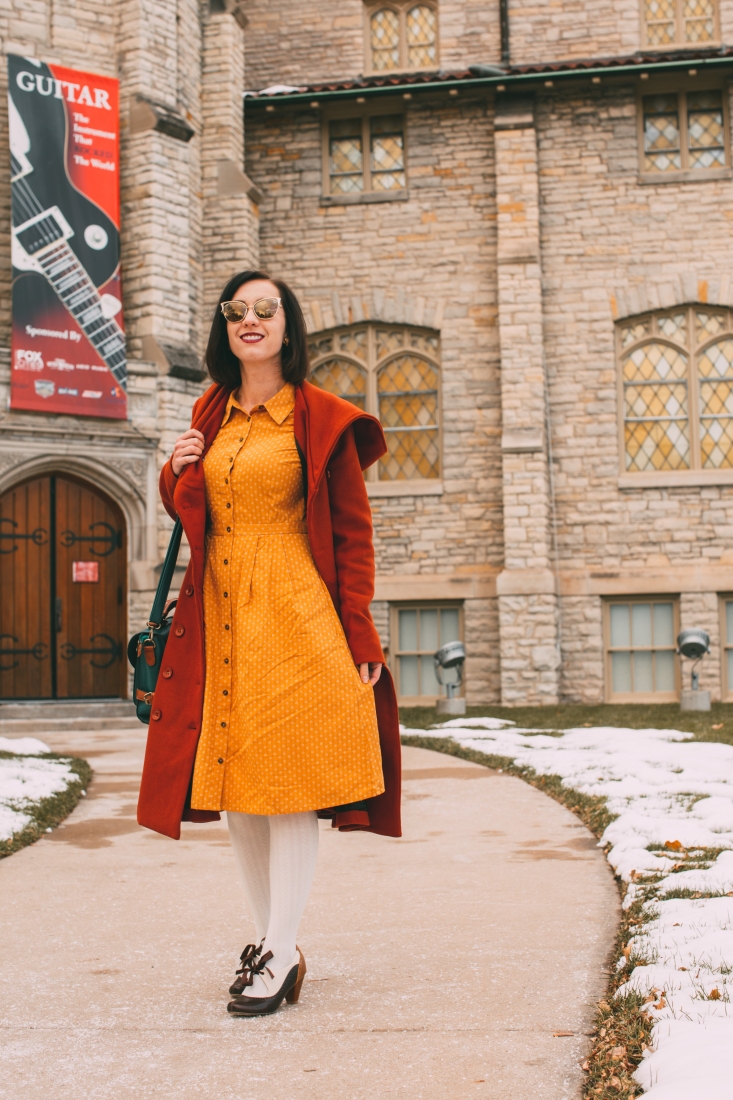 I had tested this outfit out over the weekend for a day of running errands (fun adult stuff like going to Home Depot and the grocery store) and then getting a nice dinner with my husband in downtown Appleton.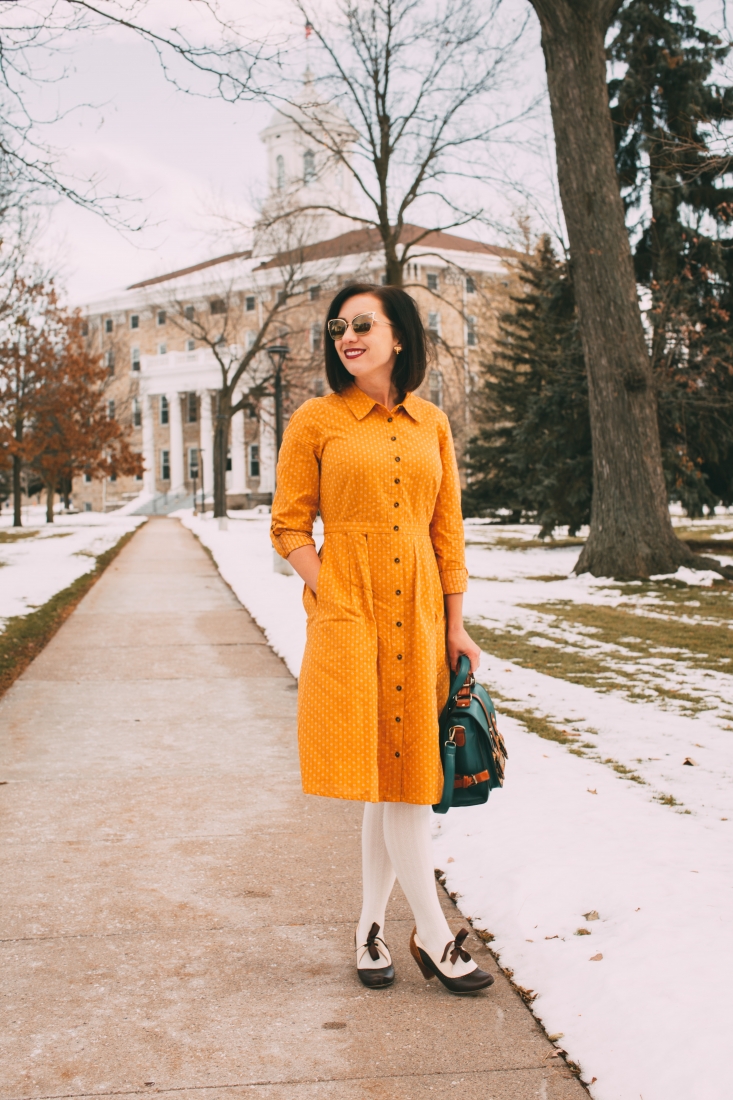 Click to shop:
Shirtdress c/o* | Earrings c/o* | Heels c/o* | Stockings | Coat c/o* | Sunglasses | Bag
Casual Yet Cute Outfit Idea for Thanksgiving
Now, you've already seen this outfit on the blog a couple weeks ago. However, I like it so well it's going to be my Thanksgiving outfit plan if we end up with a boatload of snow the morning of. (I can more easily pair this with snowboots than my shirtdress!)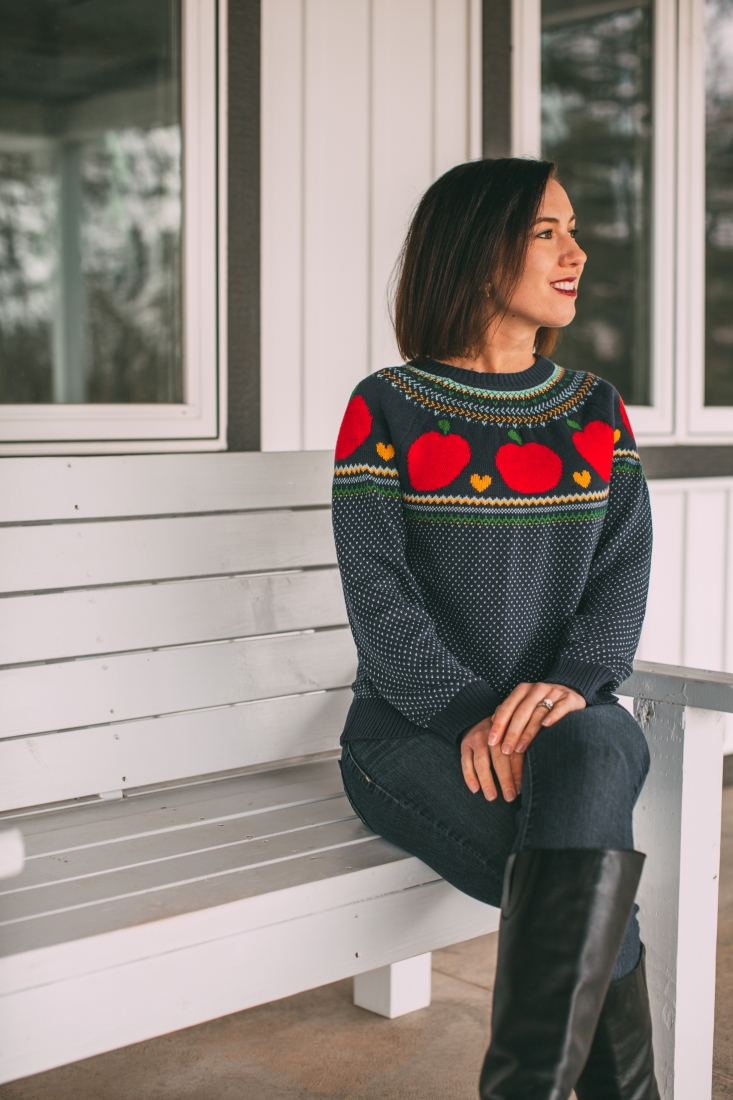 This cute apple sweater is also great because I can easily layer under it for extra warmth or forgo layers altogether, which I would likely do on Thanksgiving as it gets pretty warm inside with the oven going!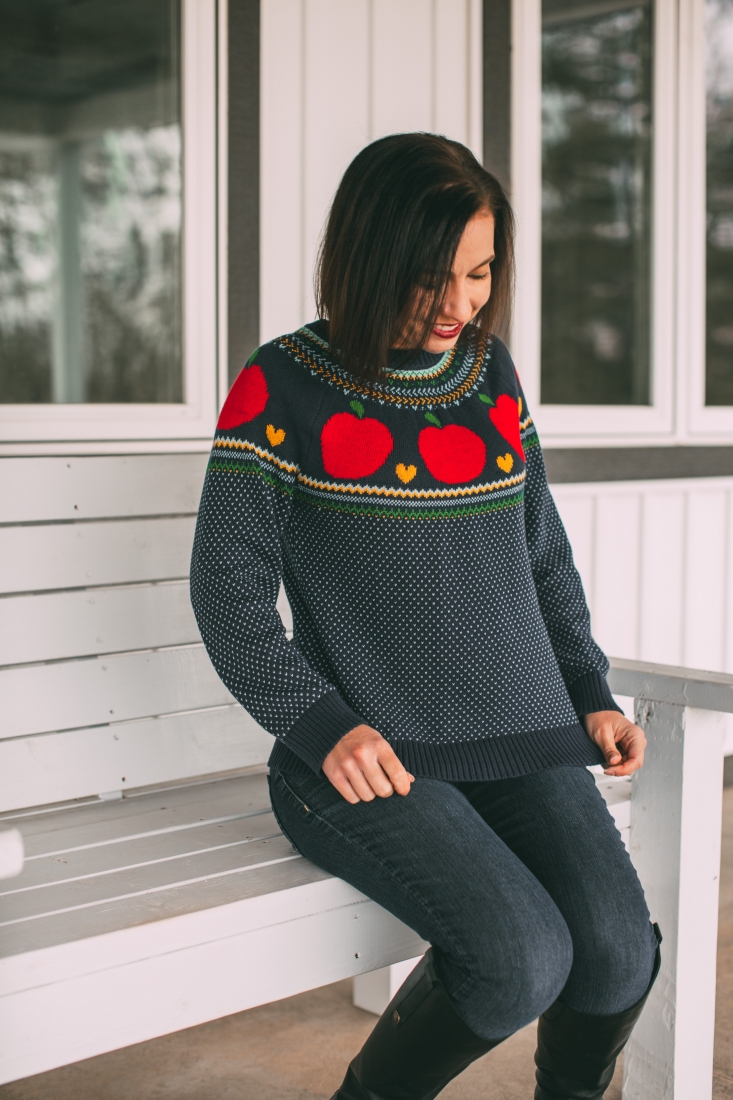 I'm also wearing jeggings that have an elastic waistband (like these)! They're so comfortable. I love them for days like this…and I think they look better because you can't see my button or zipper when I'm wearing a more fitted top.
I have seriously worn this sweater five times, and I've had it for less than 2 weeks now. I also own it in the dinosaur print and had worn that one a boatload of times last winter. (It's held up great with all the wear and washing too! Click here to see an outfit featuring that sweater.) I'm waiting until after Thanksgiving to break out the dino sweater, though – so, that's where this apple sweater comes in!
Click to shop:
Sweater c/o* | Jeans (Similar) | Boots | Earmuffs (Similar)
Regardless of what gets worn for Thanksgiving, I'm very excited to be able to spend Thanksgiving with my family in the States this year! (We were in Russia last year, which was just another workday for us.) I'm thankful to be able to spend this holiday together with family… and then get to come home to snuggle our new furbaby. (Pictured above!) We have so much to be thankful for this year!
Have you figured out what you're wearing from the kitchen to the living room this year? Haha. But seriously, what are my other US friends wearing for Thanksgiving this year? And what are you most thankful for? Let me know in the comments!
*Disclosure: some of these links are affiliate links. Meaning, if you click a link and make a purchase, Have Clothes, Will Travel gets a very small commission at no extra cost to you. Thank you for supporting the brands that make this blog possible! I am also a participant in the Amazon Services LLC Associates Program, an affiliate advertising program designed to provide a means for us to earn fees by linking to Amazon.com and affiliated sites.
*c/o = courtesy of, meaning the company gave me the product to be used on my blog, and I did not pay for it. All opinions are my own, and I am not being compensated for a positive review.