A Versatile & Classy Outfit For Any Season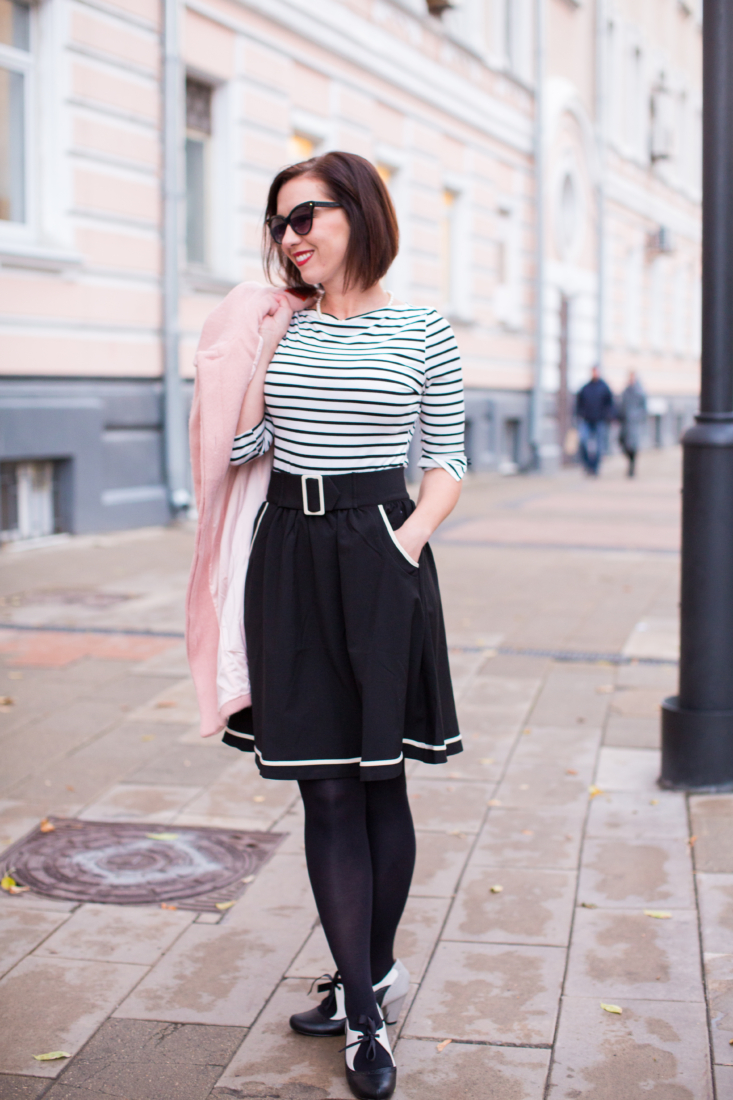 Skirt c/o* | Heels c/o* | Coat c/o* | Top | Tights | Sunnies (similar) | Lipstick
Versatility is the name of the game when it comes to my wardrobe for living abroad. I only have room for some many items in my suitcase. So, I need to be able to mix and match my pieces… and it's even better if these pieces can span across seasons!
That's where this outfit comes in. You can pair anything with simple black and white pieces! And without the coat and tights, this outfit can easily work for warmer temps. And if it's an especially hot day, I could swap out the striped top for a sleeveless one (like in this post). Alas, though, that is not what's happening in Moscow right now! Winter is coming, and the temps are dropping. It's already snowed three times! So, tights and coats are a necessity.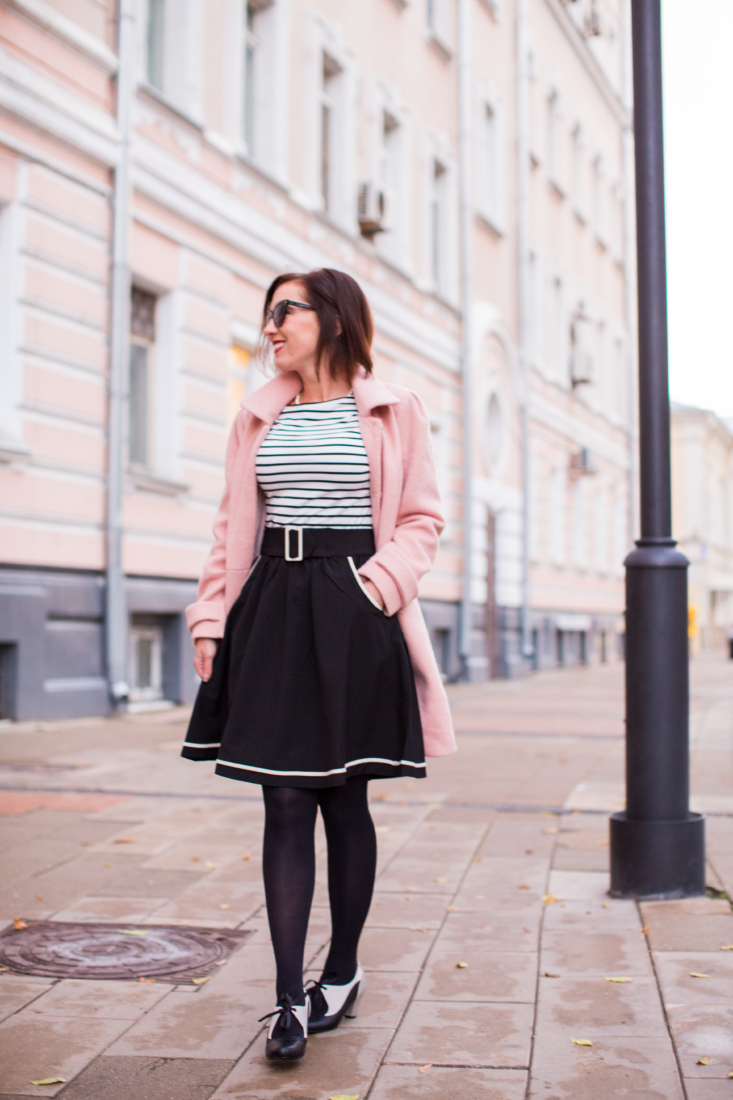 I had ordered this skirt after the realization that I did not have a single black, versatile skirt in my closet. Nearly all of my skirts have prints on them! Not only did this skirt fill that void, it's classy…and it was a pleasant surprise to boot. The material is much nicer in person than it photographs. It looks high-quality, in my opinion, and it is NOT a lint magnet. Lint is my biggest deterrent from wearing black. So, any piece that doesn't have that issue is a winner in my book.
This skirt is true to size, and it has some stretch through the waist, so it's comfortable to wear for a full day. I can't wait to restyle it again with some more of my cardigans and tops! (I think it'll be fun paired with some colorful tights, too!)
And ermahgerd! I am in love with these heels!! They are so comfortable and easy to walk in. They're going to replace my favorite pair of t-straps as my most worn heels – I just know it! They also fit my wide feet, which is incredibly exciting. However, the lace up top means they can be tightened if necessary too. (They're also true to size.)
My husband refers to these heels as "interesting." Which is his way of saying he's not convinced they're that cute, haha. I'd be curious to hear your thoughts in the comments!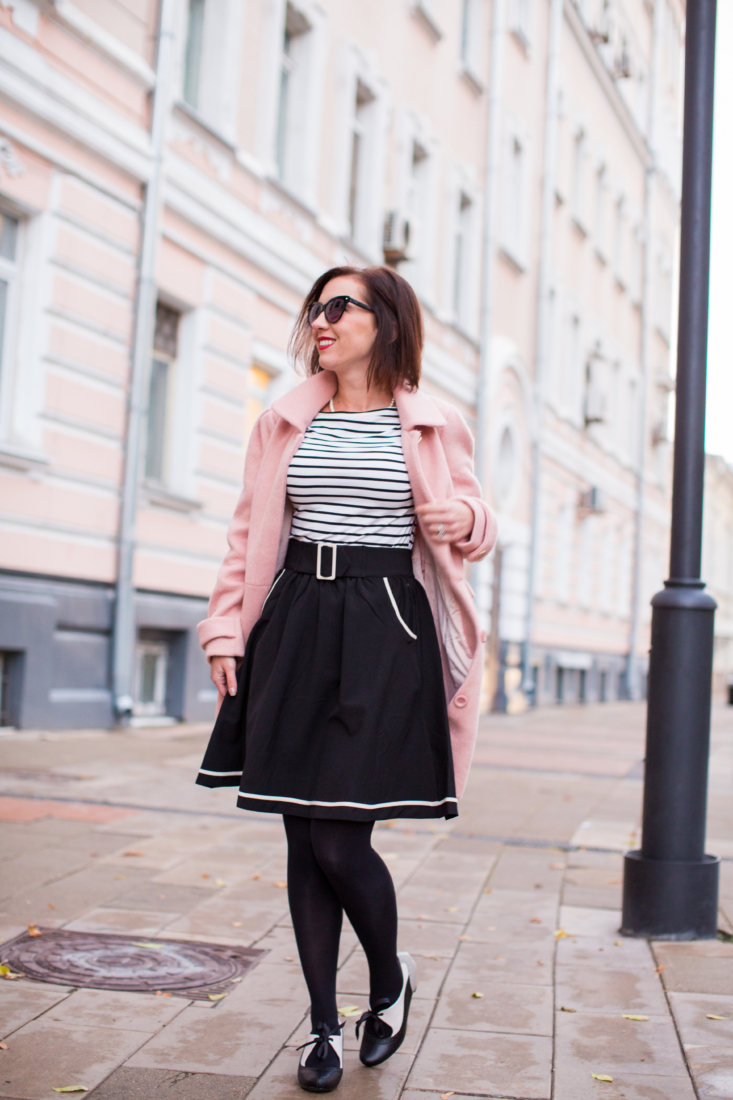 I'm going to be spending my weekend going through the mess of photos I took while in Turkey last weekend! I think that this is the most photos I've ever taken on a trip…which is impressive, considering I was only there for 3 days, haha. So, my 1st post from Turkey will be on Monday, stay tuned!
What's everyone else's plans for this weekend? Is it cold by you? Or could you leave your coat and tights at home? Let me know in the comments!
To see more photos + a full review of this coat, click here.
Where to find it:
Skirt: c/o* ModCloth
Heels: c/o* ModCloth
Coat: c/o* ModCloth
Top: Unique Vintage (Similar here)
Tights: Amazon
Sunnies: Old (Similar here)
Lipstick: Stila Stay All Day in Beso Shimmer

*Disclosure: some of these links are affiliate links. Meaning, if you click a link and make a purchase, Have Clothes, Will Travel gets a very small commission at no extra cost to you. Thank you for supporting the brands that make this blog possible! I am also a participant in the Amazon Services LLC Associates Program, an affiliate advertising program designed to provide a means for us to earn fees by linking to Amazon.com and affiliated sites.
*c/o = courtesy of, meaning the company gave me the product to be used on my blog, and I did not pay for it. All opinions are my own, and I am not being compensated for a positive review.