Honest avid Hotel Review by IHG Featuring avid Hotel Madison-Monona
avid Hotels are designed for travelers who want an affordable hotel stay, with the basics done exceptionally well. Every portion of the hotels and their rooms are designed to be consistent and comfortable, with a clean room that is "just right", a high-quality grab-and-go-breakfast, and the latest technology – no matter which of their hotels you stay in.
The avid Hotel chain is a relatively new addition to the IHG brand. The first one launched in 2018, and now, these modern, affordable hotels can be found popping up all across North America.
I had the opportunity to stay at the avid Hotel in Madison-Monona with my friends in early November. This post is my honest review of my experience staying at an avid Hotel.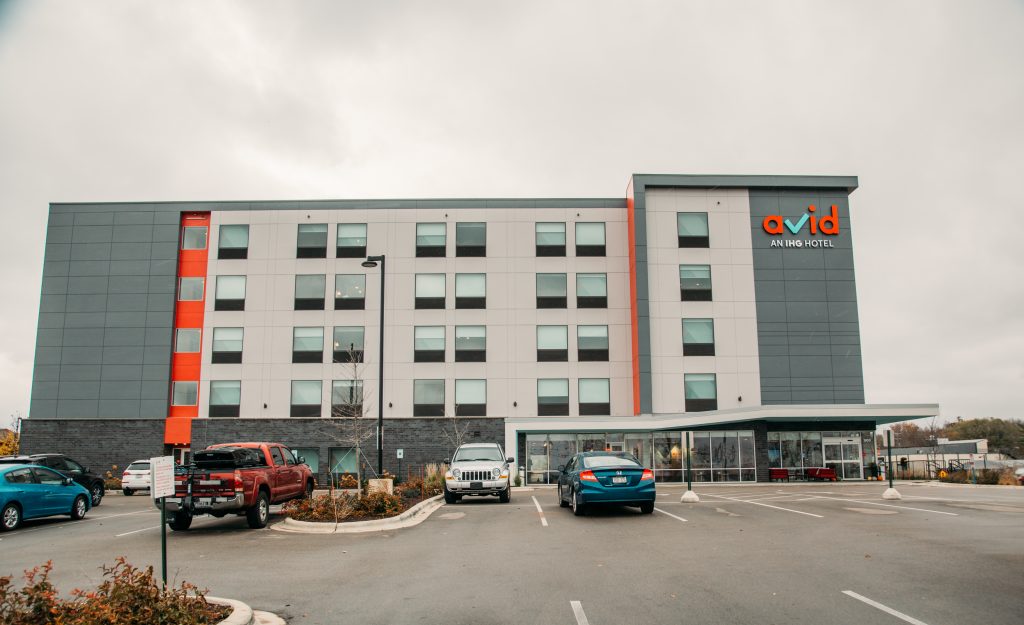 *Thank you to IHG for partnering with me on this post. As always, all opinions are my own and I am never compensated for a positive review. This post also contains affiliate links, which means, if you click a link and make a purchase, Have Clothes, Will Travel gets a small commission at no cost to you. Thank you for supporting the brands that make this blog possible!
What is it like to book with avid Hotels? Can I use my IHG points?
I had booked online about a month in advance of my stay. My friends and I actually booked the last 2 available rooms, as there was a Badger Game in Madison the weekend we were going. Don't wait until the last minute to book if you're going on the weekend of a Badger Game!
Typically, the avid Hotel in Madison is around $89 a night. However, on a busy weekend when there was a Badger Game, the prices jumped to $130 – $150 for a night.
You can use points to book – I used points for this weekend and it was 71,000 points for the weekend. (All of this was easily booked online.)
Is the avid Madison-Monona Hotel in a good location?
Yes! While it isn't located directly in Madison, it is close to plenty of attractions in the area. The State Capitol and Camp Randall Stadium are only about a 15-minute drive away. (Which is about a $12 Uber ride.)
There are also dining options within the same parking lot as the hotel. We tried Buck & Honey's and really enjoyed it (the bar is super cool, be sure you take a peek at it!). There is also a great cafe called True Coffee Roasters right next to the hotel and The Tasting Room, which is a unique/bar cigar lounge that has a fantastic outdoor lounge area, is just a short walk away too. We thought these selections within walking distance were great!
We also used this location as a jumping point to drive to the Taliesen (Frank Lloyd Wright's home) and House on the Rock in Spring Green. (Highly recommend checking out both of these if you're in the area!)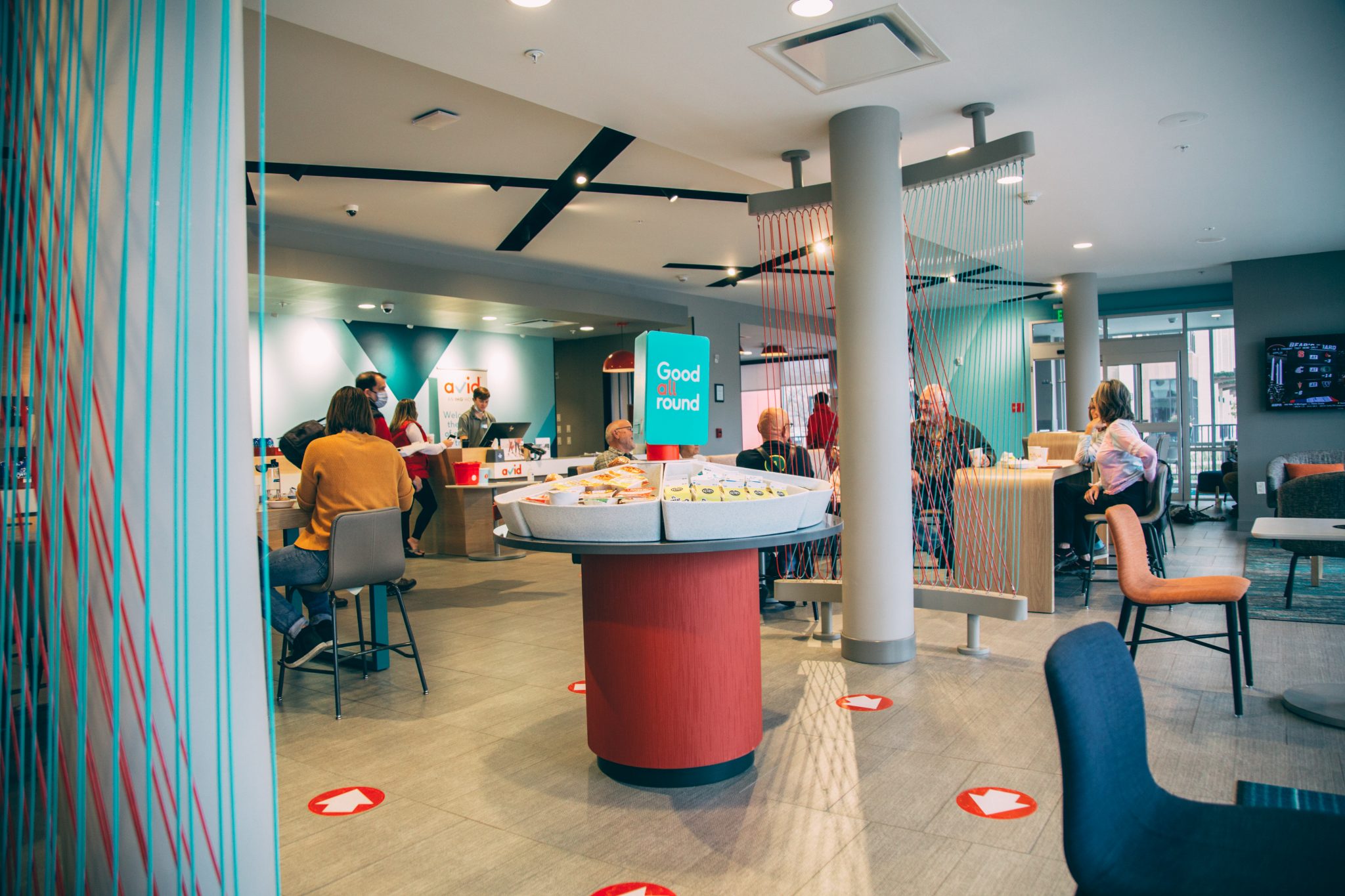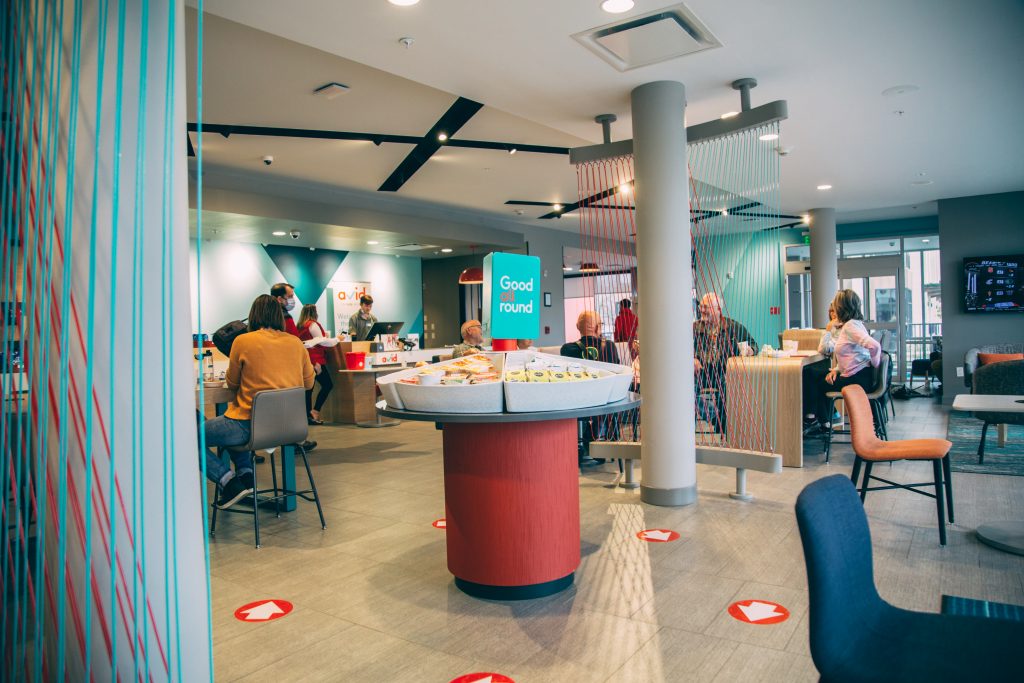 What is the avid Hotel check-in process like?
When we first arrived at the avid Hotel in Madison at about 4 pm, we were greeted by a gentleman who I presume was security for the parking lot. He informed us that if we went out that night, to park in the 2 rows closest to the hotel and not the ones by the road – as their security cameras do not record that far.
Once we made it inside, the front desk greeted us warmly. There was a new employee being trained and the manager was also there. They apologized for the wait, as there had been a bit of line initially. As is the case with most hotels in the country at the moment, they are experiencing a staffing shortage and were doing their best to keep up with the sold-out hotel.
I had paid with points, so I only needed to provide my ID and was on my merry way.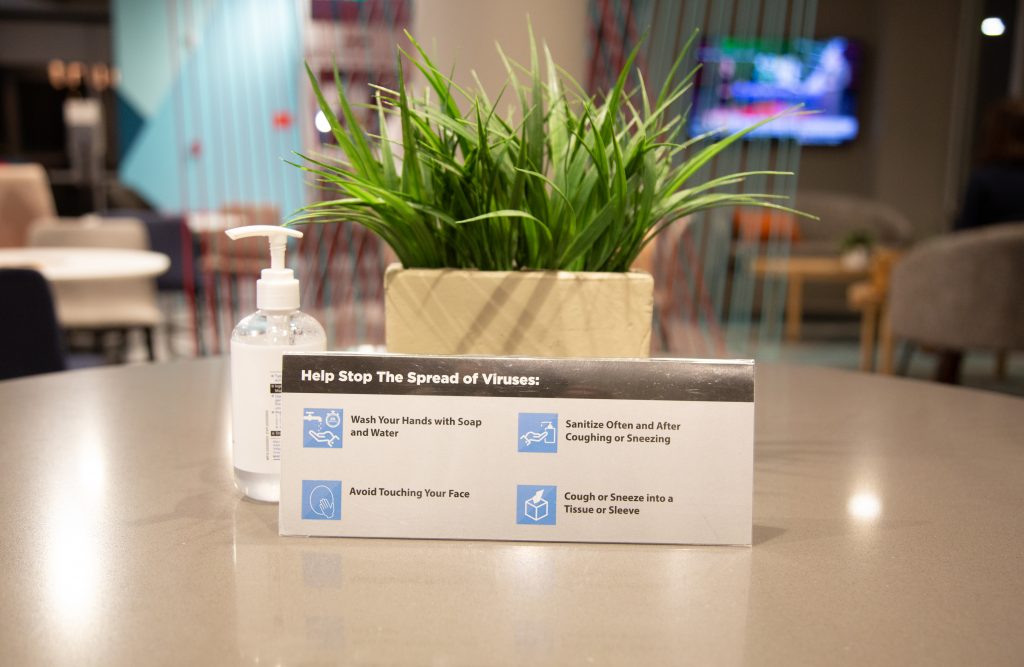 What are avid Hotels' COVID policies?
I suspect this is going to vary from state to state and town to town, but currently, in Wisconsin's Dane County – mask mandates are still in place. So, the staff were all wearing masks, and guests were encouraged to wear masks as well.
There was hand sanitizer throughout the common areas in the hotel for guests to use. The staff was also diligent about wiping down and sanitizing the lounge and breakfast area. (There was only one gentleman working when I grabbed breakfast and he was making sure the coffee machine was sanitized after each person touched it – I was super impressed.)
Social distancing was also encouraged in the gym area.
The entire hotel and their rooms were absolutely SPOTLESS, too. I have honestly never stayed at such a clean hotel. I am always on the lookout for stray hairs and general ickiness when I get into a hotel… but there was nothing that I could find in our room that hadn't been meticulously cleaned. (My husband said the same thing.) I thought this was especially impressive too, given that the hotel was even understaffed when we stayed.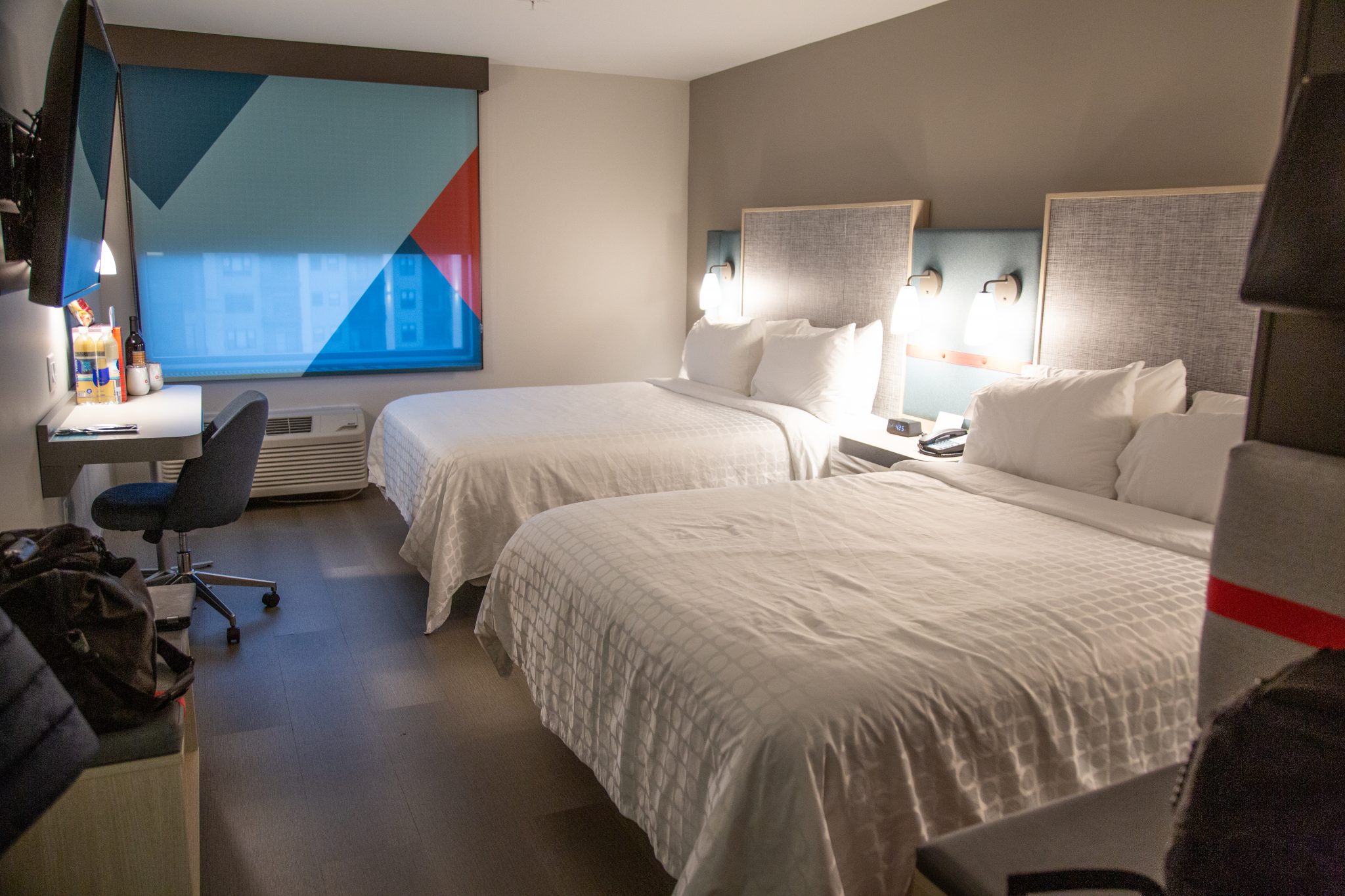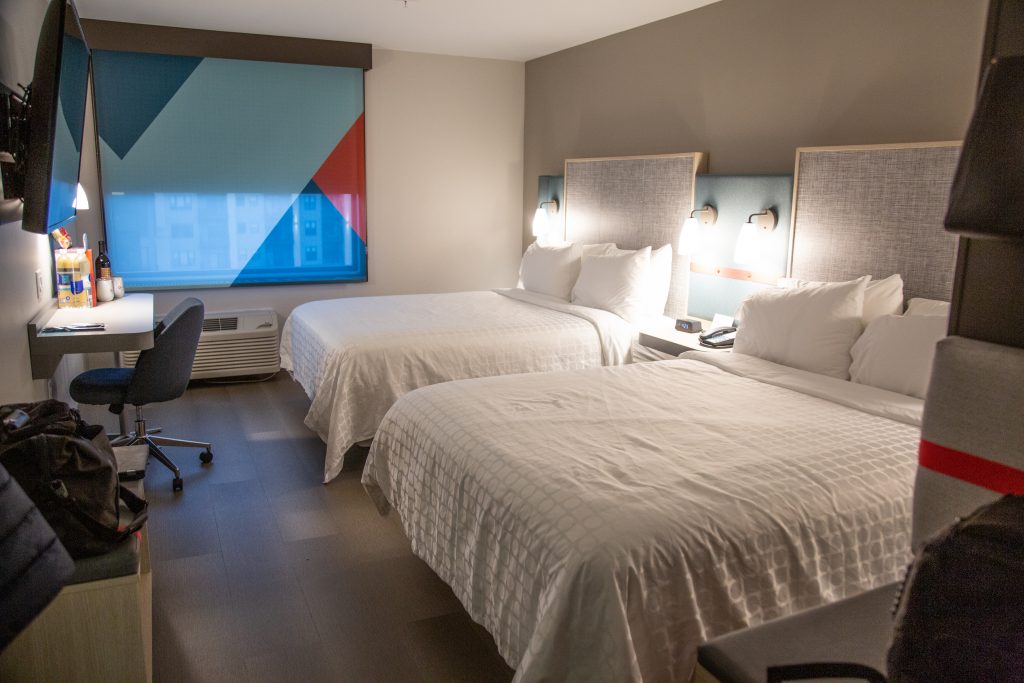 What are the avid Hotel rooms like?
There are 2 different options for rooms at avid Hotels – a King standard or Queen standard. The King standard features 1 king bed and the Queen standard features 2 Queen beds. The avid Hotel in Madison also has 13 rooms that are handicap accessible.
I had stayed in a Queen Standard room, while my friends were in a King standard room, and the front desk was also kind enough to let me take a look inside a handicap-accessible room. I'll provide photos and a short review of each below, along with a video of my room.
avid's Queen Standard Room Review
This room can technically fit up to 4 people and features 2 standard Queen beds. The Queen Standard Room is 275 sq. ft. The mattresses used in avid Hotels are Simmons Beauty Rest – which was perfectly comfortable for us. The pillows were soft and supportive, which made me very happy. (I hate when hotels have pillows with zero fluff!)
However, in the Queen room, there was not a ledge on each side of the beds to place cell phones, glasses, etc. It was only on one side. This isn't the end of the world, but it was kind of annoying to not be able to have my phone or glasses next to me when I woke up in the morning.
There are no dressers or closets in avid Hotel rooms – instead, they have handy little hooks to hang your clothing. Personally, this didn't bother me at all, as I have never used a hotel room dresser in my life (and looking at this tweet I had a while ago, I'm not alone).
I have never put my clothes in a hotel room dresser. ? Have you? ?#travel pic.twitter.com/cHpYom8Wgv

— Lindsey Puls (@HavClothWilTrav) October 18, 2021
The bathroom was bright with plenty of counter space to layout my toiletries, it also had plenty of towels and washcloths. I also liked that they had large, refillable bottles of J.R. Watkins hand soap, lotion, shampoo, conditioner, and body wash (much more eco-friendly!). The shower had great water pressure and just enough ledge space in it for me to put my own toiletries in it too (I like to use my own shampoo + face wash!).
The room also came with a hairdryer and a steam iron.
All the rooms have hard floors with no carpet or rugs. This makes them way easier to clean and, therefore, way more sanitary. (Carpet in hotels grosses me out so much.) The floors also were not cold, even though we were staying during a Wisconsin winter.
The rooms also have blackout curtains, which my husband loved (I prefer to wake up with the sun, though!). You have no idea what time of day it is when that curtain is pulled! There is a privacy shade, too, though, that also serves as a decorative accent to the room. This was more than enough curtain for me!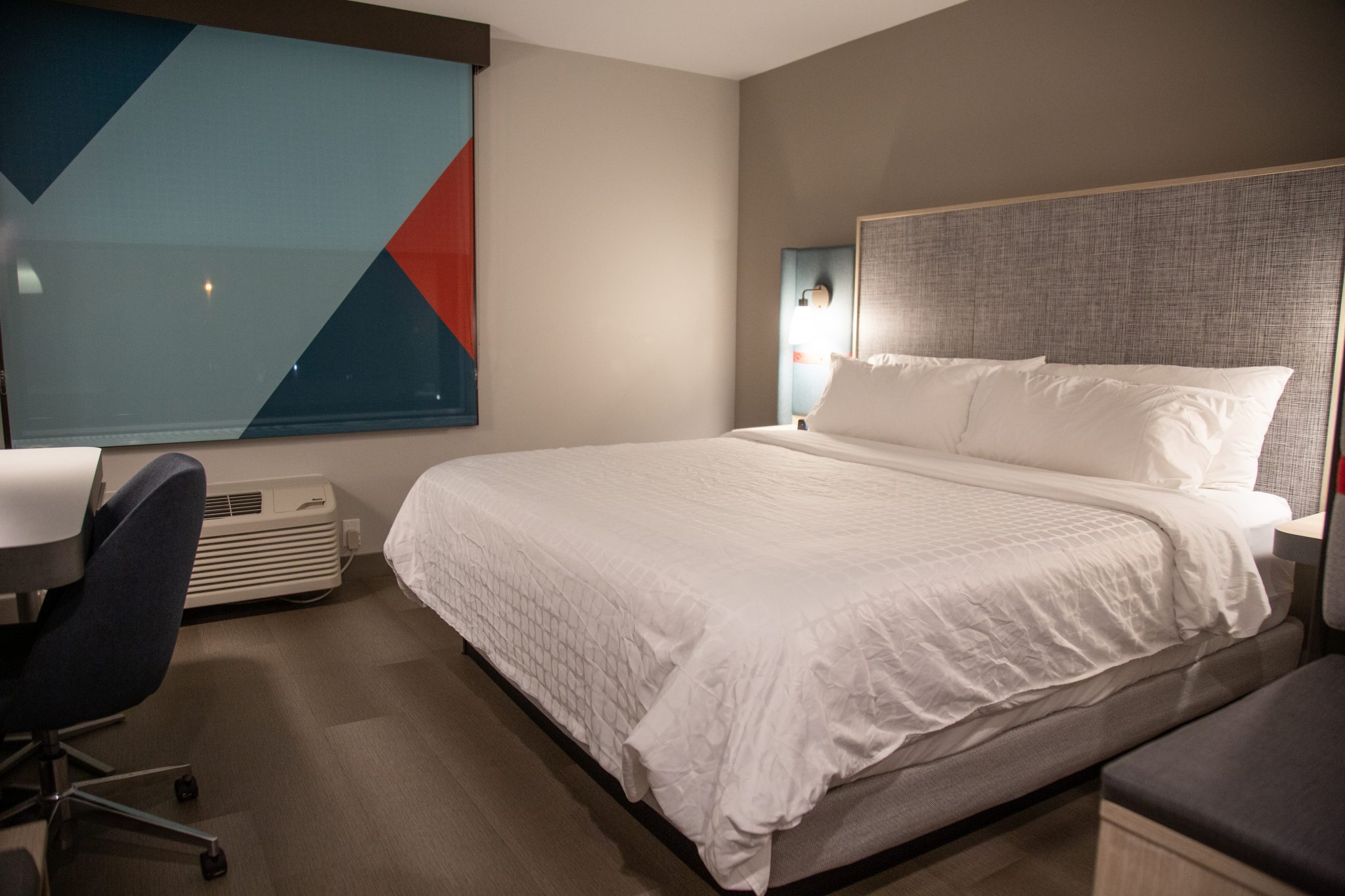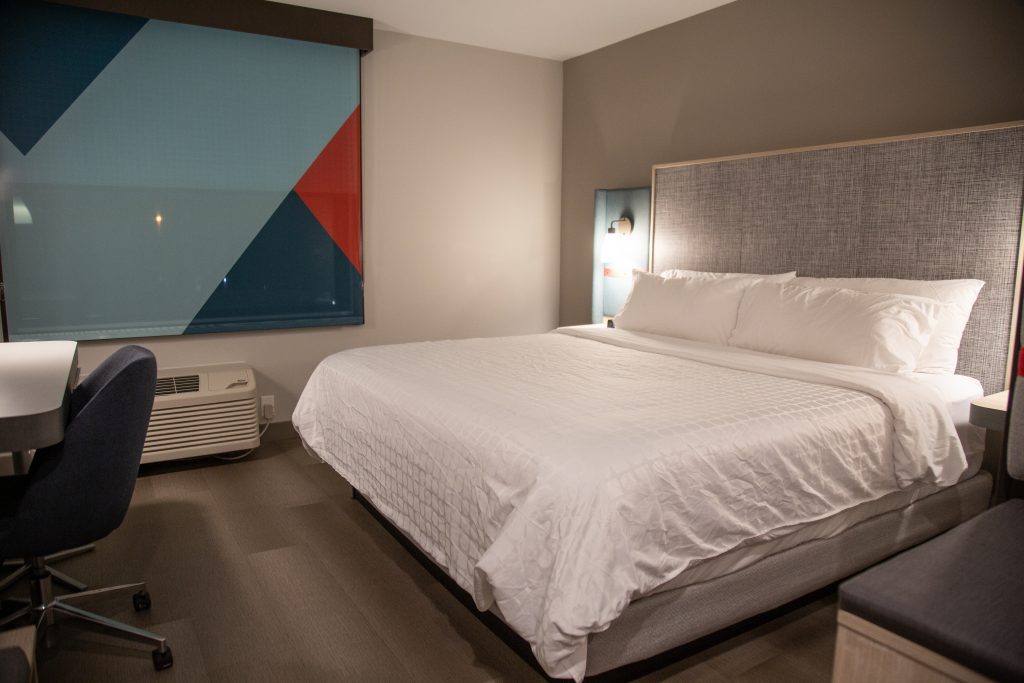 Inside a King Standard Room in avid Hotels
The King Standard Room is going to be identical to the Queen I showed above with the exception of having a King bed vs 2 Queen beds. The King Room is 220 sq. ft. I also thought it was worth noting, that the King bed does have a ledge on each side of it for your phone and glasses (see photo above).
Inside a Handicap Accessible Room in avid Hotels
These rooms are much larger to easily accommodate a wheelchair. They also have a walk-in shower that does not have a ledge (like our room did) to make it easier to get in and out of. See, photo gallery above.
What's the wifi like at an avid Hotel?
Wifi is included in your stay, and it was fine for surfing the web and streaming YouTube videos. We weren't working much or doing anything overly bandwidth-intensive, though, during this stay.
What is breakfast like at avid Hotels?
Breakfast is included in your stay at avid Hotels. It's a "grab-and-go" style of breakfast – which many hotels are embracing due to COVID – however, avid was doing this before it was the norm. They have breakfast sandwiches, bagels, fruit (apples, oranges & bananas), oatmeal cups, granola bars, milk, a variety of juices, coffee and tea.
Breakfast was available from 6:30 am to 9:30 am. The two mornings I stopped in for breakfast I was there around 9 am, and there were only a couple breakfast sandwiches left – but the rest of the breakfast area was still well-stocked. I'm more of a banana and granola bar for breakfast person, so this was more than enough for me. (If you're looking for full-on eggs and bacon breakfast, though, this may be disappointing for you.)
What is the avid Hotel lobby like?
There is plenty of room in the lobby to enjoy your breakfast or hang out during the day. Many of the tables feature outlets and there was even a lounge area with board games to enjoy. This area also had 2 computers and a printer for guests to use.
The lobby also has a market with a variety of snacks and beverages for sale and a little freezer for ice cream.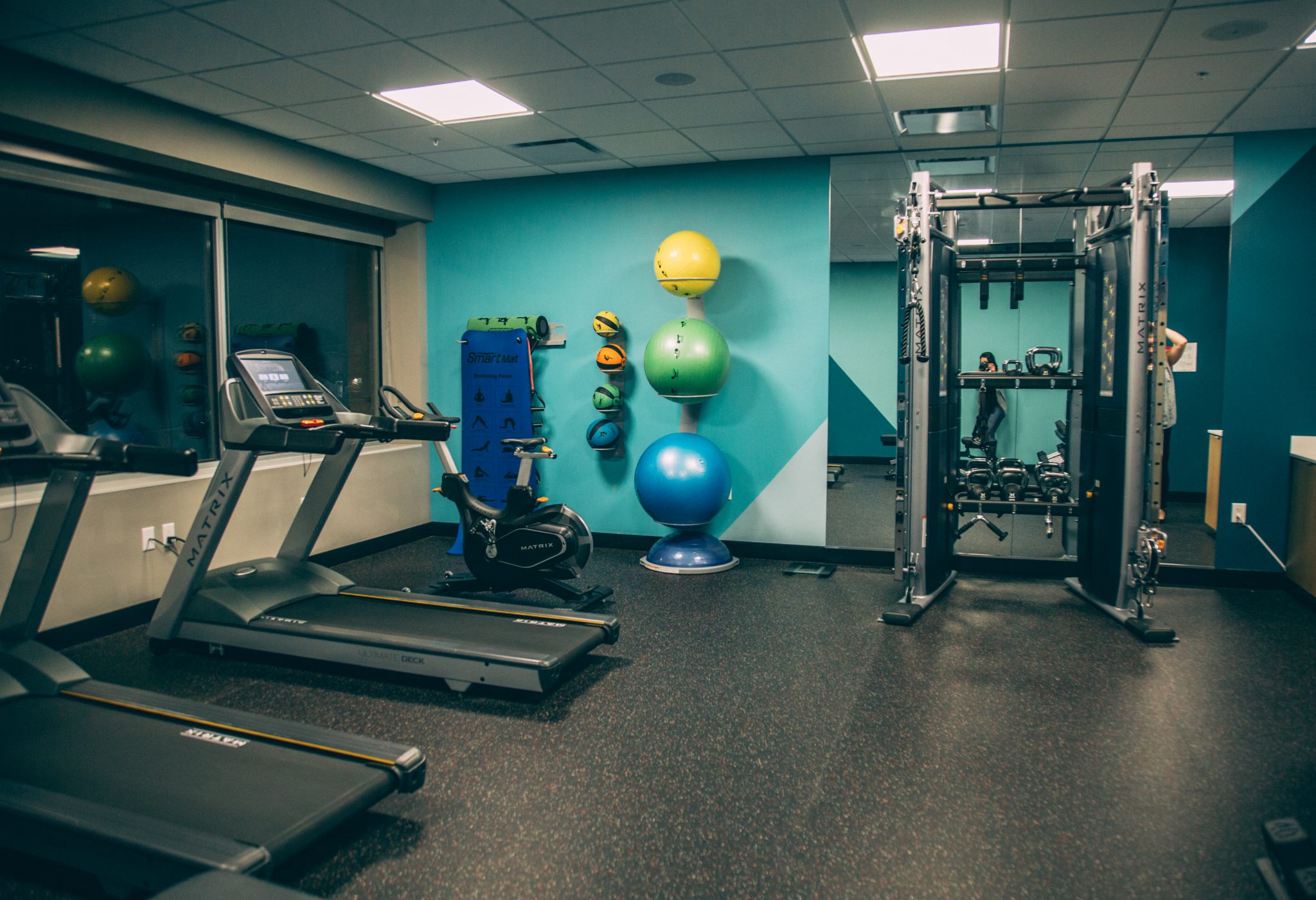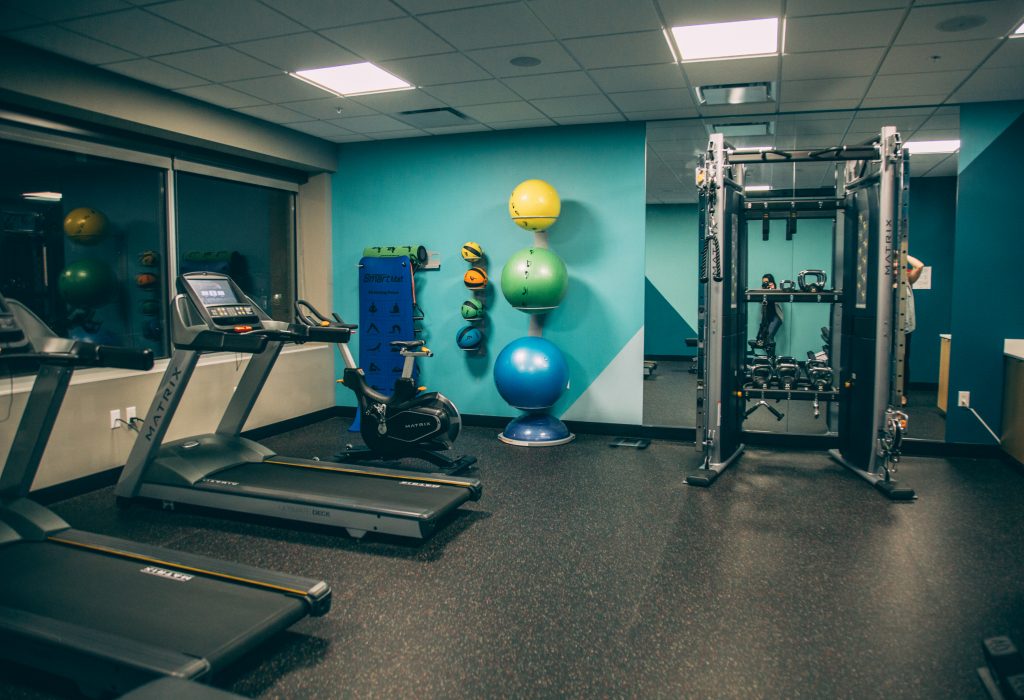 Do avid Hotels have gyms?
Yes! And they are AMAZING for hotel gyms. Given that this is a budget-friendly hotel I did not expect them to have such a nice gym. This gym featured treadmills, a bike, medicine balls, balance balls, mats, a Matrix functional trainer weight machine, a variety of kettlebells and also dumbbells with a bench.
Are avid Hotels pet-friendly?
This varies depending on the avid Hotel you are staying in. The avid Hotel in Madison DOES allow pets. Their pet policy states you are allowed a maximum of 1 large dog or 2 small. They charge $50.00 per pet per night.
If we head back in the summer, we'll bring Buddy! (Unfortunately, there isn't much in Madison we could bring Buddy to during winter – but during summer, Madison is quite dog-friendly.)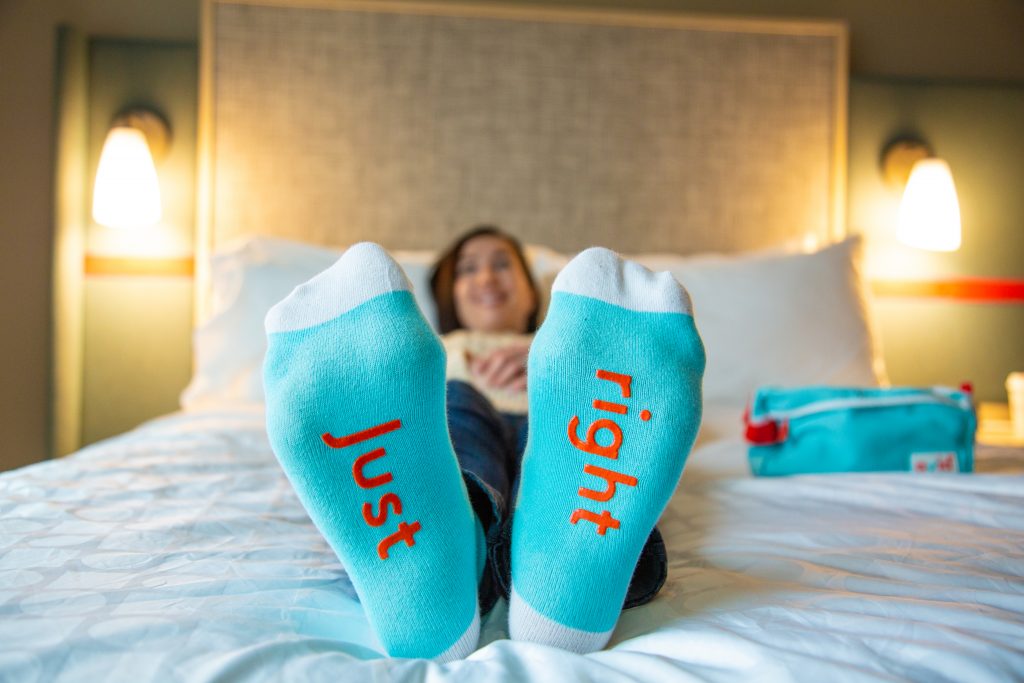 Final verdict on avid Hotels – would I stay at one again?
Yes! This is a fantastic, budget-friendly hotel that offers clean + functional rooms and friendly service. With the majority of rates being less than $100 per night, you are really getting your money's worth here. I think their slogan of "Just Right" is brilliant. I couldn't describe this hotel any better. You are getting the basics amenities, for a very comfortable stay at an affordable price.
Of course, with affordable rates, though, it is important to keep in mind that this is not a "luxury" stay and the rooms are smaller than a typical US hotel room. Also, as with the majority of hotels in the country, avid in Madison is short-staffed, so be prepared to be a little more patient when checking in or calling the front desk.
Overall, I am very pleased with this stay and think it's great for anyone traveling on a budget who wants a clean and comfortable place to stay.