Best Camera Backpacks for Travelers
For this post, I'm reviewing 5 different camera backpacks I've used over the years, and what I consider the best camera backpack for travelers. I'll discuss their pros and cons, and which one I ultimately chose as my "go-to" backpack for traveling with my camera gear.
Now, that being said, I do understand that what works for me may not work for you. So, I'll give some background on what I'm looking for in a camera backpack for traveling, and what kind of gear I actually travel with.
What I'm looking for as a traveler with a camera + equipment:
Obviously, adequate protection for the camera body + lens.
Quick access to the camera. A side zipper to quickly get the camera out of the bag. For example, if my husband is wearing the backpack, I can quickly unzip it without him taking it off.
Theft protection.
COMFORT – camera gear is heavy. The bag should make it as comfortable and breathable as possible to haul this camera gear.
An area for me to also store a few more odds and ends – such as toiletries or a change of clothing. (As this is typically my carry-on too when I travel.) I also need a spot for my laptop.
Organization – everything needs a spot!
Does it look stylish? Looking stylish is a big plus too!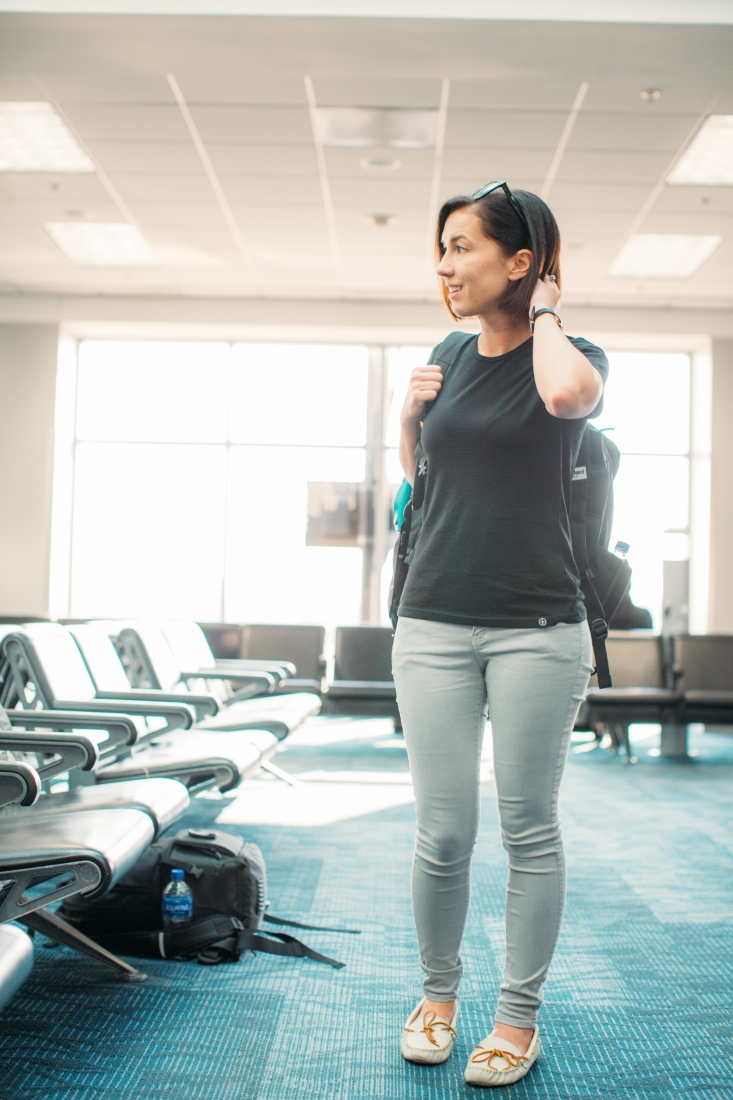 What I'm using this backpack for:
Usually, long international flights to haul my camera stuff.
As a backpack for when I am on trips to carry all of my 3 lenses and camera body.
It also gets used as a bag for a day of exploring at home with my camera.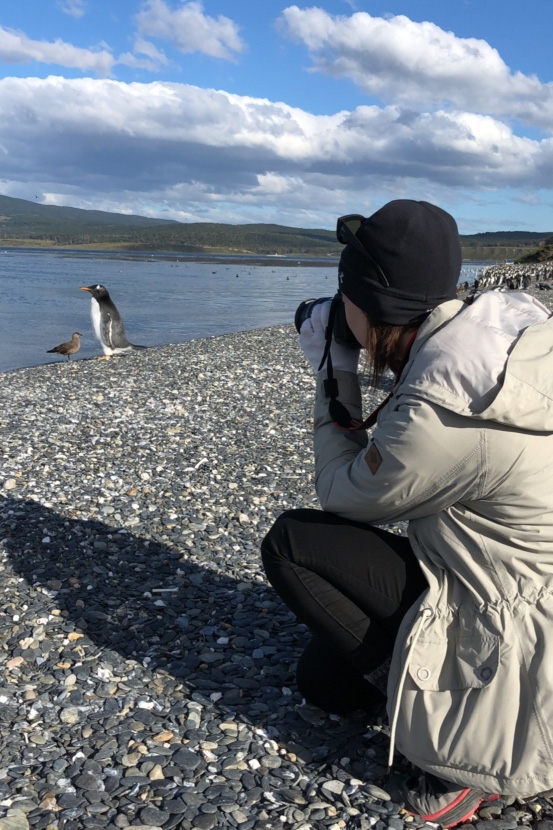 As a blogger, I have some great camera equipment for my business. However, I don't have as much to carry as a professional photographer would. I travel with enough stuff, don't get me wrong. However, my load is likely lighter than the average pro photographer.
My Gear:
Tripod (not always carrying this with me, though.)
Spare batteries and memory cards, cleaning kit, remote, etc.
Camera Backpacks Review
1.) TARION RB-O2 Camera Backpack
I was initially drawn to this camera backpack because I thought it looked rather nice but was still a relatively affordable backpack.
Specs:
The camera backpack can store approximately 17L of gear in total.
Expandable inner top drawstring.
Can fit up to a 15.6″ laptop.
Backpack size: 11.2 x 6.1 x 18.1 inches.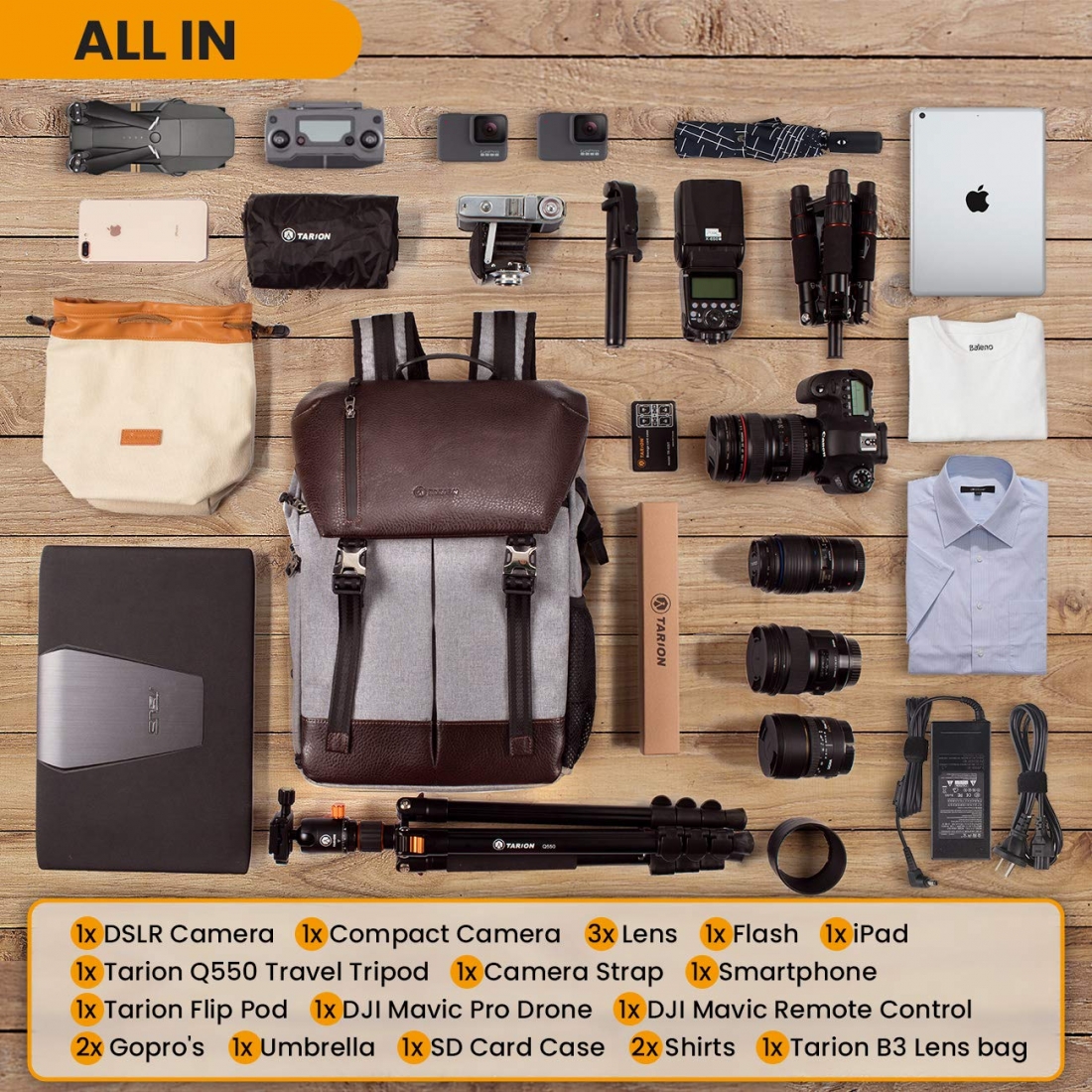 Pros:
Quick side access.
More than adequate gear protection.
Plenty of pockets for organization.
Theft protection.
It's a rather stylish design.
You can fit A LOT of gear in here, and the inside shape is customizable.
Cons:
The deal-breaker for this backpack for both my husband and me was its straps. They just weren't comfortable enough to sustain the kind of weight this backpack had once I had it packed full.
This backpack looks rather cheap in person. Granted, the price tag is relatively affordable. However, the faux leather flap looks very plasticky.
Ultimately, I returned this bag, as it just didn't meet all of the criteria I was looking for in a camera backpack for traveling. It was quite close, though! And it's reviews are all very high.
2.) ONA Camps Bay Camera and Laptop Backpack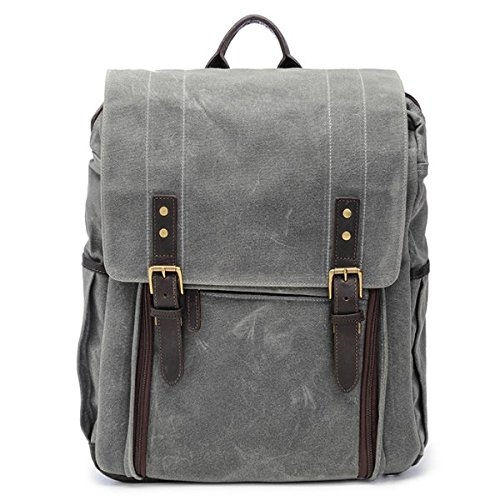 I was, again, drawn to this bag because of how stylish it looked in photos. And oh man… it looked just as stylish in person!
Specs:
Room for an SLR and up to 7 lenses; adjustable height personal items area

Laptop compartment for up to 17″ laptop; slim front organizer pocket

.

Fully padded leather base

Dimensions: 17″L X 12″W X 6″D; Weight: 4.4 pounds
Pros:
ONA bags are absolutely GORGEOUS. Just thinking about this bag makes my pulse quicken a bit. This doesn't look like your typical camera backpack AT ALL.
Very well-made. This bag is high quality, and you can tell the moment you take it out of the package.
Tons of space to store everything on my list.
Cons:
The price tag. This backpack is crazy expensive!
The straps. My god, the straps are so poorly designed, once again. This bag is heavy and you're carrying a ton of weight in it. Why would they put such flimsy straps on this bag? They're not very functional at all.
Once again, due to the poor strap design, this one got (reluctantly) returned. If the price tag wasn't so high, I might have been able to justify keeping it, as I LOVED everything else about this bag. Unfortunately, though, if I'm going to be shelling out that kind of cash for a backpack – it needs to be 100 percent perfect in every aspect.
3.) Standard Luggage Daily Backpack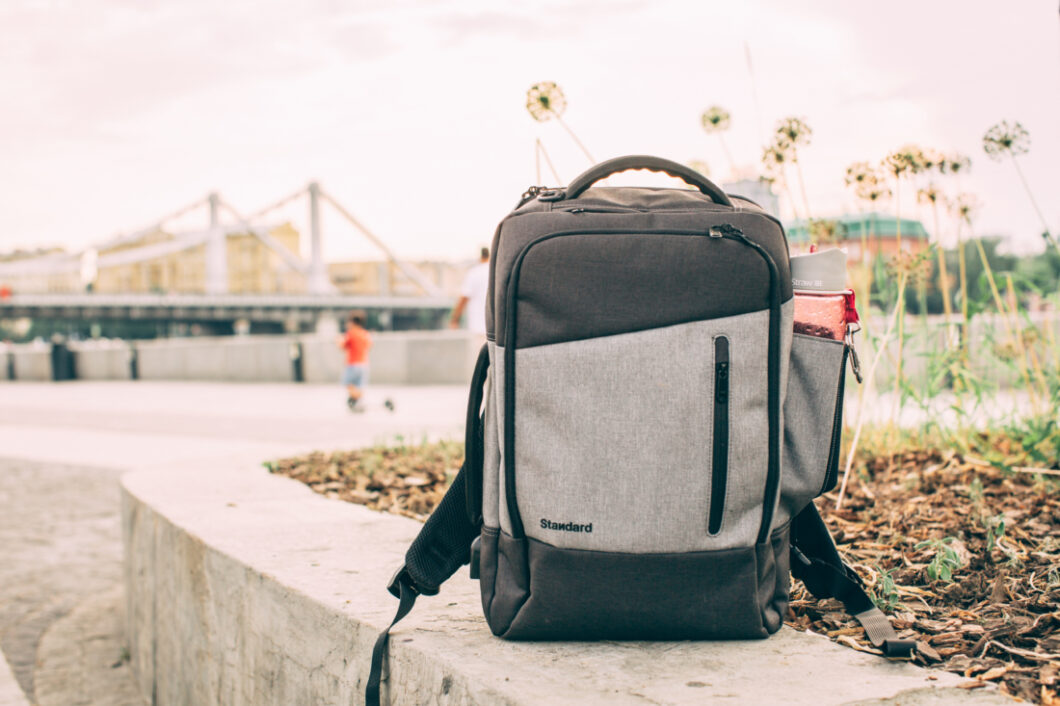 Standard Luggage is a company I partner with from time to time. They recently released a backpack that had some camera storage in it, and I thought it was worth mentioning in this list as my husband and I do use it quite frequently. This is better as a "day" backpack, though. Something where I would only be taking one or two lenses along for a quick trip through the city.
Specs:
3-in-1 design with choice of carrying as a (1) BRIEFCASE, (2) MESSENGER, and (3) BACKPACK.

LOCKABLE YKK zips and an RFID-SECURE pocket.

Holds a 15.1-inch laptop.

Bag Dimensions: 45 x 28 x 15 cm

Volume/Capacity: 18L capacity. Weight: 2.2 pounds
Pros:
Plenty of pockets for organization.
High-quality and rather a stylish bag.
It's a nice size for zipping around the city during the day.
Cons:
While having a spot for my camera is nice, this isn't on the same playing field as the other bags mentioned in this post. The camera slot does not provide nearly enough protection or organization for me.
There is not enough room in this backpack for me to use this for traveling. It works as a day backpack, but it would never be my camera backpack for traveling.
I use this as my day backpack. I wouldn't have invested in this as my travel backpack due to its small size. However, it's meant as more of an "all-around backpack." Not as a camera backpack.
4.) Kenox Camera Sling Backpack for DSLR Cameras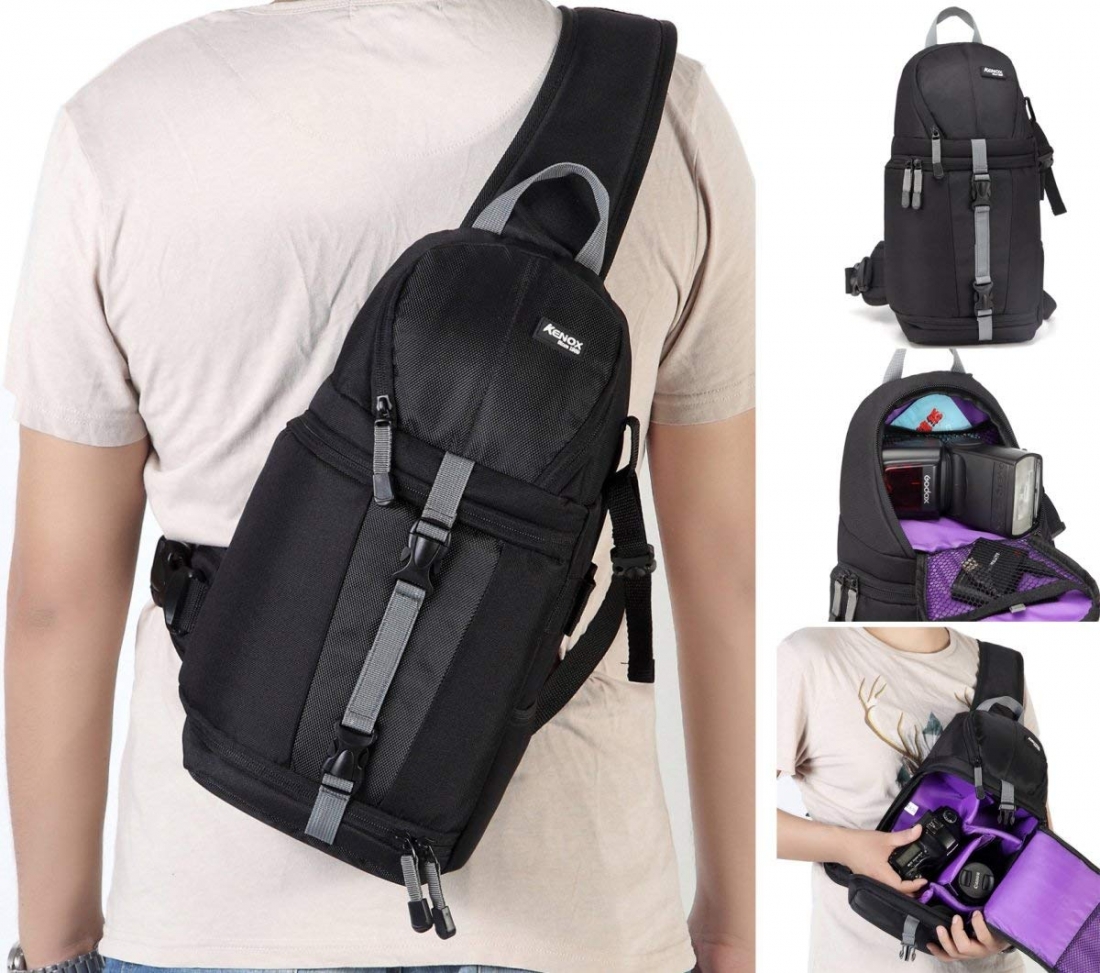 This sling backpack came free with a camera lens I had purchased a while back. At the time, it was one of the only camera backpacks in my arsenal. So, it got quite a bit of use over the years!
Specs:
Size:16″ X 8.5″ X 5.5″, Main compartment: 8″ x 5.5″ x 4″

This bag is lightweight and adjustable.

Top compartment for accessories or personal items; stash pocket, front pocket, and 2 built-in memory-card pockets; external tripod-securing system
Pros:
It's lightweight and great for using as a day backpack.
It does hold my camera gear without being bulky.
It fits inside my hard case carryon luggage.
Cons:
The sling strap is just not a good design for carrying a heavy camera around. I carried it like a briefcase more than I used it as a backpack.
It's very flimsy. Most of the straps and zippers broke after regular use.
Can't be used as a carryon, as there is not room for anything but the camera and lenses.
I did use this camera bag quite a bit over the years until I finally invested in the camera bag below. I liked that I could fit my camera gear all right inside my carryon luggage and then quickly take it out if I needed to gate check my bag. This worked well enough as a day backpack too… until I received my bag from Standard Luggage.
Overall, though, this is the most inexpensive bag on the list and the smallest in size. So, I shouldn't expect top-notch quality and the ability to fit ALL of my stuff inside.
5.) BPaull Camera Backpack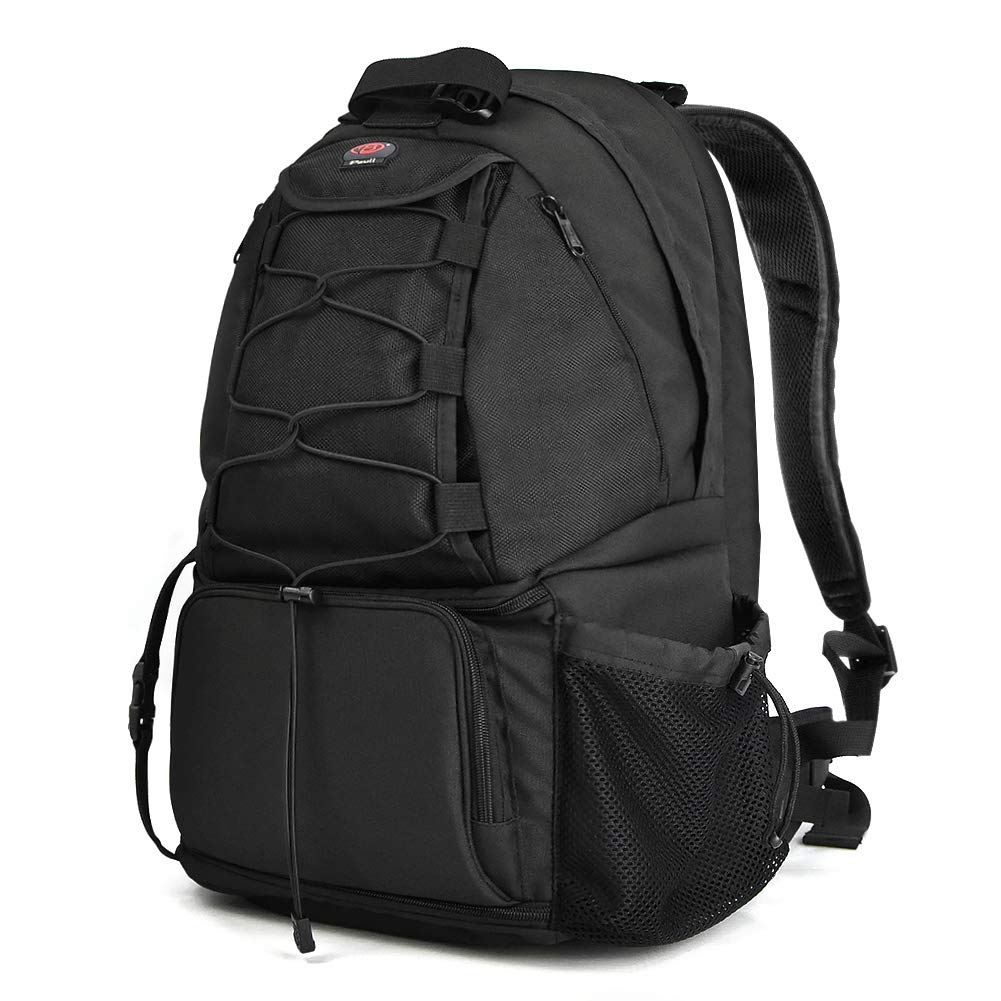 And last, but not least, the camera backpack that ticked (almost) all of the boxes for me and also my husband. My husband had actually ordered this one for me to try, as he didn't think I would buy it for myself as it isn't as "stylish" as the bags I was typically trying.
Specs:
Top Interior Size: approx. 11.4 x 7.4 x 9.4 inches
Bottom Interior Size: approx. 11.8 x 7.1 x 10.2 inches
Outer Size: approx. 20.47 x 13.6 x 9.45 inches

Waterproof Rain Cover Included: Highly dense nylon material which is dustproof, waterproof, anti-pressure, reinforced stitching at all stress points; Professional utx flex stealth buckle, thickening reinforcement and low temperature resistance

100% Satisfied Warranty Guarantee: 30 Days Free Of Returns, 1 Year Warranty, 100% Satisfaction Guarantee.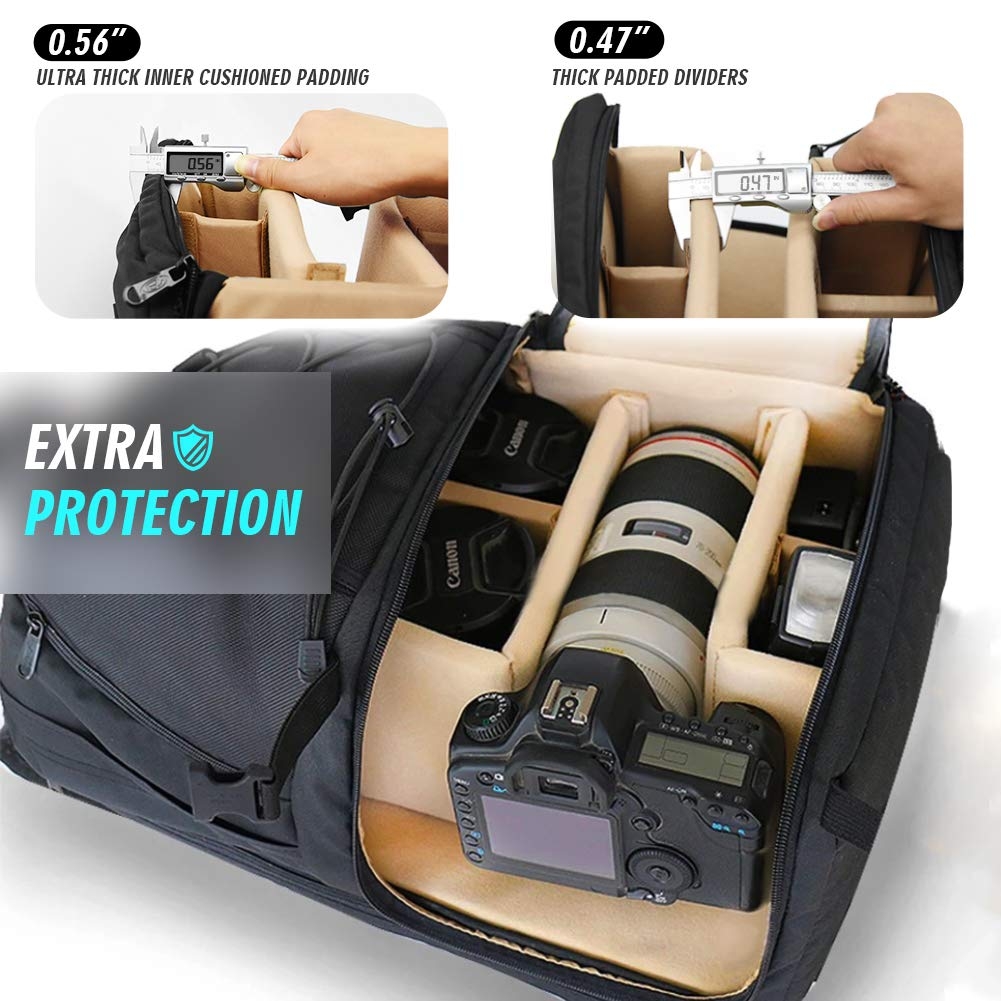 Pros:
Customizable Interior…the padded dividers in the camera bag backpack are fully-customizable so you can change the internal structure of the camera bag. They also offer fantastic protection of the camera.

Quick side access to the camera, but it is still theft deterrent.

Tons of space, this camera backpack has plenty of space for all of my gear and then some.

The straps! Out of all of the bags, this was the only one that had ergonomics in mind with its strap design. The padded shoulder straps are adjustable (and VERY comfortable), the chest and waist belt provides sufficient adjustability.

The back padding is ventilated.

I love that it also has a storage spot for my memory cards!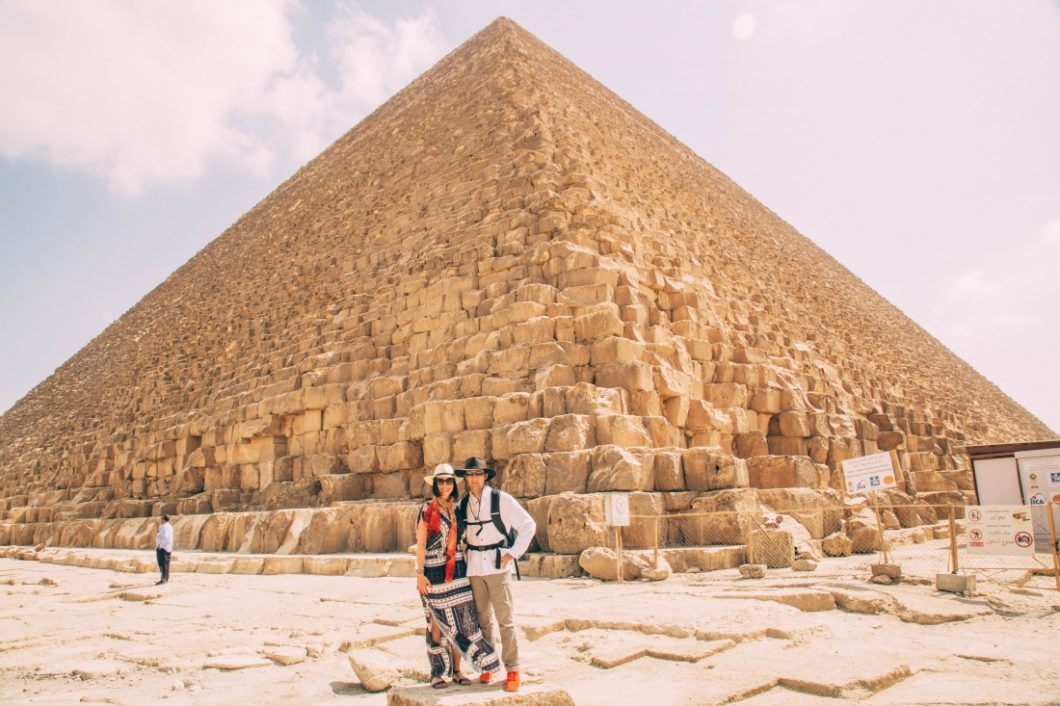 Cons:
It's not especially stylish. This is clearly a camera backpack.
It's almost too big. This bag won't comfortably fit in the overhead compartment of a small regional jet. (I usually stuff it under the seat in front of me and then sit with my feet basically in my lap.)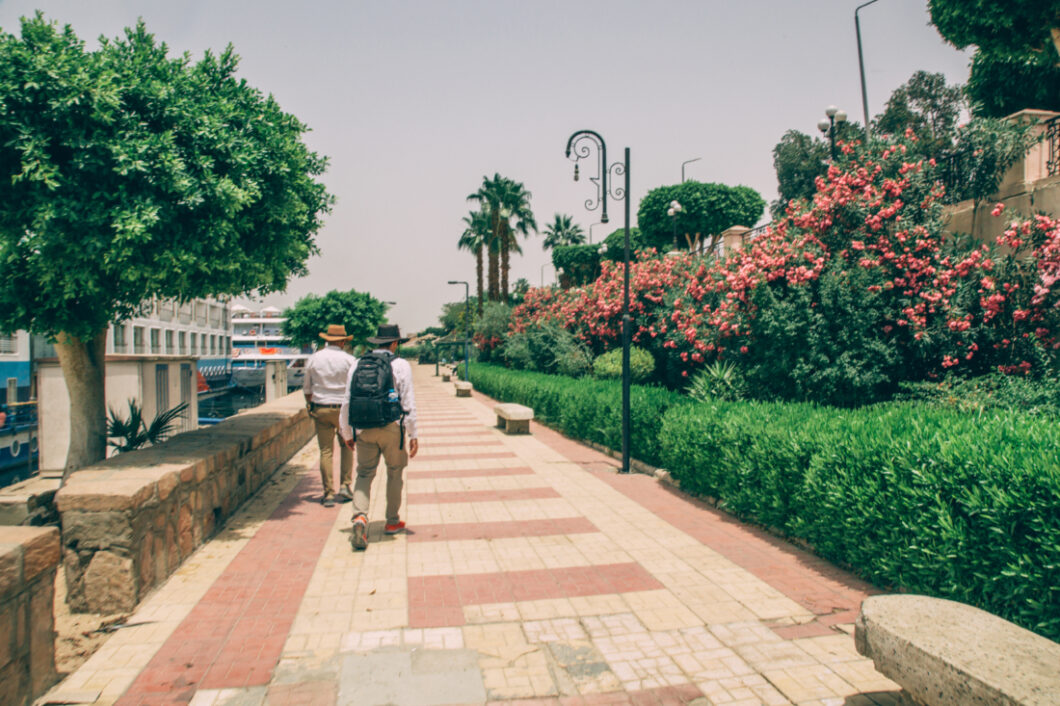 Overall, though, this bag was the clear winner in terms of what I needed in a backpack for traveling internationally with my camera gear. I can fit everything in it, plus a change of clothing and my laptop and toiletries. The straps are REALLY well-designed. I pack this baby full and it is still comfortable enough to carry for the day. I've been using it for a year straight, and it's held up perfectly. My especially picky husband clearly approves of it as well!
While it's not the prettiest bag on this list, it met every other aspect I was looking for in a camera backpack.
*Bonus: Evercase Large Canvas Messenger
This is, obviously, not a camera backpack – but a messenger bag. However, I figured while we're on the subject, I'd mention this one as well. I've used it quite a lot over the years too!
Specs:
Exterior Dimensions: 12.6 x 8.7 x 6.3 inches (32 x 22 x 16 cm)
Inner Bag Dimensions: 10.2 x 7.1 x 4.5 inches (26 x 18 x 11 cm)
Exterior: Distressed canvas with synthetic leather accents and brass-toned buckles
Inner Bag: Polyester with closed foam padding and cotton interior lining.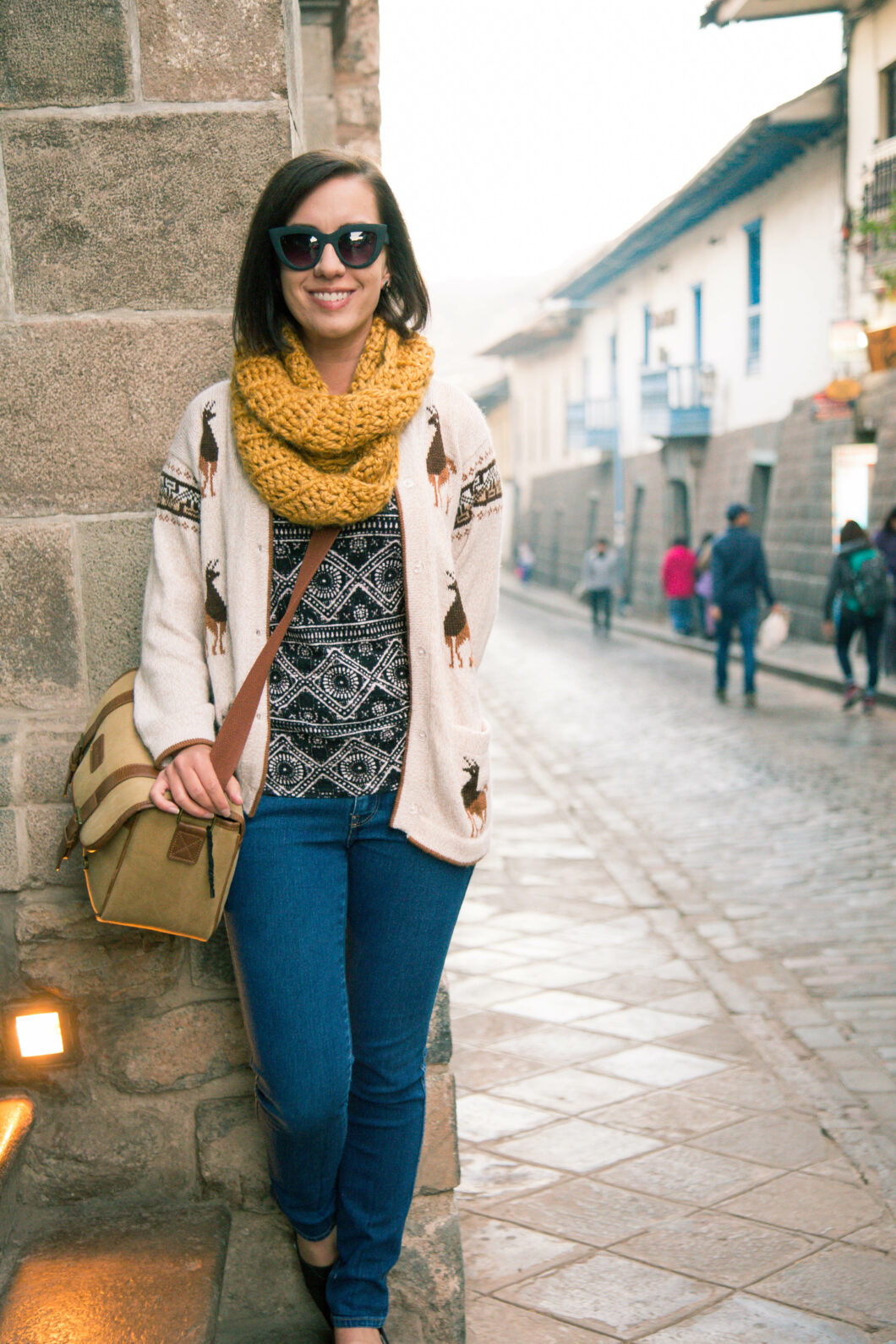 Pros:
It worked great to carry 2 lenses and my camera body.
I especially liked using it while I was living in Rosario, Argentina… because I could quickly snap a photo and stuff it back into this bag. (Theft rates of electronics were quite high in that city.)
It's quite durable! It was used nonstop for 2-years and held up VERY well.
Great price point.
Cons:
Again, that strap is just not a good design. It would be very uncomfortable after a day of using it.
It would be nice to have a better spot to also put a wallet or something along those lines as well. There wasn't room for much else other than camera gear in here.
If the strap would have had just a little bit of padding to it, this messenger bag would have been great for a day of exploring. However, that strap gets VERY uncomfortable by the end of the day. I'm likely going to look for a different messenger bag for when I head back to South America this spring!
Now, I'm curious, what kind of bag do you use to travel with your camera gear? Let me know in the comments!
*Disclosure: some of these links are affiliate links. Meaning, if you click a link and make a purchase, Have Clothes, Will Travel gets a very small commission at no extra cost to you. Thank you for supporting the brands that make this blog possible! I am also a participant in the Amazon Services LLC Associates Program, an affiliate advertising program designed to provide a means for us to earn fees by linking to Amazon.com and affiliated sites.