The Best Colors to Go with Gold + Outfit Ideas & Styling Tips
When it comes to fashion, few things are as timeless and glamorous as a gold-themed outfit. This rich and lustrous hue can transform any ensemble into a show-stopping look and is the shade of choice for evening functions, festivals, and special occasions.
But what colors go with gold? What are the best colors to pair with this metallic marvel? While gold can certainly hold its own, there are a few shades that truly enhance its regal beauty. This post will show the best colors to go with gold – from gold dresses to jewelry, shoes, nail colors, and more.
*Disclosure: some of these links are affiliate links. Meaning, if you click a link and make a purchase, Have Clothes, Will Travel gets a very small commission at no extra cost to you. Thank you for supporting the brands that make this blog possible!
Gold as a Neutral Palette
Gold belongs to the warm neutrals alongside orange, yellow, tan, beige, and pink which makes it advantageous when building a wardrobe. It also has a calming effect and pairs well with a wide range of patterns and colors that offer excellent contrast like teal, blue, purple, green, and black.
When it comes to skin tone, however, those with warm and dark undertones tend to look best in gold.
For nail colors that go with a gold dress, the safest is usually a light pink or nude polish.
Tonal Differences: Rose Gold vs Yellow Gold
Gold is a venerated material when it comes to jewelry and accessories and has been so since ancient times. Yellow gold is a timeless classic in that it has a warm, bright, and lustrous tone that exudes luxury and sophistication, while rose gold has a subtle pinkish hue that's romantic, feminine, and offers a more vintage appearance.
Both yellow gold and rose gold tend to look good on all skin tones, but the former flatters olive or dark skin tones best, whereas, rose gold flatters those who have lighter skin with pink undertones.
Styling Gold with Jewelry
Gold jewelry will go with every outfit imaginable. You honestly can't go wrong with having a set of gold earrings and a gold necklace. It's the only color of jewelry I currently wear with every single outfit! (Personally, gold and black is my favorite color combination.)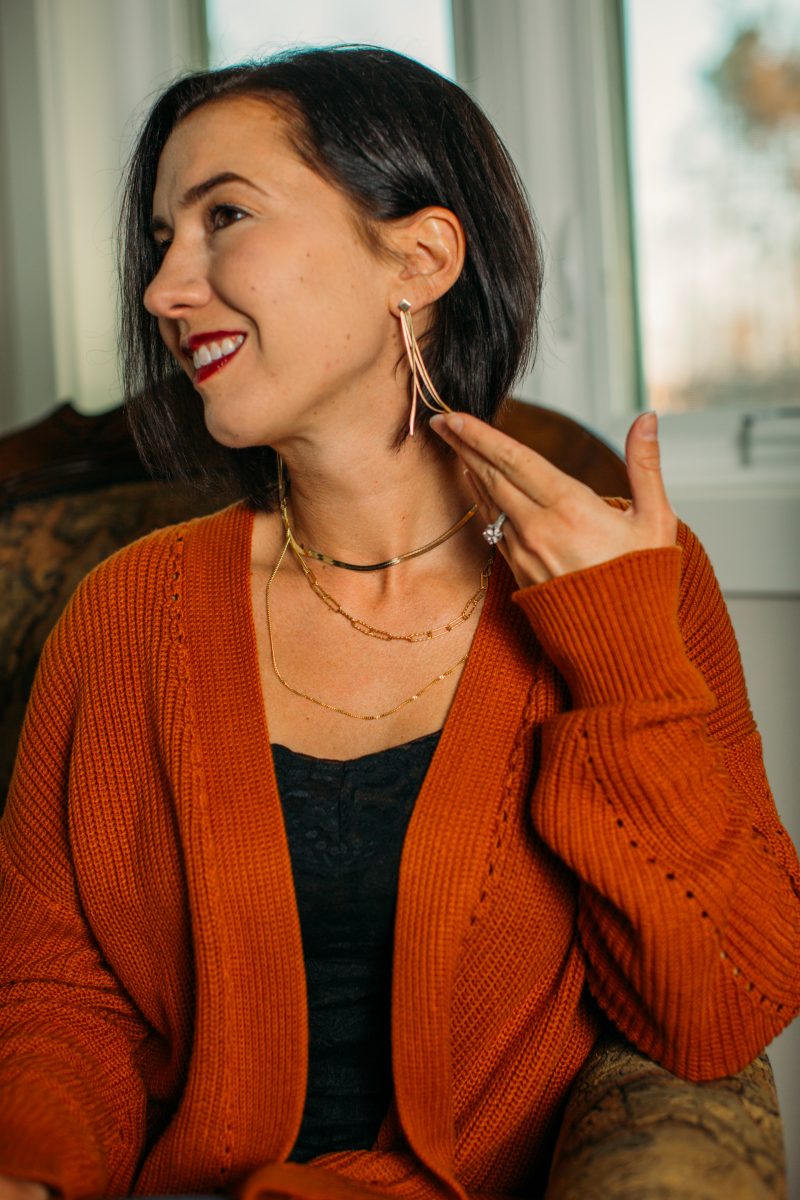 When combining metals like gold and silver, you can try a bracelet or ring to create a two-tone piece, as well as layering necklaces and bracelets with varying lengths and thicknesses to create an interesting look.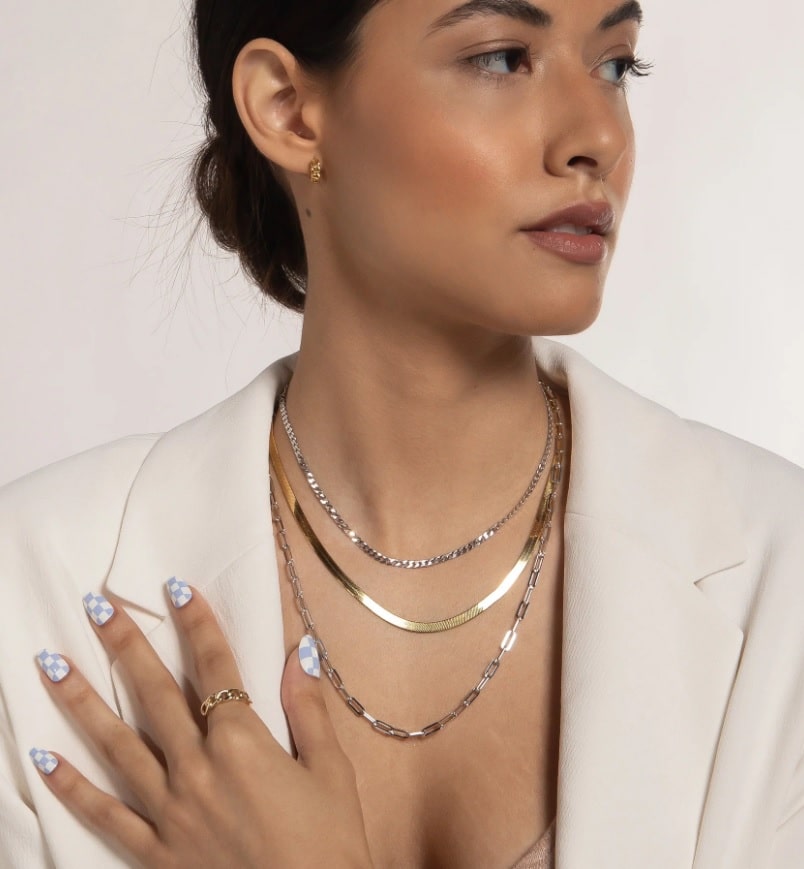 For beginners, use accessories (bags or belts) with gold or silver metal hardware to tie your whole outfit together or stick with a statement piece. Outfits like the classic LBD, t-shirt and jeans combo, floral dresses, monochromatic outfits, and neutral-toned outfits (beige, navy, or gray) are trusted ensembles that can go well with silver and gold.
Gold is beautiful and so classic, but it can also be tough to pull off, especially if you're used to wearing silver or white gold most of the time. If you're ready to give gold a try, here's how to style it with other colors:
Gold Outfit Ideas
Gold + Peach
Similar to gold, peach shares the same warm color palettes of orange that when blended with gold, it can create a sweet, refined, and youthful vibe. The sheer crochet waistband and soft scalloping create a romantic and pastel-inspired feminine look. Pair this up with strappy metallic gold heeled sandals and an elegant gold pendant and hoop earrings to add a touch of class and sophistication to the whole outfit.
Gold + Black
Black and gold is a timeless and chic color combination that's not only stylish but dramatic, as well. The overall feel is expensive and luxurious without trying too hard, and the intense contrast of the neutral black against gold is a fool-proof way to look elegant, be it in an all-black suit, Little Black Dress, or evening wear. A touch of gold jewelry or shoes is all it takes to elevate this ensemble, or better yet, you can style a gold palazzo pants with a black top or graphic tee for a trendy and contemporary look.
Gold + Emerald Green
Emerald green is such a positive and warm color that brings a little luxury into any outfit, especially when it's paired with gold. Both colors are nature-inspired and have a regal and refreshing feel when mixed together. When it comes to dresses, gold is a popular embellishment or print set against the intense color of emerald green, but for those who'd like to mix and match, a chiffon fit and flare dress can be paired with a gold belt, necklace, and earrings and shoes for an eventful night out.
Gold + Ivory (White, Cream)
A warm white like ivory is also one of the neutral colors that pair well with gold, and it tends to shine brighter as white serves as the perfect background for this.
While it's reminiscent of weddings, you can go for the casual route with a gold sequin number at the top and ivory faux leather shorts at the bottom. Finish off the look with a platform wedge or sandals for a clean and sophisticated finish.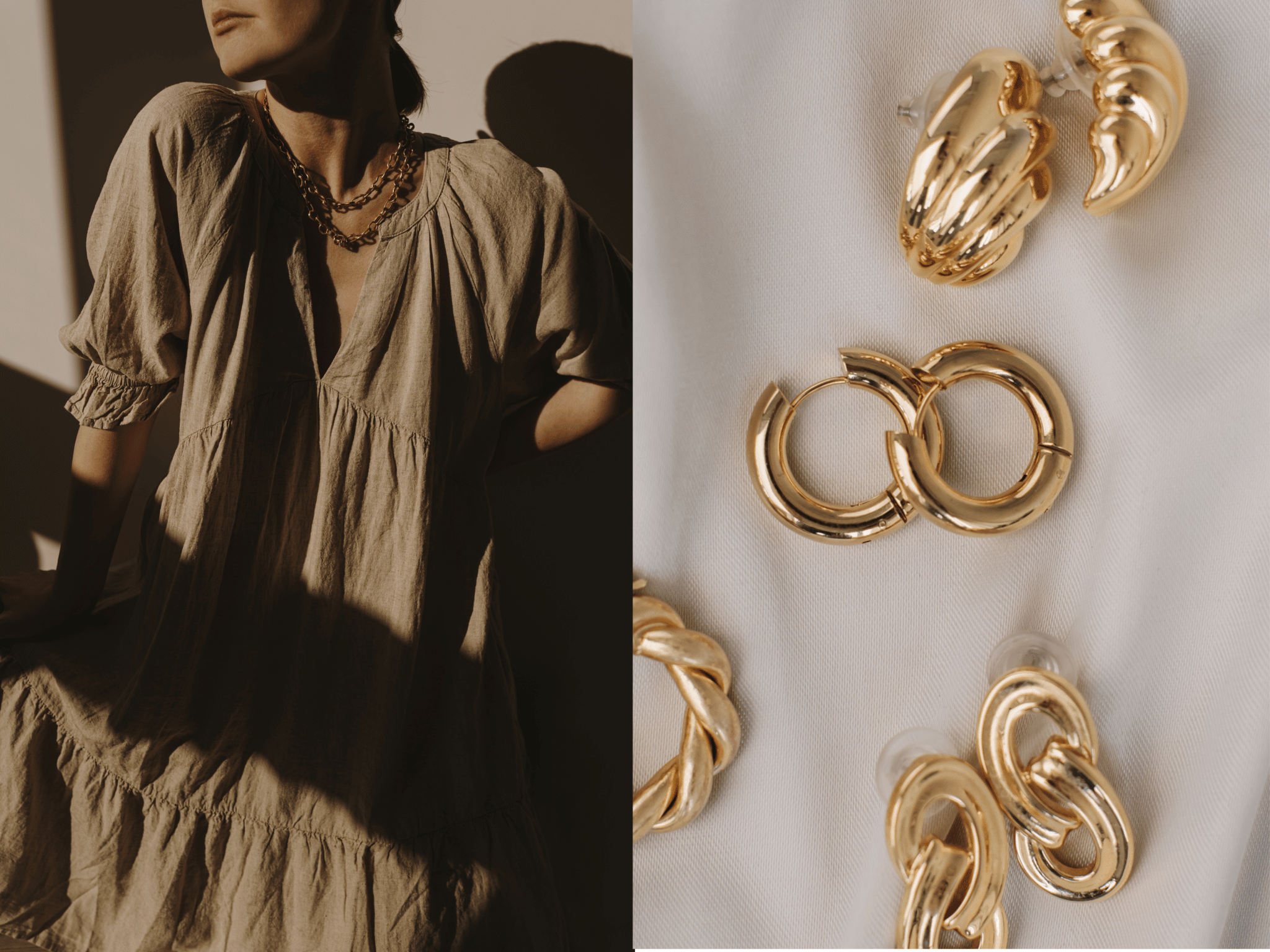 Gold + Taupe
A taupe-colored outfit (either in light or medium shade) with gold accents can be a stylish and chic option for events such as weddings, dinner parties, or at work. This neutral shade can work well with champagne gold and rose gold, as well, and is the base color for most boho-inspired outfits like floral midi dresses, smocked dresses, and shift dresses paired with boots.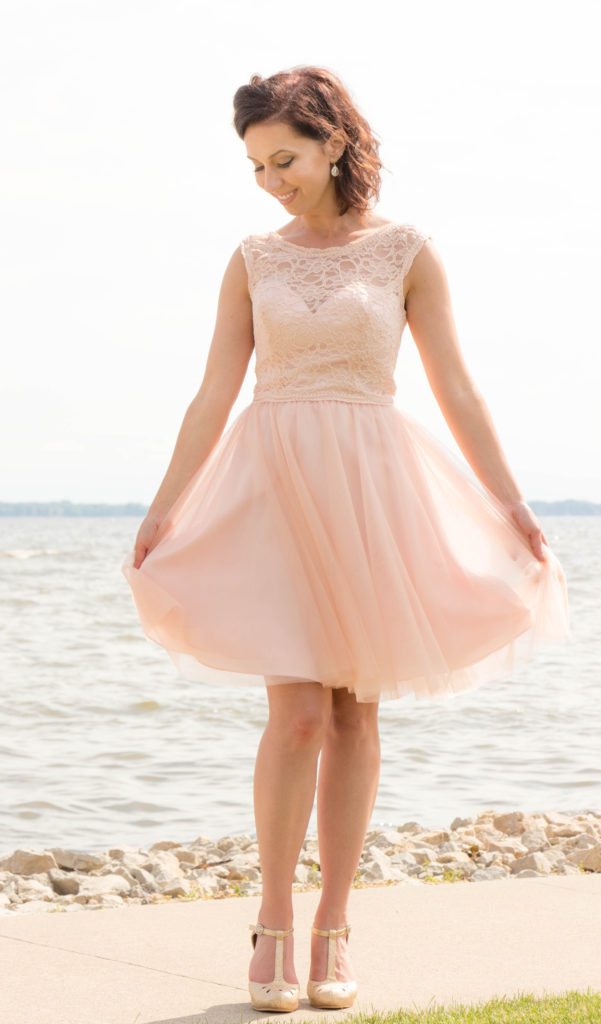 Gold + Blush Pink
One of the pretty pairings that emanate a romantic and elegant vibe be it in wintertime or daytime is gold and blush pink. For a refined office look that will turn heads for sure, a pair of blush pink trousers, a matching blazer, a white button top, and a gold statement necklace will do the trick and essentially exudes girl boss energy. You can also mix different shades of pink and include gold accessories for added texture.
Gold + Turquoise
A vibrant shade like turquoise has an interesting and creative look, even more so when paired with gold. Both combinations are breathtaking and features a perfect blend of elegance and playfulness. A gold pleated skirt with a fitted turquoise top makes for a memorable outfit; you can also add a statement gold necklace with turquoise stones or accents to tie the whole ensemble together.
Gold + Burnt Orange
A fun combination for any season, gold and burnt orange creates a warm and welcoming appearance. When thinking of an occasion piece with a flattering silhouette, a satin plunge midi dress is already a statement on its own. If you want to go all out, however, a pair of gold strappy heels or a clutch with gold hardware and delicate jewelry creates an eye-catching and confident aesthetic.
Gold + Lavender Purple
Both colors of royalty, gold mixed with lavender purple has long been associated with nobility and power. The lavender purple's soft and muted tone against the metallic shade is a timeless and lavish look that's perfect for any occasion. A purple blouse paired with a gold skirt or pants can create a striking contrast of colors, meanwhile, a halter neck pencil dress with a flattering bodice can be elevated with gold earrings and layered bracelets ready to take you center stage.
Gold + Oxblood Red (Maroon, Burgundy)
Another best color combination for gold synonymous with royalty, oxblood red features a deep, dark shade of red that when it's paired with gold, creates a bold, confident, and decadent finish. It's easy to pull off a look since either color may serve as an accent. An oxblood dress can be adorned with a gold clutch, belt, and strappy heels, while a gold slit maxi dress can be paired with chunky suede oxblood platforms. For a modern take, a bright red co-ord can also look flattering with gold platform heels and a clutch.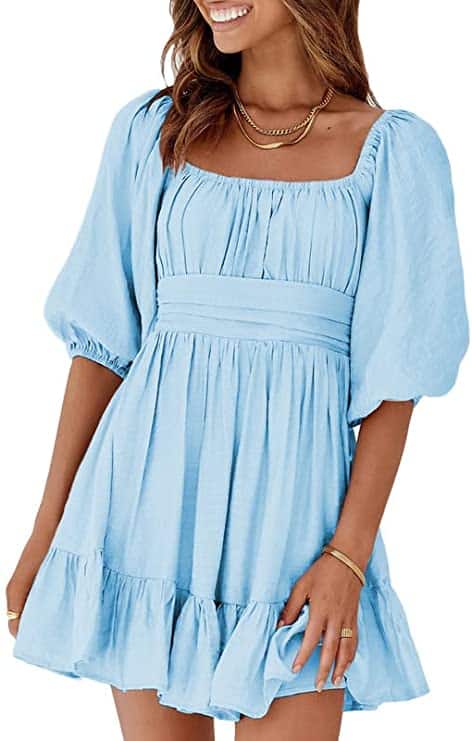 Gold + Powder Blue
Gold is already a classic and timeless color, and one way to make it feel contemporary is by pairing it with a light and cool hue like powder blue. This barely-there color from the shades of blue has a mix of young and vintage appeal that serves as a calming backdrop against the glow of the gold jewelry. It's a fun twist to vamp up a classic outfit whether it's a powder blue dress with a white coat, a blazer and trousers combo, or jeans paired with a powder blue coat and beige flats.
Gold + Mustard Yellow
Pairing yellow with gold may seem too "out there", but both of these hues actually make each other shine. It's the kind of color duo that works well and looks stylish when put together; for instance, a mustard yellow satin wrap maxi dress with adjustable straps, ruffled cold shoulder sleeves, and high slit looks graceful when paired with a gold ankle strap heels and necklace. You can even mix it up with a pop of complementary color by draping a midnight blue coat over the dress for modern styling.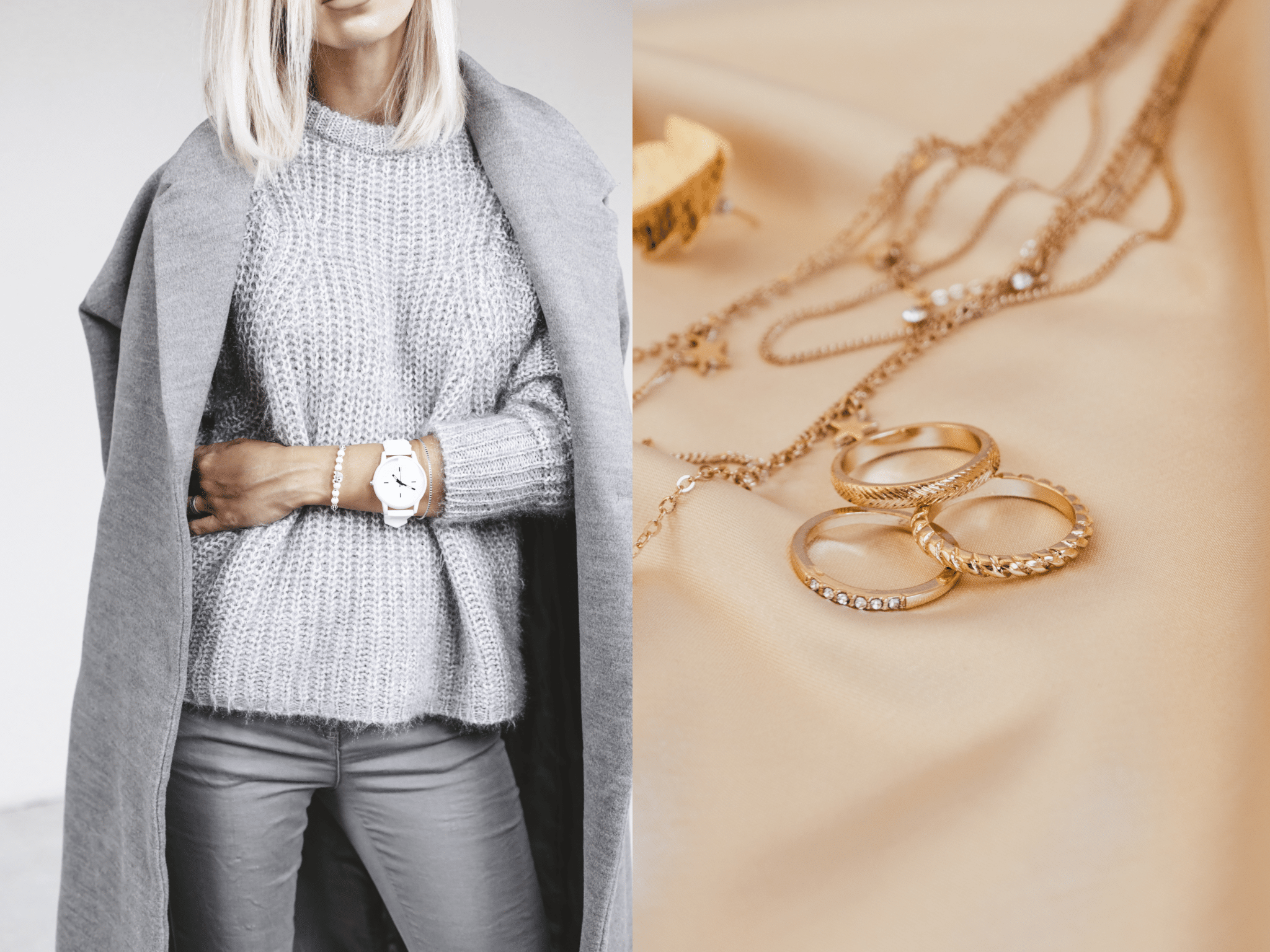 Gold + Grey
Like white and ivory, gray features a contemporary and sophisticated neutral tone that's soothing to the eyes, and the added gold color scheme just gives it a touch of glitz. The combination makes for a high-end yet effortless appearance; an inspired outfit for this would be a chunky light gray knit jumper paired with medium gray trousers and a trench coat—a simple ensemble yet still looks elegant and put together. You also have the option to accessorize with either yellow gold or rose gold (both are stunning, to be honest).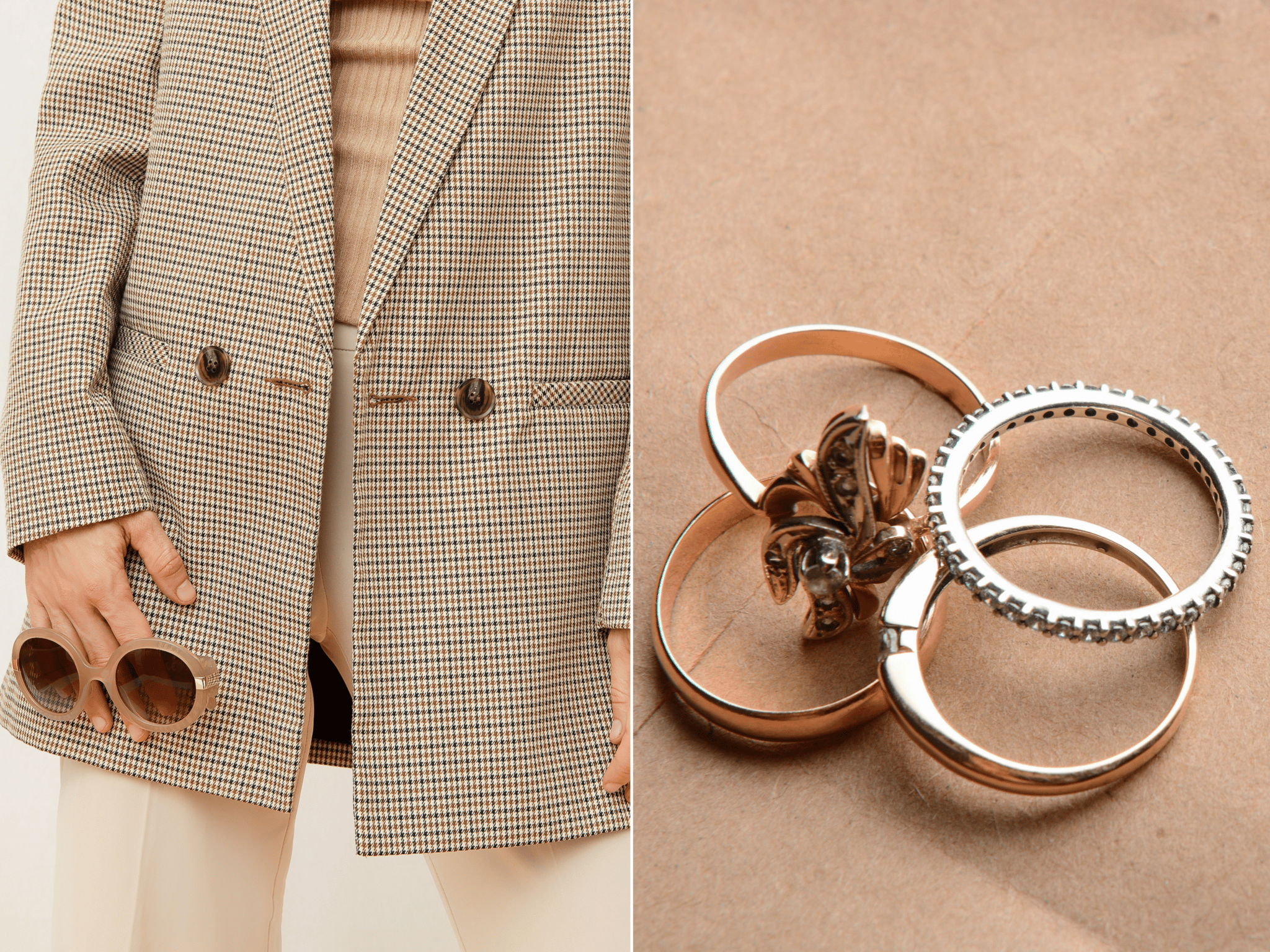 Gold + Brown
A rich and dark shade of brown has an earthiness that the color gold brings out beautifully. Since brown is a deep and moody color, gold helps in accentuating the coziness of the earth tone making any outfit appear chic and trendy. A brown pants, white top, and either a tan brown or beige coat overlay is one of the best ways to pull off this outfit—gold accessories like a chain necklace or stacked bracelet is the pièce de résistance.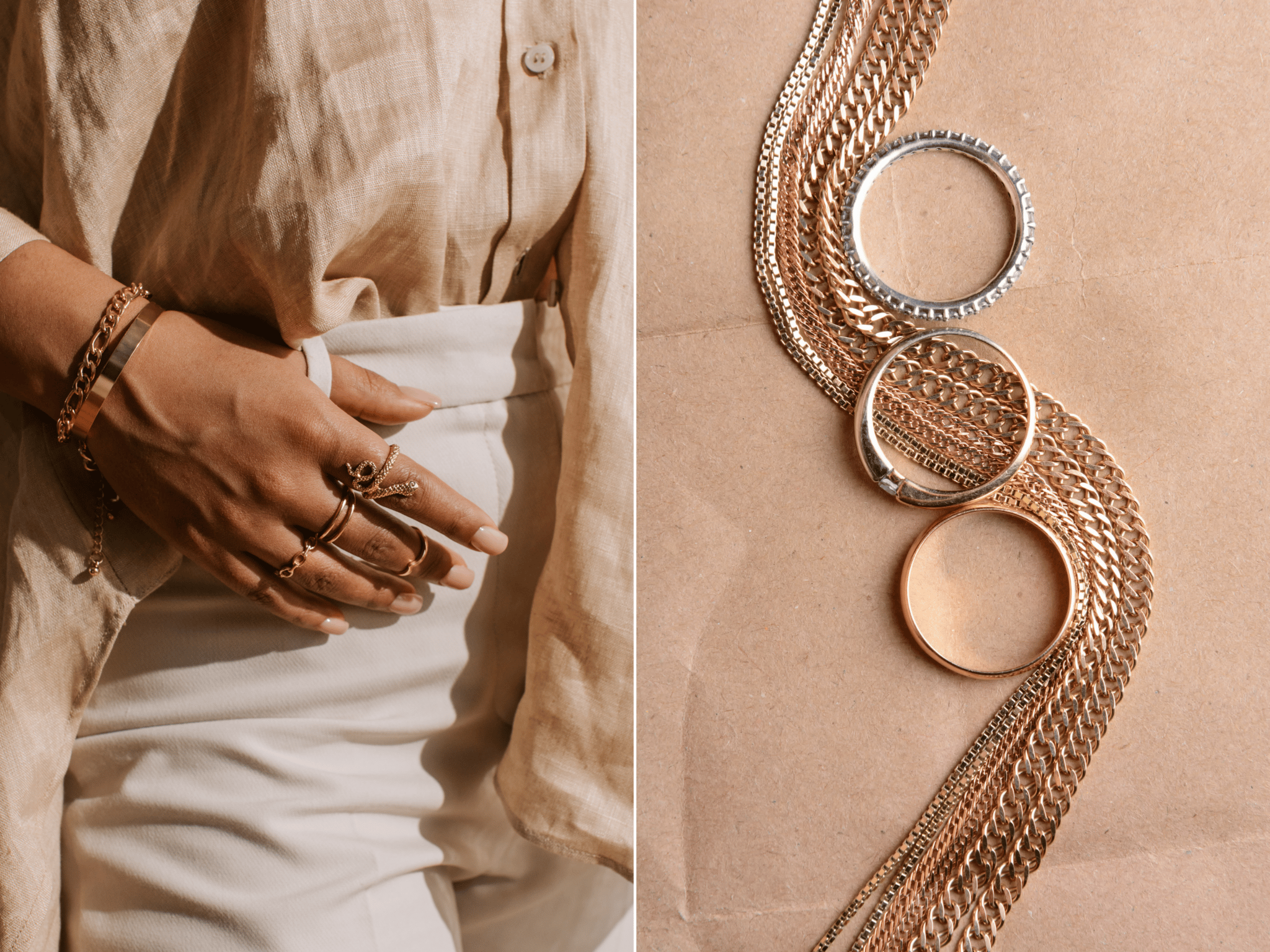 Gold + Rose Gold
Contrary to popular belief, going for mixed metal jewelry is a fresh fashion statement—gold being the best color to go with rose gold. When worn together, gold, rose gold, and even white gold look stunning all together. You can try layering or stacking them on a casual outfit to create a clean and contemporary look; better yet, pair them with saturated colors like navy blue, charcoal black, and deep teal to bring out the rich tones of the mixed metals further.
Gold + Navy Blue
This is another color of royalty that's aesthetically pleasing and is the best color to go with gold, navy blue casts a discreet and elegant composition. A navy-blue dress that's stylishly cinched with a gold belt or gold sequin shorts paired with a navy-blue coat, black top, and heels are some head-turner ensembles to try with this killer color combination.
Gold + Coral
Close to an intense pink shade, coral is a vibrant and flattering hue that when it's paired with gold, creates an opulent and delicate feel to any outfit. You can also add a cream hue in the mix for a gorgeous effect. Whether it's a coral dress with a subtle shimmer of gold embellished into it or a coral top paired with cream-colored trousers and gold jewelry, these three hues work well harmoniously to create a lasting impression.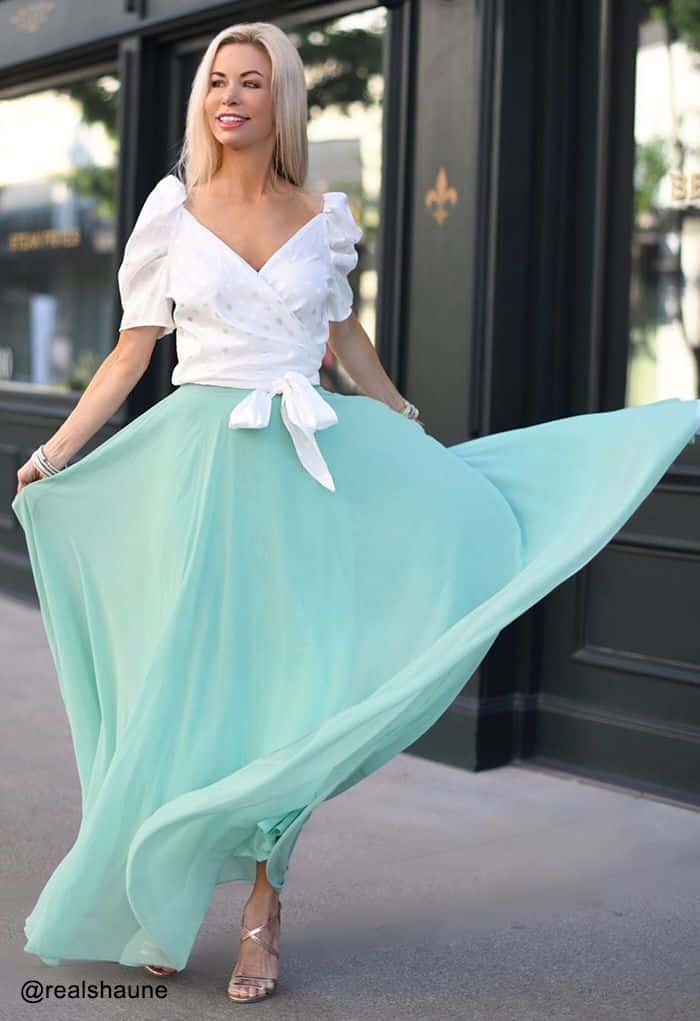 Gold + Mint Green
One of the cooler shades of green, mint green features a refreshing style that will make any outfit look high quality and rich. True enough, a feminine white blouse and a flowy mint green midi skirt looks amazing when paired with gold heels. It further elongates the legs and gives the wearer a sleek and stylish day-to-night look. Add a few gold accessories like a chain bracelet or stud earrings for a modern look and sparkly finish.
Gold + Silver
Whoever said that gold and silver don't mix is missing out on a defining sartorial moment. This combo is one of the chicest and shiniest way to leave your mark at any function. Whether you're going for subtle accent jewelry or a statement dress in gold or silver, either of the colors works beautifully. For instance, a way to add an extra oomph to a metallic silk-blend maxi dress is to pair it with gold pumps and diamond-encrusted gold earrings.
Gold + Copper
Copper and gold create a warm and attractive pair that's stylish and seasonless. A pleated asymmetric maxi dress in copper with a one-shoulder neckline and self-tie sash belt looks stunning enough already, but it can still be elevated by adding a gold-colored bangle, hoop earrings, and subtle layered necklace. If the weather's cooler, simply layer with a gold sequin blazer or a metallic copper-colored coat.
Which do you think are the best colors to go with gold? Let me know in the comments!