20 Stylish Brunch Outfit Ideas for Spring, Summer, Fall, & Winter
Searching for the best brunch outfit ideas? This post has you covered with brunch outfits for every season! Winter, fall, summer, and spring brunch outfits can all be found in this post.
No social event can get any girl gang excited more than a relaxing brunch. Coined by English writer Guy Beringer in 1985 in his write-up titled "Brunch: A Plea," brunch is a late-morning meal taken to help ease a Sunday hangover (but it doesn't necessarily mean you need to have a hangover on that day).
Brunch can be set any day of the week, and it's a social highlight most friends or family tend to look forward to, and besides, who wouldn't like a day dedicated to intimate catch-ups, unlimited mimosas, good food, and of course, chic outfits?
What is the proper attire for brunch?
Unlike formal or fancy dinner parties, where there are strict rules in dressing up, brunch is an outfit breather in that you can wear pieces that are comfortable yet elegant at the same time.
Can you wear sneakers or leggings to brunch? With chic athleisure core being the norm these days, you definitely can! Brunch is a styling opportunity to look your very best without the added pressure of assembling a killer outfit. The key is to focus on quality fabrics and timeless pieces so your whole ensemble looks polished, fresh, and put together while feeling comfortable and confident.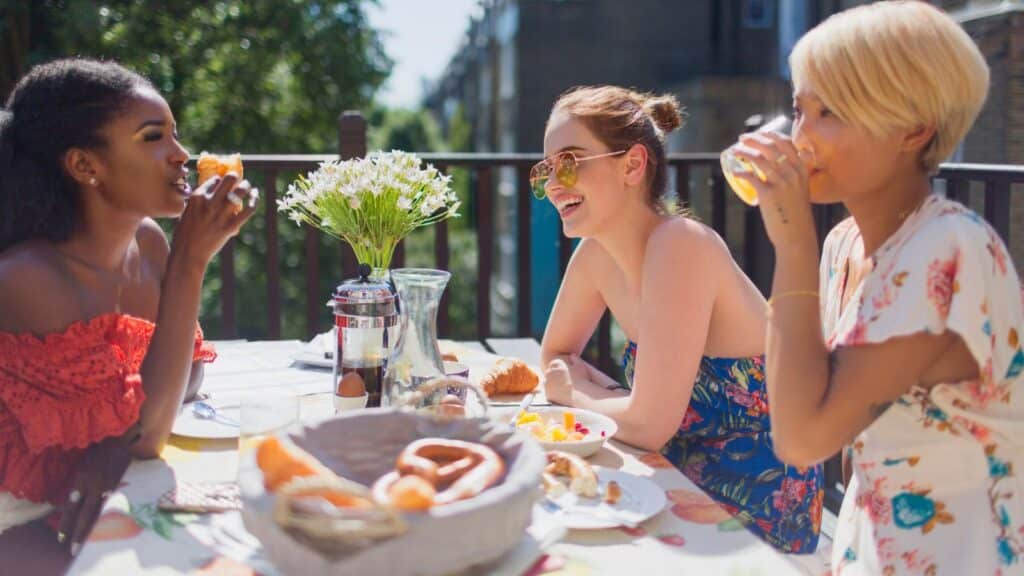 Summer and spring usually call for a more carefree and casual style in a cheerful color palette like flowy sundresses, linen shorts, jumpsuits, two-piece sets, and the classic t-shirt and jeans combo.
Meanwhile, fall and winter are for layering with classic staples consisting of leather jackets, oversized knitwear, cashmere sweaters, tailored coats, cardigans, and chic blouses. These can be elevated with accessories, exciting textures, statement bags, and shoes.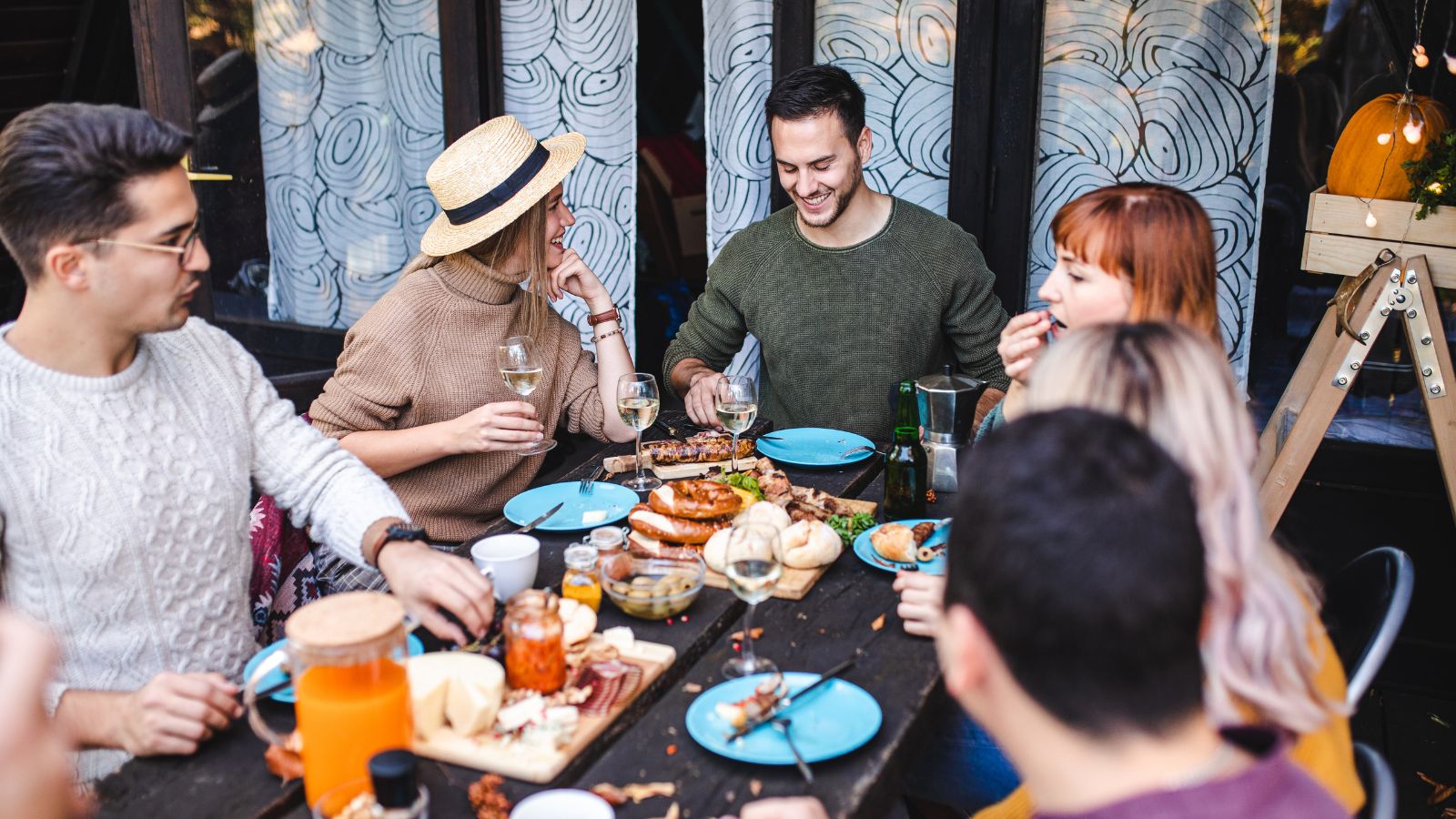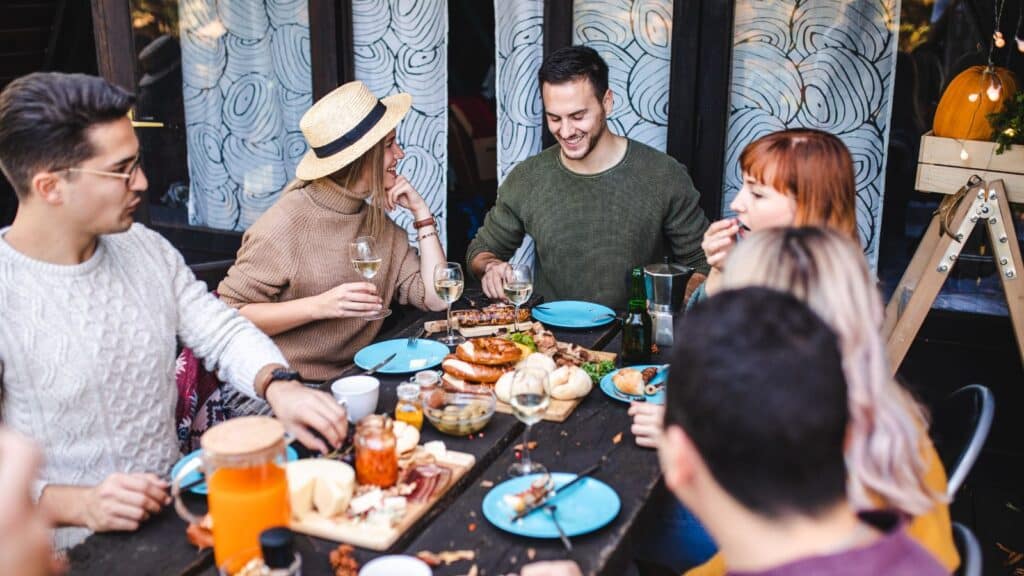 For fool-proof inspiring looks, below, I'm showcasing some of the best brunch outfit ideas that'll keep your whole ensemble Instagram-worthy from head to toe. (This post starts with the best spring and summer brunch outfit ideas and ends with the best fall and winter brunch outfit ideas – use the table of contents below to help navigate.)
The Best Spring and Summer Brunch Outfit Ideas
Comfortable Midi Skirt + Sneakers Outfit
Midi skirts have a feminine and demure silhouette; they are also one of the most versatile pieces to include in your wardrobe. No matter the body type, midi skirts have an elongating effect on the wearer, which can be elevated further with wedges, heels, ballet flats, sandals, and sneakers. Modcloth's Swinging Saddles Midi Skirt in yellow floral speaks to the quirky and adventurous and is oh-so-comfortable when paired with sneakers.
Read next: How to Style a Floral Midi Skirt – 7 Outfit Ideas for Summer & Fall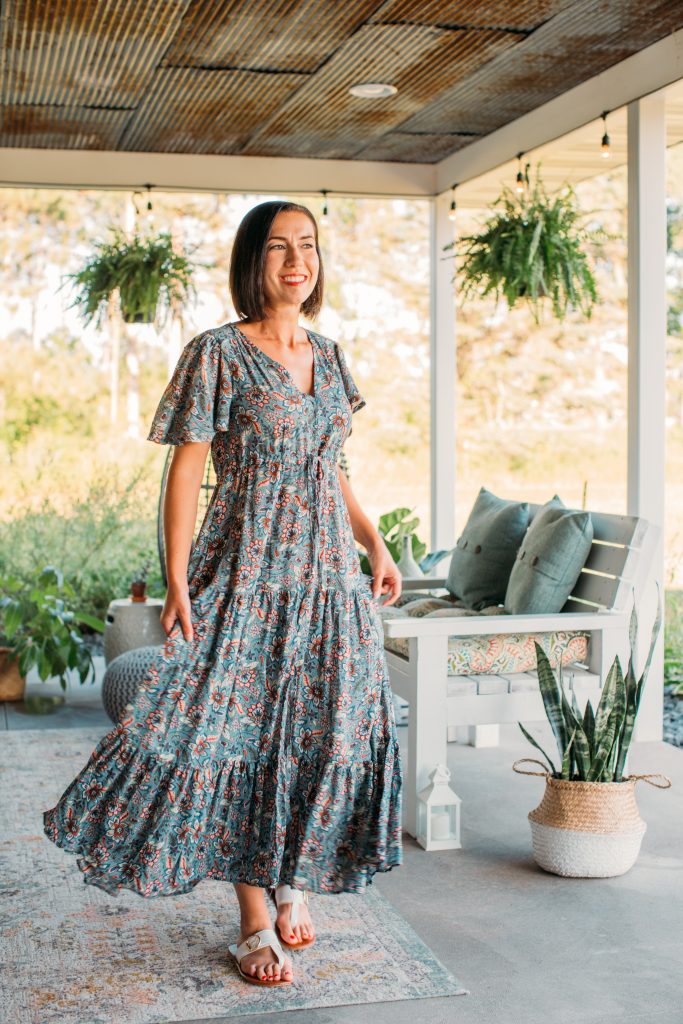 Comfortable Maxi Dress + Sandals
A quality maxi dress for a formal brunch will never disappoint—always luxurious and is a sure head-turner at any moment. This maxi dress from Salty Crush is a flirty and flowy piece that dances around your body and is made from soft and lightweight fabric. So très chic! AND comfortable. (I even wore this dress for brunch at Giraffe Manor!)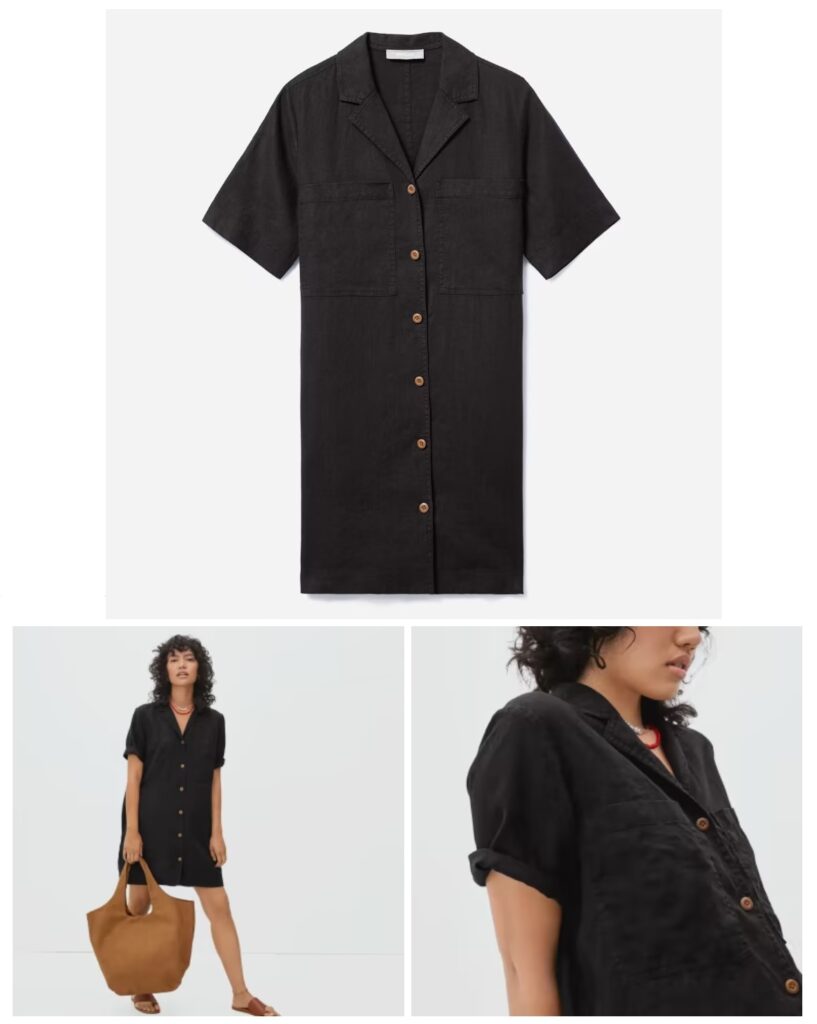 Linen Mini Dress + Sandals
A nifty yet fashionable approach to every gal's favorite summer shirt-dress that lets you enjoy brunch with ease. Made from 100% linen, this Work Dress from Everlane has a relaxed and oversized silhouette and features a notched collar, utility-inspired patch and side pockets, short sleeves, and a neat button front. Style it up with your favorite sneakers or sandals with a canvas tote bag for a sophisticated look.
Read next: 40+ Best Stores To Shop Summer Dresses Online For ALL Budgets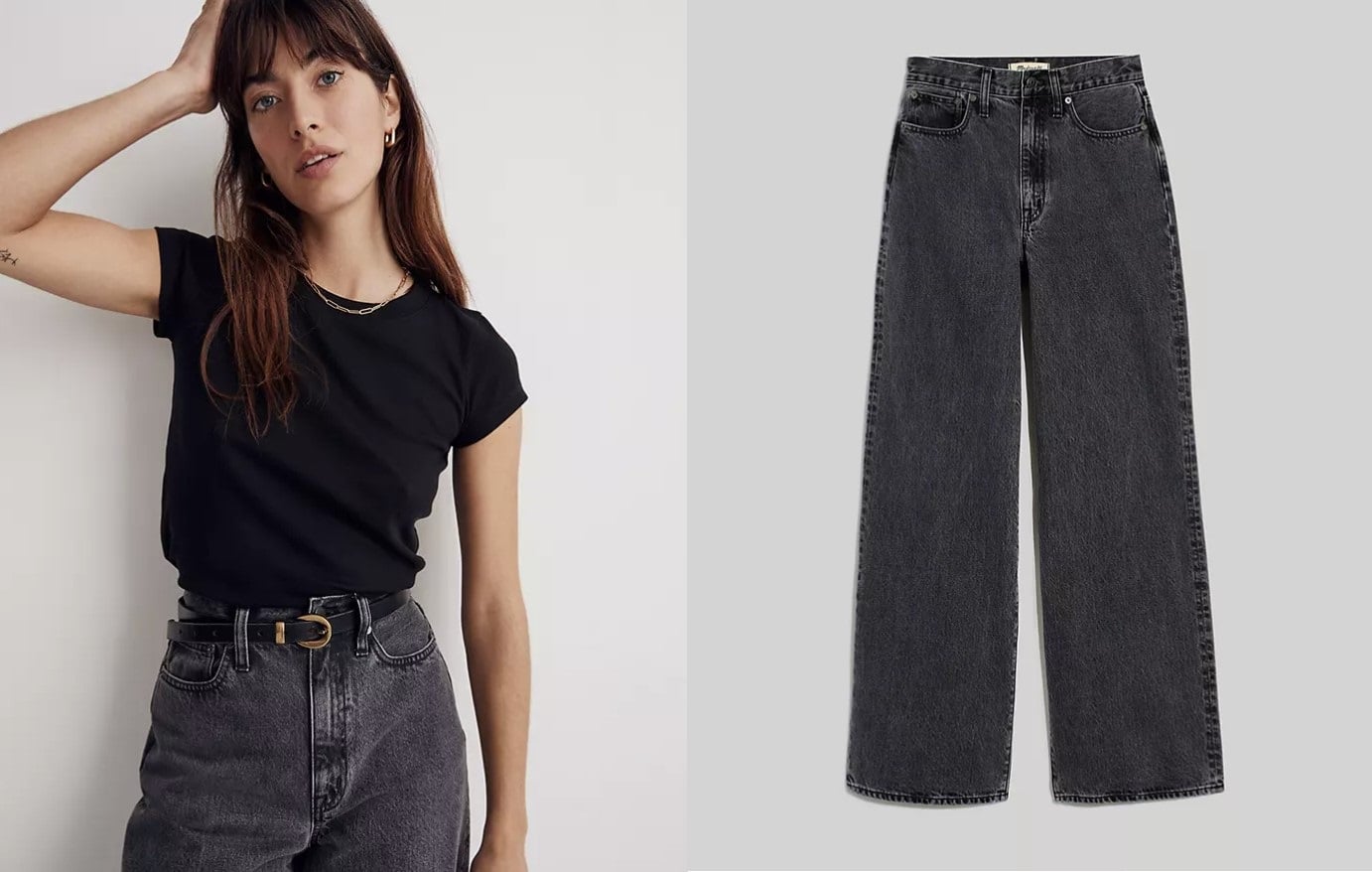 Jeans and T-shirt – Brightside Tee and Superwide-Leg Jeans
The classic look that fits all types, the jeans and t-shirt combo is a tried-and-true ensemble that will never go out of style. Late for brunch? Simply grab your favorite shirt like this tee in black, and pair it with these Superwide-Leg Jeans, and you're good to go. The soft ribbed fabric of the shirt contrasting with the crisp '90s-inspired fit of the jeans makes for an understated chic signature only to styling basics. Dress it up with a chunky-buckled leather belt and a paperclip chain necklace for a fresh look.
80s-style Ruched-sleeve Blazer and Slogan Tee
For a work brunch getup that will have you looking tailored and casual, this blazer with ruched sleeves can set the preppy vibe you're aiming for. Toss in a plain or hip slogan shirt like the cool ones did in the '80s and tuck it into your favorite jeans or pleated miniskirt. For texture, add sneakers or patent Birkenstocks and finish off with sunglasses to rock the bossin' boss babe look.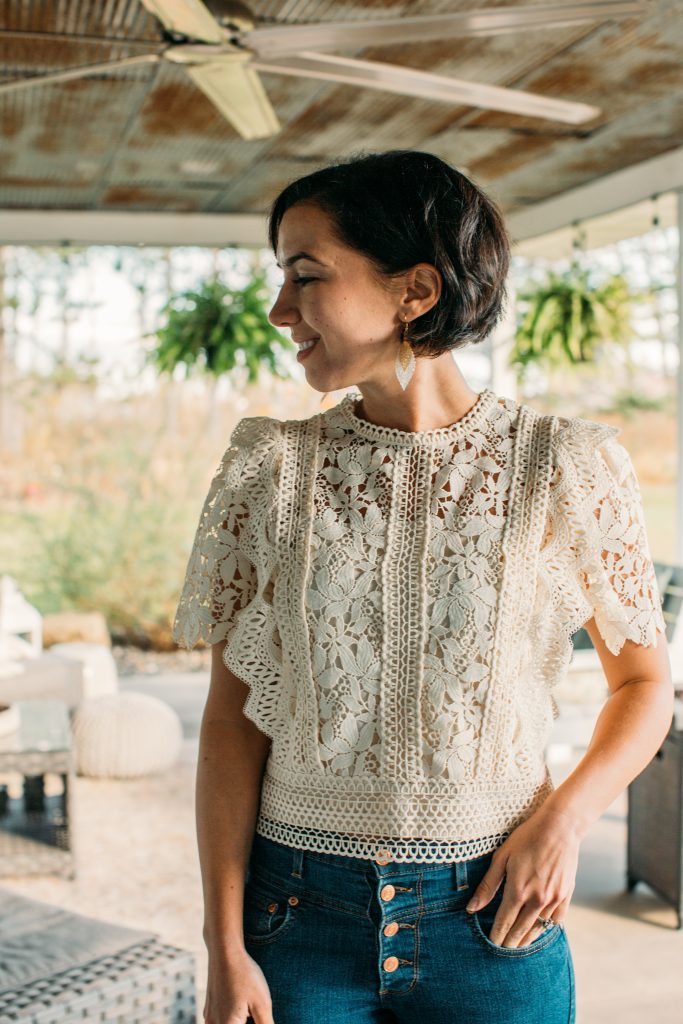 Feminine Blouse + Jeans
Versatile and easy to wear, this crocheted blouse adds a touch of feminine flair on days when you want to dress things up more than usual. This cropped number has a ruffled and embroidered leaves overlay, a frilled lace collar, and a button closure on the back. Mix this dainty blouse with a causal mid-waist tapered jeans, a crossbody bag, and strappy sandals for a truly stand-out statement. This is one casual brunch outfit that won't disappoint.
Read next: Is Chicwish Legit? HONEST Chicwish Review After $600 in Orders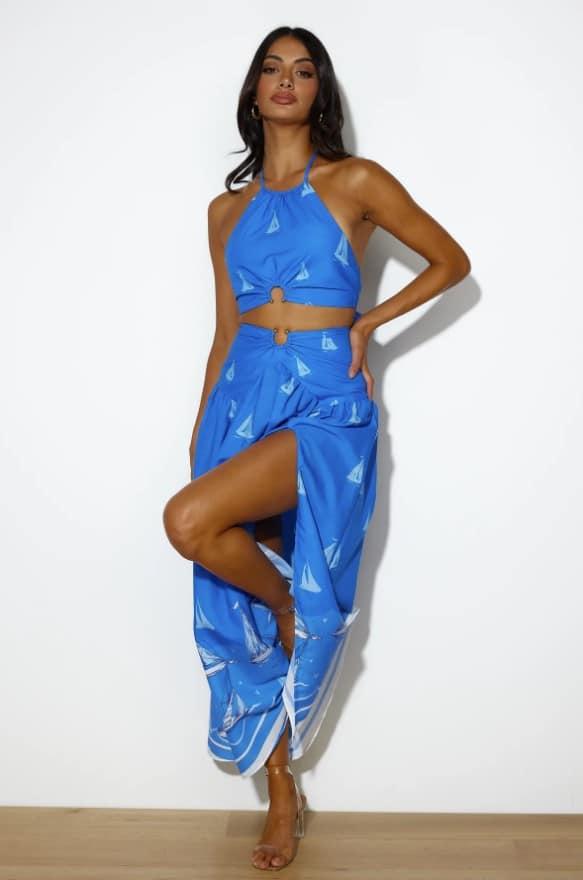 Two-piece Maxi Skirt and Crop Top
Brunch by the beach? This Boldest Move Maxi Skirt is a worthy wardrobe investment as it features a dramatic side slit, tie-up back, and a cute ring detail at the front. It is romantic and enchanting in a dark blue tone, as well! Made from lightweight fabric with an ocean-themed print, this is the perfect seaside number guaranteed to make you dance and sway with the music. Add your favorite mules or strappy sandals for a chic and effortless vibe.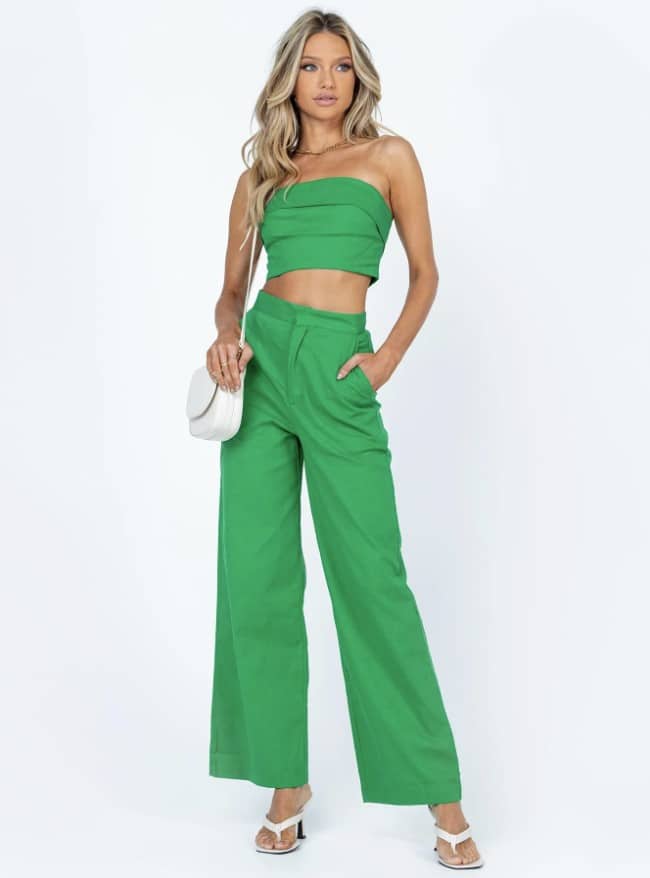 Pants Set in Aiden Green
With a matching set, you'll never have to worry about your whole outfit looking right. This Aiden Pants Set is best suited for a summer brunch. It's incredibly comfortable but never compromising in terms of style. It features a high-waisted and wide-leg fit with twin hip pockets and a strapless top. The bright green pop of color adds an elevated factor, as well. You can wear it as it is or style it up with a blazer and heels for a more put-together look.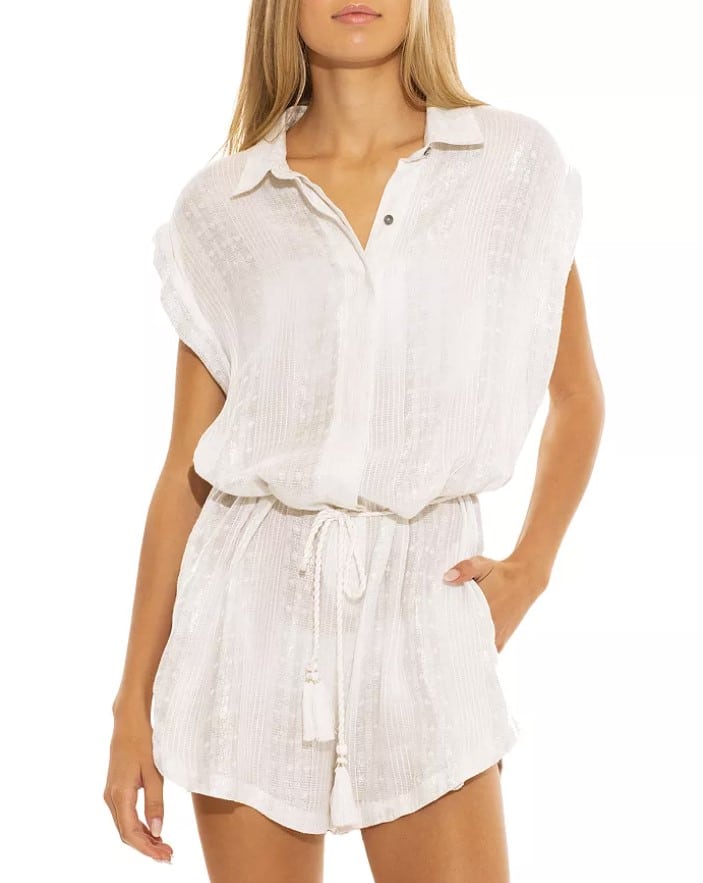 Metallic Romper
For when you want to dress the part but you're too lazy to dress it up, rompers are a lifesaver! They're eye-catching, practical, and best of all, comfortable. The romper pictured here will make you look fashionable with minimal effort in a fun resort brunch. It features a rope tie at the waist for an adjustable fit, cap sleeves, side slit pockets, and a spread collar. It comes in a dainty marshmallow color that you can easily pair with casual sandals or platform wedges.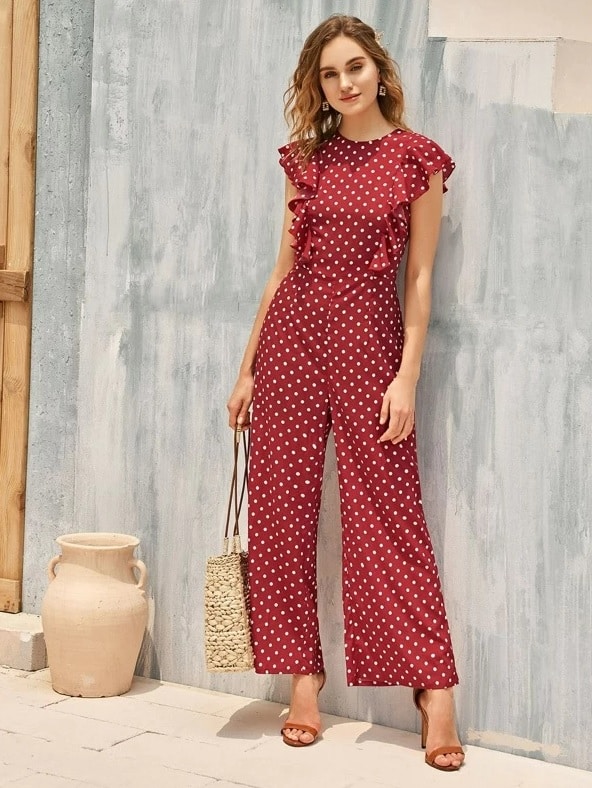 Polka Dot Palazzo Jumpsuit
Like co-ords and rompers, jumpsuits can be easily dressed up or down and will always maintain their playful, cute, and elite vibe. This Belted Polka Dot Jumpsuit cuts a glamorous feminine silhouette that can be paired with heels and statement jewelry. For a casual summer brunch, however, you can mix it up with a denim jacket, flat sandals, and a straw hat. Moreover, adding a cardigan or blazer works just as well in keeping a sleek and modern look.
The Best Fall and Winter Brunch Outfit Ideas
Turtleneck Ribbed Top and Midi Skirt Dress Set
Providing the perfect balance of warmth and style is this Turtleneck Ribbed Top and Midi Skirt Dress Set. It features a split hem design and comes in 13 colors available in S – XL. If you're going for a neutral look, the brown, apricot, and coffee tone can be vamped up a little with chic earrings and a white handbag. Meanwhile, the pink and dark wine-red color is best if you're going for a more daring look. Either way, this dress set can be easily styled with your favorite white sneakers or boots and is one of the easiest fall brunch outfits to try.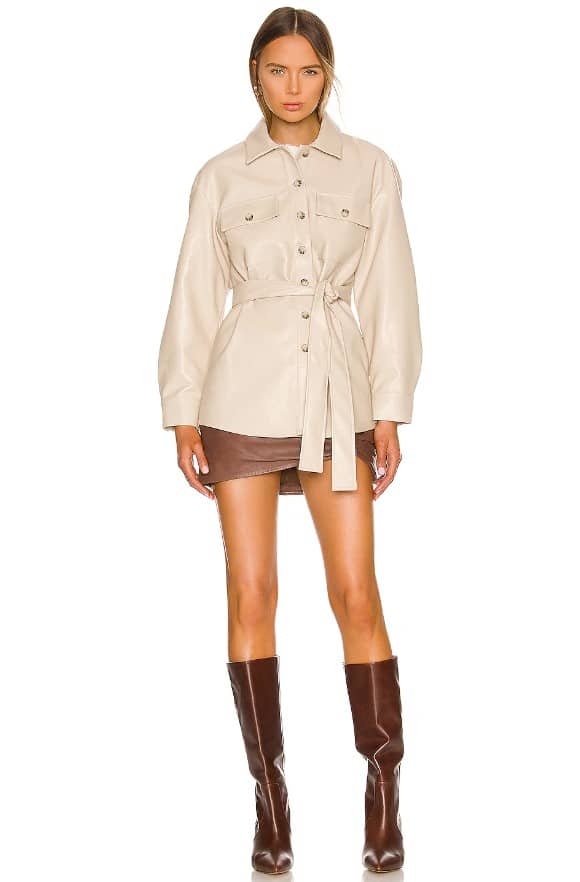 Faux Leather Shacket + Mini Skirt + Boots
Alluring and edgy, this faux leather shacket is a trendy topper for your day-to-night looks. It features a front button closure with a detachable waist tie, front flap pockets, buttoned cuffs, and a shirttail hem. This bone-colored winter essential will look great in any of your fall or winter brunch outfits and is something you can pair easily with a mini skirt and boots or over a printed top and casual jeans.
Hooded Oversized Trench Coat + Tracksuit
The reinvention of a retro classic that combines street style with athleisure core, this Khaki Woven Hooded Oversized Trench Coat lets you amp up your favorite tracksuit or any existing wardrobe piece you have in your closet. With athleisure not going anywhere soon, this brunch-style wardrobe featuring a comfy oversized fit in khaki color is perfect for a quick coffee catch-up with friends and going on errands after.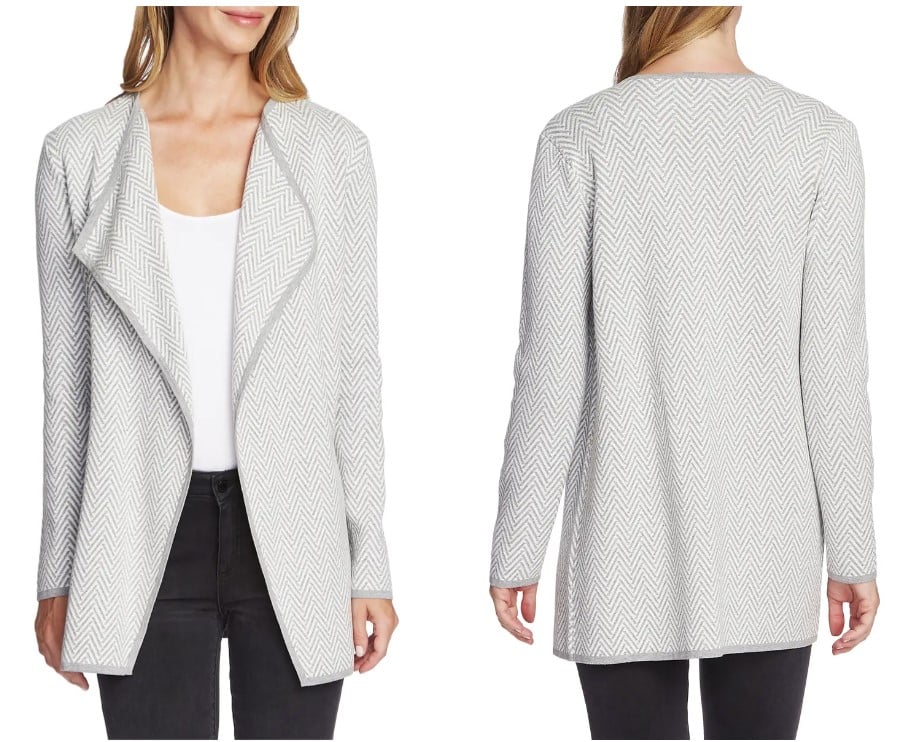 Herringbone Cardigan + Jeans
A year-round staple not just in fall or winter, a cardigan is a simple yet powerful layering piece and is an absolute must in your closet. This Vince Camuto Herringbone Cardigan that comes in neutral colors (rich black and silver heather) is versatile in that you can layer it over a dress or jeans. It features a classic herringbone pattern with solid edges and is made from 100% cotton. Whether it's for an indoor or outdoor brunch, this is a reliable cardigan that will keep you warm and stylish any time of the day.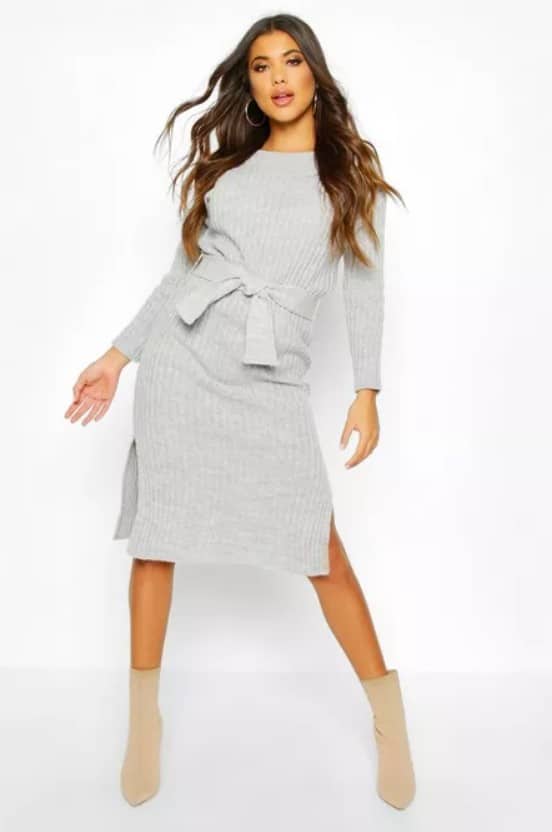 Rib Knit Tie Waist Midaxi Dress
'Tis the season to rock some warm and pretty knits, and this Rib Knit Tie Waist Midaxi Dress from Boohoo is no exception. This pretty jumper dress has a knit tie waist feature to accentuate your figure, a side slit for subtle sexiness, and long sleeves to keep you snug in the cold weather. Got chunky boots? This dress will pair with it perfectly, especially in camel and silver colors.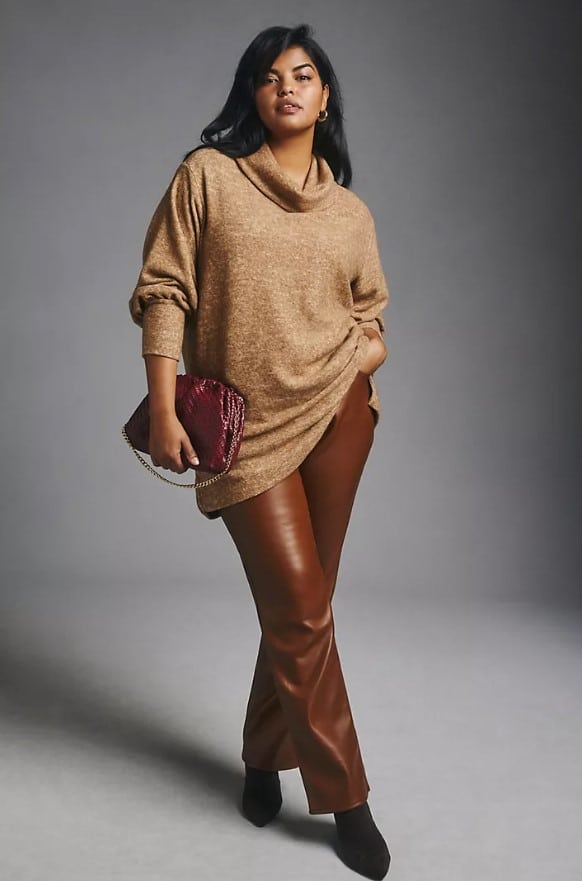 Maeve Cowl-Neck Top + Faux Leather Pants
A winter essential that will make you look classy (without much effort) and is flattering to any body type, cowl-neck tops work wonders. You can create different styles and wardrobe combinations with just this piece, and this Maeve Cowl-Neck Top is a fashion failproof. The cedar and cowl-neck top can be paired with denim or ivory jeans while the red and dark green rendition looks flattering with a pleated skirt.
Chilly Out Black and White Glen Plaid Long Coat
One of the best things to keep you warm and toasty is a long and double-breasted coat whether it's in camel, black, or grey color. Lulus' version is a cool and trendy one as this chic long coat comes in Black and White Glen Plaid that features a notched collar, diagonal side pockets, and long sleeves. Well-fitted ankle pants with slip-ons or loafers will work fantastically with this coat and will turn any basic ensemble into a breezy chic outfit.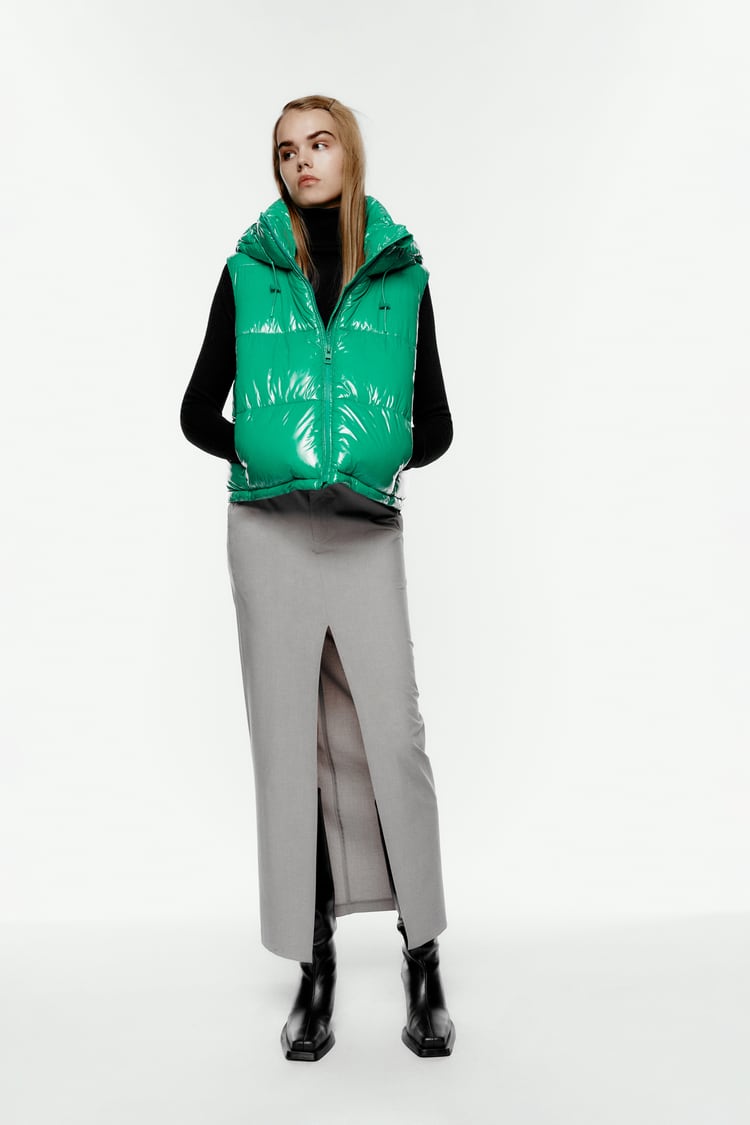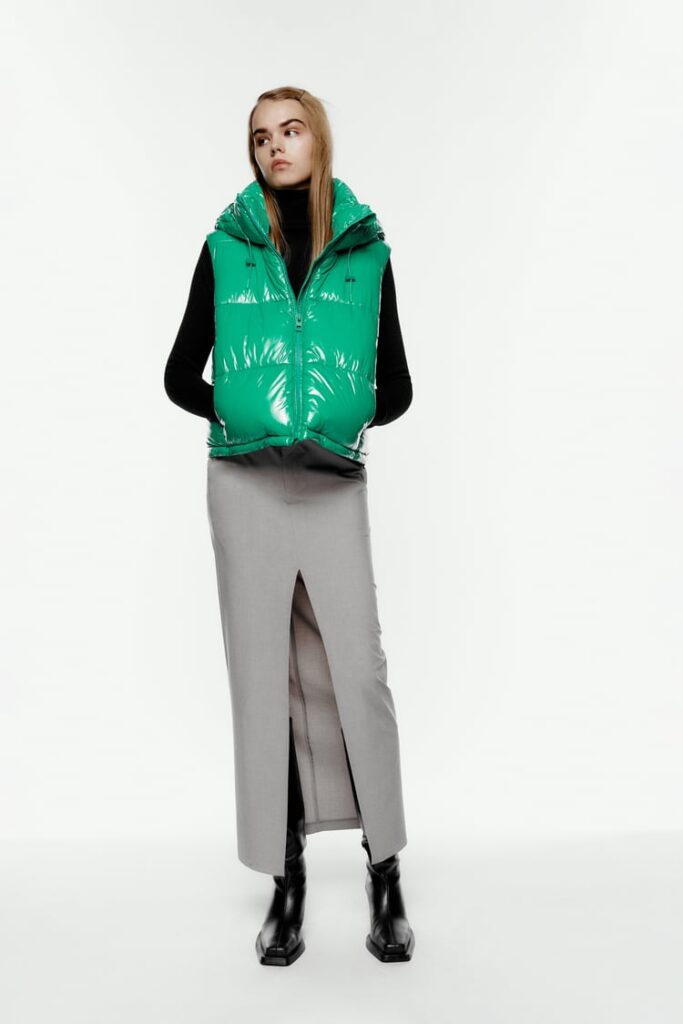 Quilted Vest + Skirt
When you want to keep it basic underneath but want a statement top to ramp up your look, this green quilted vest is an elegant addition. It has an adjustable hood (with drawcord and toggles) and front zip pockets for easy styling. Meanwhile, the pop art-inspired green color is a refreshing take on the traditional black or neutral quilted vest. Best of all, this quilted vest is water-repellent.
Knitted V Neck Mini Dress in Chocolate
If you're feeling a little unsure of the weather, simple and femme jumper dresses are the way to go. It's cool enough to be worn as it is during milder temps and can also be layered over leggings when it gets cold later on. Topshop's Knitted V Neck Mini Dress in Chocolate features a drop shoulders style and relaxed fit—an ideal outfit for a first brunch date.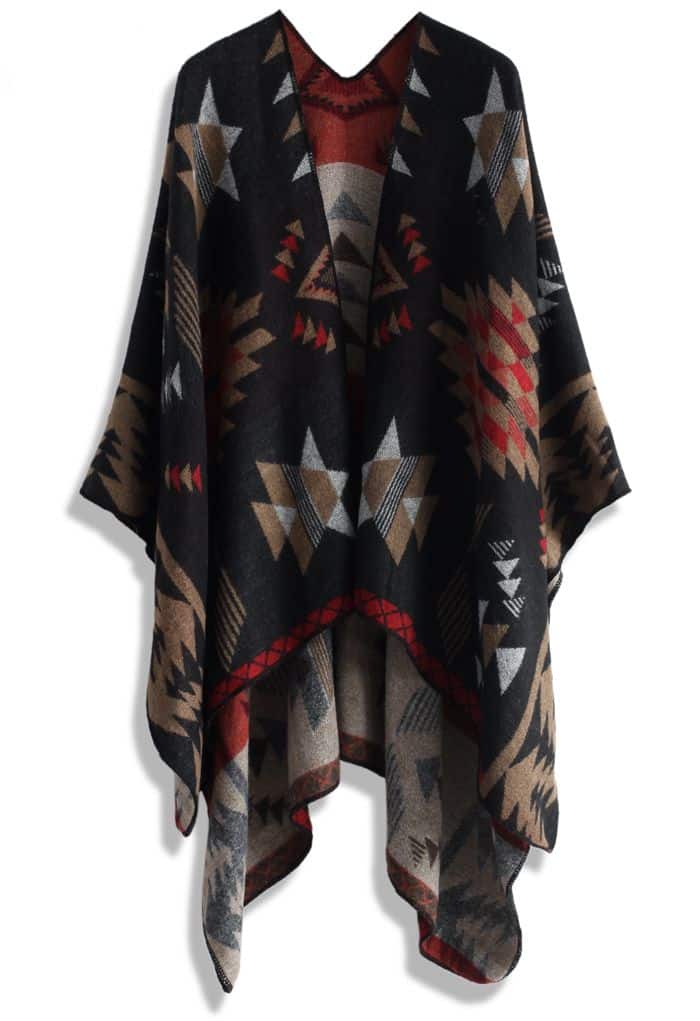 Chic Aztec Blanket Cape
A street-style fashion trend that's comfy and stylish, blanket capes are inherently practical and versatile in that it's a hybrid of two winter essentials you can never leave home without it's a cape and blanket fused into one. This Chic Aztec Blanket Cape is created from fine knit and features a mixed Aztec pattern to give you that effortless boho vibe. Wear it over your denim jeans or tie it around using a statement belt for the ultimate chic cover-up.
Read next: 25+ Best Sites for Shopping Boho Clothing Online (& Accessories!)
Which of these brunch outfit ideas is your favorite? Let me know in the comments!