100+ Clothing Quotes For The Perfect Instagram Caption
Are you looking for amazing clothing quotes for your Instagram caption? This post has you covered! From clothing quotes by Karl Lagerfeld to Lady Gaga to Mark Twain and beyond – you're sure to find the perfect clothing caption for Instagram in here!
As I said in my previous quotes post, I'm not always the greatest at coming up with captions for my Instagram posts. However, having just the right quote to caption my photos and Reels can be all that I need. So, today, I'm sharing nearly 100+ fabulous clothing quotes so you never run out of Instagram caption ideas either!
I'd love to hear which of these quotes is your favorite in the comments at the end. Enjoy!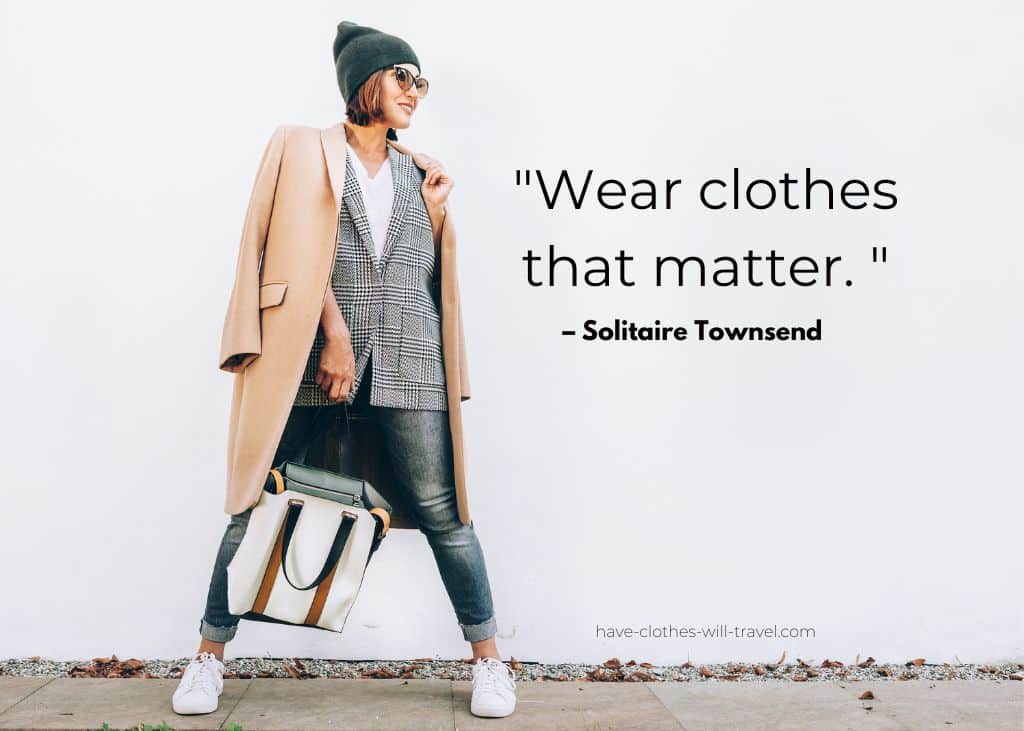 Sharing these clothing quotes and captions
Please feel free to copy and share these clothing quotes wherever you please – Pin these images to Pinterest, use them in Instagram captions, blog posts, you name it! If you want to tag me when you share the quote, I'd really appreciate it and love to give you a shoutout! Just tag my accounts below or link back to this blog post. Thank you!
Instagram: @have_clothes_will_travel
Twitter: @havclothwiltrav
Facebook: @haveclotheswilltravel
Blog URL: https://www.have-clothes-will-travel.com/clothing-quotes-instagram-caption/
100+ Outfit Quotes For The Perfect Instagram Caption
1.) Fashion is part of the daily air and it changes all the time, with all the events. You can even see the approaching of a revolution in clothes. You can see and feel everything in clothes. —Diana Vreeland
2.) I don't design clothes. I design dreams. —Ralph Lauren
3.) Clothes mean nothing until someone lives in them. —Marc Jacobs
4.) I make clothes, women make fashion. —Azzedine Alaïa
5.) Being well dressed hasn't much to do with having good clothes. It's a question of good balance and good common sense. —Oscar de la Renta
6.) I'm just trying to raise a smile. Clothes aren't meant to be worshipped at a church altar. I have a different approach to most designers. —Jeremy Scott
7.) Care for your clothes like the good friends they are. — Joan Crawford
8.) Gather up your courage like an armful of free clothes at a McQueen sample sale and follow your inner voice wherever it takes you. – Kelly Cutrone
9.) Clothes aren't going to change the world. The women who wear them are. – Anne Klein
10.) The customer is the final filter. What survives the whole process is what people wear. I'm not interested in making clothes that end up in some dusty museum. – Marc Jacobs
11.) Clothes are like a good meal, a good movie, great pieces of music. – Michael Kors
12.) A woman is never sexier than when she is comfortable in her clothes. – Vera Wang
13.) I have fun with my clothes onstage; it's not a concert you're seeing, it's a fashion show. – Freddie Mercury.
14.) Buy less. Choose well. Make it last. Quality, not quantity. Everybody's buying far too many clothes. – Vivienne Westwood
15.) I wear my sort of clothes to save me the trouble of deciding which clothes to wear. – Katherine Hepburn
16.) The most important thing to remember is that you can wear all the greatest clothes and all the greatest shoes, but you've got to have a good spirit on the inside. That's what's really going to make you look like you're ready to rock the world. – Alicia Keys
17.) Vain trifles as they seem, clothes have, they say, more important offices than to merely keep us warm. They change our view of the world and the world's view of us. – Virginia Woolf
18.) Fashion is a language that creates itself in clothes to interpret reality. – Karl Lagerfeld
19.) Clothes is just something you put on to cover yourself… fashion is a way to communicate. – Dries van Noten
20.) Fashion is not just about the clothes you wear, it's about the impression it creates. – Dr. Kemano
21.) Fashion is more about taste than money – you have to understand your body and tailor clothes to your needs; it's all about the fit. I do the alterations myself – I'm quite a seamstress – it's the influence of my Hungarian mother. – Carmen Dell'Orefice
22.) I want all my clothes designer; I want someone else to buy 'em. — Kim Petras, 'I Don't Want It at All'
23.) I love new clothes. If everyone could just wear new clothes every day, I reckon depression wouldn't exist anymore. ― Sophie Kinsella, Confessions of a Shopaholic
24.) When a woman says, 'I have nothing to wear!', what she really means is, 'There's nothing here for who I'm supposed to be today. ― Caitlin Moran, How to Be a Woman
25.) It is ever so much easier to be good if your clothes are fashionable. ― L. M. Montgomery, Anne of Green Gables
26.) There is good clothing design on every level today. You can be the chicest thing in the world in a T-shirt and jeans — it's up to you. ― Karl Lagerfeld
27.) We need houses as we need clothes, architecture stimulates fashion. It's like hunger and thirst — you need them both. ― Karl Lagerfeld
28.) Your clothes conceal much of your beauty, yet they hide not the unbeautiful. ― Khalil Gibran
29.) Guilty feelings about clothes are totally unnecessary. A lot of people earn their living by making clothes, so you should never feel bad. ― Karl Lagerfeld
30.) It's the invention of clothes, not nature, that made "private parts" private. ― Mokokoma Mokhonoana
31.) I've been quite a late developer on the clothes front, but I've suddenly realized it is one of life's joys. ― Benedict Cumberbatch
32.) Good clothes open all doors. ― Thomas Fuller
33.) Clothes as text, clothes as narration, clothes as a story. Clothes as the story of our lives. And if you were to gather all the clothes you have ever owned in all your life, each baby shoe and winter coat and wedding dress, you would have your autobiography. ― Linda Grant, The Thoughtful Dresser
34.) To other women, the choice of clothes was a form of ingenious exhibition, a shameless seduction. ― Shan Sa, Empress
35.) People's clothes ought to be buried with them. ― Dodie Smith, I Capture the Castle
36.) At critical moments of my life, to be dressed exactly in accordance with my mood. It gives one such confidence, I think. ― Christopher Isherwood, Mr. Norris Changes Trains
37.) I'd rather buy clothes than buy a bed. ― Christian Siriano
38.) If someone asks me where I bought something I'm wearing, I will usually say I don't remember. ― Megan Boyle
39.) Any man may be in good spirits and good temper when he's well dressed. ― Charles Dickens
40.) You can express yourself with clothes. They talk about the body, and express personality and ideas. ― Vivienne Westwood, Ian Kelly
41.) I design clothes in the hope of breaking convention. Comfort is to do also with completing a mental image of what you want to look like – what you are and who you are. ― Vivienne Westwood, Ian Kelly
42.) That old saw, 'When in doubt, don't,' is never so true as when it comes to clothes. Or getting married. ― Joan Crawford, My Way of Life
43.) Clothes are very powerful things. ― George Orwell, Down and Out in Paris and London
44.) There was no such thing as bad weather, only the wrong clothes. ― James Runcie
45.) Clothes make the man. Especially the pockets. ― Ljupka Cvetanova, The New Land
46.) It's better to have fewer clothes, all wearable and each accessorized in your mind so that when you put something on you know at once which shoes and gloves you're going to wear. Complete costume planning is possible only with an intimate awareness of all your clothes. ― Anne Fogarty, Wife Dressing: The Fine Art of Being a Well-Dressed Wife
47.) Your life will become more fulfilling once you realize what you have within yourself and your wardrobe – and then learn to use what you have. ― Glynis Mackenzie
48.) Clothes make the man. Naked people have little or no influence on society. ― Mark Twain
49.) I don't consider my own clothing to be outrageous… The truth is that people just don't have the same references that I do. To me, it's very beautiful and it's art, and to them, it's outrageous and crazy. – Lady Gaga
50.) Choose your clothes for your way of life. – Joan Crawford
51.) The fashionable woman wears clothes. The clothes don't wear her. ― Mary Quant
52.) Life's too short to wear boring clothes. – Carly Cushnie and Michelle Ochs
53.) To me, clothing is a form of self-expression. There are hints about who you are in what you wear. – Marc Jacobs
54.) Every time I design clothes, I'm making a movie. – Ralph Lauren
55.) If I get to the point where I don't like my clothes, I'm in big trouble. – Ralph Lauren
56.) Love the fun of clothes, not the status of fashion. – Ralph Lauren
57.) The beauty of a woman is not in the clothes she wears, the figure that she carries, or the way she combs her hair. The beauty of a woman is seen in her eyes because that is the doorway to her heart. —Audrey Hepburn
58.) I wish I had invented blue jeans: the most spectacular, the most practical, the most relaxed and nonchalant. They have expression, modesty, sex appeal, simplicity—all I hope for in my clothes. —Yves Saint Laurent
59.) Fashion and wearing clothes is a daily routine for everybody. What better way to spread the word of giving back and philanthropic ways of life than to wear something that gives back to charity?– Patrick Schwarzenegger
60.) When you are a woman making clothes for women, then fashion is not just about how you look. It is about how you feel and how you think. -Maria Grazia Chiuri
61.) Elegance is a question of personality, more than one's clothing. – Jean-Paul Gaultier
62.) Clothing is ultimately the suit of armor in which we battle the world. – Sophia Amoruso
63.) Our clothes are too much a part of us for most of us ever to be entirely indifferent to their condition: it is as though the fabric were indeed a natural extension of the body, or even of the soul. – Quentin Bell
64.) Clothes are never a frivolity: they always mean something. – James Laver
65.) Clothing, and the products that you buy, are really about how they make you feel. – Chad Hurley
66.) Clothes and manners do not make the man; but when he is made, they greatly improve his appearance. – Arthur Ashe
67.) Your clothes should be as important as your skin. – Amit Kalantri
68.) Clothes can suggest, persuade, connote, insinuate, or indeed lie, and apply subtle pressure while their wearer is speaking frankly and straightforwardly of other matters. – Anne Hollander
69.) The finest clothing made is a person's own skin, but, of course, society demands something more than this. – Mark Twain
70.) Clothing should be quieter than the woman so that her true beauty can shine through. – Elie Tahari
71.) Clothing is the first step to building a character. – Sylvester Stallone
72.) Clothes, therefore, must be truly a badge of greatness; the insignia of the superiority of man over all other animals, for surely there could be no other reason for wearing the hideous things. – Edgar Rice Burroughs
73.) Clothing doesn't really change a man. But it changes how others react to him. – Brandon Sanderson
74.) Clothing doesn't lie, it shows everything. – Yohji Yamamoto
75.) Your clothing is the most important survival tool you have. Dress properly and any emergency you may have to endure becomes more manageable. – Mors Kochanski
76.) Clothes don't make a man, but clothes have got many a man a good job. – Herbert Harold Vreeland
77.) When you buy a piece of vintage clothing you're not just buying the fabric and thread – you're buying a piece of someone's past. – Isabel Wolff
78.) There is one other reason for dressing well, namely that dogs respect it, and will not attack you in good clothes. – Ralph Waldo Emerson
79.) We can invest the clothing of a character with the capacity to reflect the character's mood. Always remember that clothing can 'act,' too. – Shamus Culhane
80.) It cannot be denied that clothes in period pictures do affect the modes of the moment. – Lilian Churchill
81.) Clothing is a means of characterization. In short, each character has a style of his own in everything he does. – Vivienne Westwood
82.) Some victories are merely defeated by wearing the wrong clothing. – Kiersten White
83.) Wearing clothes we feel good in can help us maintain a positive outlook by increasing our self-acceptance and self-confidence. – Cindy Ann Peterson
84.) Good clothing is a passport to happiness. – Yves Saint Laurent
85.) I don't follow fashion so much as I try to find clothes that make me look good. Because that never goes out of style. —Muhammad Ali
86.) It is both delusional and stupid to think that clothes don't really matter and we should all wear whatever we want. Most people don't take clothing seriously enough, but whether we should or not, clothes do talk to us and we make decisions based on people's appearances. —G. Bruce Boyer
87.) There has been a change in men's attitudes toward their clothes. Men are more aware of fashion; they're not afraid of it. —Calvin Klein
88.) Men's fashions all start as sports clothes and progress to the great occasions of state. The tailcoat, which started out as a hunting coat, is just finishing such a journey. The tracksuit is just beginning one. —Angus McGill, English journalist
89.) A man should look as if he has bought his clothes with intelligence, put them on with care and then forgotten all about them. —Hardy Amies
90.) The well-dressed man is he whose clothes you never notice. —William Somerset Maugham
91.) To attain style in dress, you must look perfectly happy and relaxed in your clothes which must appear part of you rather than a wardrobe you have just donned. —Hardy Amies
92.) A man should dress in a way that you don't notice. He looks good and you don't know why. But it's the tailoring, the materials, and the clothes. —Michael Caine
93.) The expression a woman wears on her face is far more important than the clothes she wears on her back. — Dale Carnegie
94.) You gotta have style. It helps you get down the stairs. It helps you get up in the morning. It's a way of life. Without it, you're nobody. I'm not talking about lots of clothes. — Diana Vreeland
95.) Clothes could have more meaning and longevity if we think less about owning the latest or cheapest thing and develop more of a relationship with the things we wear. -Elizabeth L. Cline
96.) Wear clothes that matter. – Solitaire Townsend
97.) We carry the story of the people who made our clothes. – Ali Hewson
98.) Becoming more mindful about clothing means looking at every fiber, at every seed and every dye, and seeing how to make it better. We don't want sustainability to be our edge, we want it to be universal. – Eileen Fisher
99.) I don't see how an article of clothing can be indecent. A person, yes. – Robert A. Heinlein
100.) What a strange power there is in clothing. – Isaac Bashevis
101.) I believe clothing tells a story. – Rachel Roy
102.) I'm just showing my personality in my clothing. – Dwyane Wade
103.) I design for real people. I think of our customers all the time. There is no virtue whatsoever in creating clothing or accessories that are not practical. – Giorgio Armani
104.) Sense of humor is important in life, not just in clothing. How boring to live a life in beige. – Jean Pigozzi
105.) A great thing happening now in art is that artists are using the figure, the body, clothing, life. – Issey Miyake
106.) May your clothes be comfy, your coffee be strong, and your days be happy.
Please feel free to copy and share these clothing quotes wherever you please – Pin these images to Pinterest, use them in Instagram captions, blog posts, you name it! If you want to tag me when you share the quote, I'd really appreciate it and love to give you a shoutout! Just tag my accounts below or link back to this blog post. Thank you!
Instagram: @have_clothes_will_travel
Twitter: @havclothwiltrav
Facebook: @haveclotheswilltravel
Blog URL: https://www.have-clothes-will-travel.com/clothing-quotes-instagram-caption/