100+ Dress Quotes for the Perfect Instagram Caption
Are you looking for the best dress quotes for your next Instagram caption? This post features more than 100 awesome dress quotes from the likes of Coco Chanel to Audrey Hepburn. You're sure to find the perfect quote to go with your photo!
I am a dress girl all the way and am always featuring dresses on my Instagram and my blog. A lot of these quotes I've personally used for my social media posts! I hope you enjoy them, and I would love to hear which is your favorite in the comments. Enjoy!
Sharing these dress quotes
---
Please feel free to copy and share these dress quotes wherever you please – Pin these images to Pinterest, use them in Instagram captions, blog posts, you name it! If you want to tag me when you share the quote, I'd really appreciate it and love to give you a shoutout! Just tag my accounts below or link back to this blog post. Thank you!
Instagram: @have_clothes_will_travel
Twitter: @havclothwiltrav
Facebook: @haveclotheswilltravel
Blog URL: https://www.have-clothes-will-travel.com/dress-quotes/
100+ Dress Quotes for the Perfect Instagram Caption
---
1. A beautiful dress can be as exciting as a poem. – Roberto Cavalli
2. The dress must follow the body of a woman, not the body following the shape of the dress. — Hubert de Givenchy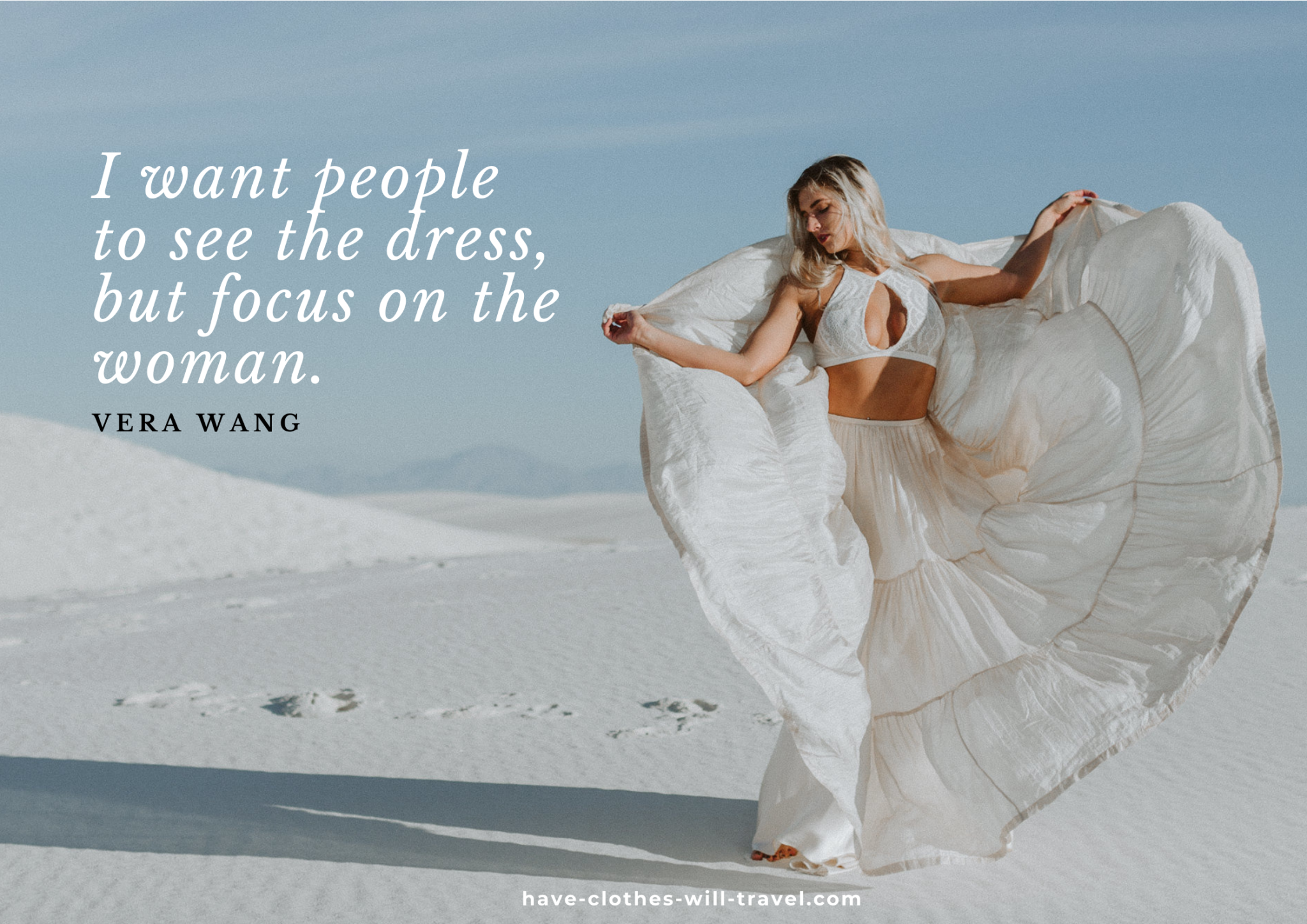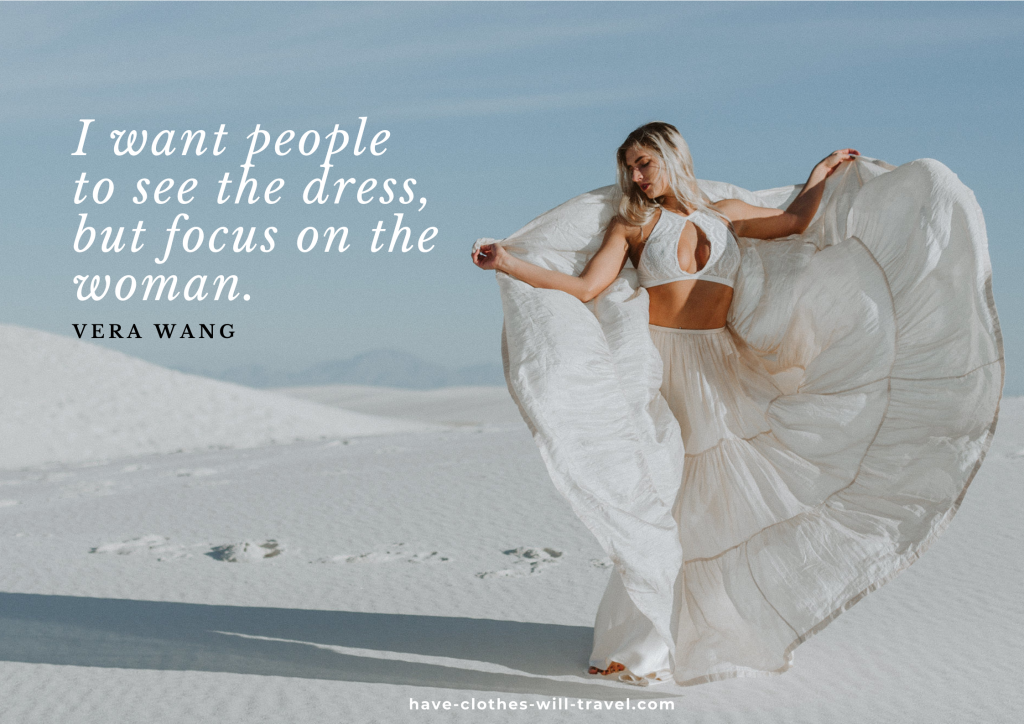 3. I want people to see the dress, but focus on the woman. — Vera Wang
4. Over the years I have learned that what is important in a dress is the woman who's wearing it. — Yves Saint Laurent
5. Dress shabbily and they remember the dress; dress impeccably and they notice the woman. — Coco Chanel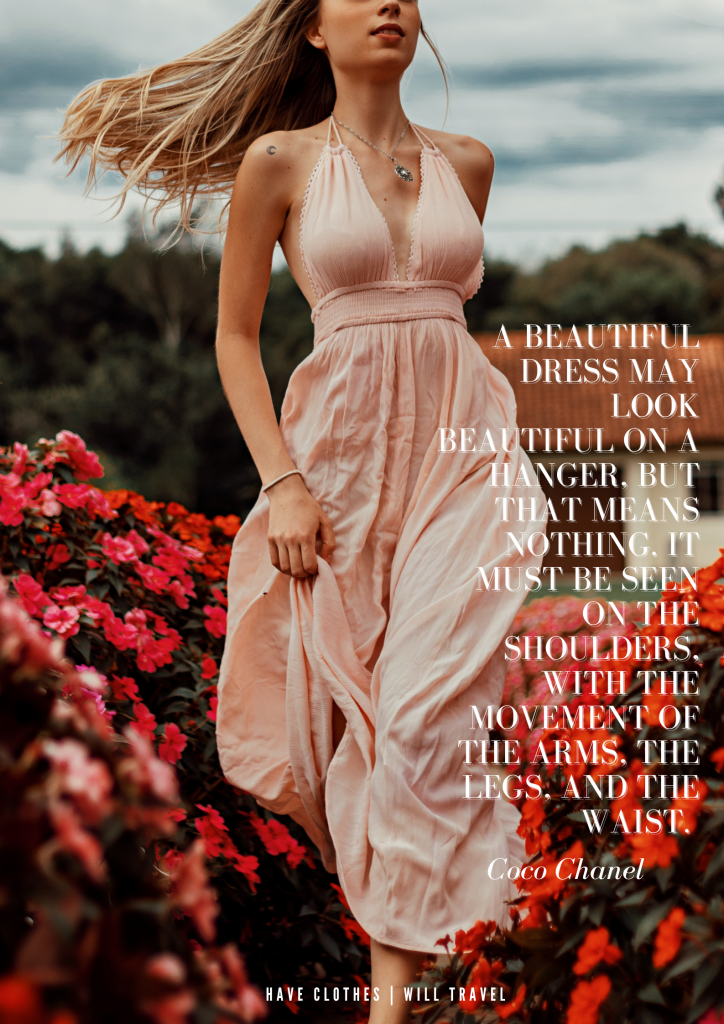 6. A beautiful dress may look beautiful on a hanger, but that means nothing. It must be seen on the shoulders, with the movement of the arms, the legs, and the waist. – Coco Chanel
7. A woman's dress should be like a barbed-wire fence: serving its purpose without obstructing the view. — Sophia Loren
8. You can have anything you want. If you dress for it. — Edith Head
9. A great dress can make you remember what is beautiful about life. —Rachel Roy
10. Wearing the correct dress for any occasion is a matter of good manners. – Loretta Young
11. Father told me that if I ever met a lady in a dress like yours, I must look her straight in the eyes. – Prince Charles
12. I think any woman can be transformed by a beautiful dress and high heels. – Linda Gray
13. The way you dress is really the way you feel, the way you live, what you read, your choices. That's what I want to put into Gucci. – Alessandro Michele
14. Luxury is the ease of a t-shirt in a very expensive dress. ― Karl Lagerfeld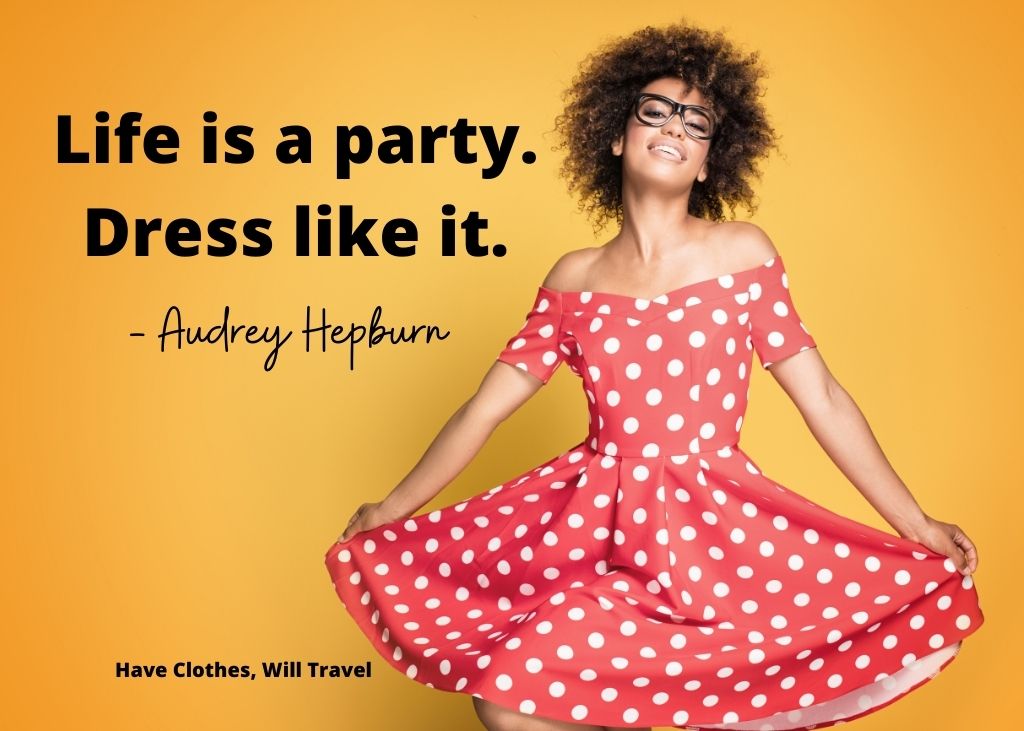 15. Life is a party. Dress like it. — Audrey Hepburn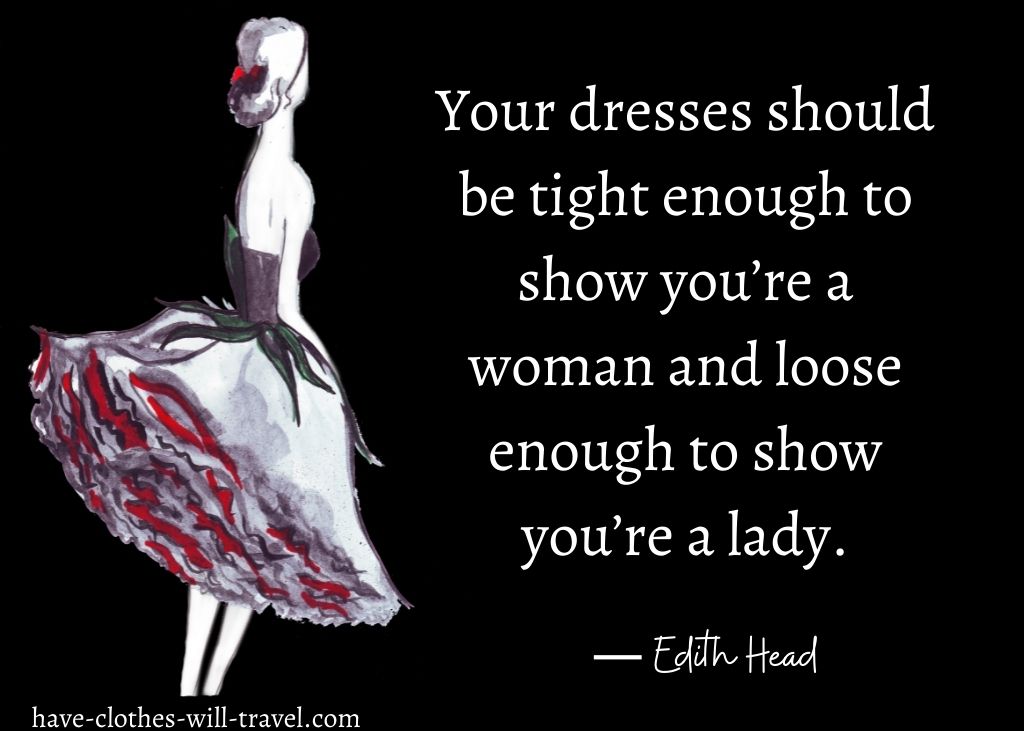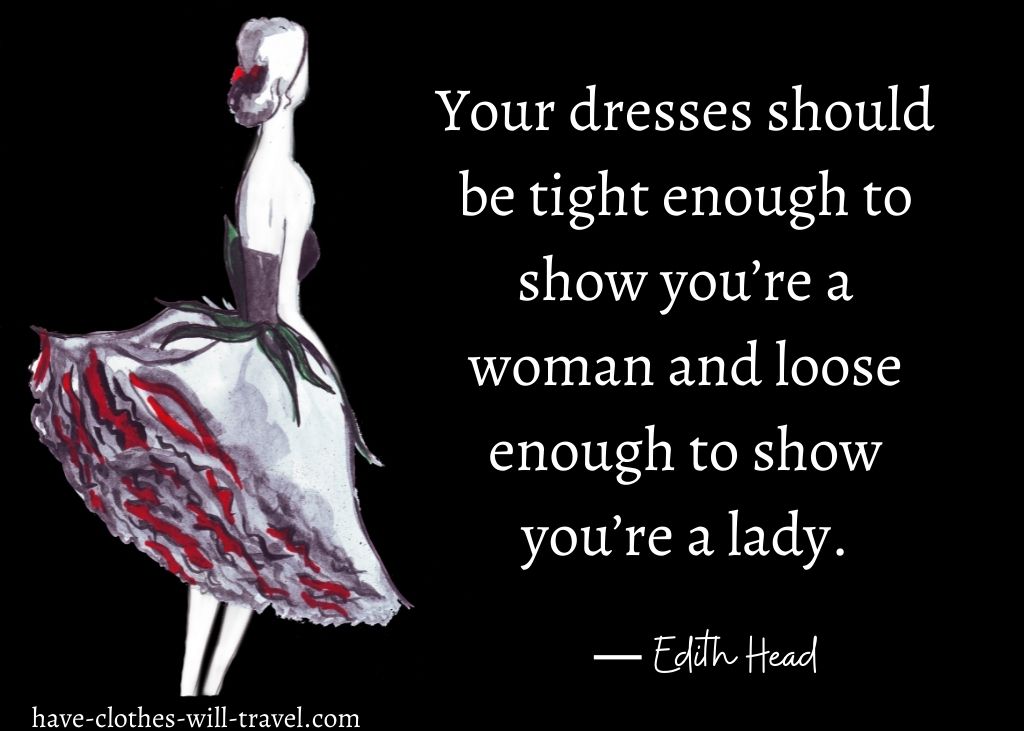 16. Your dresses should be tight enough to show you're a woman and loose enough to show you're a lady. — Edith Head
17. One is never over-dressed or underdressed with a Little Black Dress. — Karl Lagerfeld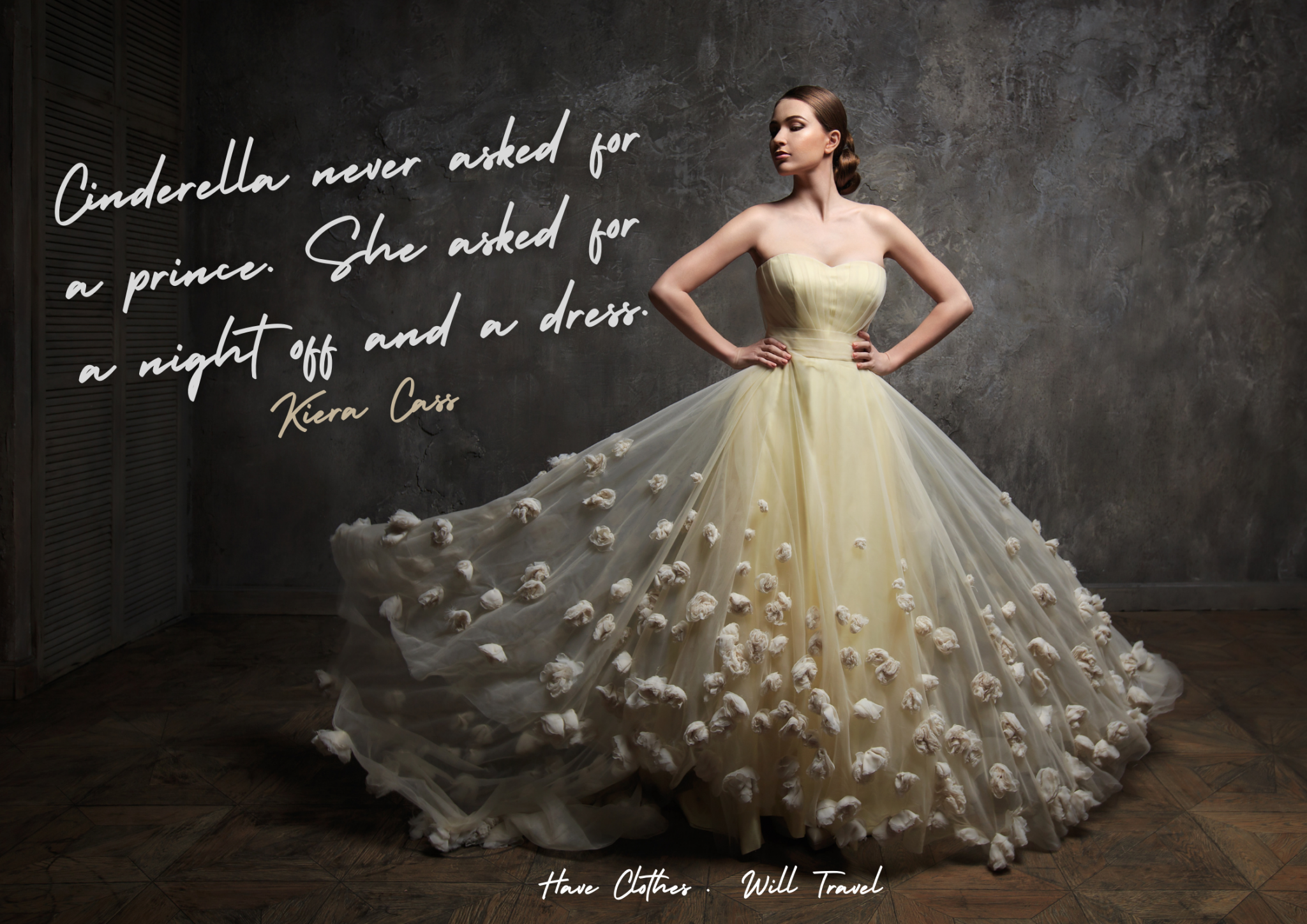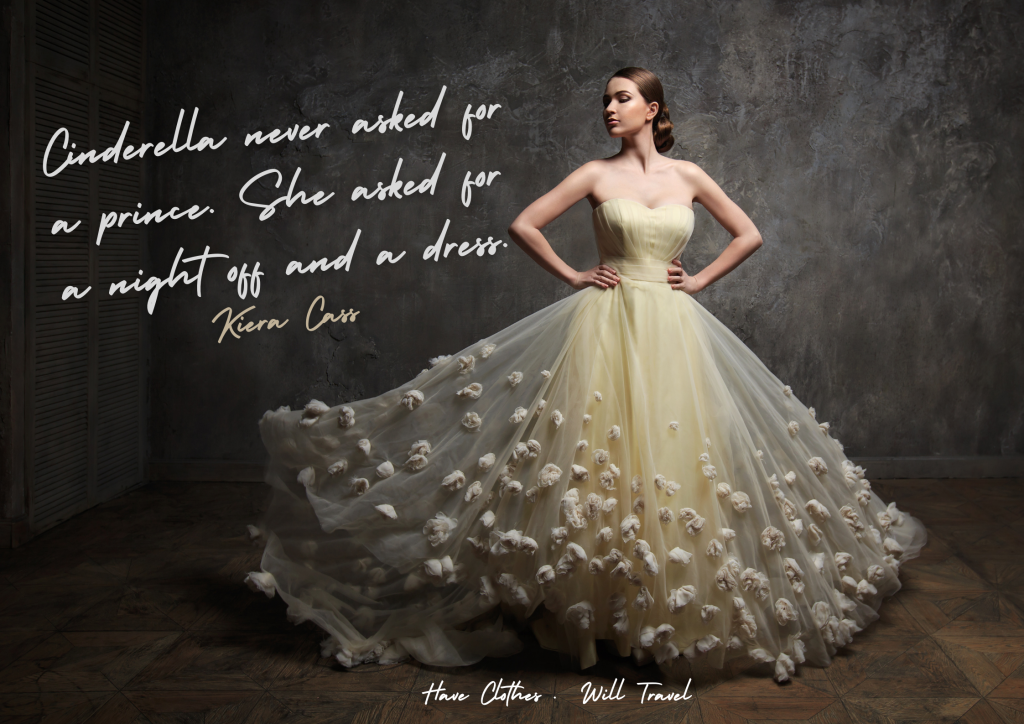 18. Cinderella never asked for a prince. She asked for a night off and a dress. – Kiera Cass
19. Just around the corner in every woman's mind – is a lovely dress, a wonderful suit, or entire costume which will make an enchanting new creature of her. — Wilhela Cushman
20. The dress only means something if you want it to. What is important are the people behind it. When it comes to these things that are handed down from generation to generation, each woman leaves her own mark on it, so that it tells ours story, stitch by stitch. ― Brenda Janowitz, The Grace Kelly Dress
21. Never has it been inappropriate for a girl to wear a red dress. ― Caroline George, The Vestige
22. Dresses don't look beautiful on hangers. ― Amit Kalantri, Wealth of Words
23. You cannot choose your face but you can choose your dress. ― Amit Kalantri, Wealth of Words
24. I'd decided that I was going to stop dressing like a princess and start dressing like a queen. ― Kiera Cass, The Queen
25. I spread my wings. And my dress does the rest. ― Hillary Wen
26. She did what girls generally do when they don't feel the part: she dressed it instead. ― Zadie Smith, On Beauty
27. Work like an angel, dress like a demon, live like a ghost, and dream like a human. ― Rebecca McKinsey
28. Don't be into trends. Don't make fashion own you, but you decide what you are, what you want to express by the way you dress and the way to live. —Gianni Versace
29. There's a girl in this dress, there's always a girl in distress. ― Elvis Costello
30. And the women who had thought they wanted dresses never realized that what they had wanted was happiness. ― John Steinbeck, East of Eden
31. Sometimes women are afraid to be sexy and women should know that sometimes a dress can change her life. – Roberto Cavalli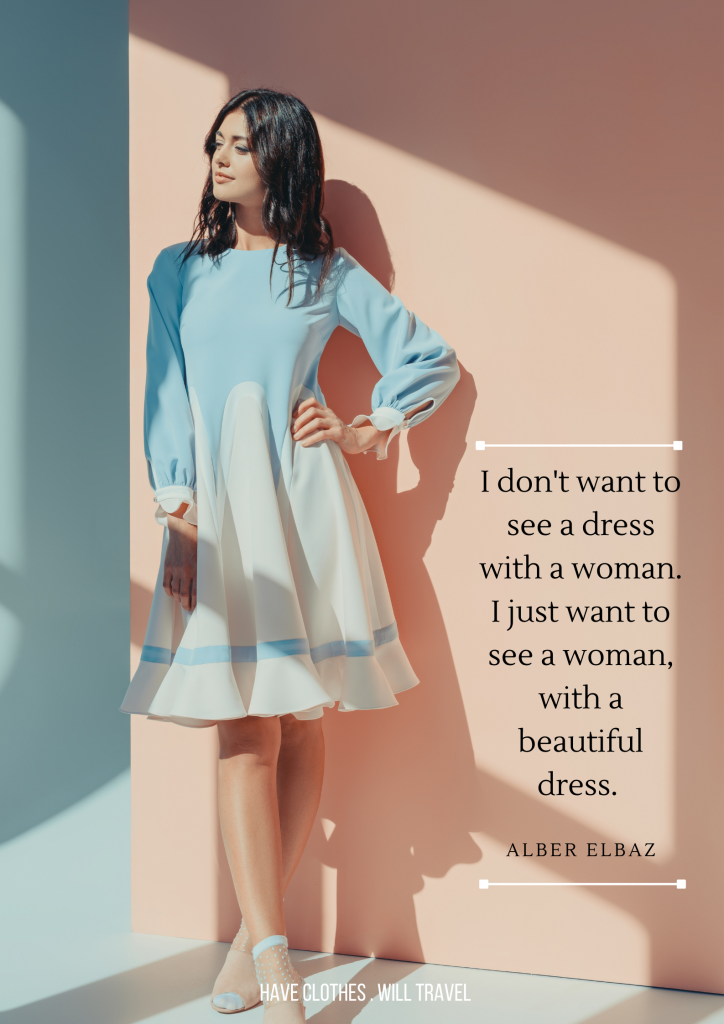 32. I don't want to see a dress with a woman. I just want to see a woman, with a beautiful dress. – Alber Elbaz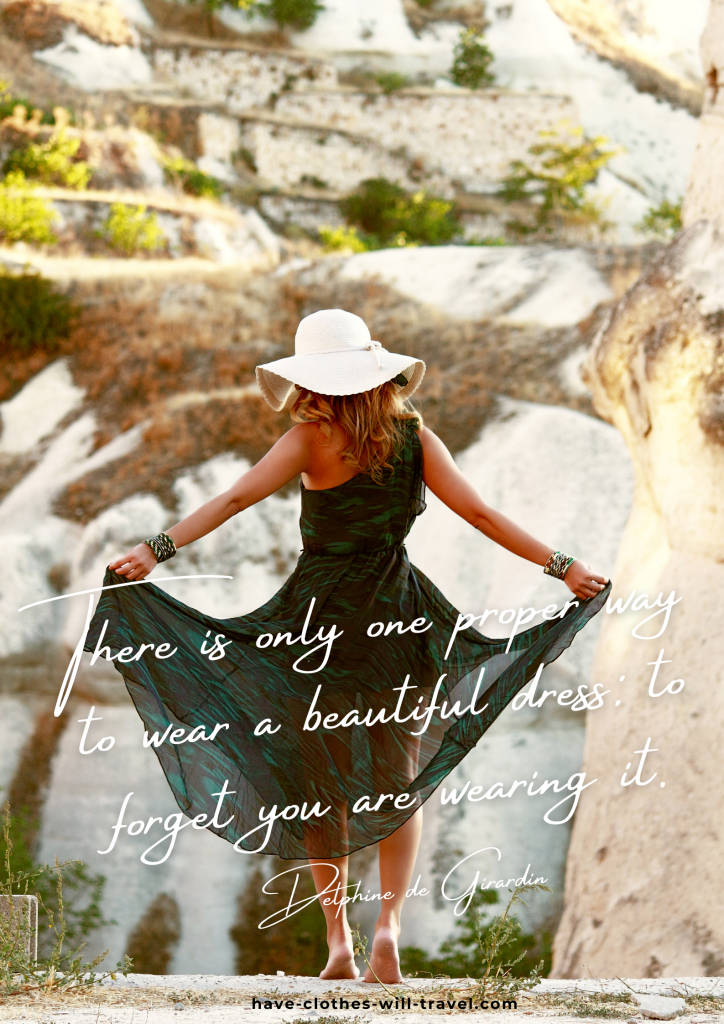 33. There is only one proper way to wear a beautiful dress: to forget you are wearing it. – Delphine de Girardin
34. Put even the plainest woman into a beautiful dress and unconsciously she will try to live up to it. – Lucy, Lady Duff-Gordon
35. I think a beautiful dress on the wrong woman could mean nothing. It has to be the right woman and the right clothes. That's why you need that personal touch. – Jason Wu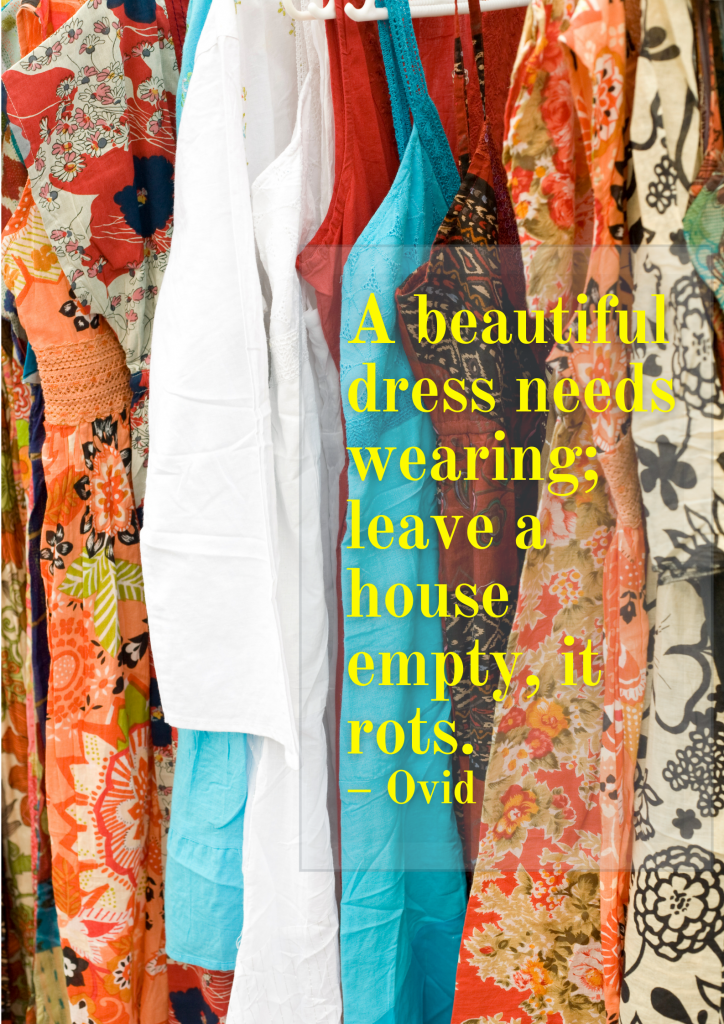 36. A beautiful dress needs wearing; leave a house empty, it rots. – Ovid
37. A modest woman, dressed out in all her finery, is the most tremendous object of the whole creation. – Oliver Goldsmith
38. A dress is a piece of ephemeral architecture, designed to enhance the proportions of the female body. – Christian Dior
39. It's not about the dress you wear, but it's about the life you lead in the dress. – Diana Vreeland
40. Dress can hold the power to alter perceptions and opinions, to disguise and reinterpret, to heighten or lessen the wearer's very sense of themselves for better or for worse. – Lydia Edwards
41. Dresses! We love them, we hate them, we gawk at them, we long for them, we disdain them and we buy them. If dresses could talk, what stories might they tell? – Peter Lang
42. Dress stories reveal so much more than we may realize about who and how we are in the world and what sort of culture we are living in. – Peter Lang
43. A woman who dresses well according to her means only does her duty, but beauty when unadorned is adorned the most. – W. Robertson Nicoll
44. Artistic dress communicates your unique expertise and profession. – Jamie Yasko-Mangum
45. Dress changes the manners. – Voltaire
46. I think I would like to have lived in the 1930s and worn beautiful bias-cut dresses all the time. – Nanette Lepore
47. A woman has no need to be perfect or even beautiful to wear my dresses. The dress will do all that for her. – Cristobal Balenciaga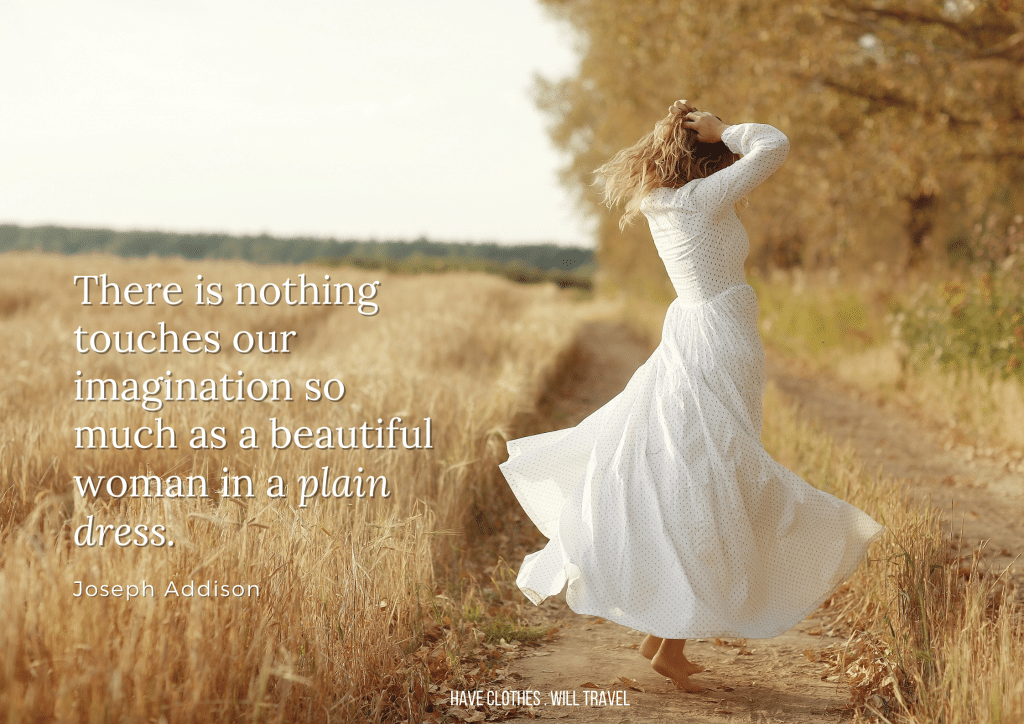 48. There is nothing touches our imagination so much as a beautiful woman in a plain dress. – Joseph Addison
49. Think, Travel, Celebrate, Charm, Decorate, Dress, Live – colorfully. – Kate Spade
50. I dress to kill, but tastefully. – Freddie Mercury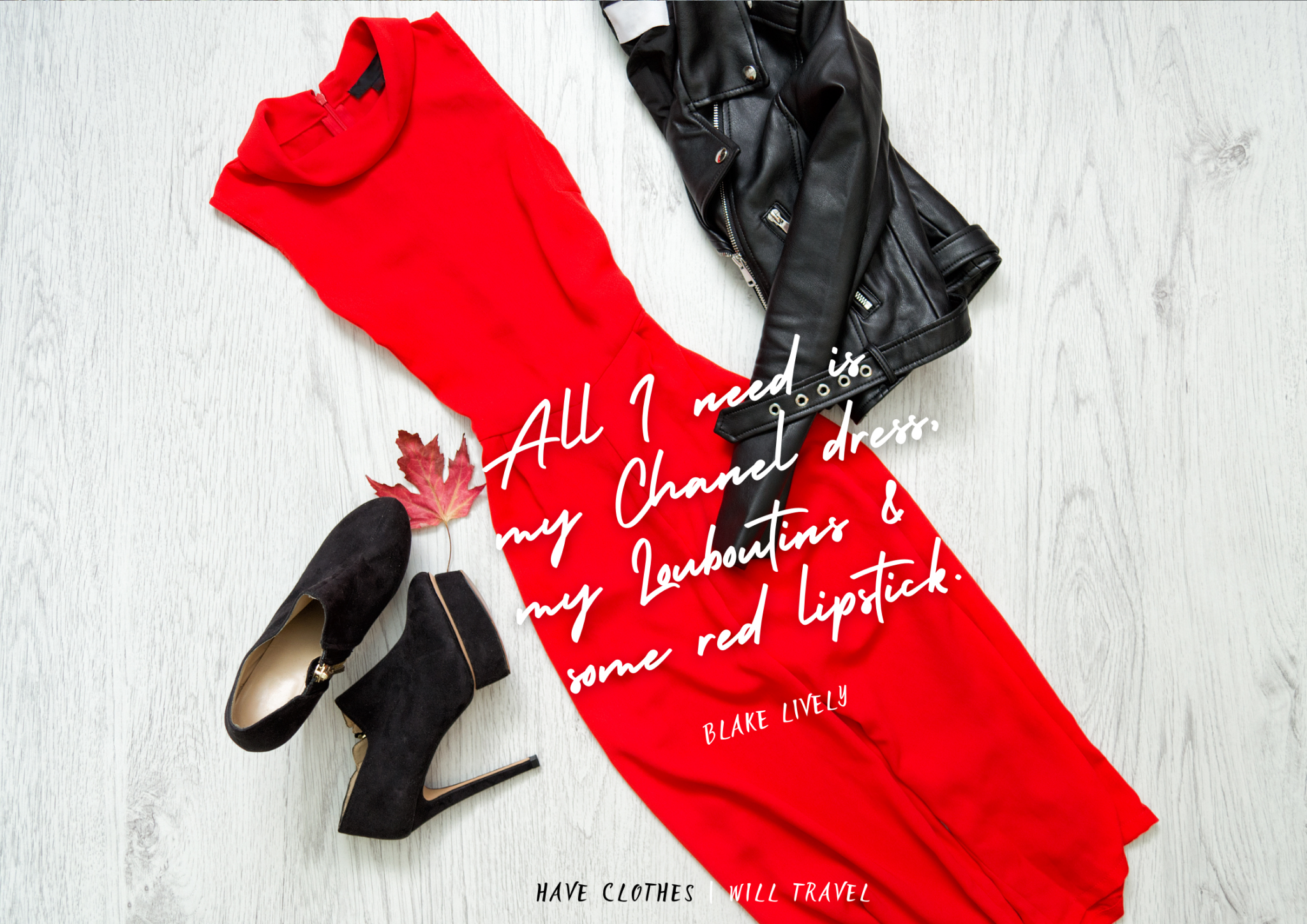 51. All I need is my Chanel dress, my Louboutins, and some red lipstick. – Blake Lively
52. Nothing attracts attention like a red dress. – Laura Bush
53. If you can't dress expensive, dress memorable. – Barbara Kingsolver
54. … truth shines brightest thro' the plainest dress. – Wentworth Dillon, 4th Earl of Roscommon
55. Feel like a woman, wear a dress! – Diane von Furstenberg
56. I liked women as a shape to dress. – Gianni Versace
57. All I want is a dress with puffy sleeves – Lucy Maud Montgomery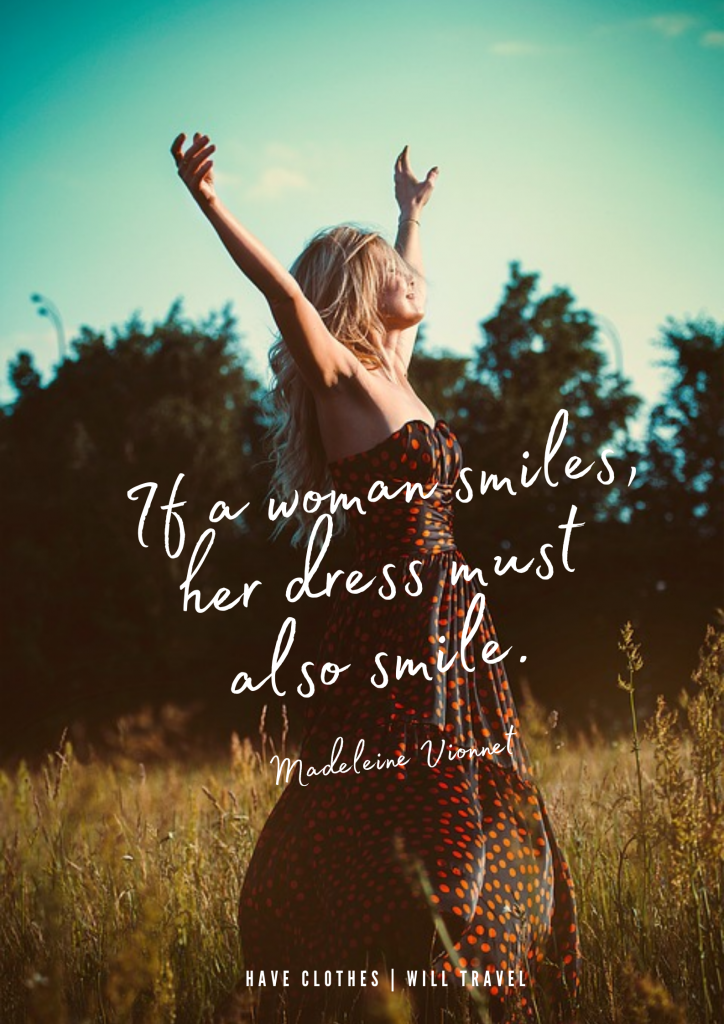 58. If a woman smiles, her dress must also smile. – Madeleine Vionnet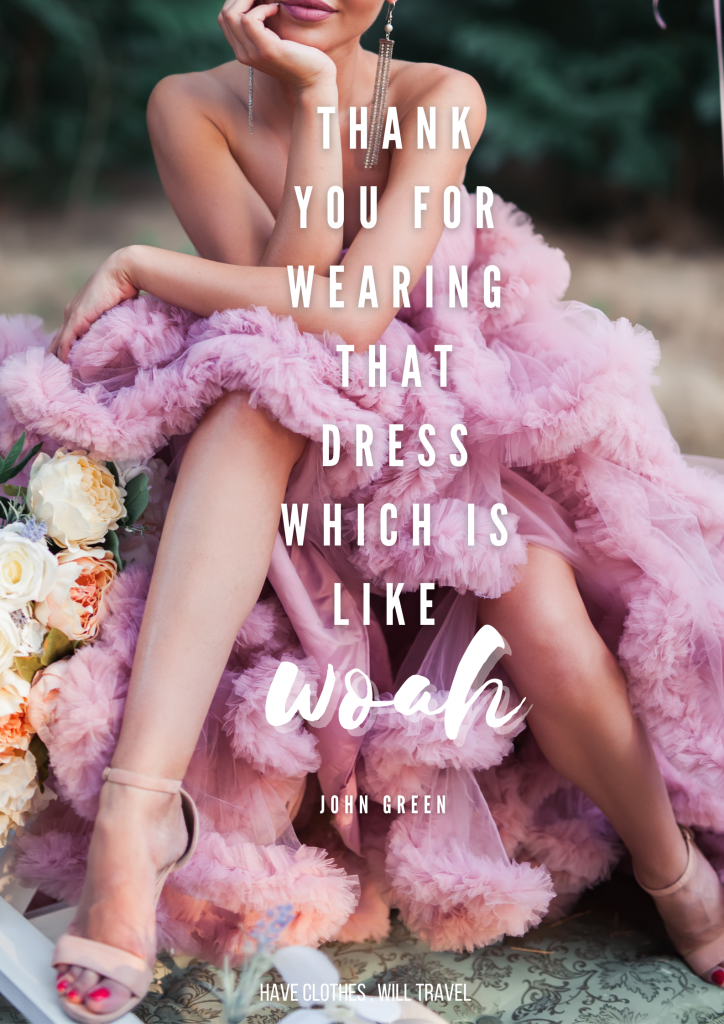 59. Thank you for wearing that dress which is like whoa. – John Green
60. The plainer the dress, the greater luster does beauty appear. – E. F. L. Wood, 1st Earl of Halifax
61. There's a real power in heels and a good dress. – Talulah Riley
62. I think that red polka red dress is just iconic. – Christian Siriano
63. A Joan Crawford dress looks really good on an hourglass figure. – Trinny Woodall
64. We say something every morning when we decide how to dress. – Alison Lurie
65. If you can't be better than your competition, just dress better. – Anna Wintour
66. Each morning, you dress to become a different woman. Fashion helps. – Carine Roitfeld
67. She's staring down her desires, while they're staring down her dress. – Phil Ochs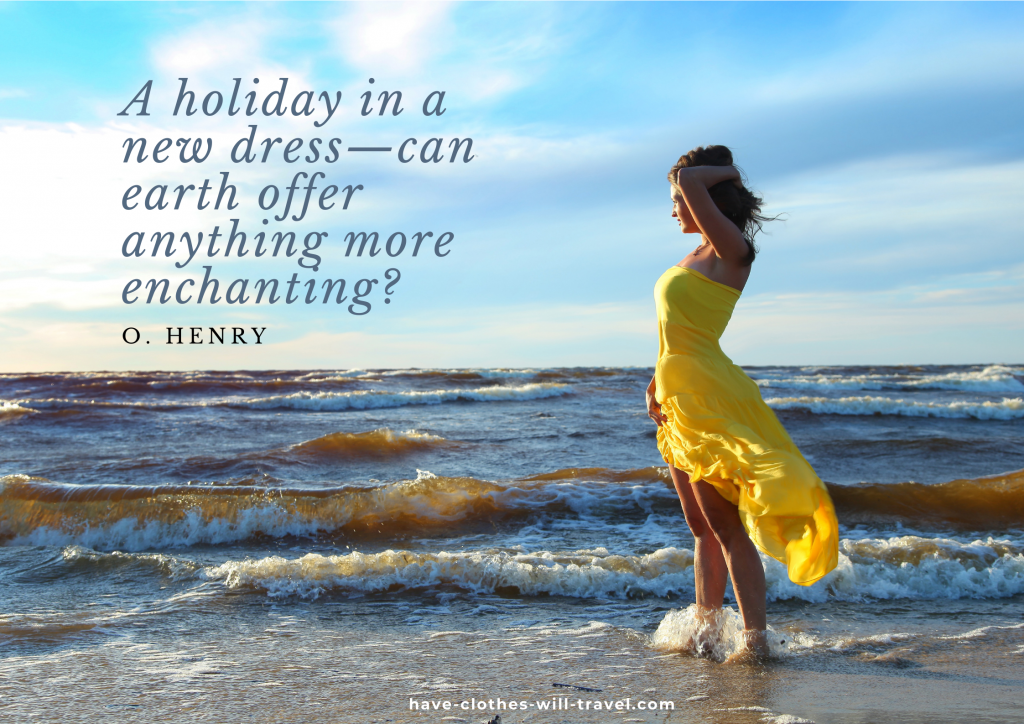 68. A holiday in a new dress—can earth offer anything more enchanting? – O. Henry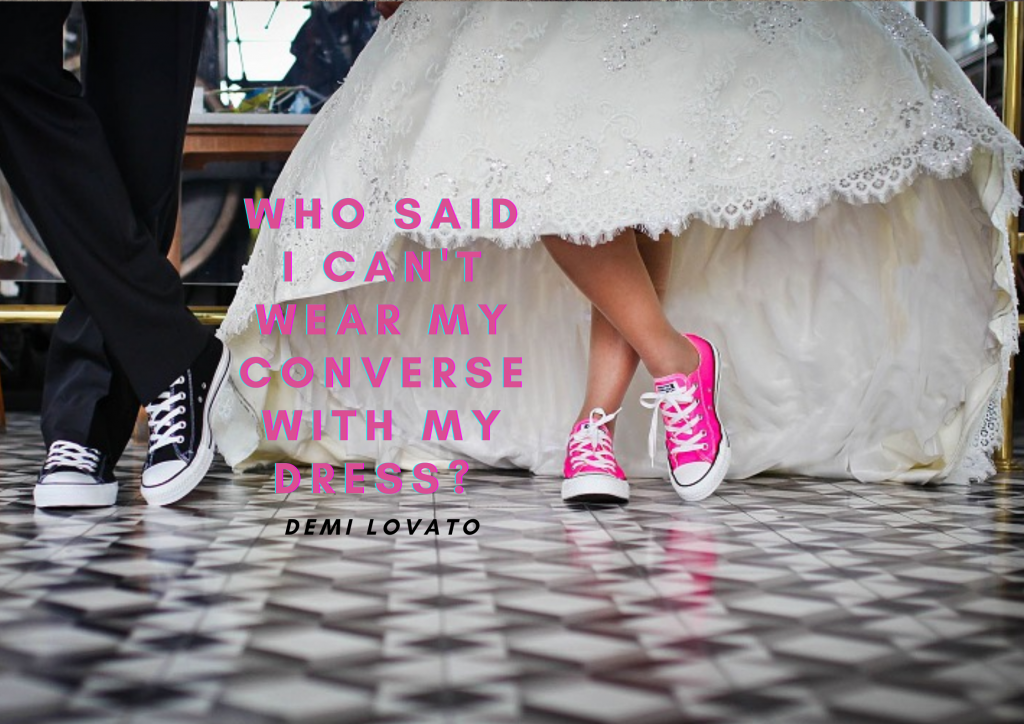 69. Who said I can't wear my Converse with my dress? Well baby, that's just me! – Demi Lovato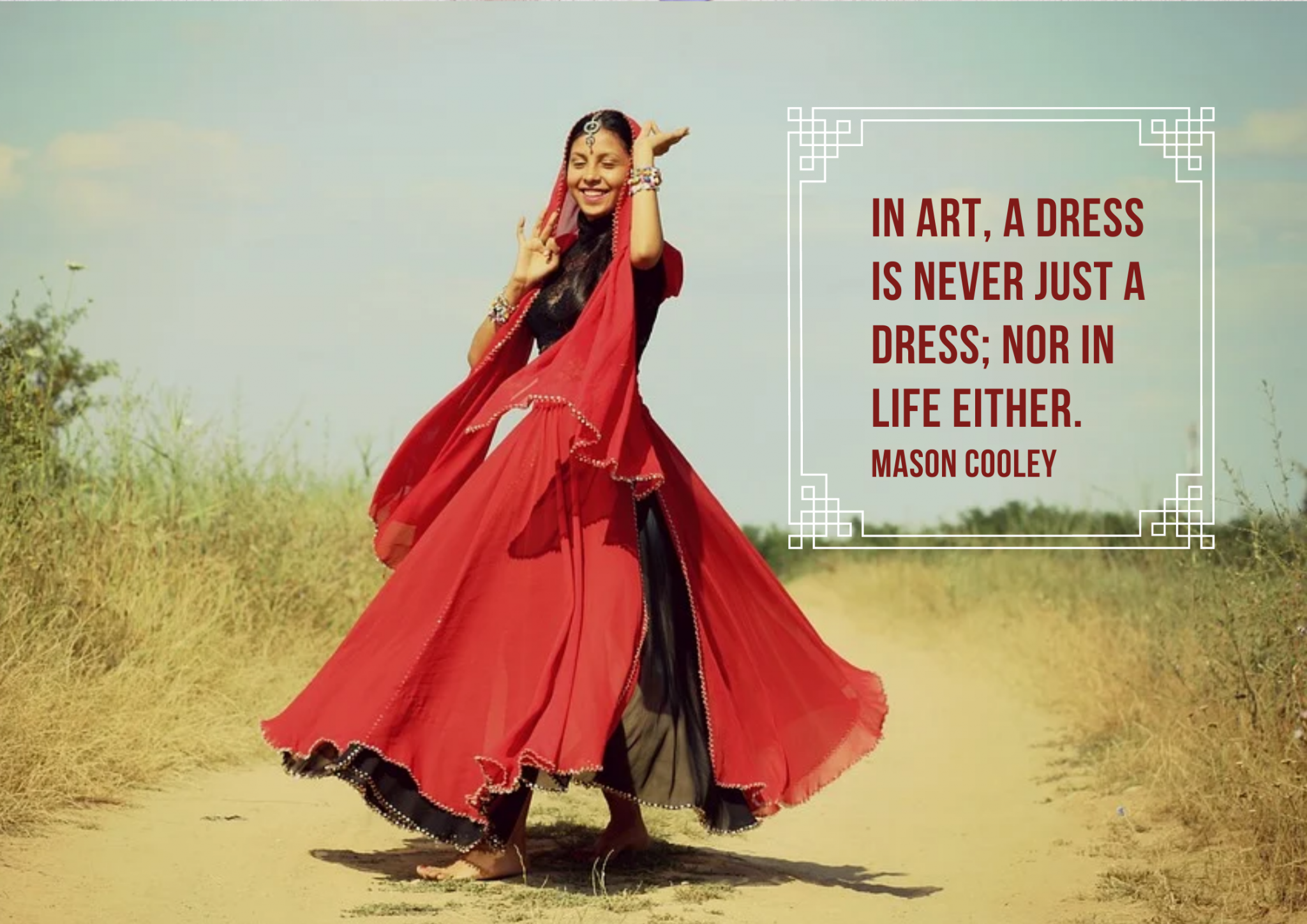 70. In art, a dress is never just a dress; nor in life either. – Mason Cooley
71. A woman should always dress to be remembered, not simply to be noticed. – Giorgio Armani
72. I always think you can never go wrong with a cute party dress. – Lauren Conrad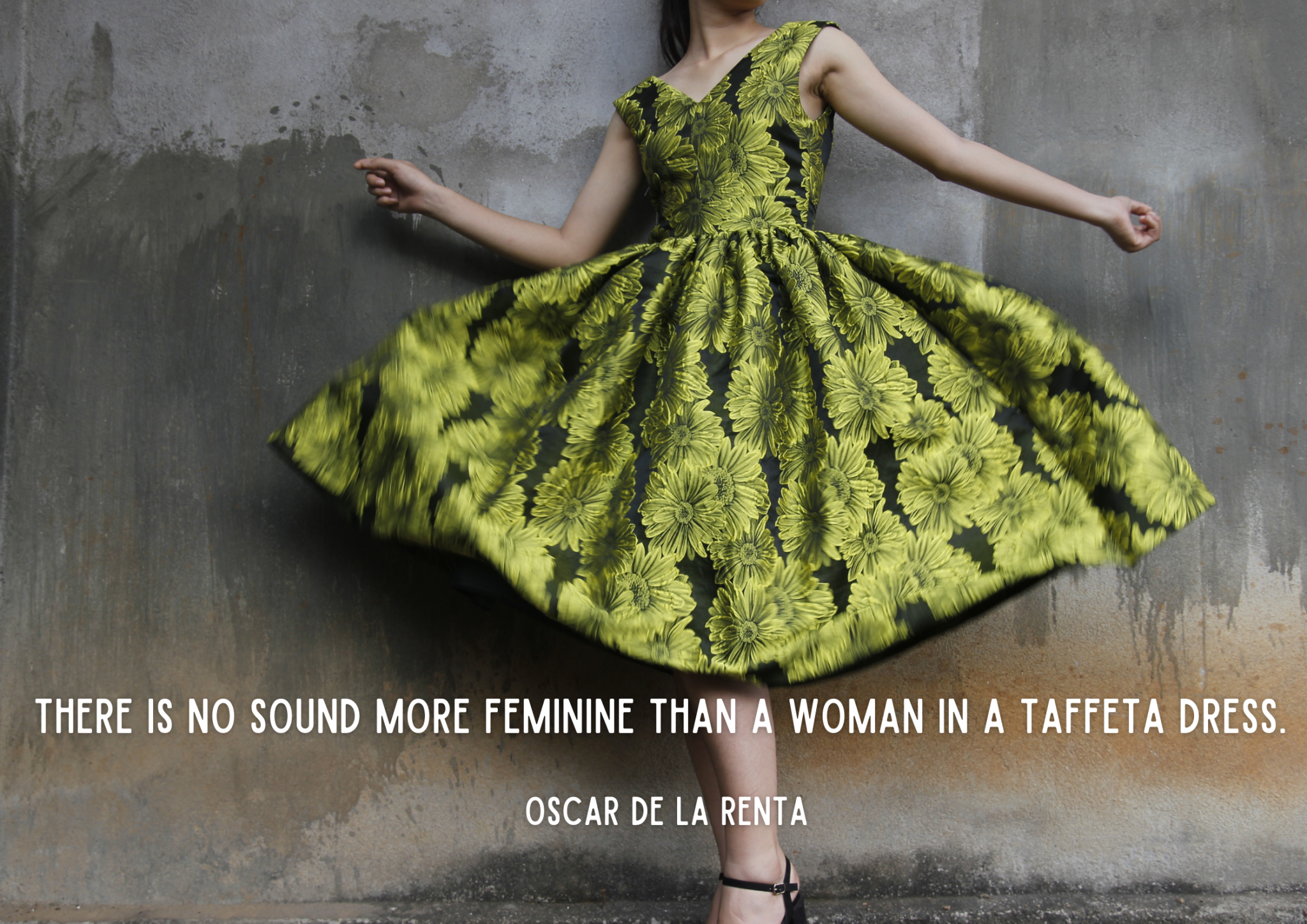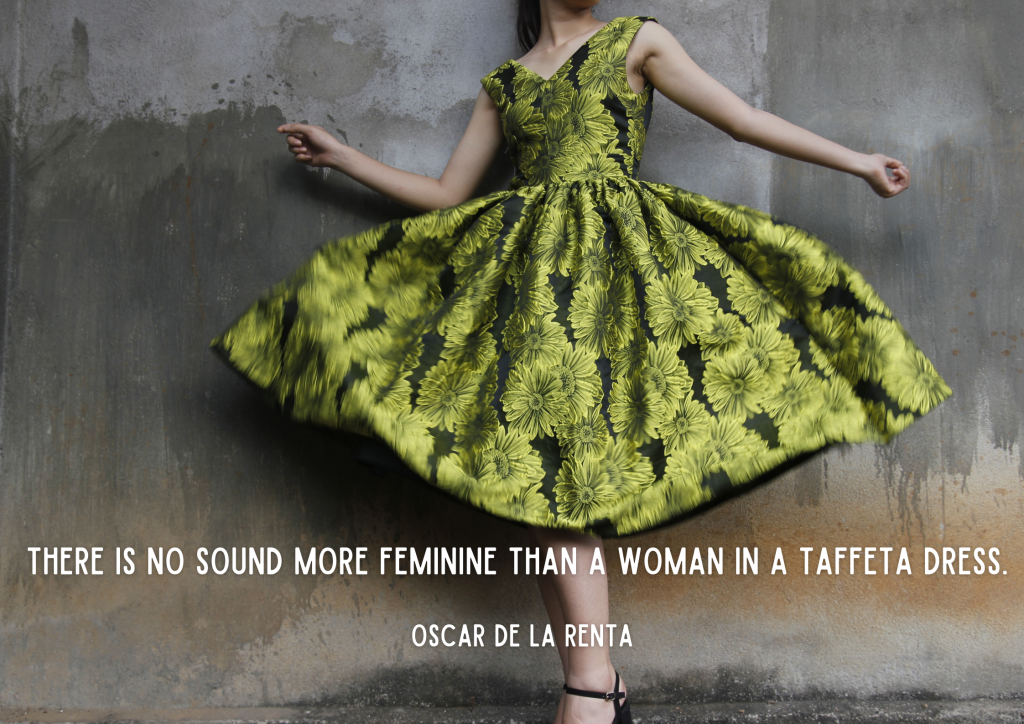 73. There is no sound more feminine than a woman in a taffeta dress. – Oscar de la Renta
74. I always think the best way to dress is when the person notices you first and the dress after. – Oscar de la Renta
75. There is no doubt a new dress is a help under all circumstances. – Noel Streatfeild
76. If I'm going dancing, then I wear the highest heels with the shortest dress. – Kate Moss
77. A woman wearing a revealing dress will always be sexier than a naked woman. – Steve Coogan
78. You know when you find a great dress, you've gotta hold on to it. – Rachel McAdams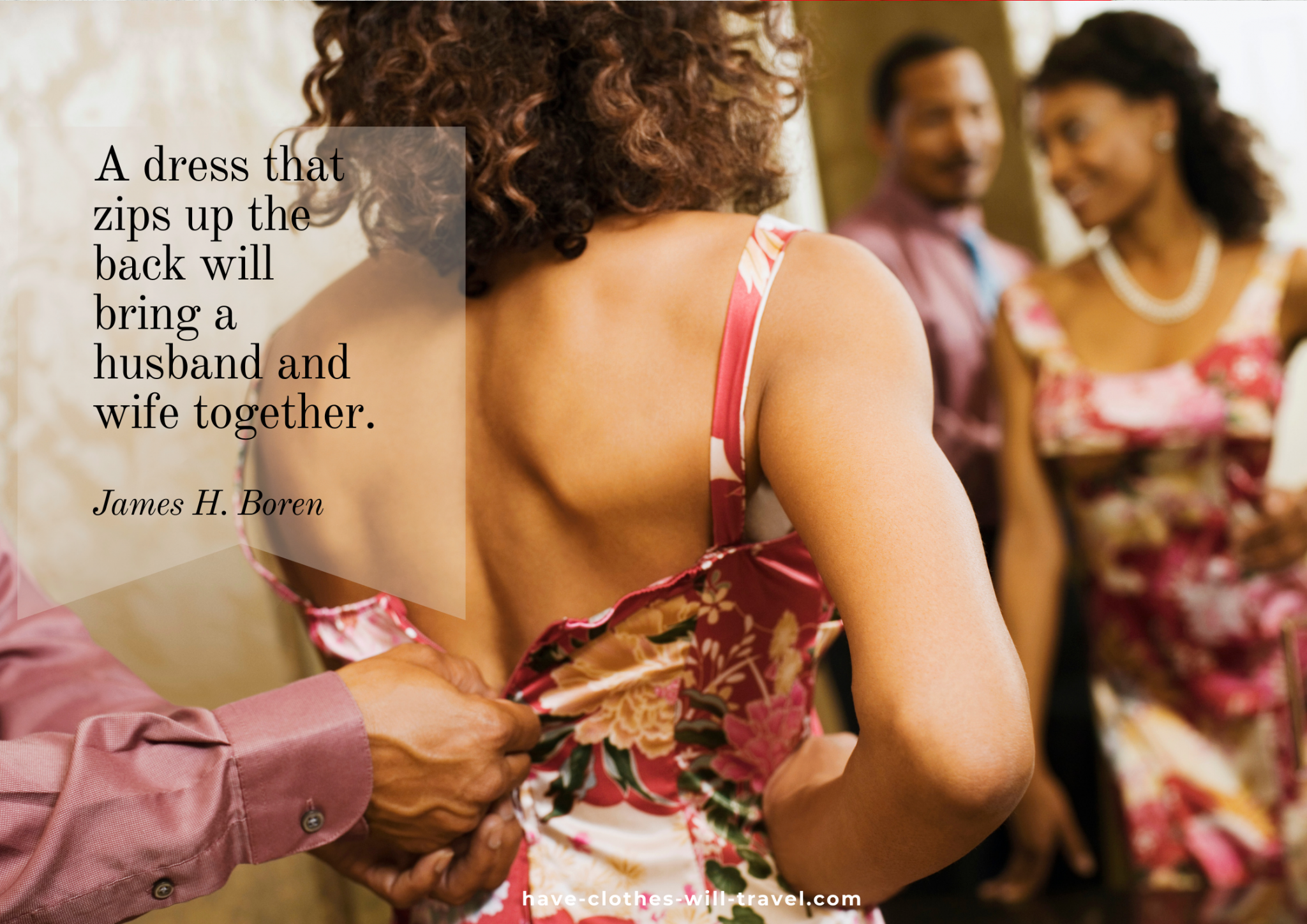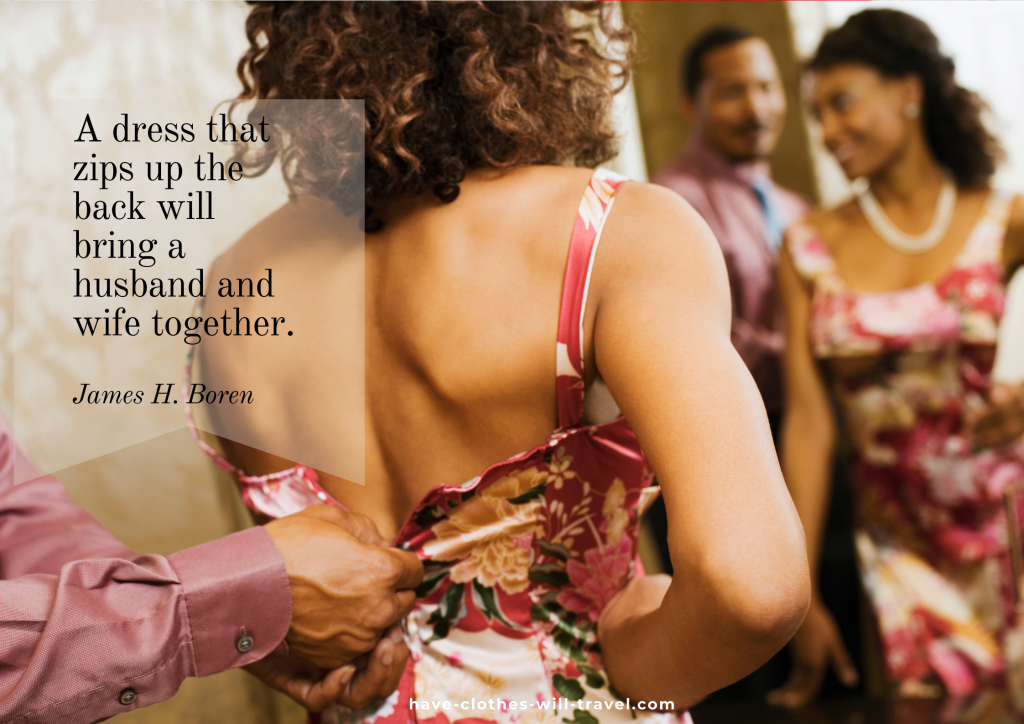 79. A dress that zips up the back will bring a husband and wife together. – James H. Boren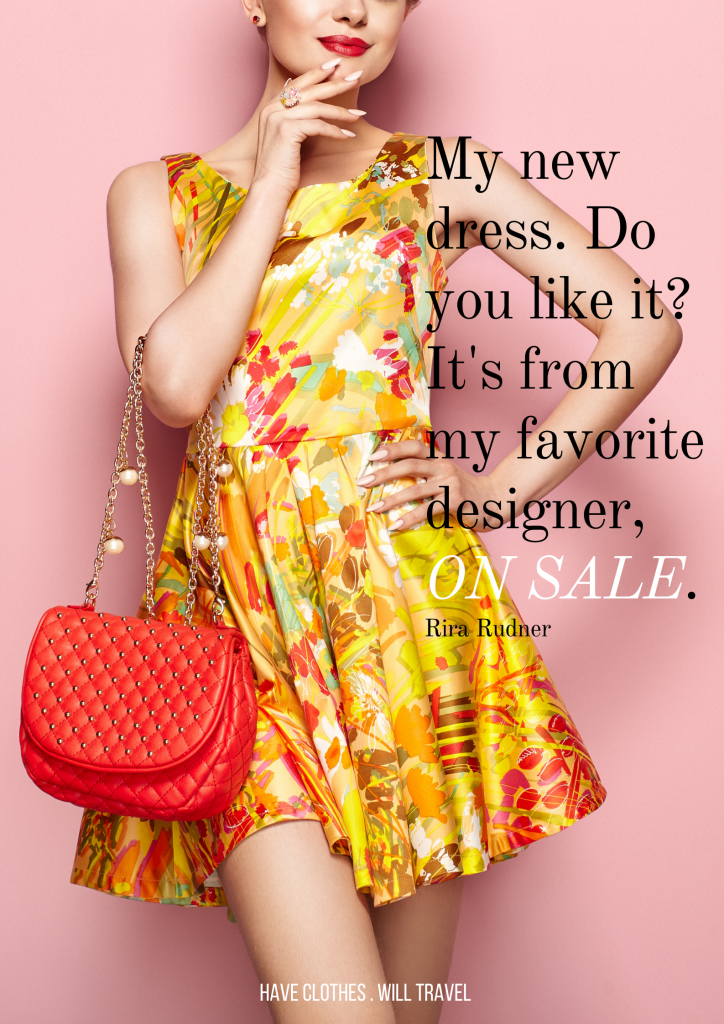 80. My new dress. Do you like it? It's from my favorite designer, On Sale. – Rita Rudner
81. A dress made right should allow one to walk, to dance, even to ride horseback. – Coco Chanel
82. Money is the anthem, of success, so put on your mascara and your party dress. – Lana Del Rey
83. A dress makes no sense unless it inspires men to take it off of you. – Francoise Sagan
84. Caviar is to dining what a sable coat is to a girl in evening dress. – Ludwig Bemelmans
85. No man will ever put his hand up your dress looking for a library card. – Joan Rivers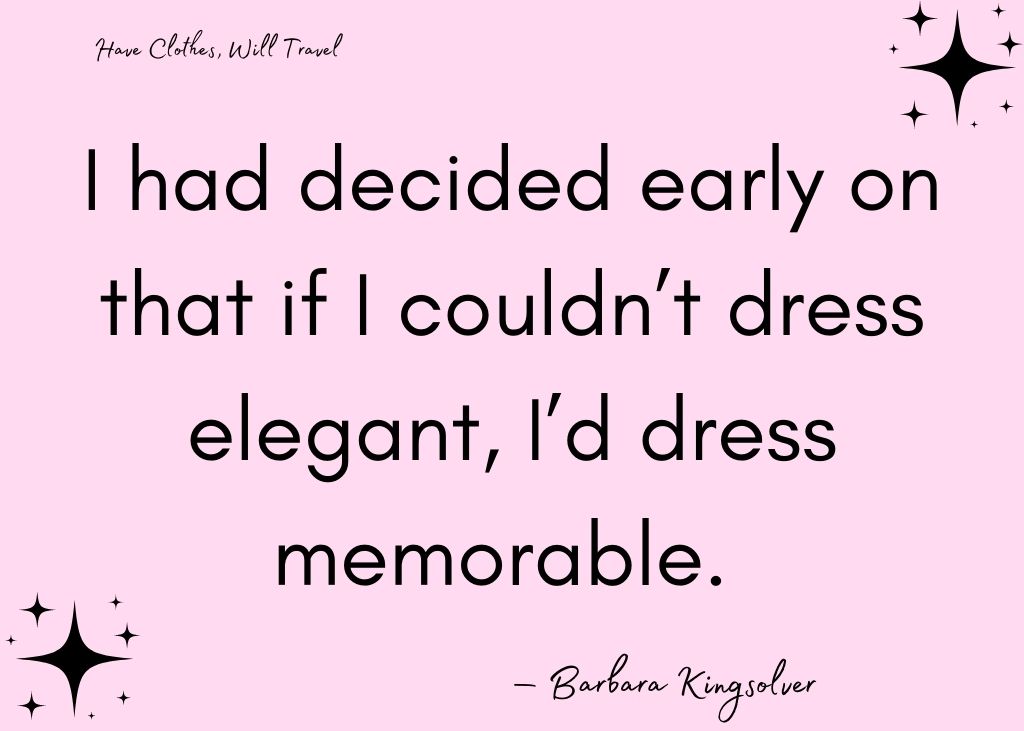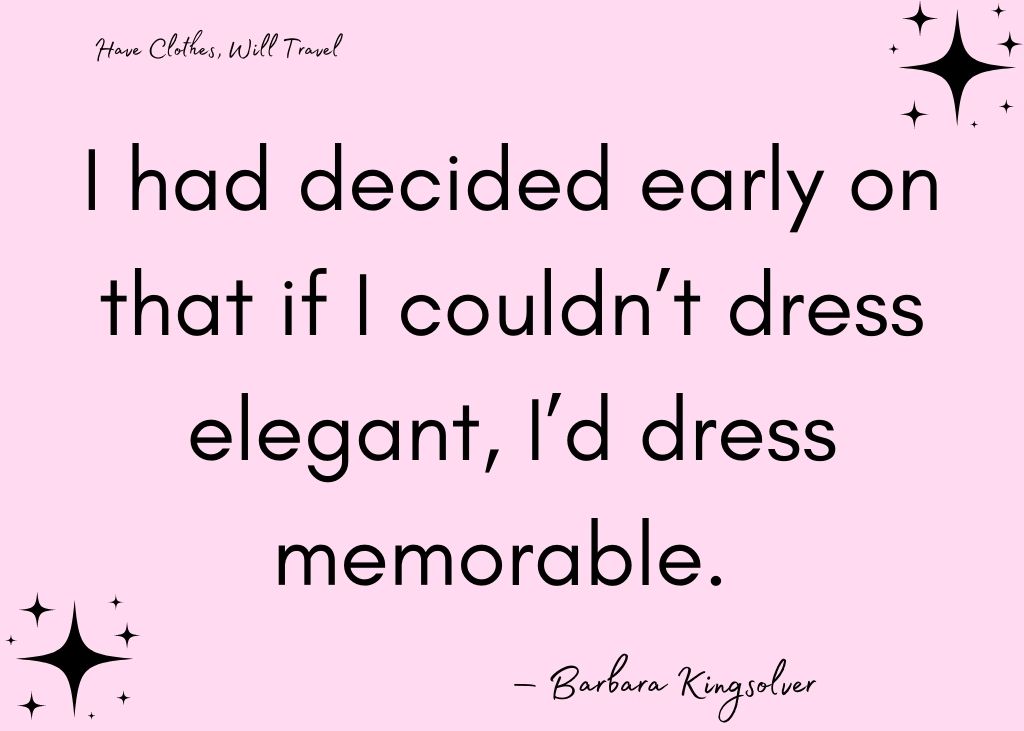 86. I had decided early on that if I couldn't dress elegant, I'd dress memorable. — Barbara Kingsolver
87. I love a pair of sexy heels with jeans, a nice jacket, or a little dress. – Beyonce Knowles
88. Look for the woman in the dress. If there is no woman, there is no dress. – Coco Chanel
89. I want to be pure in heart — but I like to wear my purple dress. – Anne Morrow Lindbergh
90. You could say that my life's a mess. But I'm still looking pretty in this dress. – Marina and the Diamonds
91. Happiness lends poetic charms to woman, and dress adorns her like a delicate tinge of rouge. – Honore de Balzac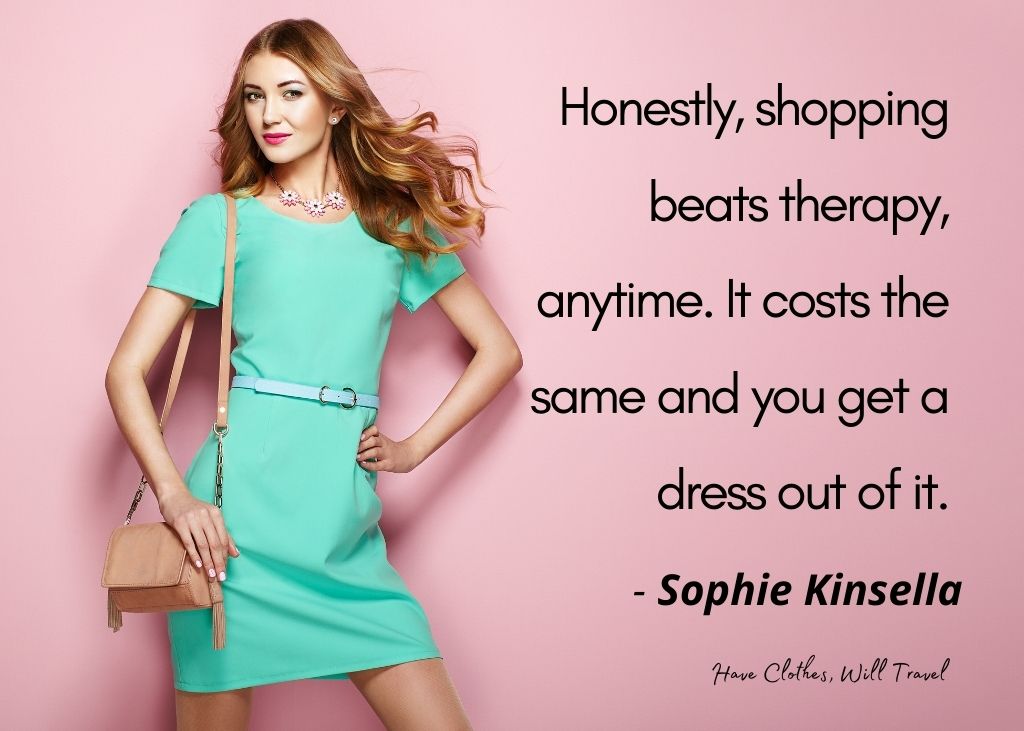 92. Honestly, shopping beats therapy, anytime. It costs the same and you get a dress out of it. – Sophie Kinsella
93. Pour me another tequila, I'm going to put on your red satin dress. You put on my clothes. – Bobby Bare
94. The dress is a vase which the body follows. My clothes are like modules in which bodies move. – Pierre Cardin
95. I believe that anything can be for men or women. I mean, I've worn a lace dress before! – Marc Jacobs
96. She comes out of the sun in a silk dress, running like a water color in the rain. – Al Stewart
97. It's good to stay as close to real life as you can, and then kind of dress it up. – Nelson DeMille
98. If all else fails and you don't know what to wear, put on a black dress, and you'll be happy. – Lily Donaldson
99. Just because you dress sexy doesn't mean you're a bad girl; it just means you know how to dress. – Jennifer Lopez
100. Dress for the story that you'd like to have people know about you before you even open your mouth. – Rachel Roy
101. At some point, I told myself: the dress doesn't own you; you own the dress! So, act like it and attack. – Magdalena Frackowiak
102. Only in Paris do couture workers, from seamstress to mannequin, worship a dress and treat it like a baby. – Pierre Balmain
103. Channel a bohemian state of mind with an effortless dress paired with a must have embroidered moto jacket. – Lubov Azria
104. You don't have to wear a sparkly dress all the time! You can wear something that's plain, really, it's okay. No one is going to be mad at you. – Mark Indelicato
105. True beauty of dress consists in its simplicity . . . What do these devotees of fashion gain? Only the satisfaction of being admired, like a butterfly. – Ellen G. White
106. If you ever meet a guy and you fall in love with him, but because of some weird genetic mutation he doesn't seem to return the feeling?… Wear that dress. – Ann Brashares
107. I'm a big fan of glamour. It's something I don't think there's enough of in Hollywood anymore. I enjoy putting on a sexy dress and heels. I want to work it. – Ali Larter
108. "I've no idea when I'm going to wear it," the girl replied calmly. "I only knew that I had to have it. Once I tried it on, well…" She shrugged. The dress claimed me. – Isabel Wolff
109. All women's dresses, in every age and country, are merely variations on the eternal struggle between the admitted desire to dress and the unadmitted desire to undress. – Lin Yutang
Which of these dress quotes is your favorite? Let me know in the comments!
Please feel free to copy and share these dress quotes wherever you please – Pin these images to Pinterest, use them in Instagram captions, blog posts, you name it! If you want to tag me when you share the quote, I'd really appreciate it and love to give you a shoutout! Just tag my accounts below or link back to this blog post. Thank you!
Instagram: @have_clothes_will_travel
Twitter: @havclothwiltrav
Facebook: @haveclotheswilltravel
Blog URL: https://www.have-clothes-will-travel.com/dress-quotes/