Everything You Need to Know About Chanel Vintage Bags
If you ask me, I'd say nothing beats the timelessness of a vintage Chanel bag. Whether we're talking handbags, jewelry, or clothing, I'd much rather spend my hard-earned money on one-of-a-kind classic pieces over whatever is trendy right now. And that's exactly why I bought a Chanel Boy bag – the best decision ever!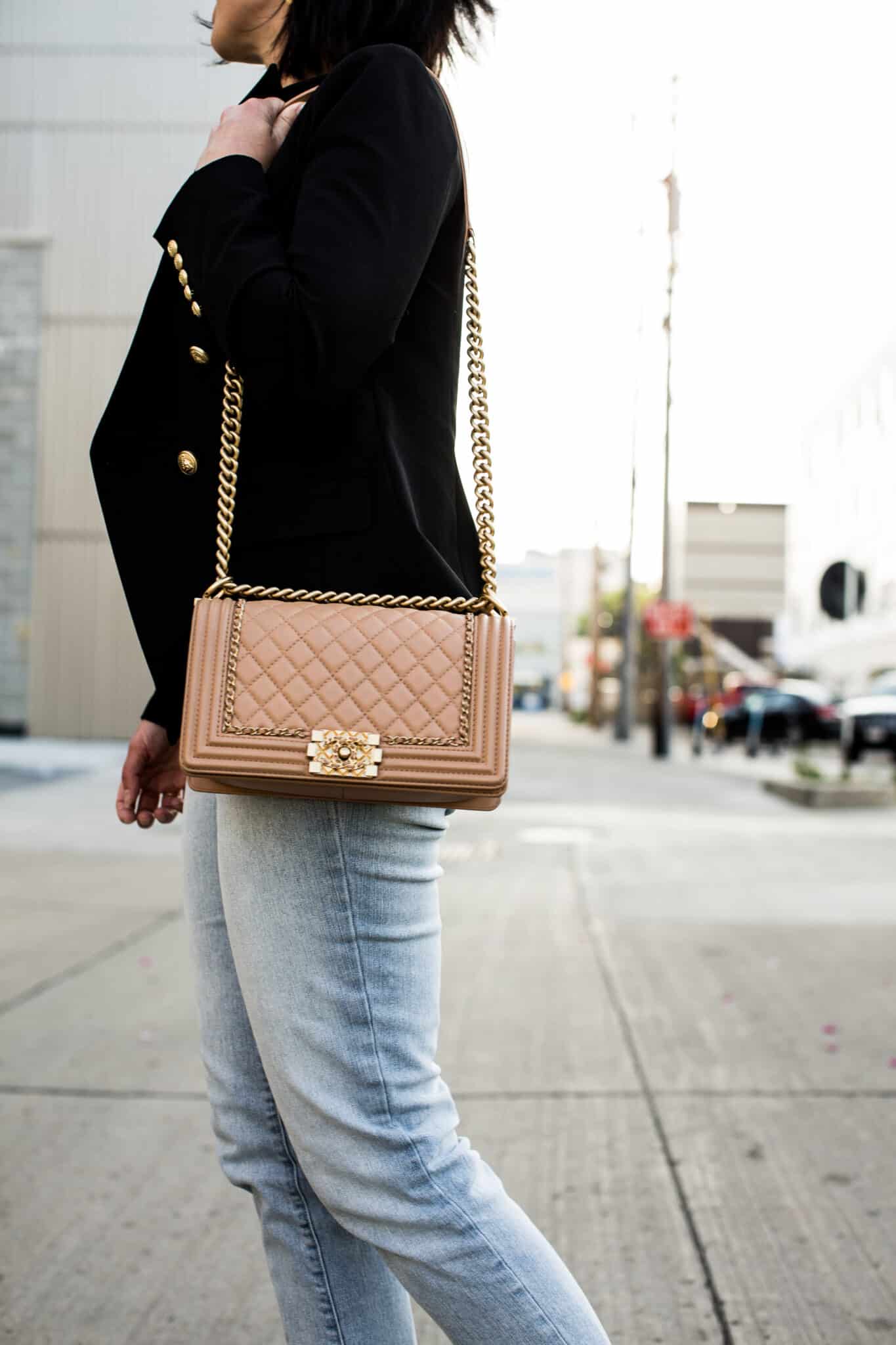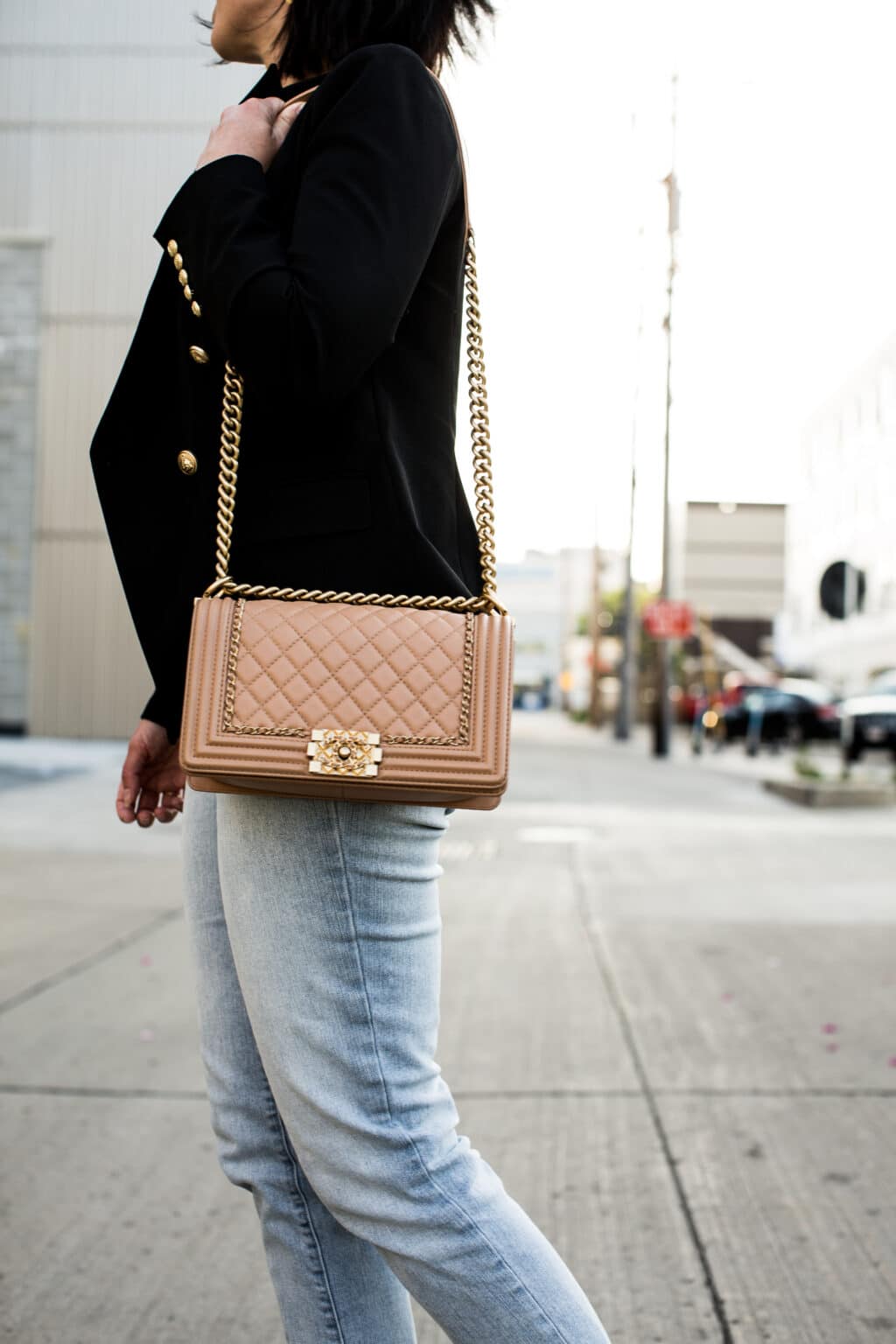 Over the years, I've done a ton of research on Chanel bags, especially vintage ones, to figure out which styles are the most worthwhile investments and why luxury bags are worth the splurge. In fact, I have an entire article dedicated to the top Chanel bags to invest in for 2023, and bags 20 years or older are officially considered vintage. So, the ones made from 2000 onwards tend to be called pre-loved instead.
In this complete guide to Chanel vintage bags, I'll explain which ones are the best vintage options to consider, where to buy them, tips for scoring your own vintage Chanel, and how to spot a fake.
*Disclosure: some of these links are affiliate links. Meaning, that if you click a link and make a purchase, Have Clothes, Will Travel gets a very small commission at no extra cost to you. Thank you for supporting the brands that make this blog possible! HCWT is also an Amazon Influencer, meaning I earn from qualifying Amazon purchases.
Best Vintage Chanel Bags
Here are some of the best vintage Chanel handbags you should consider investing in: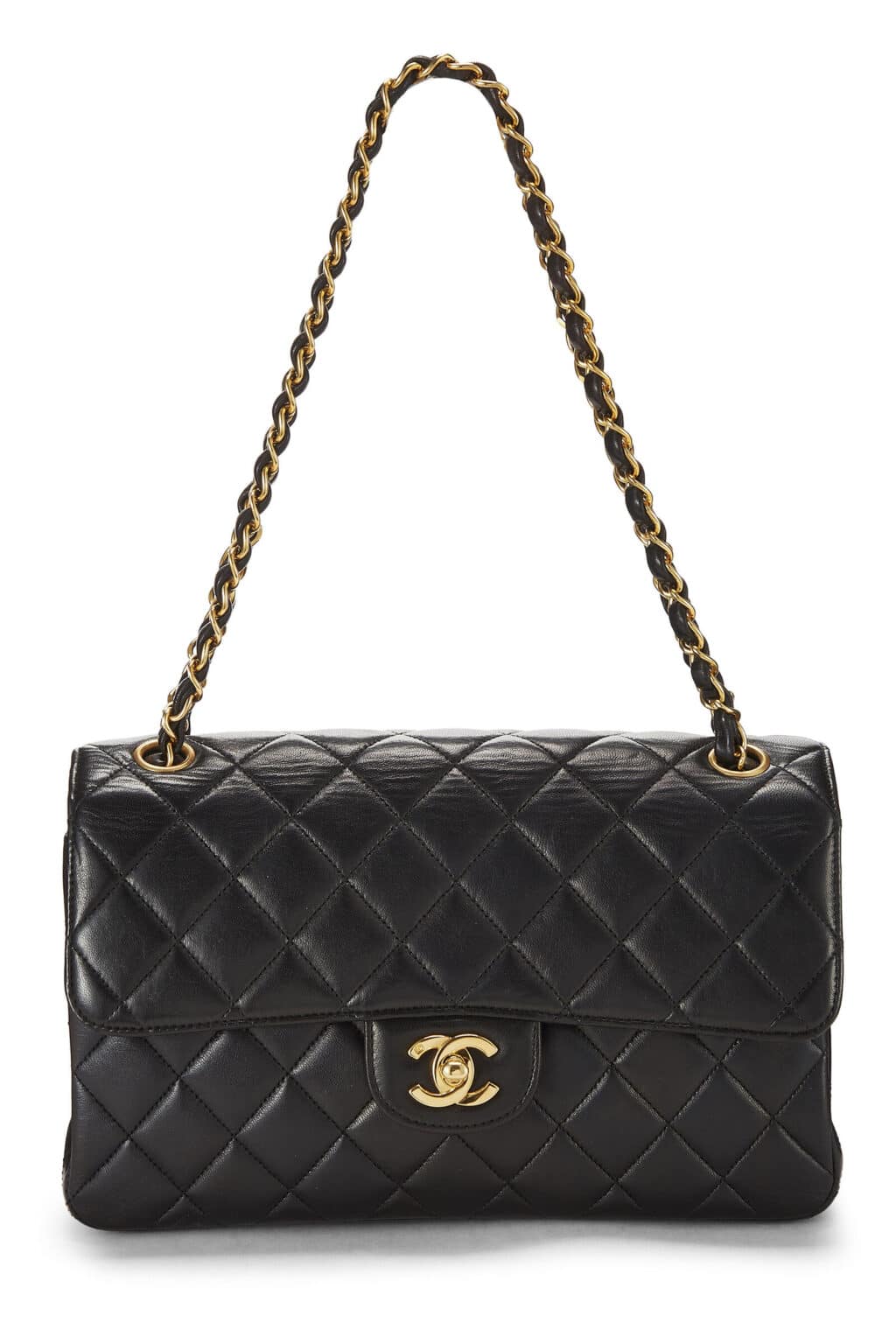 Chanel Vintage Flap Bag
Chanel's vintage flap bags are iconic. Back in February 1955, Coco Chanel designed the original 2.55 flap bag. It was the first shoulder bag considered socially acceptable for women of distinction and social status to wear and it was an instant hit.
Then in 1983, Karl Lagerfeld introduced his take on it – the Classic Flap bag. His version had some new features – a woven leather chain strap and a double C turn lock closure, but it kept the same basic flap bag shape.
The Chanel classic flap bags really took off. It came in so many options – different quilted patterns like the classic diamonds or a more funky chevron, different leather, sizes, single or double flap, and hardware mixes. It was just so versatile and simple yet super stylish. Lagerfeld's first Classic Flap was a total winner. Now it's basically synonymous with Chanel.
So it's no wonder vintage versions of the Chanel Classic Flap are the holy grail for collectors and fashion lovers. They're instantly recognizable and just ooze that Chanel style and history. If you can get your hands on an original from the 80s or 90s, that's the ultimate vintage fashion find.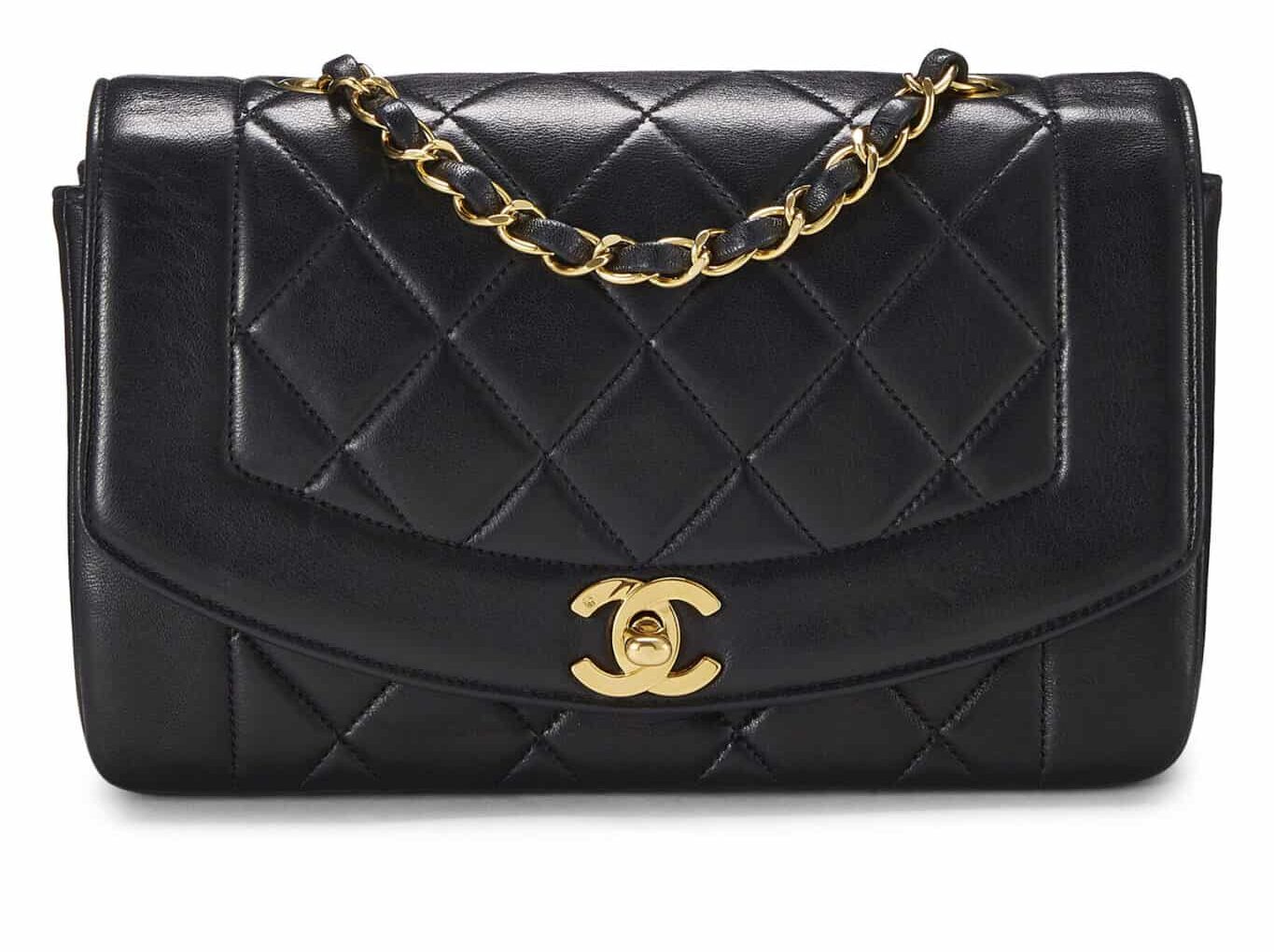 Vintage Chanel Diana Bag
Karl Lagerfeld really valued his muses—those fashionable women who helped make his designs timeless classics. Princess Diana was a huge muse in the '80s and '90s – she had a huge impact on Lagerfeld and the legacy of Chanel.
The Chanel Diana bag was made from about 1989 to 1995, and vintage hunters and Diana fans want to find it. The design is a lot like the Chanel Single Flap, and Diana carried it so much that Lagerfeld felt he should name it after her. The vintage caviar leather Chanel Diana is still the most rare and wanted version ever made.
Even though a new Diana bag came out in 2015, the old ones are special. Diana's iconic looks from the 80s and '90s still inspire fashion today, decades later. Her Chanel bags really represent her classic, timeless style. Vintage pieces like the Diana let us revisit her influential looks.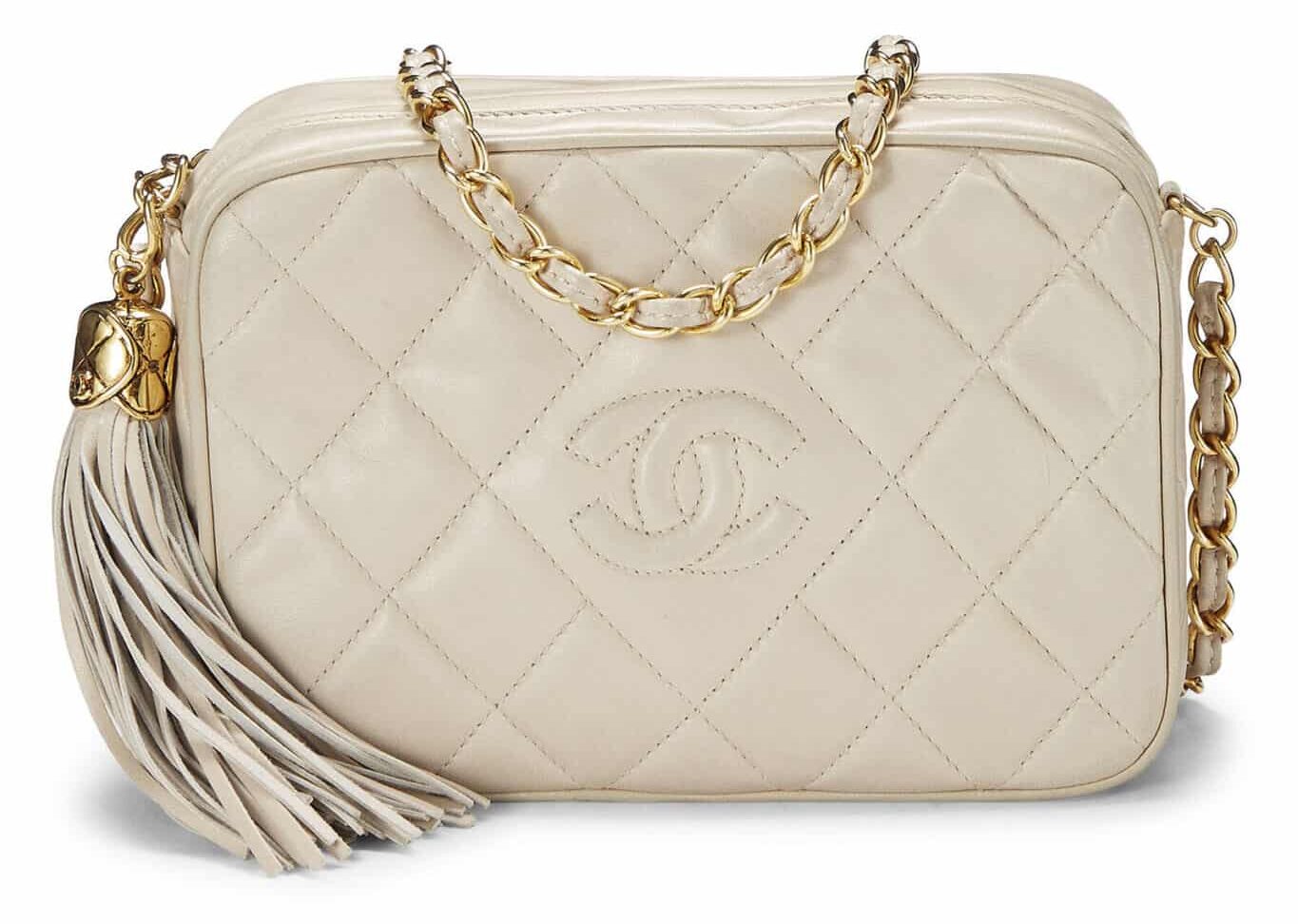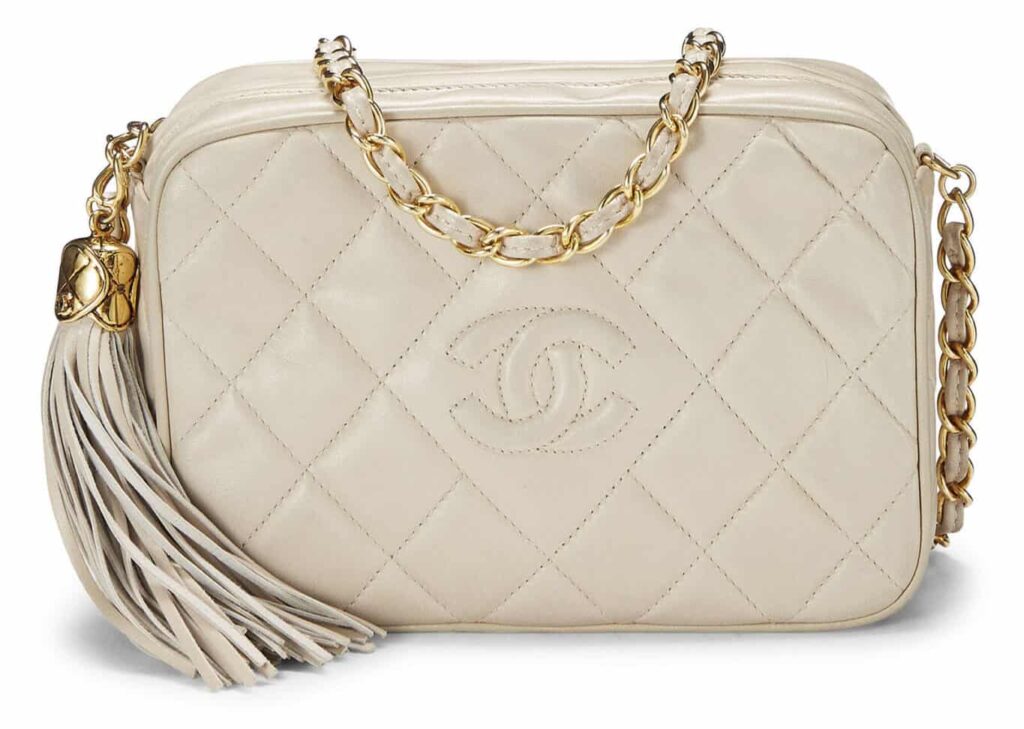 Chanel Vintage Camera Bag
The Chanel camera bag is a pretty cool vintage purse. It was originally designed by Karl Lagerfeld way back in the 80s and he got the idea from actual camera cases that photographers used to carry around.
The bag has a zipper that goes all the way around and a long strap so you can wear it crossbody. It has a ton of space inside to fit all your stuff while keeping it secure.
Even though the camera bag pops up in new collections every now and then, the vintage ones from the 80s and 90s are super rare finds. Chanel collectors want to get their hands on those early versions with the little tassel zipper pull. It's such an iconic little detail that makes the vintage camera bags extra special.
They're hard to come by so when one goes up for sale, it creates a lot of excitement among Chanel fans. The rarity gives the vintage camera bag a certain allure that the newer versions just don't have.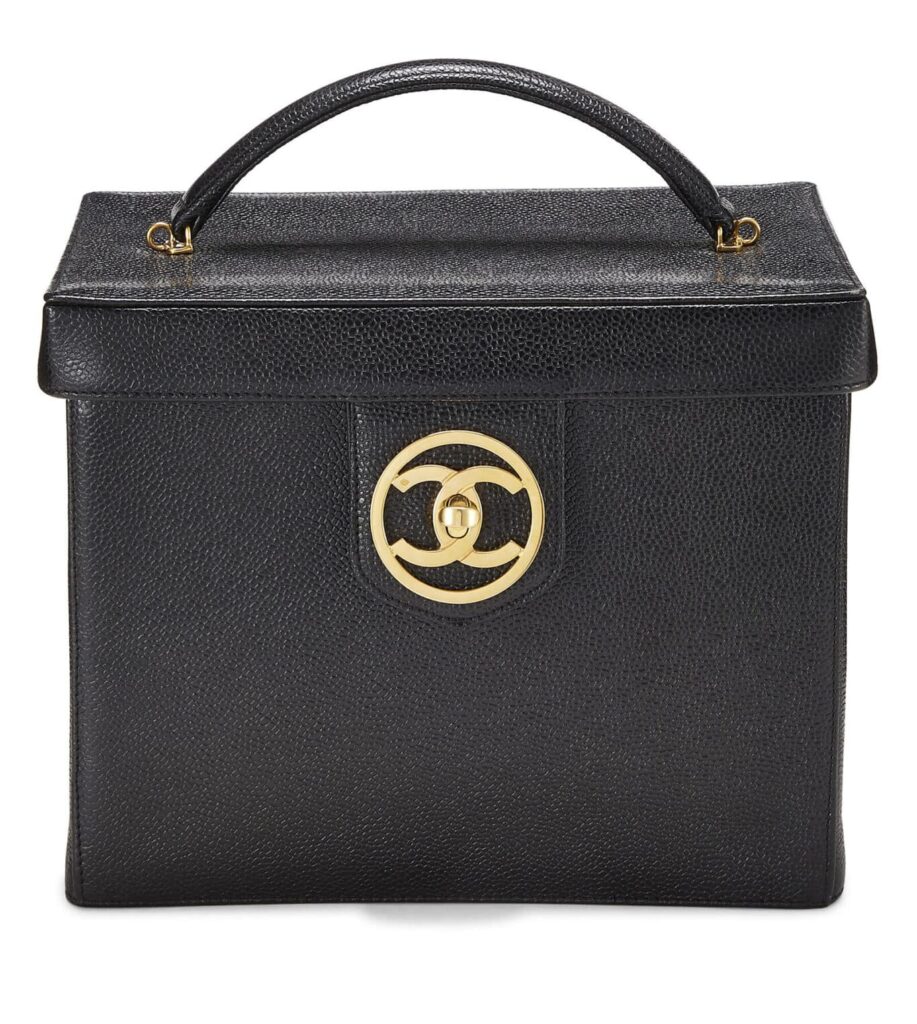 Vintage Chanel Vanity Case
The vintage Chanel vanity case takes me back to the days of Audrey Hepburn when ladies used to carry around these little cases filled with all their makeup and toiletries for travel.
Karl Lagerfeld first brought back the Chanel vanity case in the 90s, channeling that retro vibe. It's such a beautiful combination of nostalgic and practical.
The vanity case made a big splash again in Chanel's 2016 Airlines collection, shaped like real vintage luggage – glamorous yet functional!
Even though the vanity case has come in different versions over the years, you really cannot beat finding an original vintage one – it's the perfect mix of classy and useful with that old Hollywood charm.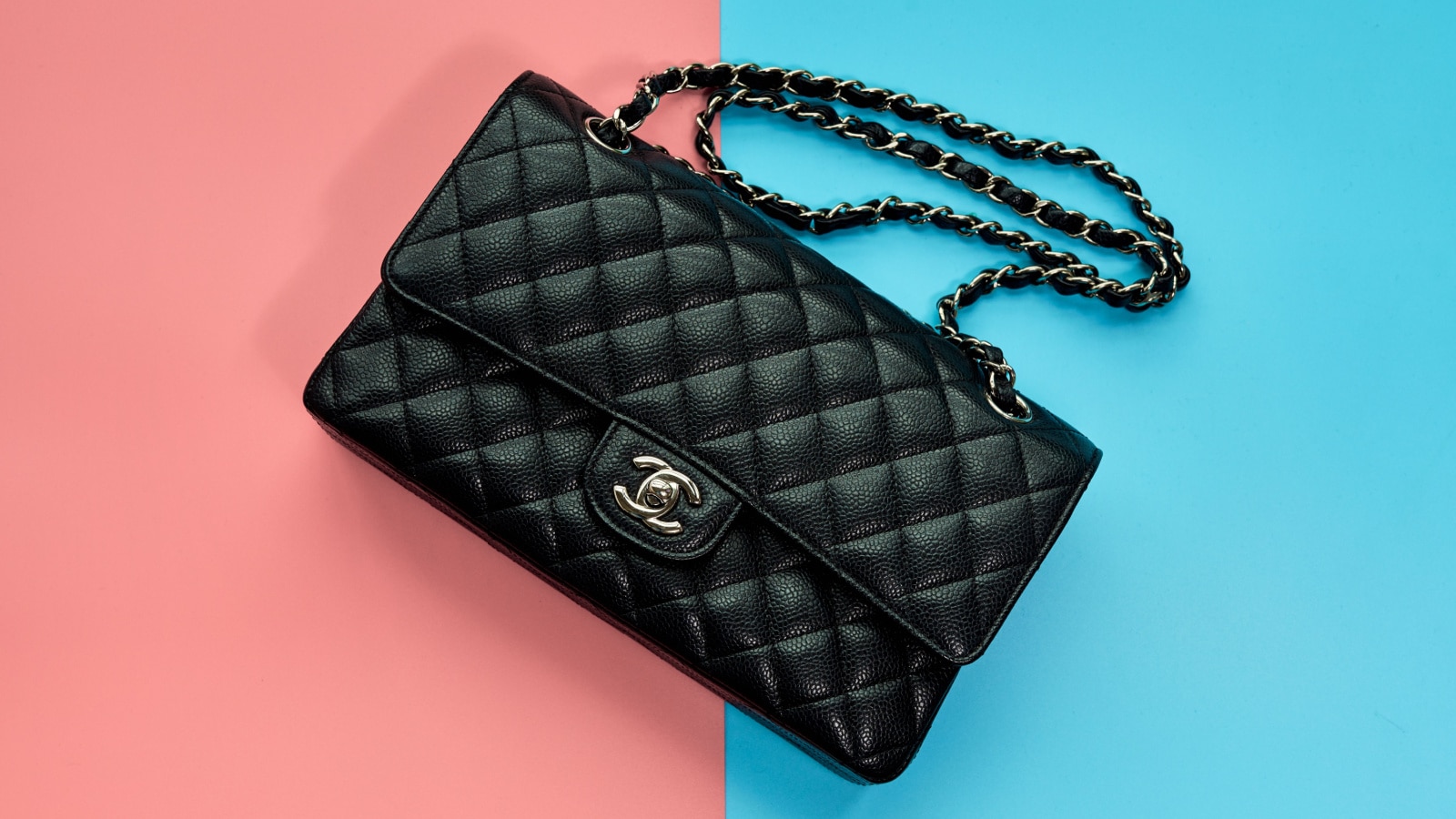 Where to Buy Vintage Chanel Bags
What Goes Around Comes Around: What Goes Around Comes Around (WGACA) is a well-known reseller that's been in the game for almost 20 years now. They're known for having rare, hard-to-find vintage pieces, especially when it comes to Chanel. They have a beautiful, curated collection of vintage Chanel bags that you won't find in many other places. I recently bought a Chanel boy bag from then, and wrote a review I recommend you check out!
The RealReal: The RealReal has a huge selection of new, pre-loved, and vintage luxury stuff – we're talking thousands of items here. They check everything to make sure it's authentic and good quality before shipping it out. I've shopped with them dozens of times and have always been happy with my purchases.
Farfetch: Farfetch is a luxury retailer and has started selling some vintage Chanel bags that look pretty unique and interesting. Thanks to their brand, they're another great option. But I have to say, their prices are steeper than what you'd normally pay for vintage, but I guess that makes sense since they're putting in the work to find one-of-a-kind pieces. (I also have a full review and YouTube video about shopping with Farfetch.)
Fashionphile: Fashionphile has been around forever on eBay, and they're definitely a seller many people have grown to trust over the years. Since their eBay days, they've expanded into their own website and even some brick-and-mortar boutiques in places like Beverly Hills and San Francisco. If you're looking for pre-loved or vintage Chanel bags, Fashionphile is a great place to shop.
eBay: When it comes to buying designer bags on eBay, you need to be careful and do your research to find legitimate sellers. eBay has so many sellers, so it can be tricky to spot the good ones in the haystack. Luckily, in 2022 they introduced an authenticity guarantee but it's still important to double-check before purchasing.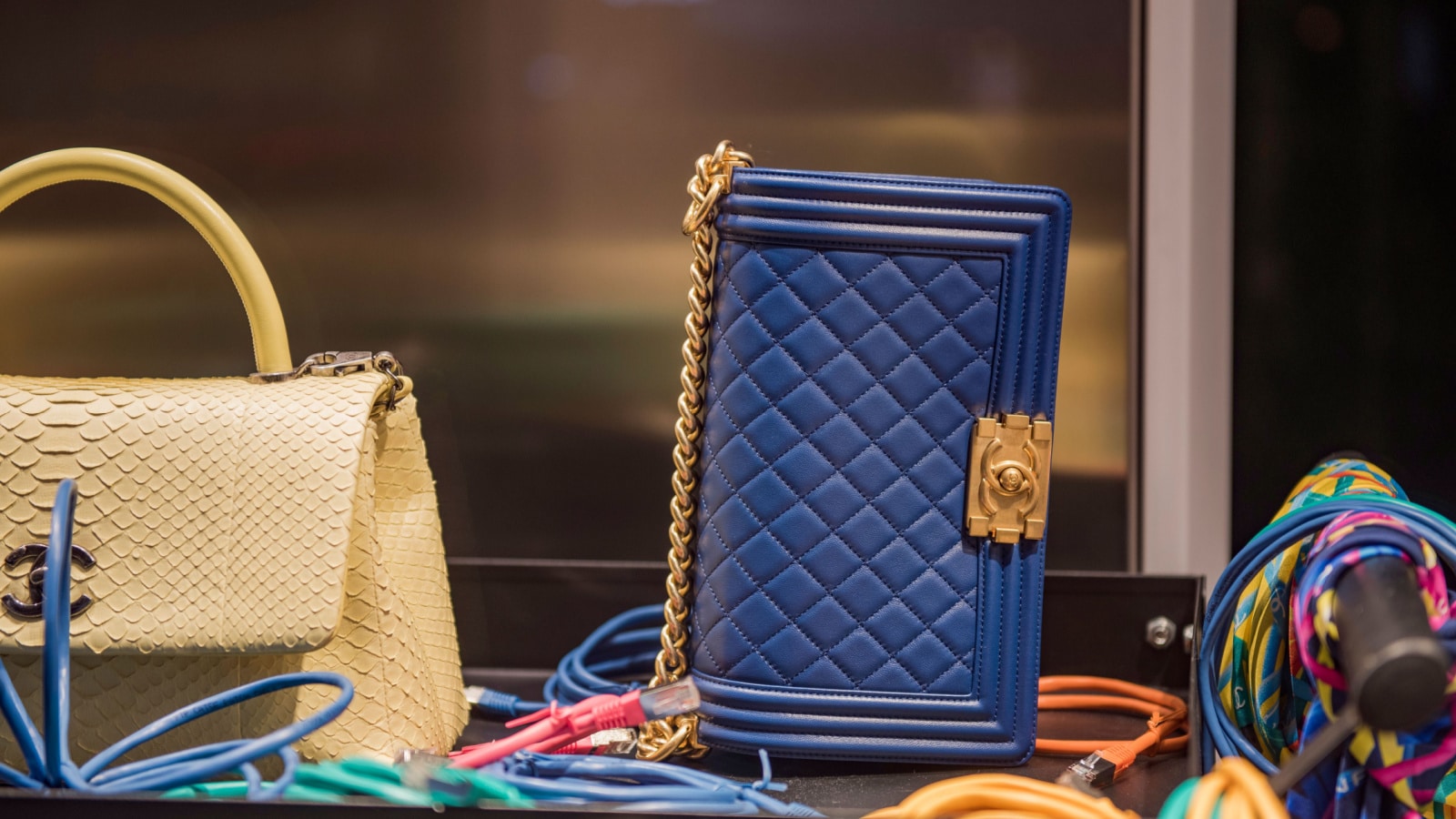 How to Shop for Vintage Chanel Bags
When looking to buy a vintage Chanel bag, it's always a good idea to do your homework first.
Look around at lots of different stores and websites to get an idea of the different styles and price ranges out there. If you see a bag that seems way cheaper than similar ones elsewhere, it could be a fake, so be wary; but if the prices seem pretty standard across the board, take a closer look to authenticate it and double-check the store's policies.
Speaking of policies, it's super important to read the fine print of each seller, whether it's a big retailer or someone on eBay. You'll want to know stuff like if they accept returns, how much shipping costs, etc., before buying anything.
I recently bought a bag from What Goes Around Comes Around (WQACA), and wrote a detailed review of my experience with them.
Lastly, get all the details you can about the specific bag – does it come with the original dust bag and box? Is there an authenticity card or certificate? The more you can find out upfront, the less likely you'll end up with a bag that's not the real deal.
But if something seems sketchy or too good to be true, trust your gut – which takes me to our next section: how to spot a fake vintage Chanel bag!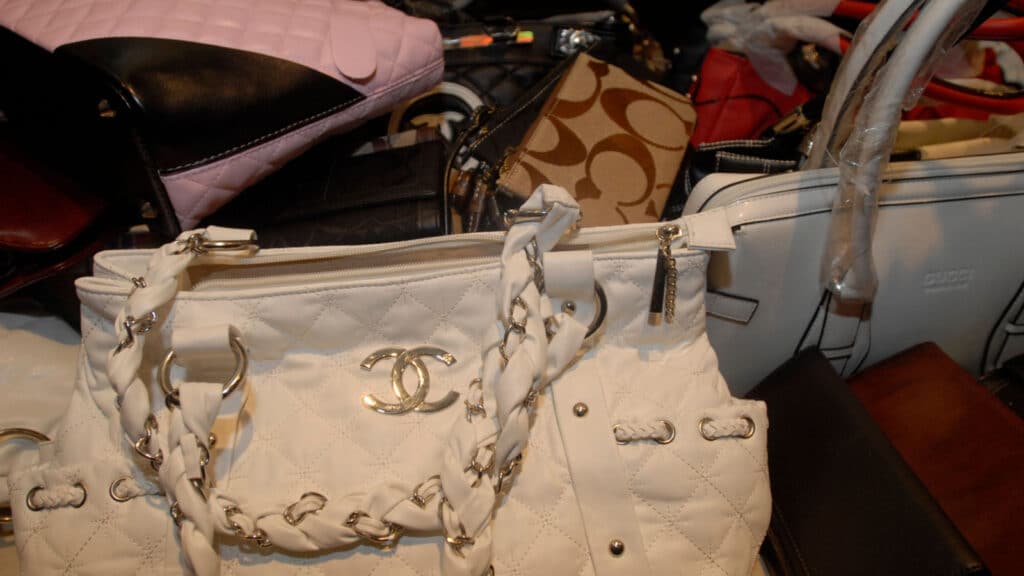 Tips to Spot a Fake Chanel Vintage Bag
Here's how you can check if a Chanel bag is real or fake:
Logo and Serial Number: The double CC Chanel logo is a telltale sign of an authentic bag. The right C overlaps on top while the left one overlaps on the bottom. Serial numbers inside offer further proof of legitimacy.
Hardware: Chanel doesn't skimp on hardware either; expect high-end Lampo or EP zippers and quality metal clasps and chains.
Examine the Details: Impeccable stitching screams the real deal, and sloppy workmanship is a sure sign of a knockoff. The brand prides itself on durability and longevity, and their bags endure years of wear and tear in style. Every detail must align to pass as genuine. There's no room for flaws with Chanel! Fakes might fool the untrained eye, but details give them away. Chanel bags are known for their top-notch craftsmanship.
Be Wary of Cheap Options: When it comes to price and real versus fake, if it seems too good to be true, it probably is. Chanel bags keep their value well, so vintage ones can cost a pretty penny. Buy from trustworthy sellers and shops. Consider getting it from well-known vintage boutiques like the ones I've listed above.
Know Your Bag: Do your homework on the specific vintage Chanel model you want. Some designs have unique features or variations that can help you spot the real deal.
Consider Professional Authentication Services: If you're still not sure a vintage Chanel bag is legit, consider getting a professional authentication service such as Leather Surgeons or Zeiko to examine it more closely. They can provide a detailed inspection.