Decorating Our House – Things We've Found So Far!
Remember when my husband and I bought a house…and then went to live in Russia? Goodness, that feels like a lifetime ago. (If you missed all that commotion, click here.) We've been living in Russia since August…but we've still had a house in the United States that we intend to permanently move into at some point.
For anyone new here, we have been moving here, there and everywhere for the last 6 years. We had given up nearly everything we owned in the pursuit of travel and didn't have an actual home until last year…which, we decided to buy because we thought we were done moving here, there and everywhere. However, an opportunity to live and work in Russia presented itself…and we couldn't say no. Which I know may sound crazy. Who would willingly move to Russia immediately after buying their first home? But we are so glad we did! Russia has been an AMAZING experience, and we are so grateful for the opportunity. (Click here for all my posts on Russia.)
We've also had quite a handful of issues with our house that have required a lot of repairs and contractors coming and going frequently. Frankly, I'm glad I haven't been there for it. I won't get into all the nitty-gritty details here (at least for now)…but let's just say, it has been a less than pleasant experience (even from afar).
That being said, though, it's getting harder and harder to go back to Russia after we're home to visit. There seems to be a light at the end of the tunnel as far as repairs go…which is making me far more motivated to get some decorations in here! And it's getting harder and harder to leave our families and friends…especially with a two-year-old nephew who is just too darn precious to leave.
We're not 100 percent sure on when our time in Russia will be over – these things always change so quickly. However, we're planning to be back in our house permanently by Christmastime. (But again, who knows – and I probably just jinxed it!)
But whatever happens, I'm slowly trying to make this place feel a bit more like a home! We had zero decorations and furniture prior to buying this house. So, we're really starting from scratch! Check out a few of the things I found this time around, below.
Decorating My House – Things I've Found So Far!
Displate Metal Posters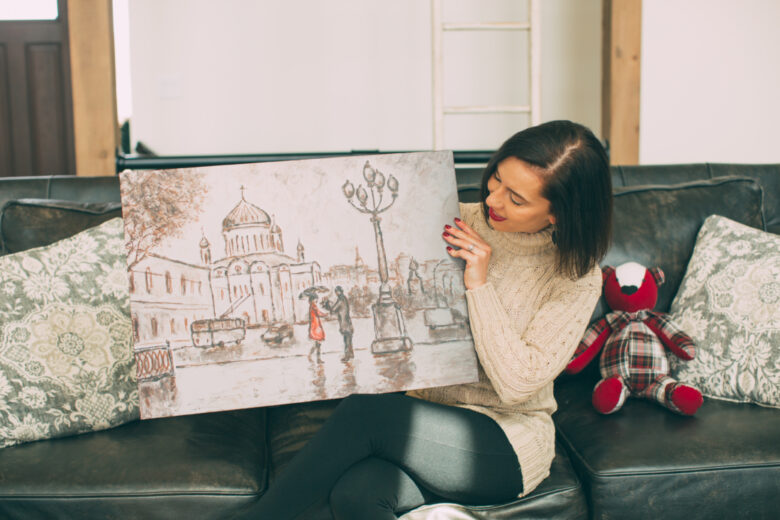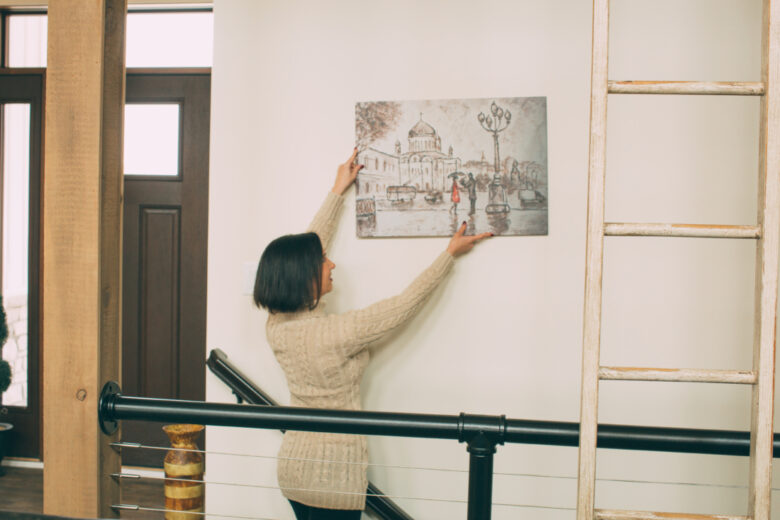 I am SO excited about these metal posters from Displate! They are incredibly easy to hang – you literally just stick them to the wall, no nails required. They also have SO many cool designs. I was ecstatic when they partnered with us. They let us pick out 3 prints for our new home. I found this one depicting a scene in Russia amongst two lovers outside the Cathedral of Christ the Saviour in Moscow, pictured above. (Side note – I really want to try to recreate this print as a photograph. How cool would that be?) And also the awesome vintage world globe poster below. (I'm also starting to collect vintage suitcases and actual globes…)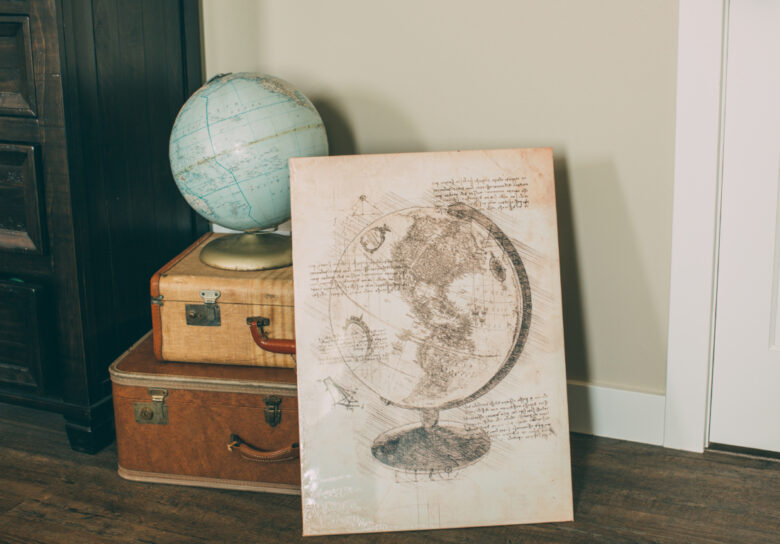 My husband also got to pick a print too! He went with this Elon Musk one…who happens to be his idol. He was so excited about this poster that he didn't even let me unpack my camera to take a pic of him with it! Haha. He literally tore open the box the moment we walked in the door off the plane. (This is the first time he's been more excited about home decor than me!)
Click here to check out Displate! (All of the ones pictured above are size "large.")
New Sheets!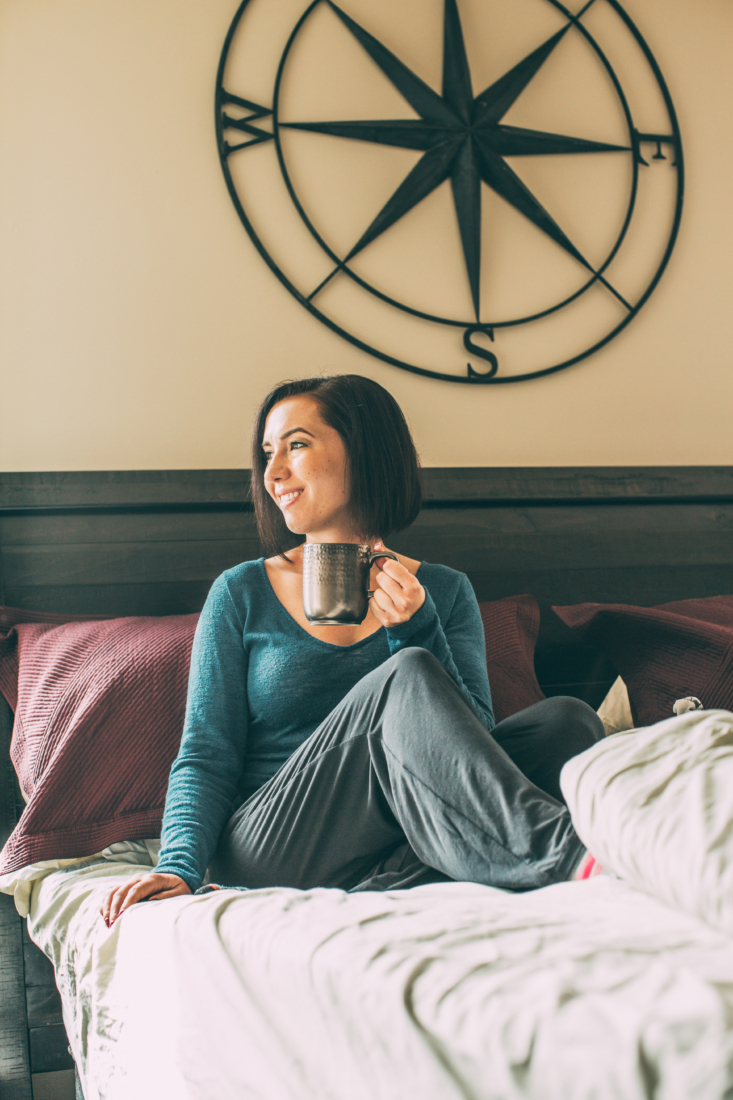 There's actually quite a lot I'm excited about in the photo above – but the first is new sheets from California Design Den. They were kind enough to send their 400 thread count sheets – and they are fabulous so far! I had originally bought sheets that were about half the price of these…but, the California Design Den ones are certainly thicker and softer. Given this, I anticipate they'll last far longer as well. I'll keep you updated!
Quick shout out too to Tommy Johns for the sweet PJ pants & undies I'm wearing (undies not pictured – you're welcome) – I've needed new PJs for about the last 15 years. PJs are something I tend to never buy as I'm generally the only one who sees them aside from my husband…who swears he doesn't care what I wear. Although, he did remark that he liked this new PJ look, haha.
*Click here for the sheets. Click here for the pants & click here for the undies. Click here for a similar wall hanging. Click here for the coffee mug set.

Amazing Gifts From Our Family
The amazing bench above was actually built by my mother-in-law and her husband, Greg! Isn't that incredible? I couldn't have dreamed up a better bench for in front of our fireplace (they should totally go into business – they also built our map-themed ottoman tray in this post).
My grandma gifted me the crocks, after she heard we were looking for some. She had them in her home, but was kind enough to surprise us with them when we came home! My mom supplied the birch branches (which, I've learned are incredibly expensive to buy…if you don't happen to have a birch tree in your yard, haha.). She also had gifted me that super cool ledger (along with a ton of other cool things, here).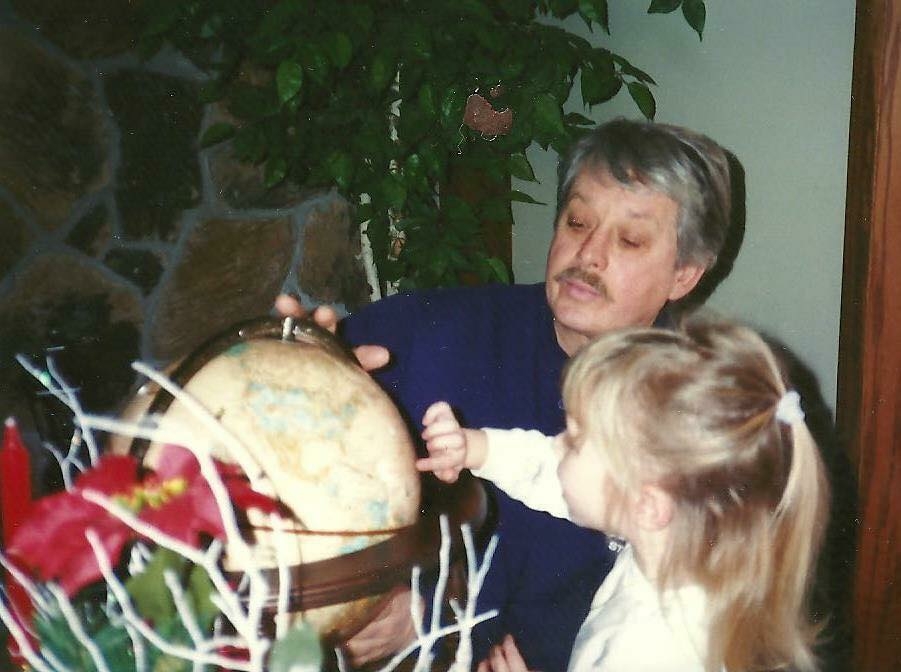 This globe is also incredibly special to me – as it the globe my Grandpa Booth used to use to teach me about the world! My aunt Mariette had kept it at her house all these years and gave it to me when we had our own place. I'm beyond excited to have it in our home. (Also, side note – Egypt is what I'm pointing to and ALWAYS what our worldly conversations would come back to…even when I was that young. I honestly tried to teach myself hieroglyphics! And now, I'm heading to Egypt next month!! More details coming soon.)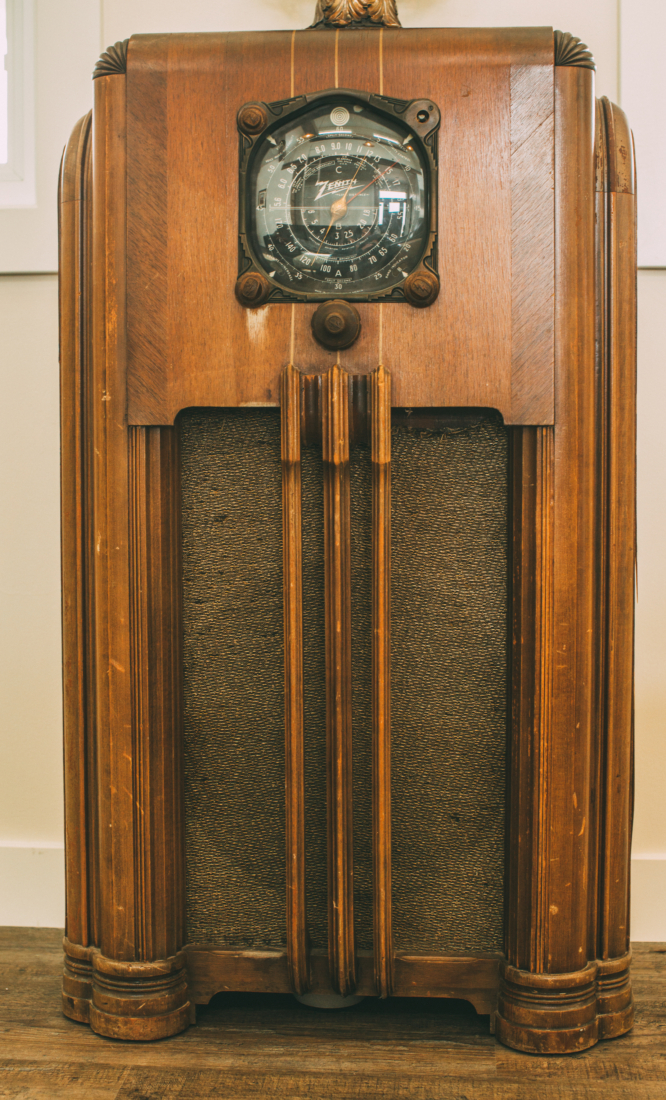 I honestly don't know the story behind this radio. I'm hoping my dad can enlighten me when I see him tonight, haha. But this radio appeared in my house as a gift from my Grandma as well…and it couldn't have been a more perfect treasure to add to our living room. It even works! Well…sort of…my husband is creative and stuck our Google Home (also a gift from Grandma!) inside of it. It actually works really well and sounds nice! Another thing that we're looking to introduce to the living room is a beautiful rug like those by Bazaar Velvet – see this Bazaar Velvet link for more info.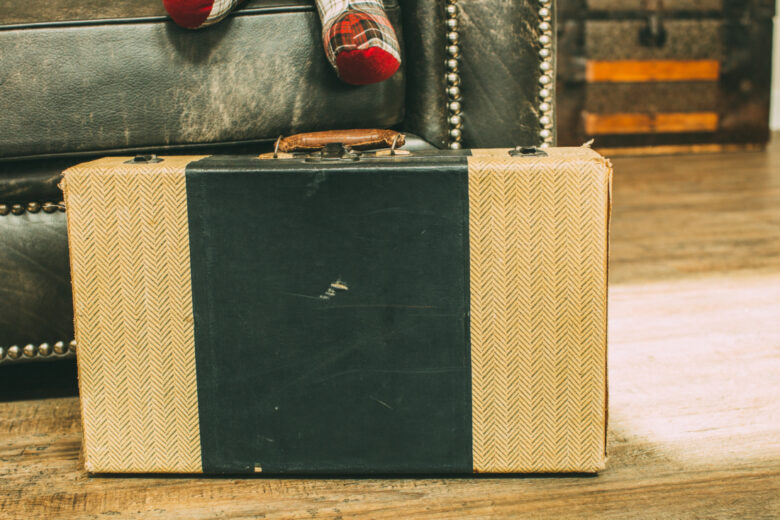 This suitcase is also a gift from my Grandma. She gave it to me for Christmas and explained it was my Great Grandma's suitcase. It was all she had when she left her home at the age of 18 to marry my Great Grandpa.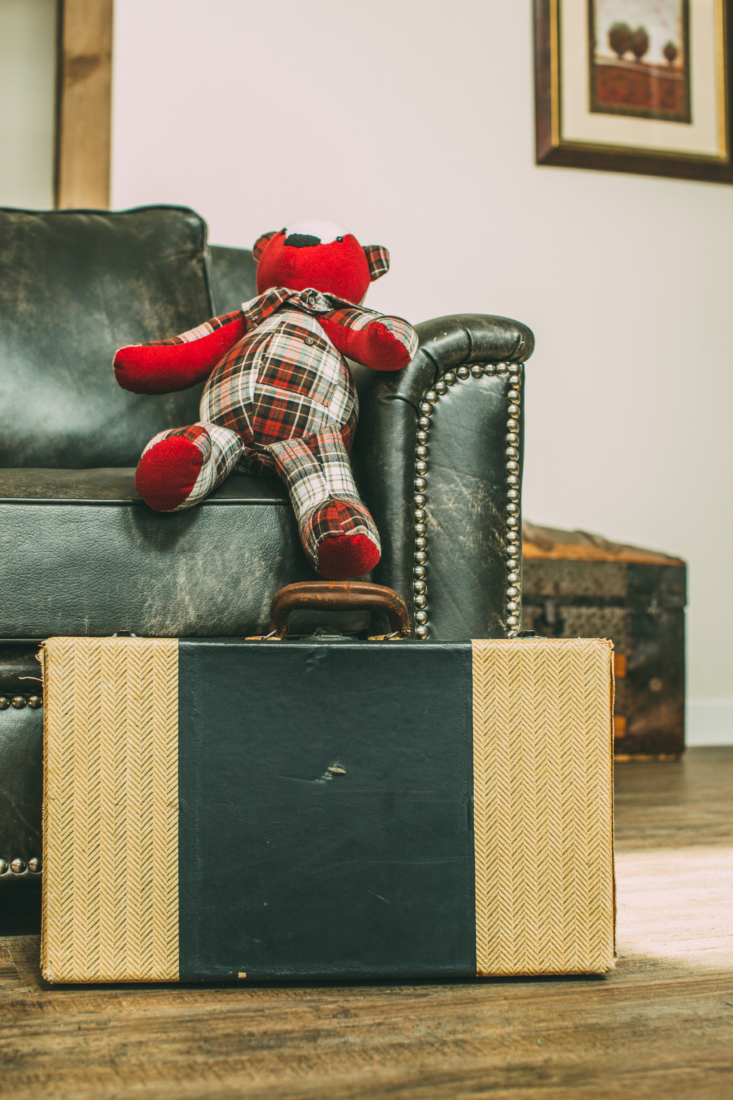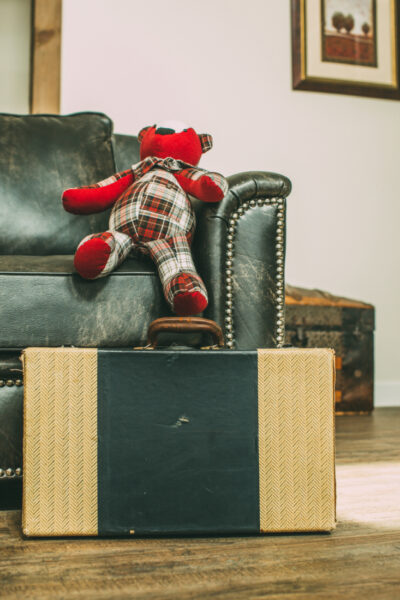 Oh, and if that didn't make you teary-eyed, the bear above the suitcase is also a Christmas gift from my Grandma Puls. She had each of us grandkids a bear made out of shirts that my late Grandpa Puls loved. I knew what the bear was right away after opening the box, as I remembered him wearing this red flannel shirt all the time when we were growing up.
Lastly, shout out to my husband for picking up this wooden sign at a shop called Amaze & Grace in Appleton, WI. It's so cool! This sign is made out of barn wood from local farms, and came with a little story about the old barn wood it was built from. (Similar options online, here.)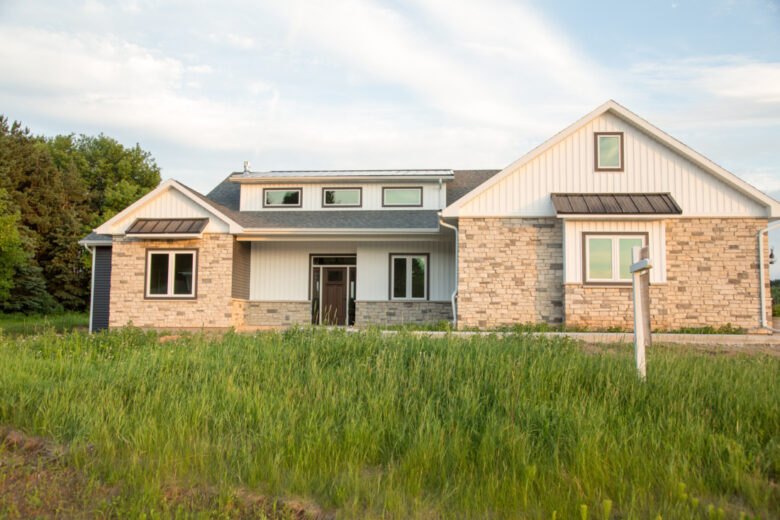 Thank you so much for reading through this post! I'm excited to share new home finds with any readers our there who are interested. As I mentioned, it's getting harder and harder to leave each time…especially, as I'm sure you can tell, our families and friends are incredible!
I'm looking forward to doing some more organized home decor posts in the future!
*Disclosure: some of these links are affiliate links. Meaning, if you click a link and make a purchase, Have Clothes, Will Travel gets a very small commission at no extra cost to you. Thank you for supporting the brands that make this blog possible! I am also a participant in the Amazon Services LLC Associates Program, an affiliate advertising program designed to provide a means for us to earn fees by linking to Amazon.com and affiliated sites.
*Thank you to Displate, Shopping Links, Tommy John and California Design Den for partnering with me for this post.