The Best Dog Christmas Gifts That You & Your Pup Will Love!
Are you one of those crazy pet parents who buy their dog Christmas gifts? I absolutely am. (Don't worry, Miss Kitty gets Christmas presents too!) Our pets are our children, so it's always fun to open up gifts with them on Christmas morning. Heck, this year my husband and I agreed to not buy gifts for each other and instead, only get the pets gifts as well as donate to our local animal shelter.
A few of the things on this list I already have and use for our pup, Buddy, and some are things he's getting for Christmas or in the future. These are going to range from fun and wacky to practical and useful things to get your pup! I would love to hear what you get your dogs for Christmas in the comments!
*Disclosure: some of these links are affiliate links. Meaning, if you click a link and make a purchase, Have Clothes, Will Travel gets a very small commission at no extra cost to you. Thank you for supporting the brands that make this blog possible!
The Best Dog Christmas Gifts That You & Your Pup Will Love!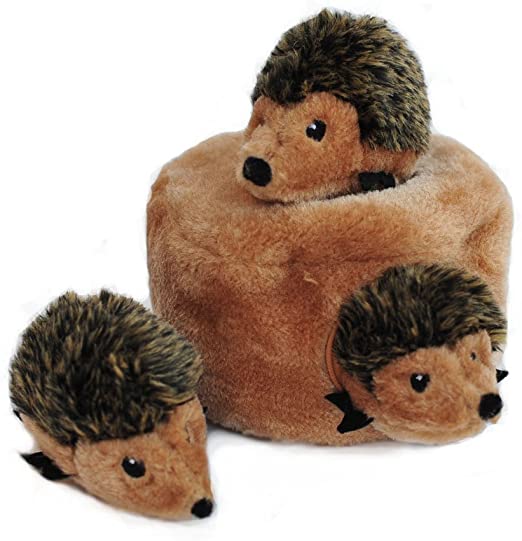 Hedgehog Den Toy – Awesome for Smaller Dogs or Even Cats!
Buddy already has this hedgehog den, and it is his absolute favorite toy. He's getting another one for Christmas, though, because he's nearly destroyed all of the little hedgehogs with his baby teeth! My mom's pup, Bosco, is obsessed with this toy too. My mom says he carries around his little hedgehogs like they're his babies. Even my mother-in-law's new kitten plays with this toy, haha. It is way too cute.
Needless to say, if you have a smaller dog or playful kitty, this is the BEST toy on the planet. (It's too small for my mom's lab, Buck, to play with, though.)
Paws & Pour – A Gift For YOU and Your Pup (or Cat)!
I almost died when I came across this gift box, haha. It's a seasonally-themed box that comes with gifts for both human and dog to help create a "date night" to remember. It seriously comes with a bottle of Dog Wine – which is a doggie delicious, healthy (nonalcoholic) drinkable treat for your dog, yummy doggie hors d'oeuvres, and a festive dog toy. For the loving human, they send additional eclectic items to help create the perfect "date night."
With the way the holidays are looking this year, having a wine and movie night with my dog sounds absolutely perfect! Anyone else with me?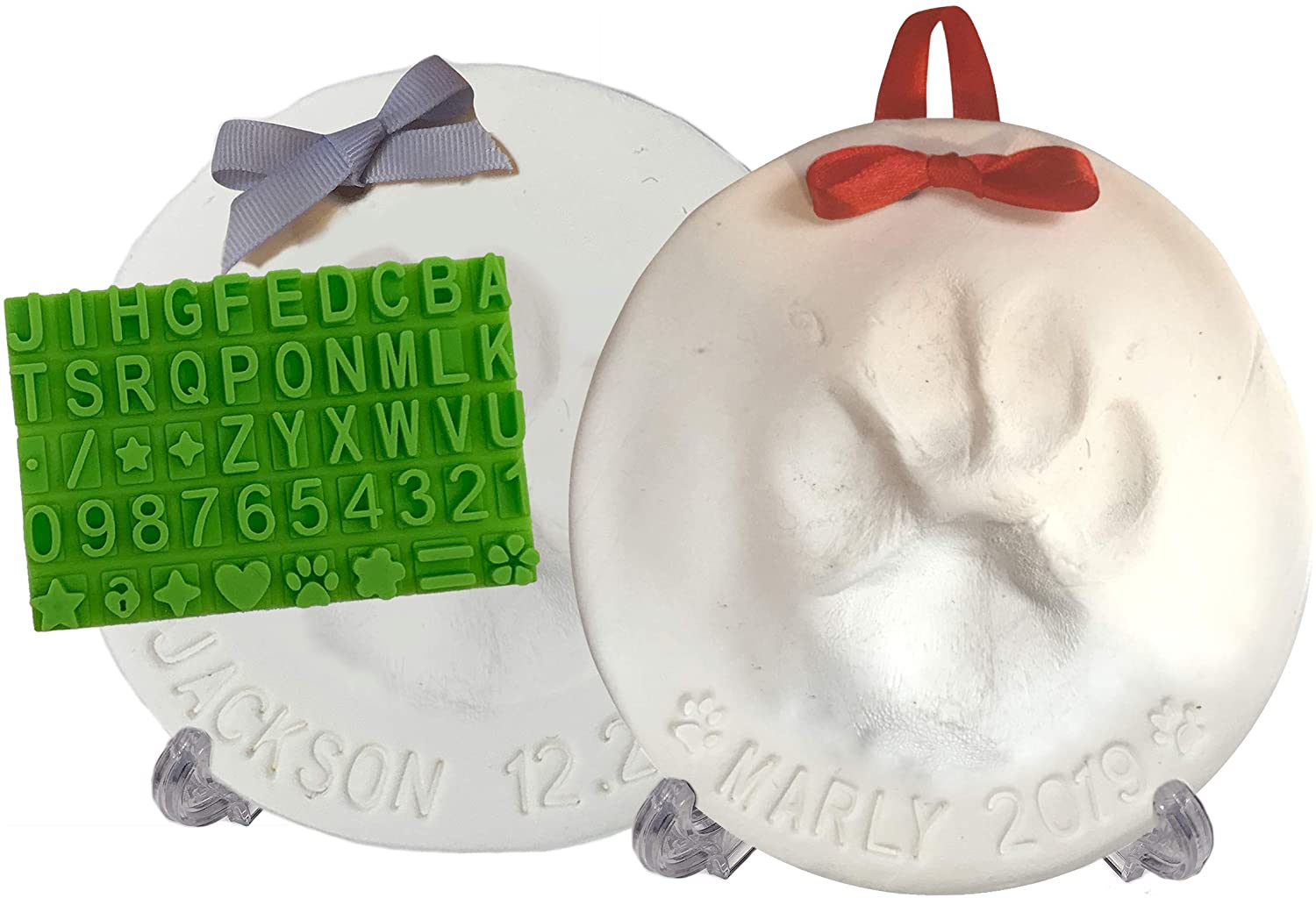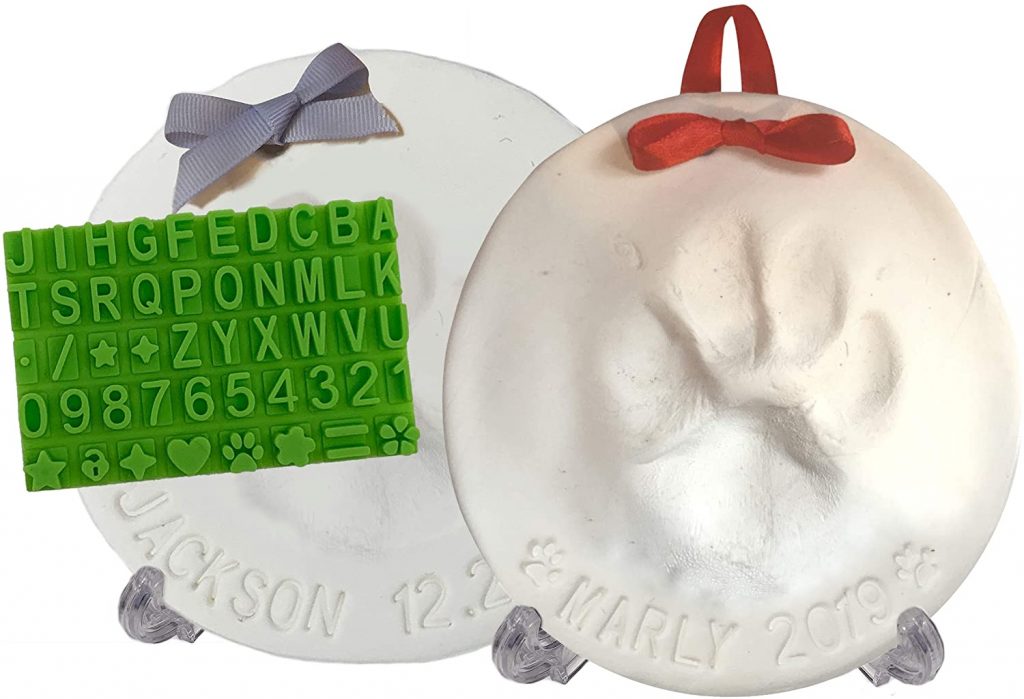 Ultimate Pawprint Keepsake Kit (Makes 2) – Great for sentimental dog parents. 🙂
I got this Christmas ornament kit for my mom, grandpa, brother and myself last year for Christmas. It was SO fun making ornaments with all the dogs! These kits were super simple too. Just make sure you press hard – especially with the letters.
Aren't they cute?! I loved decorating our tree with Buddy's little paw ornament this year!
Silver Honey Hot Spot & Wound Care – Perfect Practical Stocking Stuffer!
You can never be too prepared, especially if you have a puppy as active as Buddy! Silver Honey is a great antimicrobial wound & hot spot ointment. They also carry a spray gel that works great too. It helps with any doggy skin irritations, nicks, cuts, burns, hot spots, etc.
I even used it as a hand lotion for myself the other day. It was crazy how much it smoothed out my dry winter hands!
Click here to shop Silver Honey Hot Spot & Wound Care.
K9 Sport Sack® Trainer – Great for Active Humans!
The idea for this gift came from my mom and stepdad who like to go snowshoeing in the winter with their pups. Now, their big black lab, Buck, loves to run through the snow with them when they go. But their little Shiz Tzu/Bichon pup can't make it through the deep snow. So, they put him in a backpack when they go, and he LOVES it.
Now that we're home in Wisconsin and have Buddy, who's even smaller than my mom's pup, I plan to go snowshoeing with him too! And he's going to need his own backpack for these adventures. I just got this backpack in the mail a couple of nights ago!
The backpack is fantastic and works perfectly! We have some work to do with getting Buddy used to being put in the backpack, though. However, once he's in it, he doesn't mind it all. I'm excited to get some snow now!
Healthy Treats – Perfect for ANY Dog (and Even Cats)!
These protein chips by New Road are Buddy's absolute favorite treats! He will do anything for these things…such as let me dress him up as a velociraptor for Halloween, haha. My mom had also introduced me to these treats because her dogs are in love with them too. I even let Miss Kitty have them too, and she loves them.
I don't feel bad about giving these treats to our pets either because they're made using 100% human-grade ingredients and delivered to your door just days after they've been baked.
Petkit Automatic Food Dispenser – Cool Idea for Cats & Dogs!
This is quite the food dish… and it's a gift I really want to get this year! It automatically feeds your pet according to the schedule you set, or you can also use its instant feed function, which allows you to immediately feed your pet from anywhere in the world. It's controlled by an app that's available for both Apple and Android. It also has a silicone ring seal and a replaceable moisture-proof desiccant box inside to keep your pet's kibble fresh 24/7, while the dispenser locking mechanism ensures they cannot sneak any extra kibble!
I like this idea because it would keep Buddy on a more regular feeding schedule. My husband and I get caught in meetings sometimes, and Buddy might not get fed at his normal times throughout the day… this a great way to ensure he's getting fed on a set schedule AND he's getting the right amount of food each time.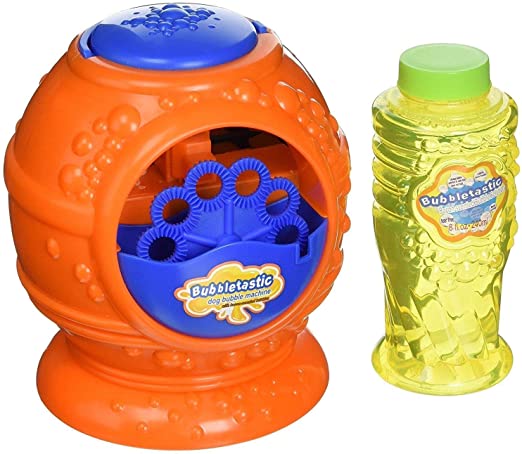 Bubbletastic Bacon Bubble Machine for Dogs – Provides Endless Entertainment for YOU and Your Pooch
I love that something like this exists, haha. This bubble machine blows bacon-scented bubbles that are non-toxic and tear-free. So, it's safe your pup and your kids. This is something I'll be getting next summer for Buddy – I can't wait to see him in action in the backyard!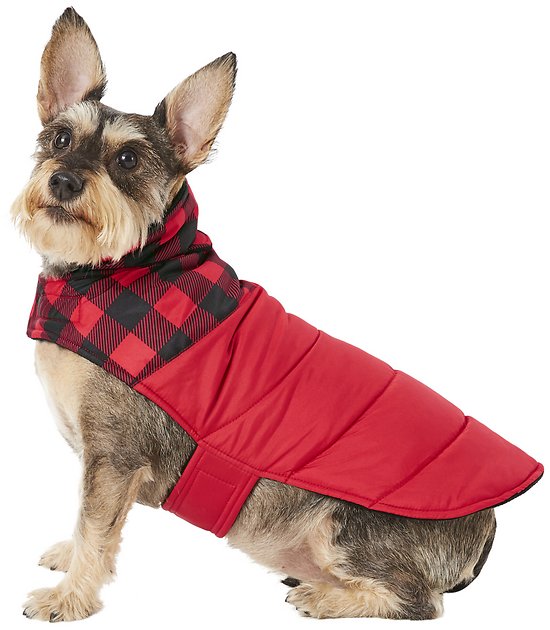 Insulated Dog Puffer Coat – For Pups in Cold Climates
I know a lot of people think clothing for dogs is ridiculous… but for smaller dogs or dogs who don't have very thick fur and live in as cold of a climate as we do – sweaters and coats can be great! Buddy has a couple of little sweaters now, but I'm thinking this would work better for him in the snow this winter, as this one is water-resistant and also has a covered leash hole.
Magical Sleigh Ride Santa Dog Bed – For Small, Festive Doggos
This is just too cute of a dog bed for Christmastime! Why not give your furry friend a cute and festive bed for the holidays?! While this is a bed for smaller dogs, there are some cute and festive dog beds for larger canines, too.
Click here to shop this dog bed from Petco.
Click here to see the latest coupons and sales at Petco.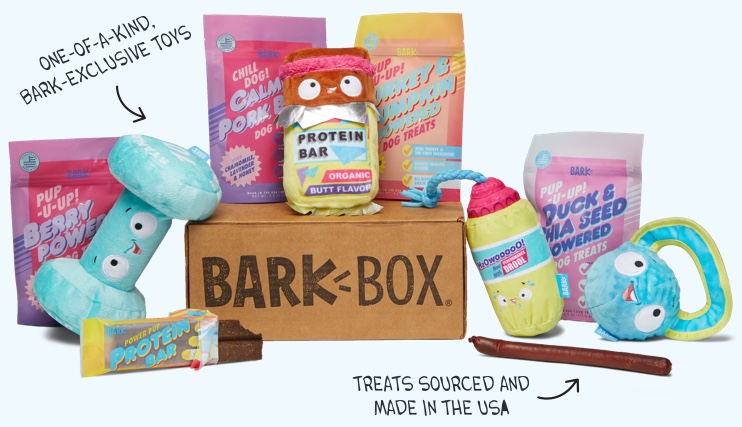 BarkBox Toys and Treats Subscription – Perfect for All Dogs!
BarkBox is a monthly surprise of dog toys, treats, and goodies! Every BarkBox has 2 innovative toys, 2 all-natural bags of treats, and a chew, curated from each month's unique themed collection.
I haven't tried this for Buddy just yet, but I do think it will be fun to get this winter for him!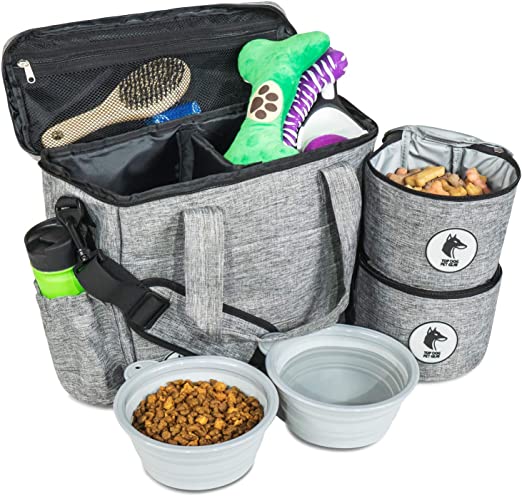 Top Dog Travel Bag – Awesome for Families on the Go!
After taking Buddy on a couple weekend trips with us, now… I am convinced we need to get him his own bag for traveling. I love that this one comes with little food storage containers and collapsible dog bowls. Plus, it's airline-approved! (Update – we did get this for Buddy, and it works great!!)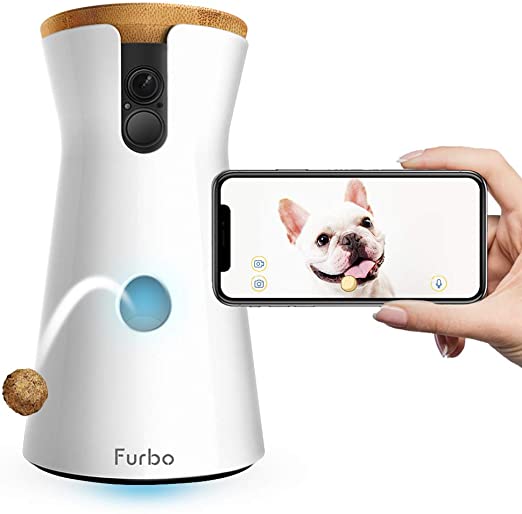 Furbo Dog Camera: Treat Tossing, Full HD Wifi Pet Camera and 2-Way Audio
Right now, with both of us working from home and rarely leaving, Buddy isn't left by himself too often. However, if we ever leave our house again… I want to get him one of these cameras! It's a full HD camera that has night vision, so you can monitor your dog from your phone day and night. It also will send you push notifications when your dog is barking, so you can talk to them to calm them down…AND it tosses treats! You just have to push a button on the app!
Wisdom Panel Essential Dog DNA Test – For Mixed Breeds
So, Buddy was a stray, and we have no idea what kind of dog he is. We have plenty of guesses, but we don't know for sure. I thought it would be so fun to do a DNA test with him to see what he's all mixed with! Wisdom Panel was highly recommended by friends and family to me. So, I ordered it and sent off Buddy's cheek swabs to see what kind of dog he is.
Unfortunately, I didn't do the greatest job of swabbing Buddy's cheeks, and Wisdom Panel couldn't find out what he is. However, they sent me ANOTHER kit for FREE, so I could try again. I'm so excited, and also very impressed with Wisdom Panel for not letting me hang – even though I screwed up his cheek swab!
*Update: I was much more successful with the 2nd test and got Buddy's results within 2 weeks! It was so cool to see all the different breeds he has in him!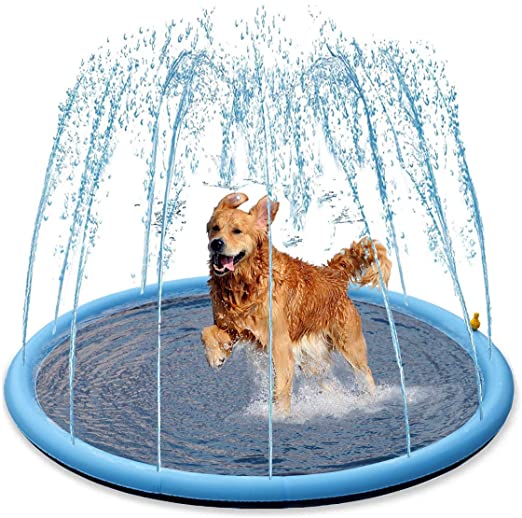 Splash Sprinkler Pad for Dogs – For Pups Who Love Water!
I'll be getting this for Buddy to use this summer! It's a fun alternative to a traditional kiddie pool, that I think my little nephew will enjoy as well.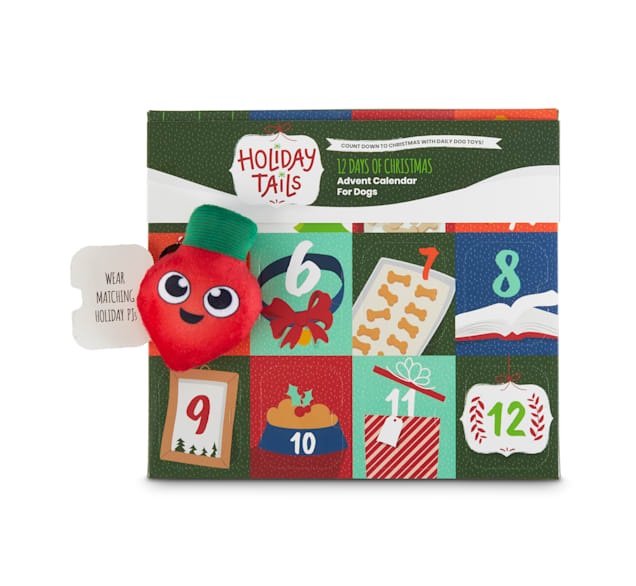 12 Days Of Christmas Advent Calendar For Dogs
The Holiday Tails 12 Days Of Christmas Advent Calendar For Dogs treats your pooch to daily holiday festivities and seasonally inspired toys while counting down the days to Christmas. Simply fold open the day's door to reveal a fun activity and a yuletide surprise as you celebrate the most wonderful time of the year together. 'Tis the season to spoil your pup!
If you haven't quite found what you're looking for on this Christmas gift list, I recommend checking out the following online shops for even more ideas!
*Disclosure: some of these links are affiliate links. Meaning, if you click a link and make a purchase, Have Clothes, Will Travel gets a very small commission at no extra cost to you. Thank you for supporting the brands that make this blog possible!