I recently had the opportunity to try a new-to-me clothing website called Ever-Pretty. They sent me two dresses to try for this Ever-Pretty dress review.
Personally, I was rather skeptical. The website seemed like any other overseas clothing company that deals with lower quality clothing. However, I've had great luck ordering from different overseas companies in the past… So, I decided to give it a go!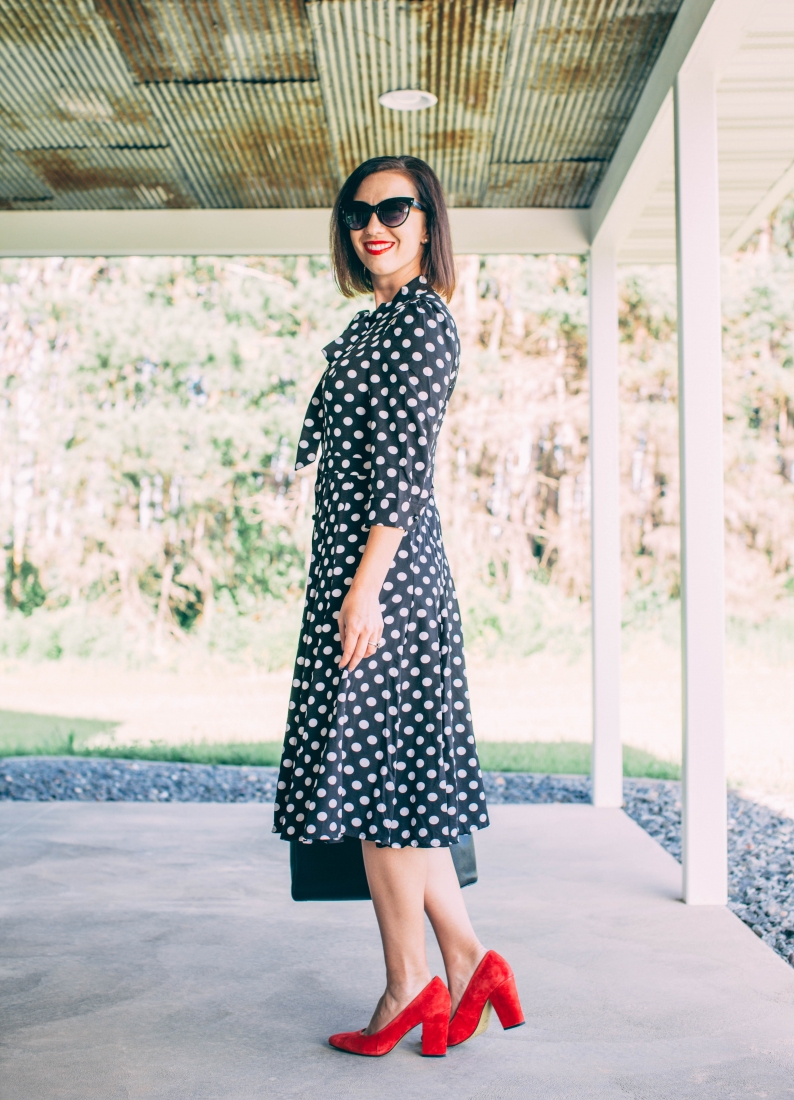 This post will be my honest review of the clothing pieces I received from Ever-Pretty – but please note, I have only worn each item of clothing for a short period of time, so I can't attest for the durability of the clothing just yet.
*You can get 15% off an order over $50 on Ever-Pretty with code: Clothes15.
Ever-Pretty Dress Review (V Neck Fit and Flare Party Dress)
The first dress I received is this pretty v neck fit and flare dress. I could picture wearing this for a holiday party or a dressy date night with my hubby.
Quality
Looking at this dress on Ever-Pretty's website and its relatively low price tag, I didn't expect this dress to be of high quality. However, this dress is very well-made, and I don't think anyone would know that you spent less than $40 on this dress!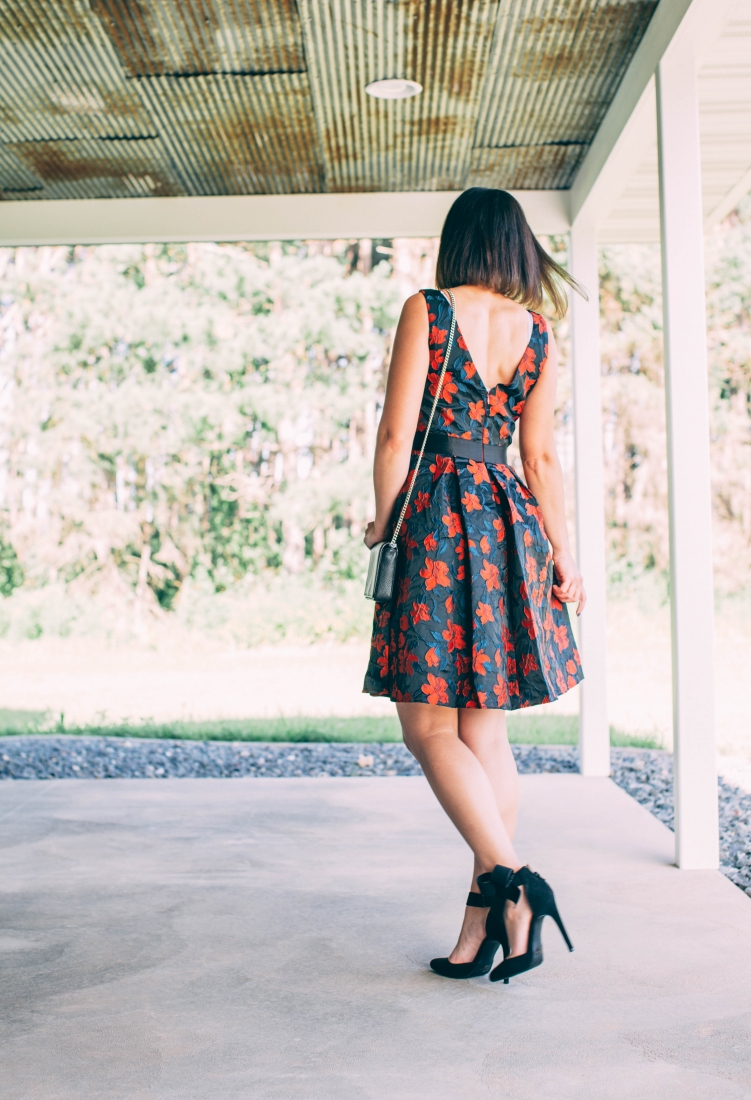 Shipping
Shipping took a little under 2 weeks to reach me. Shipping is free if you order from their UK website and if you spend over 20 pounds. Shipping is also free on their US website if you spend over $30. (This is a new update! Before, this only applied to their UK website!) If you don't meet the minimum, though, on their websites for free shipping it can get pretty pricey!
Sizing/The Fit
For this dress (and the other dress I received as well), it was true-to-size. I ordered my normal size 6, and it fits like a glove! Normally, when ordering from overseas companies, the size chart is all over the place. However, Ever-Pretty's size chart is relatively "normal."
*NOTE – if you order from the UK site, then the sizes are in UK sizes.
This dress is structured too, so you could get away without wearing a bra with it. The bodice does have some padding and a little support. I always feel so exposed not wearing a bra with a dress, though, even if I technically don't need one. With a little finagling though, this dress can be worn with a normal bra too.
Final Verdict on this Dress
I am surprised by how well I liked this dress! It's actually nicer looking in person than it is in pictures. It also looks far more expensive than it is. My husband is a big fan of this dress as well…although, I'm a little uncomfortable with how low cut it is – I don't normally wear clothes that are quite so revealing. However, for a holiday party or a nice date night…I think this dress would be perfect!
Note about my accessories…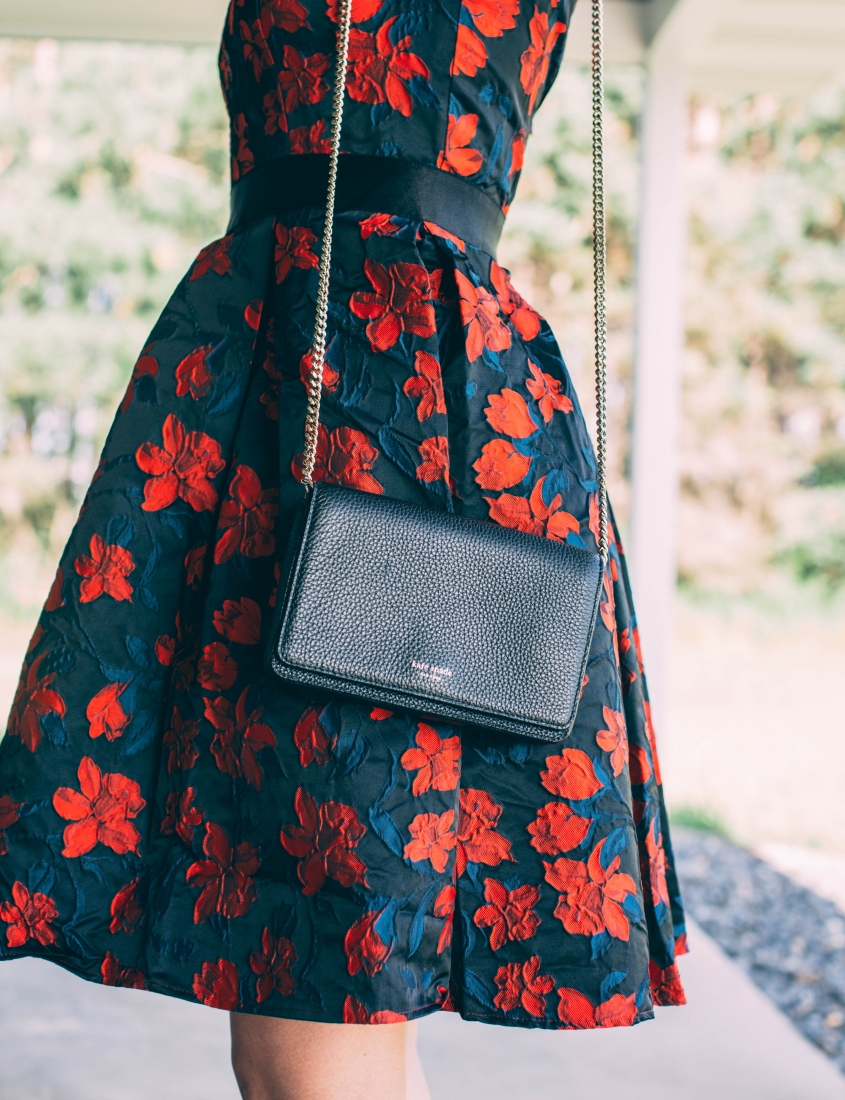 Bag
Ok, I went a little nuts in the last Nordstrom Anniversary sale, and I just wanted to give a shoutout about the products I scored! First up, is this cute little Kate Spade crossbody. I honestly wasn't going to keep this bag, as I had ordered two bags in this sale and told myself I was going to choose between them…alas, though, I liked them both so well that they're both staying! (The Nordstrom Anniversary Sale is dangerous!)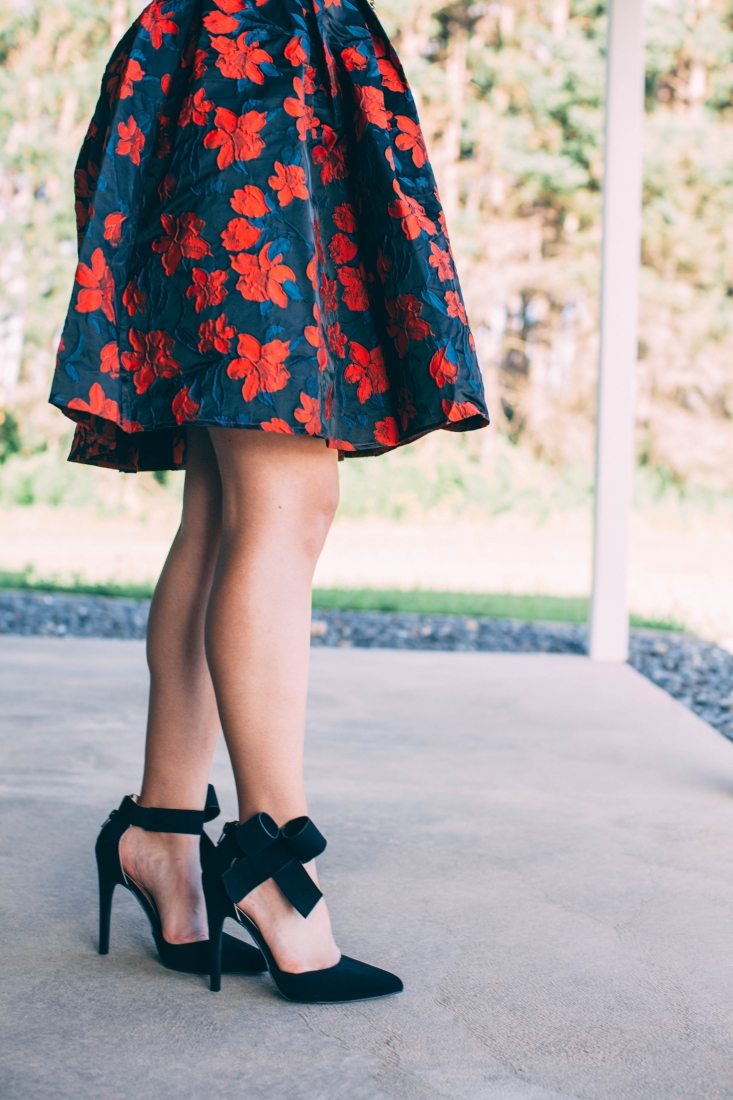 Pumps
I've had these black bow pumps for years, and I go in streaks of wearing them with everything and then not wearing them for a year at a time. Right now, I'm on one of these streaks where I want to wear them all the time! They're not the easiest to walk in, given that the heel is about 4 inches tall. However, they're surprisingly not too uncomfortable despite the high heel. They also work with my wide feet, which is always a rare find with any kind of shoe!
Where to find it:
Dress c/o* (US website, here) | Bag | Pumps
Ever-Pretty Dress Review (Alisa Pan Long Sleeve Wear to Work Midi Dress)
The next dress I received is this adorable, polka dot midi dress. This dress was a fall back choice after the original dress I had picked out sold out before I could get it. I'm so glad that happened, as this dress is SO much cuter! I had strangers coming up to me talk to me about this dress, and how lovely it is while I was out and about wearing it.
Quality
Again, photos don't do this dress justice. It is a perfectly fine quality dress. I have a dress from Nordstrom that is double the price of this one, and it's almost identical in quality.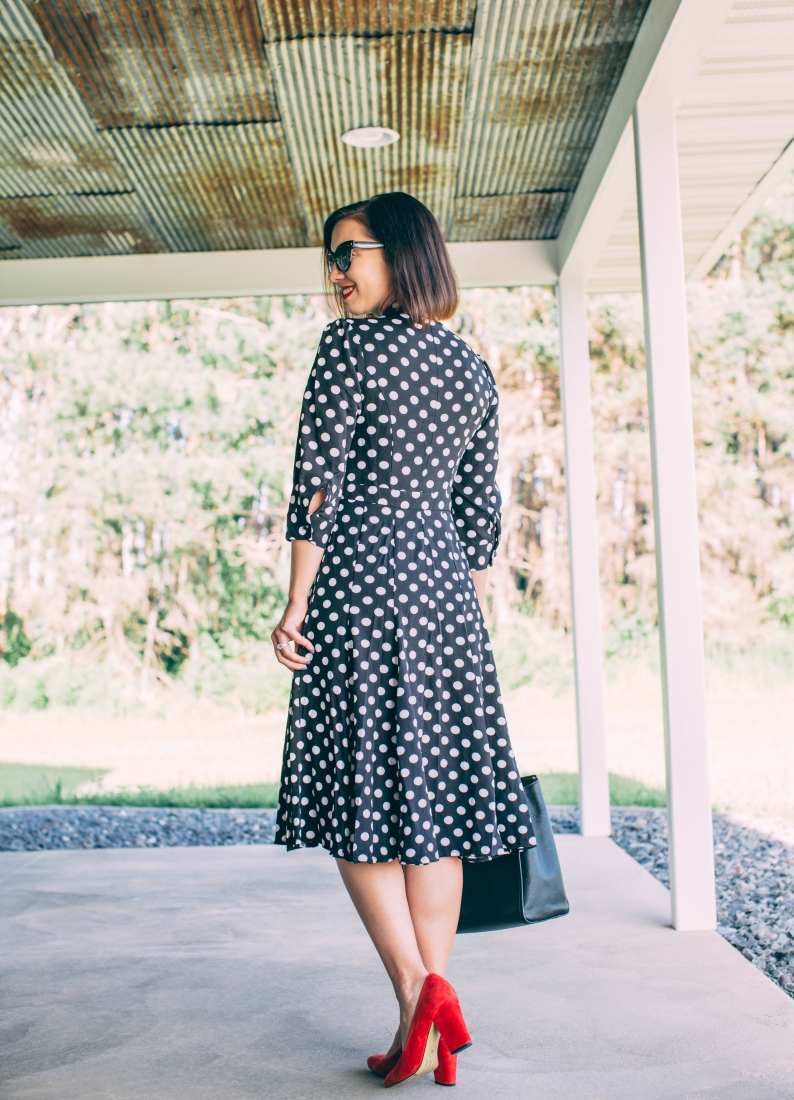 The Fit/Sizing
My normal size 6 fits perfectly, and it is SO comfortable to wear.
Final Verdict on this Dress
I am so in love with this dress! I wore it 3 days in a row after it arrived, haha. I love the way it looks with my new red pumps. I also wore it with black flats and a pair of black sandals, for a more casual look the other day. This dress alone has sold me on Ever-Pretty!
Note about my accessories…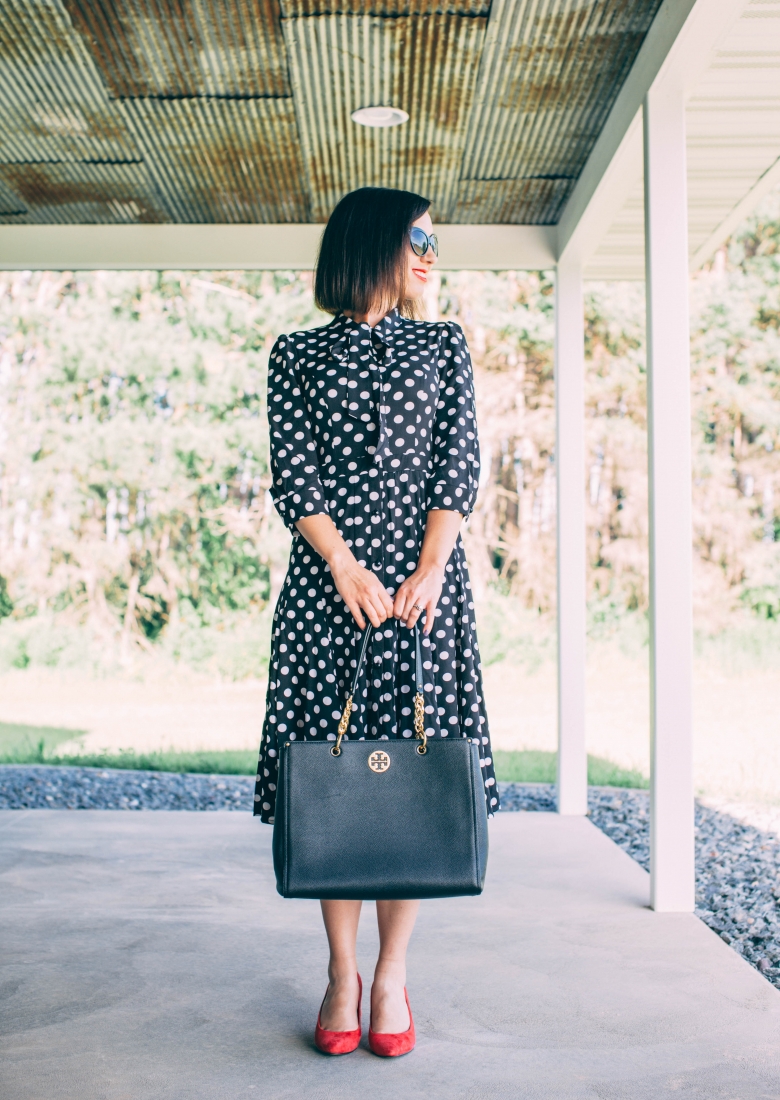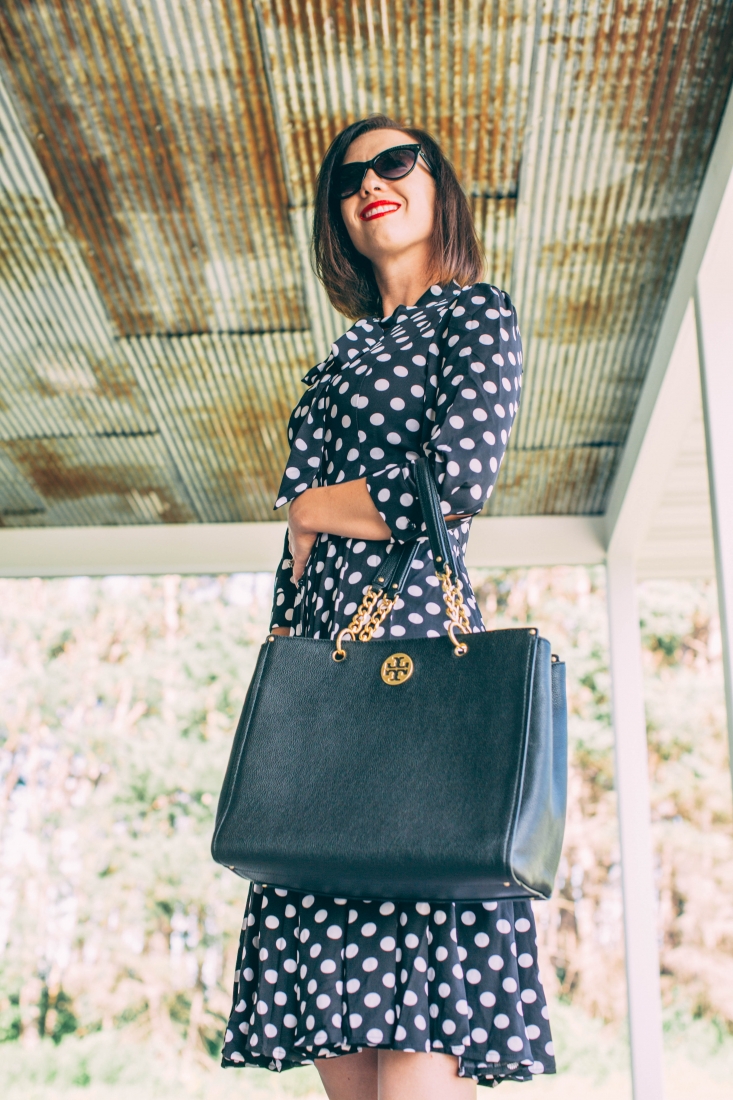 Bag
And here is the other bag I had scored in the Nordstrom Anniversary Sale! Full price, this Tory Burch tote is bonkers expensive, so I waited and waited for the sale to come along before ordering this bag. I'm SO excited about it. It's fantastic, and I love how large it is. I'll be doing a full review of it once I've had a chance to use it more and test its durability.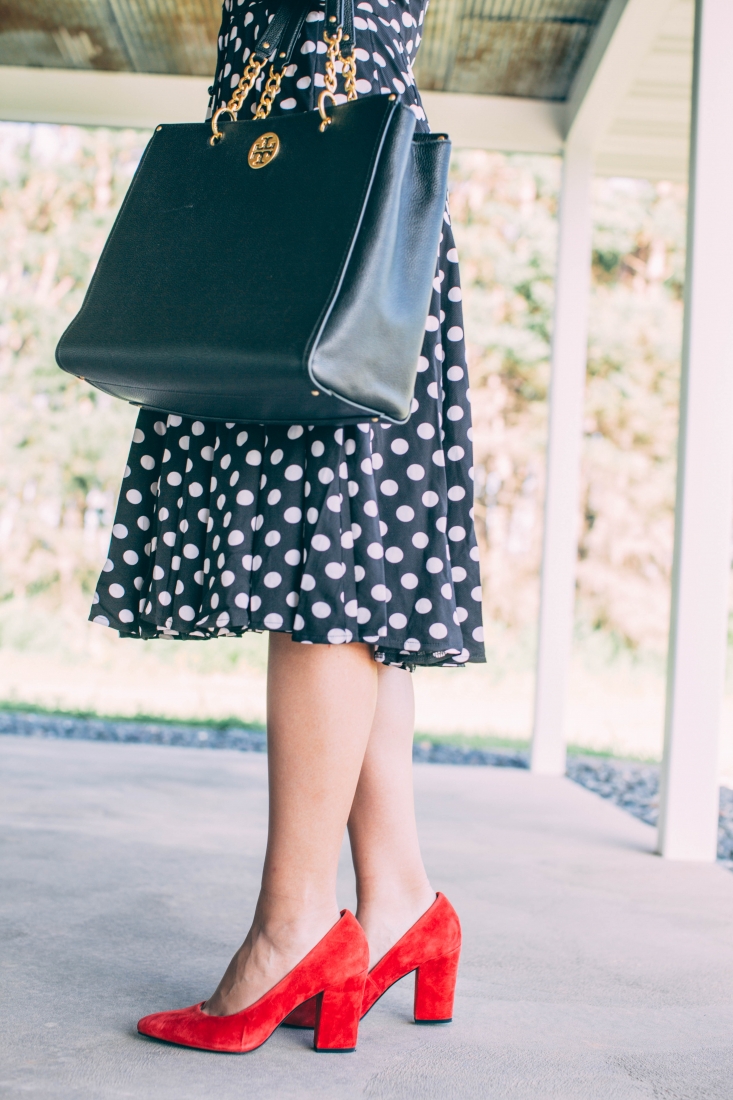 Pumps
I also ordered these red pumps because they went on sale, and my other pair of red pumps had broke on me a few weeks ago. They weren't part of the Anniversary sale – they just happened to be 40% off (and still are)! They are so easy to walk in and comfortable to wear for long periods of time. They also fit my wide feet perfectly – they're almost too big to be honest. I think I'm going to put an insert in them to make them fit a little better. If you have narrow feet, I would size down a half size in the pumps.
Where to find it:
Dress c/o* (US website, here.) | Pumps | Bag | Sunglasses
*You can get 15% off an order over $50 on Ever-Pretty with code: Clothes15.
I'm curious, had you heard of Ever-Pretty before this review? Or have you ever placed an order with them? Let me know in the comments!
Thank you to Ever-Pretty for sponsoring this review post. As always, all opinions are my own, and I am never compensated for a positive review.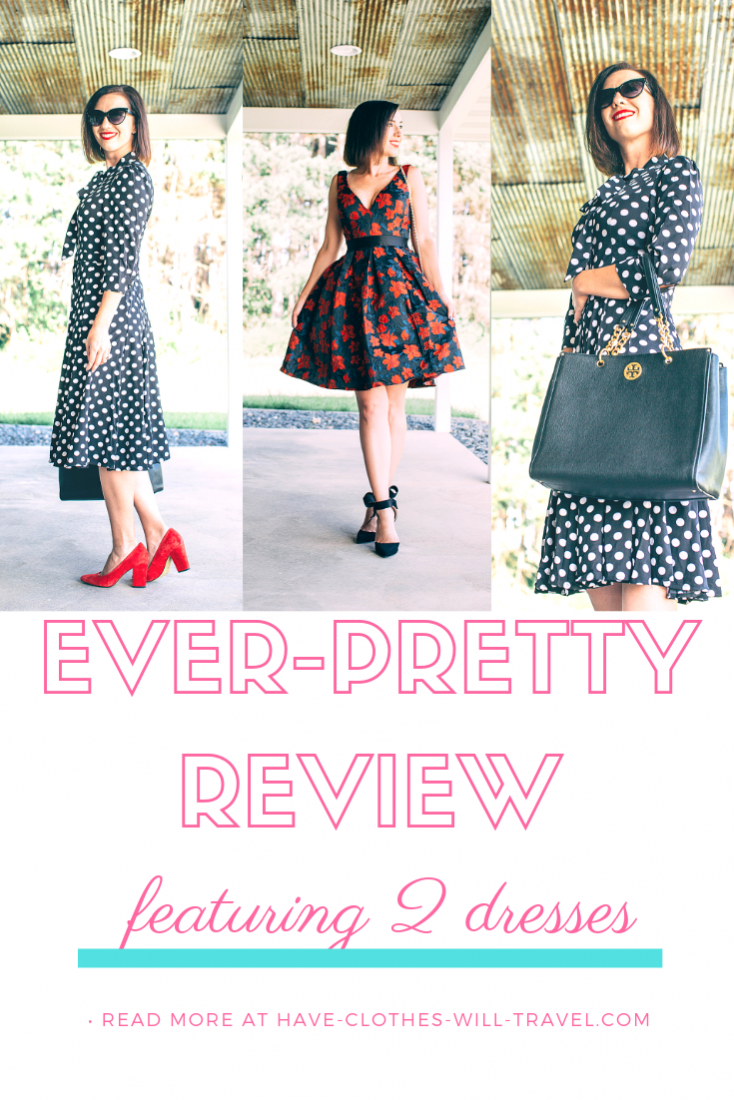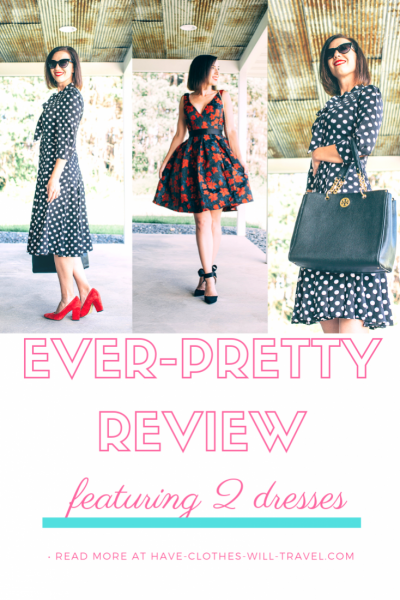 *Disclosure: some of these links are affiliate links. Meaning, if you click a link and make a purchase, Have Clothes, Will Travel gets a very small commission at no extra cost to you. Thank you for supporting the brands that make this blog possible! I am also a participant in the Amazon Services LLC Associates Program, an affiliate advertising program designed to provide a means for us to earn fees by linking to Amazon.com and affiliated sites.
*c/o = courtesy of, meaning the company gave me the product to be used on my blog, and I did not pay for it. All opinions are my own, and I am not being compensated for a positive review.