Fishing in the Amazon Rainforest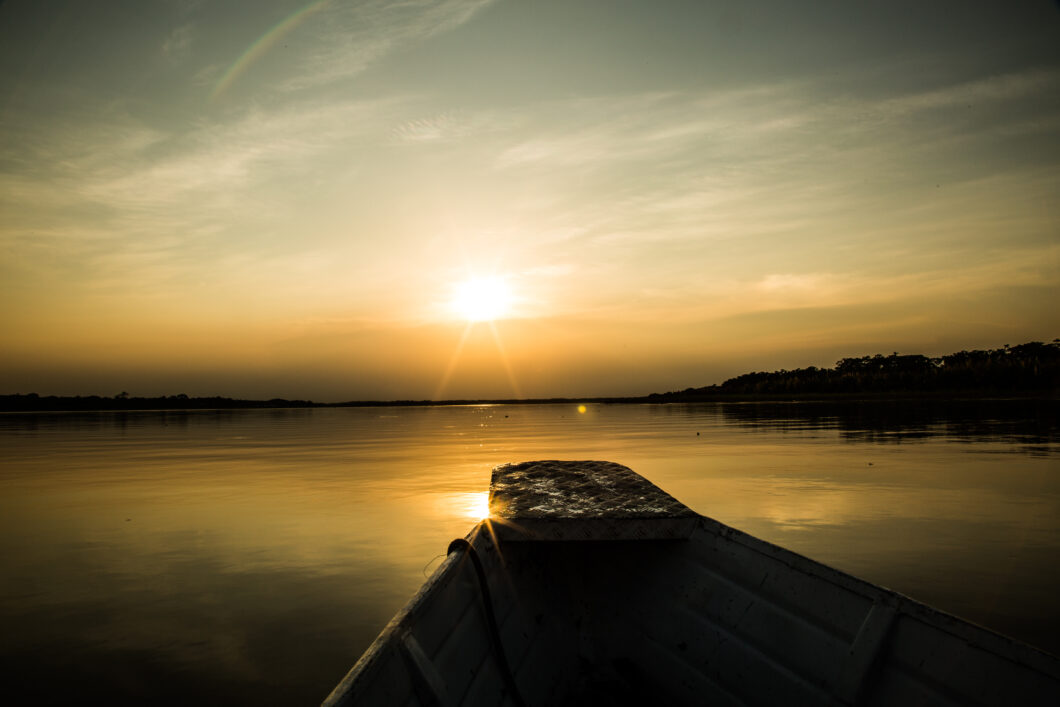 Growing up in a fishing village, the first question my friends and family asked about our trip to the Amazon was "how was the fishing?" Haha. So, here is how the fishing was! (And we were actually fishing on a tributary of the Amazon River – the Yarapa River – not the Amazon itself.) We also ate all the fish we caught…all but one, and you'll see why in a video below. (We had hooked a giant stingray on accident!)
Getting to the fishing spots
Boating through the flooded Amazon Rainforest to get to our fishing spots was a really cool experience. Although, we did get stuck a couple of times, as you can see in the video above and in the photos below. Haha. At one point, I had a real princess moment, and all 3 of the guys had to haul my butt and camera equipment through that yucky part of the river. Thanks, guys!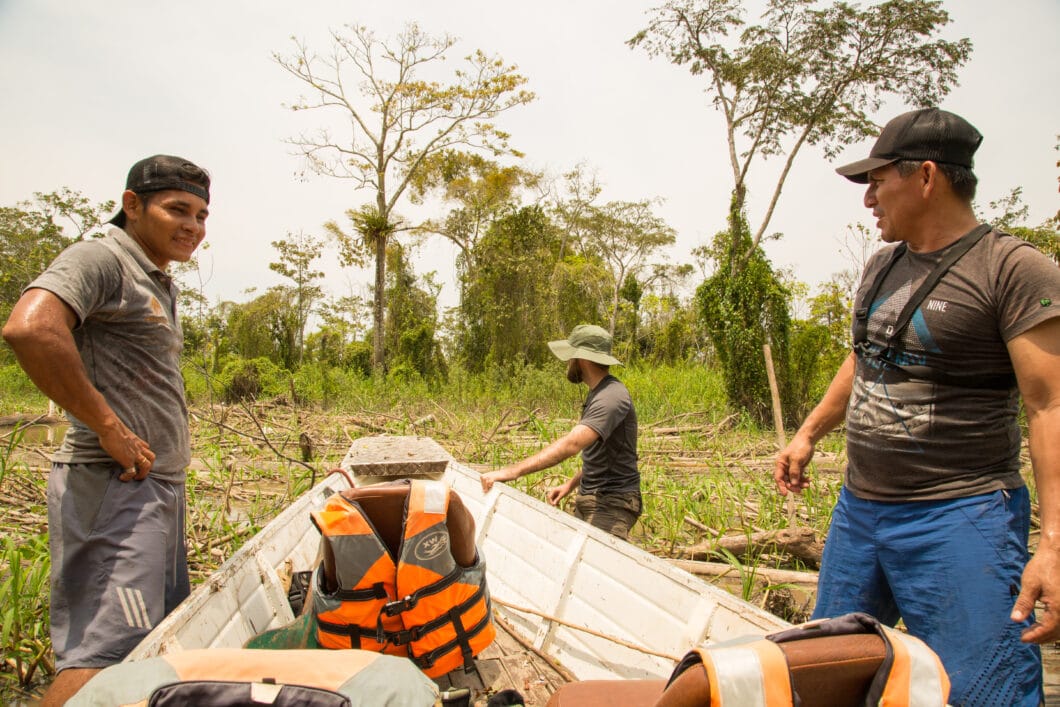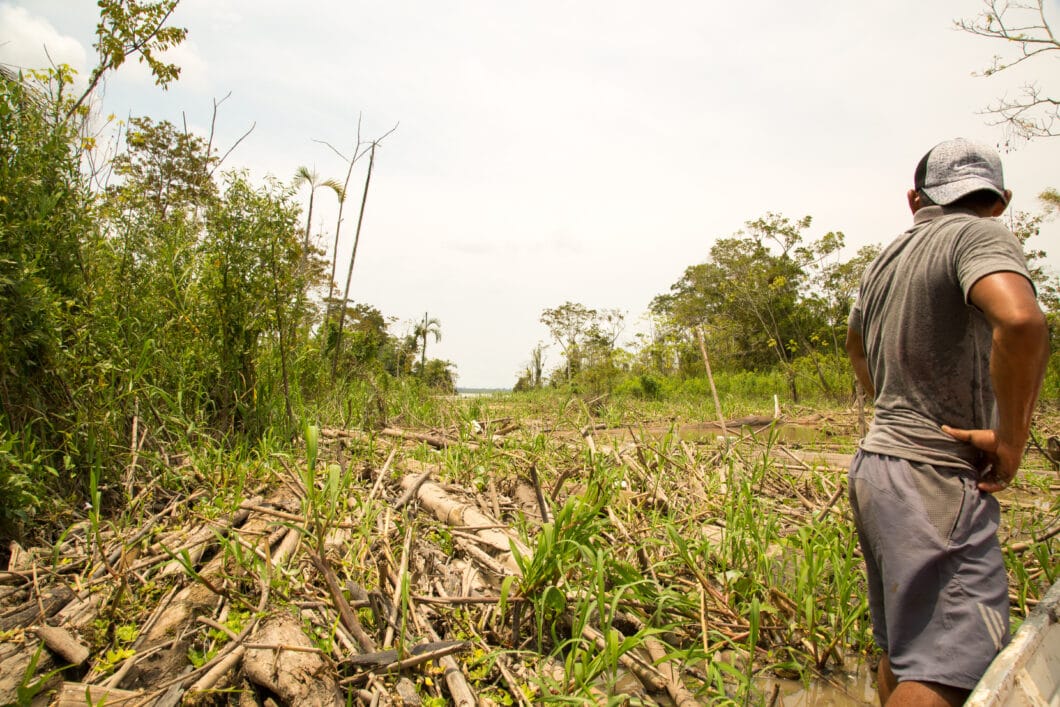 We also hit a very prickly tree that, thank goodness, didn't hit anyone! But it did get a seat on the boat that looked pretty scary.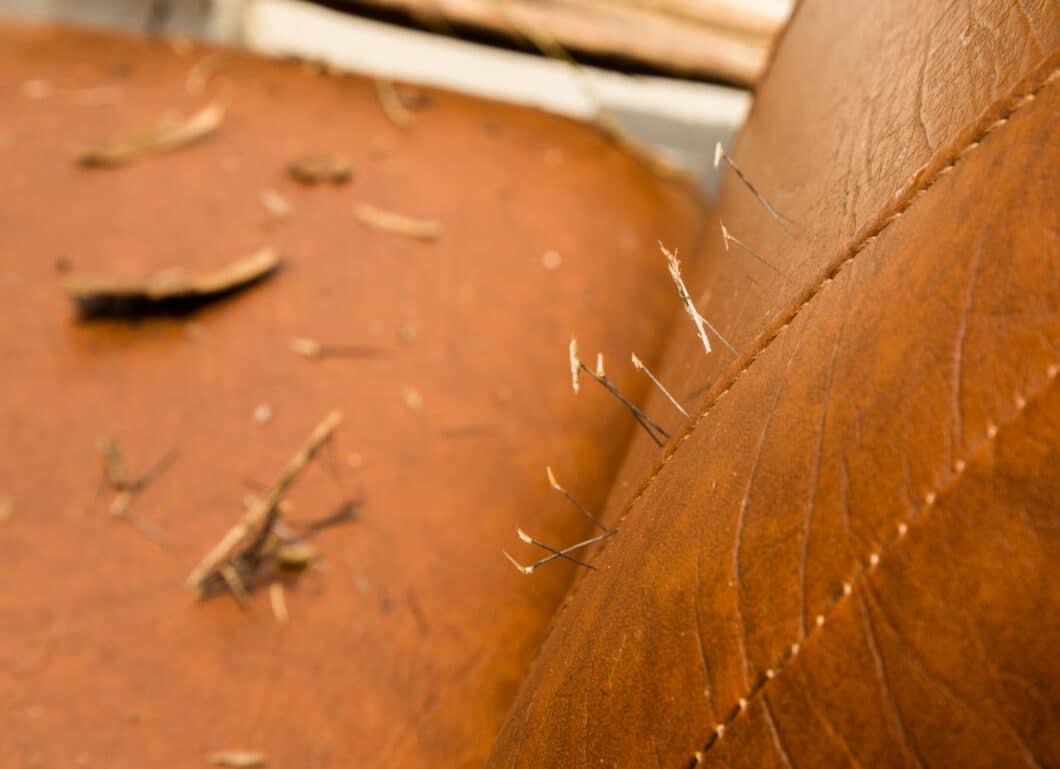 Piranhas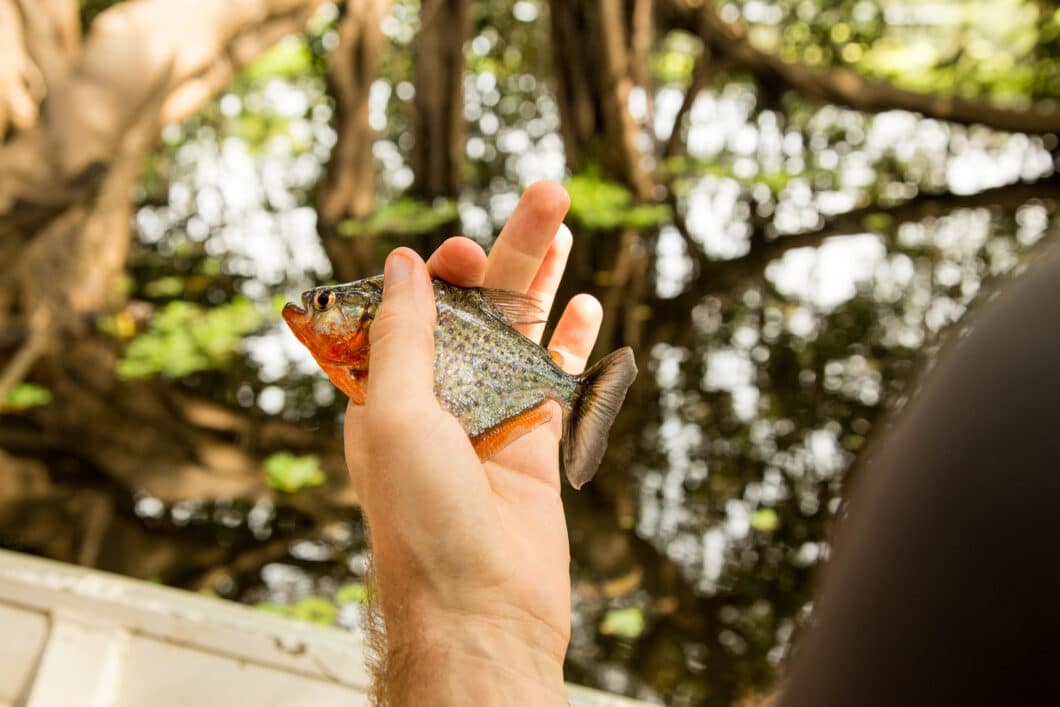 Piranhas turned out to be far more difficult to catch than I expected! To be honest, our guide and my husband were the only ones who caught them! I didn't catch a single one. Hooking them was the tough part…especially because they weren't exactly huge.
Wondering what you use to catch piranha? CHICKEN…duh. Haha.
Catfish
The piranha fishing is what our guide does with most of the tourists who come to the Treehouse Lodge. However, once it became clear we knew how to fish and were curious what else was in the river…our guide revamped our plans for the day and we tried fishing for catfish!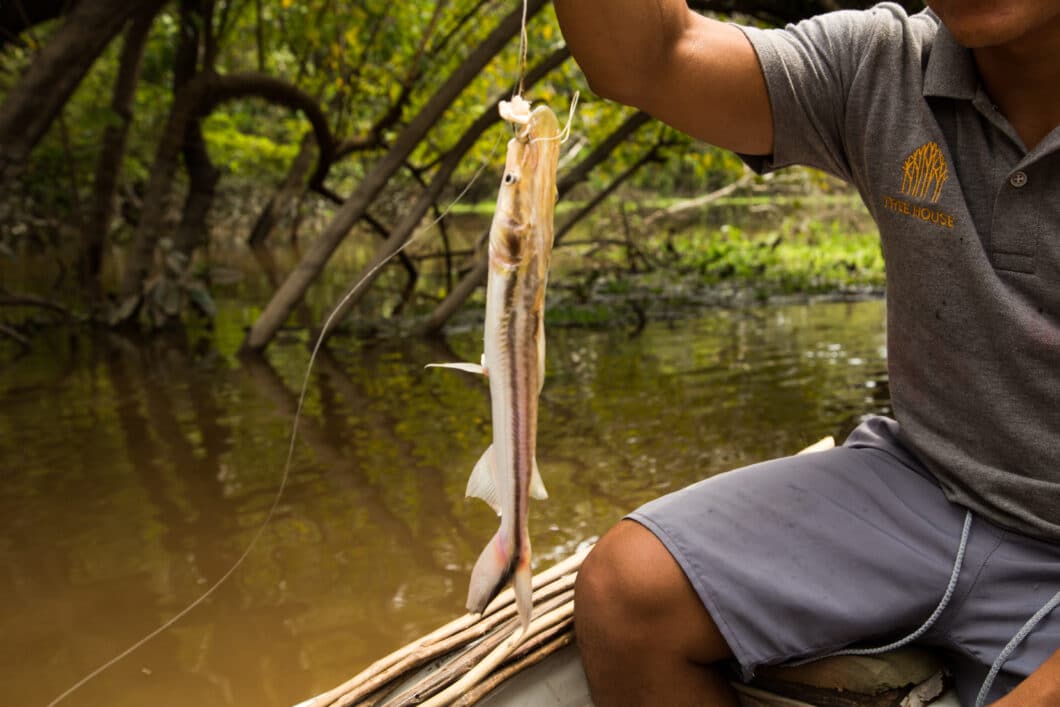 Needless to say our boat driver, Gustavo, and our guide, Orlando, were the only ones who caught any catfish! But it was still a lot of fun. And I had never seen a flat head catfish like this…let alone eaten one!
Giant Stingray!
This was a great big whoops! We had actually been fishing for Giant Piranhas when we hooked this Giant Stingray on accident. It was incredible to see up close, though. And I only just recently learned that freshwater stingrays existed! Also, I had no idea that stingrays also used "spitting" as a defense mechanism! (You can see that in the video above.) And don't worry, it took a little while, but Orlando did get the stingray unhooked without any issues.
Eating our Fish
These aren't the best photos, I do apologize! I'm a terrible food photographer. But we did get to try our piranhas and catfish. And they weren't too bad at all! The piranhas just didn't have all that much for meat on them.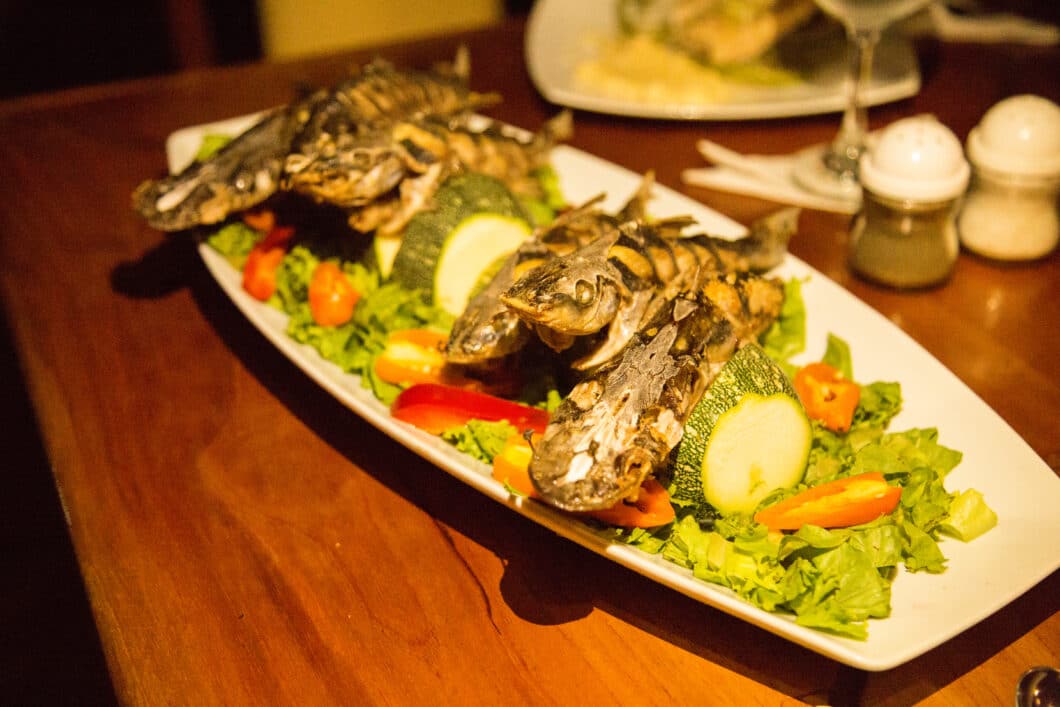 Beauty shots of the Amazon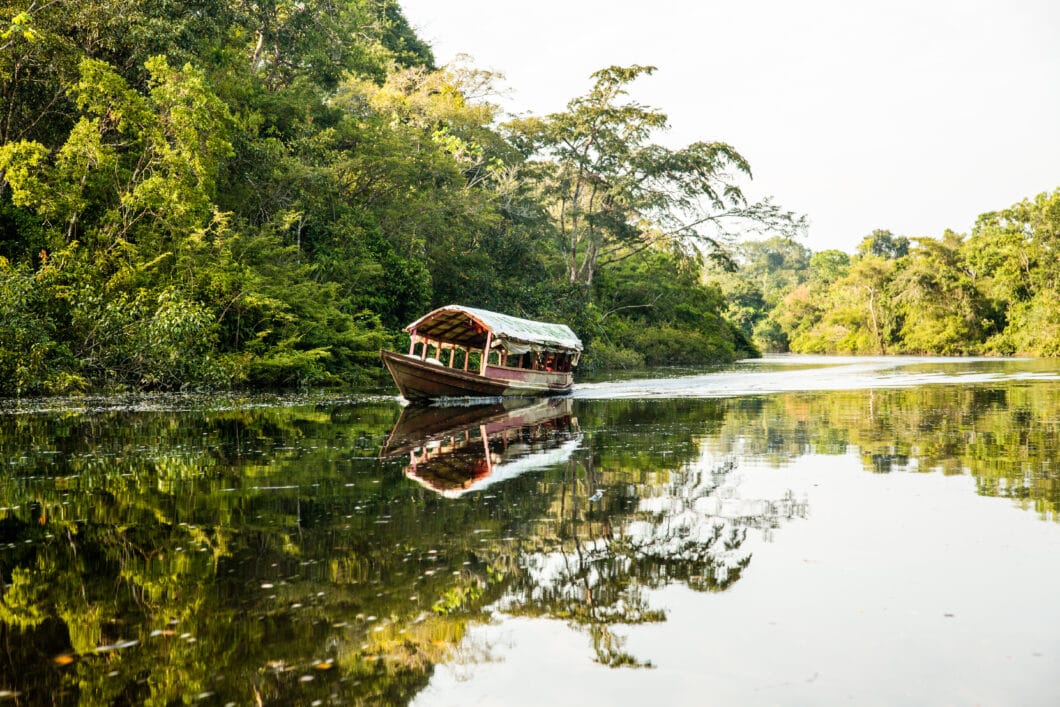 Of course, on our way to our fishing spots (and some detours at my request to see giant lily pads), we saw some beautiful scenery! Enjoy!
Giant Lily Pads
These lily pads only take 6 months to grow! They were so beautiful.
Sunsets
What fish did you like best from the post? And did you know there was such a thing as a freshwater stingray or that you could eat piranhas? (I was surprised!) Let me know in the comments!
Click here to see the rest of my Amazon Rainforest/Treehouse Lodge blog posts.
Travel Insurance
It's a good idea, no matter where your adventure takes you, to have travel insurance. You never know what might happen! Whether you get sick before your trip and can't go, or you become sick or injured while on your adventure – being covered with travel insurance is a must. Some credit card companies do provide this (check with yours), or you can get a free quote from travel insurance companies such as RoamRight to find the best plan for you and your adventure. To get a free quote, click here.
Visa Requirements
To check if your country requires a Visa for traveling to Peru, click here.
Want to Learn Spanish Before Your Trip?
Knowing some basics in Spanish can be helpful for your time in Peru. Try a free 3 day trial of Rosetta Stone (the best way to learn a foreign language) by clicking here.
Independent Fashion Bloggers has featured my Machu Picchu post in this week's Links à la Mode! Check out all the other amazing posts, below.
Links à la Mode, March 15th, 2018