All Hail the A-Line Dress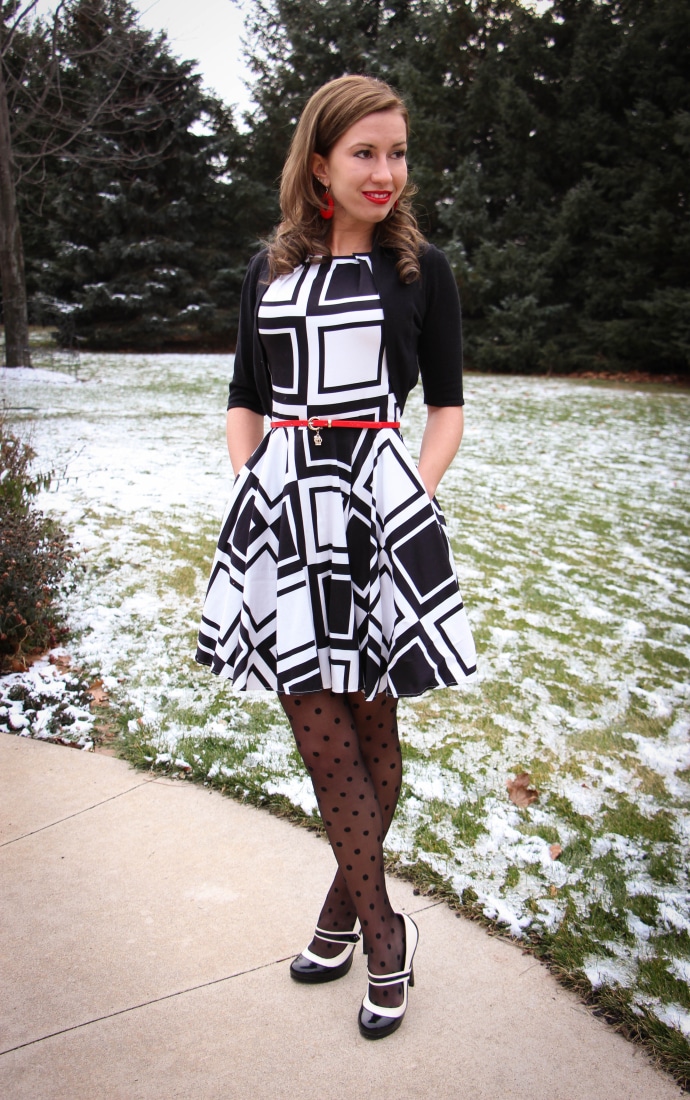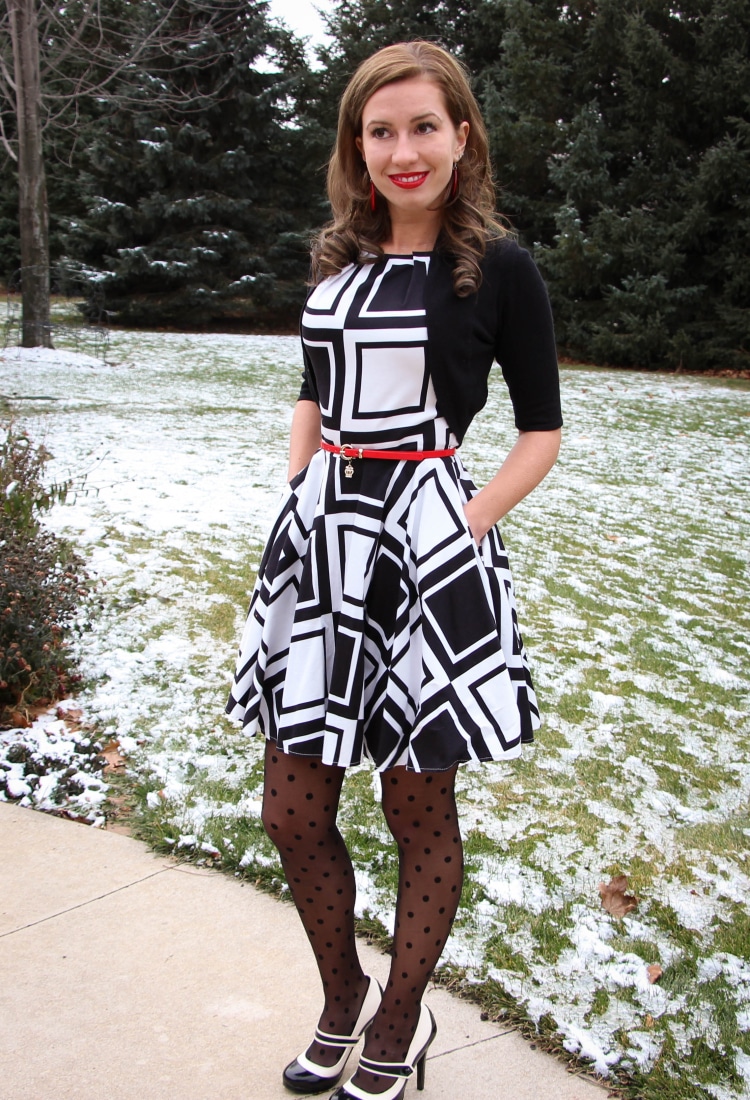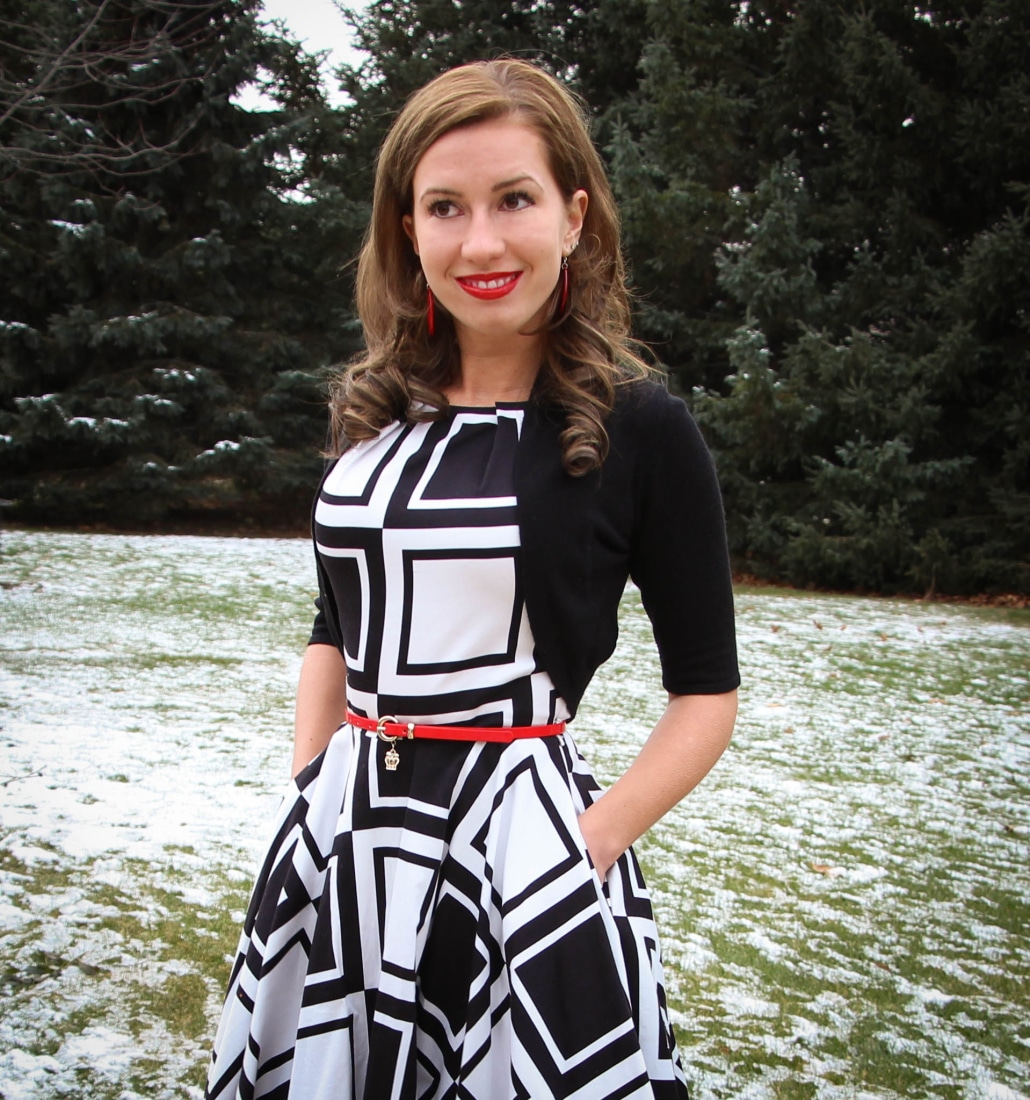 Shop the look:

My go-to style of dress has always been, and will always be the A-line. It's flattering, classy and I always feel comfortable in it. And my go-to colors have always been, and will always be, black and white.
Lucky for me, this dress embodies all of my "go-to" fashion favorites. My husband bought this dress and these cute, retro heels for me for my birthday last year (how lucky am I?). This dress is so comfortable and beautiful! My favorite part of this dress, though, are its pockets! Who doesn't love a dress with pockets? (Especially when it's super cold and you are standing outside without a jacket!) Closet London is the brand it is made by, and I am a big fan of theirs. My "Feeling Blue?" outfit post also features a heavenly A-line dress from them.
There are a couple of minor things that I dislike about this outfit, though. The arm holes on this dress are very large, and an absolutely incredible amount of safety pins and stylist tape are needed to make my bra not visible. A much easier fix to this is wearing my little black sweater with it (it's much warmer this way too, haha). The black part of the dress is also a bit of a lint magnet. Fortunately, there's not a lot of black on this dress…so I'm probably the only one who notices it.
I should also mention, these polka dot tights are generally not the tights I wear with this dress. I usually wear solid black tights, but for the life of me, I could not find them that day! So, due to a time crunch, I grabbed my polka dot tights and went for it. I don't think they look too bad either!
As for my shoes, I had worn these in a previous outfit post and had complained about how uncomfortable they were that day. I really think my feet must have been swollen because they fit fine when I wore them this time. They aren't the easiest shoes to walk in, but my feet weren't screaming for mercy either. These shoes are so cute, though, even if they were horrifically uncomfortable…I would still wear them!
Where to find it:
Dress: ModCloth
Heels: ModCloth
Tights: ModCloth
Sweater: Maurices (But it's old. This one from ModCloth is similar.)
Earrings: Claire's (in store)
*And If you thought I looked slightly pale, sickly and tired in this post…you were quite right to think so! I have been dealing with a sinus infection and felt like absolute death while taking these pictures. I also was having a hard time smiling, due to being a mouth-breather and having super chapped lips. Hopefully, for my next outfit post, I will look a little livelier. However, if my past experience with sinus infections is any indication of how this one will go…this corpse-like look will be here to stay for a few weeks. (Ick!)