Hiking Kings Canyon – The Red Centre's Best Kept Secret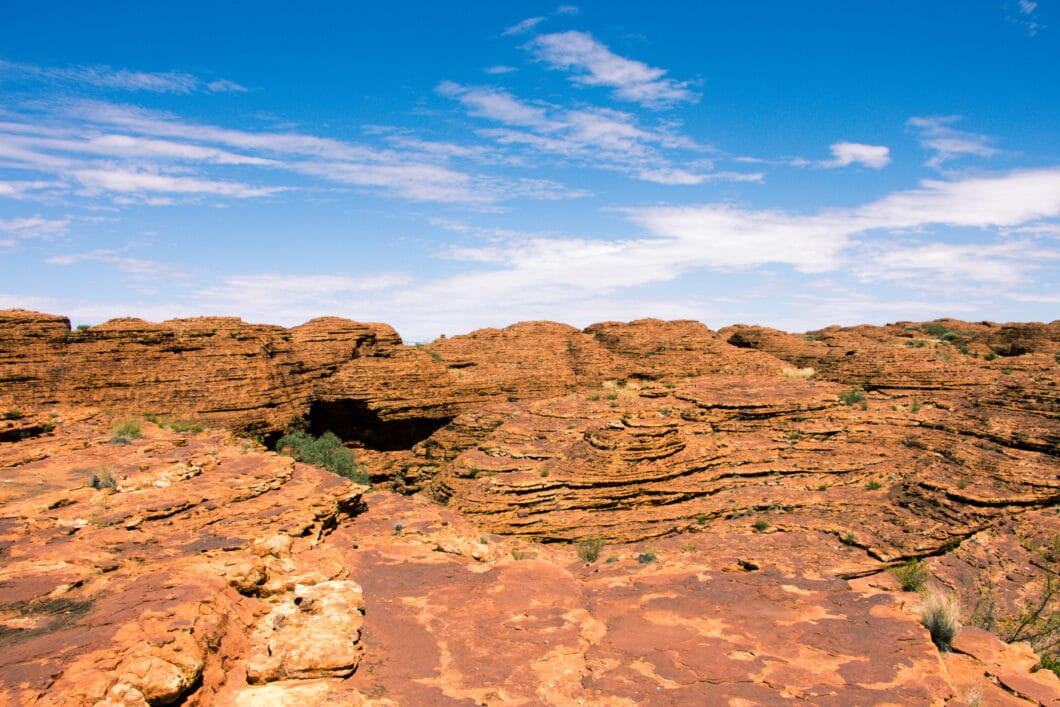 When travelers think of Australia's Red Centre, inevitably Uluru (a.k.a. Ayers Rock) immediately comes to mind. But that great, big rock is not the only amazing formation in Central Australia. I'll be covering a few spots to visit if you're venturing to this part of Australia, but I'll first be starting off this series with my favorite part of our trip to The Red Centre – Kings Canyon. (Click here to see the other posts.)
I'm sure if you're from Australia you're well-aware of the beauty of Kings Canyon…but international travelers (like myself) don't often hear of this amazing formation. And while hordes of people swarm to Uluru for the sunrise…when we arrived at Kings Canyon, we were virtually the only folks there to hike it!
How to Get to Kings Canyon from Uluru
We had taken a day trip from Ayers Rock Resort to Kings Canyon via a tour company (click here for more info on that), and then made our way back to Ayers Rock at the end of the day (you also have the option to continue on to Alice Springs). Like I said, this was my favorite part of our trip to Uluru! The tour company (AAT Kings) was fantastic (shoutout to our guides 'Stasia and Sam – you guys were awesome). The day started off with a few hours worth of driving, a stop at a cattle ranch for a hearty breakfast and then off to hike the canyon!
You can also rent a car and drive yourself, or there are shuttle buses running between the two locations.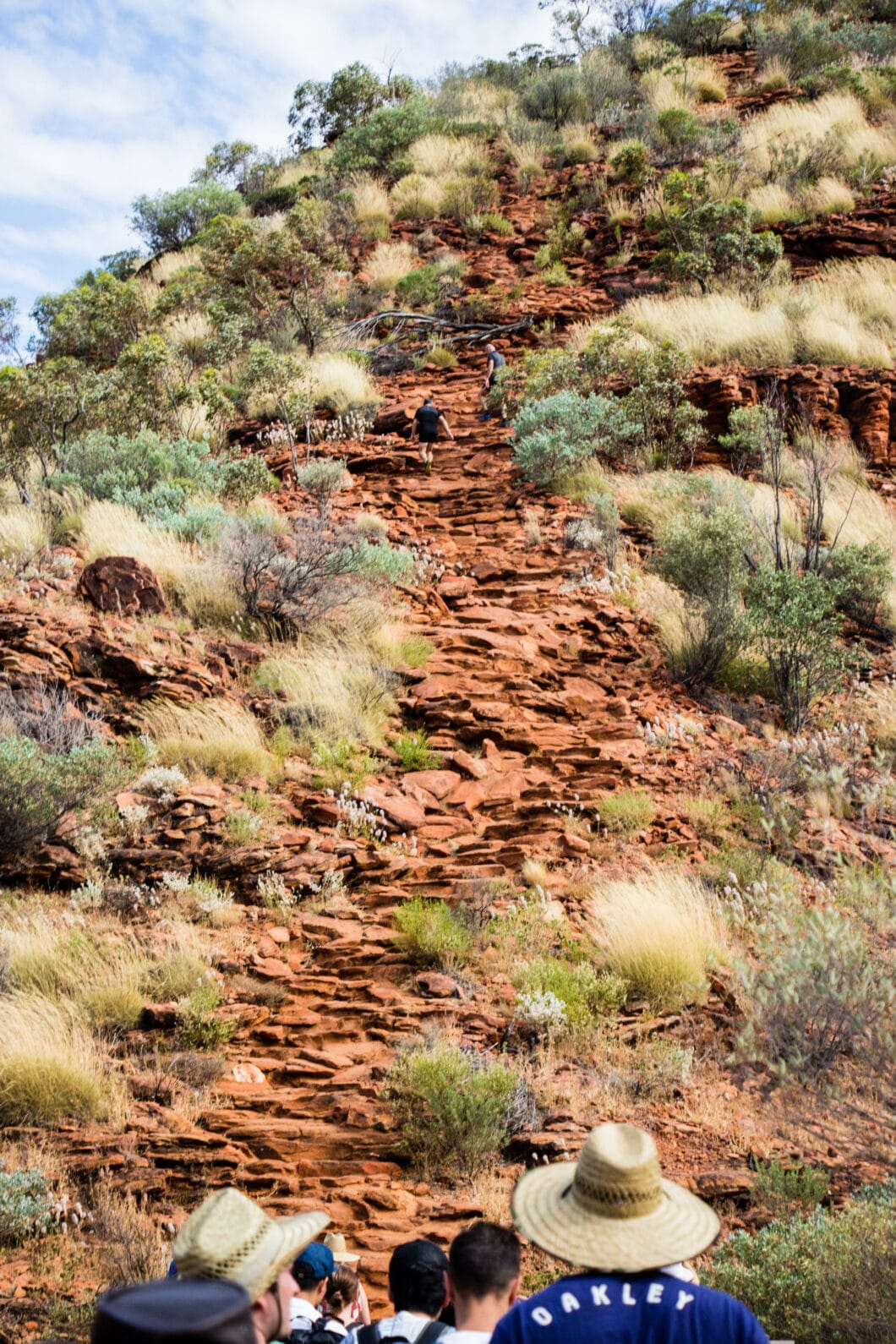 Hiking Kings Canyon
You have the option of doing one of two walks – you can do the 6 km Kings Canyon Rim Walk or the 2.6 km Kings Creek Walk along the bottom of the gorge. We opted for the 6 km Kings Canyon Rim Walk. The hardest part is definitely the beginning! Right after you exit the car parking lot you get the pleasure of hiking a whole mess of stairs (pictured above). It wasn't as steep as my hike last week up The Giant Stairway in the Blue Mountains…but it was still a bit difficult, as it was much warmer in Kings Canyon!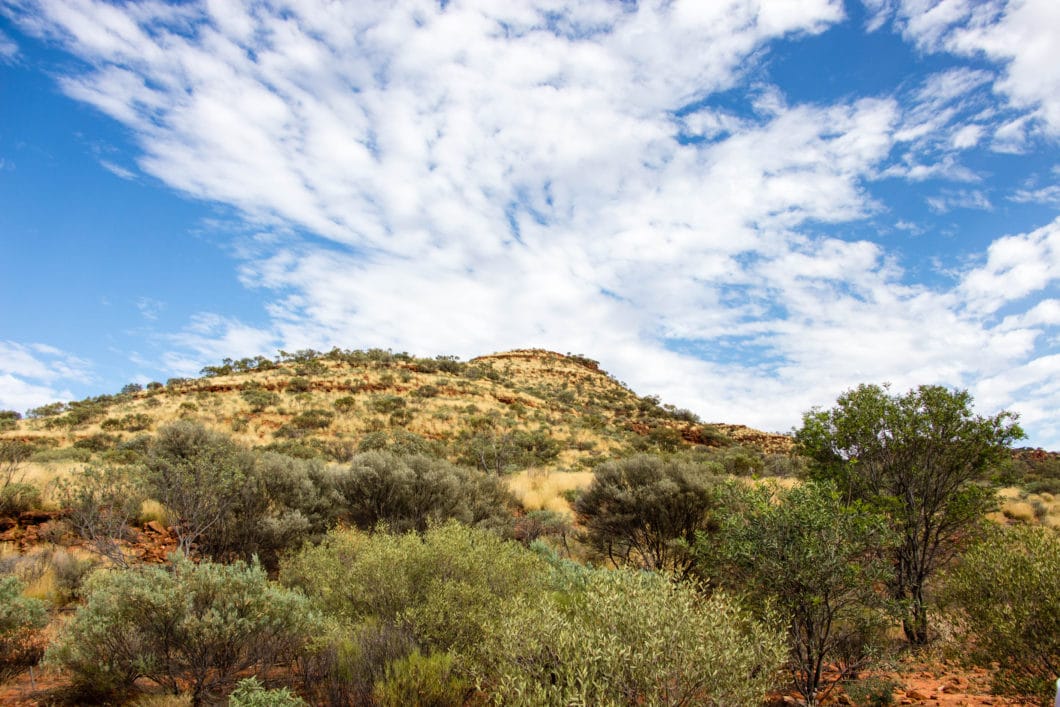 We were also fortunate to be in this part of Australia at a very unique time. Apparently, the desert is "in bloom" right now. This only happens every 10-20 years. Usually, if you come here, it's nowhere near as green! So we were quite lucky to see it at this time.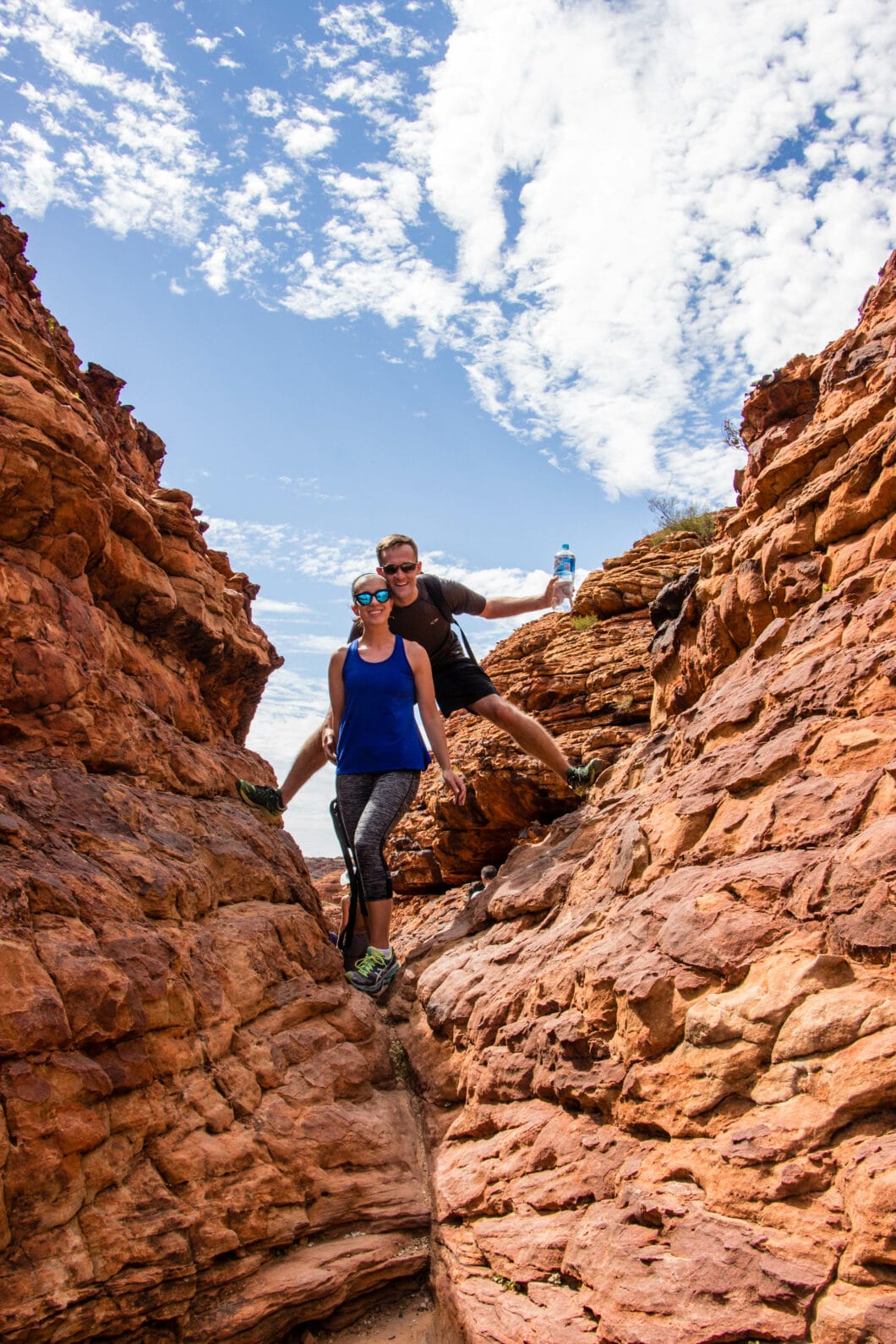 The photo above is of Priscilla's Crack. This is a famous spot in the Australian movie "The Adventures of Priscilla, Queen of the Desert." I personally have not seen the movie, but I'll have to watch it now! Either way, it made for some fun photos!
Also interesting, Kings Canyon was under the sea hundreds of millions of years ago. The photo above is of ripples from the sea that was once there. Crazy, isn't it?
And in case you were wondering, The Garden of Eden is alive and well here! Seriously, there's a permanent waterhole near the end of the hike that's named "The Garden of Eden." It's weird to see in the middle of this desert.
This was the only critter we saw on this hike…don't worry he isn't deadly. Haha. He's adorable!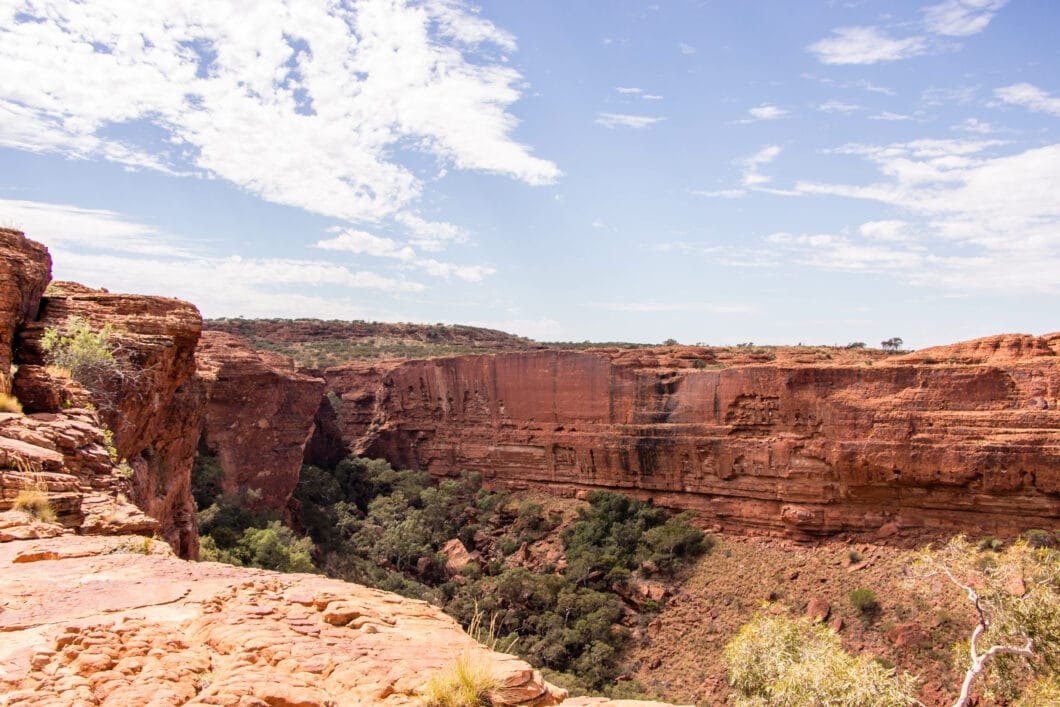 All in all, it took us about 3 hours to complete the hike, and we were moving at a brisk pace. I was very grateful I had spent my weekends prior to this trip hiking the national parks in Sydney! The 6 km Rim Walk does require you to be in pretty decent physical condition, there's no sugarcoating that. You also need to pack plenty of water, at least 2 liters per person. There are no cafes or rest stops along the way – it's very remote! But we did end our day at the Kings Canyon Resort for a late lunch, which was lovely. (Get their Beez Kneez if you're into craft beers – very refreshing after a long hike!)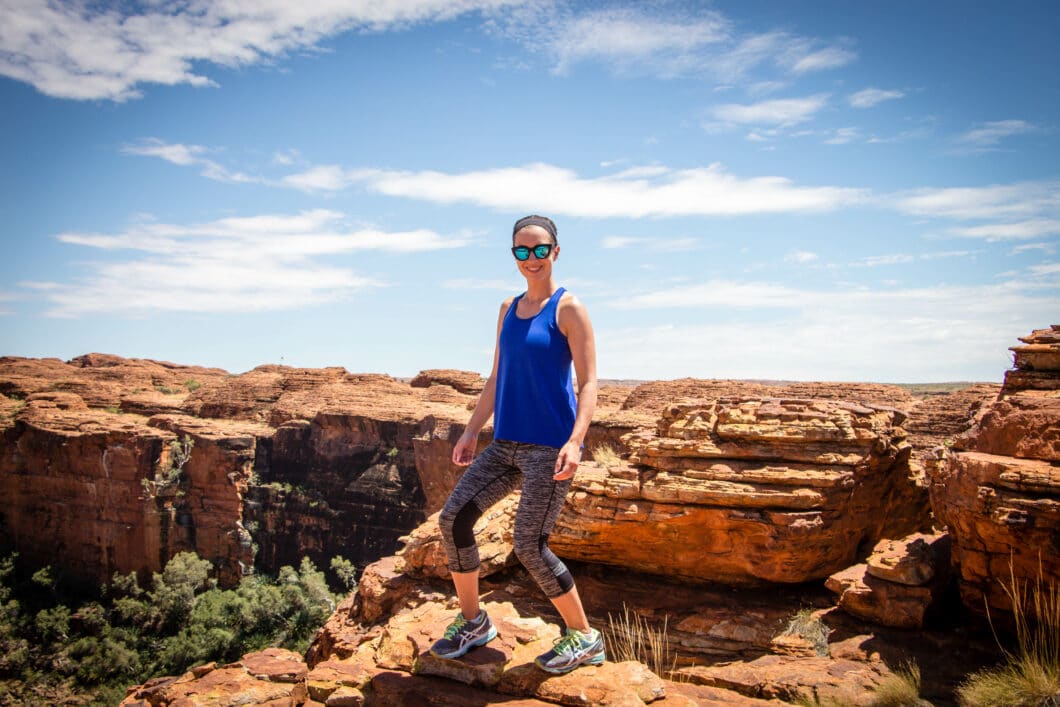 What to Wear to Hike Kings Canyon:
Shoes
We were fine in regular ole workout clothes and running sneakers. The trails weren't too terribly uneven, so I didn't mind not having hiking boots. (Obviously, if you have them along, though, you won't regret wearing them. )
Clothing
Be sure to wear lightweight, breathable clothing as it is going to be HOT. Even if you get going early in the morning…it's still quite warm. We had worn tank tops and t-shirts – but wearing a long-sleeved hiking shirt would have been a good idea for sun protection. (If you're wearing shorts and not wearing long sleeves…be sure to reapply your sunscreen every little while. It doesn't take long at all to burn!)
Hats and Sunglasses
You're definitely going to want your sunglasses! And we do regret not wearing sunhats for this hike, as we were in the direct sunlight for a lot of it.
Backpack
A lightweight daypack is all you would need to carry some snacks, water, sunscreen and your camera.
And, again, pack water! You're going to want at least 2 bottles per person.
If you're interested in hiking the King's Canyon Rim Walk on your own, click here for more information on the trail. If you're interested in booking the day tour I did from Ayers Rock, click here.
I'll be breaking down the rest of my trip to The Red Centre here, but I can say without a doubt, Kings Canyon was my favorite part. I loved the views and the remoteness of it… I also enjoyed having a bit of a physical challenge. And I sort of felt like I was hiking around on Mars (I have a good imagination, haha), so that was fun! The photo gallery below will give you even more of a sense of how breathtaking Kings Canyon is. Feel free to click on photos to make them full-sized. Enjoy!
Travel Insurance
It's a good idea, no matter where your adventure takes you, to have travel insurance. You never know what might happen! Whether you get sick before your trip and can't go, or you become sick or injured while on your adventure – being covered with travel insurance is a must. Some credit card companies do provide this service (check with yours), or you can get a quote from companies such as Squaremouth to find the best plan for you and your adventure. (This is the company I, personally, use. They are even recommended by Forbes!) To get a free quote, click here.
Visa Requirements
To check if your country requires a Visa for traveling to Australia, click here.
What are your thoughts on Kings Canyon? Would you make the trip there if you were visiting Central Australia? Let me know in the comments!
Shop my hiking gear, below: