My Experience Ordering From Amoretu (Dresses, Shirts & Pajamas)
Amoretu is becoming a popular, affordable fashion brand on Amazon. They feature trendy and inexpensive dresses, tops and also pajama pants.
This post is my honest review of Amoretu and details my experience ordering and wearing their products from Amazon. I own 3 dresses, 1 shirt and 1 pair of pajama pants that I will include in this review. I am also happy to answer any questions anyone has in the comments!
This post contains affiliate links, which means, if you click a link and make a purchase, Have Clothes, Will Travel gets a small commission at no cost to you. Thank you for supporting the brands that make this blog possible!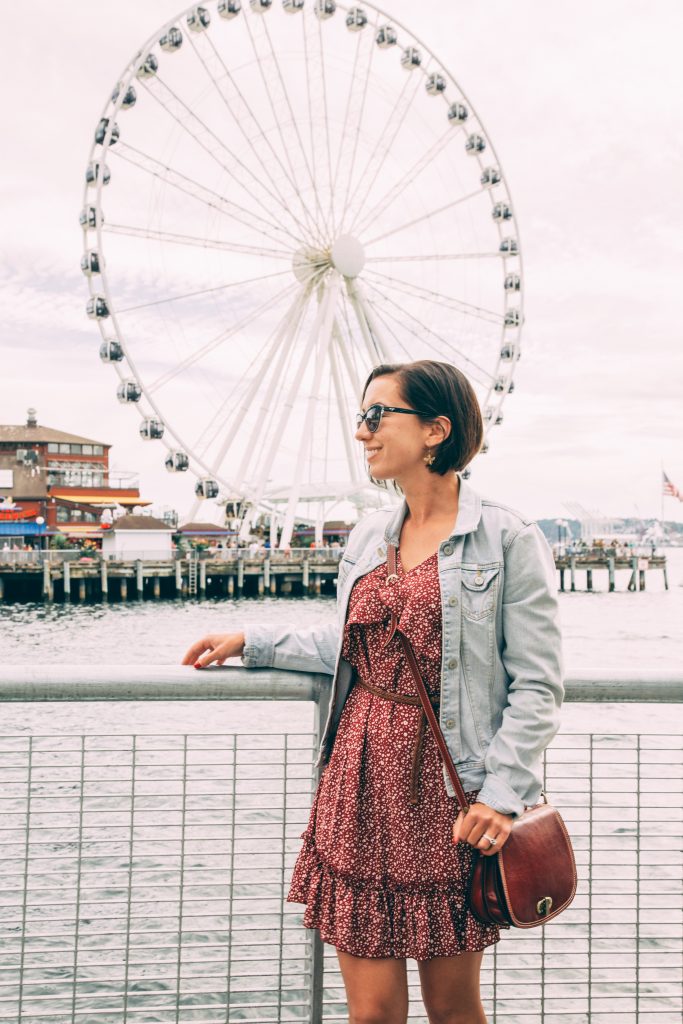 Amoretu Prices
Amoretu prices are fantastic! All of the items I have are less than $30. You really can't beat their prices. But with such low prices, you're probably wondering – how is the quality?
Amoretu Quality
Now, I have only had a chance to wear and wash these items a few times. So, I can't fully attest to their durability yet. I will update this post as I wear the items more over the coming months and years.
That being said, though, my initial reaction is that, overall, I am VERY pleased with Amoretu quality for the prices.
Dresses
This is especially true for the dresses. The dresses are great for the prices! I took both the shift dress (pictured above) and the tunic dress (pictured below) on my recent trip through Washington state.
These dresses did NOT wrinkle and were super comfortable to wear for a day out and about exploring. Plus, they dry quickly. I was able to wash them up in the sink, hang them to dry in my hotel room, and wear them again! They are definitely going to be getting added to my packing list for future trips!
The maxi dress above is going to be used as my Halloween costume this year! I'll be going as a witch (be sure to follow my Instagram to see a spooky Halloween-themed photo shoot I have planned with it). It's simple enough to add a hat and some fun accessories to this dress to spookify it a bit! Again, I really like the quality of this dress for the price, and it doesn't wrinkle easily.
Tops
To be perfectly honest, I hadn't read what this shirt was made of before I ordered it. I thought it was just a cotton tee – but it's actually made of 95% rayon and 5 % spandex. So, it has a silky, clingy feeling to it.
It's actually quite comfortable and cool to the touch! It's just a bit clingier than I was anticipating. However, it will look good tucked into skirts and pants this way.
It's also worth noting that this white top is a bit sheer. You're going to want to wear a nude-colored bra or a cami under it. (I don't have a cami on for these photos, though.)
Overall, though, I am happy with the quality of this top so far.
PJs
These PJ pants are my favorite part of this post! They are SO comfortable. They are also LONG. It is weirdly difficult to find pajama pants that aren't incredibly short on me… and I don't have especially long legs. To be honest, these pants are almost too long on me. But, I would rather have my PJs a little longer and looser than short and tight.
My husband is also a fan of these. He is always commenting on "how cute and silky" these PJs are when I wear them, haha.
Amoretu Sizing
So, Amoretu sizing varies depending on the item you are ordering. You also have to use the size chart that is the last product photo of the item you want to order (NOT the Amazon size chart that is linked next to where you make your size selection). This confused me at first, as I was looking at the Amazon-provided size chart, and it was really wonky. The size charts in the photos are accurate, though!
Dresses
For the tunic and shift dresses above, I sized down to a small as this is what the size chart suggests for my measurements (I am typically a medium in other brands). These dresses are quite loose and flowy. I even still paired them with a belt for a more fitted look.
I also ordered a small in the maxi dress, as the fabric is very stretchy, and I am in between sizes for this one. However, it is a bit clingy. If you don't want such a fitted look, I would recommend ordering your normal size, or if you are in-between sizes like me, ordering a size up in this maxi dress.
Tops
For this top, I also ordered a small based on the size chart. While it fits, it is clingy. It will be great for tucking into pants and skirts, though. (Size up for a less fitted look, though.)
PJs
For the PJs, I ordered a medium. They are super comfy and true to size!
Shipping
All of the items I ordered had free Prime shipping and also free returns. You really can't beat that!
The Verdict on Amoretu
Overall, I am very happy with my orders from Amoretu and will be ordering from them again in the future! I'm addicted to Amazon, so I also love that I can use Prime shipping & returns. It is just very important to double-check the size chart in the photos (NOT Amazon's size chart).
If anyone has any questions at all, please feel free to reach out in the comments at the end of this post.
Thank you to Amoretu for partnering with me for this post. As always, all opinions are my own, and I am never compensated for a positive review.